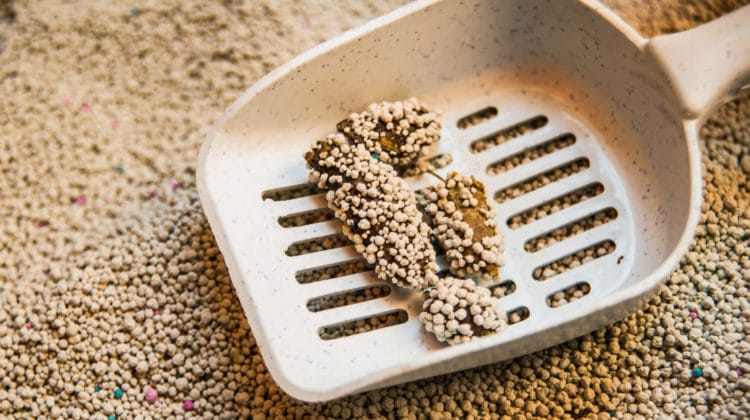 One of the main things cat owners have to worry about, aside from keeping their feline happy and healthy of course, is controlling the smell of their litter box. It is no secret that your cat's litter tray doesn't smell nice, and it's an ongoing job trying to keep these unpleasant pet odors at bay.
If you're tired of constantly tackling a foul-smelling litter box, you may be interested in a litter deodorizer that does what it says on the tin: it removes nasty odors from the litter. Yet, when searching the web you'll come across another popular DIY solution: baking soda. But how do litter deodorizer and baking soda compare? Do they both work, how much do they cost, and most importantly, are they safe for cats?
In this article, I will run through the pros and cons of litter deodorizer and baking soda for eliminating litter box odor. Further down, you'll also find some other tips and advice on how to keep your litter box from smelling up the house. We deserve fresh-smelling clean homes, and it will also make your cat happier and healthy. So, let's get to it!
Cat Litter Deodorizer vs. Baking Soda
In this section of the article, I am going to do through the advantages and disadvantages of both cat litter deodorizer and baking soda. As you'll see, there is no clear winner! Both successfully eliminate smells, which is fantastic. However, baking soda comes out top in several other categories, whereas litter deodorizers steal the crown in others.
Which is best for you all boils down to your personal preferences of what is most important.
Most Effective & Easy to Use: Litter Deodorizers & Baking Soda
The smell we associate with cat urine and litter boxes is ammonia. Cat urine contains a compound called urea, which is actually fragrance-free, but bacteria break it down and release this strong ammonia smell. This is what any litter box odor-busting product must eliminate.
Litter box deodorizers do this successfully by absorbing and trapping the ammonia smell, leaving your litter box smelling fresh. This makes them super effective as they don't mask the smell with another sweet-smelling fragrance, but instead remove it from the air completely and neutralize the ammonia smell. Deodorizers do sometimes also contain fragrances as a second layer of protection, but this isn't necessary for them to be effective.
So, does baking soda help with litter box odor? Yes, baking soda is a deodorizer, which means it can successfully neutralize litter box smells just as well as litter deodorizers. In fact, some cat litter deodorizers have baking soda as one of the smell-busting ingredients because of how effective it is in eliminating bad odors.
Therefore, when deciding whether litter box deodorizer or baking soda does a better job at getting rid of cat litter smell, there is no clear winner. They are both equally effective as they work by neutralizing the ammonia in cat litter rather than covering it up.
Both products are also used in exactly the same way, so there's no competition here either. Simply sprinkle a little of whichever you're using in the litter tray each time you scoop and let it work its magic.
Safer for Cats: Baking Soda
As a cat owner, one of the most important factors we need to consider when making any decision about our cat is whether the product is safe for them. Is it safe to put baking soda in cat litter? Or will this cause them harm? Is litter deodorizer a better option?
Many people assume that litter deodorizers you can buy from the pet store are safer for cats than baking soda, a product that was originally made for being a raising agent. However,  the converse is true. Litter deodorizers can be made from a range of chemicals that can make it difficult to assess the safety of the product. The variety from brand to brand is what makes them dangerous: it's hard to know exactly what you're getting.
Moreover, litter deodorizers are commonly scented to remove strong cat urine odors from the litter box. Cats are extremely sensitive to smells and many scents we find pleasant are toxic to them. For example, lavender essential oil smells great and is used in many cat litter deodorizers. However, this is highly toxic to cats even just through inhalation.
On the other hand, baking soda is made from sodium bicarbonate (NaHCO3). Although this is a chemical, it is only one chemical compound and it is a gentle abrasive that causes no long-term harm to cats or people. If eaten in high doses, there is a possibility of toxicity, but the tiny amount needed to get rid of cat litter smells is nowhere near enough to cause harm. Just ensure you don't put too much in the litter tray and you'll be fine.
Makes Less Mess: Litter Deodorizer
Another issue that cat owners face when it comes to litter boxes is the mess they make. Litter commonly ends up being kicked outside the tray and onto the floor, and dust and litter particles that stick to your cat's feet end up being tracked around your home.
Dusty litters such as traditional clay clumping litters are among the worst for mess as the dust particles exacerbate the problem and make litter tracking easier. Unfortunately, baking soda is a fine powder and the particles are only 70 microns in size, making them extremely lightweight. Because of this, they can easily become airborne when your cat digs around in its litter tray while it does its business, adding to the dust already there and making the problem worse.
On the other hand, litter deodorizers have been specifically manufactured with dust levels in mind. The formulas are heavier than the fine powder that makes up baking soda, and the particles are larger to minimize the amount that becomes airborne. Therefore, they produce much less mess.
Better for Allergies: Litter Deodorizer
Aside from the mess from using litters with dust, there is also the problem of allergic responses. Both cats and people can be allergic to dust in the air, triggering coughing, sneezing, itchy eyes, and other allergy symptoms. This can deter your cat from using its litter tray and make cleaning it out an even more unpleasant experience for you.
As mentioned, baking soda can become airborne because of the particles' small size. These particles will then get breathed into both our and our cats' lungs and can act as an allergen, triggering an allergic response. If you know you, your family members, or your cat are sensitive to allergens, it is best not to add baking soda to cat litter.
Comparatively, as litter deodorizing powders have been manufactured to specifically not become airborne, they tend to cause fewer allergies related to dust. That being said, some deodorizer powders have been fragranced with artificial smells to further combat stinky litter boxes. These scents can also cause allergies in pets and humans. If you suffer from allergies, non-scented low-dust litter deodorizers are your best bet.
Least Expensive: Baking Soda
Having a pet cat can be expensive. You need to buy them food and litter as a minimum, but most owners also enjoy treating their cats to a range of toys and make their lives more enriched by providing elaborate cat trees and scratching posts. So, many owners want to keep the costs for other pet-related products down.
One of the main benefits of using baking soda instead of a litter deodorizer is that it costs a fraction of the price. It is a common household item that you may have in your house already, and if not you can easily pick it up from the grocery store for only a few bucks. On the other hand, litter deodorizers carry out the same function but for a much higher price.
If you want to eliminate strong cat urine odors from the litter box in an inexpensive way, baking soda is probably the way to go.
How to Neutralize Ammonia in Cat Litter
Litter deodorizer or baking soda in a litter box are two of the most commonly used methods for getting rid of litter box smells. However, there are a few other products and substances that also work to neutralize ammonia in cat litter, leaving your house smelling fresh.
Vinegar
Vinegar is a great litter box odor eliminator as most people will have this in their homes already. Just as litter deodorizers and baking soda work, vinegar neutralizes ammonia in cat litter to effectively make the litter box smell better.
As vinegar is a liquid and not a powder, you cannot put it on the litter directly – imagine the nightmare this would cause, especially if you use a clumping litter! However, it is great to use when you empty and clean the litter tray completely as it can remove stubborn urine smells that have seeped into the litter box itself. It is also a very affordable option which is what makes it so popular.
White vinegar is best to use. You can either put the vinegar in a spray bottle and spritz the litter box or dampen a cloth using vinegar and blot the area. Leave the vinegar to dry on the surface and as it does so the ammonia odor should be removed. You can then refill the tray with litter as usual and you're good to go.
Carbon Filters
A carbon filter is also great at removing litter box odors, which again traps the unpleasant odors, this time through a process known as adsorption. This is where the odor will get stuck to the outside of the filter rather than being absorbed into it. You will be able to find carbon filters at your nearest pet store, and some litter boxes even come with one included.
To use, all you need to do is place the filter next to your litter box. If you have an enclosed litter box, make sure you put it near the litter box door or next to any air vents so that it can trap the smells effectively before they leave. Many owners prefer using carbon filters to deodorizer powers as they can be kept out of the way of cats and are an extremely safe option.
Hydrogen Peroxide
Another household product that many people will already have is hydrogen peroxide. This is a mild antiseptic used to help disinfect wounds, which also functions as a bleaching agent and is commonly used in cleaning. It can also effectively remove ammonia smells and so is useful when cleaning your cat's litter box.
Again, as a liquid, hydrogen peroxide cannot be put on the litter itself but is a useful product when cleaning the litter box. You will need to dilute the hydrogen peroxide with water at a ratio of 3:7 to ensure it isn't too harsh, and can then rub the solution on the litter tray. Unlike vinegar, you don't need to leave hydrogen peroxide on the area for long. As soon as the odor has been lifted wash the surface with water before drying and refilling with litter.
How Else to Get Rid of Cat Litter Smells
Using litter box deodorizers, baking soda, or another of the products I have mentioned is one way that you can make your litter box not stink. However, there are other methods you can also use to keep your litter box from smelling up the house. Let's take a closer look!
1. Air Fresheners
Using an air freshener to eliminate odors should come as no new idea. We commonly use air freshener all around our home to remove unwanted stubborn smells from cooking, smoking cigarettes, or bathroom smells. They are also an effective solution to reducing litter box odors and other pet smells in your home.
When choosing an air freshener, you have to be more conscious of your decision when you have pets around. Many air fresheners have ingredient or chemicals which are toxic or unsafe for cats. Additionally, smells such as lavender or citrus smell pleasant to us and are often used in air fresheners but can irritate and stress out your feline. Therefore, an air freshener safe for cats is a must. These are typically made from more natural ingredients and have cat-friendly smells.
You should also ensure that the air freshener you choose eliminates odors instead of simply masking them with pleasant smells. This can be done in the same way as litter deodorizers by trapping the odor-causing molecules. Or, they can break down the molecules into odorless compounds.
2. Stainless Steel Litter Boxes
The majority of litter boxes are made from plastic, which has many positives – it's cheap, lightweight, and easy to clean. However, plastic is a porous material and, over time, it can absorb odors. This can cause the litter box to start to smell even when it is cleaned regularly as the odors have managed to get trapped deep inside.
A great solution for this is to opt for a stainless steel cat litter box. Steel does not hold onto odors the same way plastic does, nor will it become stained and hold onto any bad bacteria. Besides, steel litter boxes are extremely durable and rust-resistant, designed to last a lifetime. Additionally, as steel is also scratch-resistant, less bacteria, urine, or feces will also get trapped in the base of the tray and contribute to the smell.
They are therefore a great and easy switch that can make heaps of difference.
3. Litter Box Hygiene
Good litter box hygiene is essential if you want to prevent the litter box from smelling bad, and is perhaps the most important thing on this entire list! What is good litter box hygiene? Well, you'll need to scoop the box daily to remove any urine and feces from that day, which can be made easier by using clumping litter.
You also need to remove the old litter, clean the litter box completely, and refill it with fresh litter at least once per week. When cleaning, either use vinegar or hydrogen peroxide as I mentioned above as these will help to remove any odors from the litter box itself. Alternatively, you can purchase cleaning sprays from your local pet store which will provide a thorough cleaning.
Not only will this help to minimize smells, but by doing so your cat will also be more inclined to use their litter box. Therefore, this also helps to reduce the number of bathroom accidents.
4. Good Ventilation
Many people who are looking to reduce litter box smells opt for an enclosed litter box, such as a hooded or top-entry design. However, this does not fix the issue. Yes, the odors are not traveling around your home as much, but they are concentrated inside the litter box, which makes scooping and cleaning a dreaded task! Plus, this is a terrible outcome for your cat.
If you are concerned about litter smells, an open litter box is best thanks to the ventilation. This not only lets the odors move around and become less concentrated but seeing inside your cat's litter tray will also remind you to clean it, unlike enclosed litter boxes that often get forgotten about. That being said, as long as you stay on top of cleaning, having an enclosed design is perfectly fine.
5. Brand of Litter
Which brand of cat litter you choose also has a big effect on how much your cat's litter box smells. However, there are a variety of different types of litter available – clumping litter, silica crystal litter, wood pellet litter, and more – so knowing which one is best for odor control can be difficult to work out.
Clumping litters are generally your best option. By forming a clump as soon as the litter and urine come into contact with each other, much of the nasty smell is trapped inside. This can help prevent unpleasant odors from lingering in the air. However, regular scooping and cleaning are still crucial as the odors will eventually start to work their way out into your home if left to fester.
Where possible, you should also steer clear of scented cat litter. This may seem backward, but fragranced litter can mask smells and make it less likely that you will remember to stick to your scooping and cleaning routine. What's more, cats are sensitive to smells and fragranced litter can deter them from using their litter tray altogether, or even trigger allergies.
6. More Litter Trays
This is only really relevant to people that own two or more cats, but you could reduce the odors from your cat's litter box by adding another litter tray. You may think that more litter trays lead to more smells, but the reverse is actually true.
By providing more litter trays you can prevent urine smells from concentrating. As cats have more space in multiple litter trays than in one, it also encourages them to use them and cover their urine and feces up. If you use clumping litter, this action can help the litter to clump and prevent scents from lingering around your home as much.
If you're wondering how many litter trays you should have, you need to simply take the number of cats you have and add one. For example, if you have two cats you should have at least three litter boxes, and someone who owns four cats should have five litter boxes.
CONCLUSION
If you want to know how to keep the litter box from smelling up the house, both baking soda and litter deodorizers are great options. They both come with their pros and cons.
It is safe to put baking soda in the litter box and it is a great homemade litter box odor eliminator. It is also inexpensive. However, the dust can make a mess and cause allergies. On the other hand, litter deodorizers have the potential to be dangerous and scented products should be avoided, but they're better at reducing mess and are better for people and cats with dust allergies.
Aside from these two substances, vinegar, hydrogen peroxide, and carbon filters can neutralize ammonia smells. By making some changes to your litter box and cleaning schedule, you can also help to keep bad smells at bay. This will improve the lives of both you and your cat!