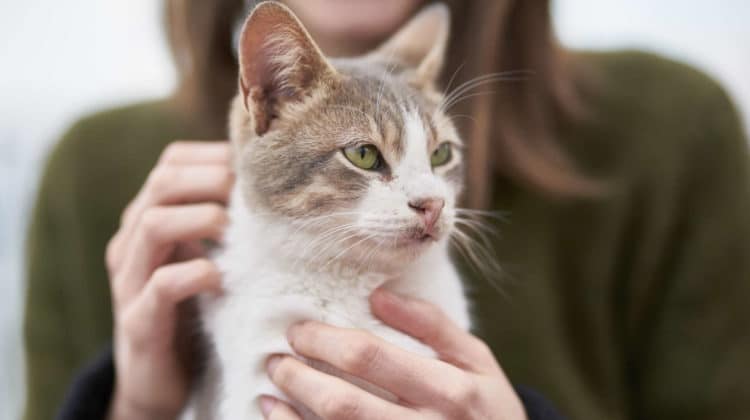 As cute as even the cleanest cats are, they also come with odors that are not as pleasant, such as unfavorable smells coming from their litter boxes or a typical bad cat smell.
These problems only get worse over winter when we leave windows and doors closed, meaning there is less free-flowing air and more trapped odors.
A common solution to eliminating any unwanted odors in the home is air fresheners. However, using air fresheners in a home with cats needs extra consideration, as they can be toxic to your pets! There are plenty of air fresheners safe for cats, and I have tried out several top brands to find out which deodorizers effectively eliminate smells while causing no harm to your pets.
In this article, I will talk you through the best air fresheners for pet odors, as well as specific cat litter deodorizers, so that your home can smell sweet without the worry.
My Top Pick
The best air freshener for cats is the Febreze Heavy Duty Air Freshener, which is made from 100% natural products and so is safe around cats, but also other pets and children too. This is also not a cat-specific air freshener, and so can conveniently serve a dual-purpose for use around the entire home. What I love most about this product though is that it is heavy-duty and so has double the odor-eliminating power of regular Febreze.
In case you do not like this product, I have also written a list of other great brands and more pet-specific options so that you can all easily have a clean smelling home.
Best Air Fresheners Safe for Cats
Before I give you a breakdown of the cat-friendly air freshener products I love, I am going to run through what I based my search on, and what factors are important. The air freshener that ticked the most boxes made it to number 1!
Here are the features I was looking for in an air freshener for cats:
Smell: I wanted a product that smelt good and fresh, but that wasn't too overpowering and sickly sweet. Therefore, I opted for lighter air fresheners over heavier floral ones. Also, cats dislike some smells such as citrus and lavender, so you should steer clear of these products.
Odor Eliminating Power: As well as smelling good itself, I wanted an air freshener that eliminated bad smells, not one that simply masked them. This keeps smells at bay for longer and makes the product more effective.
Natural Ingredients: So that the air freshener is safe for my cats and did not cause any harm or irritation, I looked out for sprays that were made from natural ingredients, so that in a worst-case scenario, they could be inhaled or land on my pets skin without any major consequences.
Multi-Purpose: Although I primarily wanted an air freshener to eliminate the odors produced by my cat, a product that could be used throughout the house was preferable. This was so I could use the spray not only for litter tray odors, but also anywhere my cat had a toilet accident, and in bathrooms, laundry rooms, or wherever else needed a dose of freshness.
Long-Lasting: This is an important one, as the longer the air freshener lasts, the fresher your home will stay before you need to spray more product.
With all things considered, here are the best air fresheners safe for cats, so that your house can smell lovely while your pet stays safe.
The best air freshener for cats is the Febreze Heavy Duty Air Freshener, which can conveniently be purchased as a pack of three. I love this spray as the odor is not overwhelming in the slightest, yet it leaves my house smelling incredibly fresh. Plus, it lasts a lot longer than other air fresheners I tried out.
Febreze products all work to eliminate odors, not just mask them. They do this by dissolving the odor in the water in the product, and then the molecules in the air freshener bind to it and trap it so that can no longer bind to the receptors in your nose. Without the smell binding to your receptors, you cannot smell it at all.
All the molecules in Febreze Heavy Duty Air Freshener are 100% natural, which means it is completely safe for use around cats, as well as other animals and babies. What's more, the air freshener comes in a handheld spray bottle, so you can safely store it away from your felines and only spray it when needed, and pointed away from your cat.
Finally, this spray can be used anywhere in your home, whether that is in the room you keep your cat's litter tray, or elsewhere in your home such as in the kitchen to remove smells from cooking, in the bathroom, or to eliminate more stubborn smells such as cigarette smoke. The versatility is amazing, which makes Febreze great for all kinds of odor elimination.
The only downside of this product is that because it is heavy-duty, it is powerful, and while extremely effective in removing odors, it may be too intense for people who are sensitive to strong smells, such as if you have a perfume allergy or get headaches from scented candles.
Pros
Fresh non-overpowering scent
Eliminates rather than masks odors
100% natural ingredients
Successfully removes unpleasant odors
Long-lasting air freshener
Comes in a three-pack
Heavy-duty strength for tackling pungent smells
Cons
Heavy duty so not ideal for people sensitive to scents
Next on my list is the Fresh Wave Odor Eliminator & Air Freshener, which was close to taking the top spot.
Firstly, this air freshener for pet odors has been approved by the US Environmental Protection Agency (EPA) as it is non-toxic, non-GMO, and non-hazardous. This is because this too is made from all-natural ingredients and is proved to be safe for people, pets, and the planet! If you are concerned about the environment, you'll also be pleased to know that the product is biodegradable, and the packaging is recyclable.
Fresh Wave also works to eliminate odors, rather than simply mask them, which makes the product more effective in keeping bad stenches at bay. I also love the smell of this spray as it smells of its 100% natural ingredients; pine needle, lime, and cedarwood. The scent doesn't last for very long, but as this acts as an odor eliminator, the effects of the air freshener last much longer.
The only downside of this product is that the bottle isn't great, and mine leaked down my hands a little when spraying rather than being directed out into the room. That being said, if you purchased a separate spray bottle, you will have yourself a winning product.
Pros
Pet friendly and safe for your family
Approved by the Environmental Protection Agency
100% natural ingredients
Can be used throughout the home
Gentle plant-based odor
Eliminates rather than masks smells
Cons
Next up is the Glade Automatic Spray Refill and Holder Kit which has to be here because of the added convenience. This pet safe room deodorizer is automatic and sprays itself so that you don't need to remember to!
What's more, you can choose for it to give a fresh burst every 9, 18, or 36 minutes, depending on how much help with odors you need. If you need an extra burst, you can always press the spray button yourself too. If you have it on the lowest setting, this air freshener will provide effective odor elimination for up to 60 days.
There are many different Glade air freshener scents, but this one is the "Pet Clean" scent which is specifically designed at tackling pet odors. Additionally, as made with pets in mind, it is also safe to use. However, unlike the other top products, it is not made from natural ingredients, which is slightly disappointing.
This air freshener is also battery operated and so can be placed anywhere, making it a better option than plug-in odor eliminators which are positioned at an unsafe place for cats as it can spray into their eyes. Be sure to place your Glade air freshener high up and out the way so that it is never directly sprayed on your cats.
Pros
Provides up to 60 days of freshness
Non-overpowering Pet Clean smell
Battery operated so can be placed anywhere
Three different spray settings
Automatically dispenses air freshener
Cons
Will need to purchase replacement batteries
Not natural ingredients
If you live in a smaller home, spray air fresheners or aerosols can be a little overwhelming and powerful, which is why the Febreze Small Spaces Pet Air Freshener is also a great product.
This is an air freshener that you simply activate and then leave, and the air freshener will slowly be released over 45 days. I love that this provides continual freshness, and you don't need to remember to keep spraying and air freshener, which can certainly be forgotten in busy lives.
Because of the small size, you can easily tuck one of these air fresheners in a corner by your cat's litter box to help control the bad odors. However, this does limit where you can use the air freshener, so if you have multiple litter boxes in different rooms, for example, you'd need to buy two. It is also designed specifically for small spaces, and so doesn't have a large range, so would be ineffective in a larger room.
Nevertheless, this cat friendly air freshener is also odor eliminating rather than odor masking, making it effective in keeping unpleasant smells at bay. It is also designed specifically for use with pets and so is safe for our cats. However, I would still recommend keeping it somewhere that is cannot easily be knocked over.
Pros
Long-lasting for up to 45 days
Designed specifically for pets
Ideal for smaller homes
Eliminates odors instead of masking
Continuously fresh
Cons
Only for use in small spaces
Designed specifically to tackle pet odor, I also recommend the One Fur All Pet House Freshening Room Spray. This air freshener is intended exclusively for eliminating pet odors and contains no dye, paraffin, formaldehyde, or other toxic ingredients to ensure that your cats won't be harmed from using this spray.
There are also six different scents that you can choose from, all of which are 100% natural and plant-based, meaning that there is a scent for everyone! It is also very gentle and never too overpowering. Unfortunately, the smell doesn't last particularly long and will need to be sprayed slightly more frequently than other products.
Also, why it may seem trivial, the bottle is made of clear plastic, allowing you to see exactly how much product is left and when it is you need to buy a new one. Aerosols are not clear, and so you often don't realize the product is running low until it is too late. What's more, as it is plastic you don't need to worry about your cat accidentally knocking the bottle over and it smashing.
Pros
Six different scents to choose from
No paraffin, dyes, synthetic preservatives, or toxic ingredients
100% natural ingredients
Neutralizes odors rather than masking them
Clear bottle so can see when a replacement is needed
Cons
Doesn't last as long as other products
The next product that does a fantastic job at eliminating pet odor is the iPettie Cat Litter Box Odor Genie.
This is a slightly different product, as rather than spraying out a scent which neutralizes odors, it releases negative ions to combine with molecules that are the cause of odors. For example, oxygen ions combine with ammonia to form odorless nitrogen, oxygen, and water. This makes the product completely safe for cats and targets specific litter box smells caused by ammonia and hydrogen sulfide.
As well as combatting nasty smells, the iPettie Cat Litter Box Odor Genie also disinfects the area and kills up to 99% of bacteria, helping to keep your litter box clean and safe. Additionally, the pet odor deodorizer can be placed anywhere, even inside a hooded or top-entry litter box due to the convenient adhesive back. What's more, as it doesn't release a smell you can have these in poorly ventilated areas and small spaces without worrying.
This product is also designed for long-term use, and once you have purchased the Odor Genie, you will not need another. The deodorizer holds its charge for 10 days, then after this time is up, you can simply charge with the USB charger and go again. It is worth noting that the power adapter isn't included, only the cable, but most households will have an adaptor already.
Pros
10 days of battery life
No need to buy replacements or other consumables
100% safe for cats
Uses ions to eliminate odors and to disinfect
Fragrance-free
Cons
No power adapter included
Rather than your typical air freshener, the NonScents Cat Litter Deodorizer is a great alternative for eliminating litter box odors. I actually use this alongside a spray air freshener to keep my whole house smelling amazing!
The product itself doesn't smell at all and is completely fragrance-free, ideal for people or pets with allergies who are sensitive to strong smells. Some cats are also deterred by some scents, but this will never be an issue with this product. Despite not smelling itself, it does eliminate your pet litter stenches by binding to odor-causing molecules.
To use NonScents Cat Litter Deodorizer, simply sprinkle the powder over the cat litter and reapply each time you clean the litter tray. This product is extremely long-lasting, and also extends the life of your cat litter itself, saving you even more money.
Although this is designed for use in cat litter trays, you can also sprinkle the powder onside animal carriers, or even in trash cans, to eliminate odors everywhere.
Pros
Specifically for use in litter boxes
Fragrance-free
Eliminates 100% of litter odor
Extends the life of cat litter
Extremely long-lasting
Only needs applying when cleaning the litter box
Cons
If you're looking for a plant-based 100% natural air freshener for cats, you can try the Enviroscent Non-Toxic Room & Home Spray. This contains no nasty chemicals. It is completely free of nasty ingredients such as phthalates, carcinogens, and neurotoxins which can cause harm to people and pets.
Instead, this formula works using the natural ingredient of spring water and lotus. Unlike many other natural sprays, it doesn't contain harmful essential oils. The company has done their research and have eliminated any oils that could cause your cat harm. Therefore, it is safe for pets while smelling delicious! The company also sells scent sticks if you'd prefer which don't release any fragrance droplets into the air, upping the safety factor further.
Being plant-based, this spray is also better for our planet. What's more, you receive a refillable spray bottle with this purchase. Therefore, you are reducing the amount of plastic you're throwing away as well with every purchase! This is a must for any eco-conscious owner.
Pros
Made from all-natural ingredients
Free from chemicals and carcinogens
Only uses pet-safe essential oils
Smells of delicious lotus flowers
Refillable bottle to reduce plastic waste
Cons
Not as long-lasting as other products
Finally, we have the VZee Odor Eliminator. Now, this isn't an air freshener in your usual sense. You won't be spraying scents into the room. Instead, this product consists of activated bamboo charcoal bags. The activated charcoal absorbs strong and powerful odors within 24 hours, leaving your home smelling clean and fresh.
The obvious perk of this air freshener is that you're not spraying anything into your home. There are no nasty chemicals, no artificial fragrances, and nothing toxic to pets. Simply hang these bags near the smell and let them suck the nasty odors away. You get 8 in this pack so you won't run out.
They're also super long-lasting and can be used again and again. All you need to do is recharge the bag in sunlight at least once per month and the last up to two years! This is not only highly convenient but also saves your money in the long run.
I also love that these odor eliminators remove all types of bad smells. They won't just take away that pet urine stench. They'll also remove kitchen smells, cigarette smoke, laundry odors, and more. This means you can tackle two birds with one stone thanks to this smart product.
Pros
Eliminates odors from the air effectively
Does not contain any nasty chemicals or artificial smells
Remove all odors, not just pet smells
Comes in a pack of eight
Recharges using sunlight and lasts up to 2 years
Cons
No nice fragrance – simply removes bad odors
Air Freshener Safe for Cats Buying Guide
As you can see, there is a huge range of different products you can purchase to eliminate odors caused by your cats and their litter trays. No matter which you go for, here is a handy buying guide to help you find a product that works and is worth your time.
Cost of Air Freshener
The first thing you should consider is the cost. There isn't a huge range in the cost of different air fresheners, but obviously, some are more expensive than others.
It is important that when you determine your price range, you also consider future purchases. For example, how often will you need to buy the product? Some products may last up to 60 days, others only 45 days, and some will depend completely on how bad the smells in your home are and how often you need to spray the air freshener or use the litter deodorizer.
Also, will you need to keep purchasing batteries? Automatic air fresheners often need batteries to run, so factor all these costs in when selecting an air freshener for cats, not solely the upfront cost.
Nice & Cat-Friendly Smell
The scent of the air freshener is also important, both for you and for your cat.
Smell is largely down to personal preference, so there will be some scents that you love and others that you cannot stand. If possible, smell the product in real-life or opt for an odor you know you already like, such as vanilla, fresh linen, or pine. You may also be highly sensitive to smells and suffer from headaches or sneezing fits whenever you use perfume, sprays, or even scented candles. If this sounds like you, you'll probably benefit from a fragrance-free odor eliminator.
Also, be sure not to get smells that your cat will dislike. Citrus is a common smell that cats hate, and it is often used in cat repellent sprays to keep them from clawing furniture, climbing shelves, or urinating where they shouldn't. Lavender is another no-no, and using a scent like this could make your cat unhappy or deter them from using their litter box.
Odor Neutralizing
For an effective air freshener for cats, you need to find a product that is odor eliminating, rather than one that simply masks unpleasant smells with a stronger and nicer-smelling one.
Odor neutralizing products react with the odor-causing molecules in one of two ways. Either they break them down into different odorless compounds and molecules, or they bind to them to form a larger compound that cannot bind to your smell receptors and so cannot be detected.
Safe Ingredients
As a cat owner, you have to consider the safety of the product and ask yourself if it is a cat-friendly air freshener.
When using an air freshener to tackle unwanted pet smells, check that the ingredients are safe for cats. Air fresheners designed especially for cats will always be a safe option. If you don't want to start looking through the lists of ingredients, this is your best bet for guaranteed safety.
I also prefer using all-natural products. These tend to cause far less harm and irritation when compared to products high in chemicals. However, bear in mind that 100% natural does not necessarily constitute as safe for cats. Some naturally occurring compounds can cause harm to cats.
In terms of air fresheners, essential oils are one to look out for. Many owners assume that natural oils are a safe way to make their homes smell fantastic. Yet some essential oils can cause toxic effects in cats. In fact, exposure can cause dire health consequences, including:
Liver failure
Respiratory failure
Seizures
Death, in worst cases
Of course, for your cat to experience extreme adverse effects, they would need extreme exposure to these toxic essential oils. Still, it is simply not worth the risk. Only use products that have essential oils that are safe for cats and explicitly say you can use them around pets.
Safe Placement
While many 100% natural and cat-safe products exist, where you place the air freshener is also important.
Using a handheld air freshener is a great idea as you can control exactly when and where you spray the product. If you have a handheld spray bottle, always spray it away from your cat, and ideally when they aren't in the room. This will help to prevent the product from falling directly on your cat's skin or from getting in their eyes or mouth.
However, if you have an automatic or slow-releasing product, be sure it is out of the way so that it doesn't spray directly on your cat, which can hurt their eyes or cause issues with their breathing. Think this through before purchasing, as you may need to buy a shelf to put up, or perhaps it is better to buy a different product entirely if you don't have somewhere safe to keep it out of reach.
Even pet-safe air fresheners can cause harm if it sprays directly on your pet. Therefore, pet odor eliminator plug-in air fresheners are best avoided as the height of plug sockets is typically the same height as your cat and could cause harm.
Long-Lasting
You also ideally want a long-lasting product. This is essential for two reasons. Firstly, it saves you money as you won't need to buy new aerosols or sprays as frequently. A little of the product will go a long way. Secondly, the longer the air freshener lasts, the better it works. You won't want to be needing to continually spray your product every few hours, so buy a long-lasting spray so that you don't have to.
Multipurpose
I personally prefer using air fresheners that are multipurpose and that are safe for use around the entire home, rather than being for use solely in the same room as the litter tray.
This way, if my cat has an accident elsewhere in the home, I can use the air freshener in this area too. If you have multiple different litter trays in different rooms, this is also really useful. You can overcome this issue by purchasing multiple air fresheners, or opt for a spray that you can use anywhere. Think about what you want to use the air freshener for, and this will help you decide whether this is an important factor for you or not.
How Else Can I Eliminate Cat Odors?
As well as using a pet-friendly air freshener, there are other things you can do to help reduce and eliminate unwanted cat smells in your home:
Maintain a Clean Litter Box
By cleaning out your cat's litter box regularly, you will drastically reduce the nasty smells coming from it. The longer you leave feces and urine in the litter box, the longer the odor-causing molecules have to enter the air. Moreover, cat urine actually smells worse over time. This is because there are bacteria found in cat urine that decompose a compound called urea. Through decomposition, the smell of ammonia is released. So, if you don't keep on top of daily scooping things can get pretty nasty pretty quickly!
You will want to try and get into the habit of emptying it twice per day. I like to scoop my tray in the morning and at night. This helps me get into a good routine so that I never forget to scoop. You should also empty and change the entire litter tray at least once every 1-2 weeks. Invest in a good quality cleaner to help lift those ammonia smells from the tray.
If you have issues with your cat urinating elsewhere in your home, such as on the carpet, maintaining a clean litter box can also encourage your cat to use their tray and reduce the number of accidents. This can improve the overall smell of your whole home. Besides, it makes your house much cleaner and more hygienic – win, win!
Use Multiple Litter Trays
Always have a litter box per cat, plus one. For example, if you had two cats, you'd need three litter boxes. Otherwise, smells can get concentrated quickly, plus if you cats feel like they don't have enough personal space, they are more likely to miss the box, be unable to bury their waste, or refuse to use their litter tray altogether.
However, having multiple litter trays is a good idea even if you only have one cat. It will spread the smell between multiple different locations, rather than it accumulating inside one and becoming overwhelming.
Upsize Your Litter Box
You can also improve the smell of your cat's litter box by giving it an upgrade. Size is the first thing you could look to change. Similar to before, using a larger litter box gives your kitty more space to do their business, meaning there is more chance they'll do it right.
Secondly, you should look for a litter box with high sides. This helps to contain all litter box mess so that less urine and litter ends up on the floor. This can go a long way in helping the surrounding area smell fresher. If you have a spraying cat, an enclosed litter box (hooded or top-entry design) works better. Enclosed litter boxes can also help to contain litter odors.
However, beware that enclosed litter boxes can be deceiving! We can think the litter box doesn't smell as the odors aren't traveling around our home. But inside the litter box, it can get very smelly due to the poor ventilation. If you keep on top of regular litter box cleaning this shouldn't be an issue.
Use a Different Cat Litter
Some cat litters are better at controlling nasty odors than others. Clay clumping litter tends to do a good job as they trap the nasty smells as the clumps form. I personally use pine litter as I find the natural scent of pine to be pleasing. You can get clumping and non-clumping natural litters, so why not try a few and see what works best?
One thing I would say is to never opt for a fragranced cat litter. Many people prefer these highly fragranced litters as it masks the smell of urine and feces. Yet it doesn't eliminate them – the fragrance simply hides the smells. Moreover, many of these artificial fragrances can irritate your cat and trigger asthma or allergies. Where possible, I would always recommend fragrance-free litter for use.
Keep Your Cat Well-Groomed
Although cats are naturally clean animals and self-groom regularly, you should also brush them regularly and clean their teeth. Doing so will make them smell less. Besides, it might even encourage them to self-groom more. This won't improve the smell of the litter tray, but it will improve the overall cat smell in your home.
Grooming your cat is even more important if you have an elderly feline. As cats age, they tend to lose the ability to self-groom. This is usually because of arthritis, a joint condition decreasing their mobility. Helping them stay clean and fresh reduces odors and keeps them happy.
Use Cat Deterrent Spray
Many cat owners' homes smell as their cat is having bathroom accidents and urinating around the home, rather than in their litter tray. Often, this is because your cat isn't happy with their litter tray and found a spot they prefer elsewhere. Changing your cat's litter tray to something more appropriate should help. However, even with a sparkling clean litter tray that is perfect for your cat, some simply insist on peeing elsewhere.
In most cases, this is a territorial move. Your cat is trying to spread its pheromones around your home and mark it as theirs. Try using a cat deterrent spray to discourage them from peeing in their favorite spot. Doing so can encourage them to use their litter tray instead where odors are more easily controlled. Besides, you won't have to keep cleaning up nasty accidents!
FAQs
Q: What air fresheners are safe for cats?
A: Air fresheners that are safe for cats are generally 100% natural and contain no harmful toxic ingredients, including essential oils. The position of your air freshener is also essential, as it should never spray on your cat directly or too close to their face, as this can cause skin irritation and difficulty breathing.
Q: What is the best air freshener for pet odor?
A: In my opinion, the best air freshener for pet odor is the Febreze Heavy Duty Air Freshener. It is 100% natural and safe for cats but is also extremely powerful at neutralizing and eliminating odors caused by pets.
Q: Are air fresheners bad for cats?
A: Some air fresheners are bad for cats as they can contain harmful chemical ingredients that can trigger respiratory problems in cats, such as asthma. They can also irritate their eyes or skin. However, you can purchase pet safe air fresheners for cats made from 100% natural ingredients that do not cause harm.
Q: Is Febreze safe for cats?
A: Yes, Febreze is safe for cats. The ASPCA did a test on the safety of Febreze and found it to be safe for use in households with cats and other pets.
Q: How do you keep your house smelling clean if you have cats?
A: You can use air fresheners to help combat pet odors. You should also make sure you clean your cat's litter tray and your home as a whole regularly, as well as keeping your cat clean.
MY FINAL THOUGHTS
If your house does smell of cat, in particular nasty litter box stenches, using an air freshener can be an effective solution. However, this should never be relied on, and be sure to keep your cat, their litter box, and your house clean to help keep unpleasant odors at bay.
When purchasing an air freshener, I prefer using a normal indoor air freshener that is safe for cats that I can use around my entire home. However, there are also pet-specific deodorizers such as litter deodorizer of air fresheners that work through the release of ions rather than scents. No matter which you choose, the most important consideration is whether the air freshener is safe for cats. However, get it right and you'll have a sweet-smelling home and a happy, healthy cat.