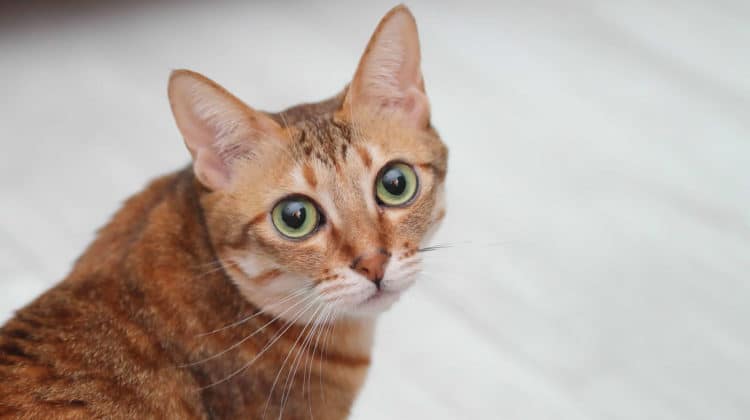 I was shocked to discover that up to 5% of cats have asthma, with differing intensities of symptoms.
This condition is characterized by constricted airways that make it difficult for your kitty to get enough oxygen into the lungs. It makes breathing a huge challenge and can cause potentially life-threatening asthma attacks.
Asthma in cats can develop due to stress or for unknown reasons. However, it usually develops as a result of allergic bronchitis, which is the inflammation of their respiratory tissue caused by constant exposure to allergens including cigarette smoke, deodorizers, pollens, and even the dust from their litter.
In fact, litter dust is one of the most common causes of respiratory distress among cats!
Because of this, choosing the right kind of litter for your cat is fundamental both in preventing and relieving respiratory issues such as asthma. It wants to be low-dust and free from chemicals and fragrances that can trigger asthma attacks in cats.
If your cat has asthma, you're in the right place. Here I review all of the best litters for cats with asthma currently available. Your cat can be happy, healthy, and breathe easily by simply switching to one of these litters. See which one you like the look of and give it a go today!
My Top Pick
Out of all the litters I've reviewed, I recommend Purina Yesterday's News Paper Litter for asthmatic cats because it is virtually dust-free, unscented, and completely natural.
Although it can be somewhat harder to clean and a bit more pricey than conventional clumping clay litters, it is still the best choice for cats with respiratory sensitivities. It is also biodegradable and sustainable, which is an enormous plus for the eco-conscious owner.
The two litters that follow closely are Dr. Elsey's Respiratory Relief Crystal Litter and Ökocat Paper Pellet Litter. You can skip forward to the complete list of selected litters and their evaluations down below.
In addition to my complete selection of the best litter for asthmatic cats, you can find below my criteria for selecting these litters, general information on feline asthma, and things you can do at home to enhance your cat's respiratory comfort.
My Method When Reviewing Litters for Cats With Asthma
When evaluating the litters on the market, my criteria revolved around determining which cat litters are more suitable for cats with asthma and other respiratory distresses.
At first, I grouped all litters into three categories based on their material and reviewed the litters within their category based on my material-specific criteria: clay-based litters, silica gel crystal litters, and natural litters.
Most cats and their owners have a preference for which litter they prefer, so by grouping my reviews in this way you can easily skip forward to the products you're most likely interested in. Or, if you're unsure or willing to change your type of cat litter, have a read through all the reviews. Below is a quick summary of each different material and what I looked for when finding recommendable products.
Clay-Based Litters
Clay-based litters are the most traditional type of cat litter. Most cats love the texture of this litter on their paws. However, they usually produce a serious amount of dust when compared to silica or natural litter. Additionally, the dust from clumping clay litters contains sodium bentonite which is not ideal for your cat to ingest. This makes them pretty problematic for cats with asthma!
Therefore, all the clay cat litters on this list are made specifically for cats with respiratory issues, and that present being dust-free as their main selling point. I also searched for clay litters that are fragrance-free and free from as many harsh chemicals as possible.
Silica Gel Crystal Litters
Silica gel litters are made from an extremely absorbent, porous material called sodium silicate, which can absorb up to 40 times its weight in liquid. This is a huge benefit for owners as they make cleaning the litter box an easy task. Their great absorptive properties also mean they're fantastic at controlling odors. Silica gel litters are also the least dust-producing type of litter when compared to clay-based and natural litters.
However, although very little in amount, silica dust is a toxic irritant that can build up in your cat's system over time. This can lead to a lung condition known as silicosis, which has asthma-like symptoms.
Natural Litters
Finally, I have a selection of natural litters for cats with asthma. Among natural litters, I've opted for paper litter, wood pellet cat litter, and walnut shell litters. This is because other sources of natural litter are wheat, corn, and grass, which are more likely to be allergenic for cats. I've also favored pellet litters over ones with finer granules because they produce less dust.
When reviewing all these categories of litters that are on the market, I've asked the following questions to determine their suitability for cats with respiratory issues:
How much dust does it produce?
What are the properties of the dust that it produces?
Is it fragrance-free?
What are its physical properties?
Is it a fine-grained or a pellet litter?
Is it clumping or non-clumping?
In light of the answers to these questions, I have selected 3 cat litters for each category. At the very end, I've chosen the top 3 out of all the categories.
The Best Cat Litters for Cats With Asthma
Dust, chemicals, and fragrances from cat litter are some of the top triggers of respiratory discomfort among cats. Not only will these things trigger the symptoms of asthmatic cats and worsen their condition, but constant exposure to large amounts of it can also cause the development of chronic bronchitis and asthma in otherwise healthy cats.
Dust from cat litter can also affect asthmatic people, especially kids. And they can even trigger allergies in cats and humans! Therefore, choosing the right kind of litter is first and foremost a health-oriented measure for you and your cat. So, let's look at the best options available to you.
Top 3 Clay-based Litters for Cats With Asthma
The best litter for cats with asthma is Dr. Elsey's Precious Cat Respiratory Relief Litter. As the name suggests, this is a traditional clumping clay-based litter that is specifically formulated for cats with respiratory sensitivities.
Compared to other typical clay litters, it produces a lot less dust. In fact, according to the manufacturer, it is 99.9% dust-free. This means there will be next to no dust particles cast into the air every time your cat digs to bury its waste. Already, you can see why I think this is a great litter!
On top of this, the litter is hypoallergenic because it doesn't contain any plant proteins, harsh chemicals, or added fragrances. These are all substances that can further irritate your cat's airways and potentially lead to asthma.
What's more, Dr. Elsey's R&R also contains "herbal essences" that help soothe your cat and lessen her stress. Since stress is also a factor in triggering breathing difficulties and asthma, this quality can be an extra benefit of the litter. Few other cat litters on the market offer this perk.
Pros
Clumps well for super easy cleaning
Produces little dust compared to other clay litters
Fragrance-free for reduced irritation
Hypoallergenic: no harsh chemicals or plant proteins
Contains herbal essences for stress reduction
Cons
Pricey compared to conventional clay litter
It is clay-based, so it can be toxic when ingested consistently over time
The Boxiecat is also a traditional clumping clay-based litter. Like Dr. Elsey's R&R, it produces way less dust when compared to typical clay litters. It is also hypoallergenic, unscented, and all-natural, making it a great option for cats with asthma.
Because of all these perks, this litter even managed to win the Cat Fancy 2012 Editor's Choice Award as the best product of the year! It is also one of the few cat litters to be recommended by vets. Vets are never going to recommend products that cause or aggravate respiratory conditions – your cat's health is super important to them. So, if you don't trust my opinion, trust the experts!
I also love the rock-solid clumps that form when this litter gets wet and instantly lock away nasty odors. Moreover, the clumps form on the top of the litter so that it becomes much easier to locate clumps and scoop them out. This also prevents sludge from forming at the bottom of the litter pan that needs harsh scraping to clean.
Pros
Award-winning and veterinary-recommended litter
Clumps extremely well and on the surface for easy cleaning
Produces little dust when compared to other clay litters
Fragrance-free and contains no harsh chemicals
Lasts almost twice as long as typical clay litter
Cons
Pricey when compared to conventional clay litter
Not eco-friendly because it is clay-based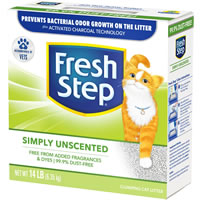 The last of my clay-based litters for cats with asthma is this clumping litter from Fresh Step. It is a pocket-friendly option, ideal for owners on a budget or people with multiple cats who can't afford to splurge on kitty litter. In terms of respiratory relief, it also scores highly.
For one, this cat litter is low on dust (99.9% dust-free to be precise) despite being clay-based. This dramatically reduces the risk of it aggravating asthma or causing other respiratory conditions, besides keeping surfaces and the air in your home clean. It is also fragrance-free and has effective odor control due to the activated charcoal in its formula.
Like the previous product, this litter forms very hard clumps that are easy to scoop, making the cleaning process very easy. According to the manufacturer, this rapid clumping combined with its activated charcoal controls odors for up to 10 days.
Pros
Clumps well for easy cleaning and scooping
Effective odor control with activated charcoal
Produces little dust when compared to other clay litters
Fragrance-free and contains no harsh chemicals
Pocket-friendly and great for owners on a budget
Cons
Not eco-friendly because it is clay-based
Top 3 Silica Gel Litters for Cats With Asthma
Now onto the silica litters, and first off I bring you the PetSafe Scoop Free litter. Like most good silica litters, the Scoop Free Sensitive is a crystal litter, meaning it has bigger granules. This is beneficial as it makes the litter virtually dust-free and the particles won't easily become airborne.
It is also unscented so doesn't have any artificial fragrances that can aggravate your cat's asthma. It also doesn't have dye, like many silica litters do, which is usually made from chemicals. These chemicals can act as an irritant, so the lack of their presence is welcoming.
This is a non-clumping cat litter, so think about this before you purchase as you might want to think about changing your litter box to a sifting tray to make cleaning easier. If you need one, the brand has its own raking tray (a.k.a the "Poop Harvesting Machine") which has a hilarious commercial that I felt obligated to share with you!
Another perk of this cat litter is its unmatched odor control. The crystals absorb all urine and help to dry out feces. Together, this makes for 5x better odor control than you'd get from clay clumping litters.
Pros
Has its own scoop free raking tray
Produces little to no dust (99% dust-free)
Dye-free and fragrance-free
5x better odor control than clay litters
Biodegradable
Cons
It is silica litter, so it can be toxic when ingested consistently over time.
The non-clumping formula may make cleaning harder
Pricey when compared to clay litters
Here's another litter by Dr. Elsey's Respiratory Relief series. The other one I've listed on this selection was clay-based while this one is made of silica gel crystals.
Whatever you choose is up to you – this variety has less dust than the clay type as it is made from silica. However, as silica can lead to lung fibrosis over time, you might prefer the clay version. The clay litter is also a clumping litter, whereas this is a non-clumping litter. Your preference for this might help you decide which is best for you.
Other than the material difference, the two litters are near-identical. It has no airborne dust, no artificial fragrances, no plant proteins, and has clearly been made with asthmatic cats in mind. Unlike many silica litters, this also doesn't contain crystalline silica and is instead made from silica sand. This is gentler on the lungs and isn't thought to cause as much long-term damage.
Like Dr. Elsey's R&R clay-based litter, this one also has herbal essences in its formula to aid in stress reduction. I absolutely love this idea and few litters target both the allergens and the stress-related triggers of asthma.
Pros
Fragrance-free cat litter
Produces little to no dust
Hypoallergenic: no harsh chemicals or plant proteins
Doesn't contain crystalline silica
Contains herbal essences for stress reduction
Biodegradable so great for the eco-conscious owner
Cons
It is silica litter, so it can be toxic when ingested consistently over time.
The non-clumping formula may make cleaning harder
Pricey among all types of litter (including Dr. Elsey's R&R clay-based litter)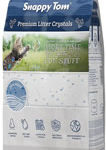 Last but not least in this category, we have the Snappy Top Crystal Cat Litter. This is another silica gel crystal litter that's very low on dust. While great for cats with asthma and other respiratory concerns, it is also a suitable option for cats with allergies. Moreover, this feature means it is a low-tracking litter and helps to minimize mess.
It is also unscented and hypoallergenic. These are two other must-have features for cats with asthma. I also love that it has an intelligent bacteria-resistant formula that helps to keep bad bacteria at bay.
Snappy Tom crystal litter claims to be "environmentally friendly", referring to the fact that it doesn't contain sodium bentonite. This is true for all silica and natural litters because sodium bentonite is only found in clumping clay litter. I was hoping that "environmentally friendly" referred to being biodegradable, but I couldn't find information anywhere on the web about whether or not it is.
As with all silica litters, this is another non-clumping type. Some owners prefer this, whereas others find scooping solid clumps of waste. It is all down to personal preference, so do consider the cleaning aspect before making a purchase.
Pros
Fragrance-free and no harsh chemicals
Special bacteria-resistant formula
Non-tracking litter for less mess around your home
Produces little to no dust
Cons
Can be toxic when ingested consistently over time.
The non-clumping formula may make cleaning harder
Pricey among all types of litter
Top 3 Natural Litters for Cats With Asthma
If you're looking for a natural cat litter, Purina Yesterday's News is an excellent choice. This is a pellet cat litter made entirely from recycled paper. Paper as a material is hypoallergenic, virtually dust-free, and completely natural. This makes it a great choice for asthmatic cats.
Paper is also an extremely absorbent material, which makes it a great choice for cat litter. This litter is 3x more absorbent than clay litters and readily absorbs urine and traps odors in an instant.
This litter is even recommended for post-surgery cats because of its material and soft pellet form. But even if your cat isn't recovering from surgery, this soft texture is a plus. Many natural cat litters are made from hard pellets that cats don't like walking on. This can lead to bathroom accidents or a complete refusal to use the litter tray! But with this super-soft litter, these issues are avoided completely.
As a natural litter, it is also eco-friendly, sustainable, and biodegradable. According to the packaging, it is also the #1 eco-friendly cat litter that is recommended by vets. I love knowing my cat's waste isn't clogging up landfills, so always look for environmentally friendly options like this.
Pros
Biodegradable, sustainable, and eco-friendly
Virtually dust-free so great for cats with asthma
Hypoallergenic with no chemicals, dyes, or fragrances
Non-toxic when ingested
3x more absorbent than clay cat litters
Affordable compared to other natural litter
Soft texture that feels comfortable on cats' paws
Cons
It might harder to clean because it is non-clumping
More expensive than clay cat litters
Next up we have the Naturally fresh Walnut Cat Litter. This cat litter is made from biodegradable walnut shells. This might seem like a strange material for cat litter, but it's actually highly effective at its job.
Firstly, walnut shells are highly absorbent and fantastic at absorbing all moisture from your cat's litter tray. This helps with odor control, claiming to be 7x as powerful as other leading cat litters. It is a non-clumping formula though, so bear this in mind before buying. Also, it comes as hard pellets which some cats might need a little time to get used to using.
Walnut shells are also a 100% natural product and so an environmentally friendly option. The litter is sustainable and biodegradable, so you can use this with a clear conscience knowing you're not being detrimental to the planet.
But most importantly, walnut shells produce virtually no dust. This makes the litter safe for cats with asthma and other respiratory conditions. You can also breathe easier in your home. Plus, this cat litter is also unscented which is another pro when searching for asthma-relieving litters.
Pros
Eco-friendly, biodegradable and sustainable
Produces little to no dust so great for asthmatic cats
Hypoallergenic with no fragrances, dyes, or chemicals
Non-toxic if accidentally ingested
Reasonably priced compared to other natural litter
7x more powerful odor control than other leading litters
Cons
Might be harder to clean as it is non-clumping
Expensive compared to conventional clay litter
Some cats might not like the hard pellets
And finally, we have the Ökocat cat litter. This is another non-clumping pellet paper cat litter, just like the Purina Yesterday's News. Therefore, this litter carries many of the same benefits – it is extremely absorbent, gentle on your cat's paws, and effectively traps odors.
This cat litter is made entirely from recycled paper fiber and so is great for the environment. Once used, it is also biodegradable and doesn't cause any harm to our planet.
The use of paper also makes this litter virtually dust-free. This is a must for cats with asthma, while also helping to reduce tracking and keep your home clean. Moreover, there are no artificial fragrances, no synthetic chemicals, no toxic dyes, and no GMOs. This litter is as safe as can be!
In fact, this litter is so safe that even if your cat ingests a pellet, its non-toxic natural material will not harm her. The only slight drawback is the price. It is on the more expensive side, but there is no price on your cat's health and for all the benefits I think it's well worth paying extra.
Pros
Biodegradable and sustainable
Made from 100% recycled paper
Virtually dust-free and hypoallergenic
Non-toxic when ingested
No artificial fragrances, dyes, or chemicals
Soft texture that feels comfortable on cats' paws
Flush-safe so easy to dispose of
Cons
One of the most expensive cat litters on this list
Non-clumping so may be harder to clean
Ökocat also has a wood pellet version, which I would also recommend if you would prefer wood pellets over paper pellets. The wood pellet version is a tiny bit cheaper and it is 99% dust-free, biodegradable, sustainable, and unscented.
Top 3 Best Litters for Cats With Asthma
All the litters in the selection above are decent choices for a cat with respiratory issues such as asthma. They all produce very little to no dust, are unscented, and hypoallergenic.
However, I still wanted to select the top 3 litters from that list to present you with the best of the best:
Let me explain my selection of these litters as the best of the best:
As you can see, 2 out of my 3 top choices are paper pellet litters. Both are natural litters that are entirely dust-free and hypoallergenic. They are so safe that they won't even harm your cat if she ends up ingesting them. Paper litters are completely safe for your cat, you, and the environment!
The remaining litter on my top 3 is a silica gel litter that earned its place because it is completely dust-free. I am usually not an advocate for products that are not eco-conscious (like most silica litter) but this one gets an extra point for being biodegradable. This doesn't mean that it's as eco-friendly as natural litters, but it is better than clay-based ones. Dr. Elsey's R&R Silica Crystal Litter is a solid choice for cats with respiratory issues.
I haven't included any clay-based litter in my top 3 because no matter how cleverly formulated, clay litters will produce some amount of dust (of course, this amount can vary.) Rest assured, the clay-based litters in my selection are very low on dust – but my top 3 are reserved for virtually dust-free and eco-conscious litters.
Cats and Asthma
Unfortunately, feline asthma is a common chronic condition in cats, although it ranges in severity. Cats usually develop asthma in adulthood, when they are between 2-8 years old. We don't know why, but studies have shown that female cats are slightly more susceptible to developing asthma. This is also true for Siamese and Himalayan breeds.
Feline asthma is relatively easy to diagnose and can usually be treated to manage its symptoms.
Let's take a look at the causes, symptoms, diagnosis, and treatment of feline asthma:
What Are the Causes of Asthma in Cats?
Asthma is the reaction of the airways in the lungs to certain stimuli like allergens. The most common triggers for asthma in cats are dust litter, cigarette smoke, room deodorizers, harsh cleaning products, grass, and pollens. However, things like stress are also known to trigger the condition. Cold, dry air is another possible cause.
Typically, the airways begin to narrow down as a defensive response to the stimuli, restricting airflow to the lungs. The narrowing of the bronchi is due to both an inflammatory reaction and the contraction of the muscles around them. The cat's immune system also causes the production of excessive mucus in the bronchi, which further restricts airflow to the lungs.
A cat usually develops asthma when the irritants are constant, and her immune system develops a chronic response to these irritants. However, asthma can also be exacerbated when cats are exposed to an extreme amount of the triggering substance. This can cause asthma attacks.
In asthma attacks, not enough oxygen can get into the lungs and travel to where it is needed. These can be mild and may correct themselves once the triggering substance has gone and the airways have cleared. But, in worst cases, these asthma attacks can be fatal. Breathing can stop completely or oxygen might not be able to get to the brain, heart, and other essential organs.
What Are the Symptoms of Asthma in Cats?
If you observe one or a number of these symptoms in your cat regularly, she may be suffering from asthma:
Coughing and wheezing
Rapid or labored breathing
Coughing up mucus
Tiredness and general weakness
Bluish appearance in lips and gums
Since asthma restricts airflow to the lungs, the symptoms are all responses to difficulties in breathing. These symptoms can have different intensities and they may appear simultaneously or separately. The most common symptoms among the list above are coughing and wheezing.
Cats with more severe asthma experience coughing and wheezing daily, while ones with mild asthma show these symptoms less frequently. The coughing is usually a spasm involving dry sounds, which strongly resembles cats' habit of gagging up hairballs. Therefore, coughing may be hard to identify as a symptom if it occurs only occasionally.
During an asthma attack, cats typically assume a posture in which they lower their body to the ground while extending their neck and head forward and upward. In a severe attack, cats will gag up mucus, cough, and gasp for breath. If you think your cat is experiencing a severe asthma attack, call the vet immediately. These can be fatal, and your cat might need urgent medical attention.
How Is Asthma Diagnosed?
If you observe one or a number of the symptoms mentioned above, you should take your cat to the vet for a diagnosis because other medical conditions may show similar symptoms to asthma, such as chronic bronchitis, lung cancer, heart problems, pneumonia, lungworms, parasites, etc. A diagnosis of asthma or any of these other conditions will also mean that treatment can begin as soon as possible.
Although there isn't just one conclusive method of testing for asthma, your vet has a couple of tools at hand to make a solid diagnosis:
X-rays
CT scans
Bronchoscopy
Blood testing
Allergy testing
Microscopic analysis of cells in the respiratory system
X-rays, CT scans, and bronchoscopy are methods of diagnosing by imaging. More invasive than the former two, bronchoscopy requires the insertion of a camera from the cat's mouth to her lungs when she is under anesthesia. The bronchoscope not only yields visuals but it also collects samples of cells along its path, which can then be analyzed under a microscope.
Two or more of these methods used together will give definitive results about whether or not a cat has developed asthma.
What is the Medical Treatment for Feline Asthma?
Unfortunately, asthma is a progressive condition that cannot be completely cured, but it can be treated to reduce its uncomfortable symptoms that result from difficulties in breathing.
Veterinarians typically utilize corticosteroids to help lower the inflammation of the lung tissue. Corticosteroids are drugs that can decrease allergic reactions such as inflammation, itching, and swelling because they suppress the immune system. They can be administered through oral pills, injections, or inhalers.
An additional type of drug that can be prescribed alongside corticosteroids to relieve feline asthma is a bronchodilator. As the name suggests, bronchodilators work to dilate the bronchi, which are the airways in the lungs.
Bronchodilators can be injected, inhaled, or swallowed, but they usually come in the form of inhalers to be administered in times of respiratory distress. They take effect quickly and help as emergency medication.
Bronchodilators are not enough by themselves in the treatment of feline asthma. They are used to provide additional and emergency relief, while corticosteroids yield a longer-term, systematic treatment.
Caring for a Cat With Asthma
In addition to seeking professional treatment and using the right kind of litter, there are things you can do at home to make life better for your cat if she has asthma.
List All Potential Allergens
The first thing to do is try and make a note of all the potential irritants, allergens, and triggers in your home. This is something to consider even if your cat doesn't already suffer from asthma because such irritants and/or allergens can cause the development of respiratory problems, including asthma.
Below are just some common examples of what could trigger asthma in cats:
You regularly burn scented candles and/or incense indoors
You use fragranced room deodorizers
You use hairsprays or deodorants near your cat
Your house is prone to dust accumulation
Your house has molds
Your house has a fireplace that you regularly use
You regularly use strong cleaning products like ammonia, bleach, or hydrogen peroxide
You regularly smoke indoors
Eliminate Allergens
Next, you want to eliminate any product or behavior that could trigger respiratory discomfort for your cat.
Stop burning scented candles and using fragrances deodorizers, avoid using hairspray and aerosols near your cat, and don't smoke inside the house. If you must continue doing these things, look at getting an air purifier for cats. These units trap and eliminate allergens and other particles from the air so you and your cat can breathe easily.
Regular cleaning (using cat-friendly cleaning products that don't contain harsh chemicals) can also help to remove dust and mold. I also recommend purchasing a handheld vacuum for cat litter so quickly and easily clean around your cat's litter tray. This can also be used to quickly clean away any tracked litter, preventing dust and other litter particles from spreading.
Make Other Changes
Once you make sure that you have eliminated the triggers on the list above, there are a few other things you can pay attention to. Certain foods, parasites, stress, and obesity can also make your cat's asthma worse.
To manage your cat's asthma, please pay attention to these things as well:
Don't forget to administer your cat's regular internal parasite medicine. You can also schedule a regular check-up routine for parasites with your vet. Parasites such as heartworm can affect breathing and increase the likelihood of respiratory issues.
If your cat likes to go outdoors, restrict her outside time in seasons when there is lots of pollen production. You may also want to keep your cat away from certain plants and grass.
Overweight and obese cats have a harder time breathing as the muscles surrounding their ribs have more work to do, so make sure your cat is at a healthy weight and keeps it so.
Pay attention to whether or not your cat may be experiencing stress in her environment. If you can, identify and eliminate the source of this stress. Making your home more stimulating and enriching can also help ease stress in cats.
Modest use of a humidifier for cats with asthma can help because dry air will irritate your cat's respiratory tract. Keeping the air in your house fresh, clean, and relatively humid will benefit your cat greatly.
CONCLUSION
There is no doubt that whether it's mild or severe, asthma in cats is a serious medical issue that requires regular treatment to manage its symptoms. Once you've got your cat under medical supervision, there are simple things you can improve in her environment that will help greatly in relieving her symptoms.
One of the first things you should do in this regard is to evaluate the litter she uses and see if you need to make a change, because dust from cat litter is one of the top causes for respiratory problems in cats. Not only that, but it can also trigger these problems in people that regularly change and clean their litter.
Opting for a non-toxic, natural, dust-free, hypoallergenic, and eco-conscious litter is one of the best things you can do for your cat, yourself, and the environment. Remember, your cat doesn't need to have asthma for you to choose a safe, respiratory sensitive litter for her. Choosing a great litter now can help prevent potential issues from arising in the future.