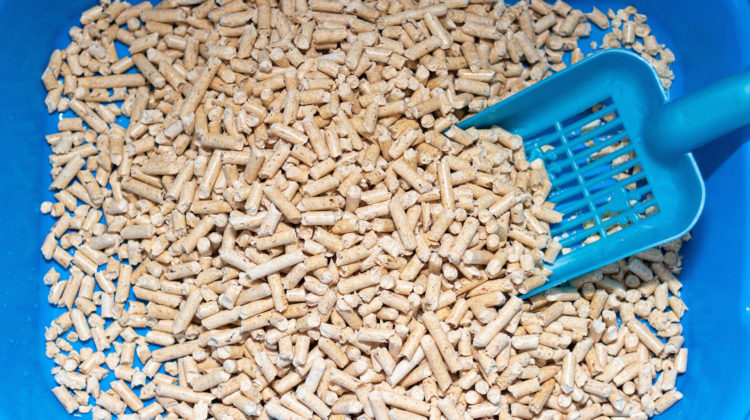 Wood pellet litter is a type of natural pellet litter that is commonly produced from pine or cedarwood.
Compared to ordinary clay-based litter, it has larger granules -pellets- that are composed of compressed wood fibers.
Wood pellet litter is a viable alternative to conventional litter because it is an eco-friendly, natural, recycled, non-tracking, no-dust, and 100% safe litter that is as practical to use as normal clumping clay litter.
Therefore, there is no reason why you should refrain from switching to this kind of natural litter.
Below, you will find everything there is to know about wood pellet litter: how it works, how to use it effectively, its benefits and drawbacks, a selection of best wood pellet litter options, and a broader look at natural litters made from other materials.
How Does Wood Pellet Cat Litter Work?
Wood pellet cat litter is a type of natural pellet litter.
Pellets are granules that are made from a variety of absorbent materials, constituting an effective option as cat litter. Unlike the traditional fine-grain clumping clay litter, pellet litters have coarser pieces that are most commonly made from absorbent biodegradable materials.
Wood pellet litter is made from leftover wood from the timber industry, so it is a sustainable form of litter. Wood pellet litter has two kinds: pellets of softwood or hardwood. Softwood pellets are more popular and are normally made from pine or cedar. This is why wood pellet litter is often referred to as pine pellets. The hardwood pellet litters are usually produced from oak and applewood.
Wood pellet cat litter has super absorbent pieces made of dehydrated, compressed wood fibers that engorge when moist and disintegrate when soaked with liquid, in this case, urine. Once they disintegrate, they become powdered sawdust and are sifted through the intact pellets to the bottom of the litter pan.
Using wood pellet litter is a bit different from traditional clay litter, but just as easy and convenient.
Here are some things you may be wondering about how to use wood pellet litter:
Does Wood Pellet Litter Require a Custom Litter Box?
No, you can use the one you already have. It also doesn't matter whether the litter box is hooded or not.
However, there are litter boxes custom-designed for pellet litters that can help you avoid scooping daily and make your cleaning process easier.
These litter boxes are equipped with a sifting tray that separates the sawdust from the fresh pellets. The sifting tray fits onto the regular tray at the bottom of the litter box. The sawdust falls through the holes of the sift to the bottom tray while the intact pellets stay on top for your cat's use.
The design of the Purina Tidy Cats Breeze litter box incorporates a drawer at its base where the sawdust can collect for removal without you having to deal with the sift or dismantle the box.
The Purina litter box comes with its custom pellets (which are made of zeolite and not wood) but you can use most pellet litters as long as they are compatible with the holes of the sift.
Since wood pellet litters don't have a standard granule-size, you should make sure the size of the shift's holes matches the kind of pellet litter you use. The holes should be smaller than the pellets but large enough for sawdust to easily fall through.
You don't need to fill the litter pan to the brim, instead, 2-3 inches deep is enough because some pellets soak up urine and engorge.
Does Wood Pellet Cat Litter Clump?
No, typical wood pellet litter doesn't clump – though this is in no way a drawback, just how pellet litters work.
Instead of clumping, the wood pellets decompose into sawdust once they are soaked with urine. This way, the powdered pieces fall to the bottom of the pan while the unsoaked, fresh pellets stay on top.
To clean, all you need to do is remove the sifted sawdust at the bottom of the pan and keep the fresh pellets by reverse-scooping.
With poop, wood pellets work pretty much the same way as traditional clay-based litter. That is to say, nothing much happens to it. Although one difference may be that some clay-based litters stick to the poop and cover it up, which is not the case with most pellet litters.
While most wood pellet litters don't clump, some brands can form clumps to a certain degree, such as the Next-Gen Pet Fresh Cypress Cat Litter.
These types of clumping pellet litters are more similar to clay-based litter with regards to how they are cleaned – you scoop out the urine-soaked clumps and leave the rest for use.
How to Scoop Wood Pellet Litter?
You might be wondering if it's harder to clean wood pellet litter when compared to common clay litter.
Well, it's not harder but different.
In the beginning, it can take some getting used to, but once you do, there will be no extra hassle in cleaning this kind of litter.
Since the urine-soaked wood pellets disintegrate instead of clump together, the scooping process is kind of the opposite of scooping standard clumping litter.
If you have a regular litter box (not a pellet-specific one with a sift), here's how you clean it:
Scoop out all the poop and throw it in the trash, just as you would with normal litter.
Gather all the areas of wetted sawdust on your scoop and shake it over the wastebasket. This will get rid of the sawdust and keep the fresh, intact pellets that haven't disintegrated on the scoop. Instead of throwing out what is left on the scoop, you do the opposite!
Put all the collected intact pellets back into the cleaned litter pan.
Add new pellets to make up for the amount you've thrown out. Voilá!
You can give your litter box a few shakes daily so that the disintegrated sawdust falls to the bottom of the pan, leaving fresh pellets at the top.
Can I Flush Wood Pellet Litter Down the Toilet?
Disposing of pellet litter is very easy and you even have some options to choose from!
While clay-based litter should never be flushed down the toilet, pellet litter made of biodegradable material like wood can be flushed if it claims to be flush-safe. The product will make this clear by stating if it is "flushable" or not on its packaging. If it doesn't say anything, it is probably not flush-safe.
Even if your brand of litter is flushable, make sure you do it in small amounts just to be safe. Moisture initially engorges pellets, so flushing them down in large amounts may result in clogged pipes.
Urine clumps can be safe to flush, but cat feces should not be flushed down the toilet. Cat feces could be carrying toxoplasmosis, a bacterial disease that spreads from eating wild animals or contact with other infected cat feces – which is not uncommon. Infected cats discard the bacteria through their feces, so flushing cat poop down the toilet carries the risk of toxoplasma contamination of water and soil. This can be a threat to human health (especially pregnant women) and wildlife.
This is also why you shouldn't use cat feces as compost.
Urine clumps from pellet litter are okay because they do not carry the bacteria, only poop does. If labeled "biodegradable" or "compostable", you can bury the used pellets in a garden area or utilize them as compost.
However, you shouldn't use litter compost to grow any edible plants such as fruits, vegetables, or spices. Although urine does not carry toxoplasma, it is still not very safe to use soiled pellet litter as compost for edible things because you may never be absolutely sure if they haven't contacted feces in the litter box.
Pellet litter brands will indicate whether or not they are suitable for composting on their packaging and online product pages.
To summarize: You can flush pellet litter down the toilet if the product claims to be flush-safe, but make sure you throw the feces into the wastebin beforehand. You can also use the soiled litter as compost if it claims to be compostable, but never for edible plants. Other than the options of flushing, burying, or composting, you can always throw it away as regular trash. That's it!
Does Wood Pellet Cat Litter Reduce Odor?
Yes.
Wood pellet litter has a pine scent that naturally represses unpleasant odors. This is not an added fragrance, it is the natural scent of the wood. You should never use a litter that has an add-on scent.
Wood pellets are also extremely absorbent of liquid. Therefore, they trap urine and keep the litter dry, which blocks odor.
Do Cats Prefer Wood Pellet Cat Litter?
Most cats seem to prefer the usual fine-grain litter as opposed to pellet litter.
This may be because fine-grain litter feels smoother on their paws. There's also a theory that claims cats are biologically inclined to prefer finer-grained litter because it resembles desert sand that their ancestors are used to.
This doesn't mean that they can't use pellet litters though. Some cats even like pellets over normal litter because it doesn't get stuck in their paws and feels soft and spongy.
There are so many benefits to using wood pellet litter and with time, your cat may even grow to love it!
Will It Be Easy to Switch From Clay Litter to Wood Pellet Litter?
Changing your cat's litter even if it's from one clay-based brand to another can be somewhat challenging because cats don't like change, especially in something as essential as their litter.
This is why it can be difficult for cats to switch to pellet litter from the conventional clay-based one that they are used to. The texture and size of the granules of the two types of litter are immensely different, which will not go unnoticed by your cat.
However, difficult does not mean impossible (not to mention that it's not bound to be difficult – after all, each cat is different).
You shouldn't refrain from switching to wood pellet litter because it's nothing that your cat can't handle. If you have the right approach, there is no reason why your cat shouldn't get accustomed to using wood pellet litter.
How to Switch From Traditional Litter to Pellet Litter?
As you do with any other new product you introduce to your cat, take it step by step. Don't change your cat's litter overnight and expect her not to notice or react to this sudden switch.
The formula is to gradually invert the ratio of new litter to the old one over about a week. Start by replacing roughly a quarter of your cat's usual litter with pellet litter (1-inch deep pellet litter : 3 inches deep old litter.) Each time you change the litter, add less of the old one and more of the new and do it over 4-5 steps.
Is Wood Pellet Cat Litter Safe for My Cat?
Perhaps the most important thing to consider when choosing a suitable litter for your cat is if it poses any health threats for her.
Rest assured, wood pellet litter is one of the safest options among all types of litter.
Unfortunately, cats regularly ingest their litter in small amounts because;
Most litters create dust when disturbed – i.e when your cat digs it up to bury her feces. Your cat inhales these dust particles. This dust also settles on her coat and is ingested when she licks herself clean.
Most fine-grain litters stick to your cat's paws. When she licks her paws to clean them, the litter granules inevitably end up in her system.
Traditional clay-based clumping litter contains sodium bentonite, which threatens the well-being of your cat's digestive tract when ingested excessively.
Not to mention that your cat is much more likely to ingest clay-based litter because it has fine-grains that create more dust and stick a lot more to your cat's paws when compared to pellet litter.
Pellet litter in general and wood pellet litter in particular produces little to no dust. Low dust makes your cat less prone to developing any respiratory problems.
Wood pellet litter also doesn't stick to your cat's paws, which diminishes your cat's chances of ingesting the particles by licking her paws.
With all these considered, it becomes very clear that wood pellet litter is less likely to end up in your cat's system.
Even if your cat eats a few pellets by accident, there is no need to worry. Wood pellet litter production doesn't involve chemical treatment and the litter typically doesn't have any added ingredients.
If you are worried about the potential of pellets being a choking hazard, you are safe on that front too. Clumping litter is more of a choking hazard (especially for kittens) than pellet litter because it can form clumps in your kitty's system.
With wood pellet litter, the one thing to watch out for is an allergic reaction to the wood. Although not common, cats can have allergies to certain natural materials like wood. If that is the case with your cat, you should consider switching to other options of natural litter.
It is quite apparent that possible allergies aside, wood pellet litter is entirely safe for your cat.
However, like all types of litters, not all wood pellet litters are top quality. When choosing amongst wood pellet litters, make sure you pick a fragrance-free and 100% natural product with as little added ingredients as possible.
Pros and Cons of Wood Pellet Cat Litter
I love using lists because they make everything clearer.
So, here's one of the pros and cons of wood pellet litter:
Wood Pellet Cat Litter: Pros
It doesn't stick to your cat's paws, so there is no tracking and your cat doesn't experience the discomfort of having things stuck in her paws.
It produces very little to no dust.
It is biodegradable and sustainable.
It is 100% natural: typical wood pellet litter doesn't have any added scents or chemicals.
Its disposal options are varied, useful, and easy: You can flush down most types or use them as compost.
Wood pellet litters weigh lighter than standard clay litter.
They are entirely safe for your cat. The chances of ingesting pellets are very low, but even if she does, your cat will be fine.
Many wood pellet litters are flush-safe.
It has a naturally fresh, earthy scent because of its material, which also helps with odor control.
Wood Pellet Cat Litter: Cons
Wood pellet litters are a bit more pricey in general when compared to usual clay-based litters.
It may be hard to switch to pellet litter because most cats prefer fine-grained texture as litter.
The fact that wood pellet litters don't clump can be considered a drawback for people that are used to scooping clumping litter.
Some cats may not like the scent of pine or they may be allergic to the material.
Wood Pellet Cat Litter Options
Below is a selection of wood pellet litters that are quite varied in terms of their clumping abilities, wood source, additional ingredients, and prices.
Hopefully, this will offer you a comprehensive idea about different kinds of wood pellet litter that you can choose from.
I've briefly mentioned this litter above as an example of a clumping pellet litter. It is made from cypress wood with an addition of green tea and has pellets that are on the smaller side.
Pros
It has a slight natural wood and green tea scent which provides effective odor control. (The green tea scent comes from actual green tea in the formula, it hasn't been added artificially.)
It clumps well.
It is compostable.
Cons
It may stick to your cat's paws and cause tracking.
It may stick to the bottom of the litter pan a bit.
Your cat may not love the green tea smell as much as you do.
It is not flushable.
It is on the pricey side.
As the name makes it clear, this is a conventional non-clumping pellet litter made from pine fiber.
Pros
It is fragrance-free but has a natural and fresh pine smell.
It has no added ingredients, just 100% pine.
It doesn't track or produce dust.
It is pocket-friendly.
Cons
It is not flushable.
The disintegrated sawdust may not all fall properly through the sift in a sifted litter box system.
Pieces scattered from the litter box can be painful to step on – a customer has even described them as "legos on the floor"!
This is a semi-pellet litter that has a clumping formula. It also includes materials other than wood (pine and cedar shavings), such as corncobs, guar gum, and glycerin. It is not a conventional pellet litter, but it is also not silica or clay-based.
Pros
It clumps well.
Switching to this litter from clay-based litter will be easier for your cat because it has finer granules.
The corncob in its formula makes for effective odor control.
It is reasonably priced.
It doesn't track or produce dust.
Cons
It has an artificial fragrance and glycerin in its formula.
It is not flush-safe.
It is not compostable because of its added ingredients.
This is a %100 natural non-clumping pine litter that has mid-sized pellets.
Pros
It doesn't track or produce dust.
It is compostable.
It doesn't have any added ingredients.
It is fragrance-free but has a natural pine smell.
Cons
It is not flush-safe.
It is pricey.
Other Natural Cat Litters
As its name makes obvious, natural cat litter is produced from natural, biodegradable materials.
Our topic at hand, the wood pellet litter, is a proud member of the natural cat litter family.
There are many other options for natural cat litter apart from wood, made from a variety of sustainable materials.
They are:
Recycled paper
Walnut shells
Corn
Wheat
Grass
All these litters differ from each other in things like the way they clump (or not), their granule texture and size, or how much they track, depending on their material and the way they are made.
For instance, while wood pellet litter comes in the form of pellets, other natural cat litters may vary in their granule-size from larger pellets to finer grains. The same material can produce a litter with varying granule texture, size, and clumping abilities too.
Let's take a closer look at each of these natural litter options:
Recycled Paper Cat Litter
Recycled paper litter is usually made from recycled newspaper fibers that are compressed to form pellets.
Recycled paper is very similar to wood pellet litter because both have coarse pellets that are highly absorbent, which prevents dust and tracking.
Wood pellet litter can still track a bit because its pellets crumble into sawdust when soaked, but paper litter doesn't track at all because instead of disintegrating, its pellets just absorb the urine as much as they can.
One disadvantage of paper cat litter is that it is relatively harder to clean. Soiled pellets are darker in color and have engorged to 2-3 times the size of its clean pellets. Effective cleaning requires a scoop with holes that are suitable to separate the soiled pellets from the clean ones.
Recycled paper litter is one of the best litter alternatives out there. It is sustainable, eco-friendly, non-tracking, no-dust, typically flush-safe, and hypo-allergenic.
It is also completely safe for your cat and will not harm her digestive system if ingested.
Walnut Shell Cat Litter
Like paper and wood, walnut shell litter is made from recycled products.
In fact, these shells would be thrown away if they weren't repurposed as litter. Walnut shells are crushed and compressed to make a highly absorbent, clumping litter that is slightly darker in color than clay litter.
Walnut shell litter is usually very fine-grained, almost like clay-based litter. It can cause some tracking (about the same amount as clay litter) because it is fine-grained and quite lightweight. This also means that walnut shell litter can produce some dust. However, its dust is not harmful like that of clay-based litter, which contains sodium bentonite.
Walnut shell litter is a great option for those looking for a natural alternative to clumping clay-based litter because it clumps quite well and its texture is quite similar to clay litter.
Additionally, most walnut shell litters are flush-safe and compostable.
Corn & Wheat Cat Litter
Corn and wheat litter usually come in the form of pellets but they are both clumping litters because they contain starch, which is a natural binding element.
Wheat and corn are sometimes even added to other natural litter formulas like wood pellets to give them clumping abilities. These two grains are also often used together in one litter formula.
With corn and wheat, it can become a problem if your cat ingests too much of these grains regularly – which is a possibility when it's in their litter – because grains upset your cat's digestive tract.
One other thing to watch out for with these grain-based litters is possible insect infestations if they are not stored properly. Make sure you seal their packaging perfectly, and you'll be fine.
Other than that, corn and wheat litters are natural, flush-safe, and compostable litter options.
Grass Cat Litter
Grass litter is made from grass seeds, which are completely biodegradable.
Grass litter clumps very well and has a soft and fine-grained texture, which makes it a great natural alternative to clumping clay litter.
Like other natural litters, it is completely natural and compostable. The only thing to watch out for is if your cat has a grass allergy. If not, it is an entirely safe option among natural cat litters.
Clay and Silica Litter Vs. Natural Litter
Now that we've explored the world of natural litters, let's take a look at how they compare to other popular options of cat litter, which are clay-based and silica gel crystals.
Clay-based Litter
Clay-based litter is the most widely used type of litter out there. It has two types: clumping and non-clumping.
Non-clumping clay litter is made from Fuller's earth, meaning that it is a clay material that is very absorbent of liquid. This kind of litter absorbs urine and odors very well, but it needs to be thrown out completely when cleaning.
Clumping clay litter is the most popular type out of all litters because it is extremely practical to clean. This litter forms hard clumps when in contact with urine and is easily separated from the fresh litter around it. Not only does this make scooping very easy, but it also saves you money as you end up using the litter very effectively.
Unfortunately, there is a huge problem with clumping clay litters because they have sodium bentonite as their main ingredient. Bentonite is potentially harmful to your cat as it builds up in their system through breathing it in as dust and ingesting it when licking their paws.
To make matters worse, the making of clumping clay litter is extremely damaging to the environment because bentonite clay is obtained by strip-mining the land. Clay litter disposal is also problematic because unlike natural litters, it is not compostable or biodegradable.
Clay litter is your toilet's worst enemy too. If you make the mistake of flushing it down, the hardened clumps will clog your pipes for sure!
When compared to wood pellet litter, clay litter can be more practical to use, more economical, and it has a fine texture that most cats seem to love. However, considering its health risks and damages to the environment, natural litters like wood pellets make for an indisputable alternative as cat litter.
Silica Gel Crystal Litter
Silica gels are made from a chemical compound called sodium silicate.
In the production of silica gel litter, this substance is treated with water and oxygen which yields super absorbent, porous crystals. These crystals can absorb up to 40 times their weight!
Silica litter doesn't form clumps when in contact with liquid. Instead, you need to replace it with a fresh batch once every two weeks or so. Due to its clever engineering, silica litter can go a long time before it starts to smell of urine. All you need to do is scoop out the solid waste daily and give it a little stir so that excess moisture can evaporate from the beads at the bottom of the pan.
Silica gel litter is virtually dust-free. With this being said, the ingestion of silica dust can lead to a lung disease called silicosis in both humans and cats.
Even though silica litter produces very little dust, it can build up over time in your cat's system. Not to mention the possibility that your cat might accidentally ingest beads when licking her paws.
Silica litter production is also damaging to the environment as it is sand-mined. In terms of disposal, there are a few silica litters that are biodegradable, but the majority of them are not.
When you consider the health risks of ingesting silica and clay litters and the environmental implications of their production and disposal, it seems wise to opt for natural alternatives like wood pellets.
CONCLUSION
Wood pellet cat litter has so many advantages that the question "should I switch to wood pellet litter?" becomes a cry of "why haven't I already?!"
Not only is it eco-conscious, but also extremely practical to use and much safer for your cat than clay-based or silica litter. These are all extremely compelling reasons to switch from clay-based litter to wood pellets or any other natural litter.
In the end, your cat will let you know whether or not she's comfortable with the type of litter she's using. It is your responsibility to offer her the safest options possible and let her choose between them.