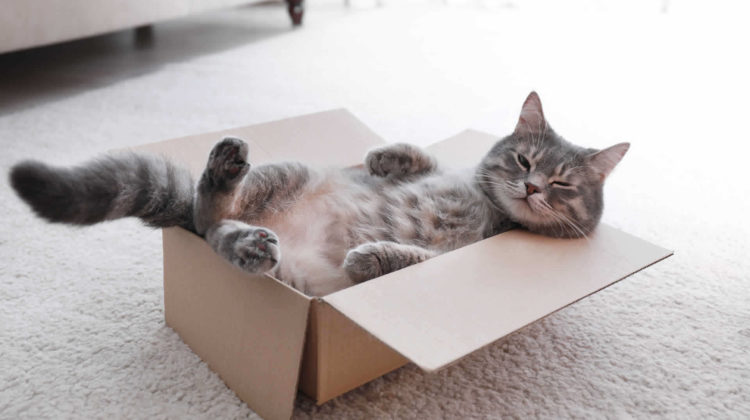 You're probably here because you have a messy cat. Well, join the club!
Cat's love to kick litter around, spray out the side of their trays, and be a bit of a nuisance. This means more hard work for you cleaning up after them which, quite frankly, you can't be bothered with.
Thankfully, as it is common for cats to be messy, many litter trays are designed to help contain the mess as much as possible. Unfortunately, some of these are much more successful at keeping your cat tidy than others.
I have three cats, which meant finding how to contain cat litter and spraying was even more of a priority. So, I did a lot of research, spoke to my friends and family that own felines, and trialed out several products claiming to do just that. Eventually, I found the best litter box for messy cats, along with some other top contenders, that I wanted to share with my fellow cat lovers so that you can have cat cuddles without the added mess and stress.
Without further ado, here as the top mess-containing litter boxes that you can purchase.
My Top Pick
The product that easily came out on top was the IRIS USA Top Entry Cat Litter Box with Cat Litter Scoop. The top-entry design means all litter and spraying is contained in the tray where it belongs! It is also large inside so suitable for a range of different breeds, and the handy lid even has grooves to help catch litter particles and stop your cat tracking litter around your home.
In case this litter box is not for you, or perhaps your cat is not a fan of top-entry designs, I have also got four other outstanding products that will help you keep your cat's mess contained.
Best Litter Boxes for Messy Cats
Before I give you the low down of my favorite mess-containing litter boxes, I want to let you know what factors I based this search on.
These are all features that I looked for in the litter boxes I trialed out to find one that kept my house as clean as possible.
High Sides: The most effective way to protect against litter being kicked everywhere and to keep cats spraying to be contained is for the litter box to have high sides. The litter box does not necessarily need to be enclosed, such as a hooded cat litter box or top-entry design, but the higher the sides, the better!
Size of the Litter Tray: The bigger the litter tray, the less likely your cat will kick litter outside of the tray. Instead, they'll just dig around and the mess will stay inside. Therefore, finding a large litter tray was a priority, and should have extra consideration if you have a large breed.
Tight Seal: Most litter boxes have a top and a bottom which clip together. Unfortunately, even if the sides are extremely high, a loose seal around the two halves will mean urine can seep out and escape onto your floor. Finding a litter box with a secure lid and a tight seal is a must.
Odor Containing: Although this does not directly relate to mess, I do not want to compromise on letting my house smell unpleasant for the sake of no litter on the bathroom floor. I wanted a litter tray that contained mess and odors.
Ease of Cleaning: Lastly, I wanted a litter tray that was easy to take apart and clean. What is the point of finding a tray that keeps the mess contained if it is then a hassle to clean the tray itself?
With this list of desirable features, I searched for the best litter box for messy cats that ticked all of these boxes. Here are my findings.
The IRIS USA Top Entry Cat Litter Box has to be top of the list for the simple fact that this litter box is amazing!
I purchased this box after a friend's recommendation, and I have never been happier with a purchase. Having put in the same spot as one of the old litter trays, my cats seamlessly started using it without any problems. Some cats do not take to top entry litter boxes, but this is down to each individual kitty. For mine, there were no issues whatsoever.
When it came to the mess, this litter box made it virtually non-existent. The top-entry design means that no matter how much your cat digs, kicks, or sprays, everything is kept neatly inside the tray. This litter box goes one step further though, having a grooved lid which helps to reduce mess made from litter tracking too. What's not to love about that?
I also found the top entry design helped to contain odors inside the tray, which is another bonus for me. The lid easily unclips, and the material and curved edges mean that the tray can be cleaned hassle-free, also helping to keep nasty smells at bay.
Lastly, this litter box for messy cats is super stylish and looks sleek in my home. You can even choose from multiple different colors to match your home décor. With a litter scoop included, I really could not fault this litter box and have since bought three, one for each of my messy kitties!
Pros
Top entry design contains all litter and urine
Grooved lid reduces litter tracking
Large enough for most cat breeds
Rounded shape so easily cleaned
Comes in multiple color designs
Litter scoop included
Cons
Some cats will not use top-entry designs
My friend uses the Sfozstra Cat Litter Pan and loves it, and every time I visit her house I'm amazed by how little mess there is on the floor. It is just as good as my top recommendation but is slightly more expensive hence its second-place standing. Nevertheless, it is still a fantastic product.
This is another top entry litter box suitable for large cats, and the top entry design means all litter it totally contained within the tray's four walls. As the lid clips on at the very top, even high sprayers will not be able to make a mess and there is no way for any urine to leak through the seams, making it ideal for litter kickers and sprayers alike!
This litter box also has a textured lid with holes in to help catch litter particles and make them fall back into the tray. That way not only is the mess in the area directly around the litter tray reduced, but the mess is kept to a minimum around your entire home.
You'll also love how straightforward this litter box is to clean. If you opt for the tray model, the bottom half of the litter box pulls out like a drawer so you can easily discard and replace the cat litter. However, even if you choose the jumbo model instead, the rounded shape, non-stick surface, and easily removable lid make cleaning a dream.
The cleaner the litter box, the less it smells, but the enclosed design further contains odors, so your house is left clean and smelling fresh!
Pros
Top-entry design stops mess from litter scattering
Perfect for sprayers as base and lid securely join high up
Contains odors
Super easy to clean with removable tray
Lid reduces litter tracking around your home
Cons
Slightly more expensive
Flimsy scoop so best buying a separate one
The next best no mess litter box is the Petphabet Jumbo Hooded Cat Litter Box.
This is a hooded litter box design that makes it ideal for containing mess from spraying and scattering litter while helping to contain odors. The bottom half of the tray has a high back and sides measuring 10.6" at its highest, and the clear plastic covering means any litter kicked up above the top of the bottom tray will fall back inside.
Unfortunately, if you have a high-spraying cat, the tray is only partially effective as some urine can leak out where the top and bottom join as the two do not fit together exactly right. However, most cats won't pee above the bottom tray. Plus, the tray is huge measuring 25" at its widest. This too helps to keep the mess inside where it belongs while being suitable for nearly all breeds.
For cats that do not like top-entry litter boxes, this litter tray offers the perfect solution. My sister has a very timid cat who hates enclosed spaces, but because the lid of this tray is made from clear plastic is means her kitty can go to the bathroom without being plunged into darkness and feeling claustrophobic. There is also no door which is great for fussy cats who refuse to use a swinging door.
Lastly, this box is easy to clean. The entry point is wide enough so that you do not need to take the lid off every time you wish to scoop up your cat's mess. The rounded design also means no excrement dries on in hard-to-reach corners, and the non-stick plastic means you can easily wipe the litter box clean.
Pros
High sided litter box to prevent leaking
Hooded design to contain litter and mess from spraying
Extra large in size and wide entry point
Available in a huge range of colors
Provides privacy without darkness
Curved design and clip-on lid for easy cleaning
Cons
If you are looking for a litter box that will contain mess that is also suitable for large and senior cats, the Petmate Clean Step Cat Litter Dome is for you. Often, litter boxes designed to contain mess are top-entry or hooded designs that can be too cramped for large cats and too difficult to enter for senior felines. However, this litter box offers the ideal solution!
Firstly, the litter box is dome-shaped, which means all litter that your cats dig up is contained inside the tray. This also helps to minimize the release of nasty odors around your home and keeps it smelling fresh. You'll also notice that this litter box is huge! Even Maine Coons and other large breeds can comfortably move around inside with plenty of room to dig up litter to their heart's content knowing it will never escape the litter tray.
The entry point is a ramp entrance. This is ideal for old cats that have mobility issues as they can simply walk inside without the need to jump and put a strain on their joints. I also love this feature as the ramp is textured to help catch litter particles from your cat's paws to prevent litter tracking.
The only downfall for this litter tray is that it may not be as effective at containing mess from spraying. The top and bottom half of the tray clip together low down and there have been reports from owners of cats that spray a lot that urine has escaped onto the floor. I never had this issue, but if your cat is more of a sprayer than a litter kicker, perhaps opt for a different model.
Pros
Domed design prevents litter scattering
Ramp entrance reduces litter tracking and is ideal for elderly cats
Available in multiple colors
Contains nasty smells inside
50% larger than most litter boxes so is ideal for large breeds
Cons
Urine can leak out of the seams
If you want to get a litter box for a messy cat while on a budget, opt for Nature's Miracle High-Sided Litter Box. It is not as successful at containing the mess as other products on this list, but for the price, it cannot be beaten!
This high sided cat litter box has a tall back and sides, measuring in at 11", which should be enough to keep even the messiest felines litter contained inside the tray. As this litter box does not have a lid, there is also no risk of urine escaping through loose seals around the tray. The litter pan is also huge and so is an ideal litter tray for big cats, providing your kitty with lots of room to move around and dig in the tray without kicking litter over the sides.
The simple design of this tray makes it super easy to clean too, as you don't need to figure out how to disassemble the tray; simply tip the litter out, wipe, and refill. You'll find nothing gets stuck to the tray's surface either as the material is non-stick and has anti-microbial protection, making cleaning even more of a breeze!
The main downfall of this tray is the low entry point of only 5". This is a great feature if you have an elderly cat as they can comfortably climb in and out of the tray. However, for messy cats, depending on what direction they face in the tray, it also provides them with an easy way to carry on urinating or kicking litter all over your floor!
Pros
Super affordable price
11" high sides to contain litter and spraying
Non-stick material
Anti-microbial protection
Cons
Low entry point so only partially successful in containing mess
No Mess Litter Box Buying Guide
Want to shop around and look at other products? No problem!
Here is a handy buying guide to remind you of the important considerations you need to take into account when choosing a product.
Cost
Firstly, you need to determine your budget. The cost of litter boxes covers a huge range, from less than $10 up to $100+. Determining how much you can spend on a product will help you narrow down the thousands of cat litter products on the market and can make your search easier, so this is a good place to start.
What you can afford is not important. If you can splash out on a more effective model, it makes sense to do so. However, you can purchase basic litter trays that still do a reasonable job, so work around how much money you have.
Large Size
Often, especially when it comes to litter scattering, cats do this accidentally when they try to bury their excrement. They are not meaning to be messy; their litter tray is simply too small, so they are unintentionally kicking litter over the edge.
You can make your cat less messy by providing them with a bigger tray to do their business in. If you have a large cat breed such as a Maine Coon or a Ragdoll, you'll need to go a step further and get an extra large litter box for big cats.
High Sides
If your cat is messy, your litter box needs to have high sides. It is up to you whether you opt for an open or closed design. Most cats will use closed designs such as hooded or top-entry litter trays no problem, but others do not like the enclosed space. Therefore, deciding on a high-sided design that is suitable for your cat is down to your cat's personal preference!
Large cats again prove difficult here, as often closed litter boxes have small entry points that make them unsuitable for larger breeds. You can buy top entry litter boxes for large cats, so if you do want an enclosed litter box, be sure to check these out so that your kitty can comfortably access their tray.
Tight Seal
Many owners forget to check the seal between the base and the lid of a litter tray, but this is essential, especially for spraying cats. Regardless of how tall the sides are or how large the tray is, if urine can escape from where the lid and base of the tray join, then you'll still have a big mess to deal with.
Therefore, when finding a litter box for high spraying cats, choose a product where the joining is a high up as possible. In particular, top-entry litter boxes are great for spraying cats for exactly this reason.
Contains Odors
Although not directly related to mess, you won't want a litter box that contains litter and mess from spraying but makes your house smell rotten, right? Nope, me neither!
Naturally, keeping the mess contained inside your cat's litter tray will help to reduce bad odors, but I would keep your eyes peeled for other design features that help this further. Is the litter box easy to clean? Does it have filters to help minimize odors? Is it enclosed to help keep bad smells inside? These are all questions you can ask when looking for the best litter box for your messy cat.
Why is My Cat So Messy With Her Litter Box?
The incorrect size and depth of your cat's litter tray are usually the prime culprits behind a messy cat that loves to kick litter and spray.
However, these are other reasons why your cat could be making a mess when they do their business.
Dirty Litter Trays
Cats love to be clean. They can sit contently and clean themselves for hours, and so it is no surprise that cats also love clean litter trays. In the wild, cats instinctively bury their waste to help mask their scent to protect themselves from any nearby predators, and so when cats dig in their litter tray, this is what they are trying to accomplish.
If the litter tray needs cleaning, your cat will likely dig the litter up aggressively and excessively to try to find a clean patch to bury their excrement under. Therefore, if you have a messy cat, try cleaning your litter tray more frequently to see if this improves their behavior.
Shared Litter Trays
Cats love to have their own space, and even if your two cats snuggle up and act like best buddies, they still need separate litter boxes. Trust me, I learned this one the hard way! By providing each of my cats with their own litter boxes, the mess they made was drastically reduced. Otherwise, cats will dig around as they do in dirty litter boxes, trying to find an area that does not have the scent of another cat.
If you have a multi-cat household yet only have one litter tray for all your cats, it is time to purchase multiple boxes. As a general rule of thumb, you need at least one litter box per cat, but 1.5 litter boxes per cat is optimum.
Wrong Amount of Litter
The reason your cat is kicking litter all over the floor may simply be down to there being too much litter in the tray. Having a deep layer of cat litter is nice for your kitty, but if you overfill the tray then the excess litter will end up outside of the litter box. Try reducing the amount of litter in the tray and only fill the base up half-way to keep mess to a minimum.
Frustratingly, fill the tray with too little litter can also lead to excess mess. Your feline will dig around extra hard in an attempt to cover up their waste, and in the process will kick litter out the sides of the litter box. You need to find the perfect middle ground to help your cat minimize the mess they make.
Wrong Type of Litter
You can also try changing the type of litter you use and seeing if this helps reduce the amount of mess your cat makes when doing their business. There is no "one size fits all" approach as every cat will exhibit different preferences on the type of litter they use. However, if your cat is not a fan of the litter you are using, they will end up kicking it around and over the edges of the litter box.
Try a few different types of litter until you find one that your cat takes to. The most commonly used litter is clumping litter, but you also have the option of non-clumping litter, recycled paper litter, pine litter, or silicon crystal litter. Trial a few until you find the optimum cat litter for your pet.
Litter Mat
Your cat is not going to make less mess if you have a litter mat, but purchasing one will make your life that bit easier when they do kick litter out of their trays. You will be able to simply pick the mat up and tip the litter either back into the tray or the bin, without needing to touch a broom or vacuum.
Litter mats also help to reduce litter tracking and contain the mess your cat makes to the area around their litter tray, rather than it being trodden around your entire home!
FAQs
Q: Why does my cat always kick litter out of their litter box?
A: It is instinctive for cats to try to cover up their urine and poop when doing their business, and some cats kick more enthusiastically than others. Litter will usually end up on your floor if the litter box is too small for your cat or the sides are not high enough.
Q: Why is my cat so messy with her litter box?
A: There are several reasons cats are messy with their litter boxes. The most common causes are that the litter tray needs to be cleaned more frequently, that it is over or underfilled, that it is too small or too shallow, or that it is shared by too many cats.
Q: Do cats prefer open or closed litter boxes?
A: Different cats will have different preferences over litter boxes, and the only way to find out if your cat will use a certain type of litter box is through trialing it out. Generally, most cats can easily be trained to use closed litter boxes such as top-entry or hooded designs.
Q: What features should a litter box for messy cats have?
A: Aside from the usual, litter boxes for messy cats should be large in size and have high walls or a closed design. If the litter box comes as a bottom and a top part that clip together, always check how tightly the seal is as urine from spraying can escape through any gaps.
Q: What is the best litter box for messy cats?
A: In my opinion, the best litter box for messy cats is the IRIS USA Top Entry Cat Litter Box. I find top-entry litter boxes are the best at containing mess and odors, and I love this sleek design! I cannot fault this litter box whatsoever.
Q: Why won't my cat use their litter box?
A: There are many reasons why your cat isn't using their litter box. If you have just changed the design, it probably has not gotten used to the new one yet. However, if your cat has suddenly started misbehaving it could be anything from them disliking the litter you're using or the litter box being the wrong size, to a medical condition. If you've tried switching things up but have had no luck, talk to your vet.
Q: How can I stop cat litter from getting everywhere?
A: The easiest way to stop cat litter from getting everywhere is to change your litter box. Choose a larger design with a minimum of high sides, but ideally an enclosed design to help any litter kicked about stay in the tray. You can also purchase a litter mat to help make the clean-up easier.
MY FINAL THOUGHTS
If you have a messy cat, try these litter boxes and see if they help solve all your worries! I know the frustrations of having a messy cat, but promise you there are solutions to make your life stress-free and your home clean once again.
If you do decide to shop around, make sure you lookout for the features I mentioned in the buying guide so you can find an effective product and start making your life easier today!