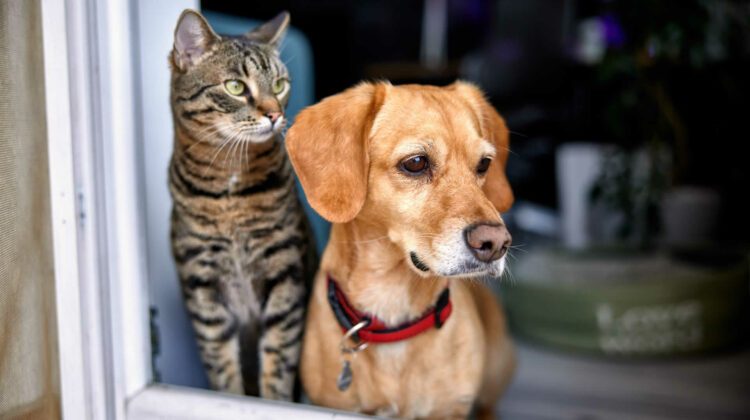 Even if your dog and cat get along well most of the time, chances are your dog loves occasionally making a mess in the litter box and annoying the cat. This issue becomes even more concerning when you see the dog eating litter and cat droppings.
Now that all your red alarms are on, you're probably wondering what you can do to stop this behavior. There's no need to worry because you're not the only one. But yes, it's gross and scary, so you have to do something about it right away. Finding a great dog-proof cat litter box is a great start.
These are litter boxes specifically designed so that dogs cannot get inside. In this article, I'll review the best litter boxes to keep the dog away from poo and help you find the ideal one for your home. Cats and dogs can live in harmony, and finding the right litter box is the first step in achieving this. So, let's get started!
My Top Pick
When people ask me how I keep my dog out of the litter box, my answer is the IRIS USA Top Entry Cat Litter Box. I can't stop praising this box because it's one of the best I've ever tried. The first thing that made me fall in love with the litter box is how stylish it looks. I'm also obsessed with how protective it is and how it instantly made my dog forget about litter.
Another I like is that this is a litter box with a top opening, and its lid has a grooved surface. These grooves capture litter from your cat's paws and prevent it from tracking around your house. This means not only will your dog not be making a mess, your cat won't be either!
Best Dog-Proof Cat Litter Boxes
If you're desperate to stop your dog from kicking litter and munching on cat poo and pee, it's time that you start searching for the best dog-proof litter box. However, if this is your first experience, you probably don't even know what to look for.
Below are some of the essential factors to keep in mind when hunting for a high-quality box that will solve the problem. All felines, homes, and situations are different; however, these factors are a must for every potential shopper. If you want to make your cat and dog happy, here's what you should know first:
Dog-Proof Design: Although there isn't a universal definition that makes certain boxes dog-proof, closed litter boxes are much more protective against dogs that want to get their nose in the litter. However, a closed design doesn't guarantee that your dog won't manage to get to the litter and droppings.
Easy to Clean: Round designs are generally easier to clean since there aren't any angles, edges, or hidden spots. Look for a litter box that you can easily open and put back together. In addition, the material should be durable since you'll be washing it frequently and exposing it to chemicals.
Minimal Odors: Closed litter boxes are more efficient in trapping odors and stopping them from traveling around your home. Ideally, look for a litter box with a filter that captures the unpleasant smells and gets rid of them. Both open and closed designs can have this feature.
Contains Mess: If you're searching for a dog-proof litter box, mess is probably at the top of your priority list. There is no doubt that a litter box with raised walls or a completely closed litter box is best for messy cats and dogs.
Aesthetics: Finding an aesthetically-pleasing cat litter box sounds like a challenging task. Thankfully, manufacturers hear the prayers of pet parents and are constantly improving the look of litter boxes. As a result, some of the products I included in the review are surprisingly stylish and will work well with the rest of your interior.
After reviewing numerous litter boxes to help me solve the poo-eating problem, I compiled a list of the top-rated products that caught my attention. Below, you can read in-depth reviews about each one and determine if any of these boxes will be a good fit for your feline.
Believe it when I say that the IRIS USA cat litter box brought peace into my house! After months of searching and investing in expensive boxes that my dog found a way to sneak into, this product turned out to be an effective solution to my problem.
Let's start with the most significant advantage; the entry is located in the top part, and it's too small for dogs yet big enough for your cute feline. Therefore, my dog just smelled the box and didn't bother to sneak its mouth inside. So even if he wanted to do it, there's no way in!
Top entry litter boxes are an excellent choice for all pet owners who struggle with this issue, so they're definitely the first design to try. With this product, the top part also has grooves that catch most of the litter from my cat's paws and reduce tracking, further helping to minimize mess in my home.
There are two sizes of the box and four colors – black, white, orange, and grey. The large size is ideal for bigger cats, while the medium will work great for the rest. Plus, with multiple color options, you can find one that best suits your home interior.
Yet top-entry litter boxes aren't the best choice if you have an elderly cat, a tiny kitty, or cats with mobility issues, so this product isn't suitable for all cats. Another downside you might encounter is that your cat will need time to get used to the change if it hasn't used a top-entry design before.
Pros
Comes in two sizes you can choose from
It's stylish, durable, and sturdy
Prevents litter tracking thanks to the grooved top surface
It's easy to clean and maintain
Top-entry design that prevents your dog from putting its mouth where it shouldn't be
It's affordable and high-quality
Comes with a free scooper
Cons
It might take time for your cat to get used to it
Not suitable for senior cats or kittens
Doesn't have an odor filter
There is no doubt that we all want to treat our pets like kings and queens. So, if your budget is not tight and you want to give your feline the treatment she deserves, this igloo-inspired litter box is the next amazing product on my list. It is more expensive but arguably worth the extra price.
The one thing to note is that although the litter box looks stunning and is the most aesthetic solution on this list, it's not ideal for small houses and apartments since it takes up a lot of space. However, that leads me to one of its most significant advantages – the extensive room inside the igloo.
This extra-large litter box allows cats of all sizes to enter, making them feel comfortable due to the good ventilation. Whether you have a large Maine Coon or a huge Bengal, this litter box can fit them with ease. However, despite its large size, dogs find it impossible to enter using the built-in corridor; at least mine didn't even bother.
This built-in corridor also retains cat litter from the paws and prevents it from getting all over the house. Moreover, because the igloo is mainly enclosed, I noticed that it doesn't let smells escape, which has been life-changing for our household. However, if you have a shy cat or kitten, it might take them a little time to get used to the enclosed tunnel-like design.
Pros
Dogs can't get inside using the corridor
The corridor catches cat litter and keeps your home cleaner
Comes with an extra litter scoop
Surprisingly easy to clean
Aesthetically pleasing in your home
Cons
Not the best litter box for small apartments
Some cats might be confused and refuse to get in
The Catit Jumbo Hooded Cat Litter Box is here to stop the fight between your two furry friends and save you from worry. This product was recommended to me by a friend and features a hooded design with a swinging door. Although I was worried that my favorite ball of fur wouldn't know how to use the door flap, she was quick to learn.
However, some cat owners will notice that their felines need time to get used to the idea of getting inside a box after pushing a flap. The good news is that the door is safe for their precious paws. And, if your cat is already comfortable using a cat flap, they should adjust pretty quickly. Dogs on the other hand? They can't use this door and keep their noses and paws safely outside.
The thing that impressed me the most about this product is the effective carbon filter. It does exactly what it says – captures odors. This means that you won't even know when the cat has been to do its business! Plus, no smells will accumulate inside the tray, making the bathroom experience better for your kitty.
You can already tell by the name that it's a jumbo-sized box, suitable for all cat sizes, and gives them enough privacy during intimate times. I also love how simple the maintenance is; all I have to do is lift the hood. In addition, there is a bag anchor in the front part, where you can attach the bag and clean the litter. This only takes minutes, which is a massive advantage for me.
Pros
Features a paw-safe door that prevents dogs from getting in
Has a carbon filter that captures and eliminates odors
It's large enough for cats of all sizes and breeds
Works well for kittens
It's easy to clean and doesn't leak
Hooded design helps to contain the mess
Cons
Some felines might find it tricky to open the door
This litter box by Petmate has a unique design – it features a rounded dome-shaped litter tray with a ramp leading inside. Because the cat has to go inside to finish its business, most dogs don't have a way of getting to the poo and pee.
With that being said, this is only true for large dogs that cannot fit up the ramp. Smaller canines can sneak inside the same way that your cat does and dig around. Thanks to the dome-shaped design, your dog won't make a mess. However, there is no way to stop your dog from eating the poop and pee, so I suggest a different box if you have a cat-sized dog.
The ramp also makes this litter box ideal for senior cats that struggle to climb in and out of standard litter trays. The dome is such a steal when it comes to the price. Enclosed litter boxes are usually more expensive; thankfully, this one is on the more affordable side and comes with a charcoal filter. In other words, you can place it anywhere in your home without worrying about unpleasant smells.
One of my favorite things about this product is the simple maintenance. All I do is remove the top part using the handle and clean the inside. I can quickly move it around the house thanks to the handle and take it to the restroom each time I want to clean it.
Pros
Large enough space to create privacy for cats
Keeps all large dogs away
Easy to transport and clean
Comes in three color options
Perfect for seniors or cats with mobility issues
Ramp reduces litter trails
Comes with a charcoal filter that reduces odors
Cons
Small dogs might try to go inside
If you're looking for a self-cleaning litter box, I'm more than happy to talk about this one. Thanks to its simple design, I've almost forgotten what cleaning litter means. So instead of standing over the box waiting for my cat to finish doing her business, I can rely on this box to do my job for me.
The product is available in three variants: uncovered, front-entry, and top-entry designs. Since my cats are used to top-entry boxes, and I want to keep the dog away I also got the hood. This is the most effective at stopping dogs from eating poop and digging up litter.
However, you can opt for front entry if you have a smaller, older feline, or one with mobility issues. The basic uncovered version works well for everyone, but it makes poo and pee more available for dogs. Nevertheless, the fact that you don't have to clean and scoop litter is a huge pro and can stop your dog from secretly munching on your cat's waste.
But, unfortunately, it's a con at the same time because you'll need to purchase new disposable trays constantly. However, in my opinion, every cent is worth it! The crystal litter neutralizes the bad smells so that you can palace the box in any room. Instead of hiding it under the stairs or in other secret spots away from the dog, you can now leave it anywhere in the house.
Pros
You won't have to clean the litter anymore
It removes pee and poo so that your dog doesn't get to it
You can purchase a standard, top-entry, or front-entry design
Litter is 99% dust-free to prevent litter all over your house
Cons
Not suitable for cats under six months
Must use the crystal litter
You have to buy disposable trays regularly
Buying Guide
Finding the right dog-safe litter box can be pretty confusing when you see all the designs available on the market. To avoid being overwhelmed and save you time, I put together a detailed buying guide. Take a look at the factors you should consider when buying a new litter box for your fabulous feline to keep the dog away.
Price of the Litter Box
Needless to say, the product you'll choose should be within your budget. This is a great way to initially filter down products to make the task of choosing a litter box less overwhelming. However, my first advice is to avoid buying a litter box just because it's affordable.
For one, your cat deserves to do her business in a quality litter box, so you should focus on reliable brands with years of experience on the market. Besides, opting for a cheap litter box might save you some pennies now. Yet it will work out more expensive in the long run if the litter box keeps needing to be replaced. Whatever your maximum budget is, go with this.
Litter Box Size
Not all cats are the same size, so you should keep that in mind when choosing a dog-proof cat litter box. There are small, medium, large, and extra-large litter box sizes. You might be tempted to choose a smaller litter box to keep your dog out, but your cat needs to feel comfortable while doing its business. Otherwise, it might refuse to use its litter tray entirely!
As a general rule of thumb, the litter box you choose should be 1.5x as long as the cat, measuring from the nose to the tip of the tail while it's extended. The width should be double the width of your feline. Make sure then entry points are also large enough for your furry friend to comfortably fit through.
Open or Closed Design
There are so many types of litter boxes, and your final choice should be tailored to the needs of your cat. Hooded cat litter boxes are a popular option. But when thinking of dog-proof designs, the first thing on your mind is probably an enclosed box with a top entry. These litter boxes are very common, come in many sizes, and work well for most cats.
However, these litter boxes aren't for everyone. Knowing more about top entry litter box pros and cons will help you decide if this design is a good solution. The biggest pros include dogs not being able to get inside, no litter around the house, and no odor. Yet kittens, seniors, and felines with mobility issues won't be able to use a top-entry box.
Open litter boxes with high walls are another common possibility that can work well and keep the litter safe. This is the best litter box for high-spraying cats, small kittens, and cats with mobility issues. If you want to make this design more successful against dogs, you should find a self-cleaning one that gets rid of pee and poo right away.
Material of the Litter Box
Choosing a high-quality material guarantees that you'll be using the litter box for a long time. This factor is also tightly connected to cleaning and maintenance. Since most of these boxes are made of plastic, the material has to withstand higher temperatures when washing and disinfecting.
If you opt for a lightweight and thin plastic, it can easily deform and damage. Many people have experienced their litter boxes starting to leak just because the material was so poor in quality that it changed shape and released contents all over the floor!
Therefore, the material should be sturdy, stable, and smooth. If the box walls aren't smooth, they can easily retain litter and odor and be very challenging to clean. This can lead to unsanitary conditions that are bad for your cat and home. I personally love stainless steel cat litter boxes. The material doesn't stain, won't hold onto odors, and is super smooth for easy cleaning.
Other Strategies for Keeping Dogs Away from Cat Poop
Many households can brag about the fact that their cats and dogs live in perfect harmony. Well, you might be one of those, but the only thing that's bothering you is your dog's weird obsession with cat pee and poo. Unfortunately, this obsession can turn into a health issue. Therefore, you should do everything you can to move your dog's attention away from the litter.
Aside from getting the right litter box, you can use a few other strategies to keep the dog away from cat poop. The tips below will help you create a barrier between the cat's business and the dog.
Elevate the Litter Box
Cats are like little monkeys that can surprisingly reach every corner of your home. Dogs, on the other hand, don't have that ability. So, one of the easiest solutions is to elevate the litter box to a surface that dogs cannot reach. The elevated surface could be a high table, a large shelf, or a counter.
This is a great alternative to splurging on dog-proof litter box furniture. Yet the main issue with this strategy is that some people find it a bit weird and don't want to use their counter or shelves for this purpose. You might also find it hard to keep cat litter off the floor, especially if your gorgeous furry friend loves to dig, dig, dig! In this case, getting a top-entry box is the best approach.
Gate the Area Off
Gates are a godsend when you have two pets that don't always get along. But they're also a simple solution for doggies who want to sneak into the litter box of their cat companions. Since cats are generally smaller, they can easily sneak through the pet gates. On the other hand, dogs are larger and will be stuck on the other side of the cordoned-off area.
So, when you want to stop your dog from digging up the cat litter and eating cat poop, simply gate the litter box in a room your dog doesn't have access to. In most cases, any type of gate will work; however, you can also get a pet gate with a built-in cat door that your dogs can't go through.
Dog-Proof Door Latches
You can keep your feline from going after the dog while it's outside with cat-proof dog doors. Similarly, dog-proof door latches are a great way to stop your dog from accessing the litter tray. These latches fix onto almost any door and hold it open a little. The opening is small enough for your cat to slip through and access its litter tray.
The space won't be big enough for the dog to go through, which means the poop-eating problem is solved. Unfortunately, door latches aren't the best way to keep a small dog out of the litter box as they can fit through the gap. In this case, you should try some of the other strategies on the list or a combination of several.
Place The Litter Box In A Different Room
If you don't want to use gates or door latches, you can deal with the litter issue by moving the litter box to a room the dog doesn't have access to. If you have an older dog that doesn't like climbing stairs, put the litter box up there. Alternatively, you can ensure that it won't get to the litter by installing a cat door that only your cat will use.
Clean Poop Quickly
Cleaning the poop right away can prevent the dog from eating your cat's waste. Although it's not always an option, since most pet owners aren't at home throughout the entire day, it's something you should do whenever you're around. Also, the sooner you clean the box, the happier your cat will be.
Busy pet parents should invest in self-cleaning litter boxes that do most of the job instead of you. These electronic devices remove the poop right after the feline does business, so it's unlikely for the dog to make a mess.
Keep The Dog Busy
One of the best ways to distract the dog from a cat going to the bathroom is by keeping it busy. A common reason dogs reach for poo is that they have nothing else to do. Therefore a great solution is to entertain your dog with toys whenever you notice that the dog is making its way toward the litter.
When that doesn't work, you can get different treat dispensing toys that will sway its attention away from poop to dog food. This method doesn't provide instant results; however, you should be persistent and dedicate time to playing with your dog.
Teach The Dog Commands
The great thing about dogs is that they can be trained. Dogs can learn commands, no matter their age. Once the strange behavior appears, you should teach the dog what's right and wrong.
For example, whenever it tries to eat litter, you should let them know using words such as "Don't," "Leave It," "Drop It," etc. The next time your dog goes for the litter box, use the same word again and see if it yields results. If it does, you can give your dog a treat. Eventually, your dog will form positive associations with not using the litter tray and will stay away on their own accord.
Another useful command is "Wait". Most owners teach this command at an early age, and it can be helpful if it starts showing love for litter. Each time the dog listens to your command give them a treat to let them know they're doing something right. Punishment doesn't really work with dogs and cats, and the best way for these furry friends to learn is through positive reinforcement.
These commands can be used for other issues you might face, such as when it comes to feeding time. Through positive reinforcement, teach your dog that it cannot eat your cat's food. Dog-proof cat feeders are another solution if this doesn't seem to work. These smart cat feeders prevent the dog from eating all the food. This will help you teach it discipline and what it should and shouldn't do.
FAQs
Q: Why do dogs eat cat pee and poo?
A: There are a few reasons why your cat eats litter, cat pee, and poo. One common cause is a nutrient deficiency that you should discuss with a vet. In addition, if you ever notice that your dog is interested in cat poo, pee, or litter, you should schedule an appointment with the vet and request them to do further exams.
Another common reason is boredom. Yes, as crazy as it sounds, a bored dog can do things you'd never imagine. However, if you eliminate medical issues, you should pay more attention and find ways to entertain the dog.
Also, dogs actually like the taste of cat droppings because they remind them of cat food. So, if the issue becomes unbearable and none of the litter boxes work, you can try changing the food your feline eats and make it repulsive for the dog. This can be a long journey, especially if your cat is a picky eater, but it's worth trying.
Q: What is the best dog-proof cat litter box?
A: Although there is no one-size-fits-all for dog-proof boxes, my personal favorite is the IRIS USA cat litter box. My cat got used to it fast, it comes in different sizes and colors, and it looks great wherever you decide to put it. Let's not forget that my dog can't go through the opening and has lost interest in cat droppings and litter.
Q: Should I choose a top-entry or front-entry litter box for my cat?
A: This is hard to answer since it depends on various factors, primarily your cat and dog. Some cats prefer front-entry designs, others love top-entry designs, and some will happily use either.
In general, front entry boxes make it easier for dogs to access the litter, so top-entry litter boxes are more effective. However, not all dogs are the same. The entry size also matters; if the hole is bigger, the dog can fit through it, but smaller holes make the access more limited.
Q: Should I choose an open or closed litter box for my cat?
A: Once again, it's really hard to tell what your cat will like. If you have previous experience with closed litter boxes, I recommend getting one because it's more protective than open boxes. When the box is open, the dog will easily get to it and make a mess. Closed boxes make their mission much harder, especially if you have a large dog.
Q: Should I bring my dog to the vet if it eats cat poop?
A: Yes, eating cat poop and pee should signify that your dog might need help from the vet. As I already mentioned, the cause isn't always medical. Either way, you have to do your best to work with the dog and eliminate this habit.
Some cat litter contains silica that can be damaging for dogs. In addition, poop and urine also contain dangerous chemicals, leading to various health issues. Overall, eating litter, poo, and urine is harmful and can lead to infections, parasites, irritation, red eyes, and more health complications!
Q: How can I choose the right size litter box?
A: A litter box should be 1.5x the length of your cat. Most people are surprised by this, and it's likely much bigger than you thought! Before you even start looking at designs, you should measure your cat for reference. Measure from the nose to the tip of the tail while its tail is extended. Times this length by 1.5 and you have the minimum length for the new litter box.
When it comes to width, the box should be at least double the cat's width. These two tips will help you pick a suitable box size where the cat will feel comfortable and will be able to do its business without interruptions. Remember to check the size of entry holes too, especially for big cat breeds.
Q: Will my cat learn to enter a top-entry or hooded litter box?
A: Yes, many cats learn how to use litter boxes with a door or top-entry boxes. However, some never get used to this change and it all depends on your cat. The good news is that you can try training your cat and use tricks such as hiding the old litter box, placing old litter around the entry, or using treats to encourage your kitty to climb inside.
Q: Are these dog-proof cat litter boxes really functional?
A: All the litter boxes I reviewed are equally functional to all the litter boxes you've used before. The main difference is that they limit the access dogs have to litter. In addition, you can use these products even if you don't have a dog but want a cleaner and odor-free house.
MY FINAL THOUGHTS
If your dog is constantly getting its nose in your cat's litter box, it can be frustrating and worrying. They're kicking up litter and making a mess of your home, besides ingesting litter, poop, and pee which is going to be detrimental to their health. Not to mention your cat will hate the fact the dog has been inside its toilet and might refuse to use its litter box.
You'll be surprised to hear that this is a common behavior that many pet parents have to deal with. When people ask me how to keep my dog out of the litter box, I always tell them that it's a complicated topic. But it is something a dog-proof litter box can easily solve!
All the products I included in the review are top-notch, high-quality, durable, and will help your dog get rid of the nasty habit. Once you give one of the litter boxes a try, your home will be calmer, cleaner, and odorless. Sounds great, right? Just remember to keep both your cat and dog in mind when choosing a product so it's guaranteed to be effective.