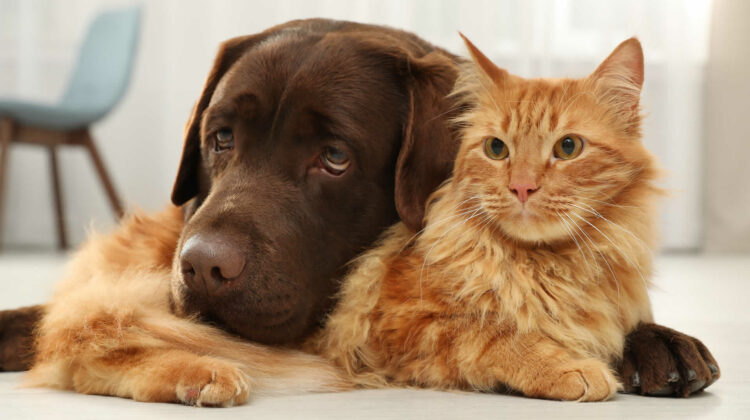 Despite the stereotype, cats and dogs can live happily together.
However, keeping both cats and dogs under one roof is not going to be challenge-free. They both have different wants and needs, and many products intended for one animal can also be used by the other.
A problem I struggled with for a while was keeping my indoor-only cat inside while letting my dog out to the yard. My cat could easily fit through my doggie door and kept trying to escape! If you've been facing the same issues, I have the perfect solution for you: cat-proof dog doors.
Cat-proof dog doors are exactly as the name suggests. These handy pieces of kit will only let your canine companion outside, while your kitty cat stays safely inside the confines of your home. And, on this page, I list the best options currently available. Plus, you'll find a buying guide down the bottom of the page to make choosing a product even easier!
My Top Pick
My favorite dog door that cats can't use is the PetSafe Electronic SmartDoor. Suitable for large and small breeds, this dog door uses SmartKey collar tags to open. If your cat doesn't have a tag, it cannot get outside. It's also easy to install, has a handy manual locking option, and has a super sturdy design.
You can read my full review of this amazing product down below – it's the dog door I use so my thoughts are from first-hand experience. I've also got a range of other options if this doesn't quite tick the boxes for you.
5 Best Cat-Proof Dog Doors
Before I get onto the reviews, I want you to know how I decided to review each product. What features are considered "good" for a dog door to have? And are there any features that you need to avoid?
Below is a list of all the things I looked for and ranked each product against:
Easy to Install: I don't know about you, but I don't want to spend hours installing a new dog door in my home. So, I searched for products that are easy to install. There is no point making our job harder than it needs to be!
Cat-Proof: This goes without saying, but a cat-proof dog door needs to be… well, cat-proof! I love electronic dog doors that use RFID collar tags or microchip sensors. However, doggie doors with magnets are another option.
Tamper-Proof: When my cat wants something, she won't give up until she gets it! As such, I needed a dog door that was sturdy and couldn't be tampered with. This also prevents other unwanted cats, animals, or people from breaking into your home.
Weather Resistant: I was also on the lookout for a weather-resistant dog door. I don't want cold drafts blowing through the opening or water from rain getting inside. It needs to keep the bad weather out and withstand all kinds of climates.
Lockable: As much as I want to give my dog freedom of movement, there are also times when I want them kept inside. Therefore, I wanted my cat-proof dog door to be lockable so I can stay in control. Time features are a nice addition too, so I don't need to lock and unlock the door each day.
On top of these must-have features, there are some other considerations you need to have in mind. For example, large dogs will need a much bigger opening than smaller breeds. Imagine a Dalmatian fitting through the same size door as a Chihuahua… they've got no chance! Cost is another factor you'll want to think about.
In this article, I've covered all bases. Whether you have got a Golden Retriever or a Pug, there's bound to be an electronic dog door that suits! And, without further ado, here are all the best products.
The cat-proof dog door I swear by is the PetSafe Electronic SmartDoor. You can purchase it in both medium and large sizes, so it is suitable for almost all breeds of dogs. Just make sure you purchase the right size for your dog and install it at the correct height.
My favorite feature of this product though is its electronic function. The SmartDoor only opens when a SmartKey tag is detected. Simply attach the SmartKey to your dog's collar and only they will be able to access the outside. What's more, the collar-activated dog door can be programmed to recognize up to 5 different SmartKeys. This is great if you have more than one dog.
There is also a locking feature of this pet door. I like to switch this on or night or in poor weather so my dog doesn't go outside. You can also switch the dog door to be permanently unlocked if you ever need to do so. All this is easily controlled by the click of a button!
Finally, the product is designed to be installed on any interior or exterior door in your home. You can also mount the product on a wall, but you do have to purchase a separate Wall Install Kit. However, metal doors are a no-no, and you can't install the door near appliances either. This tampers with its electronic functioning.
Pros
Easy to install on any door
Can install on a wall with the Wall Install Kit
Collar activated with SmartKey tag
Can recognize up to 5 different SmartKeys
Locking and unlocking feature
Affordable price for all of these perks
Sturdy door designed to last
Cons
Requires 4 D-Cell batteries that aren't included
Batteries need replacing quite frequently
Cannot be installed on metal doors or near appliances
The problem with electronic dog doors is that they're expensive. The HIDROSIL Magnetic Key Pet Door is a nice compromise between price and function. Rather than using RFID collar tags or microchip numbers, the door uses magnets. When a magnet touches the door, it opens. I also find the magnet feature helps to keep the door shut in poor weather for great energy efficiency.
Give a magnet to your dog and they'll be able to go inside and outside as they please. But without one, your cat will be stuck inside the house. Two magnets are included in this pack, but you can purchase more if you have more dogs. Because a specific tag number doesn't need to be programmed in, you can use an unlimited number!
This is another easy pet door to install. It comes with a cutting board and full instructions to make your life simple. However, you cannot install the dog door on tempered glass yourself. If you want it on a glass door or window, you'll need to contact a professional glazier.
I also love the four-way locking system on this dog door. Have it unlocked both ways, completely locked, only opening outside, or only opening inside. This gives you greater control of your dog's movements. All the while, your cat will be safely inside as she doesn't have a magnet – simple!
Pros
Most affordable dog door that keeps cats in
Works with an unlimited number of magnets
Easy to install on most door types
Smart four-way locking system
Made from durable ABS material
Magnets help protect against weather extremes
Cons
Only suitable for small dogs (up to 22lbs)
Cannot be installed on tempered glass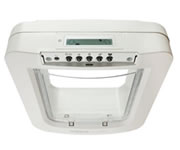 The SureFlap Microchip Small Dog Door is an electronic dog door that uses your dog's unique microchip number to open. I love this as collar tags can be lost through a bit of rough play. But your dog's microchip is going to be with him for life. If your dog isn't microchipped don't worry – you can still use RFID collar tags instead. But you do only get one included.
Impressively, you can store up to 32 different pets microchips in the intelligent system. All of this can be done with the touch of a few buttons. So, whether you have 1 dog or 32, they'll all be able to come and go as they wish. Simply don't enter your cat's microchip number and they won't have access.
Like the previous product, this dog door has a four-way locking mode that can override the microchip opening. This means you can keep your dog safely inside at night, and open the dog door in the morning. What's great about this though is this can all be programmed using a timer function. Set your pet's curfew using this function and you won't have to remember to manually do it every day.
Installation is also made easy. You can install the product on wooden, PVC, and glass doors as well as walls. If you are looking to install on glass or walls, you'll need to purchase additional installation products. It is also durable and weather-resistant, so is designed to last.
Pros
Uses microchips to keep your cat inside
Can use RFID collar tags if needed
Can store up to 32 different microchip IDs
Easy to install on many door types
Four-way locking system
Handy timer function to set curfew
Batteries last for up to a year
Cons
Only suitable for small dog breeds
Needs C-Cell batteries which aren't included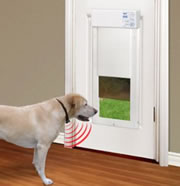 If you have a larger dog, the High Tech Pet Products PX-2 Power Pet Door is a must. This dog door is fully automatic and only opens in response to a sensor from the High Tech Pet Microsonic Collar. This little collar comes with the door and just needs to be worn around your dog's neck like usual.
Whenever the collar is near, the door opens. Without a collar, your cat won't be able to use it. What I really love about this product though is how the door opens. Rather than swinging outwards like a usual pet door, this dog door rolls upwards. This makes it great for nervous dogs as they won't need to physically push the door open. It also adds an extra layer of protection so intruders cannot break-in.
Upping the security factor even more is the material of this door. It is made from bulletproof resin! There is even an automatic deadbolt locking system, so when the door is shut there's no way anyone or anything is getting through. It's airtight, weatherproof, and windproof, too.
This door also has four-way control. Choose between in-only, out-only, full access, or completely locked. If you want an even more high-tech option, there is a High Tech Pet Products Wi-Fi Enabled Door. This is identical to this product, but lets you open and close the door and set curfew timers from your phone, along with other features.
Pros
Dog door keeps cats in using Microsonic Collars
Rolls upward instead of swinging outwards
Great for timid dogs that won't use a normal dog door
Suitable for large breeds weight up to 100lbs
Highest level of security of all dog doors
Airtight, windproof, and weatherproof
Four-way locking system for complete control
Wi-Fi-enabled upgraded version available
Cons
More expensive than most other dog doors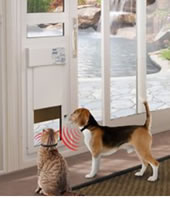 Many cat-proof dog doors cannot be installed on glass. When they can, you often need to purchase extra pieces to help with installation or pay for a professional glazier to do it for you. But if you know you'll be installing the product on glass, opt for the High Tech pet Products Sliding Glass Pet Door.
This dog door works in the same way as the previous High Tech Pet product. Using a unique collar, the door opens in an upward motion whenever your dog is near. Without a collar, your cat is safely stuck inside. However, this dog door differs as it is already mounted into an energy-efficient pane of glass for a super-speedy installation.
To install, this unit conveniently clips into your pre-existing glass patio door runners. You can then adjust the fit using a clever spring-loaded section. This means installing a doggie door onto glass has never been easier! Plus, it looks sleek and blends well with your existing sliding doors.
This cat-proof dog door is also made of bulletproof resin and has the same perks when it comes to weather resistance and wind-proofing as the other High Tech Pet door. It also has the same four-way locking system and comes in both a small and large size. Choose whichever is best for your dog!
Pros
Installed into sliding glass doors in seconds
Glass in the unit is energy-efficient
Only opens in response to a Microsonic Collar
The door opens upwards rather than outwards
Deadbolt lock and bulletproof door
Available in small or large sizes
Resistant to weather, wind, and intruders!
Cons
More expensive than other products
Cat-Proof Dog Door Buying Guide
There you have it – the best cat-proof dog doors on the market today. Some of you might already have a clear favorite, while others of you are still figuring out which one to purchase. If you do need a bit of help deciding, have a read of this buying guide. It goes through everything you need to consider when deciding what is right for you and your dog.
1. Size of the Dog Door
You always want to consider the size of the dog door that you're purchasing. A small door might suffice for a little Yorkshire Terrier or a Chihuahua. They might even fit through a tiny collar-activated cat door! Yet, you're never going to fit a Labrador or a Bernese Mountain Dog through there in a million years. They will need a much bigger dog door.
This is always the first thing that you should look at. Even the best dog door will be entirely useless if your pet cannot fit through it! How do you know what size doggie door you need? Always check the product details and see what weight and measurements they say will fit. You'll then need to measure your dog to see if it will fit.
To measure your dog for a doggie door, follow these steps:
Start by measuring the height of your pet. Get your dog to stand on all fours in front of you and measure from the tallest part of your dog's back to the floor using a tape measure.
Take this measurement and add 1 inch. This is the minimum distance that the top of the doggie door should be from the ground. It gives your dog enough space to walk through the opening without hurting its back.
You then need to work out the maximum step-over height. This is how far from the ground the door needs to be installed. It should never be more than a third of your dog's height, so simply divide your dog's height by three to work out this number.
Now, take the minimum door height (step 2) and minus the maximum step-over height (step 3). The number you are left with is the smallest height dog door that you can get away with. If you can go larger, then do.
You will also want to consider the width of any dog door that you purchase. All will be made proportional to the height of the door, so this should be easy to figure out. However, if you know you have a dog that's a little wider than most, measure this length too. Based on this, make sure the width of the door is plenty big enough.
2. Price and Budget
Most cat-proof dog doors don't come cheap. The majority use advanced RFID and microchip scanning technology which does come with a hefty price tag. However, these are highly selective and tend to be the most effective at keeping your cat inside. If you can afford to pay a little more for a better product, I would recommend it.
If not, a magnetized dog door is a good compromise. If only your dog has a magnet on its collar, it works in pretty much the same way. Although, these dog doors aren't as good from a security standpoint. Anyone with a magnet will be able to open the door from the outside and gain access.
You also want to consider things like batteries and collar replacements when thinking about price. Dog doors using regular batteries that last a long time won't end up costing much, but rare battery types that run out quickly can. That's not to mention the inconvenience of buying more and remembering to swap them. AC-powered dog doors are another option.
3. Control Access
Control access is crucial when choosing a dog door. Yes, the whole purpose of the door is so your dog can come and go as it wishes. However, you still make the rules and need to stay in control. You are the one that decides when your dog is allowed outside and not. You're the boss! A dog door with control access is a must as it allows you to take charge.
Four-way control is best so you can really fine-tune your pet's movements. Say, for example, you have two dogs that are playing in the yard. It's getting late, so when they next come in you want to keep them inside. Four-way control allows this – simply switch the door to inside-only access and when your dogs enter they'll be in for the night.
If you don't opt for four-way control, a manual lock is a minimum requirement. You can also choose to go the other way and get a high-tech door with timer settings so the door locks and unlocks on demand. Or Wi-Fi-enabled doggie doors even let you control the locks from your smartphone. You'll never have to get out of bed early to let your dogs out in the morning ever again!
4. Installation
Where do you want to install the dog door? Can the product you're interested in easily be installed on this material? Are there any other pieces of kit you need to purchase to help with installation? These are all questions you need to be asking yourself when choosing a cat-proof dog door.
Almost all doggie doors can easily be installed on both interior or exterior doors made from wood or PVC. They will come with all the instructions and bits you need to do the job. However, installing dog doors in glass or a wall comes with additional difficulties. Some pet doors simply won't work here, so check they can be to avoid disappointment after your purchase.
If you do want to install the pet door on a wall or glass, you might want to contact a professional. When installing on a wall, you don't want to accidentally cut through plumbing or electrical wires. Similarly, glass can be dangerous to cut and can end up damaging your door or window. Bear in mind the cost of hiring a professional in your budget.
5. Safety & Security
Finally, you will want to consider how safe the dog door is. Thankfully, cat-proof dog doors are already a safer option than non-electronic alternatives. Any intruders would need to have your dog's collar or its microchip to gain entry. Therefore, you're not going to get any unwanted animals or neighbors' pets gaining access to your home.
However, some additional ways to improve safety include the following:
Safety doors can be installed over a dog door. These are sliding metal doors that cover the opening and are ideal for when you aren't home. Some dog doors will come with these, others you can purchase separately.
Make sure that the handle and lock on any door cannot be reached through the dog door. If it can, intruders could put their arm through, twist the lock, and break into your home. Check this before installing the door.
Choose a doggie door with high-level security features, such as the High Tech Pet Products doors. With bulletproof doors, upwards opening, and a deadlock to keep the door closed, this is the best product for anyone nervous about safety.
Benefits of a Cat-Proof Dog Door
You might be wondering what all the fuss is about. What are the benefits of a doggie door? Aren't they just a necessary security risk? Actually, there are several reasons why people install dog doors.
Here are just a few I can think of.
Freedom of Movement
If you install the dog door on an exterior door, the main benefit is that your canine is free to come and go as he wishes. This will make your dog a lot happier. They can have a run around whenever they want and can expel all their pent-up energy whenever they like.
It also helps to minimize toilet accidents in your home. This is especially useful if you are still potty training your dog or spend a large portion of the day away from home. A cat-proof door means your dog still gets these benefits while your cat stays safely inside.
Control Movement
Most people assume dog doors are only to let dogs into the yard. However, they can also be installed on internal doors or walls to control access to certain areas of your home. Want to feed your dog in the utility room but don't want your cat in there? No problem – cat-proof dog doors provide the perfect solution and keep your pets separate.
If feeding time is what you're concerned about, it is worthwhile pointing out another option here – dog-proof cat feeders. These are cat feeders with collar sensors, similar to the technology used in electronic dog doors. The lids of the bowls will only open in response to your cat's specific RFID tag or microchip, meaning your greedy dog won't pinch their dinner! If you're struggling with feeding time, they're a life-saver.
Prevents Damage to Doors
My dog used to scratch and scratch at the door asking to be let out. Over a few months, this caused my door to become pretty damaged. Installing a dog door prevents this damage from happening in the first place. Unfortunately, it won't be much help in stopping your cat scratch at the door. Still, it will substantially reduce the damage for sure.
How to Stop Your Cat Using the Dog Door
If you want to purchase a regular dog door, you can. Or perhaps you already have a regular dog door and want to know if there are any ways you can stop your cat from using it. Indeed, there are some methods you can put in place to help discourage your cat. However, the safest option is still to purchase a dog door that keeps cats inside.
Nevertheless, here are some ways you can keep the cat from using the dog door:
The first thing you can try is to increase the number of magnets holding the dog door closed. Dogs are usually bigger and stronger than cats. This means your dog will still easily be able to push the flap open, but your cat will struggle. Bear in mind this works best if you have a small cat and a large dog.
You can also use an invisible fence outside the dog door. This fence acts as a shocking device and gives any animals wearing a specific collar a shock if they leave the perimeter. Give your cat a collar and they will be shocked every time they leave. Eventually, they'll learn to not use the dog door. However, I do not recommend this method. I don't like the idea of punishing pets, but the choice is yours.
A better option is to use positive reinforcement. This rewards your cats for good behavior, rather than punishing them for poor behavior. Every time your dog leaves through the flap, give your cat a treat. It will take a little while for your cat to make the positive association, but once they have they should stay inside.
You can also use deterrents to try and discourage your cat from using the dog door. Spray deterrents can be bought from your pet store. These have scents that cats don't like which turn them away from the area. However, you will need to remember to keep reapplying the spray. Also, check that they won't deter your dog as well!
How to Train Your Dog to Use the Doggie Door
If you've decided to go ahead with a purchase, that's great! I'm sure you'll reap the rewards in no time… if your dog uses the door that is! Most dogs won't use a dog door without any training, especially puppies. This means it is down to you to train your dog and show them how it's done.
Here is the process you need to go through for best results:
Start by installing the dog door and getting everything set up. You'll want to then remove the door flap so it is just an opening for your dog to walk through. If the door isn't detachable, tape it in an upright position. Many dogs don't understand they need to push the flap open, so starting like this really helps.
Sit your dog inside your home and sit yourself on the other side of the door. It might be a good idea to have a friend help you and sit with your dog. With you, make sure you have lots of treats to reward your dog with. Then call your dog's name and see what happens.
If your dog runs straight through the opening, fantastic! Many dogs will do this as they can see and hear their owner. Reward your dog with a treat and a big scratch in his favorite spot. You'll then want to repeat step 2 just to make sure.
If all is well, switch places with your friend so that you start on the same side of the door as your dog. Have your friend call your dogs name. Your dog will be less inclined to run towards them than you. When they go through the door, get your friend to give your dog a treat.
You can repeat the above steps as many times as necessary and then put the flap back on the door. Start in the same setup at step 2, with you sitting outside. Have your friend poke a finger through the doggie door to show your dog how the flap works. This will also teach your dog that you are on the other side, as is the outside world.
Call your dog and see if he use the door. If so, reward with treats. If not, have your friend help your dog by lifting the flap slightly for him and letting it gently down as he passes through. Repeat this until your furry friend has got the knack for it.
FAQs
Q: How do I keep my cat from going out the dog door?
A: You can try and stop your cat from using the dog door by using deterrents or training your cat using positive reinforcement. However, a better option is to purchase a cat-proof dog door. These will only get your dog outside and not your cat.
Q: Can cats go through doggie doors?
A: Most average size cats will be able to push open and use a dog door. However, this depends on the doggie door you use. Some larger doors might be too heavy for smaller cats to push. If you don't want your cat to use the dog door, use a product on this list.
Q: Are dog doors a security risk?
A: Some dog doors do pose a security threat, especially if you have a larger breed. They offer an entry for intruders to get into your home. However, using an electronic door that will only open in response to your dog's chip is a safe option.
Q: Why should I get a dog door?
A: The main benefit of dog doors is that they give your pet the freedom to go outside as they wish. This is a nice privilege for all dogs to have, especially if you are out of the home for most of the day. But it is particularly useful if you have a dog that is potty training. It can help avoid nasty accidents!
Q: How do cat-proof dog doors work?
A: Real cat-proof dog doors are electric. They are permanently locked and only open in response to your dog's unique microchip number or collar tag. Some other dog doors might also be effective at keeping cats from using them by using stronger magnets.
Q: What is the best cat-proof dog door?
A: In my opinion, the best cat-proof dog door is the PetSafe Electronic SmartDoor. Using collar tags, it keeps my cat inside while letting my dog outside. In terms of price, it is also the ideal compromise between affordability and high-tech features.
Q: What is the safest doggie door?
A: If safety is a high concern, I recommend purchasing one of the High Tech Pet products. These all open upwards rather than outwards with a deadlock in place so they cannot be tampered with. The door material used for all of their doors is also bulletproof.
MY FINAL THOUGHTS
Cat-proof dog doors are a great option for anyone with cats and dogs living together. They make your life so much simpler, giving your dog the freedom of movement while keeping your kitty safely inside. They also have a purpose inside your home, helping control which areas of your home each of your pets has access to.
Hopefully, you've found the product suggestions and advice in this article useful. I've tried to cater to everyone. Be sure to use the handy buying guide before you purchase a product to check it's the right one for you. Dog doors can be expensive, so you want to make sure you're doing it right!