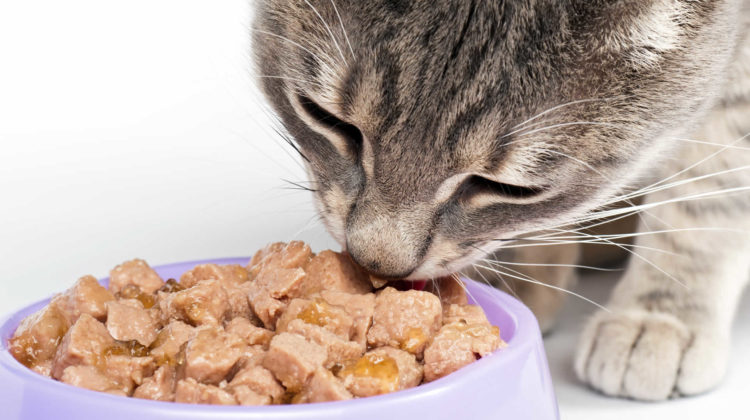 Have you got a multi-cat household that makes feeding time more difficult than it should be? Welcome to the club!
I have three cats and one of them is greedy, eating all the food while my other two get bullied out the way and go hungry. While two of my cats are now miserable, my third greedy and fat cat is now getting overweight, so everyone is losing. If you have medication that you need to feed your cats, or dogs that will literally eat anything they can get their paws on, then things get even more complicated.
When I heard about microchip cat feeders I knew they would be a game-changer. This is a collar activated cat feeder that only releases food to the correct cat, meaning all your felines are receiving the correct food and a healthy amount of it.
As a relatively new piece of tech in terms of pet supplies, there is not a huge range of products on the market, and some work much better than others. I tested a few different models, spoke to other cat owners, and discovered some great options.
So, here are the best collar activated cat feeders for multiple cats in one home for hassle-free and healthy feeding time.
My Top Pick
The best cat feeder with collar sensor I have found is the Sure Petcare Microchip Cat Feeder. When using this snazzy piece of kit, my felines all ate the food that was meant for them and only them. It also works with both wet and dry food and uses your cat's microchip to ensure the compartment only opens up for them. Feeding time is so easy when using this feeder!
In case this is not the microchip controlled cat feeder for you, there is another great model too. However, as a relatively new product, there are not loads of collar controlled cat feeders on the market.
Nevertheless, some other automatic cat sensors also do a great job of controlling portion size, which I have also reviewed. Keep reading to find out all the best products available on the market today.
Best Cat Feeders with Collar Sensors
Before we delve into the reviews of the collar activated cat sensors, I want to talk you through what I am looking for in the ideal bowl. This gave me something to base my search on and made sure I fairly compared all products.
Collar Activated: There are lots of automatic cat feeders on the market which work through everything from time to motion control or releasing food through mobile apps. I wanted to only use collar-activated cat feeders so that they were effective in my multi-cat household.
Type of Food: A lot of feeders can only take dry food, but I ideally wanted a feeder that could take both. I like feeding my cats a variety of different food, so wanted a feeder that works for both types.
Microchip Activated: You can get cat feeders that come with RFID collar tags that cause the bowl to open when your cat is nearby. However, a better option is to find a bowl that uses your cat's microchip as a sensor so that if my cat loses their collar the bowl still works. They can't lose their microchip!
Airtight Storage: Automatic cat feeders are also great as the cover helps keep the food fresher for longer. I wanted a feeder with airtight storage so that I could feed my cats while out of the house and know their dinner would stay fresh.
Cost: Technology like this does not always come cheap, so I wanted to find a cat feeder with collar sensor that was as affordable as possible.
With all these things taken into consideration, here are my favorite cat feeders with collar sensors to make feeding time stress-free and make sure none of my cats were being fed too much or too little food.
The best cat feeder with collar sensor by far is the Sure Petcare Microchip Cat Feeder. I have been using three of these feeders in my home for the past few months, and they have worked perfectly.
All my cats are microchipped, and you can set each bowl to open in response to your cat's specific microchip ID so that they only open when they are there. I set up all three bowls to communicate with a different ID, meaning that each of my cats can only get into the bowl that is synced with their chip. This has totally solved my greedy cat overeating and I can rest assured that all my cats are eating a healthy amount without stressing.
If your cat is not microchipped, the bowl also does come with a lightweight RFID collar tag that you can put onto your pet's collar. In the same way, when the tag is close to the feeder, it will open and give your pet access to their food.
The Sure Petcare Microchip Cat Feeder can also be used for both wet and dry cat food. It holds up to 400ml which is plenty for my cats, and I can simply weigh the food out before putting it inside the feeder to know my cats are receiving the correct portion sizes.
You'll also find that this feeder has a neoprene lip which the lid seals into, meaning that food storage is airtight, helping to keep it fresher for longer. The tighter the seal, the less likely persistent and greedy cats will try to break in too. I have had had no problems with this since using the product.
Lastly, this bowl has a "training stage" which is ideal for timid cats to get used to the bowl movement and closing of the lid. Once they are used to the mechanism, you can change the settings to the usual mode for a seamless transition.
Pros
Microchip activated or comes with RFID collar tag
Airtight storage keeps food fresher for longer
Only opens for one cat so ideal for multi-cat households
Successfully limits cats to specific portion sizes
Works at ensuring prescription medicated food are only given to the one cat
Training mode for a seamless transition
Can hold both wet and dry food
Cons
Cannot set timers and will open whenever your cat is nearby
Next is another Sure Petcare model, but this time more high-tech. I introduce the Sure Petcare Microchip Feeder Connect with Hub, the fanciest feeder around!
As with my number one recommendation, this feeder is microchip activated and scans each cat's unique microchip ID to stop your cats from stealing each other's food. It is an RFID cat feeder with a collar tag for those kitties that have not been microchipped. This is also effective at stopping dogs or other pets from eating food that isn't theirs and is a great addition for a dog proof cat feeding station.
This feeder also has a Hub included which connects the feeder to the Sure Petcare mobile app that you can download to your smartphone. You can set the weight of one portion on the mobile app, and then the LED lights on the feeder indicate when you've put the correct portion size in the bowl. On top of this, you can use the mobile app to track when you last fed your pets, which is a great feature for busy households where double feeding could easily accidentally happen. This is remarkably effective at ensuring your cats are not over or under eating.
Conveniently, the bowl is also split into two and is suitable for both wet and dry food. You can set different weight limits on each side of the bowl. For example, you could set 30g of dry food in one half and 60g of wet food in the other, great for keeping an eye on what food they like best and ensuring they are receiving the right nutrients.
You can also track how much food your cats eat on each visit to the bowl. Are they scoffing it all in once go? Are they eating slowly and steadily throughout the day? Discover all this using the app to track changes in your cat's eating habits and keep an eye on their health.
The reason this feeder only makes it in a number two is that it is expensive. If you have one cat and wanted to keep track of what they are eating, easily control portion size, or stop other pets from eating the food, then this is ideal, and I cannot fault the product. If your cat likes to graze throughout the day, the lid will also keep the food fresh for longer. Additionally, if you have one greedy cat, buying this bowl to protect your other cat's food could work well.
However, if you are buying a cat feeder with collar sensor as you have a multi-cat household and want to stop your cats from eating each other's food, purchasing one of these bowls for each of your cats soon becomes awfully expensive.
Pros
Successfully stops cats from eating each others food
Microchip activated and comes with RFID collar tag
Connects to a mobile app to monitor your cat's eating habits
Inbuilt scales to weigh each portion of food
Can see when your cat was last fed to prevent double feeding
Secure seal keeps food fresh for longer
Cons
Expensive if purchasing more than one bowl
Although this feeder doesn't work with wet cat food, the Wireless Whiskers Automatic Pet Feeder is a great choice for anyone that feeds their cat kibble and looking for a RFID cat feeder. The bowl has a lid that remains closed at all times unless it senses the wireless collar tag nearby. Simply attach the tag to your cat's collar and only they will be able to gain access to their dinner. The feeder senses the collar chip nearby and opens!
Unfortunately, the bowl is not compatible with microchips, and collar tags are a little less reliable as cats, especially outdoor kitties, can lose their collars accidentally when out on their adventures. However, each tag is unique. This means you can keep more than one of the feeders in your home and don't have to worry about the collar tags interfering with their operation.
I also rate this product if you're looking for an automatic cat feeder that feeds your cat at specific time intervals throughout the day. This is great for helping to control your pet's diet and a fab alternative to traditional cat bowls which will suit a busy owner. Your felines will be fed without you even lifting a finger! In fact, this is the only product on the market that has both automatic scheduled feeding times and a collar sensor, making feeding time even easier.
To use, you simply fill the large container, which can hold up to 5lbs of dry food, and attach it to the feeder. Depending on your settings, the kibble will then drop into the bowl at various intervals throughout the day, with a maximum of 24 times a day. You can set your cat's allowance using the Adjust AutoDiet feature to tailor the amount released towards your individual cat's needs.
Pros
Successfully stops cats from eating each other's food
Comes with a wireless collar tag to control the opening of the lid
Automatic feeder to help control portion sizes
Allows up to 24 potions per day for gradual feeding
Operates using an AC adapter or D-size batteries
The closed lid keeps food fresher for longer
Hold up to 5lbs of dried cat food
Unique collar tags so can use multiple feeders in one household
Cons
Does not work with wet cat food
Not microchip activated
Best Automatic Cat Feeders (Alternatives to Cat Feeders with Collar Sensor)
As there are only three cat feeders with collar sensors currently on the market, which I understand may not be for everyone, I decided to review the next most similar product: automatic cat feeders.
These are generally more affordable, and while are not as effective at preventing greedy cats from stealing other cat's food, they are great at controlling portion size and helping make feeding time less stressful.
Here are my top products that you'll also love.
The first automatic cat feeder I recommend is the Casfuy 5-Meal Automatic Cat Feeder. I used to use this before switching to a collar activated feeder and think it is a great tool for helping control portions.
Firstly, there are five different sections in this bowl that you can put both wet and dry food in, whichever you or your cat prefers. You then set a timer for each separate compartment so that your cat only has access to one portion of food and at a specific time, helping to control the amount of food your kitty eats. Unfortunately, if you have multi-cat households, greedy cats can still get more food than they should do, but it is still a semi-useful tool.
Due to being able to time each compartment, busy people who work long hours or are away a lot will also benefit from this feeder. The sealed cover means the food stays fresh until the compartment is opened, and means your cat gets a regular feeding routine regardless of what you are up to. What's more, there is also a built-in voice recorder so that you can leave your cat a message to help comfort and reassure them when they are eating.
Unlike solely battery-powered feeders, this automatic cat feeder has a dual battery and charging port to supply power to the bowl. This means if batteries are running low, you can charge it up to keep it running while you run to buy some more.
Pros
Timer controlled feeding
Allows for accurate portion control for overweight cats
Voice recording for added comfort
Can store both wet and dry food
Lid helps to keep food fresher for longer
Dual power supply
Affordable price compared to other models
Cons
Does not deter greedy cats from eating other food in a multi-cat household
Next, we have the PETKIT Automatic Cat Feeder.
This feeder has a huge capacity and can store up to 6L of dry cat food, making it ideal for storage and super easy feeding. Unfortunately, the feeder can only hold dry food, but if your cats prefer eating kibble anyway then this is a fantastic product. There is also an anti-blocking system inside the dispenser to prevent dry food from jamming, which is a common problem I have had previously with dispensers like this.
This feeder also links to a smartphone app, the PETKIT app, meaning you can control the release of food from anywhere and with a touch of your fingertips. For people working late or away from home a lot, this is ideal! The app also provides you with a personalized and recommended feeding plan when you input your cat's breed, age, weight, and activity level, ensuring your kitty is getting the correct size portion and nutrients that they need.
Another great feature of this product is the food shortage alert; you'll never run out of cat food again! When the storage becomes low, you are alerted so that you know you need to buy more kibble.
Pros
Time and portion size controlled through a mobile app
Alerts you when food is low
Hold up to 5.9lbs of food
Anti-jamming mechanism prevents blockages
Recommended personalized plan for healthy feeding
Cons
Finally, we have the PetSafe Healthy Pet Pre-Portioned Food Dispenser.
This product also only works with dry food, but it allows pre-determined food portions to drop into the bowls at times which you selected, helping feed your cats a healthy amount and stick to a set feeding schedule. As this feeder works on a timer, it is another great product for owners who are away from home often or struggle to get up for an early morning feed.
You'll also love this product if you have cats that eat too quickly, as you can set slow dispense settings to stop them from having access to their whole bowl at once. While nothing is stopping a greedy cat from eating other cats' food, this will help to train them to eat more slowly and is an effective way to have more control over the amount they eat.
This is a great automatic feeder for owners that have more than one cat as you can buy an additional splitter accessory that attaches on and divides the food released into two bowls. Because of this, you'll only need to buy one dispenser for two cats, helping you save money.
Pros
Time and portion size controlled
Can buy a splitter accessory to feed two cats at once
Slow feeding mode especially for cats that eat quickly
Ideal for busy owners as helps you stick to a feeding schedule
Cons
4. WOPET SmartFeeder (Enables Voice Recording & Video)
Although only suitable for dry cat food, the WOPET SmartFeeder is another great automatic cat feeder you may be interested in, which delivers up to six meals per day.
You can schedule what time you want each meal to drop from the dispenser from a convenient mobile app, and set the amount of food that is released in each potion. This fine level of control makes it great for cats that need going on a diet and can be tailored to any cat's individual health and needs. Alternatively, you can manually feed your cat through the app too.
To announce feeding time to your feline, you can use the handy voice recorder to save a message and play it to your furry friend while you're not there. This is great to bring them comfort and reassurance when you're busy. What's more though, this feeder has a secret smart camera so you can check in on and chat with your pet from afar too! I love how this helps the two of you to feel connected, even from afar.
You can even use the camera to take photographs or videos of your cat. Because they are totally unaware that the camera is there, you are able to get some cracking shots which are great for sharing on social media and saving to look back at in the future. WOPET even has its own social network where other cat parents can share their pictures!
Pros
Can control feeding schedule and portion size
Option to feed manually via the WOPET app
Smart camera to take videos and photographs of your pet
WOPET social network for sharing images
Ability to play recorded messages to your cat
Ideal for busy owners to connect from afar
Cons
Only works with dry cat food
Another great option is the Iseebiz Automatic Cat Feeder. With this product, you can feed your cat up to four meals at different times throughout the day. The portion size is also easily adjustable so you can ensure you're feeding your cat the amount that is right for them. This doesn't only help with controlling portion size and takes away the job of having to feed your cats yourself, but it also helps to establish healthy eating habits too.
I also love that this automatic feeder does have an infrared detector in-built in the shoot. This means that if your cat doesn't eat their previous meal, the next one won't come out, perfect at protecting your floor from unnecessary spills. It can also detect and prevent any blockages to keep things running smoothly at all times.
Other perks include its large 3lb capacity, its dual power supply, and the ability to voice record a 10-second message for your cat to help them not feel alone while you're away. It is also BPA-free and easy to clean – it simply needs dissembling and wiping with a damp cloth before putting it back together again.
The main drawback of this feeder, like many others on this list, is that it only takes dry kibble. So, if you feed your cat wet food, you're better off using another feeder. However, the container where you keep the food is designed to keep the biscuits fresh and is the ideal place to store your cat's food. With this feeder, the days of stale food are long gone!
Pros
Controllable portion size to suit your cat
Delivers up to four meals per day
Infrared sensor to prevent spillages and jamming
Dual power supply with both a power adapter and batteries
BPA-free materials and easy to clean
Able to record a 10-second voice clip
Designed to keep food fresh
Cons
Only works with dry cat food
Last but certainly not least, I bring you the WOPET Automatic Cat Feeder.
In my opinion, the biggest benefit of this product is that you can schedule up to 15 meals per day. If your cat is a grazer rather than one to gobble down all their food in 2-3 sittings each day, this is a fantastic option! It ensures that they have fresh food every time they come to eat, rather than food that's gone stale from sitting in their food dish all day.
Similar to the other WOPET feeder, this also connects to a mobile app, giving you the option to feed manually from your device if you prefer. There is also the option to play a recorded voice message of up to 10 seconds long to your cat each mealtime, letting them know it's feeding time and giving them some love and reassurance while you're not home.
The portion sizes are also chosen in 5g intervals from 5g all the way up to 250g, which makes it super precise at feeding your cat the right amount, regardless of their age, breed, size, or health conditions. This is great for cats that are on controlled diets or busy owners who need a machine to do the feeding for them.
Unfortunately, this feeder for cats is only suitable for dry food. However, with a huge 6L capacity, it makes for convenient storage as well as feeding! There is also a handy infrared sensor that can detect the level of food in the disk, preventing it from overflowing or getting jammed. Plus, the feeder automatically notifies you when the food levels are getting low so you know it's time to replenish.
Pros
Automatically releases up to 15 meals per day
Can release the food manually through the app
Accurate portion sizes from 5g to 250g
10-second voice recorded message
Infrared sensor to prevent overflowing or blockages
Dual power supply
Low food sensor to remind you to replenish the kibble
Cons
Only suitable for dry food
Cat Feeder with Collar Sensor Buying Guide
As you can see, there is a range of automatic cat feeders on the market but finding a cat feeder with collar sensor is more challenging.
That being said, depending on your needs, you may only need an automatic food dispenser. Here are the things you should ask yourself before purchasing any products to help point yourself in the right direction.
Type of Food
I like to feed my cat a mixture of wet and dry food. I find that this way, they get the most nutrients and also keeps their dinner time more exciting. Therefore, for me personally, I wanted a feeder that could hold both wet and dry food. If you also want to give your cats access to both, or if you have a fussy feline that refuses to eat kibble, make sure you look out for feeders that can handle both types of food.
Type of Sensor
I knew I wanted a collar activated feeder as I wanted to help control the portion size my three cats were getting and to stop my overweight and greedy cat from eating the others' food! So for me, feeders that only opened in response to unique collar tags or microchip IDs were essential.
If you need a feeder is instead to help you stick to a feeding schedule, make the food stay fresher for longer, or control the portion sizes, then a feeder that is activated by motion sensors or timers may be more beneficial.
Airtight Storage
It is important to know that the food you leave out for your cats will stay fresh. The tighter the storage, the fewer ants or other nasty critters will sneak their way in, and the less likely your greedy cats will manage to break in! Therefore, you should opt for a feeder with airtight storage.
Some feeders also come with ice packs to help wet food stay fresh, as this can quickly become unappetizing when it gets warm and is left sitting around.
Cost
Lastly, the cost is an important factor to consider as microchip activated cat feeders do not come cheap. As there are only three products currently on the market, there is not a lot of choice you have in terms of the price range. If you have more than one cat, deciding whether you need to get them one feeder each, or if purchasing one it can help solve your feeding issues, can dramatically keep costs down.
How Many Feeders Do I Need?
The next question you should ask yourself is how many cat feeders with collar sensors you need. Obviously, if you only have one kitty, then one feeder is enough. But what about households that have two or more cats? Do you need a separate microchip controlled cat feeder for each?
The answer depends solely on your need for a cat feeder.
One Greedy Cat
If you have one greedy cat and one cat that always goes hungry, purchasing a microchip activated cat feeder for your underweight cat will solve the problem. This way, your overweight cat will only have access to their own food which, as long as you put down the correct portion size, means they won't be overeating. Plus, you can monitor what your underweight cat is eating more easily.
Prescription Food
The same scenario could work for one of your cats if they have prescription food. By purchasing a cat feeder with collar sensor for your cat on medication, you can rest assured knowing your other felines won't have access to or be eating the prescription food.
However, purchasing a separate feeder for each cat will help encourage your prescription cat to only eat their medicated food. Otherwise, they could eat the "tastier" non-medicated food instead, but if all cats had their own microchip activated bowls, this wouldn't be possible.
Different Aged Cats
If you are trying to get your elderly cat and your kitten to eat their own age-specific food, then purchasing two feeders would be required to prevent them both from having access to each other's.
There are so many scenarios that make it impossible to list through them all. If you do purchase a cat feeder with collar sensor for each of your cats, then this would be the most effective solution, no matter what your problem. However, I understand that these are expensive, especially if having to buy multiple feeders for your household. Try to think through your problem and see what the best answer could logically be.
Cat Feeder with Collar Sensor vs. Automatic Feeder
You may be wondering what the real difference is between cat feeders with collar sensors and an automatic feeder.
The main difference is the mechanism that makes their food accessible.
Cat Feeder with Collar Sensor
A collar activated cat feeder is a cat feeder that recognizes cats unique collar tags or microchips and only opens the food bowl cover for them. This means that cats can only eat the food that is intended for them. Because of this, microchip or collar sensor feeders are fantastic when used in multi-cat households so that you can control exactly what each of your cats is eating.
This is especially true for cats that are on prescription food, that have different eating habits such as a greedy cat and a slow grazer, or that are different ages and thus need different nutrients from their diet. A household with other animals or small dogs can also benefit from keeping food away from greedy animals!
Automatic Cat Feeders
On the other hand, automatic cat feeders are not cat-specific, but rather release food at a set time. You can set the feeding schedule using the device, or for more advanced feeders using your mobile phone. You can also control the portion size it dispenses.
This makes automatic cat feeders ideal for people who have busy lives and struggle to stick to a consistent feeding pattern. They are also great at controlling portion sizes, and some even let you know if your kitty has already been fed that day to prevent accidental double feeding.
However, because automatic cat feeders are not cat-specific, they are not as effective at keeping greedy cats away from food that isn't theirs or ensuring cats don't eat medicated food. That being said, creating a strict feeding schedule instead of having food laid down 24/7 can help cats get more equal amounts of food.
FAQs
Q: How do microchip cat feeders work?
A: Microchip cat feeders recognize a unique microchip ID number or RFID tag and open the lid from the food bowl for that cat and that cat only. This stops other cats or pets from eating food that isn't rightfully theirs.
Q: How can I stop cats from eating each other's food?
A: You can purchase a cat feeder with collar sensor to stop your cats from eating each other's food. You can also try creating a set feeding schedule which should help your cats get more equal amounts of food. Additionally, try feeding your cats in different rooms.
Q: Can cats only live on dry food?
A: Cats can only live on dry food, as long as it has the correct balance of nutrients and is combined with a healthy water intake. If your cat feeder only takes dry pellet food, this is still healthy for your cat, I just personally prefer providing a mix.
Q: What is the best cat feeder with collar sensor?
A: In my opinion, the best cat feeder with collar sensor is the Sure Petcare Microchip Cat Feeder. This works using microchip IDs to keep cats' food separate and is cheaper than the other product on the market while working excellently.
Q: Why should I use a cat bowl with collar sensor?
A: You may benefit from using a cat bowl with collar sensor if you have one greedy cat that eats too much food, or if your cats are on different diets due to age or medication reasons.
Q: What is the best automatic cat feeder for multiple cats?
A: In my opinion, the best automatic cat feeder for multiple cats is the PetSafe Healthy Pet Pre-Portioned Food Dispenser as you can buy an accessory to direct the food into two different bowls. This avoids the need to purchase two cat feeders!
MY FINAL THOUGHTS
If you have one cat that overeats and you are concerned about your cats not eating the correct amount, or your cats are on different food for age or health reasons and you are worried that they are not getting the correct diet, I would definitely recommend purchasing a microchip activated cat feeder. As there are only three products on the market, there isn't much shopping around to do. However, rest assured that these products are amazing!
That being said, you may also benefit from other automatic cat feeders, such as timed feeders that automatically release pre-portioned food.
Hopefully, you can use the opinions and advice in this article to find the perfect feeder so that you have healthy and happy cats.