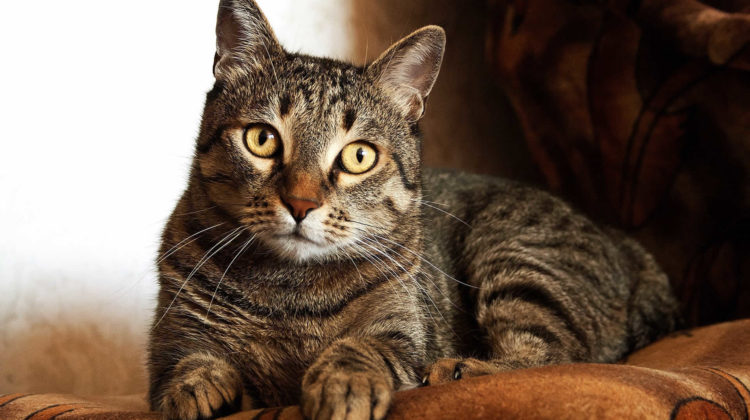 In today's fast-paced world, becoming a pet parent is an extremely important choice.
Many people think cats are independent creatures, but they take up a lot of time! And one of the problems many owners struggle with is regular feeding times.
One possible solution is leaving food for your cat to graze on each day. However, while this is an option with dry kibble, you cannot leave wet food out for hours on end. It will spoil and make your cat sick! An automatic feeder for wet food can help solve this problem.
There are many things to consider when choosing a suitable feeder for you. This is why I'm sharing the nine best automatic wet cat food feeders currently on the market. For me, the Tdynasty Design Automatic Pet Feeder is the best option. But, for you, this may be different.
Read on to find out how to choose the best automatic wet food feeder for you and discover a list of some great models to choose from.
My Top Pick
If you don't want to read through all the product reviews, you can stop right here. In my opinion, the Tdynasty Design Automatic Pet Feeder is the best of all. One of my favorite features of this feeder is that it allows me to prepare 5 meals for my cat. The push-on snap doesn't allow my cat to open the lid, so I don't worry about her overeating during the day.
The feeder is easy to program and can help you control your cat's portions. Another factor that made me choose the Tdynasty Design feeder is that it's made of safe, BPA-free plastic. Despite the high price, the Tdynasty Design feeder is worth our attention. You can read on for a more in-depth review, plus other top product recommendations.
There are many things to consider when choosing the feeder, though. Read on to find out how to choose the best automatic wet food feeder and a list of some great models to choose from.
Choosing the Automatic Wet Cat Food Feeder
Automatic cat feeders are everywhere. However, most of these are for dry cat food only. Indeed, there are not many automatic cat feeders designed for wet food available on the market today!
Despite the few available options, it's hard to make a final choice. Each feeder has pros and cons and might be suitable for one cat and the wrong option for another. So, when creating a list of the best wet cat food automatic feeders, I paid attention to the following factors:
Adjustable Feeding Times: Most wet food feeders allow you to set the time that your cat's meals are served. This level of flexibility gives you great control over your cat's feeding schedule. On the other hand, some wet food feeders feature random preset times. You can't change the feeders with a preset schedule, so I'd recommend you opt for the one that lets you create your own schedule with adjustable feeding times.
Inbuilt Ice Packs: Once a can of wet food is opened, it needs to be kept cool. Failure to do so means it will quickly dry out and spoil, besides becoming a breeding ground for bacteria. Therefore, the best automatic wet food feeders need to have ice packs. This helps to keep wet food fresh for longer so that it can be safely left out all day.
Quiet Mechanism: Cats are highly sensitive – especially when it comes to sounds. If the feeder creates a loud noise when dispensing food, your cat might stay away from it. As such, it could go hungry all day long! For this reason, opting for a quiet feeder tends to be best. Some automatic wet food feeders feature the recorded voice calling a cat to have its meal, which might encourage timid cats to eat from it.
Meals Per Day: If you want your cat to eat wet food once a day, you can purchase an automatic cat feeder that dispenses one refrigerated meal daily. There are also feeders that dispense two to five meals per day. When choosing the feeder, consider the number of meals your pet should eat during the day and how long you're going to be away from home.
Quality: The best automatic wet food feeder for a cat must be constructed from safe and sturdy materials. Your cat will be eating from the feeder, so the material needs to be BPA-free and safe for cats. If your cat is super active and strong, you also need a secure feeder that won't allow your cat to steal the food before the scheduled time. Moreover, the locking mechanism must be tight enough to ensure wet food stays fresh.
Power Supply: Some feeders use only electricity to run while others rely on battery power. Others use both electricity and battery to ensure your cat will get a meal even if the primary power supply is lost. I'd recommend purchasing a feeder with dual power where possible so that your cat never goes hungry. If opting for a feeder that runs on AC power, also consider the length of the electric cord and where you will plug it in.
Warranty: A feeder with a warranty ensures that the quality is 100% guaranteed. Plus, if something happens with your feeder, you can fix the price without spending a dime.
The above factors might seem a little overwhelming, but don't worry! I've done most of the research for you and looked at how all the cat feeders suitable for wet food compare based on these factors. So, without further ado, here is my list of top wet cat food dispensers.
9 Best Automatic Wet Food Feeders for Cats
The Tdynasty Design Automatic Pet Feeder is the automatic feeder that I swear by. It works well for wet and dry foods, which works perfectly for me. I like feeding my cat both wet and dry food so that she gets a well-balanced and nutritious diet. With this feeder, you can do the same.
This feeder features 5 compartments, with each plate holding about 2lbs of wet food or 1.6lbs of dry food. I was really impressed by its tight locking mechanism that helps to keep refrigerated wet food fresh for about 12 hours. Moreover, this locking mechanism stops hungry, greedy cats from tampering with the unit and gaining access to their food early.
However, this cat feeder doesn't have ice packs included, which is its main drawback. But there are solutions to this problem, and as long as the food is refrigerated before you put it in the feeder, it should be good for the rest of the day.
I also love that the Tdynasty Design feeder allows you to schedule meals and snacks based on your cat's eating habits or diet. This is controlled by an easy-to-use digital display which allows you to set feeding times within a minute of precision.
You can also record a short 10-second audio message from the same control panel. This is one of the things I love most about this automatic feeder. I can invite my cat to have her meal or say something like "enjoy!" or "bon appetite." My cat loves it! The recorded message plays three times during feeding time and helps my cat feel less lonely while I'm away.
As I had hoped, this feeder has a dual power supply. It is primarily powered by an AC adapter but also takes 3x AA batteries. If the electricity is off, the feeder will automatically switch into battery mode and continue running. Plus, all the scheduled feeding times are saved. The feeder stops using the batteries when the electricity is back on and switches back to the AC adapter.
Finally, the Tdynasty Design feeder is compact, durable, and has a one-year warranty. A secure latching mechanism on the lid prevents a cat from stealing the food, and the feeding trays are detachable and dishwasher safe, making cleaning easy.
Pros
Simple to set up, clean, and disassemble
Tight latching mechanism to prevent tampering
Keeps wet food fresh for up to 12 hours
Power backup options and dual power supply
Saved scheduled feeding schedule despite power interruptions
Option to record a short personal message
5 bowls suitable for wet and dry food
Comes with a one-year warranty
Cons
One bowl is always open, so you can schedule only 4 meals
No inbuilt ice packs; you need to freeze wet food to keep it fresh longer
Do you only feed your cat twice per day? If yes, you might be interested in the Cat Mate C20 Feeder. The feeder features 2 compartments, each of which can serve wet or dry food. This makes it perfect if you only feed your cat twice per day and don't need to set up a complicated feeding schedule. Since the compartments are large, the feeder can also feed two pets sharing.
The feeder features an inbuilt ice pack that helps to keep wet food in the compartments fresh for hours. Additional ice packs can be added, but one ice pack is often enough. If you freeze wet food and place it in the feeder, it can stay fresh for up to 48 hours.
The timer of this wet food feeder functions in countdown mode rather than setting specific times on a clock. Once you have put the food inside, the feeder will count until zero from when you schedule a meal and will open each lid at the set time. This might sound a little complicated, but I found it pretty easy to wrap my head around once I gave it a go.
I also love that this feeder is constructed from high-quality materials. The secure locking system ensures that your cat won't be able to break in and access its dinner before it is supposed to! Although it's unlikely that this feeder will break, there is also a three-year warranty to replace or return the feeder if something happens.
One other thing to note is that the Cat Mate C20 wet food feeder runs solely on battery power. This has its perks, as you can place the feeder anywhere in your home – it doesn't need to be near a plug socket and will work even if the power cuts.
Nevertheless, the batteries will need replacing, which is an ongoing cost. Moreover, if they run out without you realizing it, your cat will go without food as there is no backup power supply. With this being said, the feeder only requires one alkaline AA battery for an entire year's use!
Finally, the feeder doesn't cause too much noise. Unlike many feeders that can have a loud rotating mechanism, the lid of this feeder simply lifts up. This makes it a great option for timid cats that are sensitive to loud noises.
Pros
Serves wet and dry food
Works quietly, so it's great for timid cats
Includes one inbuilt ice pack to keep wet food fresh
Easy to set up and clean
Requires 1x AA battery per year
Suitable for small dog breeds as well as cats
Comes with a three-year warranty
Secure locking system and durable materials
Cons
Only feeds up to two meals per day
No backup power if the batteries run out
If two meals aren't enough, consider this automatic 5-meal feeder from Cat Mate. Compared to the Cat Mate C20 model, the Cat Mate C500 feeder features two ice packs and five individual feeding compartments.
This automatic feeder is highly suited to serving wet food as the ice packs can keep food fresh for 12 to 15 hours. The lid is also tamper-proof, so there's no way your cat can break into the unit and eat ahead of time. Plus, this tight lock keeps the wet food fresher for even longer!
I also love that the Cat Mate C500 feeder gives you all the flexibility when it comes to scheduling your pet's meals. You can schedule 5 meals with the digital timer, and the LCD screen allows you to check all scheduled mealtimes for your pet. With each serving, you can also set a 10-second voice message. This is great for keeping your cat calm and inviting it to have a meal while you're away from home.
The feeder requires 3x AA batteries, which aren't included. This is great as it doesn't need electricity or a nearby plug socket to work but remember to change the batteries so that your kitty never goes without dinner. In terms of battery life, the batteries usually last for 12 months. This is partly because of the "standby" mode, which helps to conserve the batteries – if there's no operation for 25 seconds, the device will automatically go into standby.
Another benefit is that the bowls and lid are dishwasher safe, so you don't have to worry about cleaning the dispenser. It's also made from quality material designed to last. Plus, there's a warranty of 3 years and excellent customer service. If you have any mechanical issues, you can count on their support to help solve all your problems.
Pros
Made of high-quality material
Five individual feeding compartments
Ice packs to keep food fresh
Tamper-proof lid
Easy to schedule meals using the digital timer
Works for wet and dry foods alike
Dishwasher-safe bowl and lid
Uses 3x AA batteries that last for 12 months
Comes with a three-year warranty
Cons
More expensive than other products
No backup power supply
The working mechanism is a little noisy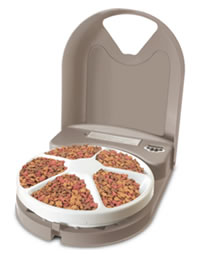 Made of BPA-free plastic, PetSafe Eatwell 5-Meal Automatic Pet Feeder is among the safest automatic feeders for cats. Originally made for dry cat food, the PetSafe feeder can be used for wet cat food as well.
If your cat is on a diet and you worry about portion control, this feeder is also useful here. The dispenser will deliver an ideally portioned bowl of food, so no overeating is possible.
Unfortunately, this feeder doesn't include ice packs. You can freeze wet food to keep it fresh longer; however, the feeder works best when serving different meals alongside wet food, including dry food and snacks.
I also love that you can schedule 5 feeding times each day. The feeder rotates to the next tray at the scheduled time; just ensure you fill the bowls regularly. The food trays are also dishwasher-safe and thus easy to clean. However, younger cats can rotate the tray and steal the food ahead of the scheduled time, so watch out for clever kitties!
The feeder requires 4 D-cell batteries, which you'll need to buy separately. The batteries can last for the whole year, which is great! But I did find it disappointing that there's no battery indicator, meaning it's hard to know when it's time to replace the batteries.
The lack of the need for an AC power supply also means this feeder can go anywhere in your home. Plus, the feeder is compact and doesn't require much space, so it is excellent for small homes and apartments.
Pros
Made of BPA-free plastic
Suitable for wet food, dry food, and treats
5 dishwasher-safe food trays
LCD display and built-in digital clock
Battery-powered and can go anywhere in your home
A compact design ideal for small spaces
The batteries can last for a year or so
Can schedule up to 5 meals per day
Comes with a one-year limited warranty
Cons
No low battery indicator
Feeding times aren't retained after the batteries die
Clever cats can steal their dinner early
No backup power supply
The AIPET Automatic Pet Feeder features six removable and dishwasher-safe ABS food trays, a programmable timer, and a dual power supply. This really impressed me, as it means your cat will be happily fed for a few days, and you don't need to stress about the power cutting out.
The main issue with this feeder is that no ice packs included. However, they're optional, and you can buy one or two to keep wet food fresh for longer. The manufacturer recommends purchasing a 10 mm ice pack, so be sure not to overload the feeder with too many.
Despite the lack of ice packs, there is still plenty to love. The AIPET automatic feeder is constructed from BPA-free plastic material. It also works quietly and has no plastic odor, so your cat can get used to it faster. Moreover, the feeder is easy to assemble, and the bottom anti-skid feet ensure your cat won't knock it over.
I also found it extremely straightforward to use! In fact, you can manage all settings with just three buttons. Once you set the correct time, you can schedule your cat's feeding times. What I love most about this feeder is that the control panel is automatically locked so my pet's nose won't accidentally alter the settings.
This canned cat food dispenser also provides a dual power supply – a must if you're planning to rely on the feeder for weekends away. You can use both C batteries and the USB port and switch between the modes with a single key. The batteries aren't included, but USB Port is enough to keep the feeder working. However, the batteries will supply your cat with food when the electricity is off.
I found it very useful that the low voltage indicator lets you know when it's time to replace the batteries. The only downside of this feeder is that a cat can get scared of the motor sounds that happen when the tray turns.
Pros
Made of BPA-free plastic material
Easy to assemble and setup
Safety protection model
Dual power supply (USB and batteries)
Programmable timer
Feeds up to six meals, ideal for weekends away
Removable and dishwasher-safe food trays
Non-slip feet stop your cat from moving the feeder
Cons
Does not come with ice packs to keep wet food fresh
The motor is a little noisy and can scare off timid cats
If you're on a budget, the GreeSuit Automatic Pet Feeder might be your saving grace! Despite having a lower price tag, it scored well in almost all of the must-have features listed above.
Firstly, there are six meal trays with a capacity of 3/4 cup or 180ml for keeping wet or dry food. I also placed some treats and scheduled the time when my cat could enjoy them. This makes it an excellent option for complex feeding schedules or to look after your cat while you're away for the weekend.
To use the feeder, simply fill each bowl with food and program the different feeding times. This is all managed from a digital control pad which keeps things simple. I also love that there is a cover from the display screen so your kitty cannot accidentally tamper with it. The feeder even features a built-in sound alert that lets your cat know it's time to have a meal.
Another benefit of the GreeSuit pet feeder is that it's constructed from durable ABS, and is BPA-free, so it's entirely safe for your cat. The removable trays are easy to use and clean, and the lid and trays are dishwasher safe. This further helps you ensure it remains clean and hygienic for your kitty.
Another feature I love with this wet food feeder is that it's very compact while still providing six meals. This means you can easily tuck it into a small corner of your home. Besides, this automatic feeder uses 3x AA batteries to run, so you don't need to worry about it being near a power supply.
Unfortunately, wet food doesn't stay fresh in this dispenser for long as there are no ice packs. So, I recommend freezing the wet food before placing it in the tray. Moreover, the batteries aren't included. As soon as the tray begins to turn with disruptions, it's an indication that you need to replace the batteries. I also like that you can check the battery consumption status on the LCD display screen of the feeder if needed.
Pros
BPA-free and safe for cats to eat from
Built-in sound to alert your cat it's dinner time
Programmable digital timer to schedule meals
Easy to use LCD display screen
Battery-powered and can go anywhere in your home
The lid and trays are dishwasher safe
Non-slip mats to prevent the feeder from moving
Feeds up to six portions per day
Cons
No ice packs so wet food doesn't stay as fresh
No backup power supply for when the batteries die
Many automatic wet food feeders run on a 24-hour clock, but one thing that really impressed me about the PetSafe Digital Two Meal Automatic Pet Feeder is that it allows you to program meals up to four days in advance!
However, if you're feeding your cat wet food, I wouldn't advise leaving it this long. The feeder doesn't come with ice packs, and even if it did, they'd have melted after four days.
As well as being great for feeding your cat dry food well ahead of time, the compartments also take wet food for mealtimes not so far in the future. If using wet food, I recommend refilling the compartments each day. Another great tip is to freeze the wet food before you put it in the tray. By the time your cat gets around to eating it, it will be defrosted yet fresh.
As the name suggests, this product only feeds up to two meals per day. For me, this was fine, but if your cat is on a complex feeding schedule, this won't do the trick. Yet if you're looking to avoid getting up at the crack of dawn to feed your cat or know you often get stuck in the office, this feeder works a charm. The dual trays are dishwasher safe, and the bowls are deep enough to feed two cats.
What I don't like about this automatic feeder is the price – it's too high for a two-meal feeder. Also, there might be issues with the automatic timer, albeit it does come with a two-year warranty that will help you solve any problems.
Pros
Schedule portions up to four days in advance
Suitable for both wet and dry cat food
Easy to clean and dishwasher safe
Can be used for two cats sharing
Comes with a two-year warranty
No noisy motor, so great for timid cats
Great for cats on a two-meal-per-day diet
Cons
Expensive for a two-meal feeder
Can only schedule up to two meals each day
No dual power supply
Does not come with ice packs
The TRIXIE TX2 Automatic Food Dispenser is another excellent wet food feeder for cats that I would highly recommend. There are two bowls, each one containing 1.5 cups of food. As each bowl is so large, it is a great product if you have two cats you need to feed at once.
The dual 48-hour timer allows you to schedule 2 meals each day, either separately or together. If you're feeding two cats, program both bowls to open at once. Or if you're feeding one cat two meals per day like me, set them to open in the morning and evening. This will save you from getting up at dawn or hurrying home after work to feed your kitty.
This automatic feeder is clearly made with wet cat food in mind. It features two ice packs for keeping wet food fresh. Just place those packs below the dishes, and when you don't use the feeder, keep the ice packs in the freezer ready for next time.
As I had hoped, the feeder is very compact and is ideal for small spaces, different cat breeds, and even kittens. It also stays in places thanks to non-slip rubber feet. Plus, it's easy to clean and relatively budget-friendly.
The loud ticking noise is probably the biggest complaint about this self-feeding cat food dispenser. If your cat feels scared due to the slightest noise, it might not like the feeder. Moreover, the feeder is powered by 2 AA batteries (not included). This is great as you don't need to worry about trailing electrical cords but make sure you remember to change the batteries, or your cat might go without!
Pros
Two compartments with a capacity of 1.5 cups
Dual 48-hour timer
Battery operated, so no trailing cords
Great for two cats sharing
Includes two ice packs to keep wet food fresh
Suitable for both wet and dry food
Non-slip rubber feet to avoid movement
Removable bowls that are easy to clean
Budget-friendly option
Cons
No battery life indicator
A bit noisy and can scare off shy cats
The most sci-fi cat food feeder available on the market has to be the SureFeed Microchip Pet Feeder. This collar-activated feeder works with your cat's existing microchip ID. It is compatible with all microchips, and you can program up to 32 pets at once. The feeder also works with RFID collar tags if your cat isn't microchipped. There's one collar tag included in the package.
To use the feeder, simply place the food inside the tray, and only a cat with the corresponding microchip will be able to access the food. The feeder closes automatically when the cat stops eating and moves away, so other pets or small kids won't be able to eat the cat food.
For this reason, this feeder is perfect for multi-cat households where several cats steal food from one another. You can rest assured that each cat only eats their designated portions and nothing more. Likewise, this dog-proof cat feeder is great if you have a greedy dog that gobbles down your cat's dinner before it gets the chance.
For even better portion control, a more advanced SureFeed Feeder connects to the Sure Pet app via a hub. The smart cat feeder then acts as a set of scales, with lights indicating when the portion size has been met, which I thought was cool. The price tag is impressive, though. But if you're ready to splurge on the sci-fi cat food feeder, then why not?
For both the standard and advanced options, the bowl is tightly sealed and keeps wet or dry food fresh for longer. I found the major drawback of this feeder, though, is the timer – scheduling meals is impossible! So, while it does a good job at keeping food fresh, you won't have any control over when your cat eats.
The SureFeed Microchip Pet Feeder is powered by 4x C cell batteries (not included), lasting up to 6 months. Thanks to the handy indicator, you'll know when you need to replace the batteries. This is great as there are no limitations on where the feeder can go, and neither do you need to worry about trailing cords.
Pros
Suitable for wet and dry food
Built-in memory stores more than 32 microchip IDs
Ideal for multi-pet households and parents with toddlers
Compatible with any existing microchip ID
Recommended for cats on a prescription diet
Bowl is sealed well to keep food fresh
One RFID collar tag included
Excellent for portion control
Cons
No timer, and you cannot schedule meals
No ice packs to keep wet food fresher for longer
The bowls aren't dishwasher-friendly
One of the most expensive wet food feeders
The Automatic Wet Cat Food Feeder Buying Guide
There are many benefits of investing in an automatic feeder for your cat's wet food. You don't need to worry about your cat staying hungry while you're away from home, and if you're planning to have a vacation, there are feeders that allow you to schedule your cat's meals for the next few days. Plus, wet cat food dispensers are often recommended by vets to control the cat's weight.
However, while I can give you my opinion, there is no single best feeder for everyone to use. It depends on your cat's diet and feeding times, your lifestyle, and your purpose of getting an automatic feeder in the first place.
When choosing an automatic wet food feeder for your cat, consider these crucial questions:
1. How Many Meals Does Your Cat Have During the Day?
Automatic feeders come in a variety of styles and have different portion options. The number of meals a cat has throughout the day typically depends on the owner's schedule, and busy cat parents tend to feed their feline babies twice a day – before and after work.
However, vets recommend that a cat has breakfast, lunch, dinner, and snacks. Thanks to an automatic feeder, it's possible to feed your cat this way! But just how many meals you need the feeder to have depends on your lifestyle and how often you're at home.
If you spend most of your time at home, you can purchase the feeder that dispenses one to two meals per day. These feeders are also good for people who have floating work schedules. You can feed your cat in the morning or evening and then set up an automatic food feeder to provide your pet with food while you're away.
On the other hand, if you want the feeder to do all of the hard work for you, look for one that feeds five or six portions every day. I personally prefer this option, as you can set the feeder up before bed and let it run for the next 24 hours without having to do anything.
2. What Time of Day Do You Want to Feed Your Cat?
When it comes to the feeding schedules and times, there are two options:
Wet food feeders that allow you to set a certain meal schedule
Feeders that offer a preset feeding schedule
Preset feeders are often cheaper and can work if you're happy with the preset schedule. However, if you buy a feeder with a preset schedule, keep in mind that you won't be able to change the feeding times. If your kitty is used to a different schedule like mine is, the predetermined feeding times might play havoc with your cat's eating habits and health.
Therefore, I recommend purchasing a feeder that allows you to set the precise time. This gives you added flexibility over your cat's eating habits. Not only will this keep cats happy, but it will also have tremendous benefits to their overall health.
3. Is Your Cat Overweight?
If your cat is overweight, it needs to go on a diet so it can shed a few pounds. Therefore, parents of overweight or obese cats should control their pets' portions. Accurate portion control might also be necessary for cats with certain health conditions.
In this case, you need to choose a food dispenser with smaller bowls. These smaller size bowls are suitable for kittens or cats with weight problems. If weight isn't an issue, you can choose a feeder with larger bowls. Many automatic cat feeders have a bowl size of 1 or 1.5 cups per meal, which can feed a large cat or two smaller ones.
4. Are You Ready to Pay for Quality?
The quality of an automatic feeder is crucially important. The material must be safe and durable, and the locking mechanism must be extremely tight. This will guarantee that your cat won't be able to open the feeder and eat all the scheduled meals. However, high-quality feeders do come with a bigger price tag, so check your budget before buying.
Cheaper feeders are available on the market, so don't worry if you are a little tight on cash; we have all been there, myself included. Yet beware that these are made of low-quality materials and won't last forever. Moreover, they usually have a weaker locking mechanism that lets air in. As such, the food starts spoiling quicker. Cheaper feeders are also more easily tampered with.
5. What Food Does Your Cat Eat?
The best feeder is also determined by the food your cat eats. Seeing as you're reading about wet cat food feeders, I'm assuming your cat eats wet food. But do you solely feed a wet food diet? Or does your cat also enjoy bowls of kibble or dry treats in between its wet food meals?
If your cat only eats wet food, I highly recommend purchasing an automatic feeder with ice packs. In general, wet food tends to spoil faster than dry food. The in-built ice packs help to keep the food cool and fresh so that you don't need to worry. And depending on the feeder's location and the weather, one ice pack can last for nearly 6 hours.
On the other hand, you might get away with a feeder that doesn't come with ice packs if you feed your cat a mixture of wet and dry food. I prefer doing this as it offers my cat a well-balanced diet. When using the automatic feeder, I feed wet food in the morning when it is still fresh. In the evening, this is where I serve dry kibble.
6. Will You Choose Ac Power, Battery Power, or Both?
When it comes to wet cat food feeders, there are two power options: (1) battery-powered and (2) AC-powered. The best feeders use electricity to run but feature a battery backup option. Once electricity goes off, the feeder begins to use a battery to run. This guarantees that your cat will receive its meal no matter what.
However, you might prefer a battery-powered design, which is typically cheaper. The benefit of these feeders is that you can place them anywhere – they don't need to be near a power supply in your home. Also, you don't need to worry about trailing cords acting as a trip hazard.
If you choose a battery-operated cat feeder, pay attention to the battery life. Ideally, it should last for about a year or so. Batteries are typically not included, so it's up to you which ones you buy. Look for long-lasting batteries to power your feeder non-stop. There are also many types of rechargeable batteries to consider.
7. How Does Your Cat React to Noise?
If you have an automatic litter box, your cat might not react to the noise that an automatic feeder can produce. Besides, some cats aren't bothered by noises at all. My automatic feeder makes a bit of noise when running, but my cat loves it. She knows it means that dinner is ready and runs to the feeder as fast as she possibly can!
However, if your cat is timid and highly sensitive to noise, choose the feeder that operates quietly. The loud ticking timer or loud sounds between meal-dispensing can scare your cat off. Having a quiet feeder can also benefit you. If you keep the feeder in the same room that you sleep in, you don't want it making a loud noise and disturbing you.
8. Does a Warranty Matter?
There are two categories of people – those who buy products with a warranty and those who believe a warranty is useless. In my opinion, it's always best to choose an automatic feeder that does have a warranty. They can be expensive, and because they have motors and electrical components, they can be prone to breakages.
In fact, a warranty guarantees the quality of the product and can help you fix the problem free of charge. Or, if your automatic feeder is delivered with breakage or mechanical problems, having a warranty ensures that you can replace it by giving the company a call.
THE FINAL WORD
Automatic wet cat food feeders are among the best inventions for pet owners. There are many options to choose from based on your cat's eating habits and your lifestyle. No matter how busy you are, you can be sure that your feline baby doesn't starve. The feeders come in various sizes, colors, and shapes, and some of them are low noise and efficient.
The freezing capabilities of the feeder will keep wet food fresh for longer. With the freezing option, feeding a cat wet food while on vacation is no problem. My recommended automatic wet food feeders for cats are perfect options for each budget and cat's needs. Don't forget to choose high-quality wet food to go inside the feeder as well!