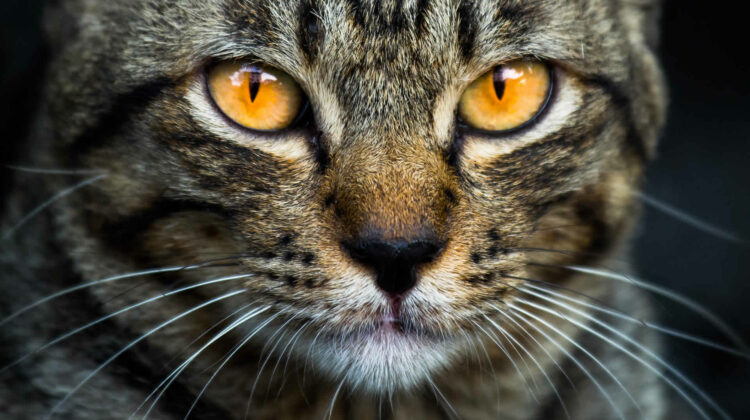 A cat's sense of smell is pretty impressive – they can smell their dinner before you've even had a chance to put the bowl down and will turn their nose up at a dirty litter tray in seconds! But have you ever wondered exactly how far cats can smell?
Thanks to the millions of scent receptors in the nose and vomeronasal organ, cats can smell things from 14 times as far as humans. This is incredible! Their specialized sense of smell also enables them to detect pheromones, further improving their smelling capabilities to levels way beyond ours.
In this article, I answer the question "How far can cats smell?" in more detail, giving examples of how far they can smell their food, home, and litter tray. I'll also discuss precisely how cats have such a good smelling ability and how this sense racks up against their other four.
How Far Can Cats Smell?
The simple answer to this question is "far"!
Cats have an extraordinary sense of smell that is imperative to their survival. In the wild, cats use their power of scent to detect any predators that are lurking nearby, helping them to get away. They also use it to locate and hunt prey, ensuring they've always got that next meal on the way.
This sense of smell has been passed on down through years of evolution – cats with stronger senses of smell are better equipped to navigate the world, and thus are more likely to survive and pass these strong sense-of-smell genes onto their offspring. Although domestic cats don't need this sense of smell for survival, they still have the same amazing abilities hardwired in their genes.
But precisely how far can cats smell? The answer of course depends on the strength and potency of the odor in the first place. For example, they'll be able to smell stinky foods such as fish a lot further away than something that hardly smells at all.
As a general rule of thumb, cats have a sense of smell that is 14 times stronger than humans. So, if you can smell something from 10 feet away, your cat can smell it from 140 feet away. However, this is only useful when referring to smells that both humans and cats can detect. But cats can also detect pheromones, something humans don't have the capacity to sense.
To be more precise about certain types of smells, here is a quick look at some of the more common odors you might be interested in knowing more about:
Food: How far can cats smell food? Of course, this depends on the type of food in question, with some being smellier than others. However, cats can typically detect most food sources from between 126 to 154 feet away. So if you wonder how your cat appears so quickly when you open a tin of tuna, they've likely smelt it before you've even fully opened the can!
Home: Cats have a homing instinct, which means your cat will come back if you let him outside. This homing ability goes beyond using their five senses. However, the smell does play its part. But just how far can cats smell their home? One study found domestic cats can navigate their way home from 1.5 to 4 miles away, and so can potentially smell their home from this far, too! As long as they don't roam too far, navigating their way home is easy.
Dirty Litter Boxes: It is a common belief that cats can smell their dirty litter boxes from as far as a mile away. However, there is little proof of this. Taking the fact their sense of smell is 14 times stronger than humans, the true distance is probably something closer to a few hundred feet away depending on wind and weather conditions.
How Do Cats Smell so Far?
I think we can all agree that cats do have a good sense of smell. In fact, it's pretty incredible! It is much stronger than ours, and experts think it is even stronger than dogs' smelling abilities, too. The amazing strength is all due to precisely how cats smell. And, interestingly, they have two separate mechanisms in place for detecting odors.
Cats Smell Using Nasal Olfactory Receptors
Just like humans and other animals, cats can smell thanks to special scent receptors, scientifically known as olfactory receptions. These are located inside your cat's nose and send signals to the brain, informing them of the scent in the air.
Here's a better look at how these work:
Odor molecules in the air enter your cat's nasal cavity during inhalation.
These molecules dissolve in the mucus that lines the nasal canal.
Specialized olfactory cells have tiny finger-like projections called cilia which move this mucus along the nasal canal and to the olfactory receptors.
The odor molecules bind to the olfactory receptors and trigger them to send a signal to the brain letting them know what smell they can sense.
What makes a cat's sense of smell so amazing is the sheer number of these receptors. According to estimates, they have between 45 million to 80 million of these receptors in their little noses. Some experts even believe there could be as many as 200 million scent receptors!
To put this into perspective, humans have around 5 million olfactory receptors. There is a direct correlation between the number of scent receptors and the strength of smell. As cats have millions of receptors present in their noses, they can detect and process smells extremely quickly and effectively.
Cats Smell Using the Vomeronasal Organ
Cats also have a second way of smelling – they use a specialized area located on the roof of their mouths called the vomeronasal organ, otherwise known as Jacobson's organ. Rather than smelling any old smell, the cells here exclusively detect pheromones, something that neither their noses nor ours can detect.
For those of you that don't already know, pheromones play a crucial role in cat communication. All cats produce pheromones that smell unique, meaning no two cats' pheromones smell the same. These pheromones can be detected by other cats and are used to define territory, mark members of their family as part of the pack, and find partners for breeding.
So, how does Jacobson's organ detect feline pheromones? Put simply, this area on the roof of your cat's mouth is essentially a dense cluster of olfactory sensory cells and receptors.
Just as airborne odors dissolve and bind to receptors in a cat's nose, pheromones do the same thing:
Cats breathe in through their mouth and inhale pheromones and odors.
These molecules dissolve in the saliva and bind to the receptors that make up the vomeronasal organ.
The receptors send signals to the brain, informing the cats of what they can smell and to whom these pheromones belong.
To smell using the vomeronasal organ, cats open their mouth when they smell. Doing so allows for the pheromones to flow into their mouth and latch to these sensory cells. This is known as the flehmen response and can often look like a snarl or a grimace. In fact, many owners mistake it as their cat being disgusted by what they can smell! But in truth, they're simply getting a good whiff.
Incredibly, cats have over 30 different scent receptors in this area, meaning their ability to detect and identify odors is second to none. Even though dogs also have a Jacobson's organ, they only have nice receptor types here. This again demonstrates how fine-tuned a cat's sense of smell truly is.
For example, cats can smell other cats on you. When you're around other felines, their unique pheromones will get left on your body. Using the vomeronasal organ, cats can then detect the scent of this other cat and your secret will be out – there's no hiding anything from these inquisitive creatures!
Their abilities aren't solely with feline scents either – cats can smell human pheromones, too. However, they won't know what to do with this information and will have little effect on their behavior.
How Does Smell Compare with a Cat's Other Senses?
Cats can smell over long distances and use this sense religiously every single day, from knowing when you've put their dinner out to smelling their own pheromones at home and feeling at ease. However, like humans, cats also have four other senses – sight, hearing, touch, and taste.
How do these senses compare? Are cats just as reliant on these other senses, or is a cat's sense of smell the most important?
Here's a closer look at each sense and how they compare.
Sense of Sight
A cat's sense of sight is not as good as its sense of smell., especially during the day. They can see basic shapes and detect motion, but miss out on the finer details that human eyes can capture. Moreover, they can't see the full range of colors that we can see. Cats are also known for struggling to see things that are too close as they have a blind spot right under their noses.
Still, cats can see ultraviolet light – a light wave that human eyes are unable to even detect. Their pupils also expand extremely wide when it's dark to allow for an influx of light. Additionally, their eyes have a reflective layer which allows them to use the light they receive more effectively.
These three things give cats great nighttime vision, which is crucial as this they do most of their hunting at dusk and dawn when light levels are low. So, while they may not have great all-round vision, they have an exceptional vision for when they need it most – when they're stalking prey at nighttime and finding their next meal.
Sense of Hearing
A cat's sense of hearing is exceptional and it is considerably more sensitive than both dogs and humans. In fact, hearing is a cat's most advanced sense. Even the smallest noises like a leaf rustling in the wind can be detected by their large pointed ears.
They have an incredible hearing range of 48Hz to 85kHz, one of the broadest ranges among all mammals. To put this into perspective, humans can only hear frequencies of up to 20kHz. This means cats can hear extremely high-pitched noises that are inaudible by the human ear.
Moreover, cats can distinguish between these different tones unbelievably well. It is so finely tuned that they can distinguish between two sounds that are as close as three inches apart! This is another great skill when locating their prey as they'll know exactly where they need to pounce.
Sense of Touch
A cat's sense of touch is again second-to-none, and they rely on touch heavily when navigating the world by using their whiskers. Of course, cats have touch receptors on other areas of their bodies too which is why they enjoy being petted, but the ones found on their whiskers are highly advanced.
These whisker touch receptors are so sensitive they can detect even the slightest changes in air current. This explains why cats often look like they're staring off into nothingness – their whiskers have likely picked something up! A cat's whiskers also help cats judge size and distance, letting them know whether or not they'll fit through a tight gap.
Sense of Taste
A cat's sense of taste is the only sense considered poor. Whereas we have 9,000 taste buds on our tongues, cats only have several hundred. What's more, they are missing some taste receptors entirely and are unable to taste anything sweet.
This is thought to be a random mutation that actually benefitted cats and so was passed on through years of evolution. By having the inability to taste sweet things, it deters cats from eating plants and other high-sugar items. Instead, it encourages them to have a carnivorous high-protein diet that satisfies their taste buds and fills them with all the nutrients they need.
MY FINAL THOUGHTS
So, there we have it: cats can smell 14 times as far as humans thanks to their specialized noses, meaning their world smells a whole lot different from ours! It helps them navigate the world effectively and catch prey more easily. Bar taste, their other senses are equally as powerful, showcasing the truly amazing abilities of our precious felines.