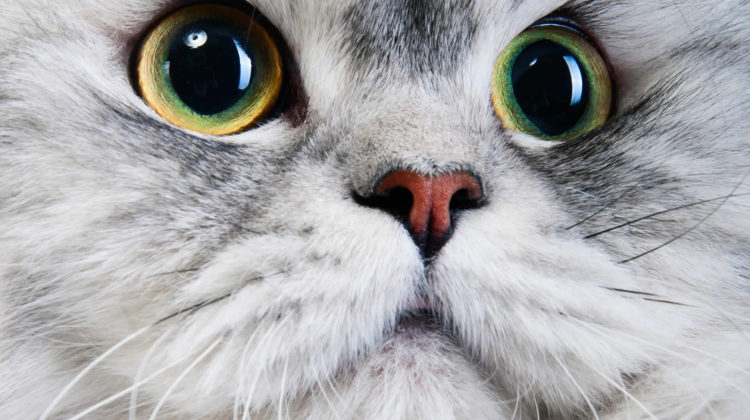 It is normal for pupils – the black part in the center of our eyes – to dilate and constrict to improve our vision.
At night when it's dark they dilate to let more light in, and when it's light they constrict and become smaller in size, allowing us to always have the optimal amount of light for the best vision possible.
Animals' eyes work the same way, including cats' eyes. But, what if your cat's eyes are always dilated? Constant dilation is commonly a sign of hypertension, but could also be an indication that they are blind, are experiencing chronic pain, or have another underlying health condition.
However, if your cat's pupils dilate periodically and as the light around them changes this is completely normal and not a cause for concern. It is only if you notice your cat has large pupils that are dilated all that time that you should be worried and get it checked out to ensure your cat's eyes are in good health.
High blood pressure, also called hypertension, is the most common reason why your cat's eyes are always dilated. Feline hypertension can be related to several factors, including kidney, thyroid, or heart disease, so be sure to take your cat to the vet so that they can prescribe effective treatment.
Why Are My Cat's Eyes Always Dilated?
Although it is normal for cats' eyes to become dilated when light conditions change, or to express fear, anxiety, or excitement, when cat's eyes are constantly dilated it is a source of concern. They could be in a neutral state – that is neither overly constricted nor dilated – for the majority of the day.
Here are the most common explanations as to why cats' eyes are always dilated.
Hypertension
As I already mentioned, the most common cause of dilated pupils in cats is hypertension. This means that your cat's blood pressure is greater than 160mm Hg, which is more common in older cats or those that are overweight or obese.
It can be difficult for vets to diagnose hypertension, and abnormalities in cats' vision is usually the giveaway sign, such as your cat having large pupils that do not constrict bright light. It is important you take your cat to the vets if you think they could have high blood pressure as if left untreated it can cause the retina to detach, resulting in blindness.
The treatment prescribed by your vet will vary depending on the cause of feline hypertension. It is often a secondary result of other underlying conditions, with the most common causes being kidney failure or hyperthyroidism. It is also possible that there could be no obvious cause, but this is extremely rare in cats.
Even once on medication to reduce their blood pressure, cats' pupils can still remain dilated. This is because one of the drugs used to treat the condition can cause pupil dilation as a side effect. As long as you keep going to the vets to regularly check that their medication is still working, this is nothing to worry about.
Blindness or Loss of Vision
If your cat is losing their vision, their eyes may also be constantly be dilated. Just like how pupils dilate to aid our vision, cats that are struggling to see will have large pupils in an attempt to let as much light into their eyes as possible to aid their vision.
Aside from cats having round pupils, signs of blindness or poor vision also include bumping into objects and acting clumsy, being overly cautious when jumping or climbing, and acting more startled than normal.
If your old cat has dilated pupils, blindness could be the reason as cats' vision does deteriorate with age. However, the problem could also be temporary and a result of kidney diseases, feline herpesvirus, or even severe eye infections.
Always take your cat to the vet if you suspect that they are blind. If it is only a temporary problem, your vet can prescribe the required treatment.
On the other hand, if your cat is permanently losing its site, don't panic. Cats rely on their sense of smell, hearing, and touch a lot more than they do their vision. You may have to rearrange your living space to make it easier for your cat to navigate, but they will soon adust to having poor or no vision.
Anxiety Disorder
Another reason why some cats have round pupils is that they are scared, as when feeling anxious or worried, it is natural for a cat's eyes to dilate. You may notice this if there is a sudden loud noise that startles your cat or the presence of an unknown person or animal.
However, if your cat's eyes are constantly dilated because of fear, they may suffer from anxiety, meaning that they are constantly on edge. Sustained periods of high stress can trigger several other problems, including aggression or a loss of appetite.
If you notice that your cat is on edge and exhibiting other symptoms of stress, try to work out what the cause is. Has there been a change to their routine? Have there been new people or animals in your home? Are they having to compete for resources with other cats?
You can try to ease your cat into the new environment to help them feel more comfortable. Also, make sure you add plenty of places for your cat to hide in your home, such as a cat caddy or cardboard boxes. This provides somewhere for your cat to retreat to if they become stressed and need some time out.
Some cats are naturally nervous by nature. In these cases, medication may help to calm them down and relax. If the treatment is working, you will notice your cat's pupils contract.
Chronic Pain
As cat's pupils dilate when they are in pain, the reason why your cat's pupils are so big constantly could be down to chronic pain. In fact, cats will instinctively try to hide that they are in pain because in the wild this will make them appear as a target to predators. Therefore, constantly dilated pupils are one of the only giveaways for cats who are in physical pain.
Alongside dilated eyes, your cat may also exhibit several other symptoms if chronic pain is the cause. Look and see if your cat has a loss of appetite, is being more aggressive or more tired than usual, or has lost interest in grooming.
To determine the source of your cat's pain, it is best to take a trip to the vet. They will then be able to diagnose what is causing your cat continual discomfort.
With senior cats, a common problem is arthritis which can cause even more intense pain when moving. Usually, painkillers and massage therapy can help ease feline arthritis. Dental issues are another common issue, which are often accompanied by bad-smelling breath.
Feline Dysautonomia
Although extremely rare, it is possible that if your cat's eyes don't constrict they could suffer from feline dysautonomia, also referred to a Key-Gaskell Syndrome.
Feline Dysautobimia is a condition that affects your cat's autonomic nervous system (ANS). This system is what controls all automatic bodily functions, such as heart rate, respiration, digestion, urination, arousal, blood pressure, and pupil dilation, among others. The ANS basically controls every essential bodily function that your cat needs to survive that does not need conscious thought.
For example, you don't tell your heart to beat, it just does it. You don't tell your stomach to break down your food, it just does it. You cannot tell your pupils to dilate or constrict, this just happens automatically. It is the same for your cat and for most other animals.
It is not known what causes this condition, but the most common early symptom is for your cat to have dilated pupils that do not respond to light. Dysfunction of the ANS can have several other effects, such as vomiting, an uncontrollable bladder and anal sphincter, difficulty breathing, loss of spinal reflexes, and muscle wasting.
It is important you take your cat to the vet immediately and document all the symptoms and when they started. As the cause is not known, only medication to treat the symptoms can be provided and most cats with this disease do no survive. For those that do, it can take up to a year to recover fully, and many will be left with some permanent dysfunction.
Remember that this condition is extremely rare, though worth highlighting. Also, an old cat with dilated pupils is unlikely to have Feline Dysautonomia as it typically affects young cats.
Anisocoria
Does your cat only have one eye that is constantly dilated? If so, your cat has anisocoria, which is where one of their pupils is a different size than the other. This is not a disease in itself, but rather a symptom of many other diseases.
Conditions that can lead to anisocoria include corneal ulcers, glaucoma, head trauma, and exposure to chemicals and toxins. Because of this, the treatment for anisocoria depends on the underlying disease that is causing it.
If your cat has glaucoma or a corneal ulcer, anisocoria may be accompanied by squinting or rapid blinking. Cats with glaucoma will also have bulging and bloodshot eyes too, along with behavioral traits due to the intense pain. On the other hand, if your cat's anisocoria is due to toxicity, you will notice several other warning signs such as vomiting or diarrhea, tremors, muscle weakness, lethargy, and a reduced appetite. If trauma is the cause, the anisocoria will likely be temporary and not last longer than a few hours.
Regardless of what is causing anisocoria, a trip to the vet is a must if it lasts over 24 hours. The underlying cause will be identified and treatment will start to prevent further detrimental effects.
Feline Spastic Pupil Syndrome
If your cat has anisocoria that appears to alternate between eyes, this is called feline spastic pupil syndrome. This is a symptom of the Feline Leukemia Virus (FeLV).
Feline Leukemia is a serious condition and is the leading cause of death in cats after trauma. However, it is possible for cats to encounter the virus and fight it off, with 70% able to do this on their own. That being said, persistently infected felines will likely die within three years.
Because of this, if you notice your cat has feline spastic pupil syndrome then take them to the vet immediately. There is no cure for the disease, but regular check-ups and examinations can help prevent the infection from reoccurring and prevent complications.
Ocular Tumors
There is a possibility that cats whose eyes can't constrict have tumors behind their eyes.
If your cat does have an ocular tumor, you may notice that as well as having dilated pupils because of the intense pain, they also suffer from inflammation, have cloudy eyes, or an iris which is misshapen. Glaucoma is also more common in cats with eye tumors.
These tumors may or may not be cancerous, but it is important to get the tumor removed as soon as possible and as a precautionary measure in case it spreads around their body. Small tumors can be removed by using a laser, but in the worst-case scenarios, your cat's eye may need to be removed.
If this is the case, I would try not to worry. Cats adapt quickly and will have a perfectly happy life once they have become accustomed to having only one eye.
Iris Atrophy
Old cats with dilated pupils could suffer from iris atrophy as this is an age-related condition. As cats get older, the colored part surrounding their pupil known as the iris can thin.
Aside from giving your cat's eyes their beautiful color, the iris is also a muscle that helps the pupil to contract in response to bright light. As this muscle thins, it gets weaker, making it harder to constrict the pupil which gives your cat's eyes a permanently dilated look.
Thankfully, iris atrophy is not anything to worry about. Dilated pupils in cats cause no pain and rarely results in any long-term vision problems. The only change you may notice in your cat is that they become more sensitive to bright light.
Because pupil dilation can be a symptom of a much more serious condition, such as hypertension, glaucoma, toxicity, or blindness, it is still important to take your cat to the vet so that these other issues can be ruled out.
Medication Side Effects
Another reason why some cats have round pupils is a side effect of the medication they are on. Painkillers such as opioids are one of the most common types of drug that can cause pupil dilation in cats, such as buprenorphine.
You will likely know if this is the reason why your cat has dilated eyes because you will notice it occurring after each time you administer their medication. In addition, they may also suffer from other side effects of the medication such as excessive licking or pacing.
Usually, this is due to overdosage, so speak to your vet and see if you need to reduce the amount of medication you are giving your cat. You may also be able to switch to another pain killer that does not have the same side effects. That being said, dilated pupils are not a bad side effect and will not cause any harm.
Why Are My Cat's Eyes Sometimes Dilated?
If your cat's eyes are always dilated, a trip to the vet is needed.
However, it is normal for pupils to change size and react to different conditions. This is not a sign of concern and instead shows healthy eye function, allowing your cat to have better vision in different light conditions, as well as a natural response when excited or scared.
Better Vision
You will notice that your cat's pupils dilate and constrict in response to changes in light levels. In bright light, they will constrict to protect the back of the eye, but in the dark, they will dilate to let as much light in as possible.
If you are wondering can cats see in the dark, their vision is not perfect and they cannot see any more than we can in the pitch black. However, they can see much better in low light conditions, which is all thanks to their pupils dilating and letting as much light into their eyes as possible.
Because of how your cat's pupils respond to light, your vet will often use a bright light to test their eye function. If they shine a bright torch into your cat's dilated eye and it does not constrict, they know there is an underlying problem.
Surprise or Fear
Cat's eyes will also dilate when they are surprised or scared.
When your cat is scared, they produce large amounts of the hormone adrenaline to give them the best chance of survival. This adrenaline makes them feel more fearless, but it also has changes on their body, such as increasing their heart rate and sending more blood to their muscles, heart, and lungs, priming them to run away from a bad situation or get ready to fight.
Another side effect of adrenaline is that it makes cats' pupils dilate. So, if your cat's pupils are big and round, it is best to leave your cat be. It could be anything from a loud noise to an unknown house visitor that makes your cat feel scared, so leave them time to settle and realize they are still in a safe space and approach them when their eyes are back to normal.
Excitement
If cats' eyes dilate when they are scared, then why do cats' eyes dilate when they play? Are they scared of their toys? Are they not enjoying playing with you?
This often confuses owners, but having dilated pupils can also be a sign of excitement. This seems confusing as two very opposite emotions trigger the same response in their eyes. However, you can easily tell the difference between the two by observing the environment.
If you are playing with your cat or have just given them a treat, then it is safe to assume that their pupils are wide and dilated because they are excited. However, if they are hiding under your couch during a thunderstorm, they are likely scared.
The reason cat's eyes dilate when they play is because adrenaline is again pumping around their bodies. When hunting prey in the wild, cats need to be alert, fearless, and have lots of blood going to their muscles so that they can respond quickly and catch their next meal, and they rely on adrenaline for this.
For cats, their version of playing is hunting – playing with toy mice, chasing bits of string, or pouncing on their cat kicker toy. Therefore, adrenaline will be pumping around their bodies as they play, making their pupils involuntarily dilate.
CONCLUSION
Although having pupils that dilate and constrict in different circumstances is a sign of good feline health, if your cat's eyes are always dilated it can be concerning. Cats' eyes often give away a lot about how your cat is feeling and can be the first obvious symptom for many underlying conditions.
If you notice your cat has permanently large pupils, take them to the vet as soon as possible. Usually, hypertension is what is causing their pupils to dilate, which is a secondary condition for several illnesses. Therefore, it is important your vet can diagnose the underlying problem and provide effective treatment. Other conditions could also be the culprit, and the majority can be managed with the correct treatment.
The most important thing to remember is not to panic. Follow the advice of your vet and your cat will likely be well and back to normal in no time at all.