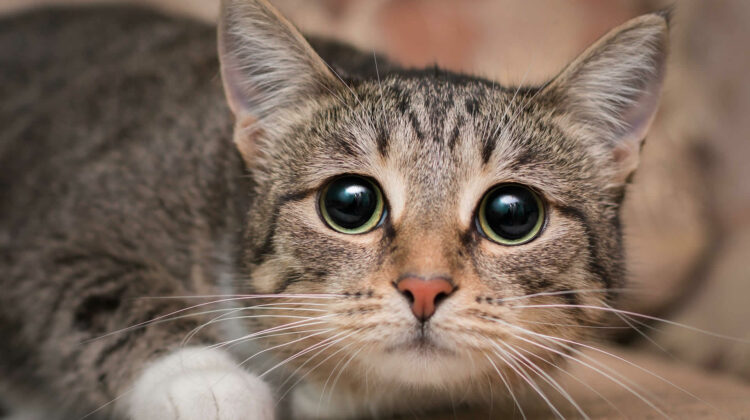 Many of us have been through traumatic events in our lives. Examples could be surviving a life-threatening situation, suffering from abuse, or losing someone close to us. This can cause all kinds of emotional trauma in people, including anxiety, depression, and post-traumatic stress disorder (PTSD).
But did you know that cats can also experience the same mental traumas? That's right, cats can suffer from emotional turmoil if they face traumatic events. Common examples include abusive home environments and neglect. However, even getting attacked by a predator, having a close call with a motor vehicle, or cat trauma after a fight can cause long-term upset.
In this article, I run through several emotionally traumatized cat symptoms. These will onset after the event or accident, but they might not manifest right away. I also offer advice on how you can provide emotional relief and get your old cat back. Remember, if in any doubt, always contact your veterinarian for a professional opinion.
What Are the Causes of Emotional Trauma in Cats?
Just like humans, cats can suffer from emotional trauma. This could stem from an isolated incident or event or illness. In other cases, it is a result of trauma sustained in their younger years. They cause our pets to become more fearful of us and everything else in their environment. Below are just some of the possible circumstances that can cause these deep-rooted emotional issues:
Abuse and/or abandonment by a previous owner
Thunderstorms and hurricanes
Road traffic accidents
Fights with cats and other animals
Lack of socialization and exposure to "scary" stimuli in younger years
Note that there is no saying that all cats that go through trauma will experience emotional symptoms. Some cats that go through any of the above events might be completely fine and unaffected. Yet others can develop a range of mental conditions. Most commonly, cats that face traumatic events will suffer from PTSD or anxiety. There is no way to know how a cat will respond to a situation until after it has happened.
What Are the Symptoms of Emotional Trauma in Cats?
Due to our language barrier, cats cannot possibly communicate what they have been through previously. Therefore, noticing the signs and symptoms of trauma can be the only indication that your cat has been through a tough situation in the past. It is important to learn these traumatized cat symptoms so you can begin to understand how your cat is feeling.
Even if you are aware of an incident that happened to your cat – such as a catfight or car accident – learning the symptoms of trauma is still essential. As all cats cope with situations differently, these signs can help you understand how your cat's feeling. Only then can you get them the help they need.
Below are the most common emotional trauma symptoms in cats that you might spot:
1. Increased Attachment & Clinginess
Let's imagine your cat recently got into a bad fight. You took them to the veterinarian and got all of their injuries treated. A few weeks after the accidents, you find yourself asking "Why is my cat so affectionate all of a sudden?". This is a great example of mental trauma. Although all your cat's physical injuries have been treated, they're still suffering emotionally from the event.
By being increasingly affectionate, your cat is seeking your reassurance more than usual. They have become clingy. They're scared that they'll end up in another fight and get hurt. They're probably still re-living the experience in their head. As your cat's favorite human, many become attached to their owners following an incident. This is one of the most common symptoms to might see.
This is exactly what happened with my cat after she got into a fight with another cat. She didn't want to leave the house much and became very clingy. I let my cat sleep between my legs at night and stayed with her while she ate her meals. I gave her as much comfort and love as possible. If you notice an increased attachment, you can do the same to help reassure your frightened kitty.
2. Aggressive Behavior
Aside from becoming attached and affectionate, traumatized cats can become aggressive. This is often the case with felines that have been abused in the past. When living in an abusive environment, many cats will lash out at their abusers as a means to protect themselves. This aggressive behavior can still manifest, even though your cat is now in a safe environment.
Interestingly, aggressive behavior is also common in cats that have had poor socialization in their younger years. They aren't used to interacting with humans and other animals, thus perceive it as a threat every time. Their aggressive tendencies will usually heighten if there is another trigger around, such as stray cats outside or loud noises nearby.
3. Fearful & More Easily Startled
You will often see that a PTSD cat becomes more fearful and jumpy. They might get startled by situations or events that never used to bother them. Say, for example, your cat was in a road traffic accident. There would have likely been loud noise at the scene, such as car horns and whirring engines. As a result, your cat might now be hypersensitive to loud noises, such as fireworks.
Aside from being increasingly jumpy, your cat will show other signs that they are in a near-permanent state of fear. You might see your cat trembling and shaking. Their state of fear is causing all the muscles in their bodies to tense up and start to quiver. Again, this could happen frequently or just in response to specific stress triggers.
Cats shedding more than usual is another common sign of fear. This is a normal physiological response for a worried cat. So, if you're wondering "Why is my cat shedding so much?", think back to recent events. Has anything happened that could have scared them? If so, this is likely the reason why they're suddenly losing a lot of fur.
4. Sudden Mood Swings
I have already said that traumatized cats are more likely to be clingy, aggressive, and fearful. But another sign of emotional trauma in cats is that they will flick between these extreme emotions and other "normal" moods quite suddenly. One minute your cat might seem happy and content, but seconds later they're trembling or attacking you.
These mood swings can leave us super confused and on edge. We don't know what our cat is thinking from one minute to the next nor how they are going to behave. This is a sure sign that something isn't quite right with your cat. They are not in control of their emotions and don't know how to react to normal situations. They're clearly not being themselves.
5. Reduction in Appetite
Loss of appetite is one of the most common symptoms of both stress and illness. This extends to mental illness that comes from traumatic experiences. This is because an anxious or PTSD cat will be in its "fight or flight" mode. In other words, there is a ton of the hormone adrenaline pumping around their body. This hormone causes cats to focus on survival from threats, rather than eating.
Without the right nutrients, you'll notice your cat is suddenly lethargic and weak. Depending on how much mental trauma your cat is going through, a cat can even go as far as to starve itself to death. Indeed, a cat not eating and drinking for 3 days is at severe risk of death. They can become extremely malnourished or even develop liver disease.
Therefore, you must step in if you do notice a loss of appetite. Some things you can do to encourage your stressed and worried cat to eat include:
Making their food smell better by heating it up
Sticking to your cat's food preference, be that wet or dry food
Choosing gourmet cat food that entices your kitty
Opting for calorie-dense food so that every mouthful counts
6. Failure to Use the Litter Box
Unfortunately, another common traumatized cat symptom is failure to use the litter box. Many owners become confused when their cat seemingly suddenly forgets how to use their litter tray. But PTSD, stress, and anxiety are all likely culprits. This can happen even if your cat has been happily using their litter box for years.
This is common if your cat associates the litter box itself with trauma. Examples could include being ambushed by another animal as they attempt to eliminate. Or perhaps a medical condition caused them extreme pain when urinating. For instance, obstruction of the urinary tract or stones in the bladder. By avoiding their litter box, they're hoping to avoid these situations happening again.
In other scenarios, your cat will purposefully urinate elsewhere around your home to spread its pheromones. These are chemicals made by your cat that smell unique to them. They are used for marking territory and claiming ownership. Thus, they make cats feel more secure and relaxed. Eliminating outside the litter box is a coping mechanism for the emotional trauma they're facing.
7. Destructive Behaviors
Unluckily for you, bathroom accidents are not the only issues you could be facing. It is also common for worried cats to exhibit destructive behaviors. Examples include:
Excessive scratching at your furniture, curtains, or carpet
Digging up the soil from all your houseplants
Chewing non-food items in your home.
In other words, destructive behaviors are classed as anything that makes your house a mess. This symptom is common for a range of emotional traumas but is specifically known for being one of the prominent cat anxiety symptoms. In particular, it manifests frequently in cats with separation anxiety.
Separation anxiety is a specific form of anxiety caused by neglect in the past. Cats fear that they will be abandoned and left alone to fend for themselves. Their destructive behavior is their way of getting their owners' attention and ensuring they're not forgotten about again. It is a heartbreaking thought and worthwhile making your cat feel as loved a humanly possible.
8. Withdrawn & Increased Hiding
Many cats suffering from PTSD will hide for extended periods. Some will only venture out of their hiding place in the pursuit of food or water. They might avoid human interaction entirely and become withdrawn. This is because when cats hide they feel safer. They are quite literally tucked away from any dangers and threats that might approach them.
Usually, this hiding behavior will happen in response to a trigger that frightens your cat. For example, they could hear a noise that startles them. Or perhaps there is a new person is in your home that they don't yet trust. They'll flee the scene quickly and hide somewhere out of reach. However, extremely distressed cats might hide more permanently, even with no stressful triggers nearby.
9. Excessive & Unprovoked Vocalizations
Excessive vocalizations are one symptom of emotional trauma in cats that you simply cannot miss. A highly vocal cat can be loud and frustrating, especially if they are meowing loudly at night. More often than not, traumatized cats will make yowling crying sounds instead of friendly chirpy meows, making the racket even worse!
If your cat is vocalizing due to trauma, they will be non-stop. Moreover, their vocalization will be unprovoked. In other words, there is no real reason for your cat to be meowing. They have been fed, have fresh water, have been shown love and attention, have had their playtime, yet they still meow. They are meowing for no other reason than to get your attention.
And why would a traumatized cat be seeking your attention when they have everything they could wish for? Well, it's for the same reason they might become overly clingy. They need your reassurance, constant comfort, and support. This is common in PTSD cats, but cats with separation anxiety are typically the most vocal of all.
10. Sleep Disturbances
Sleep disturbance is one of the most common PTSD cat and cat anxiety symptoms. Your worried cat cannot get their mind to relax. They're be thinking about the traumatic incident and their mind will stay in its alert mode. As a result, it will be impossible for your cat to fall asleep. They may appear restless and start pacing up and down.
It is important to help your traumatized cat sleep for both of your sakes. Your cat needs sleep so its body and mind can recharge and remain healthy. And you need your cat to sleep so that it doesn't keep you up at night. If they're not sleeping, both of you are suffering! Try to create a calming environment for your pet and speak to your vet for further advice.
When your cat does finally drift off, pay attention to its body position. There are some distinct cat sleeping positions when sick you should be aware of. It is good to know these so you can be aware of any underlying illnesses that could be impacting your cat's mood and emotional state even further.
11. Extreme Escapism Behavior
The final traumatized cat symptom I am going to talk about is extreme escapism behaviors. Now, it is normal for cats to hide or act startled if they become stressed. For example, a fireworks display might have your cat feeling a little on edge. They may take refuge under your couch and wait for the noisy show to come to an end.
However, traumatized cats will take these escapism behaviors to the next level. They will go to extreme lengths to avoid going anywhere near an emotional trigger. They will frantically flee the scene, perhaps even scaling walls or jumping to places they shouldn't. In other words, they'll be acting over the top and a little crazy.
How Can You Help Cats with PTSD & Anxiety?
If you notice signs that your cat is suffering from emotional trauma, it is important to help where you can. Firstly, this will reduce any unwanted behaviors. Examples include urinating outside the litter box, destructive behaviors, or aggression. More importantly, it will help to improve your cat's happiness and standard of life.
Unfortunately, there is little research into treating emotional trauma in pets. Mental health issues are notoriously difficult to diagnose and treat. However, there are more generalized methods that are used to treat stress, anxiety, and depression in cats. Here is a look at these methods in more detail.
1. Providing a Safe Space
If your cat is suffering from emotional trauma, the most important thing you can do is offer them a space in which they feel safe. Establishing this calm environment is critical in helping them deal with the incident and return to their usual happy selves.
Here are some ideas for creating a calming space that your cat will love:
Pheromone Therapy
Pheromones can go a long way in lowering stress levels and helping cats relax, and so pheromone therapy can be effective Of all the pheromone products, I love pheromone collars. And pheromone collars for cats do work to calm felines! It could be worthwhile purchasing one and seeing if it helps. As they are attached to your cat, they'll have this calming scent with them wherever they go.
If you're not keen on the idea of collars, there are a range of other pheromone products that might suit you better. Examples include pheromone diffusers and sprays. Diffusers are plugged into a socket and release pheromones into one room only, whereas a spray can be used wherever you like. However, it will need to be reapplied regularly for full effect.
Mental Stimulation
Within their safe space, cats need to have plenty of objects that will keep them mentally stimulated. Food puzzles are a great option as your kitty will really have to think about how to solve them. Providing plenty of toys and other sources of enrichment is another great idea.
By offering these things, your cat will have something new to focus on. This can help divert their focus from their traumatic experience. They are essentially functioning as a distraction from whatever else is going on in your cat's mind. Plus, toys encourage exercise and help you keep your cat's physical health in check. Meanwhile, food puzzles can encourage a stressed cat to eat more food.
Hiding Places
Within the safe space, you'll need to provide plenty of hiding places. This may seem counterintuitive – won't giving your cat places to hide make them more inclined to retreat and withdraw? But actually, it isn't. Cats need places to hide to feel safe.
This is because when cats feel overwhelmed, they can resort to these hiding spots and calm themselves down relatively quickly. A lack of places to hide has the opposite effect, causing cats to become more stressed. Therefore, hiding spots are non-negotiable! Most cats prefer hiding spaces that are higher up, so cat wall shelves work well. If not, other options include:
Cardboard boxes and shoeboxes
Store-bought cat condos or cat houses
A bookcase for your cats to climb
Blankets under your couch or bed
İf your cat already has a favorite hiding spot, can you make this room their safe space? For example, if you always find your cat hiding in your wardrobe, can you make your bedroom their safe area? Where possible, always do so.
2. Desensitization & Counter-Conditioning
Another way to relieve stress, anxiety, PTSD, and any other emotional traumatized cat symptoms is through behavioral therapy. In particular, there are two methods that behavioral therapists often recommend. These are desensitization and counter-conditioning, defined as follows:
Desensitization: The process of exposing the cat to the stimulus that they are scared of. This needs to be done gently and in a safe environment. Exposure to the stimuli can gradually be increased over time. Your cat will eventually learn that no negative consequences happen in response to the stimulus and will gradually fear it less.
Counter-Conditioning: This is the process of changing your cat's emotional response to a positive one over time by providing a positive feedback association. For example, you can give your cat a treat, a pet, or a play every time they face something that they fear. Over time, this will change the emotional association with the stimulus to a positive one.
Desensitization and counter-conditioning work extremely well when paired together. You would ensure your cat is in their safe space, then introduce the stimulus that acts as a trigger. At the same time, reward your cat with a treat. Continue to do this, increasing the exposure to the stimulus every time. Eventually, your cat will no longer suffer from the emotional trauma caused by the trigger.
When using behavioral methods such as these, it is always best to do so with advice from your veterinarian or an animal behavior specialist. If you carry out the techniques wrong it can make your cat's fears and trauma far worse. Always speak to a professional before attempting any therapy at home.
3. Prescribed Medication
In some cases, providing a safe space and implementing behavioral therapy isn't enough. In these cases, your veterinarian may recommend pharmaceutical intervention. This is usually recommended alongside behavioral therapy and the use of "safe spaces" for best results.
The precise drug combination will depend on your vet's diagnosis. But clomipramine, fluoxetine, and amitriptyline are more commonly prescribed. It might take a few attempts to get the drugs and dosage right. With these medications, you will not see instantaneous results. However, you should start to see a gradual improvement after a week or so of treatment.
Also, bear in mind that these medications may have side effects, such as your cat sleeping more than usual or losing its appetite. As there is an overlap with these side effects and traumatized cat symptoms, it is sometimes hard to determine their effectiveness. Pay particular attention to the improvement of emotional symptoms, such as aggression, clinginess, and withdrawn behaviors.
MY FINAL THOUGHTS
Emotionally traumatized cat symptoms are varied. Behavioral changes are common, such as failure to use the litter box and other destructive behaviors. Changes in temperament are also often noted. Traumatized cats can be more clingy, aggressive, fearful, or withdrawn. In other words, they simply aren't quite themselves.
If you know the source of trauma, (such as cat trauma after a fight) it is often easier to help your cat overcome their fears. Yet in some cases, this isn't possible. You don't know everything your cat has experienced, either before you owned it or while they are exploring the outside world. And there is no way that your cat can communicate this to you.
If you think your cat is suffering from PTSD, separation anxiety, or any other kind of emotional trauma, speak to your veterinarian. They may recommend behavioral therapy or pharmaceutical treatment as mentioned above. They'll also be there to help you deal with your cat's unwanted and sporadic behavior so the two of you can live happily again.