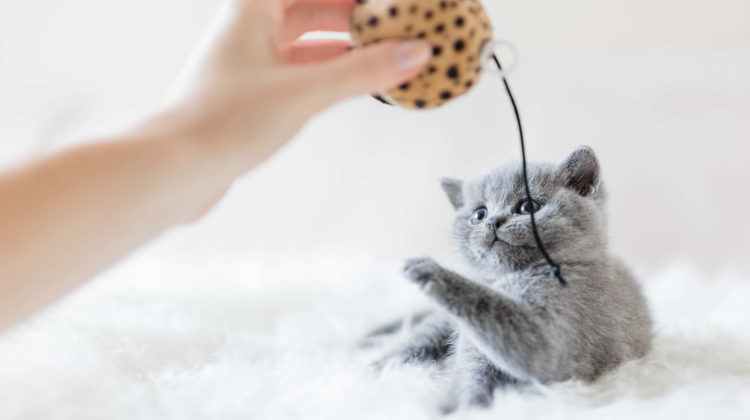 Encouraging your cat to be active is key to giving them a long and happy life.
It can help to keep them a healthy weight and prevent them from developing health conditions such as diabetes. It's also a great way to keep your cat entertained to help combat any destructive behaviors.
Cats will have a great time pouncing, grabbing onto, or simply swatting a toy with their paws. While this is great, the most effective way to keep your cat active is to encourage them to chase toys. This way their entire body will be working as they playfully run around your home.
In this article, I have reviewed the top 8 toys for cats to chase that all felines will love to run after, whether they're a playful kitten or a less mobile senior puss. Stop your cat from getting lazy, fat, and bored, and take a look at my top picks.
My Top Pick
One of the best toys for cats to chase has to be the Felix & Fido Playdot! Interactive Cat Toy. I think that laser toys are one of your best options as the moving light beam really gets your kitty moving.
This toy is one of the best lasers available, with four different modes of play for endless fun! Three of these are automatic modes so your cat can even get the exercise they need when you're busy.
You may not like laser cat toys or wish to find something more interactive, so further down this article I have included both a comprehensive review of this product and some other great alternatives – be that motorized balls, toy mice that move, or a range of other fabulous options your feline will love.
Best Toys for Cats to Chase
When searching for the perfect hunting toy for your feline to chase, the number of options can be overwhelming! Cats love chasing a huge variety of things and aren't particularly fussy – as long as they are roughly the same size as their prey and move rapidly and unpredictably, they're happy.
That being said, some are much better than others in encouraging proper physical exercise. So, I made the following list of factors that I ranked each toy against to determine the best ones available:
Entertainment: All great cat toys are extremely intriguing and enticing for cats, so I searched for toys that were as exciting as possible. Are they stuffed with catnip? Are the movements of the toys varied and unpredictable? Do they have feathers or ribbons to attract attention? All of these contribute to how much a cat will be drawn towards their toy.
Speed & Range of Motion: For a cat to chase its toy, it needs to move quickly and it needs to cover a lot of ground. This way, it will help your cat get the exercise they need rather than simply swiping their paws from side-to-side.
Durability: Get your cat the right toy and it will be caught, pounced on, bitten, chewed, and clawed at. Because of this, it has to be made from a durable material that is designed to stand several cat attacks!
Safety: Your cat's safety should always be a top priority, especially if you're looking for a toy they can play with without your supervision. So I looked for toys that have no small parts and ensured the material was non-toxic and chemical-free.
With all things considered, here are my reviews of the best toys for cats to chase. I've tried to select toys to suit a range of different purposes and cats, so there should be at least one toy on this list to suit every owner.
My cats love the Felix & Fido Playdot! Interactive Cat Toy. Every time I get it out they run around like crazy! They love chasing the red light and it provides hours of entertainment and exercise. Because of the multiple different speed settings, it is appropriate for cats of all ages and energy levels.
Another great feature of this product is that it runs on both manual and automatic modes. The manual handheld mode is fantastic so you and your cat can play together. This really helps to strengthen the bond between the two of you. It also gives you precise control over the speed and range of motion, meaning you can make your cat run all-around your house if you wish!
On the other hand, the three automatic modes mean your cat can run and chase until its heart's content – even when you're busy or not at home. When on automatic mode, this laser toy shuts down after 30 minutes of use. This is another wonderful feature as it means your cat won't get overstimulated or exhausted from all the chasing.
The main downside of this issue is that it does run on AA batteries and cannot be charged using mains power. Batteries aren't included and are an ongoing cost. Plus, you'll need to remember to replace them regularly or the toy won't work. With that being said though, there does mean there are no dangerous cables to be concerned about.
Pros
Laser toys are known to entice cats
Automatic mode for when you are busy
Turns off automatically after 30 minutes
Three different speeds for cats of all ages
Handheld mode to enjoy playing together
Cons
Relies on batteries to run
If you're looking for a toy to keep your cat entertained while you're not at home, as well as something you can play with together, the K-Berho Remote Control Interactive Cat Toy is your best option.
This toy essentially functions as a mini robot to mimic prey, something that all cats love to chase. It also comes with a feather attachment, a ribbon, and a butterfly, further helping to grasp your cat's attention. This also helps to keep the toy fresh and new even after they've had it for a few months. Besides, there are also funky color-changing LEDs which are especially effective at night.
Also, this toy has a remote control. This is great for getting your cat to run around as you can control where it goes, also helping to form that strong bond between you both. When you're not at home, simply switch the ball to auto-mode so it moves randomly around by itself for 10 minutes before switching off for 90 minutes and so on. This is ideal for ensuring your cat doesn't get hooked while helping to conserve battery life.
Worried about the toy getting lodged in a corner if you're not there to supervise? With this toy there's no need to worry – it uses smart technology to avoid obstacles completely and get out of corners.
Pros
Mimics prey which cats love to chase
Both remote control and automatic settings
Ideal to play with together or for when you're not home
Comes with three attachments for added entertainment
Randomized and irregular motion
Runs for 10-minute regular intervals
Smart technology to avoid obstacles
Cons
Best to not use the attachments if unsupervised
Relies on power to work
Doesn't move well on thick carpet and rugs
The Domgoopet Interactive Laser Cat Toy Ball is another great option, combining a laser pointer with a ball to provide hours of chasing fun for your feline.
This toy rolls around by itself in sporadic and unpredictable directions just like a cat's real-life prey, sure to encourage them to chase and stalk it. What's more, the red LED laser light will shine on the floor, walls, and ceiling as the toy rolls about, further sparking your kitty's interest.
Similar to my #2 product, this toy also has smart technology and special sensors to make sure it doesn't get lodged somewhere it cannot get out of. To be sure your cat doesn't get over-exerted, it also shuts off after 40 minutes.
The main downside of this toy is that it works optimally only on thin carpets. When rolling on thick plush carpet I found the toy gets stuck and doesn't move as it should. On the other hand, the ball moves seamlessly on hard flooring but as it is made from hard plastic it can be a little noisy.
Pros
Randomized rapid movement to encourage hunting
Automatic movement and great for when you're busy
Made from durable and safe plastic
Turns off automatically after 40 minutes
Laser to provide further excitement
Cons
Does not roll properly on plush carpets
Can be noisy if used on hard floors
Another fab cat toy that encourages chasing and exercise is the Catit Senses Circuit Interactive Cat Toy. This consists of a track that a ball whizzes and zips around, sparking your cat's attention! The track is covered with a peek-a-boo design to provide the most fun possible.
This toy is perfect if you have issues with some moving cat toys getting stuck on your carpet or not moving properly on your floor, so if you're looking for a cat rug toy, this is the one for you. As the ball moves around a track, there will be no issues with it getting stuck, being trapped in tight corners, or being lost around the house.
Besides, the track is extra-long measuring 24" and so still gives your kitty plenty of leg work. You can also pair this track with another the same or other products from the same brand which all fit together to create a mega track for your cat!
The ball itself also comes with a rattle and bell inside to encourage your cat to chase, bat, and swat the ball. I also recommend placing a paper towel sprayed with catnip inside the ball to further grasp your cat's interest. Or combine with the Fireball set for a light-up automatic ball that provides even more entertainment.
I love this toy as it is so easily adaptable to keep your cat interested over time and works well in all homes.
Pros
Peek-a-boo track to stop balls from going astray
An extra-long design that encourages chasing
Mimics prey to stimulate play
Adaptable design to spark excitement constantly
Works on all floor types
Made from BPA-free plastic and is easy to wipe clean
Cons
Does rely on there being available floorspace
The top type of prey caught by cats is mice. Therefore, if there's a sure-fire way to get your cat interested in a toy, it's to choose one that acts and sounds like a live mouse, just like the PETGEEK Automatic Squeaky Mouse Cat Toy.
Although this toy doesn't look realistic, its motion and sound do. This automatic moving mouse cat toy rolls around your home in rapid and unpredictable movements, like the scurrying of a real-life mouse. You'll also notice the toy squeak now and again, helping to further encourage chasing.
It is also well-known that cats are most active when it's dark at dawn and dusk, and you may notice this is when your cat is most energized. The makers of this toy have considered this and have added a night-time glow for even more fun for your feline.
The body of this toy is made from a durable and safe plastic designed to last, but the tails of the mice can easily be replaced when they become scraggly. You'll get two tails to start with – one natural goose feather and another stuffed with catnip, sure to get your kitty energized. What's more, the tails rotate for added excitement.
The main drawback of this toy mouse that moves is the cost. It comes will all the bells and whistles, which do come at a price. Also, whereas this toy is safe for use both outside and inside, it can only be used on tiled, wooden, or concrete flooring.
Pros
Moves and sounds like a real mouse
Glows for night-time fun when cats are most active
Quick and unpredictable movement
Automatically shuts off after 10 minutes
Made from durable plastic with replaceable tails
Catnip-stuffed tail for additional fun
Cons
More expensive than most cat toys
Only suitable for wooden, concrete, or tiled floors
If you are often busy and want your cat to have something to chase and play with while you're doing other things, try the PetFusion Interactive Cat Toy With Rotating Feather.
This interactive cat toy has a feather that pops out from one of the six holes around the edge before hiding and reappearing somewhere else randomly, mimicking a real-life hunting experience that cats can't resist! There's also LED lighting for additional night-time excitement, which is when cats are generally most active.
Cats will love chasing the feather and swatting it, and it is the ideal toy for your cat to play with when alone. There are also no small parts and the body of the toy is strong and durable and suitable for use unsupervised. Plus, it turns off automatically after 8 minutes to both help conserve battery life and keep your cat from getting overexerted.
However, it won't encourage as much running around as other toys that move throughout your home. The positive of this though is that it works on thick rugs, or any floor type for that matter, which is a common issue with moving cat toys. Its non-skid feet will also ensure that on tiled or wooden floors the toy won't slip around or scratch the surface.
Pros
Great interactive toy safe for unsupervised use
Automatically shut off after 8 minutes
Simulates natural hunting instincts
LED lighting for fun when it's dark
Works on all floor types and rugs
Non-skid feet to protect your floor and keep the toy in place
Cons
Noisy when running
Won't encourage cats to run around as much
Needs batteries which will be an ongoing cost
If you're short on space in your home, spinning cat toys are a great option; they allow your cat to run after and pounce without having to have lots of free floor space. If this sounds like something that could suit you, try the Cat's Meow Motorized Wand Cat Toy.
This toy is made from a nylon skirt cover and a mouse wand that goes underneath and moves automatically for your cat to chase. Because of the nylon material, it is not as durable as some other toys and you should always supervise your cat when playing. Otherwise, it's a fantastic option.
The movement of the wand is randomized, and you can choose from three different speeds. This makes it ideal for cats of any age and any activity level. The movement is also similar to how mice or other small prey moves, guaranteed to spark interest and keep your cat captivated for hours.
Although this toy does require batteries, it shuts off automatically after 30 minutes to help conserve the battery life too, while ensuring your little furball doesn't get too carried away!
Pros
Three speed settings to suit all ages and activity levels
Mimics natural hunting behavior to spark interest
Doesn't require much floor space
Works on all types of flooring
Shuts off automatically after 30 minutes
Cons
Not very durable and breaks with excessive play
Will require constant supervision
Requires batteries to be replaced
For any owner on a budget, try the SmartyKat Twirly Top Electronic Motion Cat Toy.
As reflected in the price, this is a simplistic toy, but it is still one that will manage to entertain your cat. It is a ball with ribbons attached that automatically and erratically spins, which they will love chasing. Because of the hard plastic of this ball, it can also spin on both hard floors and carpets.
This toy is also great as they can bat it around and play by themselves, or you can roll it around the floor and have fun together. With no small parts, sharp edges, and being made from a durable material, you can also rest assured your cat won't come into danger if playing alone. Plus, it automatically turns off after 10-15 minutes.
The only downside is that it does run on batteries and there is a tiny screw holding the battery compartment shut, which can be slightly annoying when it comes to changing them. Otherwise, for a few bucks, this toy is a steal.
Pros
Most affordable product
Great for solo and interactive play
Spinning motion and ribbons grasp attention easily
Automatically shuts off after 10-15 minutes
No small parts or sharp edges so totally safe
Spins on hard floors and carpets
Cons
Requires batteries that will need replacing
Small and fiddly screw holding the battery compartment closed
Toys for Cats to Chase Buying Guide
Even though these are all great chasing cat toys – from an automatic laser cat toy to the various motorized cat toys I have reviewed – choosing one that is right for your little furball can be hard! Cats are complex creatures, and one cat's all-time favorite toy may be another's worst nightmare.
Thankfully, you're in luck! You can use this handy buying guide to help you choose the best toys for your pet, your lifestyle, and your home.
Rapid & Unpredictable Movement
For any toy you want your cat to chase, movement is one of the most essential considerations. Before purchasing any toy ask yourself "Does the movement of this toy mimic that of live prey?" If the answer is yes, you've likely found yourself a winner!
Generally, cats love to chase toys that move rapidly and sporadically like a scurrying mouse. This will fire up your cat's natural hunting instincts and both capture and maintain their attention. However, a cat kicker toy such as a flopping fish isn't great for chasing as although it moves realistically, it doesn't move much in terms of distance. Your cat may love playing with it, but chasing? Not so much.
You also need to consider how well the toy will be able to move as it should on your floor. Often, moving toys for cats work best on hard floors but can get stuck on rugs or carpet. Others will slip on hard floors or be super loud! You must check the toy can move as it should around your home before investing in a product.
Multiple Forms of Enticement
Whereas some cats will be entertained by anything moving like live prey, some kitties will need a little more encouragement. If your cat is typically very finicky with its toys, don't neglect this factor. Aside from movement, cat toys can capture your cat's interest through a whole host of methods.
For example, bright and changing lights are more exciting than a toy that stays one color, and a variety of interesting textures such as feathers and fur are often more captivating. Some cats also love toys that make noises, especially ones that are alike to mice and birds. However, noise can scare some timid cats off.
Catnip is another big one. Not only can catnip encourage your cat to play with their toy, but it also typically causes them to have a sudden burst of energy. However, not all cats respond to catnip. You know your cat better than anyone else, so think about what toys you have that they already like playing with to help identify one suited to them.
Durable & Safe Materials
You'll also always want to purchase a durable toy that won't be prone to breaking. For one, you don't want to spend money on a toy for it to be destroyed the following week. Also, if you get the toy spot on and your cat loves it, taking a broken toy away from them – or worse, not being able to find another to replace it – can leave them down in the dumps.
Additionally, broken toys are hazards. If the toy has small parts which easily come loose, your cat could choke on them if not supervised. Similarly, toys that snap and leave sharp edges exposed could seriously injure your cat. There are no negatives to having a durable toy, so there's really no excuse not to purchase one.
Automatic or Remote Control
You should also determine whether you want an automatic cat toy or one that you can play with together. This is pretty easy to work out – do you have time to spend playing with and supervising your cat each day?
If not, it is best to opt for an automatic cat toy so your feline can get consistent exercise every day, even when you're out of the house. Otherwise, explore the option of getting a remote control toy or an interactive one so you can experience the fun together.
If you're searching for a toy to keep your cat entertained while you're at work, you should also be aware of the possibility of overexerting your cat. If your cat is getting tired and you're not there to switch it off, they could become exhausted! For this reason, any toys for unsupervised use must have timer functions and turn on and off automatically.
FAQs
Q: What do cats like to chase?
A: Cats like to chase anything that mimics their prey as it will automatically trigger their predatory instincts. Therefore, in terms of toys, they love chasing toys that move rapidly and in unpredictable movements, such as lasers.
Q: How can I keep my indoor cat active?
A: To keep your indoor cat active, you will need to play with them each day to encourage them to exercise. Invest in a few great cat toys and get into the habit of playing with them for at least 15 minutes every day.
Q: Do indoor cats get bored?
A: Yes, indoor cats do get bored unless you provide them with enough mental and physical stimulation to keep their lives exciting. Playing with your cat using a variety of enriching toys is a great way to ensure they don't suffer from boredom while also helping to strengthen your bond.
Q: Why do cats chase toys?
A: Cats chase toys because their toys mimic their prey. Stalking, chasing, pouncing on, and batting their toys is precisely how they would play with real-life prey in the wild.
Q: How can I keep my cat entertained when I'm at work?
A: You can keep your cat entertained while you're at work by providing them with plenty of toys. Automatic cat toys are great for busy owners as they move by themselves, encouraging your cat to run and play even when left alone.
Q: What is the best toy for cats to chase?
A: In my opinion, the best toy for cats to chase is the Felix & Fido Playdot! Interactive Cat Toy. Cats love lasers as the quick and unpredictable movement is similar to their prey, and as this toy is automatic it can provide loads of fun even while I'm busy!
MY FINAL THOUGHTS
It is one of the most instinctive behaviors for cats to love chasing, and an indoor cat would hugely benefit from having moving cat toys that get them leaping and pouncing as they would in the wild. Not only will this keep them entertained, but it will also help to expel energy if you have a young and playful kitty, or encourage lazier cats to keep moving and stay healthy.
In this article I have reviewed some great options, so use the handy buying guide to help you determine which is best for you and your cat, and start enriching their life today!