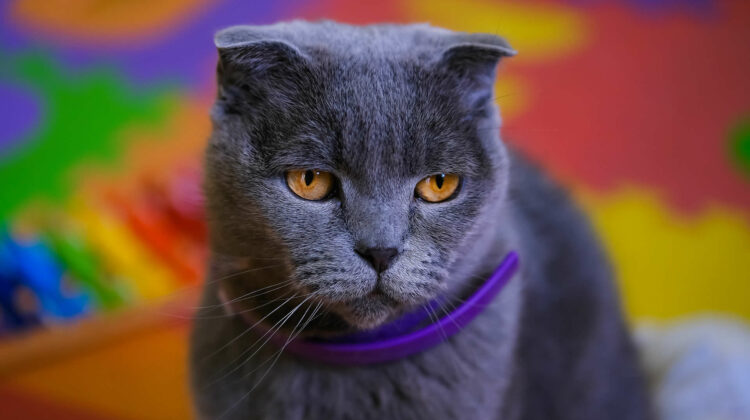 Cats are creatures of habit. They thrive off a consistent routine and home environment while despising any change to the norm. This means even the smallest changes can cause stress and anxiety in cats. We often see this manifest as destructive behavior and loud vocalizations.
As such, you'll want to try to calm your cat down. Not only will this mean they're feeling happier, but also keeps any stress-related unwanted behaviors at bay. Some people will turn to anti-anxiety medication to deal with chronic stress, but calming cat collars are another option. These claim to relieve stress, but do calming collars work for cats?
In this article, I will answer all your calming cat collar-related questions. How do they work? Do they work on cats? Are there any side effects? I'll also run through some other top tips on stress relief and management to help keep your cat calm and content.
What is a Calming Collar for Cats?
Calming collars for cats are exactly as they say on the tin – they are collars that your cat can wear that supposedly make them feel more relaxed and at ease. They typically work by containing either:
Synthetic replicas of feline pheromones
Calming herbs and essential oils
Pheromone cat collars have the strongest calming effect. Pheromones are chemicals produced by the body which cats use as part of scent communication between one another. There are specific pheromones that are known to cause calming and appeasing effects in cats.
Artificial replicas of these pheromones are used when making the collar. All calming collars infused with these artificial pheromones gradually release them into the air. We cannot smell these pheromones, but your cats can! They pick up these scents and feel more calm and content.
On the other hand, calming collars that contain essential oils and herbs work on the basis of aromatherapy. They contain the same calming scents that we humans use, such as lavender and chamomile, to help cats relax. You can get a huge range of different combinations all designed to have the same calming effect.
Do Calming Collars Work for Cats?
We now know the basics of how a calming collar for cats works. But while good in theory, do calming collars really work for cats? Well, this all depends on the type of collar we are referring to and the specific behaviors that you are trying to correct.
Pheromone Collars for Cats DO Work
According to research, pheromone collars for cats work! Although we cannot smell or detect the pheromones that are slowly released from the collar, cats can. They can be detected by the vomeronasal organ (VNO) which is located on the roof of your cat's mouth. If the pheromones in the collar are calming pheromones, cats will instinctively feel more at ease upon smelling them.
Therefore, these collars are great at minimizing stress and reducing related behaviors, such as:
Scratching at carpets and furniture
Spraying urine up walls in your home
Urinating or defecating outside the litter box
Hiding and acting more withdrawn than usual
Meowing excessively or hissing
Over or under eating
The exact behaviors they target though varies depending on the specific pheromones used. For example, a cat's F3 pheromone is the chemical scent deposited when cats mark their territory by rubbing. Therefore, a pheromone collar that releases artificial F3 that mimics this can help promote healthy eating and reduce stress-associated behaviors.
On the other hand, the F4 hormone is known as the "allomarking pheromone" and is released and rubbed onto objects and other animals in a social situation. For example, your cat will rub its F4 hormones on you to make you as family and form a bond. As such, calming collars that release artificial F4 are more useful for cats that are stressed because of a new addition to the family. It can encourage smoother interactions.
Therefore, while pheromonal calming collars work, you need to ensure you get a collar that releases pheromones involved with the specific behaviors you're concerned about. This will guarantee the most effective results and the calmer and happier your cat will be.
Essential Oil Calming Collars DON'T Work
Conversely, calming collars for cats made using herbs, spices, and essential oils don't work. At least, there's been no scientific evidence or research that proves they can reduce feline anxiety. In many cases, the strange and unusual smells can be overpowering for cats and exacerbate their stress.
With that being said, some owners do vouch for aromatherapy-based cat collars. Unlike pheromones which affect all cats, the effectiveness of these collars seems entirely dependent on your cat.
What Are the Side Effects of Calming Collars?
Many people prefer to use calming collars instead of anti-anxiety drugs because they are deemed as safer. In fact, there are no reported pheromonal calming collars side effects. Pheromones are a natural chemical released by cats and their artificial copies cause zero harm to cats.
Moreover, because cat pheromones can only be detected by cats, you and any other pets in your home will not be affected by these products. This makes them a great and selective solution if you do have a busy house and want a stress-relieving method that won't affect anyone else.
Comparatively, there are some risks with aromatherapy-based cat collars that use essential oils. This does all depend on the precise mix of herbs, oils, and spices used in the collar. However, one in particular, to watch out for is lavender. Lavender is toxic to cats when ingested and can make your cat sick. Other essential oils such as peppermint, cinnamon, and citrus are all toxic to cats as well!
Additionally, calming collars made with oils and herbs will smell strong. This means that not only will your cat pick up the scent, but as will you, other family members, and any other pets. Such a strong scent could irritate your cat's nose even if they don't chew or ingest any. Plus, you or your other pets could react badly, too! Therefore use these collars with caution.
What Are The Dangers of Cat Collars?
While pheromone collars for cats have no side effects whatsoever, they aren't perfect! There are a few drawbacks of cat collars in general that you should be aware of. These include but are not limited to the following:
Getting Stuck on Objects: Collars can get stuck on objects while your cat is exploring, causing them to get stuck. To avoid this issue, I suggest purchasing a quick-release pheromone collar for cats. These have special buckles that automatically release if enough pressure is applied so your cat can break free if they get trapped.
Skin Irritation: If the calming collar for cats is put on too tightly around your cat's neck it can cause slight pain and skin irritation. In some cases, the fur under the collar may start to fall out. Always ensure you buy an adjustable collar and leave space for 1-2 fingers underneath to guarantee it isn't too tight.
Catching on Jaw or Leg: Pheromone collars that are too loose are also unsafe. Depending on how loose the collar is, your cat might be able to get its leg or jaw caught on it. They can pull themselves awkwardly to try and set themselves free, resulting in pretty serious injuries. Again, this can be prevented with a quick-release collar set to the right size.
Choking on Bells: Some cat collars have small parts such as bells or sharp edges and buckles. These can act as hazards for cats as your cat might accidentally choke on these small parts or scratch themselves. Only purchase calming collars for cats that don't have these small parts or buckles and you shouldn't have any issues.
What Other Cat Calming Aids Are There?
Calming collars for cats aren't for everyone! Perhaps you don't want to take on the risk of collars and prefer another option? Or do you have another collar that you use for your kitty, such as a flea collar? Perhaps you've tried collars on your cat before and know they hate wearing them?
Whatever the reason, if you love the idea of pheromonal calming agents you don't need to miss out. There are plenty of other cat calming aids that use the basis of pheromones to have a relaxing effect on cats. Examples of some different pheromonal calming products you might want to try include:
Calming Sprays: Calming sprays are great if you have a location-specific behavioral issue you want to target. For example, you can spray the pheromone spray on furniture that your cat likes to scratch or an area they usually spray urine on. The cat calming sprays do work but you will need to keep applying them frequently for best results, unlike a calming collar that is effective for up to 4 weeks.
Pheromone Diffusers: Pheromone diffusers plug into a socket in your home and release pheromones into their air. These are a great option as they have none of the risks of wearing a cat collar but are still designed to last up to 4 weeks. However, they will only really be effective in the room in which they are plugged in. This can mean you will have to buy multiple diffusers rather than one collar.
How Else to Reduce Anxiety and Stress in Cats?
While pheromone collars and other calming aids do indeed work, they don't resolve the issues that are causing your cat stress. Therefore, they work best when you combine these products with other environmental changes to reduce stress. For example, you might find the following further help to improve behavior:
Reducing stress by removing and limiting environmental stressors
Providing plenty of places for your cat to hide if they are scared
Ensuring all their essential needs are always met, including access to fresh water, a nutritional diet, and a scratching post to scratch
Providing plenty of mental stimulation with toys and puzzle games
Improving their litter box experience – litter boxes are one of the biggest stressors for cats!
In addition to these environmental changes, behavioral modification techniques are also fantastic when used in combination. There are a few different techniques that are commonly used by behavioral specialists, including:
Desensitization: This is where you teach a cat to become more tolerant and less stressed in a situation through gradual exposure. For example, when getting a new kitten you should keep it in a different room for any cats you already own. Then, gradually increase the time your old cats and new kitten spend together until they're comfortable.
Counter Conditioning: Counter conditioning is one of the most popular behavior modification techniques. This is where you teach a cat to replace an unfavorable behavior with a more favorable one by rewarding a stressful stimulus with a reward. Through positive association, the stressful situation then becomes a good thing for your cat.
Habituation: This is where a cat will naturally become more accustomed to a situation and feel more relaxed due to continual exposure. For example, a cat might become habituated to the loud noise of construction work nearby and, as a consequence, respond better to loud noises and sounds in general.
If none of the above are working, you can speak to your vet about your cat's anxiety. Anti-anxiety medication is available for cats but is usually only used as a last resort if calming aids, environmental changes, and behavioral modification techniques don't work. They are best used in combination with the above techniques.
MY FINAL THOUGHTS
So, do calming collars work for cats? Collars that produce a calming effect using essential oils and relaxing herbs and spices aren't all that effective. However, there is research that proves pheromonal collars for cats do work in lowering stress levels and associated destructive behaviors. What's more, they have no side effects!
If your cat is suffering from anxiety, using a calming collar might just solve your issues. You can also try making environmental changes or using behavior modification techniques. If in doubt or if nothing seems to be working, speak to your vet for more advice.