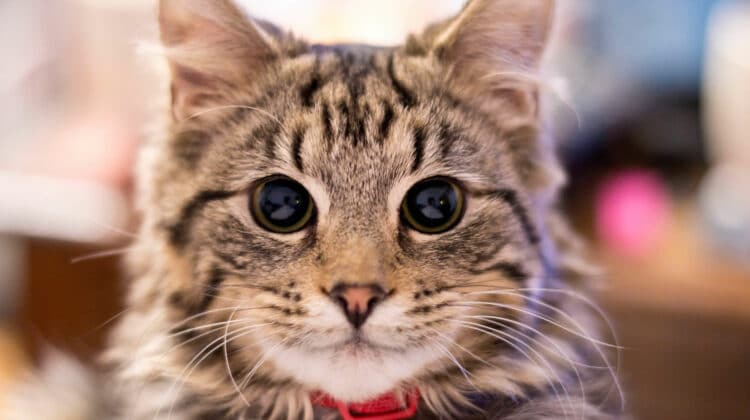 All animals need food and drink to survive. Food gives our bodies energy and essential nutrients needed to carry out normal bodily functions, while water keeps us hydrated so all processes can run efficiently. This is true for cats too, and if your cat stops eating or drinking it can become life-threatening.
As a general rule, cats can survive up to two weeks without food as long as they are adequately hydrated.
However, a cat not eating or drinking for three days is extremely worrying. Without access to food and water, their organs will shut down quickly, leading to death.
In this article, we look at how a lack of food and drink can lead to death. We will also look at reasons why your cat isn't eating or drinking in the first place and tips to encourage both. With this information, the situation should never deteriorate into a life-threatening case.
How Long Can Cats Survive Without Food & Water?
Most healthy cats with no underlying medical conditions can survive without food for up to two weeks. They will get progressively sicker as the days pass until they are no longer able to survive. At this point, the situation becomes life-threatening and your cat's body will start to shut down.
However, when a cat does not eat any food OR drink any water, the body and internal organs shut down at a much more rapid rate. On average, completely healthy felines will pass away within three days with no food and water. They will die from a combination of starvation and dehydration.
If the cat is already sick when they stop eating and drinking, the length they can survive is cut even shorter. This is because the lack of water and nutrients makes any underlying health condition worse. There have been cases where sick cats have died within 48 hours of not eating or drinking due to organ shutdown and internal damage.
Because of the rapid rate that a cat's health can deteriorate without access to food and drink, you should never let your cat go more than 24 hours without consuming something. They need the right fluids and nutrition to survive.
What Happens When a Cat Doesn't Eat?
Cats get most of the essential nutrients they need for survival from their food. Therefore, when a cat doesn't eat, its organs do not get the nutrients they need to function.
In particular, it is a lack of protein that causes a rapid deterioration of health. Protein from the diet contains essential amino acids that cannot be synthesized by the body. These amino acids perform a range of essential functions. Proteins are also the main building blocks of cells and hormones and are used in the signaling pathways of countless physiological reactions.
When your cat starts starving itself and stops eating, its body starts breaking down the fat and protein reserves in the body for their nutrients instead. This causes two main problems:
1. Malnutrition
The breakdown of stored fats and proteins causes cats to lose weight at a rapid rate and become malnourished. If you touch your cat and think "my cat is so skinny I can feel her bones", this is usually a sign that she isn't getting the nutrition she needs. The body is using all of its resources as it is not getting any proteins, amino acids, and other nutrients from elsewhere.
When the body has used up all of its fat and protein stores your cat will become extremely skinny and skeletal. At this point, it will no longer be able to gain any essential nutrients and so many physiological processes are impaired and their organs stop working. This causes a rapid deterioration in health and can result in death.
2. Hepatic Lipidosis
The breakdown of fat reserves in the body is done by the liver via a process that requires protein. However, cats' livers are not designed to rapidly break down their fat stores at such a fast rate. As such, it cannot process a large amount of fat efficiently. Attempting to do so leads to hepatic lipidosis, a condition that impairs liver function.
An older cat not eating but drinking is at most risk of developing this condition. If a cat has diarrhea but seems fine, this could be an early warning sign. As the condition worsens, other symptoms include weakness and lethargy, drooling from the mouth, and yellow eyes and skin. Eventually, it will lead to liver failure and, in worst cases, death.
What Happens When a Cat Doesn't Drink?
As you can see, it is vital cats get the food that they need so they do not end up suffering from malnutrition or hepatic lipidosis. However, water is more important than food. Without adequate hydration, several issues with their internal organs can arise.
One of the earlier signs of dehydration is constipation. If your cat is not pooping but acting normal, they are probably not drinking enough water and thus have harder and drier stools. The longer your cat is dehydrated, the worse the problems can get, such as the two mentioned below.
1. Acute Kidney Failure
When cats' kidneys suddenly stop functioning properly, this is known as acute kidney failure. Dehydration is one of the main causes of the condition. Without enough water, the kidneys will be unable to effectively process and eliminate waste and toxins from your cat's body. They therefore accumulate and can cause vomiting, bad breath, and seizures.
One of the early symptoms of urinary or kidney-related issues is when a cat keeps going to the litter box but nothing happens. If you notice this, take your cat to the vet immediately as they can administer fluids intravenously to reverse any kidney damage. If acute kidney failure is treated promptly, the condition can be reversed.
2. Heart Failure
A lack of water and bodily fluids can also lead to heart failure. This is because your cat's cells draw fluid from the blood as it is not getting enough through drinking. As a result, the volume of blood pumping around your cat's body decreases, and thus less is being pumped to their essential organs.
To compensate for this, their heart starts to beat more and more quickly. This increases both heart rate and blood pressure, both of which are risk factors for cardiovascular problems. Senior cats are again particularly at risk as they generally have weaker hearts already. The increased demand on their heart can cause heart failure and death.
Why Is My Cat Not Eating or Drinking?
With such dire and dangerous consequences, it can be extremely confusing when a cat acts this way. Why is a cat purposely not eating and drinking for 3 days if it makes them so sick? However, there are several reasons that your cat's eating and drinking habits could have changed.
1. Medical Conditions
Medical conditions are the usual culprit here. Even if a cat is not eating much but acting normal, don't rule out sickness as the reason any. A loss of appetite and a change in thirst levels are two extremely common symptoms of illness. Often, they are also the first and most notable signs as well. Common medical conditions could include:
Intestinal problems such as internal parasitic infections or gastroenteritis which impair normal digestive processes. This can cause pain and discomfort, thus making your cat reluctant to consume food and/or water. A cat throwing up after eating is another common sign.
Dental diseases which make it painful to eat, such as gingivitis. This is a likely explanation if your cat stopped eating dry food but eats treats; the dry food might hurt your cat's mouth and gums whereas soft treats can be eaten comfortably.
Pancreatitis, which is where the pancreas becomes inflamed. This organ produces enzymes needed for digestion and hormones required for regulating blood sugar levels. The impact on digestion means many cats with the condition stop eating.
2. Psychological Problems
Cats also show a reluctance to eat and drink in response to psychological problems, such as stress, anxiety, and depression. This is similar to how humans often respond to stressful situations; the emotional response causes us to feel sick and lose our appetite. The same happens in cats and they lose interest in eating and drinking.
You can keep an eye out for other signs of psychological problems as well. For example, my cat follows me everywhere when stressed, but it is just as likely for stressed cats to withdraw from people and show increased hiding behaviors. Overgrooming, a reluctance to use their litter tray or cat flap, and sleep disturbances are other common signs.
Cats are creatures of habit and can become anxious or depressed over the smallest things such as:
Traveling by car or by plans
New and unfamiliar surroundings, such as moving home
New people or animals in your household
Changes to regular feeding or sleeping schedules
Using a different cat food or cat litter brand
Loud noises such as fireworks or construction
Conflict with other cats in the neighborhood
3. Recent Vaccinations
If your cat is not showing any signs of illness or psychological distress, it could be that they are having an adverse reaction to recent vaccinations. Although designed to help cats and protect them from dangerous and potentially life-threatening diseases, the shots do have some common side effects.
One of the most adverse effects of vaccinations is that they can cause a temporary loss of appetite and thirst in cats. You should easily be able to tell if this is the reason why your cat has stopped eating and drinking as the onset of these behavior changes will be shortly after they visit the vet for their latest vaccine shot.
What to Do If My Cat Won't Eat or Drink?
The longer your cat goes without proper nutrition and hydration, the worse their health will be. They will gradually become weaker and weaker until their organs shut down completely. While a cat not eating and drinking for 3 days may survive, you must intervene before this point.
In fact, if your cat has not eaten for 24 hours you should speak to your vet. They need to rapidly get nutrients inside them before their health deteriorates. At this point, you should also try to encourage your cat to eat or drink. Here are some suggestions you could try implementing:
Hand Feed Your Cat: Many cats will prefer taking small pieces of food directly from your hand rather than from a bowl. They enjoy the experience of spending one-on-one time together and it can help them eat a little more.
Choose Smelly Food: Cats work out what substances are edible and what ones are not all through their sense of smell. The stronger smelling the food, the more appetizing it is to them. Try feeding your cat something smelly such as tuna or sardines.
Add Flavor to Water: Similarly, water can become much tastier and appealing to cats if you add a little flavor. Try mixing in water from a can of tuna to entice them over. Alternatively, add a meat broth to their bowls such as chicken or beef.
Use a Water Fountain: It is instinctive for cats to prefer drinking from a running water source as opposed to a still bowl of water. Consider purchasing a cat water fountain for them to drink from. For a short-term and urgent solution, leave the kitchen faucet on instead.
Check Bowl Location: Cats are fussy about where their food and water bowls are, and putting them in the wrong place can deter them from eating. Make sure they are away from its litter tray and in a low footfall area of your home.
MY FINAL THOUGHTS
When a cat is not eating or drinking for three days, they are on their last legs. All of the essential physiological processes inside your cat's body rely on the nutrients and fluids they ingest through their diet. Without food or water, the body rapidly starts to shut down until eventually passing away.
There are several reasons why your cat isn't eating or drinking, including medical conditions, recent vaccinations, and psychological distress. If your cat hasn't eaten or drank water within 24 hours, take them to the vet for diagnosis. Use some of the tips I have mentioned above to further encourage your cat to eat and drink enough for good health.