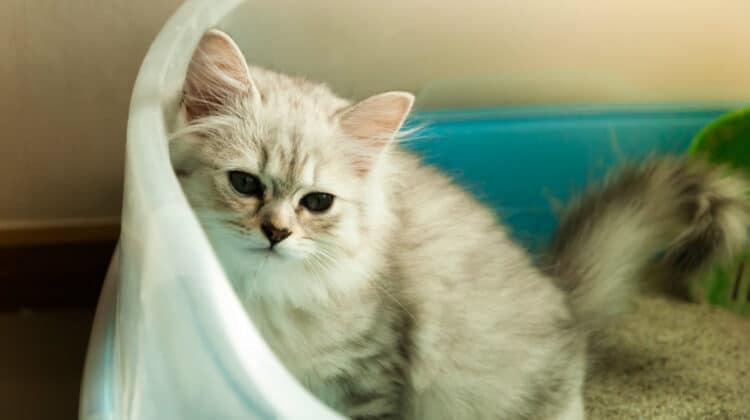 Do you keep going to your cat's litter box ready to scoop up any poop to discover there is none there? All animals need to poop out waste, but constipation can cause them to poop less than they should. It nearly always indicates that something is wrong, even if your cat is not pooping but acting normal.
As a cat owner myself, I have dealt with several bouts of cat constipation in my time. It is important to know what causes this, what the signs are, and what you can do to help. It is also vital that you know how long a cat can go without pooping so that you know when you need to reach out to a vet.
In this article, I look at all of these questions and more! So, keep reading if your kitty is having tummy troubles. Before long, their pooping should be back to normal. This will help to ease their suffering, ensure they are in good health and relieve your worries!
How Long Can a Cat Go Without Pooping?
Before we get into why a cat is not pooping but acting normal, we need to establish how long a cat can go without pooping. A healthy adult cat will typically pass feces twice per day, but this will depend on the amount of food they eat. Therefore, as a general rule, if your cat hasn't pooped in 24 hours then they could be constipated.
However, this does all depend on your feline. Every cat has slightly different bowel movements so was can expect to see some variation. Some cats will only pass stools once per day, meaning when a cat hasn't pooped in 2 days this is a better indication they could be constipated. Therefore, it is always important to think about what is normal for your cat when determining if there is an issue.
If your cat hasn't pooped in 3 days or more, this is when you should contact your vet. Even cats that poop less frequently, three days without passing any stools means their constipation has become severe. You need to get your cat looked at before the issue turns into a medical emergency.
What Are The Signs of Constipation in Cats?
The primary symptom of constipation is that your cat will go several days without passing feces. However, as every cat does have slightly different bowel movements, it is good to know what other signs to look out for. These include the following:
Your cat meows loudly after using the litter box as they are in pain
Your cat strains and vocalizes when using the litter box
Your cat poops outside the litter box or avoids it altogether
Your cat licking its genital area and tail more frequently
Your cat's stools are overly hard and dry
You notice blood in your cat's stools that it does pass
In many cases, your cat will not poop but act normal aside from the above symptoms. This is usually because they don't like their litter box or they are not getting intaking enough water, either through drinking or because they are on a predominantly dry cat food diet.
In other cases, symptoms of any underlying condition could also present. For example, you might notice changes in appetite, nausea and vomiting, weight loss, and behavioral changes.
Why Is My Cat Not Pooping But Acting Normal?
To understand why your cat isn't pooping, we first need to understand the normal physiological processes for the formation of healthy stools.
This process is as follows:
Your cat chews and swallows the food. It passes down the esophagus and into the stomach.
In the stomach, enzymes start to break down and digest the food into smaller pieces that the body can later absorb.
This broken-down food leaves the stomach and enters the small intestine where more enzymes continue to break down the food. Simultaneously, the nutrients are taken up by the small intestine and enter the bloodstream.
The remaining indigestible food then passes to the large intestine, at which point water is absorbed from the mixture to form stools.
This dried waste collects at the rectum, at which point your cat poops it out.
If your cat hasn't pooped for several days, it is because too much water is removed from step four of this process. This causes any stools that do form to be much drier and harder than usual. As a result, it is much more painful for your cat to pass these stools out of the body. This leads to a reluctance in pooping and constipation.
The reason too much water is being removed in the small intestine is nearly always down to one of two reasons; either (1) your cat is dehydrated and there was not enough water in the mixture to start with, or (2) your cat refuses to go to the toilet and the stools are in the large intestine for longer. Pain from constipation can often exacerbate the latter, meaning a vicious cycle can form.
What Medical Conditions Can Lead to Constipation?
Constipation is a common side effect of many medical conditions. Usually, other symptoms will present as well, but if in doubt always take your cat to the veterinarian. Here is a look at examples of diseases and disorders that can cause pooping difficulties and how.
1. Kidney Disease
Your cat's kidneys play a vital role in filtering the blood and draining waste from your cat's body. Part of the process in which they do this relies on retaining and holding onto water. For example, when you are dehydrated the kidneys will hold onto as much water as possible and your cat will pee more concentrated urine less frequently.
In cats with kidney disease, the ability of their kidneys to hold onto water in this way is disrupted. This means cats are dehydrated much more often and can cause constipation in cats. Other symptoms include weakness and lethargy, loss of appetite, vomiting, and weight loss.
2. Diabetes
Diabetes is a condition that causes an increase in blood glucose levels. Blood sugar levels are controlled by the hormone insulin. Cats with diabetes either don't produce enough of the hormone insulin or their bodies stop responding to the insulin that they do make.
The high glucose levels in the blood effects a process called osmosis, which refers to the movement of water between cells. As such, the kidneys don't absorb as much water as they should and so large amounts are lost through urination. This again leads to dehydration, therefore meaning constipation is a common symptom.
3. Hypothyroidism
Hypothyroidism is another hormonal condition, this time regarding the thyroid hormone that is produced from the thyroid glands in your cat's neck. Cats with hypothyroidism underproduce thyroid hormone. This hormone is responsible for regulating metabolism and bodily functions, so low amounts slow down all bodily processes.
This can lead to:
Intolerance to cold weather
Weight gain or obesity
Weakness and lethargy
Lower core body temperature
The disease is also known to cause bowel problems. As metabolism and the majority of other functions in the body slows down, as does digestion. This means the process of formation of the fecal matter through the intestines is slowed and more water is removed from the stools that form.
4. Anal Sac Problems
All cats have two anal sacs found on either side of the anus. They don't serve a real purpose but are generally best left as is. However, they can become infected or get ruptured upon impact. This can cause the sacs to become painful, tender, and swollen. Your cat will lick this area, chase its tail, and scoot along the floor as a result.
Because of the location of these anal sacs, any issues with them also make it extremely painful for your cat to poop. They will therefore avoid defecating, causing their stools to become harder and more solid. This in turn makes pooping more painful and can lead to severe constipation. The sacs will either need to be removed or emptied by a vet.
5. Inflammatory Bowel Disease
Inflammatory bowel disease (IBD) is a condition that causes the intestines to become inflamed. This can be caused by a range of things, including injury to the area, ingestion of a non-food substance or allergen, or as a side effect of other conditions.
When in this inflamed state, the GI tract becomes much less efficient at carrying out its usual function. This is because the inflammatory cells cause the lining of the GI tract to thicken. This makes it much harder for it to absorb the nutrients the body needs, which can lead to a range of bowel issues including diarrhea and constipation.
6. Allergies
Is your cat throwing up food but acting normal? Are they also showing symptoms of constipation? If so, there is a high chance that your cat is suffering from food allergies. Cats can develop allergies at any stage of their life, so even if you have been feeding your cat the same diet for ages it does not mean they have not recently developed an allergy to it.
Interestingly, the most common feline allergies are to beef, fish, and chicken, three of the most common protein sources used to make cat food. Therefore, you could look at feeding your cat alternate sources of protein and seeing if this helps. Your vet will also be able to help you establish what precisely is causing these symptoms so you can exclude them from their diet.
7. Stress & Anxiety
Stress and anxiety are common in cats. They are notoriously finicky creatures that love routine and despise change. This means even the tiniest changes to their usual schedule or environment can lead to stress. These could be long-term or short-term changes, such as:
There being loud noises, such as nearby construction work or fireworks
Changes to your cat's feeding schedule or the type of food you use
Switching to a different type of cat litter or a dirty litter tray
Conflict with other cats in their neighborhood or your household
Traveling in the car or going to the veterinarian
Allowing for new people or animals to enter your household
Stress can easily cause constipation as stress causes the body to divert blood flow from the digestive tract and intestines towards vital organs in the body. The effect of this is reduced intestinal movement, causing the stools to become more dehydrated. This can mean your cat is pooping less while acting otherwise normal.
With that being said, you may notice a few changes to your cat's behavior. If your cat is hiding and acting weird they could be stressed. Likewise, refusal to use their litter tray, changes in their weight and appetite, and a withdrawal from people are all common symptoms.
8. Arthritis
Arthritis is pretty common in cats, particularly those that are overweight, elderly, or both. This is a joint disease that makes movement uncomfortable. As such, arthritic cats tend to move around less and seem to be more lethargic. When they do move, their movements are stiff and labored.
This issue may seem like a strange link to constipation. However, arthritic cats will try to hold in their stools for longer so that they have to go to the litter box less frequently. This means the stools sit in the large intestine for longer, slowly becoming more and more dehydrated.
This problem is then exacerbated if the litter box isn't appropriate for cats with joint issues. One that is too small or that has a high entry point can make it painful for your cat to use and climb in and out of. Therefore, they will use their litter tray even less, making constipation worse.
9. Obesity
Obesity can also be the reason why your cat is not pooping but acting normal. Cats that are obese tend to have inflamed intestines. This means the movement of food along the bowels is slowed down and stools become more hard and dry. In turn, this makes it painful for your cat to defecate and so they poop less frequently.
Moreover, obesity can cause physical difficulties when climbing in and out of the litter box. This can cause your cat to use it less frequently and hold onto their stools for longer than is healthy. You need to ensure the litter box you use and its entry is big enough for your cat to try and help deal with this issue, alongside helping your cat lose weight.
10. Intestinal Blockages
Intestinal blockages are one of the more severe medical conditions on this list that can cause your cat to poop less frequently. This is where something is obstructing the intestines, usually from your cat swallowing a foreign object. For example, it could be pieces of string, rubber bands, hair bands, and other small items that your cat has accidentally ingested.
Because the intestines are blocked, your cat cannot defecate as it should do. Other symptoms include vomiting, weight loss, and little to no interest in food. It causes cats severe pain and discomfort, so your cat might show behavioral changes too. For instance, they might growl and act aggressively or hide away from you.
If your cat is showing any of these symptoms, they need urgent medical attention. Your veterinarian will need to x-ray your cat and remove the cause of the blockage. Not doing this promptly can cause death in worst-case scenarios.
11. Cancers
Intestinal and spinal cancers can cause constipation and make your cat may poop less frequently. This is because these cancers can affect the nerves which connect to the colon. These nerves provide electrical impulses which facilitate normal intestinal movement that pushes the stools along the large intestine to the rectum.
If these pathways become damaged, this normal movement is impaired and the stools are not passed as they should be. As a result, your cat will defecate less frequently. When they do pass their stools, they are typically harder and dryer as well.
Home Remedies for Constipation in Cats
If your cat hasn't pooped in 24 hours and you're starting to worry, don't! There are several things you can try at home to help encourage healthy bowel movements before speaking with a vet. These tips can be used immediately if you notice your cat isn't pooping, but can also be implemented long-term to act as preventative methods.
Here is a look at all of the things you can be doing. Remember, if these do not help or if your cat hasn't pooped in 3 days or more, take your cat to the vet. Likewise, if there are any other symptoms alongside constipation, seek medical advice sooner rather than later.
1. Increase Water Intake
As constipation is nearly always linked to dehydration, the most important thing you can do is to help encourage them to drink more water. Most cats don't drink as much liquid as they should and often need a little extra persuasion. Some ways you could increase your cat's water intake include:
Swapping your water bowl for a water fountain as cats have a preference for running water
Adding a little tuna juice or chicken broth to their drinking water
Placing the water in a wider dish instead of a bowl to avoid whisker fatigue
Ensuring you replenish the water regularly so that it is fresh
Feeding your cat a wet food diet which will increase their overall water intake
2. Change Your Cat's Diet
Your cat's diet can also have a big impact on their digestive health, and you should see some improvement in their bowel movements by changing their diet. One option is to feed your cat a higher proportion of wet food so they consume more water and thus improve digestion.
It is also important to remember that if your cat isn't pooping but is acting normal, they may suffer from food allergies. Therefore, changing the brand of cat food you are using or opting for a different protein source could make an improvement. You can also speak to your vet about special diets that restrict some ingredients and are known to be better for sensitive stomachs.
If you do change your cat's diet, ensure you do go gradually. Sudden changes can shock their digestive system and make things worse. Besides, big changes can lead to stress which is another cause of constipation in cats. Mix a little of the new food in with the old and gradually transition.
3. Encourage Exercise
The more active your cat, the better their bowel movements will be. For one, exercise promotes the movement of food and waste along the intestines. This means formed feces don't sit inside the large intestine for longer than they should do and become overly hard and dried out.
Moreover, obese or overweight cats tend to have slower bowel movements as their intestines are inflamed. Active cats are generally a healthy weight, so exercise can improve difficulties pooping in this way as well. Finally, exercise and play can help cats deal with stress, another cause of constipation in cats.
You should purchase a range of different cat toys to encourage your cat to play. Try and schedule at least 15 minutes of playtime together each day. This will help with their bowels, their weight, their stress levels, and their overall health while simultaneously making the bond between the two of you stronger.
4. Reduce Stress Levels
Exercise is not the only thing you can do to reduce your cat's stress levels. Make sure you provide plenty of enrichment and stimulation for your cat as well, such as scratching posts, elevated platforms, and places for them to hide. You of course also need to cover all their basic needs by providing fresh food and water and ensuring their litter tray is always clean.
A lack of routine and anxiety in cats also go hand in hand. Establish a routine that you can stick to and make an effort to do so. Any changes that you do need to make to this schedule or their environment should be done gradually. Keeping your cat happy and calm means you will rarely have to worry about your cat not pooping.
For unavoidable stressors such as going to the vet, traveling, or nearby construction noise, consider purchasing feline pheromone diffusers. You can also speak to your vet about getting anxiety medication if the symptoms are severe.
5. Change Your Cat's Litter Box
Cats can become constipated when they hold their poop in and refuse to go. Often this is because they don't like their litter box. It might be too small, in the wrong location, filled with cat litter they don't like or be too dirty for their liking. Therefore, you need to tailor the litter box to the preferences of your feline to help encourage use.
For example, litter boxes for senior cats are a great option if your elderly cat isn't going to the toilet. These have lower entry points and tend to be larger, making them easier on your cat's joints. Similarly, an extra large litter box is needed for an extra large cat such as a Maine Coon. This ensures there is enough space inside the litter tray for them to use it comfortably.
You also need to consider how many litter boxes you have in your home if you have more than one cat. Cats like their own litter boxes and value privacy. You need to have one litter box per cat as a minimum, otherwise, it can make your cat reluctant to use it and increase stress levels.
6. Regularly Monitor
You must keep monitoring your cat's bowel movements and the consistency of their poop. You can easily do this when scooping up any water from their litter tray and it can be a huge help in catching issues such as constipation early.
If your cat is not pooping but acting normal even after you have tried all of the above remedies, you should speak to your vet. Your kitty may be suffering from one of the medical conditions I mentioned earlier. These underlying issues need to be treated professionally. Once your cat has recovered, its bowel movements should return to normal.
MY FINAL THOUGHTS
If your cat is not pooping but acting normal, it is usually always because they are constipated. This is what happens when too much water is taken out when forming stools in the large intestine. Either dehydration or a reluctance to defecate can cause this.
In cases where your cat hasn't pooped in 24 hours and is acting otherwise fine, try not you worry. You can use the tips I have listed above to try and encourage your cat's bowel movements. However, if your cat shows other symptoms or has not pooped in several days, speak to your veterinarian. There could be an underlying medical condition that needs sorting sooner rather than later!