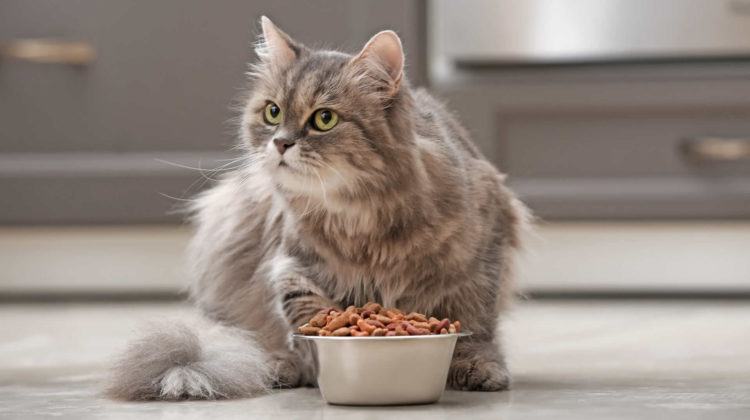 Seeing your cat vomit is never a pleasant sight. It's not only that you'll have to clean up the mess, but also that you'll also be worried sick. However, vomiting is not always a symptom that should cause concern, especially if there aren't any other pointers.
If your cat is throwing up food but acting normal, then the chances are that everything is fine. Perhaps they simply had a hairball or ate their dinner too quickly! But, since you're the most devoted cat parent in the world, you still want to explore the reasons why a feline has an upset stomach and how you can help.
Although you shouldn't be alarmed after a single throw-up, it's essential to be educated about what and how it causes a cat to vomit. Keep on reading to learn more about the reasons and how to prevent your cat from being sick.
10 Reasons Why Your Cat Is Throwing Up Food
There are various reasons why a cat might be vomiting up food but acting utterly normal after that. There is no need to panic in most cases, especially if there aren't any other notable symptoms. But, if throwing up is followed by loss of appetite, lethargy, weight loss, then you should be alarmed.
Let's find out more about what causes vomiting and how you should deal with it.
1. Food Allergies
Did you know that cats can get allergies? Just like humans, cats can be allergic to things, including certain foods. Allergies don't necessarily have to appear when the cat is born either, and your feline can develop them at any age. This is one of the main reasons why owners are caught by surprise when their adult cat that loved chicken and ate it regularly starts being allergic to it.
If your cat is throwing up but seems otherwise fine, then you can suspect allergies. This could also be a reason why your cat has diarrhea but seems fine. Other potential symptoms include respiratory issues, itching red skin, hair loss, and weight loss. If you think that your feline is suffering from allergies and you notice any of these symptoms, call your vet. They will do tests to figure out what causes the sensitivity and how to treat it.
2. Eating Too Fast
If there's something that cats are guilty of, it is being obsessed with food. Our felines love a good meal! However, sometimes they love it so much that they decide to gobble it down in a matter of seconds. This is the situation when you see all the food that they just ate all over your floor.
Since the feline didn't even have time to process this food, the act is not called vomiting – it's regurgitation. That's how fast everything happens! Felines have an esophagus that is positioned horizontally and not vertically. So, when they eat too fast, it's pretty easy for the food to come back up.
Eating too fast is very common in households with multiple cats. As you probably already know by now, felines are very competitive. When you give them food, one or more of the cats will get competitive and they'll start eating with the speed of light. For the cats, this is a competition that they have to finish first.
When you have multiple cats, they can also get stressed out over food and scared that they won't get enough. They're fearful that one of their brothers or sisters will want to eat from their portion! This can also cause them to eat too quickly and end up regurgitating their dinner.
3. Eating Too Much
Just like humans, cats can also overindulge. Cats should eat small portions several times a day but unfortunately, that's not always the case. If you fill the bowl a little too much, don't expect the cat to eat just a portion of it. The chances are she'll eat everything and end up throwing up! Being vigilant with the portion sizes and trying to spread your cat's meals evenly throughout the day can make a big difference.
Cats eating too much is a more common problem in homes with multiple cats and one that is less straightforward to solve. When one cat doesn't finish her meal, you can be sure that another one will. In most cases, there is nothing to worry about. But if this happens constantly, you should consider making some changes to how you feed your cats.
One option is to opt for a cat feeder with a collar sensor. These prevent cats from eating any food that isn't intended for them. You can also try feeding your cats in separate rooms or at different times of the day to keep greedy cats from eating too much!
4. Hairballs
Hairballs are one of the most common reasons why a cat might be throwing up. This is entirely normal and is a result of the meticulous hygiene that cats practice. Cats spend most of their day self-grooming, and when a cat grooms itself, the rough surface of its tongue goes over the fur and gathers hairs. All this hair is swallowed and ends up in their stomach, forming hairballs.
There is no way for their stomach to digest hair, so they have to get it out of their system somehow. In most cases, this happens when they visit the litter box. However, if they don't pass the hairballs in their feces, your cat will eventually throw up.
When the feline regurgitates their hair, don't expect to see a ball-shaped lump. What was once a ball of fur is now shaped like a cylinder because it had to go through the esophagus to get out. Sometimes you'll only see hair, but other times it'll be mixed with food. Either way, it's an entirely normal occurrence, and it can happen to any cat. However, long-haired cats often suffer from hairballs more.
While hairballs are normal, a critical condition to be aware of is hair gastritis. This is where the swallowed hair causes inflammation to the lining of a feline's stomach and causes them to vomit. It usually takes the cat several tries before it gets the hair out of its body. Some other symptoms of hair gastritis are gaging, diarrhea, constipation, retching, appetite loss, and more.
5. Obstruction
Cats are creatures who want to explore their curiosity by putting things in their mouth. Unfortunately, this doesn't always end well. By now, you've probably seen your cat swallow so many different items, especially ones that are not food. If they're small items, they likely won't cause any problems – as long as they can leave the digestive tract and get to the litter box, the cat should be fine.
However, if there's something that the feline can't pass then they have to get rid of it by vomiting. It can be a small toy, a plastic item from your household, pieces of fabric, or things that you can't even imagine a cat putting in her mouth. When you see a strange item in the vomit, you'll know what caused the obstruction. You'll also learn what caused the vomiting.
When this happens, it should be a sign that you have to keep an eye on your feline and remove all objects they can ingest. Obstruction is a serious matter that can end up being an emergency if the foreign object cannot be dislodged by vomiting. If the cat keeps throwing up, is not feeling well, has pain, you also have to contact the vet right away.
6. Toxic Substances
Aside from eating foreign objects that can become lodged in their digestive system, cats may also eat toxic substances. Even if your cat appears normal at first, poisonous substances are very dangerous and life-threatening. Some commonly ingested toxins include alcohol, antifreeze, coffee, onion, and garlic. Many houseplants also have poisonous effects on cats.
If you see that your cat has eaten or drank any of these things, you should act right away and call your vet. Some other symptoms that can suggest your feline has eaten toxins are seizures, lethargy, coughing, increased thirst, and tremors.
7. Improper Diet
If you want to feed a feline properly, you need to get educated about the ingredients that their food should contain. Unfortunately, many foods are packed with carbohydrates, artificial flavors, and preservatives. However, as a general rule of thumb, adult cats need is a diet that is 52% protein and 36% fat, with only 12% of their energy coming from carbohydrates.
Cats need food to be packed with these essential nutrients, and investing in high-quality food for your feline should be your priority. You'll also need to choose a food that is made specifically for their age – kitten food and senior cat food have totally different compositions! Get it wrong and it could disagree with their digestive system and cause them to vomit. So, speak to your vet to find the best diet for your cat.
Giving your cat human food just because they meow while you eat is also a bad idea. Human food contains ingredients that can cause severe inflammation of the digestive system and can manifest with vomiting. The artificial flavors, dyes, and preservatives present in human food are the worst thing you can give a feline. We're not built the same, and we're not supposed to be eating the same things.
Another thing to stay away from is milk. A common misconception is that you should give cats milk. Yes, they love it, but that doesn't make it right. Cats are lactose-intolerant, and milk can cause a range of problems with their digestive system. These gorgeous creatures don't have an enzyme that is responsible for processing the lactose present in milk, and so they throw it up instead.
8. Changing Cat Food
In some cases, switching from one diet or one food type to another can also lead to vomiting. This doesn't mean that you're giving your cat terrible food, just that their stomach is a little sensitive to the new changes. While initially, this is nothing you worry about, if you notice that your cat is throwing up even after several days, you should either go back to the old food or try another alternative.
Some cats are more sensitive than others, and their stomach doesn't agree with all food types. If you want to introduce changes in their diet, it's best to do them slowly. Start by adding a little bit of the new food, and once they get used to it, you can increase the amount.
9. Worms
Parasites such as worms can invade your feline's digestive system, causing pain and discomfort, reducing their appetite, and causing weight loss. Although your cat will need to be heavily infested, having worms can also cause your cat to start vomiting. In some cases, you'll even be able to see the parasites in the vomit! If your cat stopped eating dry food but eats treats, that's another symptom that will help you recognize that it's time for deworming.
If you suspect that worms are the reason behind the vomiting, give your vet a call. They will do exams to figure out if the feline should be treated. Most adult cats won't have any consequences from being infested with worms, but things are more serious when it comes to young kittens. So, you must get the parasitic infection treated promptly.
You can also reduce the risk of your cat contracting worms in the first place by administering monthly preventative medication. This will keep you and your feline healthy and give you less to stress about.
10. Pancreatitis
If your cat is not eating much but acting normal, there's probably no reason to worry. But, if the lack of appetite is accompanied by fever, diarrhea, pain, and lack of activity, you should schedule a checkup. These are all symptoms of pancreatitis, which also causes vomiting in 50% of cases.
Pancreatitis is an inflammation of the pancreas, an organ that produces both digestive enzymes and various essential hormones. When inflamed, the organ doesn't produce enough digestive enzymes. This means their stomach and intestines can't process the food properly and will be sick instead. Speak to your vet immediately so your cat can be treated.
How To Prevent Vomiting in Cats
There are ways to prevent vomiting, but to choose an effective solution you need to figure out what is causing it in the first place. Once you've worked that out, here are some valuable tips that will help you improve your feline's life and reducing their vomiting.
1. Bring the Cat to the Vet
Even if you think you know why your cat is throwing up food but acting normal, it's always a good idea to take them to the vet. The vet will do several exams, including an X-ray and bloodwork, to figure out the main factor and how to target it. Not only is this great as they can provide effective treatment, but is also great for putting our worrying minds at ease.
2. Prevent Hairballs
As I mentioned, hairballs are one of the most common reasons why a cat throws up. There are several things you can do to prevent hairballs and make your feline's life easier.
First of all, brush your cat regularly, no matter if you own a short-haired or long-haired breed. It's recommended that you brush short- and medium-haired felines at least twice a week, while long-haired cats need to be brushed every day. By brushing them, you'll remove a large portion of the loose hair, so there's less for them to swallow.
Taking your cat to the groomers once in a while is also a great idea, especially if you find it hard to stay on top of regular brushing. There are also hairball control foods that you can try, designed to help your cat get rid of the hair faster and easier. You can also turn to products such as gels and chewable remedies that can significantly help.
3. Special Bowls for Fast Eaters
There is a special bowl for almost every problem. If your cats are fast eaters, you can get bowls that promote slow eating. This will be an excellent investment and solve your issue. Slow feeder bowls are designed with patterns and obstacles that prevent the cat from wiping down the food in a matter of seconds. They will also stimulate your feline to activate its brain while feeding.
If you have multiple cats, also be sure to feed them in separate parts of the house. Don't put all bowls next to each other because that way, the fastest-eating cat will have access to the other cats' food. Also, try feeding them smaller portions multiple times a day. Instead of giving your furry friends three meals, increase the number to five, but make the portions smaller.
4. Introduce a Great Diet
You should also educate yourself on what a balanced cat diet is and the percentage of proteins, fats, and carbohydrates recommended. Some of the foods you're giving to your cats might be causing them stomach problems and make them throw up. If you suspect that your feline is sensitive to some types of proteins or foods, consult a vet and get advice on what kind of food best suits them.
Vets will also be able to advise on a diet plan for cats with food allergies. You have to visit the vet to find out what's causing the allergy, but once you do, you'll know what kind of foods you should never give your pet. When the vet can't figure out what's food is causing sensitivity, they suggest an exclusion diet to work out the root of the problem.
5. Get Rid of Toxic Foods and Plants
If you ever see your cat munching on toxic foods and plants, you have to remove them right away. If your feline drank just a little milk or took a bite of a toxic plant, you shouldn't panic. But if they vomit several times during the day, have a fever, are lethargic, or refuses food, then there is more cause for concern. Give your vet a call to ask whether you should schedule a visit.
Also, if the toxic substance got in the fur and on their paws, you should try to wash it with shampoo and water. Prevent your cat from self-grooming too. If there are toxins present on the fur, things will worsen if they ingest them as they groom.
When Is Throwing Up Not Normal?
Although there are plenty of reasons why your cat is throwing up food but acting normal, vomiting can be something to stress about. There are certain red flags that you should recognize and act fast the second they happen, including:
If your cat keeps throwing up numerous times during the day
If your cat is throwing up for 3 days or more
If there is blood in the vomit or if it is yellow in color
If they are vomiting in combination with other symptoms, such as lethargy or reduced appetite
When noticing any of these things, the first thing that you should do is call the vet. This is a concerning situation when you should get in touch with a professional. It could be a sign of a more serious health condition and will need to be accurately diagnosed and treated as soon as possible.
MY FINAL THOUGHTS
When your cat is throwing up food but acting normal afterward, there's usually no need to worry. In most cases, cats throw up because of hairballs. Other common reasons include eating too quickly, overeating, or not having a balanced diet. Your cat may also have eaten something that has caused an obstruction or toxicity, or perhaps they have worms or pancreatitis.
All these causes are worth your attention, but there isn't always a reason to be alarmed. However, if your cat keeps throwing up or the vomiting comes together with symptoms such as appetite loss, blood, or lethargy, you should consult a vet. Knowing when to worry and when to not can ensure your cat is always well looked after besides putting your mind at ease.