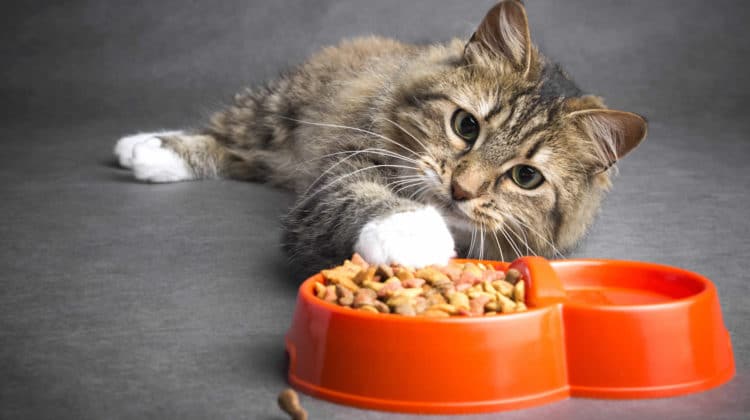 Does your cat gobble down every bit of food in their bowl within the blink of an eye? Yes, mine does too!
Fast eaters can have a whole bunch of related problems, from vomiting to stomach discomfort. Gulping down food quickly can also act as a choking hazard to your cat.
These can be extremely worrying as a cat owner because you care about your pet and don't want them to be uncomfortable. If they regularly vomit all over your floor, it can also be frustrating, time-consuming, and, quite frankly, a little gross.
If this sounds like you, you may be looking for an easy solution to get your cat to slow down while they eat. Thankfully, there is an easy solution: slow feed bowls. These are cat food bowls designed to slow down eating by using innovative designs to make it harder for your cat to reach their food.
In this article, I will run through the best cat food bowls to slow down eating on the market today so that you can relax when it comes to feeding time and stop having to clean vomit off the floor – hoorah!
My Top Pick
The best slow eating cat bowl is the Cilkus Slow Feeder Bowl for Cats. This is the cat bowl that I use for my greedy cat, so I can vouch that it works. When using this bowl, my cat is less bloated and in less discomfort and my daily routine of cleaning up cat vomit has been left behind. I love this bowl as it has a cute fish design that cats love, anti-skid feet to stop it sliding around the floor, and is made from safe and durable melamine material. Add on the fact that it is easy to clean and does the job intended, I find it hard to find anything not to love!
Although this is my favorite cat puzzle bowl, plenty more are available online, so I have reviewed some other fabulous products to suit all budgets and needs.
Best Cat Food Bowls to Slow Down Eating
Before I go into my product reviews, here are the features that I looked for in a slow feeder cat bowl. The product that ticked the most of these boxes made it onto this list, simple!
Heavy Weight: The weight of the bowl is important, as slow feed cat bowls act as a puzzle and your cat will have to use their paws to find their food. If not heavy enough, your cat could end up tipping the entire bowl over! When it comes to the best cat food bowls to slow down eating, the heavier, the better.
Durable & Safe Material: Material is also key, as because your cat will be eating from it, the material must be safe and non-toxic. For food bowls, ceramic or stainless steel are the better options as they are long-lasting and won't harbor bad bacteria as easily as plastic.
Fun Toy: Slow feed bowls are also interactive, and your cat must complete the puzzle to free their food. Therefore, the more fun and engaging the toy, the more your cat will take to their new food bowl, plus it provides them with interesting mental stimulation.
Easy to Clean: The bowl also needs to be easy to clean so that no pieces of food get trapped, which could act as a breeding ground for bad bacteria.
It is also worth noting that the majority of cat food bowls to slow down eating only properly function with dry food. If you feed your cat wet food, you will need to choose a product that is specifically designed to handle this. Although this is not a priority for me, I have also reviewed some suitable wet food products further down the article for any owners that do only feed their cats wet food.
As I mentioned, my top pick of bowls for cats that eat too fast is the Cilkus Slow Feeder Bowl for Cats.
The clever design of this bowl promotes healthy eating and prevents cats from gulping down their food. It features a fun fishpond design which my cats love, meaning not only is this bowl aiding my cat's digestion but also brings added fun to their feeding time and provides great mental stimulation.
This bowl is also made from melamine, which is similar to ceramic but more durable. However, melamine differs from ceramic in that it is not easily smashed – great for if you're a clumsy owner like me! I've had this bowl for months now and can assure you it is virtually unbreakable.
Materials like this beat plastic any day as the surfaces are near impossible to scratch, and grooves from claw marks often act as a breeding ground for bad bacteria. Therefore, this bowl is much safer for cats to be eating from in comparison to their plastic counterparts. Plus, it is a non-toxic, odor-free, and food-grade material.
You can also easily clean the bowl either in the dishwasher to save time or by hand washing. With three different colors to choose from to work well in any home, I love this bowl almost as much as my cat does!
The main downfall is that this slow feeder bowl is not particularly heavy and so some cats have the potential to knock it over and tip its contents all over the floor. However, there are rubber slip-proof feet on the base which makes it a lot more difficult for cats to move the bowl around the floor. In my experience, this has not been an issue at all.
Pros
Fun and stimulating fishpond design
Available in three different colors
Easy to clean and dishwasher safe
Anti-slip rubber feet to prevent the bowl from tipping
Made of non-toxic food-grade material
Melamine is strong, durable, and scratch-resistant
Cons
Only suitable for dry cat food
Another close contender is the Lorde Slow Feeder Cat Bowl, which also effectively slows down how quickly cats eat by using an interactive puzzle.
What makes this bowl great is that it weighs 1.8lbs. This heavy and untippable design makes it perfect for cats that can be more playful and often tip their food bowl over, scattering kibble all over your kitchen floor.
As with my top pick, this ceramic slow feed cat bowl has a fishpond maze that cats will enjoy figuring out. They have to use their paws to move their biscuits around the dish so they can eat them. This promotes a healthy mealtime, prevents indigestion, and encourages play.
This bowl is also made from high-quality ceramic, which is one of the best materials that cat food bowls can be made from. It is durable and scratch-resistant, and all the edges are smooth, so you don't have to worry about your cat scratching its tongue. What's more, it is also safe for cats and non-toxic.
The only downside of this bowl is that ceramic does smash easily, and so if you are a clumsy owner, perhaps opt for a less breakable bowl instead.
Pros
Fun and entertaining fishpond puzzle
Successfully slows down eating
Made from durable high-quality ceramic
Has a heavy weight of 1.8lbs so cannot be tipped over
Cons
Ceramic can smash easily
Only suitable for dry cat food
A more interactive and mentally stimulating take on a cat food bowl to slow eating is the Pioneer Pet SmartCat Feeder.
This cat feeder had to make it into my list of favorite products as it is an interesting take on cat food bowls to slow down eating. Rather than your cat moving their food around the top, they have to find the right spot to reach their food from the sides of the bowl. While taking a day or two to transition, your cat will end up loving this bowl as feeding times becomes more enjoyable and more alike to hunting in the wild.
While providing this stimulation, the bowl simultaneously slows eating as only a few pieces of kibble will be able to be reached at once. This means your cat will eat at a healthier speed and be less prone to bloating, indigestion, and vomiting.
Despite the unique enclosed design, it is still easy to pour food into the bowl through the funnel at the top. That being said, the enclosed shape does make it more difficult to clean, but the dish is dishwasher safe and so can still receive a thorough clean every time.
This bowl is also heavy as it is made from ceramic, weighing 2.2lbs. This makes it near impossible for cats to tip over or move around the room, keeping any mess contained. The ceramic material is also totally safe for cats, durable, and available in three different colors.
Pros
Unique and innovative take on slow feeder bowls
Reduces feeding speed to prevent bloating, indigestion, and vomiting
Built-in funnel to easily pour in food
Weighs 2.2lbs to prevent tipping
Made from 100% ceramic which is both safe and durable
Available in three different colors
Cons
Is more mentally stimulating and could be too challenging for some cats
Only suitable for dry food
For owners that feed their cats wet food and need a solution to slow down their cat's eating habits, you're in luck! A great and budget-friendly option is the Likimat Fish-Shaped Cat Slow Feeder.
Unlike the other products I have mentioned so far, this is a textured mat rather than a bowl. To use, simply put your chosen cat food, be that wet food or kibble, on top of the mat and squash it down with a spoon so that it fills all the grooves. This way, your cat will have to use their tongue and lick the mat to get pieces of food out, stopping them from gulping down their entire dinner in one.
As Lickimat promotes licking, it also has health benefits in addition to better digestion and reduced vomiting. Licking stimulates the production of saliva, which is important in protecting your pet's teeth and gums and removes pieces of food stuck to their tongues to help reduce bad breath.
This way of eating also mimics a cat's natural eating behaviors in the wild. Plus, by offering a more exciting way to eat, this cat food bowl to slow down eating can also encourage an interest in food if your cat is a fussy eater.
Whereas this feeder looks like it is made from silicone, it is actually silicone-free and made from food-grade rubber. This is totally safe for cats and dishwasher friendly, but the tiny grooves can make cleaning more challenging. Also, you need to supervise your cats when they eat using this as it is chewable!
Pros
Compatible with wet cat food
Extremely affordable
Slows eating for better digestion and reduced vomiting
Promotes good dental health and reduces bad breath
Encourages interest in feeding time
Made from food-grade rubber
Dishwasher safe
Available in two designs and three colors
Cons
Supervision required when eating as the rubber is chewable
Small grooves are difficult to clean
Another different take on a traditional cat food bowl is the Catit Senses 2.0 Digger Interactive Cat Toy. The fact that this product is marketed as a "cat toy" rather than a bowl shows just how much fun your cat will have with this product.
Using multiple tubes to simulate natural pawing behavior, this slow cat feeder helps greedy eaters consume their food at a healthier pace. You can use this for an entire meal of dry kibble, or to bring some more fun to treat time. Unlike other products, this not only reduces the speed at which your cat eats but also activates their senses to encourage instinctive behaviors indoors.
I also rate how easy this bowl is to clean. All the green tubes are removable and can easily be washed with soap and water. Many other slow feeders have a lot of hard-to-reach nooks and crannies, but this is not the case with this cat puzzle bowl and all the tubes have rounded edges.
The main downside of this feeder is that it is made from plastic and so is more prone to scratch marks and lacks durability. However, it is safe for cats as it is BPA-free. Also, despite not being made from a heavy material such as ceramic, there is a rubber base to stop it from moving around the room.
Pros
Stimulates natural pawing behaviors
Super easy to clean with no had to reach places
Made from BPA-free material
Rubber base to prevent it from being moved around the room
Tubes can be arranged in multiple ways so your cat never gets bored
Cons
Not suitable for wet cat food
Plastic is not as durable as other materials
If you have an elderly cat, the RoyalCare Raised Cat Bowl Slow Feeder is a great option, as it combines the features of a puzzle bowl with an elevated bowl.
Elevated bowls are great for senior cats as they reduce the neck strain put on cats when they have to bend down to eat. They also put cat's mouths in a better position in relation to their stomach when eating, helping them swallow more easily and vomit less. Combined with the slow feeder protrusions, this bowl is great at promoting healthy eating.
You also get two identical bowls with this purchase, ideal for if you have a multi-cat household. Alternatively, both bowls flip upside down and make great cat water bowls.
As far as the material goes, this bowl is made from sturdy melamine, which is lead and cadmium free, anti-corrosive, rustproof, and is safe for cats. It also easily wipes clean and is quite heavy, so the bowls will not slide around on the floor or get knocked over easily. However, these bowls do also come with a silicone mat if needed for extra anti-slip power.
Pros
Two bowls and a silicone mat included
Elevated and so ideal for elderly cats
Vomiting prevented due to the raised design and slow feeder bumps
Made from safe and durable melamine
Easy to clean
Heavy and cannot be knocked over or moved around
Cons
Not as fun as other slow feeder bowls
Slow Feeder Cat Bowl Buying Guide
Although I think the products on this list are great, I have also made this handy buying guide so that you know what to look out for if you do decide to shop around. All these features are what make the difference between a slow cat feeder that works, and one that doesn't solve your problems.
Heavy Weight
Slow feeder bowls for cats reduce the speed that your cat eats by making them work for their food. This is done through different puzzles that your cat has to figure out, but this does require your cat to used their paws to release their food.
For this reason, your slow feeder cat bowl must be heavy as otherwise your cat could tip their bowl over or knock it around the room as they attempt to crack the puzzle. Bowls that weigh at least 1lb should be heavy enough to stay stable and upright. An alternative to weighing a lot is for the feeder to have a non-slip base. Usually, rubber or silicone on the base works well and prevents your cat from being able to slide the bowl across the floor.
You can purchase cheaper products that are not as heavy, but I would advise against this. These bowls can easily be tipped, and you'll end up with even more mess to clean!
Safe & Durable Material
As your cat will be eating from this bowl, it also must be made from a non-toxic and food-grade material. You will find cat bowls made from everything from plastic to stainless steel, and from ceramic to clay. As long as the material is BPA free and approved as safe for cats, any material is fine.
That being said, plastic food bowls are the worst option to go for as your cat can easily scratch the surface, creating grooves in the bowl. These can be sharp on your cat's tongue and cause them pain, and also act as a breeding ground for bad bacteria, which is far from ideal.
Stainless steel and ceramic bowls are more durable and resistant to scratches. For a slow feeder bowl where your cat will need to use their paws to find food, this should be a higher priority than if you were buying a traditional bowl.
You also need to think about your personal preference. Are you clumsy and likely to drop the feeder by accident? If so, avoid ceramic bowls as these could easily smash. Is your cat boisterous and often tips their bowl over? If so, ceramic is a great option as it is a heavier weight.
Entertaining & Stimulating
Aside from slowing your cat down when they eat, slow feeder bowls also help cats to build a better relationship with food and can make feeding time more enjoyable.
So that your cat experiences this positive mental stimulation, the bowl has to be fun. There is a range of different slow feeder designs. Some are shaped like a maze whereby your cat has to move their kibble to the edge to eat it, some have holes your cat has to get the food out of, and others have more complex rotating disks and trays.
Choose a design that you think your cat will enjoy. The more curious and lively they are, the more complex the cat puzzle bowl you can go for. However, if you have a very lazy cat, it is probably best to opt for an easier puzzle to solve.
Easy to Clean
As your cat will be eating from their food bowl, another priority should be finding a bowl that is easy to clean. This way, you can rest assured that your cat is not going to be picking up any infections from poorly washed food bowls.
Having an easy to clean bowl is also a positive for you! The easier it is to clean, the less time you will have to spend washing all the nooks and crannies. Nowadays, most cat food bowls are dishwasher safe which makes cleaning a breeze.
What are the Benefits of a Slow Feeder?
So, slow feeder bowls for cats helps to slow down their eating and encourage eating at a healthy pace. But, why is this important?
Better Digestive Health
If your cat inhales their food as soon as you've placed their bowl down, your cat could have poor digestive health.
When eating food quickly, your cat will be ingesting a lot of air along with their food, which can cause severe bloating. With dry cat food, bloating is even worse as the kibble can absorb liquid in your cat's stomach and swell. Not only is this uncomfortable for your cat, but it can also cause them to vomit up their food. This is not only an inconvenience for you, but also means they aren't getting the nutrients that they need.
Slow feeders promote eating at a healthy pace and so reduce bloating and related digestion issues. Therefore, they are better for your cat's body and improve their digestive health.
Maintaining a Healthy Weight
Cats that eat quickly are also prone to overeating. By shoveling food down their throats so quickly, they do not have time to register if they are full or not, and before you know it their bowl is empty.
Overeating can easily lead to obesity which is detrimental to your cat's health. Obese cats are more prone to several major health problems, such as mobility and joint issues, diabetes, heart disease, and a reduced immune system. Some cats get so fat that they can't even clean themselves!
By using a slow feeder for cats, you will promote healthy eating and encourage cats to only eat what they need. This reduces the risk of any of these health conditions developing. Of course, as an owner, putting down the correct portion sizes for your cat is also so important.
Added Enjoyment
Cats are also natural-born hunters, yet while wild cats need to hunt their prey to secure their next meal, domesticated cats quite literally get it handed to them on a silver platter.
While there is nothing wrong with this, because hunting behaviors are instinctive to cats, they actually enjoy working for their food. Slow feeders are specifically designed to stimulate these hunting instincts, thus preventing boredom.
Entertained and happy cats are less likely to exhibit disruptive behaviors, which is great news for your furniture! Plus, cats that don't show much interest in dinner time can find their love for food again as puzzle bowls are seen as toys, rather than simply a plate of food.
FAQs
Q: Do slow feeder bowls work for cats?
A: Yes, cats can use slow feeder bowls to reduce the speed at which they eat. These bowls make cats work for their food and limit the amount of food available to them at any one time.
Q: Are slow feeder bowls good for cats?
A: Yes, slow feeder bowls stop your cat from gulping down their entire bowl of food quickly, minimizing the risk of overeating, vomiting, bloating, and indigestion. They also add mental stimulation and fun to your cat's feeding time.
Q: What is the best cat food bowl to slow down eating?
A: In my opinion, the best slow feeder cat bowl is the Cilkus Slow Feeder Bowl for Cats. Its design is successful in encouraging slower eating and is fun for cats. Plus, it is made from safe and durable melamine, is easy to clean, and has non-slip rubber feet to avoid any mess being made.
Q: Do slow feeder bowls work with wet cat food?
A: Most cat puzzle bowls to slow eating are designed for use with dry kibble only. However, some designs such as lickable slow feeder mats can be used with wet food, such as the Lickimat Fish-Shaped Cat Slow Feeder.
Q: How can I stop my cat from eating so quickly?
A: You can use a slow feeder cat bowl to stop your cat from eating quickly. Another option is to use an automatic cat feeder instead to schedule smaller meals at a set frequency. Cats also eat dry food faster than wet food, which can cause more bloating as it absorbs water once eaten, so you could try switching to wet food and seeing if this helps.
Q: Why does my cat eat so fast?
A: Cats can eat quickly simply because they are greedy, or because of food bowl competition between cats if you have more than one cat in your household.
Q: What happens when a cat eats too quickly?
A: When cats eat too quickly, they can become bloated and uncomfortable. There is also an increased chance of your cat regurgitating what they have eaten, which is unpleasant for owner and cat alike.
MY FINAL THOUGHTS
I would recommend getting a slow feeder to any cat owner. They are ideal for cats who eat quickly and suffer from tummy troubles because of it, but they are also great for cats who are already eating at a comfortable pace to add some mental stimulation and fun to their feeding time.
Hopefully, the range of products I have recommended will give you some inspiration for finding a cat food bowl for fast-easting cats that works. Trust me, buy one today and you'll have a happier and healthier cat, and your days of cleaning cat vomit from the floor will be no more!