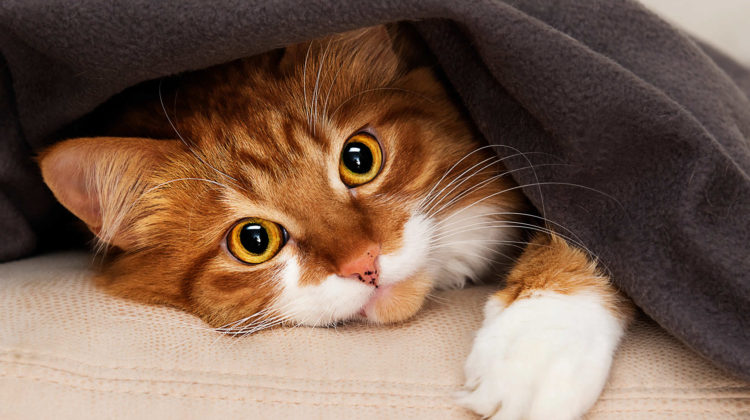 When our cats show any signs of illness it is easy to overthink and panic. We want to make sure our cats have the happiest and healthiest lives possible, and cannot bear to think they're not feeling their best!
One of the most common signs of illness in cats is diarrhea – our cats cannot tell us they are in pain, but seeing runny or loose excrement in their litter tray is hard to miss. But, what if your cat has diarrhea but seems fine? Should you panic that something is wrong? Or has your cat just eaten something different from usual that has mildly disagreed with them?
Your cat can have diarrhea for many reasons, including stress, a change in their diet, or toxic poisoning.
However, if your cat seems fine in all other ways and their diarrhea is a one-off incident, you don't have much to worry about. Yet, it is key that you understand and notice your kitty's litter box habits so that if there is something seriously wrong you can catch it fast.
In this article, I will run through the reasons why your cat could have diarrhea but no other symptoms, what to do, and when you need to contact your vet in case of a more serious issue.
Why Does My Cat Have Diarrhea?
To understand better when you need to be concerned that your cat has diarrhea, here are some of the most common possible causes. As a digestive issue, the majority either fall under food-related reasons or gut infections. However, there are also several more serious but less common reasons too which I will cover.
Bear in mind that this isn't an exhaustive list – there are many reasons why your cat has diarrhea. However, these are the most common causes that vets have identified.
Food-Related Causes
The most common reason your cat has diarrhea is that they have eaten something unusual to them. This doesn't necessarily mean something bad for them, just something different from what they are used to. Here are some examples of what I mean.
1. Change of Diet
Switching up your cat food to another brand which is made from new ingredients with different proportions of carbohydrates, proteins, and fats could be all it takes to give your cat looser stools. This is a common reason your cat has diarrhea but no other symptoms. They're well and healthy, their digestive system is just adapting to the change in nutrients.
There are several reasons why you may be looking to change your cat's diet. There may be a new brand of food you'd like to try, or perhaps you want to swap to a cheaper product. It may also be advised by your vet to change your feline's food if they are overweight or have a special disease, such as kidney disease.
When you do need to change your cat's food, be sure to do it gradually so that it isn't a shock to their digestive system. This should prevent any sickness and diarrhea. Besides, cats are creatures of habit, and changing their food suddenly can make them less likely to eat and get all the nutrients they need. In fact, if this is the reason your cat has diarrhea, you may also notice your cat not eating much but acting normal.
2. Spoiled Food
Another possibility is that the food your feed your cat has become spoilt. Check the expiry date on the packet – has it passed? If so, throw it away and buy a new bag. If not, give it a sniff and see if it smells like it has gone off. Even if the best-before date is in the future, the biscuits could have gone stale if you haven't been storing their kibble correctly, especially in the warmer summer months.
Eating spoiled food can easily give your cat diarrhea, just as eating gone off meat would make us feel sick! Another giveaway sign is if your cat has stopped eating dry food but eats treats. If you think this could be the case, it's no major cause for concern. Simply buy a fresh packet of food and your cat's diarrhea should pass.
3. Eating a Non-Food Item
Alternatively, your cat could have ingested a non-food item. This could be something such as a houseplant or if you have an outdoor cat, a plant found on their travels. It could also be non-digestible materials such as synthetic fabrics, wool, rubber, and paper.
Depending on what has been eaten, your cat may have a slightly upset stomach, or they could have eaten something toxic and need the attention of a veterinarian. If they have eaten something dangerous, you will likely notice other symptoms. On the other hand, if your cat has diarrhea but seems okay, it will likely subside once the foreign object or toxins have worked their way out of its system.
4. Food Allergies
It is possible that your cat has diarrhea or vomiting but is acting normal because of a food allergy. Your cat can develop allergies to food at any point in their lives, even to food that you have been feeding them since they were a kitten. However, most allergies would have developed by the time your cat is 5 years old.
Cats with allergies typically also have itchy skin and other skin conditions such as rashes, alongside losing their hair due to overgrooming. If you don't notice these other symptoms, you can rule food allergies out as their cause for diarrhea.
Gastro-Intestinal Infections
The second most common reason cats have diarrhea is because of an infection of the gut. These can be split into two main types of infection: gut infections, and parasitic infections.
1. Gut Infections
Infections of the gut affect how your cat's digestive system functions and will alter the absorption and digestion of food. This could lead to a range of digestive issues, including stomach cramps, constipation, or diarrhea.
There are a whole host of different GI infections, with some of the most common being viral infections such as rotavirus and panleukopenia. Both of these cause acute diarrhea which lasts for less than 2 weeks. Bacterial infections can also behind their stomach upset, particularly if your cat has bloody stool but is acting normal.
More serious and long-term infections cause also cause diarrhea. These include feline immunodeficiency virus or leukemia. However, if your cat has one of these more serious and life-threatening diseases you will see other symptoms too, including lethargy, loss of appetite, and signs of dehydration.
2. Intestinal Parasitic Infections
Unlike typical infections caused by viruses, bacteria, or fungi, intestinal parasitic infections are caused by an organism that lives inside your cat and causes disease. Fleas are a common parasite, but these won't cause stomach issues as they are external parasites. However, worms that live inside your cat's body can cause sickness and diarrhea.
When talking about intestinal worms, roundworms and tapeworms are the most common types. Young cats are more likely to get worms as they can be passed on by swallowing larvae from their mother's milk. Plus, worms can also be inherited from their mother So, if your kitten has diarrhea but acts normal this could be why.
Older cats can also get worms though, from eating prey that has been infected with worms, having fleas and eating them when grooming themselves, or drinking contaminated water. Because most of these risks are from the outdoors, indoor cats are less likely to suffer from parasitic infections.
Stress & Anxiety
Just as stress can manifest as sickness and diarrhea in humans, the same is true for our felines. Therefore, if your cat has diarrhea but seems okay, it could be an indication that they are feeling stressed.
However, it is also possible that you notice other symptoms, including a loss or gain of appetite, sleeping more than usual, poor and patchy coat, or weight loss/gain. There are also several behavioral symptoms of stress, such as an increase in aggressive behavior, excessive meowing, and stopping using their litter tray altogether.
If you think your cat is stressed, it is key you find the cause of the stress. Cats don't respond well to change, and even the smallest alteration to their daily routine and make them anxious! Ensuring your cat always has somewhere to hide and escape to or sticking to the same daily routine can make a huge difference to their lives.
Metabolic Disorders
Finally, and typically the most serious cause of diarrhea, are metabolic disorders. This is an umbrella term for any condition which affects your kitty's metabolic function, but the most common are hyperthyroidism, diabetes, liver disease, and kidney disease.
1. Feline Hyperthyroidism
In feline hyperthyroidism, the thyroid gland is overactive and enlarged, producing excess levels of the hormone thyroid. This hormone plays a crucial role in regulating their metabolic rate, and so cats with hyperthyroidism will have an overactive metabolism. The disease typically affects older cats.
The signs of feline hyperthyroidism are very subtle at first and gradually become more apparent as the disease progresses. Diarrhea is a symptom and often one of the first noticed by their owners, alongside weight loss despite an increased appetite, hyperactive or aggressive behavior, and weakness.
2. Diabetes
Diabetes is another common disorder in cats, again due to a hormone imbalance. This time, the hormone responsible is insulin. Either their bodies don't produce enough of this hormone, or their response to the hormone isn't strong enough. This causes cats to be unable to control their blood sugar levels effectively.
As there is typically more sugar in their blood, water will be drawn out from cells and into their bloodstream. This can lead to diarrhea and increased urination. To deal with fluid loss, you may also notice your cat is thirsty all the time. They may also have an increased appetite as there is no way for them to extract the sugar they have eaten from their bloodstream, making them feel permanently hungry.
3. Liver Disease
Liver disease is relatively common in cats, which is where the function of the liver, usually responsible for processing waste and toxins, is impaired. Typically, the most common signs of liver disease are loss of appetite, weight loss, and increased lethargy. However, liver disease can also cause diarrhea and vomiting in felines in severe cases and depending on the cause. With that being said, if your cat has diarrhea but no other symptoms, liver disease is unlikely.
4. Kidney Disease
The kidneys also have a function in processing waste and toxins and maintaining the electrolyte balance in the body, and kidney failure can cause diarrhea in cats. However, as with liver failure, this is one of the later symptoms to present. At the onset of the disease, the most common signs are increased lethargy, loss of appetite, and increase thirst and urination, with vomiting, diarrhea, and dehydration only showing as later signs.
When Should I Worry About Diarrhea?
With so many potential causes for diarrhea in cats, it can be difficult to know when to worry. Should you panic if your cat has diarrhea but not other symptoms?
In most cases, if your cat has diarrhea but seems all right, you shouldn't be too concerned. Most of the major and more serious issues are all accompanied by other symptoms. For example, diarrhea is unlikely to be the first symptoms you notice if your cat has kidney disease and liver disease. Similarly, more severe GI infections which could be life-threatening will present themselves in other ways, too.
However, if their diarrhea gets severe – even if it is still the only symptom – you should immediately speak to your vet. Severe diarrhea can lead to dehydration which can be extremely dangerous to your feline! So that you know what constitutes as "severe", here are all the things you shouldn't ignore:
Consistent diarrhea that lasts over 24 hours
Intermittent diarrhea that lasts over 2 weeks
Bloody stools even if acting normal
Pooping upwards of five times per day
Diarrhea while taking other prescribed medication
Other symptoms in combination with diarrhea
A kitten or old cat with diarrhea
If any of these are true for your feline, call your vet immediately to ask for advice. It may be nothing serious, but it is always better to be safe than sorry! They will be able to advise you on treatment and ensure your cat is back to their old selves in no time at all.
What Can I Give My Cat For Diarrhea?
If your cat has runny stools but seems otherwise fine, it's not worth a trip to the vet. So, you may be looking for some home remedies for cats with diarrhea. While there isn't a specific treatment – you will have to wait for the diarrhea to pass – there are some things you can do to make your cat's sickness a little easier to deal with.
1. Feed Them Regularly
If your cat has diarrhea, you may be inclined to withhold food from your cat. If they're not eating, they can't be pooping, right? Wrong! You may need to change your usual feeding routine, but you do need to keep feeding your cat regularly.
If you only feed your cat twice per day, break their meal up into several smaller meals instead. Also, avoid giving them treats or any other rich or fatty food and stick to plain boiled chicken. You can gradually reintroduce your cat's regular food and return to their usual feeding schedule over a few days as they start to feel better.
2. Provide Lots of Fresh Water
A lot of extra water will be lost if your cat has diarrhea, so you need to ensure you provide plenty of fresh water for them to drink to replenish the amount lost. Dehydration is the biggest and most serious complication of diarrhea, and motivating your cat to drink prevents this from happening. Purchasing a cat water fountain could add some extra encouragement if needed.
3. Rest
To recover quickly, your cat will also need plenty of rest. Try to not encourage them to play until their stools have returned to normal, and try not to wake them up if you see them sleeping.
However, be mindful of just how sleepy your cat seems. Whereas they will want to sleep a little more for their body to recover, increased lethargy should be a sign of a more serious illness. If in doubt, speak to your vet for guidance and advice.
CONCLUSION
So, should you worry if your cat has diarrhea but seems fine? It depends on the situation, but in most cases, if your cat has no other symptoms then there is no major cause for concern. If this is the case, it is best to care for your cat at home by giving them plenty of fresh water to drink, small and regular meals of plain boiled chicken to eat, and letting them get a lot of rest.
However, severe diarrhea can be a sign of a more serious illness. If it lasts consistently over 24 hours, intermittently over 2 weeks, or in combination with any other symptoms you should speak to your vet. If in doubt, you should always speak to your vet for advice, too – after all, it's better to be safe than sorry!