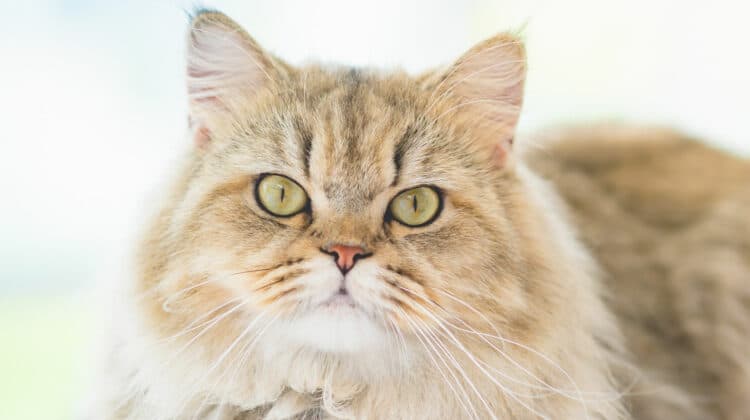 It is common for an elderly cat's appetite to come and go a little as they age. They may become more finicky when it comes to what food they eat, usually taking a preference for wet cat food. Moreover, they may change their feeding behavior to eat several smaller portions throughout the day.
However, if your older cat is suddenly not eating as much as usual, it can be a huge cause for concern for owners. I have a senior cat myself and was worried out of my mind that something was wrong when she suddenly lost her appetite!
Senior cats are more prone to developing illnesses, and big behavioral changes like a complete loss of appetite can be one of the first indications that something is wrong. Some of the common explanations include hyperthyroidism, diabetes, or kidney disease. These should all receive veterinary attention so that effective treatment can be given to your kitty.
In this article, I run through the three medical conditions I have just mentioned, alongside other reasons why your cat has lost its appetite. I'll also give you some suggestions on what you can do to address the issue. This way, you can rest assured knowing your cat is getting all the help it needs.
Why is My Older Cat Not Eating But Drinking?
It is usual for cats' behaviors to change slightly as they get older, and so it can be partly expected. Examples include increased disorientation, litter box issues, and increased hiding behavior. The appetite of cats will also shift slightly as they get older.
However, if your cat is not eating at all but still drinking, it is usually a sign something is wrong. And in most cases, the problem at hand is pretty serious and needs urgent medical attention. Here's a closer look at all the reasons behind this behavior and other symptoms to look out for.
1. Hyperthyroidism
Hyperthyroidism is a medical condition that is extremely common in elderly cats. Cats with this condition have an overactive thyroid gland. This overactive gland produces and releases an excess of the hormone thyroid which is important in regulating metabolism.
When cats have hyperthyroidism, there are a few clinical signs to watch out for. At first, these may only be mild and barely noticeable. Yet, as the disease progresses, it will become more and more obvious. The most common signs include:
Weightloss
Increased appetite
Increased thirst
Excessive urination
If you're reading this list confused then bear with me a second! While most cats will show an increase in appetite, it is also possible for them to stop eating. This is especially true if your cat has several other health issues as well as hyperthyroidism. However, their thirst levels will always be increased.
Other symptoms that you may see include vomiting and diarrhea. Your cat may also be hyperactive and run around the house like a maniac! You could also notice changes in their coat. It may be greasy, unkempt, and matted, especially for long-haired breeds.
If you think your cat has hyperthyroidism, you must take your cat to the vet as soon as possible. Cats can develop secondary problems including heart disease and/or high blood pressure if it is left untreated. However, your vet will be able to offer treatment to reduce thyroid activity and prevent these secondary complications from arising.
There are a few different options to treat hyperthyroidism. One example of treatment would be anti-thyroid medication, which allows for temporary control of the disease. The medication will need to be administered every day and for the rest of their lives. Stop administering the drugs and the thyroid gland will start producing an excess of the hormone again.
On the other hand, a curative method is radioactive iodine therapy. Usually, cats that have received this treatment are cured of hyperthyroidism within three months. Another option is the surgical removal of the thyroid glands which is also curative but more invasive. In some cases, simply reducing the amount of iodine in your cat's diet can cure the condition!
2. Diabetes Mellitus
Another reason why your older cat is not eating but acting normal and drinking plenty of water could be that they have diabetes mellitus. This is another hormonal problem in cats, this time concerning the hormone insulin which is produced by the beta cells located in the pancreas.
Cats with diabetes mellitus with have low levels of the hormone insulin due to one of three reasons:
Type 1: The insulin-producing beta cells are completely or near-totally destroyed, meaning there is no insulin produced. This is known as Type I diabetes and is extremely rare in cats.
Type II: When there are still beta cells present but there is an issue with producing or secreting insulin, this is known as Type II diabetes. This is the most common type of diabetes in cats, even more so in cats that suffer from obesity.
Type III: It is also possible that the beta cells produce healthy amounts of insulin. However, the receptor cells in their bodies have developed resistance, known as Type III diabetes. This resistance is usually due to changes in other hormonal levels, such as during pregnancy.
No matter which is the reason for the insulin imbalance, the effect on the body is the same. Insulin plays a central role in regulating blood glucose levels. When cats don't have enough of this hormone or cannot respond to it, their blood sugar levels become high and they are unable to use glucose as an energy source effectively.
As with hyperthyroidism, the clinical symptoms of cats with diabetes include increased thirst, increased urination, and weight loss. In most cases, cats will show an increase in appetite. With that being said, cats can also stop eating if they have diabetes.
Thankfully, diabetes mellitus is treatable in cats. If you think your cat has diabetes, arrange an appointment with your vet. They will prescribe treatment to help, usually in the form of insulin injections. You will also have to re-visit for regular checkups so your vet can monitor the condition and ensure the treatment is still working well.
3. Kidney Disease
It is also possible that your senior cat has kidney disease. As cats age, their kidney function will naturally start to decline, and so the risk of kidney disease increases with age. Therefore, this is a highly likely reason why your older cat isn't eating but is drinking like usual.
Kidneys play an important role in removing waste and toxins from the body. When the kidneys are not working properly, this waste isn't effectively removed from the blood, leading to a series of health issues. When diagnosed early, your cat can usually live a good quality. However, chronic kidney disease is not treatable and there is little you can do to help ease suffering.
Alongside a decreased appetite, other symptoms of kidney disease include:
Frequent and excessive urination
Urinating outside the litter box
Increased thirst
Frequent bacterial bladder and kidney infections
Weight loss
Vomiting, diarrhea, or constipation
Weakness and lethargy
If you notice any of these symptoms in combination, you need to take your cat to the vet. As early diagnosis is so important in cats with kidney disease, the sooner the disease is noticed the better. Your vet will be able to carry out blood and urine tests to confirm whether or not your kitty has kidney disease.
Once diagnosed, there are several different treatment options available to make the disease more manageable. Your vet will likely recommend a low protein and low phosphorous diet and/or phosphate binders to reduce the amount of waste produced. To replace the potassium and vitamins lost through excessive urination, you can also administer supplements. Depending on the symptoms of the disease, your vet will prescribe additional treatment to manage these.
Unfortunately, once your cat's kidneys become damaged it cannot be reversed. However, by following the advice from your vet, the condition shouldn't get any worse and the symptoms can easily be managed. This means your elderly cat could still have years of life ahead of them.
4. Decaying Teeth
Another reason your cat is not eating but drinking fine could be due to decaying teeth or other dental issues. This is highly likely in older cats as teeth decay as cats age. Throughout their lives, plaque can build up which destroys the surface of the teeth. This causes the teeth to wear away and expose their roots which are painful when touched.
Therefore, when cats with tooth decay try to eat, they will experience pain and discomfort. As such, they decide not to eat altogether. If you notice that your cat stopped eating dry food but eats treats, this is another common sign. The hard kibble will be hurting their mouth, whereas the odd treat here and there is more manageable.
You will also easily be able to notice tooth decay by inspecting your cat's teeth and mouth. If the roots of their teeth are exposed, it is a clear sign their teeth are decaying. Other symptoms include:
Pawing at the mouth
Grooming less often or altogether
Drooling
Loss of teeth
Weight loss
If you think your cat has tooth decay or another dental problem, take them to the vet. They will perform an oral examination and confirm whether or not any decay is present. Depending on the severity of the decay, your vet will then suggest one of two treatment options:
Mild Tooth Decay: Mild tooth decay can usually be resolved by thoroughly cleaning your cat's teeth. This needs to be done by your vet and under anesthesia. They will scrape away all the plaque and bacteria found on the surface of their teeth and gums to prevent any further rotting.
Severe Tooth Decay: In cases where the decaying has progressed and the teeth have become extremely damaged, oral surgery may be needed to remove the decaying teeth. By removing the damaged teeth, the pain will be alleviated and your cat can live a happy, healthy, and normal life.
5. Food Allergy
Finally, your older cat may not be eating because they have developed an allergy to their food. Allergies can develop at any time throughout a cat's life, so don't rule this one out too quickly! Even if you haven't changed your cat's diet, this could be the cause of their reduced appetite.
If your cat has a food allergy, it will often exhibit the following skin symptoms:
Inflammed and itchy skin
Excessive grooming
Frequent skin and ear infections
They may also show digestive issues, such as vomiting or constipation. When your cat's throwing up food but acting normal, it is another sure sign of a food allergy. Your kitty may show respiratory issues as well. All these symptoms aren't nice for your cat to experience and so will deter them from eating. However, they'll still drink their water happily as this isn't what is causing the issues.
Again, take your cat to the vet to determine whether their changes in behavior are due to allergies. They will be able to run allergen tests to find out precisely what in the food is producing an allergic response. They will then put your cat on a food trial diet for 6 – 8 weeks to check this substance is responsible for the allergic reaction.
If your cat's symptoms disappear when they are on the trial diet, this indicates the substance removed is responsible. To confirm this, you will then need to reintroduce the previously removed substance and see if their allergy symptoms return. If so, the allergy is confirmed.
There is no cure for allergies. However, having pinpointed its cause, you can eliminate this substance from your cat's diet and they won't suffer from any of the symptoms.
What To Do When My Older Cat Stops Eating?
When your older cat stops eating, there are several things I suggest you do. These should help establish the reason why and help to increase your cat's food intake.
1. Visit the Vet
The first and most important step is to speak to your vet. Before the appointment, monitor your cat's behavior and watch for any of the other symptoms I have mentioned above. The clearer you are about each symptom and its onset, the easier it will be for your vet to accurately diagnose the condition.
Once confirmed, your vet will discuss treatment options with you. Whatever is agreed upon needs to be followed precisely if you're hoping for a speedy recovery. However, bear in mind that older cats are more prone to illness and may not have that long left. Start cherishing the time you have together and follow your vet's advice for the best final years of their life.
2. Switch Cat Food
You will also usually need to switch to wet cat food. In general, cats prefer eating wet food so this could provide the encouragement your cat needs. Cats with dental issues are also more likely to happily eat wet food as it causes less discomfort. Alternatively, soft dry cat food is a happy middle ground if you wish to stick with kibble.
Your vet may also have offered you specific advice in terms of diet. They may recommend appetite stimulants, food supplements, or cat foods that are low in protein, for example. It may take a little while for your cat to adjust to its new diet, but once it has you should see an increase in appetite.
3. Provide All Necessary Resources
You should also make sure your cat has all the necessary resources they need to live a happy and healthy life. This includes things like plenty of fresh water, a scratching post and toys, and their own space to sleep and hide. Even things like getting an appropriate litter box for older cats can help.
These may not seem linked to your cat's appetite, but stress and feeding habits are closely connected. When a cat is stressed or unhappy, its appetite will typically decrease. Therefore, by ensuring they have access to everything else they need to feel fulfilled, their appetite may improve slightly.
MY FINAL THOUGHTS
As you can see, there are several reasons why your older cat is not eating but drinking. They may be suffering from hormonal issues such as hyperthyroidism or diabetes, have kidney failure, or are finding eating painful and uncomfortable because of food allergies or tooth decay.
All of these issues do require medical care, so take your elderly cat to the vet as soon as possible. The health of senior cats is more fragile, and early diagnosis and treatment can help extend their lives to the fullest! Most illnesses can be cured or managed with appropriate treatment.
In worst-case scenarios, your cat may not have long left. In this case, the best thing to do is spend as much quality time together as possible and truly appreciate the last few months they have. It can be tough knowing they aren't doing great and that the loss of your pet is pending. However, try to celebrate their lives and be thankful for the amazing times you've experienced with each other!