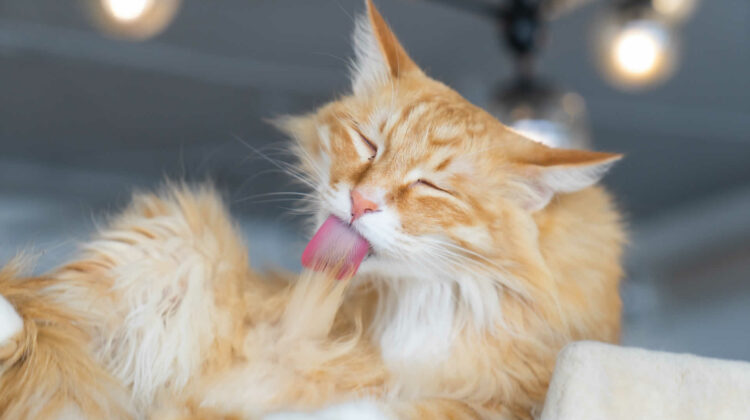 Did you know that cats spend around 50% of their day grooming themselves?
Cats are ferocious self-groomers and love to keep themselves clean. But sometimes, things get taken too far. Your cat will start to lose fur and have bald patches on its coat.
Not only is this unsightly, but an unhealthy coat can also cause your cat skin problems. The area of the skin they keep licking will get inflamed and sore. Besides, having areas of exposed skin can increase the risk of skin infections and further irritation. Thankfully, if you want to know how to stop a cat from licking its fur off, you're in luck!
I found my cat licking the hair off its belly and legs not too long ago, so used these tips to help stop this behavior. Within a little while, my cat's coat was healthy, shiny, and beautiful once again. You can use the same methods to stop your cat from licking hair off any area of its body.
Why Is My Cat Licking Its Fur Off?
First of all, I want to talk about why cats lick their fur off. Cats do have rough sandpaper-like tongues covered in tiny hooks called papillae. These hooks are designed to grab hold of loose hair and dirt with every lick. Therefore, they're effective at keeping cats' coats clean and shiny.
However, their tongues are not designed to remove whole patches of fur. If your cat is licking its fur off, it is a sure sign something is wrong. Don't despair though – this behavior is known as overgrooming and it is a common problem in cats of all ages and breeds.
The reason for this behavior can generally be divided into two categories: psychological issues and medical issues.
Let's take a closer look…
1. Psychological Issues
Whenever cats groom themselves, their brains release feel-good chemicals called endorphins. This explains why cats love grooming so much and spend hours doing it every day. It makes them feel genuine feelings of happiness and contentment.
As such, cats that are dealing with psychological issues – namely anxiety, stress, and depression – can lead to overgrooming. Cats use this behavior as a comfort method. It gives them a focus and helps them to feel more relaxed. This leads to hair loss, known as psychogenic alopecia.
You should easily be able to tell if your cat is stressed by spotting the signs. Whenever my cat is hiding and acting weird, I know it's because she's been spooked. Other general signs of stress you might notice include:
Changes in appetite and thirst
Excessive meowing and yowling
Reduced tolerance to people and animals
Reluctance to use the litter tray
Scratching the carpets and furniture
If you see a cat shedding so much more hair than usual, stress is likely. However, for stress to lead to psychogenic alopecia, it has to be chronic and severe. In many cases, it will be a combined number of stressors acting all at once.
Cat depression after a new kitten is common as this makes your cat feel like their territory has been invaded. Likewise, moving house can cause overgrooming as this is a complete change of your cat's environment. Rearranging your furniture, the absence of a family member, or living in a chaotic home can all lead to obsessive licking and hair loss.
2. Medical Issues
Cats can also lick their fur off when suffering from certain medical conditions. Most of these conditions cause your cat's skin to feel itchy and uncomfortable. They then scratch and lick the itch obsessively to try and relieve it, causing their fur to fall out.
Many medical conditions can cause cats to lick their fur off, including:
Parasites: If you notice your cat losing hair on its back near its tail, fleas are a likely culprit. These pesky parasites often congregate at the base of the tail, causing this area to become extremely itchy. Lice and mites can also result in overgrooming.
Skin Infection: Skin infections are also itchy and sore, causing excessive scratching, biting, and licking of the infected area. Look out for rashes and sores, both of which are a sign of infection. Fungal infections such as ringworm are relatively common in our feline friends.
Allergies: Cats that suffer from allergies will also overgroom. Most allergies are either caused by food allergens or environmental allergens. Allergies are very likely for a cat overgrooming its back legs and belly, so try and figure out what the trigger could be.
Arthritis: Arthritis mostly affects older cats and can cause severe mobility issues and joint pain. To cope with the pain, cats often overgroom. Remember that cats do purr when they are in pain, so don't assume a purring cat is a happy one! If your cat is suddenly lethargic and weak, struggling to move, and more irritable than usual, they could have arthritis.
Although not a medical condition per se, a cat licking hair off its belly and legs near its genital area could be pregnant. This is one of the common pre-labor signs in cats, along with nesting behavior, morning sickness, behavior changes, and appetite changes.
How to Stop a Cat From Overgrooming?
Now we know what causes overgrooming, we can better understand how to stop a cat from licking its fur off. Your first step should always be to visit your vet. They can rule out medical conditions or prescribe treatment to correct them.
There are also things you can do at home to help stop your cat from overgrooming.
Try some of these tips to see if they help calm your cat's obsessive licking.
1. Head Cones
You should never pick scabs off cats. This can open the skin and make infection more likely, exacerbating the condition and causing your cat to groom more. Things then get stuck in a vicious cycle of scabbing, picking, itching, and scabbing again.
While it is easy enough for us to not pick scabs, you can't explain to your cat that they need to do the same. Cats will naturally want to scratch and lick their scabs to try and alleviate the itching. This has the same effect as picking scabs – they will open, become sore, and be more prone to infection.
Head cones are of the best ways to stop your cat from licking itself. This is a great option while you are still figuring out what is causing the behavior or waiting for the treatment to work. The collar will get in the way and make it difficult to groom its back legs and tummy.
However, there are some limitations. For one, they're not super successful in stopping a cat from licking hair off its front legs. The cone won't get in the way too much, so your cat can still groom this area. Moreover, most cats will wriggle out of a head cone. They don't like wearing these cones, and I'd recommend attaching them to your cat's regular collar to try and limit their successful escape attempts.
2. No Lick Sprays
Look at your local pet store and you might come across overgrooming ointments and no-lick sprays. These are topical treatments that need to be applied to the area your cat is licking non-stop. They have a nasty bitter taste which cats hate. This can discourage licking – there is no enjoyment in self-grooming if it tastes disgusting!
I like to use no lick sprays when my cat keeps taking her head cone off. They aren't as effective in stopping overgrooming but are a great second option. However, bear in mind you might need to take a little time experimenting with different products to find one that works.
All ointments and sprays have different ingredients and so taste slightly different from one another. If your cat doesn't seem to mind the taste of one, try another. Moreover, you might find it easier to apply a spray than a cream, or vice versa.
Bear in mind that no-lick spays are a fantastic option for stressed cats that are suffering from psychogenic alopecia. However, they can irritate your cat's skin if there are open wounds, bites, or signs of infection. Make sure you don't apply these creams or sprays directly on top of a wound to prevent irritation as much as possible.
3. Stimulating Environment
Almost all psychological causes of overgrooming can be improved by making changes to your home environment. It needs to be as cat-friendly as possible, with all their basic needs and more met. This could include things such as providing:
Plenty of hiding places for when your cat needs some space
Elevated perches for your cat to climb and survey the room from
Scratching posts and cat trees your cat can dig its claws into
Lots of toys to play with, including automated toys if you're away from home a lot
A safe and enclosed "catio" area outside if you have an indoor-only cat
Catflaps for outdoor cats so your kitty can come and go as they please
Resting spots near windows so your cat can watch the outside world
Cat feeder puzzles and balls for mental stimulation
The addition of all of these things can really boost your cat's mood. They won't get as stressed as easily nor as depressed. And when your cat is feeling low or anxious, they can hide or take it out on a scratching post instead of their beautiful fur coats!
4. Pheromone Products
Cats rely heavily on scent communication. In fact, their sense of smell is one of their strongest senses. It helps them locate and hunt prey, find their way back home, identify people and animals, and mark out their territory.
Pheromones play a large part in this. These are chemicals made by cats' bodies, with every cat producing pheromones with a distinct and unique smell. We don't have the receptors in our bodies to pick up on these pheromones, but other cats do. When cats can smell their own pheromones in your home, it helps them feel content and at ease.
Many pheromone products have been developed which use synthetic copies of these calming pheromones. My favorite is pheromone collars. Your cat wears the pheromone collar just like a usual collar. It releases pheromones into the environment gradually wherever your cat goes.
Other options include pheromone sprays and diffusers. Diffusers are good as you don't need to keep applying the product – simply plug it in and replace it once all the pheromones have been used up. However, this does mean the pheromones will only be released in one room of your home.
Sprays are great as you can apply them wherever you like! Yet you do need to apply them several times every day for them to be truly effective. Consider which type of pheromone products you'd prefer and give them a try. They're clinically proven to calm cats, and the happier your cat, the less likely it will overgroom and lick its fur off.
5. Flea Treatments
Out of all the possible medical conditions leading to fur loss, fleas are the most common. In fact, it is estimated that 1 in every 4 cats are carrying these pesky parasites. You can help eliminate flea infections by providing flea treatment.
I always like speaking to my vet about the different types of flea treatments available. There are topical treatments, shampoos, and oral medications, all of different strengths. Alternatively, you can purchase flea treatment over the counter. But make sure you read the label so you know how to use it and whether or not it is safe for cats.
Once the infection has been eliminated (if there was one in the first place) you can then look at flea prevention medication. This needs to be given to your cat each month and will help to prevent them from picking up any fresh flea infections. All cats will benefit, but it's even more important for outdoor cats or those that live in multicat households.
Flea collars are another option. Similar to pheromone collars, flea collars contain a flea-repelling substance that is released gradually onto your cat's skin. This spreads around your cat's entire body, stopping fleas in their tracks. Others release a toxic gas that kills any fleas nearby.
6. Regular Brushing
Regular brushing can also help improve the quality of your cat's coat. It prevents things like matted cat fur, especially in long-haired kitties with thick luscious locks. Using a flea comb can also help to eliminate and prevent flea infections before they become severe.
Any cat in a head cone will also need to be brushed while they're wearing it. The cone will prevent your cat from scratching and irritating their skin further, but it will also stop them from grooming themselves altogether. You need to take over these duties until the underlying cause of overgrooming is treated and the cat cone removed.
Many cats love being brushed – it's a great bonding opportunity for the both of you. Yet others hate being brushed! You'll want to check out these brushes for cats that hate to be brushed if you know the latter applies. They're gentler on your cat's skin, which is also handy when dealing with skin irritation.
7. Allergy Relief
Another idea is to look at allergy relief for your cat. Air purifiers are a great option if your cat is suffering from airborne allergies, such as pollen and dust mites. If you're an allergy sufferer, air purifiers will also help keep your allergies at bay. These units have advanced filters that capture and remove allergens and other impurities in the air.
In cats, food allergies are also extremely common. Despite being carnivores, it is surprisingly usually the meat in cat food that triggers allergies in cats. You could try putting your cat on a food elimination diet for a month and seeing if its allergy symptoms improve.
If so, the food you have eliminated from their diet is likely what is triggering their allergy symptoms, including overgrooming and hair loss. To confirm this, reintroduce the food. Do their symptoms return? Permanently eliminate this food from your cat's diet to rid their allergies for good!
MY FINAL THOUGHTS
Now you know how to stop a cat from licking its fur off. So, what are you waiting for? Whether you see your cat licking hair off its belly and front legs or overgrooming its back legs, these tips will surely help.
However, bear in mind that things like head cones and no-lick sprays are intended as temporary solutions. For long-term prevention, you want to create an enriching home environment, keep pesky parasites at bay, and rid your cat of any allergies.
Also, don't forget to take your cat to the vet for a checkup if it won't stop licking its fur off. Even if nothing is wrong, it is good to rule out medical conditions. And if something is wrong, don't panic. Most conditions that cause itchy skin and irritation are temporary and easily treated. Your cat will have a luscious, silky, shiny coat again before you know it!