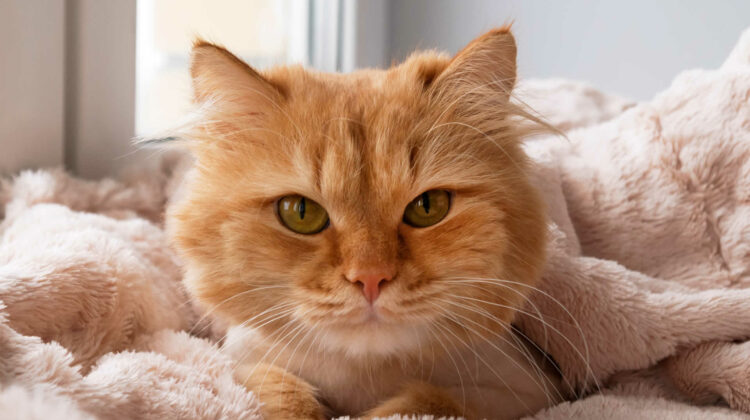 A healthy cat has a beautifully thick and shiny coat with no bald patches whatsoever. Therefore, a cat losing hair on its back near the tail is something to worry about. I'm not talking about a little shedding here – I'm talking about noticeably thin hair in this region or entirely bald patches.
Hair loss is known as alopecia and this is a symptom of several conditions. The most common cause is a parasitic infection such as fleas. This can cause your cat to scratch excessively, damaging the hair follicles and causing hair loss. However, it could also be down to allergies, stress, stud tail, or even things like urinary disorders and arthritis.
In this article, I talk about these reasons for hair loss in cats in more detail. Plus, you'll learn more about what specifically causes feline alopecia in the first place. I even share my top tips on preventing your cat from losing hair on its tail again in the future!
What Causes Hair Loss in Cats?
Hair loss in cats is a symptom of several conditions and happens when the hair follicles are damaged. These are small holes in your cat's skin from which their hair grows. The hair starts growing at the bottom of the follicle known as the root until eventually growing out past the surface. The follicles also produce sebum to keep the hair nourished.
Hair follicles grow hair in a cycle. This is why normal shedding is expected from cats. When a cat sheds its hair, these hairs have reached the end of their cycle. The follicles then grow fresh hairs and the same thing happens again and again. That is unless the hair follicles become damaged.
When the follicles are damaged, it impairs their ability to grow new hair. It can also cause the old hairs to fall out prematurely, leading to hair loss and bald patches. Just some of the ways follicles can be damaged include:
The immune system sees the hair follicles as foreign and starts attacking them
Twisting or pulling of the hair inside the follicles causes the hairs to come loose early
Stress hormones stimulate the falling out stage of the hair growth cycle
The follicles become inflamed due to illness or infection
8 Reasons for Cats Losing Hair on Back & Tail
Several illnesses and conditions are responsible for causing hair follicle damage and disrupting their hair growth cycles. All of the following conditions are specifically related to a cat losing hair on its back near its tail, rather than generalized hair loss from its whole body. See which you think applies.
1. Parasitic Flea Infections
The most common cause of a cat losing hair at the base of its tail is fleas. Most of us are fully aware of how annoying fleas can be! These pesky creatures live in our cats' coats and feed on their blood. These bites become severely itchy. Fleas are particularly problematic in kittens as blood loss can cause anemia.
But, why do fleas cause hair loss? Well, cats with fleas scratch and itch like crazy! And the base of their tails happens to be one of the itchiest spots. Fleas like to congregate here, so most cats will have more flea bites and skin irritation in this area than anywhere else on their bodies.
The flea bites themselves can cause the hair follicles to become inflamed. The constant scratching and biting then make this worse. Moreover, as your cat scratches, they will end up twisting and pulling on their hair which makes yet more hair fall out.
Many cats also suffer from allergies to flea bites known as flea allergic dermatitis (FAD). This makes the skin even itchier and more inflamed, and the quality of their fur coats will gradually poorer. You might even see open sores and scabs on the skin. You should never pick scabs off cats when the bites try to heal as this can cause even further damage and exacerbate the alopecia.
2. Fungal Ringworm Infection
Your cat could lose hair from its back because they have ringworm. Ringworm is a fungal infection. The fungi feed on the keratin found in the outer layers of your cat's skin and cause raised skin lesions in a circular shape. Along your cat's back is one of the main sites for these lesions, along with their chest, front legs, and head.
Hair loss commonly occurs where skin lesions form. This is because the fungal spores infect the hair shafts and follicles. Their hair within these follicles becomes weak, fragile, and falls out. However, cats with ringworm can also develop more generalized hair loss over their entire bodies, making your cat's coat look patchy and unkempt.
Thankfully, ringworm is pretty easy to treat in cats. You will usually need to apply an antifungal medication topically to the infected areas and a systemic drug as well. Within about six weeks, the final infection should be completely gone. Ringworm can also correct itself in cats, but this process will take around 9 months.
Therefore, you want to get your cat treatment quickly. Ringworm that is left untreated can cause extreme hair loss and a lot of bare skin exposure for nine months while your cat heals itself. Subsequent wounds and infections are then more likely.
3. Food or Environmental Allergies
I have already explained how flea allergies can cause alopecia at the base of your cat's tail. However, other allergies can also cause similar results. Flea bites aside, most allergies will either be found within your cat's food or their environment.
Food allergies are extremely common in cats. Interestingly and surprisingly, it is the protein found in cat food that is usually responsible. If you see your cat throwing up hairballs daily and vomiting after eating, food allergies are highly likely. They might also suffer from diarrhea.
In terms of environmental allergies, all sorts are lurking nearby that could be triggering an immune response. Examples include dust mites, pollen, mold, or even things like dust and fragrances from certain cat litters. In these instances, it is more likely that your cat will sneeze, cough, and have discharge coming from their eyes and nose.
Both food and environmental allergies also cause itchy and inflamed skin. This will cause your cat to scratch and itch their bodies, contributing to hair loss. Cats with allergies will usually overgroom as well which further damages the follicles and causes bald patches and hair thinning.
4. Supracaudal Gland Hyperplasia
Is your cat losing hair at the base of its tail only? If so, they might be suffering from supracaudal gland hyperplasia. Also known as stud tail, this is disease is commonly seen in non-neutered male cats. However, it can still exist in neutered males and females – this is just much rarer.
The supracaudal gland is an area at the base of your cat's tail that contains sebaceous glands. These are responsible for producing sebum and oils which usually keep your cat's coat well nourished, moisturized, and healthy. Yet these glands are overactive in cats with stud tail and so an excessive amount of sebum is produced.
This excess oil makes the hair at the base of your cat's tail extremely greasy-looking. The sebum can also clog the pores in your cat's skin and cause hair loss in this region. This area is also more likely to become infected, causing yet more hair thinning and bald patches. You might also notice a lot of blackheads at the base of the tail and a foul smell coming from this area.
The reason supracaudal gland hyperplasia is most common in intact males is that male sex hormones drive the production of sebum. Therefore, getting your male cat neutered might solve these issues. Regularly using antiseborrheic shampoos provides effective treatment if not.
5. Psychogenic Alopecia
Most hair loss in cats is caused by a medical condition or disease that damages the follicles and causes inflammation. However, cats can also suffer from psychogenic alopecia. This is where cats groom excessively and compulsively which makes the hairs fall out prematurely. Usually, this type of alopecia happens without any inflammation of the hair follicles themselves.
Psychogenic alopecia is generally caused by anxiety and depression, both of which are typically triggered by stressful events. Cats are creatures of habit and hate any change to their environment or routine. This explains why you often see a cat shedding a lot when traveling in the car or moving home. The unexpected change and new situation trigger this reaction in the body.
However, psychogenic alopecia is different from regular stress-related shedding. It is a result of overgrooming. Cats often groom when stressed or anxious as they find the behavior calming. They essentially use it as a coping mechanism when scared or upset.
A cat grooming excessively is one of the most common signs of depression. The areas they overgroom most tend to be their lower back, their stomach, and the inside of their hind legs. This can cause hair loss in these areas.
If your cat does suffer from extreme stress, anxiety, or depression, you might also notice that:
There are changes to your cat's usual appetite
Your cat is more withdrawn from people
There is a lack of interest in activities
6. Urinary Tract Disorders
Stress is not the only cause of overgrooming in cats. Urinary tract disorders can also cause your cat to groom its genital area and hindquarters compulsively. A cat overgrooming its back legs will suffer from hair loss in these regions.
Urinary tract disorders are pretty common in cats, and you'll likely know if your kitty has contracted one. They'll be visiting their litter box a lot more than they usually would and will try to urinate for a long time. However, they'll only pee in small amounts and will often stain and cry out as they urinate. In some cases, you might also see blood in the litter box.
They are pretty painful and so your cat overgrooms its genital to help cope with these feelings of discomfort. Yet, as already discussed, their rough tongues can pull and tug on the hairs. Grooming in the same area repeatedly will result in bald patches.
7. Feline Arthritis
If your cat is losing fur on its back legs rather than its tail, it could be caused by arthritis. Like urinary disorders, arthritis causes cats lots of pain. In fact, it is one of the most common causes of pain and discomfort in cats, particularly affecting seniors and overweight/obese felines.
Cats might use grooming as a coping mechanism to deal with the pain they're going through. However, cats with arthritis will have mobility issues and usually struggle to groom all areas of their bodies. Therefore, their overgrooming tends to be localized to areas they can reach, such as their back legs. Most arthritis is in the legs, further explaining why this is the target area.
Other symptoms of arthritis that you might notice include:
Difficulties getting up and moving around
Stiffness when walking and a reduction in usual movement
Reluctance to jump onto surfaces and climb stairs
Stiff and swollen joints that are sore to touch
Aggression when being touched in painful places
8. Other Underlying Medical Conditions
Any other medical conditions that cause cats pain can similarly cause overgrooming. As a result, you might see your cat losing fur on its back legs, the base of its tail, or anywhere else on its body.
If your cat does have an underlying condition that you don't know about, there will be other signs and symptoms. Common indicators of illness include lethargy, changes in appetite, vomiting and/or diarrhea, and noticeable weight loss or gain. Pay attention to any changes that you do notice so speak to your vet if you think something is wrong.
Bear in mind that some medical conditions need to be caught quickly or they could be fatal. For example, a cat not eating or drinking for 3 days is a medical emergency! Never hesitate to contact your vet if in any doubt – it is always better to be safe than sorry.
How to Prevent Hair Loss in Cats?
Although not an exhaustive list, you now know the most common reasons why your cat is losing hair on its back or near its tail. In all cases, hair growth can return to normal once the underlying condition is treated. Speak to your vet about possible treatment options. Your cat's coat should be shiny, thick, and healthy again in no time at all.
You can then put preventative methods in place to try and stop your cat from losing fur again. Below are my top tips on keeping your cat's coat nourished and thick all year round:
Calm Home Environment: Stressful environments can cause cats to shed their fur and their coats will thin. On top of this, cats overgroom as a coping mechanism that causes distinct bald patches. Therefore, a calm yet stimulating home environment free from stressors can help improve your cat's mood. And how they feel on the inside will be reflected in their healthy patch-free fur coats.
Nutritious Diet: A nutritious diet can also go a long way in your cat having a good quality coat. Your cat needs to receive nutrients from its diet to use as building blocks for new hairs in the hair growth cycle. High-quality foods with all the nutrients they need will help their coats and the rest of their bodies thrive. Be wary of potential food allergies though and be sure to avoid these allergens if you know your cat is sensitive to some foods.
Monthly Flea Treatment: Fleas are the most common cause of hair loss in cats, especially when the fur is missing near their tails. Applying a topical flea treatment each month can help repel fleas and ensure your cat doesn't end up catching an infection. Alternatively, flea collars are another option if you don't want to keep up with monthly medication.
Reduce Allergen Exposure: If it transpires your cat suffers from environmental allergies, you'll want to limit their exposure to these as much as possible. Keeping cats indoors can lessen the severity of allergies to pollen. Similarly, keeping your home clean and free from dust is useful in dust mite allergies. Air purifiers are another good shout. These devices capture airborne allergens and remove them from your home.
MY FINAL THOUGHTS
There are several reasons for a cat losing hair on its back and near its tail. This is usually down to a medical condition, such as fleas, allergies, or ringworm which cause inflammation. Emotional and behavioral issues such as stress and depression can also trigger psychogenic alopecia.
If your cat is suffering from hair loss anywhere on their body, you should take them for a checkup with your vet. You'll need to treat the underlying condition before it causes complications. Once you've done this, their fur coats should return to full health in no time. Your cat's fur will be shiny and healthy, just as they feel on the inside.