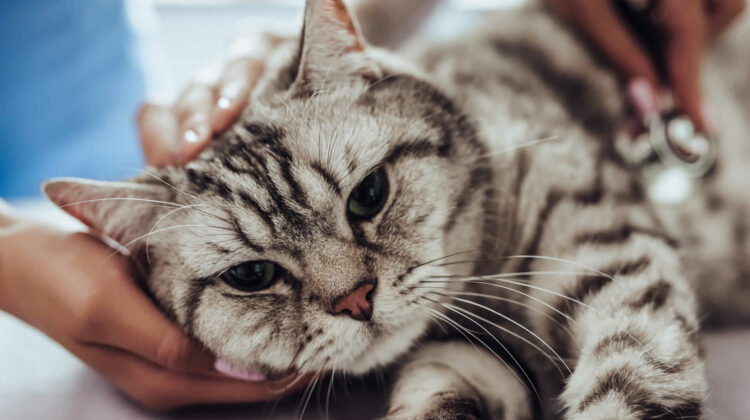 Most of us see a cat purring as a sign of pure happiness and contentment. In most cases, this is true – cats let out this low rumbling vocalization to show they are happy. You may especially notice your cat purring more when being petted or getting fed.
However, cats are complicated creatures, and often their vocalizations and body language can mean more than one thing. So, do cats only purr when they are happy? Or do cats purr when they are in pain or feel sick?
It may come as a surprise, but many cats do purr when they are in pain. It is thought that purring has healing qualities that can help soothe your kitty and speed up its recovery. The secret to this all has to do with the frequency of the vibrations and the effect this has on their body.
In this article, I will talk more about the mysterious power of purring and how it can help ease pain in cats. I'll also run through some other symptoms of pain you can look out for, helping you know when your cat needs a little extra love and care.
Purr & Pain
Scientists, veterinarians, and cat owners alike have long been asking why cats purr. The most well-known reason is happiness and contentment. For example, it is common that cats purr when you pet them to show their enjoyment and as a means of affection. However, there are several other reasons for purring, including:
Dreaming: Just like humans, cats can dream, which is one of the most common reasons why cats purr when they sleep. What they're dreaming about though we may never know!
Bonding: When two cats purr together in unison, scientists believe they are bonding. This links back to when kittens and mothers purr to each other to develop a strong family bond.
Overstimulation: Although the majority of the time cats purr when you pet them as a way to show happiness, they also purr to show discomfort and overstimulation.
Another reason for purring is pain. This pain could be physical as a result of an injury or sickness, or mental pain such as stress or anxiety. Purring is a comforting behavior for cats. As such, they purr when they feel stressed or in pain as a means of helping themselves to calm down and making them feel better.
Purring is also known to have healing powers that can help your cat recover from the illness or condition that is causing them pain more quickly. This is all to do with the frequency of the purring vibrations. Moreover, purring releases endorphins which help cats cope will illness and relieve pain while simultaneously lowering stress.
With this in mind, it makes perfect sense as to why cats purr when they are in pain! These intelligent creatures are using purring as a tool to help them recover quickly and remain calm, even when they aren't feeling 100% themselves.
How Do Purrs Help Cats in Pain?
So we know that cats definitely do purr when they are in pain. We also know the reasons for this – purring helps with recovery and reduces pain-related stress. But how? How does purring have such incredible healing powers on the body?
There are actually several reasons how purrs help cats in pain. This explains why purring helps with all kinds of injuries and medical conditions. What's more, it could offer some explanation as to why cats are well-known for recovering from broken bones and injuries quickly, and it's all in the power of the purr! Here's a closer look at all the ways purring helps with pain and healing.
1. Purring Releases Endorphins
Endorphins are hormones inside a cat's brain that are responsible for causing feelings of happiness and motivation. This explains why purring is linked to happiness and contentment – cats purr when they are happy, releasing more endorphins and making themselves feel even better!
However, endorphins also play a role in pain management. These hormones act as analgesics, meaning they diminish the perception of pain. As such, endorphins running through your cat's nervous system act as a natural form of pain relief. The more endorphins present, the bigger the pain-relieving effect.
Endorphins are released naturally by the body in response to pain. However, when a cat starts purring it will produce even more of these hormones. This will ease their pain while simultaneously making them feel happier, less stressed, and more able to cope with pain.
2. Purring Acts as Vibrational Therapy
A purr is essentially a continuous vibrating sound that is made by the twitching of the laryngeal muscles that cause rapid movement of the vocal cords. This happens at a rate of 25 to 150 vibrations per minute and results in the rumbling purring noise we know and love.
The vibration frequency of purrs – 25 to 150 Hz – is the same frequency used in medical vibrational therapy in humans. When having vibrational therapy, a vibrating device is placed on part of the body, allowing the vibrations to be transmitted to the area and the muscles under the skin.
In response to these vibrations, the muscles will contract and relax quickly. This carries with it several benefits, including improving blood circulation to the muscles and helping muscles and tendons recover quickly from strain or injury. The improved circulation also enables blood to get to the injured area more quickly, easing muscle pain.
Muscles aren't the only thing vibrational therapy helps with though – it also improves bone and joint health. Vibrations at this frequency stimulate the production of osteoblasts, which are the cells that produce bone. Therefore, the vibrations also help with the healing of broken bones and with joint issues and bone cancer.
As purring is within the same vibration range as vibrational therapy, purring cats receive all of these healing benefits! They are literally healing themselves from the inside out.
3. Purring Makes Breathing Easier
Some cats may be in pain due to respiratory issues which makes breathing difficult. Interestingly, some studies have found that purring helps with this too! However, this does depend on the type of breathing difficulties – it can't help with allergies but it can help a cat breathing heavily while resting return to a normal breathing rate.
This healing power is thought to be a result of both the endorphins and vibrations create a calming effect and ease stress. The rhythmic vibrations also help your cat's lungs to establish a steady respiratory rate. You'll find it interesting to know that this has the same healing effect on humans too!
How Can I Tell if a Cat is in Pain?
Although cats do purr when they feel pain, this shouldn't be the sign that you're looking for. Cats purr for all kinds of other reasons too, including happiness, overstimulation, bonding, and even dreaming! As such, you need to look for more obvious and notable signs of pain.
Below are some of the symptoms of pain you should look out for:
Sleeping Positions: There are certain cat sleeping positions when sick that can be obvious signs of pain and discomfort. For example, the cat loaf position could indicate a paw injury whereas the meatloaf position is a sign of severe pain and kidney disease.
Appetite Changes: Changes in your cat's feeding behaviors are an easy way to tell something isn't right. If your cat is not eating much but acting normal, they may be suffering from dental pain or discomfort in their digestive tract.
Lethargy: Cats in pain will seem more tired than usual as their body is conserving energy and using it to help them heal. If they have an injury or other condition that is causing pain when moving, this can further deter them from moving and engaging in physical activity.
Behavior Changes: If your cat is suddenly acting more aggressive than usual, particularly when being touched, they are likely in pain. The discomfort will be causing them to be irritable. Besides, touching the injured area could cause the pain to intensify and your cat may lash out.
Grooming Habits: Changes in grooming habits are also common. Your cat may lose interest and stop self-grooming altogether. On the other hand, they may overgroom the injured and painful area, causing sore skin and hair loss.
Vocalizations: Purring isn't the only noise cats make when in pain. They will often become increasingly vocal in other ways, making urgent and shrill meow sounds. This is often accompanied by hissing and growling.
MY FINAL THOUGHTS
Contrary to popular belief, cats purr for all kinds of reasons aside from happiness. This includes pain and sickness. A cat's purr has several healing properties that ease discomfort, helps to speed up recovery, and alleviates stress accompanied by pain.
If you think your cat is in pain, take your cat to the vet so they can try to determine the cause and recommend treatment. In the meantime, try giving your cat catnip. Catnip may be helpful for cats in pain, further easing their suffering. Allowing them to have the space they need while still offering love is also vital while your cat makes its recovery.