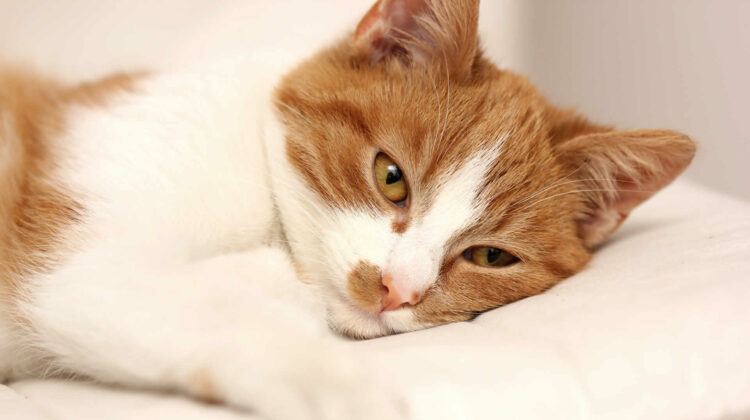 As breathing is imperative for survival and good health, breathing difficulties and abnormalities need to be taken seriously. It is common for cats to breathe quickly and heavily after exercise. But if your cat is breathing heavily while resting this can be a sign that something is wrong.
There are three different types of heavy breathing, which I will run through in detail in this article. Paying close attention to the type of heavy breathing your cat is doing can help determine what could be wrong – be that something as simple as stress to more serious airway diseases.
If you have noticed your cat breathing heavily when sleeping or resting, this article should give you all the answers you need. I run through the possible reasons for heavy breathing! But first, let's take a look at what normal breathing in cats is so we have something to compare to.
What is a Cat's Normal Respiration Rate?
Before you get worried about your cat's heavy and rapid breathing, it is important to understand what is normal for cats. This way, we have a benchmark to compare our cat's breathing against, helping us to determine whether something is wrong or not.
The normal respiration rate for cats is completely different from a healthy respiration rate in humans. So, if you are worried about your kitty as they are breathing faster than you, don't be! Cats should naturally have a quicker rate of 20-30 breaths per minute when resting, compared to a human's 12-16 breaths during the same timeframe.
You can easily work out your cat's respiration rate when resting to see if it falls into this bracket. To do so, simply follow these steps:
Wait until your cat is completely relaxed, preferably sleeping.
Take a stopwatch and set it for 30 seconds.
During this time, count the number of breaths you see by paying attention to how often you see your cat's chest and stomach going up and down.
Once the timer has finished, take the number of breaths and multiply it by two for their respiration rate per minute.
If your cat's respiration rate falls between 20-30 breaths per minute, they are breathing at a healthy rate. Anything over this and you should start to worry.
Why is My Cat Breathing Heavily While Resting?
In most cases, heavy breathing will be rapid, similar to how we breathe more deeply and quickly following exercise. When this happens at rest, it is usually a sign that something isn't quite right with your furry friend. They're trying to get more oxygen into their bodies, and they likely need to visit the vet. This breathing can be done either with an open or closed mouth.
Other times, heavy breathing won't be fast at all. Instead, your cat could be breathing deeply and slowly as it is breathing with difficulty. This is often still a sign that something is wrong but has a different set of problems associated with it. Rather than a lack of oxygen, it is more likely caused by an obstruction of the airways or inflammation within the lungs and trachea.
As such, to answer the question "Why is my cat breathing heavily while resting?", I have split the reasons into three separate breathing classifications. Refer to the section that is more alike to your cat's breathing to try and identify the issue. Alternatively, you can read all three for a comprehensive understanding of some of the breathing issues cats may face.
Reasons for Fast & Heavy Breathing
When a cat's respiratory rate increases to more than 40 breaths per minute, this is called tachypnea. By increasing their respiratory rate above the normal threshold, cats are attempting to get more oxygen into the lungs.
There are some occasions when tachypnea is expected and actually a good thing. For example, rapid breathing occurs naturally during and after exercise as cats use more energy and oxygen when they run and jump. Their breathing rate then increased to help replenish all the oxygen their muscles and tissues have just expended. It helps them with their recovery.
However, heavy breathing when resting is not normal. Your cat's muscles and tissues aren't using up much energy as they laze around, so there is no deficit in oxygen in the body that needs replenishing. Therefore, you can be pretty certain that breathing at rest indicates an issue. When my cat is breathing heavy and seems lethargic, there is even more strongly pointing towards a respiratory problem!
There are several reasons why your cat could be needing more oxygen and so starts breathing fast and heavy. Some of the more common causes your vet might identify are listed and explained in detail below.
1. Anemia
Red blood cells are responsible for carrying oxygen around the body. Specifically, part of the red blood cells called hemoglobin binds to the oxygen and takes it where it needs to go.
When cats have a reduced number of red blood cells or the red blood cells, they do have are lacking hemoglobin, they are referred to as anemic. As a result, anemic cats cannot carry oxygen effectively in the blood. Therefore, the body isn't getting the oxygen supply it needs and so cats start breathing rapidly to try to compensate.
Aside from tachypnea, there are several other clinical signs of anemia to look out for. These are explained in detail below:
Lethargy: Is your cat sleeping more than usual? This is often the case with anemic cats. The lack of oxygen in the muscles and tissues deprives them of energy, and your cat will be much more fatigued than usual.
Pale Gums: This is easily the most obvious clinical sign of anemia. As there is a lack of oxygen, blood is directed from the gums to more essential parts of the body such as the heart and brain. As a result, the gums look pale pink or white.
2. Heart Failure
Tachypnea is also a symptom of heart disease. As heart disease progresses, the walls of your cat's heart will get thicker and thicker. As this happens, the volume of the chambers inside will decrease in size, meaning they are unable to hold as much blood as they could before.
As such, the heart is unable to pump as much blood around the body, so parts of it aren't receiving enough oxygen. To compensate for this, their breathing rate increases in an attempt to inhale more oxygen and get it delivered to where it is needed most.
Heart disease can be congenital, meaning your cat is born with a heart deformation that impedes the heart's function. However, the majority of cases start in adult life. The exact cause isn't known, but it tends to be much more common in aging felines. If you have an old cat breathing heavy and rapid, heart disease is a likely explanation.
Aside from heavy breathing, other symptoms of heart disease include weight loss, lethargy, and an increased heart rate. If your cat is breathing fast and not eating, this could further indicate a heart condition as loss of appetite is another prominent symptom.
3. Feline Asthma
Heavy, rapid breathing is a sign of feline asthma. This is where your cat's airways are restricted due to inflammation and swelling, which can make it difficult for oxygen to reach the lungs. To try and get more oxygen into the body, cats will breathe more rapidly and deeply.
Aside from heavy breathing, you may also notice the following symptoms:
Wheezing: As air pushes through the constricted airways, it makes a whistling sound. This is known as wheezing, and it is one of the main and most distinct characteristics of asthma. This is true for both asthmas in cats and humans!
Coughing: When the airways feel constricted, the body automatically sends signals from the brain to initiate coughing. It's its way of trying to shift whatever is causing the constriction. Specifically, a cat coughing with its tongue out is likely an asthmatic cat.
Snoring: Snoring is considered normal in cats that are overweight or have flat faces, but snoring can also be a sign of asthma. So, if your cat sounds congested when breathing, this could be why!
Reasons for Fast Open-Mouth Breathing
Similar to tachypnea is fast open mouth breathing, better known as panting. Here, the only difference is that your cat is breathing heavily and deeply but through its mouth.
There are several reasons why your cat could be panting. Some of these overlap with the reasons for tachypnea. For example, heart problems can lead to heavy open-mouth breathing. Similarly, some asthmatic cats will pant during an asthma attack to try and get more oxygen to the lungs.
There are a few other reasons why your cat could be panting that are distinct from the causes of tachypnea. This includes all of the following conditions.
1. Heatstroke
Just like dogs pant to cool themselves down, cats can also exhibit fast breathing when they are too hot. However, unlike dogs, panting is not normal in cats and is a sign of heatstroke. This is where cats start overheating and are unable to cool their body temperature back to a safe level.
If a cat cannot return its body to an optimum, it is considered a medical emergency. Their body temperature will continue to rise, quickening not only their breathing but also their heart rate. This can lead to seizures, coma, or in worst-case scenarios, death.
If your cat has heatstroke, you will often see your cat breathing heavily while resting. Physical exercise will make them hotter and will make their body temperature rise even more rapidly, so they will seem lazy and lethargic.
Cat sleeping positions when sick can also be an easy way to identify heatstroke. An overheating cat will almost always lie on a cold hard floor, such as tiles or wood. They will be in the splooting position, with their bellies pressed against the cold surface. This feels nice against their hot bodies and can help to cool them down to a normal temperature.
2. Stress & Anxiety
When a cat is panting and breathing heavily while resting, it can be a sign of stress. Think of it as being similar to some people suffering from panic attacks during a highly stressful situation.
As cats are creatures of habit, even the smallest changes to their environment or routine can cause them to feel stressed. However, panting is usually reserved for more extreme situations, such as traveling in a pet carrier or visiting the vet. Having said that, each of our furry friends has their own unique personality, and some are much more anxious naturally than others.
There are several other behavioral changes you will notice if your cat is stressed as well. Most cats will hide more than usual, vocalize excessively, and obsessively self-groom. If you're not careful, stress can also cause depression and a loss of interest in activities your cat previously loved! If you see your cat sleeping all day and not eating, they might be struggling mentally.
If you think your cat is heavy breathing due to stress, try to identify the cause and remove the stressor from their environment. Where this isn't possible, try to keep everything else as consistent as possible to help your cat adjust to the change. Providing plenty of private places for them to retreat to when they feel overwhelmed can be a good idea too.
Reasons for Labored Breathing
Finally, we move onto the third and final type of heavy breathing: labored breathing. In medical terms, labored breathing is referred to as dyspnea. Cats with dyspnea aren't necessarily breathing quickly, rather they are generally finding it difficult to breathe. However, a cat can have both dyspnea and tachypnea, or have dyspnea and open mouth breathing.
Cats with labored breathing, aside from the breaths being heavy, will usually show the following symptoms:
Noisy breathing and/or coughing
Open mouth breathing or flaring nostrils
Significant movement of the stomach and chest with each breath
Strange body posture, holding their head low to the floor in a gag-like position
As with tachypnea and panting, heart conditions can lead to dyspnea for the same reasons explained above. However, most of the time, dyspnea is caused by issues with some part of the respiratory tract, be that the nose, lungs, or trachea. Examples of illnesses affecting these areas are explained in detail below.
1. Trapped Foreign Object
Often a curious kitty will accidentally inhale or ingest a foreign object, such as a piece of string or ribbon. If this item gets lodged in the throat, it will act as an obstruction and block the airways, making it much harder for your cat to breathe. Your cat might make weird noises with every breath, or its breathing rate might increase to get more oxygen into the lungs.
Alongside difficulties breathing, there are several other signs that your cat has inhaled something it shouldn't have. These are as follows:
Retching & Gagging: Your cat will try its best to remove the object from its throat by retching and gagging. Many owners assume a cat is just trying to cough up a hairball. If you see your cat coughing but no hairball comes up, consider they may have inhaled or ingested something.
Drooling: Cats are not normally ones to drool. Yet when a foreign object is stuck in their throat, their salivation rate will increase. This is an obvious symptom that points to lodged foreign objects.
Regurgitation: When the foreign object is stuck in the esophagus, regurgitation is common. You might also notice trouble swallowing, and your kitty will likely be reluctant to eat any of its food.
When the foreign object cannot be removed by coughing or vomiting, you need to call your vet. Don't hesitate to call your vet if your think this is what you're dealing with. Cats need to be able to breathe! Obstructions should be treated as an emergency and your cat should receive urgent care.
Your vet will need to remove the item so your kitty can breathe easy once more. If any internal damage has been caused by the foreign material (often the case with sharp materials), your vet will also work to fix this.
2. Tumors
Cats can develop tumors anywhere in the airways, including their nose, trachea, and lungs. These types of tumors are fairly uncommon in cats, but they obstruct the airways and make breathing difficult for cats. As a result, they breathe heavily when sleeping and resting.
Tumors will start small and slowly grow, meaning your cat's heavy breathing may gradually become more and more labored. This makes tumors hard to diagnose early on as there are often little or no early symptoms. Sadly, this means many cats that have cancerous tumors are already at the advanced stages of the disease when the tumors are found.
3. Lung Diseases
Cats can develop lung diseases, one of the more common being chronic bronchitis. This is where the airways are permanently inflamed, making breathing heaving, labored, and difficult. Other common symptoms to watch for include a dry cough, low energy levels, and wheezing. Usually, appetite remains normal.
Currently, the cause of this illness is still unclear. However, it is thought that long-term exposure to substances that cause lung inflammation may be linked with chronic bronchitis. Repeated bouts of respiratory infections could also predispose cats to develop lung disease, as can dental issues.
4. Upper Respiratory Infections (URIs)
Respiratory infections are common in cats and can be caused by a range of pathogens, including viruses, bacteria, and fungi. Those that infect the upper respiratory tract are known as URIs and can be another reason why a cat is breathing heavily while resting.
Some of the most common infections of the upper airways include:
Feline Herpes Virus
Feline Calicivirus
Feline Chlamydiosis
The exact clinical signs of these URIs will vary slightly depending on the type of infection. However, most cats with URIs exhibit common respiratory symptoms. Alongside your cat breathing heavily when sleeping, symptoms include coughing, sneezing, mouth ulcers, and discharge from the nose and/or eyes. Some even cause such extreme tiredness that they result in your cat's third eyelid showing and lethargic behavior.
In addition, snoring is more common in cats with upper respiratory infections. Occasionally, cats do purr when they sleep. Because of this, many owners brush off snoring, assuming it is just their happy cat purring in dreamland. However, it is important to notice the difference, especially if in combination with any other URI symptoms so you can get your cat treatment as soon as possible.
5. Pneumonia
It's not only the upper respiratory tract that is prone to infections – the trachea and lungs can also become infected by viruses, fungi, and bacteria. This can lead to pneumonia, which is where the lungs and airways become inflamed and your cat will experience breathing difficulties, rapid heart rate, a fever, and colored nasal discharge.
Pneumonia is serious and if not treated the inflammation can spread from the lungs and around the entire body. Therefore, it can affect other organs and normal bodily functions that are needed to survive, leading to death in the worst-case scenarios.
Thankfully, pneumonia is rare in cats and most can make a full recovery within a few days if given treatment early. However, if the pneumonia is widespread when the cat goes to the vet, it may take them several months to be back to their usual old selves.
MY FINAL THOUGHTS
Breathing is essential for a cat's survival, and if your cat is breathing heavily while resting it is a sure sign that something in the body isn't quite right. There are three main categories of heavy breathing: tachypnea, panting, and dyspnea. Although these do overlap, each has its own causes.
If you notice any breathing difficulties, you should call your vet up for a diagnosis. The type of illness your vet may identify could vary hugely. It may be a condition that directly affects the lungs or airways, such as respiratory infections, lung disease, or feline asthma. However, it may be unrelated to their airways and instead has to do with the heart or oxygen-carrying capacity of the blood.
Either way, getting professional help is a must! As breathing is so critical for survival, it is super important you find the right treatment and have your cat back to their happy selves in no time!