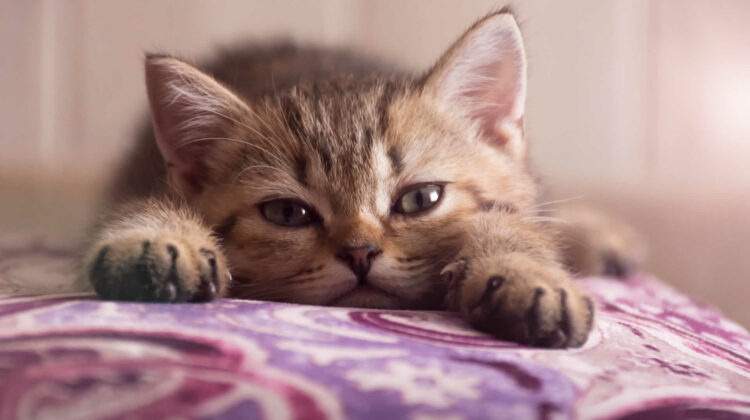 It is rare we see our feline friends with their mouths open unless they're playing, yawning, or eating. And it's even less likely that we see our cats drooling. If you spot your cat drooling a lot suddenly, you're probably confused: why is my cat drooling all of a sudden?
The sudden onset of drooling is often linked with stress. However, your cat might also feel nauseous or have eaten something toxic! There is also a possibility that your cat has sustained an oral injury, developed dental disease or suffered from heatstroke.
I run through these possible reasons for sudden excessive salivation and more on this page. So before you run and call your veterinarian, take a read through and see which applies. Your little furball might be fine, or it could need some serious veterinary attention.
Why Is My Cat Drooling a Lot Suddenly?
Drooling is a normal physiological response to some situations. For example, if you see your cat drooling when purring, they're likely just happy, relaxed, and content. In fact, my cat drools when I pet him all the time! As his body relaxes and he reaches that deep state of contentment, he seems to always let a little slobber out.
However, if your cat is drooling excessively and suddenly there is probably something wrong. Here are all the possible reasons why your cat is drooling all of a sudden and what you can do to help.
1. Stress & Anxiety
It is pretty normal for cats to drool in response to extremely stressful situations. The drooling can come on quickly and anxious cats can drool quite a lot. However, the hypersalivation will stop as soon as the stressful event has subsided and your cat has calmed down. This means drooling due to stress is typically short-lived.
There are several symptoms of stress alongside drooling. Below are some you will probably notice. If you see any of these in combination with excessive dribble, you've found the answer to your question:
Excessive meowing, hissing, and growling
Overgrooming, potentially leading to hair loss
Becoming more withdrawn than usual
Changes in appetite and thirst
Destructive behaviors such as scratching excessively
If you think your cat is stressed, try to figure out why. Cats are very sensitive creatures and the smallest changes in their routine or environment can cause them to freak out. It could be something as big as moving to a new home, or something as small as breaking their usual feeding schedule.
Where possible, remove the stressful trigger. If this can't be done, my best advice would be to wait for your cat to calm down and be sure to introduce any changes more gradually in the future.
2. Traveling
Traveling is one of the most stressful situations for cats, which can cause sudden and excessive drooling. At the same time, the motion of the car can cause your kitty to feel travel sick. These feelings of nausea further contribute to the salivation, and your cat can quickly become a wet and dribbly mess!
You'll easily be able to tell if this is why your cat's drooling because it will only ever happen when in a vehicle. Once you've reached your final destination, the drooling should stop. However, there are some things you can do to make traveling a less traumatic experience for your cat in the future:
Get your cat used to their cat carrier before traveling
Go on a few smaller journeys ahead of a long drive
Use pheromone sprays or collars to help calm your cat
3. Side Effects of Medication
Has your cat just started taking a new medication for another illness? If so, drooling could be a side effect! In fact, this is one of the main reasons you could see a cat drooling but acting normal – other than the symptoms of the disease the medication is treating of course!
Drooling is a side effect of many drugs. Indeed, commonly prescribed drugs like antibiotics and painkillers all list hypersalivation of their list of potential adverse effects which many owners don't realize. This is because these medications taste pretty bad, causing your cat to gag and drool in an effort to get rid of the horrible taste!
In these cases, your biggest concern should be whether your cat has ingested their prescribed medication. They'll have been given these drugs for a reason, so they must get them down the hatchet. Try mixing the medicine with wet cat food and seeing if it goes down better. The drooling will subside once the course of medication is complete.
4. Dental Diseases
If your cat is making weird mouth movements alongside sudden excessive salivation, you might be dealing with dental diseases. These diseases cause pain which manifests as drooling and the following other symptoms:
Eating less food than usual
Difficulty eating or chewing on one side
Showing a preference for soft food
Bad smelling breath
Weight loss due to reduced appetite
It is extremely common for cats to develop dental diseases – a huge 85% of all seniors will have an oral condition of some kind. Usually, this is because plaque builds on the teeth gradually and causes the gums to become inflamed.
Dental diseases are progressive. The earliest stage with this mild gum inflammation is called gingivitis. As the condition worsens, the ligaments and tissues surrounding the teeth also start to become weak. Eventually, it can lead to tooth resorption which is where all or part of a tooth is lost.
For this reason, it is important to go to your vet when you notice the earliest signs of dental disease. They'll be able to prescribe anti-inflammatories to help your cat deal with the pain. They'll also be able to clean their teeth or perform dental surgery. This can help prevent the disease from progressing to the later stages and causing more complications.
5. Toxicity
Toxicity is another concerning reason why your cat is drooling all of a sudden. It is more common for outdoor cats to eat a toxic substance. On their outside adventures, they'll come across many plants, bits of garbage, and other things they shouldn't eat. Yet curiosity gets the better of them!
Don't rule out toxicity if you have an indoor-only cat though. Common cat poisons found in most households include cleaning products and chemicals, human medicines, and car anti-freeze. Other substances found in many homes that are dangerous for cats include:
Lilies and some houseplants
Human foods, including chocolate, onions, and garlic
Most essential oils, such as citrus, lavender, and eucalyptus
Flea and tick medication for dogs
If your cat has ingested a poisonous substance, its effects on the body can come on rapidly. Accidental poisoning can result in severe and sudden drooling as your cat's body responds to the unwelcome substance. Other symptoms of toxicity include:
Depending on the severity, toxicity can be life-threatening or cause cats to go into a coma. Their recovery largely depends on how soon your cat receives medical attention so call your vet right away. If you overlook the original signs of poisoning, the toxic substance can work its way through your cat's system and cause all kinds of issues. Yet with prompt treatment, most cats will make a full recovery.
6. Oral Injury
An oral injury could also explain why your cat is drooling all of a sudden. The pain from the injury is causing them to hold their mouth open so dribble escapes from it. Your cat's saliva will also help with the healing process, which explains why excessive salivation is common following an oral injury.
There are several ways cats can injure their mouths:
Catfights with other felines in the neighborhood
Chewing through electric cables in your home
Eating or biting on a sharp object
Biting on the inside of the cheek when eating
If your cat has sustained oral trauma, they will exhibit similar symptoms to cats with dental disease. Expect to see changes to your cat's eating habits, a desire for wet food only, and difficulties chewing their food. You also might notice signs of inflammation around the mouth and on the cheeks. However, oral injuries are a lot harder to notice than injuries found elsewhere on the body.
Thankfully, most oral soft tissue trauma will heal on its own. In fact, oral injuries tend to heal much quicker than elsewhere on the body as the mouth is moist. This is the ideal environment for the body to mend itself. However, continue to keep an eye out for signs of the injury worsening and speak to your vet if concerned.
7. Heat Stroke
Last but not least, heatstroke could be to blame! Cats love the heat and always seem to curl up in sunny spots or next to the radiator. This is because cats have a slightly higher core body temperature than people do so are naturally drawn to warmer areas.
However, a cat that is too hot can struggle to cool down. Sudden and excessive drooling could be their attempt at lowering their body temperature. The saliva will evaporate from their tongues, producing a cooling effect as it does. Other ways that cats can try to reduce their body temperature include:
Moving from warm areas to cooler ones, such as a cold tiled floor
Grooming so the saliva evaporates and produces cooling effects over the whole body
Lying stretched out or flat on their back to improve airflow
Becoming less active and more lethargic
Drinking more to compensate for the water lost through evaporation
Even with these temperature regulation mechanisms, cats can overheat to an unreturnable point. This is what we mean by heatstroke. Drooling usually happens at these later stages as the last resort and a desperate attempt to cool down. If left, the body will continue to get hotter and hotter, leading to coma or, in worst cases, death.
If you think there is any chance your cat does have heatstroke, you should call your vet urgently. Help your cat cool down while you wait for their advice. Make sure you move them to a cool place, rub them gently with a cold damp towel, and encourage them to drink.
My Cat is Drooling Excessively Suddenly – Should I See a Vet?
The above sections should help you work out whether or not your cat's drooling is problematic. If they are stressed, traveling, or experiencing drooling as a side effect of medication, you don't need to worry. Their drooling doesn't indicate an underlying condition and will subside once the stressful event, journey, or course of medication has finished.
However, it is best to get your cat checked by a vet for all the other possibilities. Prompt medical treatment can drastically affect your cat's recovery. And even if there is nothing wrong, it is better to be safe than sorry!
They'll definitely need to go to the vet's office if any of the following applies:
You notice any other symptoms alongside drooling, such as vomiting or loss of appetite
There is blood in the saliva which could indicate oral trauma
The drooling has a sudden onset and doesn't stop
Your cat is acting otherwise different to normal, such as behavioral changes
MY FINAL THOUGHTS
Most sudden excessive salivation is bad news and shows something is seriously wrong. Examples include dental disease, toxicity, heatstroke, and oral soft tissue damage. In these cases, always consult a vet.
However, there is also a chance your cat is drooling a lot suddenly because they are stressed. This is pretty normal and should stop once the stressful situation is over. Pay attention to the onset, severity, and period of drooling along with other symptoms and behavioral changes. And if ever in doubt, give your vet a call just in case.