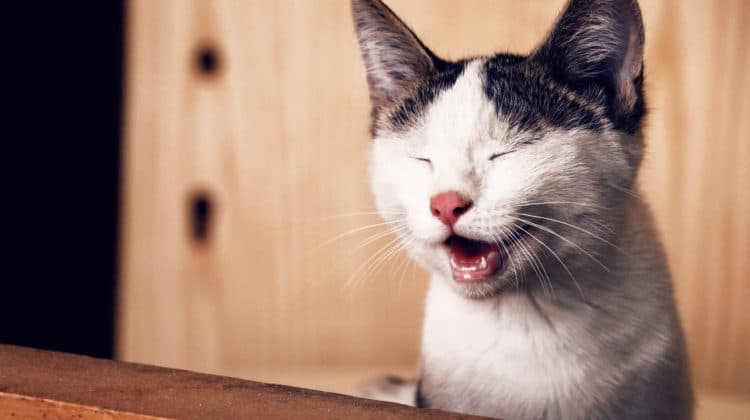 Whether a cat bounces off the walls, ignores you, or sleeps in tight spaces like boxes and dresser drawers, we all know cats have their quirks.
Cats can be entertaining and loving animals, but they can also do some interesting and weird things.
Like other animals, if cats are acting strangely, there might be something wrong with them. If you've ever noticed your cat making strange movements with their mouth and jaw, then you know firsthand how disconcerting it is.
So, why is your cat making weird mouth movements?
The most likely reason your cat is doing this is because it's chattering.
Cat chatter can be silent or accompanied by noise, and cats will commonly do this when they are eyeing a bird through the window.
The best part about this explanation is that it is completely normal!
Reasons Your Cat Makes Weird Mouth Movements
While cat chattering is normal, there may be other causes for your cat's weird mouth movements.
1. Cat Chatter
As mentioned before, cat chatter is completely normal for your indoor cat.
Likely, if you have an outdoor cat, and you've never seen this behavior, it still happens. Cat chatter is when cats make a noise with their mouth that is part squeak, part meow that involves the quick, jagged movements of their jaw. Their teeth may also chatter together, making a sort of clicking noise.
Typically, if you've ever seen this happening, your cat will have their eyes locked on a creature outside or nearby that they would love to eat. This may also happen during playtime with a toy they are particularly interested in.
All cats have the natural instinct to hunt. Many experts believe that cats will chatter in preparation of the hunt of whatever creature they're staring at through the window. Others believe that they will chatter when they become frustrated that they can't hunt the critter.
Both frustration and anticipation can cause a surge of adrenaline, and that adrenaline rush may cause your cat's jaw and mouth to involuntarily move spastically and strangely.
Other theories posit the idea that cats will chatter to mimic the sound of their prey. If a cat starts chattering after it hears a loud call from a bird outside of the window, it is likely they're trying to lure the bird closer by making similar sounds.
It's completely possible that the speed of their mouth movements will correlate with the rapid movements of the bird's beak that they're watching.
But cats don't only chatter at birds and potential prey. Many cat parents have noticed cats chattering at other cats!
If the cats are related, say if they are mother and kitten, it's very likely that they have started to chatter as a means of communication. As for chattering at non-related cats, it's possible they could be preparing a playful assault on the other cat.
Other behaviorists have theorized that cats will chatter because they are upset. As mentioned before, they may be frustrated, but they may also be angry if they are chattering.
If you've noticed your cat chattering at you, then beware! It may be planning to attack your legs as you walk by or jump on your shoulder for a quick telling off.
2. Something is Stuck in Their Mouth
Many of us have had food stuck in our back teeth, and no matter how much floss or how many toothpicks we use, we can't seem to dislodge whatever is stuck. This can also be a common issue for your cat.
While indoor cats may have this problem less, it could still happen. If your cat is opening its jaw, trying to move it around, and is rubbing its paws over its mouth, it could be a sign that it does, indeed, have something stuck in it's teeth or in it's mouth.
This can be quite scary for you and your cat. If this happens, but your cat isn't acting strangely or if they are still breathing, they should be fine. If you are at all concerned, seek veterinary assistance immediately.
When you consider your cat's diet and its habits, it's pretty likely that they'll have something stuck in their teeth every once in a while. If your cat is an outdoor cat, they may have caught a mouse or a bird, in which case, while they eat the critter, a piece of flesh or a feather may get caught and cause some irritation.
Cats also regularly clean themselves. This means that hair from their cleaning may get stuck in their teeth, especially if they have particularly long hair.
Most likely, your cat will be perfectly fine. In addition, it's also best to let them handle something being stuck in their mouths by themselves. However, if you're following proper brushing routines for your cat, just brushing will help remove whatever is stuck in their teeth.
3. Gingivitis
If your cat is pawing at its mouth and drooling in addition to making weird movements, then your cat might be suffering from gingivitis.
Gingivitis happens when your cat's teeth are covered in bacterial plaque, which causes the surrounding gums to become inflamed.
Plaque is a film of bacteria, saliva, leftover food material, and dead cells. Over time, plaque can hardens into what's called calculus. Both calculus and plaque can irritate the gums and cause inflammation. This inflammation can be pretty painful, and it may cause your kitty to stop eating.
Many cats will be affected by gingivitis in their lifetimes. For many cats, this is preventable with regular brushing, and it's also the most curable stage for cats with gum disease. Some cat gingivitis will be cured by a new brushing routine, which should be done a few times a week.
Other cats may have a more advanced stage of gingivitis that can't be fixed by brushing alone. In many cases, your veterinarian will suggest getting your cat's teeth scaled.
Scaling involves putting your kitty under anesthesia while their teeth are scraped clean of all the plaque. Their mouths will be sensitive for a few days, but they will usually be back to their regular selves soon enough.
After your cat gets its teeth cleaned, it's recommended that you start a regular brushing routine as there's a risk every time your cat goes under anesthesia. Brushing will help prevent further damage to your cat's teeth from gingivitis.
4. Periodontitis
Continuing on with gum irritation, the next stage after gingivitis, if it's left untreated or you haven't made a brushing routine for your cat, is periodontitis. While gingivitis affects your cat's gums, periodontitis can be much more serious.
Periodontitis can affect your cat's gums in addition to the ligaments and bones of their jaws, and unfortunately, this condition is irreversible, and may mean the permanent loss of tooth support. This means when the condition becomes serious, your cat could start losing their teeth.
To treat periodontitis, your cat would need to go under anesthesia and have their teeth scaled. The plaque will be removed, but the cleaning will also go deeper into the gums. Additionally, during this cleaning, teeth that are loose or damaged will be extracted. Taking the teeth out will give your cat's mouth a chance to heal from the damaged tooth.
If your cat loses some teeth, it will be okay! However, it's very important to build a good brushing routine for your kitty. There are many different brushes and toothpastes on the market. Finding a good toothpaste that's tasty for your cat and specifically formulated for animals is important. It can make your brushing routine a little bit easier.
5. Stomatitis
Irregular mouth movement can also be a symptom of another serious condition called stomatitis. Feline stomatitis is a condition where the mucous membranes of the mouth, gums, and the upper throat become inflamed.
This is extremely painful for your cat. Cats with feline stomatitis may struggle eating or they may even jump or hiss when they yawn, meow, or are presented with food that they know will cause them pain.
Typically, when you seek veterinary assistance, your cat will be put under anesthesia to avoid pain. In addition, removal of the tissues may be necessary in order for your cat to start healing.
As the causes for this condition are often unknown, there is no way to prevent it.
6. Glossitis
Similar to stomatitis, glossitis refers to inflammation of your cat's tongue.
There are many reasons why your cat's tongue could be inflamed, but some of the common reasons are that they might have an infection or a wound from a hard piece of food, they might have had exposure to chemicals, have a disease, such as diabetes, or the inflammation could be caused by insect stings.
Reluctance to eat, drooling, or odd mouth movements may all be signs that your cat has this condition. Depending on the cause of the inflammation, the swelling might last for a couple of days or until your cat gets proper treatment.
When the source of the problem has been cured, then your cat's tongue will usually heal rapidly.
7. Soft Tissue Trauma
Cats and humans are not unlike in this sense.
It's common for people to bite their cheeks while they're eating, or even get bopped in the mouth when we are playing a sport. If we are too excited for our tea or our food, we can also burn our mouths. These both can cause trauma to the soft tissues of our mouths, and cats can have the same issues that cause them irritation.
For cats, they might also bite their cheeks while eating food. If there is more than one cat in your household, then likely your cats with rough-house very often. During their play, they could run into each other, or one of them could flip into the wall on accident as it tries to avoid the playful attack of another cat.
Of course, soft tissue trauma might be caused by an actual attack from a rival cat outside. Remember, cats can be very territorial.
While cats don't usually get mouth burns from hot tea, they may get burns from chewing on an electrical cord or by trying to eat some human food that's fresh from the oven and smells particularly tasty.
Why burns and soft tissue trauma will usually resolve on their own, it might be necessary to see a vet if their discomfort lasts for more than a week or if your cat starts losing weight. Antibiotics may be prescribed, or excess tissue might be removed.
8. Trauma to the Face or Jaw
Like the trauma to the soft facial tissue, your cat may have had some recent jaw or face trauma for a variety of reasons.
They may have gotten into an accident or fractured a tooth. In these cases, you'll notice that their faces or jaws are extremely swollen, and you should go to a veterinary clinic as soon as possible.
It could be possible that your cat's strange mouth movements are from previous trauma that has healed. If you have a rescue cat, this is even more possible as they are exposed to more dangerous situations than house cats.
9. Jaw Abnormalities
As a cat grows, it may develop jaw abnormalities and cause improper bite, or how the teeth fit together, later on in its life. While this is rare, it could be a reason behind your cat's strange mouth movements.
Cats may develop an overbite, which like in humans, the upper jaw reached out farther than the lower jaw. Conversely, your cat may have an underbite where the lower jaw is longer than the upper jaw.
Neither of these cases is cause for concern as many cats will just learn to deal with the misalignment of their teeth. However, it's very likely that you're just now noticing they have this issue.
10. Oral Tumors
Cats may be suffering some discomfort from mouth tumors, which may be making them move their mouths strangely in order to work around the tumors. There are two types of tumors that are typical for cats.
Benign tumors, called fibromas, may appear around your cat's lips and gums, but they won't typically be widespread. Typically these tumors are fine unless they grow so large that they are keeping your cat from eating or behaving normally.
Malignant tumors, on the other hand, are ones that you should be worried about . Tumors, like fibrosarcomas, are aggressive and harder on your cat. In addition to causing bad breath, drooling, and making your cat reluctant to eat, they will likely need to be removed.
11. Feline Orofacial Pain Syndrome
The last potential cause for your cat's odd mouth movements could be due to feline orofacial pain syndrome. This is a pain disorder some cats with oral discomfort and tongue mutilation experience.
Cats with this disorder can experience intermittent or persistent pain in their mouths that's often caused by mouth movement. Most cats who experience this type of pain will move their mouths strangely, but they may also lick and chew excessively as well as paw at their mouths.
Oral lesions may also cause pain and make your cat sensitive, especially during meal time.
FINAL THOUGHTS
While cat chatter is the most common reason people search for answers as to why their cat is moving its mouth strangely, there are other causes including some serious conditions, such as feline orofacial pain syndrome and periodontitis.
If you've just noticed this strange mouth and jaw movement, keep an eye on your cat for a few days. It's possible that it might be a one time occurrence, or that whatever was causing them pain or discomfort has gone away.
Remember, you should always consult your vet. If your cat's mouth movements are associated with weight loss or your cat's coat looks dull, then you should go to the vet as soon as you can.