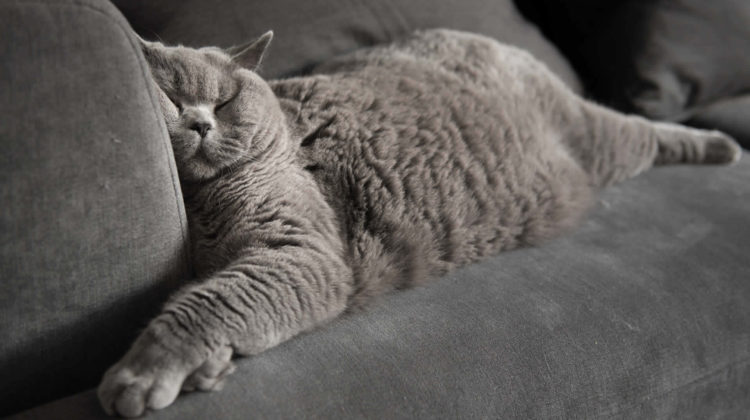 If your furry friend's snoring has been keeping you up at night, you're probably worried there might be something wrong. Some owners are used to hearing their felines snore from time to time. Others are completely baffled when this sound comes out of such a small and cute creature.
Cats are notorious sleepers, so it's not that strange for them to snore occasionally. When it happens from time to time is normal, but you can never be sure until you get in touch with a professional. Unfortunately, a list of diseases can be accompanied by symptoms like snoring, so your best bet is to visit your vet.
If you want to know more about the different reasons why a cat can be snoring, keep on reading this article. I have also included helpful tips that you can try to help stop your cat from snoring.
Is It Normal for Cats to Snore?
In most cases, it probably is, especially if your cat has been snoring their whole lives and you haven't noticed other symptoms. Often, there is no need to worry.
If snoring only happens occasionally, this is also probably normal and unlikely to be a symptom of an underlying condition. Cats, just like humans, have sleeping cycles that they go through. If you've ever seen your cat totally lost in her sleep and completely relaxed, she's probably in her R.E.M. phase. This is when felines take the weirdest positions and are most likely to snore. During this phase, the cat will also sometimes twitch and release strange sounds.
However, if the snoring that has been happening recently is out of the ordinary or accompanied by any other symptoms, you have to visit the vet. Snoring is a symptom of many different conditions that should be treated.
Why Is My Cat Snoring?
Snoring is caused by open-mouth breathing. Cats can breathe through their mouth, but usually only when they struggle to breathe through their nose or have some kind of obstruction of their nasal passages. If your feline has been snoring ever since you got her, then you should be fine. But, if this is something recent and there are other reasons for you to suspect something is wrong, don't wait up and call the vet.
Now that we got the main question out of the way, let's find out the reasons that can cause snoring.
1. Nose Shape
Not all cat breeds are built the same anatomically. Persian, Himalayan, Burmese breeds are called brachycephalic cats because they have shorter bones on their skull and are commonly referred to as flat-faced cats. Their noses don't look like the noses of other cat breeds and appear as if they have been pushed back into their faces.
Because of their unusual face structure, their nasal cavity is smaller, and the passages are shorter, making it harder to breathe through their noses. Unfortunately, brachycephalic felines often struggle with snoring.
2. Overweight
Yes, chubby cats are the cutest, but obesity is a disease and can lead to an array of symptoms. One of those symptoms is snoring. When a feline is overweight, fat can cause put pressure on its upper respiratory passages, which will manifest with snoring.
Getting the right advice from your vet and helping your cat lose weight is crucial because it will help her breathe normally again. This will also help to reduce any other unwanted health complications that are caused by obesity.
3. Illness
Just recently, I noticed my cat was sleeping more than usual, and she was snoring loudly. This wasn't something that has happened before, so I instantly got worried. That's when we decided to visit the vet, and it turned out that she had a cold.
Colds lead to nasal passage blockage and heavy breathing, which will manifest with snoring. If you see that your beloved feline is tired, constantly sleeping, snoring, and doesn't want to eat, she might have a cold. Thankfully, this is something that you can treat, and once the cold is gone, the snoring will stop.
Unfortunately, other more serious illnesses can cause snoring too. Tumors, polyps, and other formations in the nasal cavities or respiratory tract can influence breathing and need treatment from a vet.
4. Asthma
Cats who suffer from asthma also have difficulty breathing properly. They will snore, wheeze, cough, breathe rapidly, and you'll notice that something isn't right. Asthma is caused by allergens that lead to inflammation and swelling in the feline's respiratory tract.
5. Respiratory Infection
Respiratory infections caused by bacteria or fungi cause a range of symptoms, one of which is snoring. Aside from your cat struggling to breathe, other symptoms of respiratory infection include:
Discharge from the nose and eyes
Coughing and wheezing
Little or no appetite
All these symptoms put pressure on the respiratory passages, and the cat starts snoring. Once the infection is cured, your furry friend's snoring will stop. But, the most important thing to remember is to visit your vet as soon as you notice any of the above symptoms. Trying to cure the cat at home or waiting for the infection to pass is not an option.
6. Obstruction
Respiratory passage obstruction can be another reason behind your furry friend's snoring. Cats are playful creatures that are pretty curious, and it's so easy for them to get themselves into trouble. Sometimes, even grass can get in their nose and prevent them from breathing correctly! It's crazy how many other objects they can manage to get in their nasal passages without you knowing.
If you think that there is a foreign object causing an obstruction, you should visit the vet. Don't try to remove objects yourself because you can make things worse. When objects are the reason for snoring, other symptoms such as coughing can also appear.
7. Allergies
Cats suffer from allergies, just like humans do. If your cat's snoring has been going on for a while and you can't find another logical reason, it might be due to allergies. Other symptoms to keep your eyes peeled for are coughing and sneezing. If the cat snores constantly, you should suspect allergies and get in touch with your vet.
8. Sleeping Position
If you're a cat owner, you already know that cats sleep in the most awkward yet cutest positions. However, some of these weird and wonderful positions could be the reason behind their snoring. This is a likely reason if you notice that the snoring only happens for short periods and stops when your kitty changes position.
It's entirely normal for a cat to snore because of the position that it sleeps in. As long as there aren't any other accompanying symptoms, there is no need to worry. But if the snoring is constant and you see other suspicious symptoms, it might be better to consult a professional.
9. Dry Air
Dry air is not only bad for you, but it's also bad for your cat. If your home is too dry, this can irritate the respiratory tract of your feline and manifest with snoring. The solution is to improve the air quality and use a humidifier, but I'll get more into detail about it below.
What to Do If My Cat Snores?
If your cat's snoring has been happening for some time now, it's time to ask for professional help and opinion. Your first step should be visiting the vet and figuring out the reason why snoring appears. However, depending on the cause, there are some other things you could try at home to help alleviate their snoring.
1. Visit the Vet
Cats are creatures that want to keep their pain secret, so it's usually not easy to notice that they're suffering. Regular trips to the vet will help you make sure that everything is right with your furry friend. During these visits, the vet will measure your cat and let you know if it's overweight, along with other general health checks.
If you ever notice strange symptoms accompanied by snoring, you should call your vet and schedule an emergency appointment. Taking things into your hands and trying to set a diagnosis is not a smart idea.
2. Get a Humidifier
Dry air is not good for anyone in the house. Investing in a good air humidifier is the best thing you can do for the entire family. This is even more important during the winter months when the air is extremely dry. Cats that struggle with allergies or asthma already have dry nasal passages because of their conditions, so if the air is not humid enough, they will snore and wheeze.
The good thing is there are humidifiers for cats with asthma or allergies that will ease the symptoms and improve the air quality. Just make sure to do your research before you purchase to ensure you end up with a product that works!
3. Promote Exercise
People are falsely under the impression that only dogs need exercise and cats can take care of themselves. That's not completely true! Your feline needs to stay fit, and exercising is one of the best ways to help your cat lose weight and stay healthy.
You should spare some of your time each day to play with your furry friend and keep them entertained. There are so many exciting toys that you can get, such as wand toys, balls, lasers, literally anything that will keep your feline moving.
If your cat loves to stay active without you being involved, that's even better. In that case, your only job is to find fun toys for your cat to play with. The thing with these animals is that they quickly get bore! So, try to have various toys that you'll hide and introduce again to keep the cat intrigued. Do this and she'll never stop playing!
4. Maintain a Healthy Weight
As obesity can cause snoring, you must help your cat maintain a healthy weight. Besides, this is great for their overall health and wellbeing! Your vet will be able to recommend a diet and exercise plan for you to follow, making weight loss easy.
Aside from exercise and diet, food puzzles are a great way to help your obese cat lose weight. These puzzles are meant to promote activity and encourage the cat to look for food. What's even more interesting, there are various levels of difficulty so that your feline never gets bored.
Proud owners of many felines often find it hard to stimulate a single cat to get fit. As long as all the cats are fed together, the one that loves to eat the most will move on to the other cats' bowls and steal their food! However, if you want to help a cat lose weight with multiple cats, just feed her separately. Cat feeders with collar chips are effective in multi-cat households.
5. Change the Litter
Cats that struggle with asthma and allergies are more sensitive to allergens, and the litter you're using could be exacerbating their allergies. That's why you should consult your vet and get advice on what kind of litter to get. Thankfully, numerous brands produce litter for cats with asthma and litter for cats with allergies. These will be low-dust, fragrance-free, and contain fewer chemicals.
FINAL THOUGHTS
Cats don't snore as often as dogs. That's why for some owners, hearing that sound can be quite surprising. If you've been wondering for a while, "Is it normal for my cat to snore?" the answer is probably yes. However, that's not always the case, and snoring can be a symptom of other underlying conditions.
Some of the most common reasons why your feline is snoring are the following: respiratory infections, asthma, allergies, obstruction, obesity, nose shape, illness, dry air, and sleeping position.