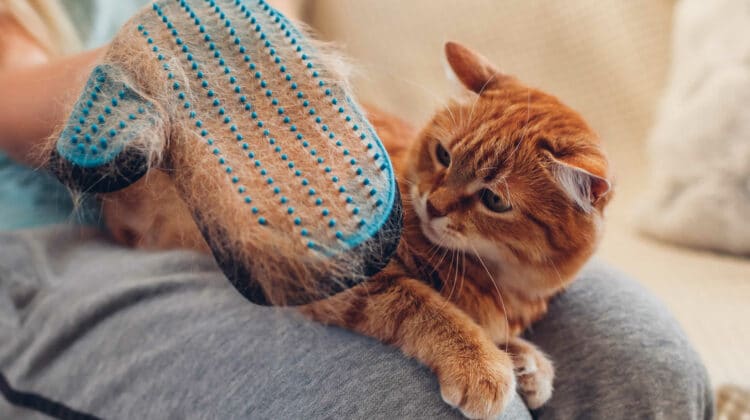 It is a great idea to brush your cat. It helps to prevent too much fur from shedding getting all over your floors and furniture. Brushing also helps to keep their fur super clean and free from mats. Besides, it acts as a bonding activity and can help you and your cat develop a closer connection.
Yet while some cats love being brushed, others… not so much! This makes grooming your cat a much more challenging task. My Maine Coon hates being brushed, which is particularly problematic as his thick longhaired coat easily forms knots and tangles. But I found things suddenly became so much easier when using a brush for cats that hate to be brushed.
These tools come in all shapes and sizes but tend to be less abrasive than regular grooming brushes. I review all of my favorites in this article. Plus, you'll find a handy buying guide down the bottom that ensures you choose the right tool for your cat's hair type.
My Top Pick
The best brush for cats that hate to be brushed is the DELMO Pet Grooming Glove. I swear by this product! Rather than a traditional brush, these are gloves with soft silicone bristles on the surface. They are really gentle on your cat's sensitive skin. Plus, you can trick your cat into thinking they're being petted.
For any environmentally-conscious owner, you'll be pleased to know they're made from 100% recycled materials too. You can find a more detailed review below, along with some other top-rated products you – and, more importantly, your cat – will love!
Best Brushes for Cats That Hate Being Brushed
There is a range of cat brushes on the market, but some of these are better suited to cats that hate being brushed than others. Below are all the features I looked for in a product. For every review, I looked at how the product fared in these categories:
Ease of Cleaning: All of the loose hair and dirt that is on your cat accumulates on the brush each time you use it. It is important to remove all this dirt and keep the brush clean ready for next time. I looked for products that make cleaning super straightforward. Some you simply pinch the hair out, whereas others are cleaned with soap and water.
Soft Bristles: Do you know what some cats hate being brushed? It is usually because they have sensitive skin and hard bristles or combs can make the process extremely uncomfortable. As such, the best brush for cats that hate being brushed needs to be soft and suitable for sensitive skin.
Shape: Shape is important as you want to be able to hold the brush comfortably in your hand. For cats that hate being brushed, a glove-style grooming tool is also a good idea. This will trick your cat into thinking they're being petted and they might not resist as much. Moreover, the shape can alter how easy it is to brush hard-to-reach places.
On top of this, you also need to consider the type of fur your cat has and use an appropriate brush. This will vary depending on the breed you have. As such, I've made sure to review a selection of brushes to suit all fur types below so there's something for everyone. Without further ado, let's get on with the products.
I use this brush for my fussy Maine Coon, and it works a treat! As you'll notice right away, these are grooming gloves rather than a brush. The palm and fingers of the gloves are covered in silicone grooming tips. This is ideal for cats that hate being brushed as it mimics the touch of your hand. In fact, your cat will just think you're stroking them.
The gloves are also really comfortable to wear. You don't have to grip a handle awkwardly and will never get crap in your fingers from holding a brush for too long ever again. There is an adjustable wrist strap as well so you can make sure the glove fits tightly before you start grooming. And the glove is made from a stretchy lycra fabric to further ensure a snug yet comfy fit.
I find this product to be very effective in keeping my cat's coat clean. All the loose fur on your cat gets removed and caught by the 255 silicone tips instead of getting all-around your home. It accumulates in a clump that is easily peeled off and discarded. You can also rinse the gloves in warm soapy water and let them air-dry in between uses.
What's more, you can use the gloves on longhaired or shorthaired cats. They're even a great option to use in the bath for that ultra-thorough clean. However, these gloves are best at removing loose fur and combing gentle knots. Because of the short and soft bristles, these gloves won't be great at removing tight matted clumps.
Pros
Your cat thinks it is being groomed
Soft and gentle bristles that don't irritate or scratch
Comfortable for you to wear and made from lycra
Adjustable strap so fits all hand sizes
Velcro at the back to prevent pinching your cat's skin
Has 255 silicone tips to effectively remove hair
Hair easily removed and gloves are washable
Suitable for longhaired and shorthaired cats
Can be used in the bath for thorough cleaning
Eco-friendly and made from 100% recycled material
Cons
Not effective in removing seriously matted clumps
Does your kitty shed a lot? Do you want to brush them to help capture all this loose hair before it makes it was around your home? If so, try the SleekEZ Deshedding Grooming Tool. It effectively removes 95% of all loose hair and dander within a few quick brushes.
Rather than having bristles like a usual cat brush, this has a unique wave pattern blade. Don't let the word blade scare you off though! The ingenious decision to use a blade rather than bristles means that none of your cat's hair will get caught and snag. This can cause a lot of pain and is one reason why some cats hate to be brushed. But with this clever design, it becomes a problem of the past.
Not only is this brush comfortable for your cat, but it is also comfortable for you. The brush has an ergonomic design and is oval in shape. This makes it easy to grip so you can hold it with ease. It comes in three different sizes as well, but the smallest is easiest to hold and best for cats anyway.
Cleaning this grooming brush is also simple. The hair collects along the waved blade before falling to the floor for you to pick up later. This is much better than having to pull hair out of the bristles and means none will get stuck in the brush. You can even use this brush to clean your furniture. Brush your couch and any cat hair on the surface will accumulate and fall off – easy!
The downside of this product is the same as with the previous; it is not effective in removing matted clumps of fur. Instead, this product focuses in deshedding hair and dander only. However, it can be used on coats of all lengths and thicknesses which is a big perk.
Pros
Unique wave pattern blade collects hair without snagging
An ergonomic shape that is comfortable in your hand
Suitable for breeds with long and short hair
Removes 95% of loose hair and dander without tugging
Clumps of hair conveniently drop to the floor
Made from durable stainless steel and wood
Can be used to clean furniture and pet bedding as well
Cons
Not effective in brushing out matted fur
If you have a longhaired cat and have to continually deal with matted fur, the first two products won't be of much use to you. However, the GoPets Dematting Professional Grooming Rake might just be the perfect option. With a comb-like design made from hard teeth, it can effectively work through mats within seconds. Moreover, this brush can also be used for deshedding.
Unlike many dematting tools, this is perfect for cats that hate being brushed. Why? Firstly, the teeth on this comb are sharp so they instantly cut through matted clumps rather than pulling on them. Secondly, the comb teeth have rounded ends. This means that it is gentle on sensitive skin and won't hurt your cat as regular pointed bristles do.
When trying this product, I also found it pretty comfortable to hold. The handle is covered in non-slip silicone so you won't lose your grip when pulling through tough mats. Beneath this non-slip layer, the handle is filled with gel. This means it molds to the shape of your hand no matter how you choose to hold it and which angle you approach it from.
Unfortunately, this handle is not quite all that it sounds though. Silicone is not the most durable and over time, some users found that the handle broke and the gel started leaking out. Nevertheless, it can be used on long and short hair and is easy to clean. In my opinion, all these positives outweigh the one minor flaw.
Pros
Can be used as a dematting and deshedding tool
Sharp teeth to cut through mats rather than tugging
Rounded tips that don't scratch or irritate your cat's skin
Non-slip silicone handle to prevent dropping the tool
Gel handle conforms to the shape of your hand
Suitable for longhaired and shorthaired breeds
Easy to clean with soap and water
Cons
Gel handle can burst and leak
Brushing a shorthaired cat is much easier than maintaining longhaired coats. The act of brushing is more to keep their fur looking shiny and healthy than a necessity to remove mats. The Buddy System Cat Brush is perfect for this. It has a super simple design but it's all that shorthaired cats need.
Looking at this cat brush, you'd nearly mistake it for a regular hairbrush. The shape is identical, with a thin handle and rounded head with bristles. This shape is comfortable to hold and something that we are already used to. The handle is made from smooth and durable wood, further enhancing comfort. You can also easily wipe this wooden handle after use using a damp cloth.
On the head of the brush are soft black bristles. These are made from natural boar and are extremely flexible. As such, this brush is perfect for cats that hate to be brushed; the soft bristles will never tug on your cat's fur or irritate their delicate skin. All the bristles are tightly packed though and do a good job at trapping dirt, dander, and hair.
What's more, the flexible and soft boar bristles are so gentle that you can use this brush around the face and ears. However, do make sure you've very gentle when doing so. You can also use this brush on long-haired cats, but how effective it will be I don't know. The soft bristles do mean it won't be effective in treating matted clumps at all though.
Pros
Very soft boar bristles won't irritate your cat
Looks like a standard hairbrush and is easy to hold
The handle is made from durable wood
Easily cleaned by picking the hair off and wiping the handle
Soft enough to use around the face and ears
Sturdy design and easy to use
Charming old-fashioned design
Cons
Does not remove big knots or mats
Slicker brushes are great to use on long coats or cats with curly hair. They have super fine wire-like bristles that can cut through mats and detangle longer fur. And of all the slicker brushes on the market, the Safari Self-Cleaning Slicker brush is perfect for cats that hate to be brushed.
One reason it is so great is because all of the bristles are made from stainless steel. This is a hypoallergenic material, which is why it's commonly found in jewelry. However, this quality also makes it great for cats with sensitive skin, as it is unlikely to cause any adverse reactions or irritation. The bristles aren't sharp either so won't hurt your cat.
Moreover, these bristles are specifically designed to brush through all coat layers and are perfect for cats with undercoats. The brush will tackle tangles easily and remove all dirt, loose hair, and dander with minimal effort on your part. It is also easy and comfortable to hold with a non-slip handle for a sturdy grip.
The real star of the show though is this brush's cleaning mechanism. With one touch of a button, the bristles retract back into the brush head. You can then wipe all the hair and dirt off using a cloth, which is much easier than tugging the hair from the bristles. Once you're done, reposition the button and the bristles will pop back out again ready to be used.
Pros
Retractable bristles for super simple cleaning
Non-slip handle for a sturdy grip
Bristles cut through the topcoat and undercoat
Effortlessly removes dirt, hair, and dander
Stainless steel bristles won't cause irritation
Bristles aren't sharp and won't scratch your cat
Perfect for longhaired and curly-haired breeds
Cons
A little large and can be difficult to reach some areas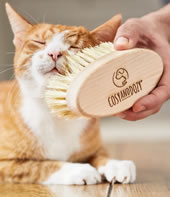 Finally, we have the CosyAndDozy Handmade Cat Brush. If you care about our planet or follow a vegan lifestyle, this is a great option. The body of the brush is made from natural beechwood, while the bristles are Tampico fibers. No chemicals have been used in production either, for a truly green and environmentally-friendly option.
Alongside its ecological perks, this brush is highly practical. The bristles are incredibly soft – Tampico fibers are mainly used in massage brushes for women. Even the grumpiest cat will surely love how this feels on their skin. They'll be getting a true massage cat style! Plus, the bristles are longer than you'll find on many other products. This ups the comfort factor even further.
The long bristles are great at trapping and removing loose hairs and dirt from your cat's coat. What's more, the massaging effect has also been shown to improve circulation, relax muscles, ease stress, and stimulate the production of the happy hormone serotonin. As you can see, there are a whole host of benefits for your cat!
The only downside of this brush is that it is a little on the large size. This does make it better for male cats vs female cats who are typically bigger and can be cleaned quickly with this tool. However, it can be difficult to clean more small and problematic areas. It also won't be any good at cutting through clumps as the super-soft bristles will just glide right over them.
Pros
Made from 100% natural materials
Vegan-friendly and good for the planet
Tampico bristle originally used for massage brushed
Longer bristles for added comfort
Effectively traps and removed dander and loose hair
Improves circulation and helps to relieve stress
Large size means big breeds are groomed quicky
Comfortable to hold in your hand
Suitable for longhaired and shorthaired breeds
Cons
Won't cut through matted clumps
Large so harder to reach smaller areas
Buying Guide
Below are all my favorite brushes for cats that have to be brushed. However, the right product for you depends on what breed of cat you have and the problems you're trying to solve through brushing. It is vital to choose the right product for you to make grooming more enjoyable. Below are some of the considerations you'll need to think about.
Longhaired or Shorthaired
Do you have a longhaired cat or a shorthaired cat? Although many brushes can be used on both coat types, some do work better than others. Choosing the option that is best for your cat will make grooming time more enjoyable and less painful.
For longhaired cats, slicker brushes tend to be most effective. These have longer bristles that are designed to effortlessly slide through thick long coats. On the other hand, shorthaired cats are better suited to brushes with shorter bristles. Alternatively, densely packed longer bristles can work great for shorthaired breeds to produce a massaging effect.
Deshedding or Dematting
Why do you want to brush your cat? There are two main issues owners are typically dealing with: shedding and matted fur:
Deshedding: You might be looking to remove loose hair from your cat's coat. This can help keep your home cleaner and will stop your cat throwing up hairballs daily. I often see my cat shedding so much when I don't keep on top of brushing, and his hair ends up all around my home pretty quickly! (A quick note – air purifiers for cat hair can also work wonders for this.)
Dematting: Alternatively, are you wanting to cut through tougher matted clumps? Not brushing is one of the causes or matted cat fur, so you might be brushing as a preventative method instead. This is usually more a problem with longhaired felines, especially outdoor cats that can get into all kinds of trouble.
If your biggest concern is shedding, you can choose a brush with softer bristles. The denser the bristles, generally the better they are at trapping hair and debris. On the other hand, dematting requires harder and sharper bristles that can cut through these tough clumps. Always choose a brush with rounded tips so these harder prongs don't hurt your cat.
Comfort When Holding
Of course, we want our cats to enjoy being brushed – or at least not hate the experience as much. However, you should look for a cat brush that is comfortable for you to use as well. After all, you might end up brushing your cat every day, so you don't want to be struggling.
What tool you find easiest and most comfortable to work with is largely down to personal preference. I love the grooming gloves as my hands are free and the motion feels effortless. But for others, these gloves might not fit properly. Perhaps you prefer holding a block-style brush in your palm or a more convention brush-shaped tool. The choice here is yours.
FAQs
Q: Why do some cats hate being brushed?
A: Some cats hate being brushed as they find it uncomfortable. This is usually either because they have sensitive skin or because the bristles are tugging on their hair. You can usually change your cat's opinion on brushing by using a better grooming tool.
Q: Is a brush or a comb better for cats?
A: Either is fine! However, if your cat hates being brushed, a comb is generally a better option. Brushes tend to have less rigid bristles that are more gentle on your cat's skin. They're also less likely to get caught in your cat's fur and snag it.
Q: How often should I brush my cat's fur?
A: Longhaired cats should be brushed every day. This will help limit shedding and prevent mats and knotted clumps from forming. However, shorthaired felines can be brushed less frequently; once or twice per week should be plenty to keep their coats in good condition.
Q: Is brushing cat hair necessary?
A: If you have a longhaired cat like me, then yes! Not brushing their coats daily gives room for mats and clumps to form. These can be difficult to deal with and can cause your cat pain. In shorthaired cats, brushing isn't strictly essential, but it is worthwhile to keep their fur looking extra healthy.
Q: Do cats feel better after being brushed?
A: With the right grooming tool, many cats will feel better after being brushed. They have just spent quality time with their owners and received a massage in the process. Cat's also love being clean, so will appreciate their spotless tangle-free coats.
Q: What is the best brush for cats that hate to be brushed?
A: In my opinion, the best brush is the DELMO Pet Grooming Glove. I love how you can wear this brush like a glove – it's comfortable for me and tricks my cat into thinking they're simply being petted. Plus, it's easy to clean and gentle on the skin.
MY FINAL THOUGHTS
Brushing your cat doesn't have to be a challenging experience!
With the best brush for cats that hate to be brushed, your cat will soon love grooming time. Choose products made with softer bristles, hypoallergenic materials, and rounded edges. This will make brushing less painful for those poor kitties with sensitive skin. And their fur coats will look as healthy and shiny as ever!