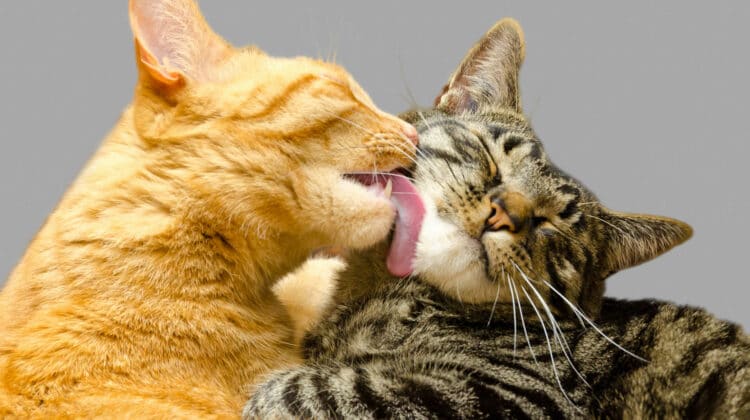 When adopting a new cat or getting a kitten for the first time, choosing whether to have a male or female cat is usually one of the first big decisions you need to make after choosing your breed. Despite being the same species, there are large differences between the two. This can make your decisions confusing and time-consuming.
However, here I have written all of the male cats vs female cats pros and cons to make this choice easier. We look at the personality differences between the two, the physical differences, and all other considerations you should take on board.
As you'll find out in this article, there is no definitive winner on which sex cat you should get. Whereas a male cat might be the ideal addition to your home, a female kitty could be better for someone else. Both arguments are valid, but this article will surely help to make the decision easier for you. You'll have the perfect new addition to your family in no time!
Male Cat vs Female Cat – Pros and Cons
There are many differences between male and female cats. These can broadly be split into five categories:
Physical differences
Personality and temperament
Behavioral issues
Health conditions
Multiple cats living together
I will delve into each of these categories in more detail in the following sections, but here is a quick overview of the pros and cons of a male and female cat for anyone in a hurry:
Pros Male Cats
Most ginger cats are male, so anyone wanting a ginger cat will find their search much easier.
Male cats tend to be more affectionate towards their owners and tolerant of people.
Two male cats can live together in harmony as long as they don't think they are each other's rivals.
Cons Male Cats
Male cats are larger and need larger litter boxes and beds, thus aren't suited for small apartments.
Male calico cats and tortoiseshell cats are extremely rare and those that do exist may be sterile.
Unneutered male cats can become aggressive towards other animals and people.
Male cats are highly territorial creatures and more likely to urine mark on objects around your home.
Urethral blockages and feline tail gland hyperplasia are more common in males than females.
Pros Female Cats
Almost every calico or tortoiseshell cat you see is female, so anyone wanting either of these coat colors will find searching for a female much easier.
Females are slightly smaller in size and thus better suited to small homes and apartments.
Female cats tend to be more aloof and independent, which is great for busy owners.
Cons Female Cats
Ginger cats are mostly male, so finding a female ginger cat can be a challenge.
Female cats are more stand-offish than male cats and generally don't bond as closely with their owners.
Female cats go into heat if they haven't been spayed, during which time they will be extremely vocal and cause sleep disturbances.
Uterine cysts, pyometra, and ovarian and breast cancers can occur in unspayed female cats, all of which are life-threatening conditions.
Two female cats don't often live well together unless they were raised together as kittens.
1. Physical Differences
A cat's physical appearance is often the first thing we think about; we all want the cutest cat we can get! However, as beauty is in the eye of the beholder the definition of "cute" can vary hugely between owners. Nevertheless, overall size and coat color can be affected by a cat's sex, so this might just sway your decision on whether a male or female cat is right for you!
Male Cats are Larger, Female Cats are Smaller
Size is an important factor when purchasing a cat and is directly linked with sex. Whereas male cats will nearly always be larger and weigh around 12lbs, female cats are typically smaller in stature and weigh around 10lbs. Although this doesn't make much of a difference, the real issue comes with space in your home for all your cat's equipment.
For example, male cats don't take up much more space themselves. However, they will require larger litter boxes, beds, cat trees, and other pieces of kit which take up huge amounts of space in your home. As such, anyone in a small apartment is better off getting a smaller female cat. On the other hand, you have space and want a huge cuddly cat then you may prefer getting a male.
Ginger Cats are Usually Male
Ginger is one of the most popular coat colors among domestic cats as they are known for their loving and friendly personalities. However, did you know that 75% of all ginger cats are male? If you know you want a ginger tabby, looking for a male will drastically make your search quicker and easier. However, female ginger/orange cats do still exist, you might just be looking a little longer.
Calico and Tortoiseshell Cats are Usually Female
On the flip side, anyone desperate for a stunning calico cat is better off looking for a female. These are where cats have tricolored coats with patches of white, ginger, and black. The calico gene responsible for this coat color is located on the X chromosome. Whereas females have two X chromosomes, males have one X and one Y. As such, only 1 in every 3,000 calico cats will be male and these are often sterile.
Similarly, the gene responsible for a bi-colored tortoiseshell coat is also located on the X chromosome. Again, this makes male torties extremely rare, with a whopping 99.6% of all tortoiseshell cats being females. Therefore, if you're set on either of these coat colors a female cat will likely be preferable.
2. Personalities and Temperaments
Every cat has its unique personality and temperament and some males and females behave very similarly. However, as a generalization, there are a few differences you can expect to see between the two sexes. Note that these generalizations are more pronounced in male and female cats that have not been neutered or spayed, respectively.
Males Cats are More Affectionate
As a general rule of thumb, male cats tend to be much more affectionate towards their owners than female cats. This is a great advantage if you want a cat that you can truly form a tight bond with or if you have a lively family with children. They'll appreciate all your love and time spent together and are pretty tolerant of people. However, for anyone with a busy life and little time to spend with their furry friend, this neediness could be a disadvantage.
Female Cats are More Independent
On the other hand, female cats tend to have much more independence than males. This makes them typically preferable for people that have busy lives. Your female kitty will likely be able to keep herself entertained while you're out of the house or off doing other things. However, because of this, the bonds between female cats and their owners don't tend to be as strong. This can make female cats seem more unpredictable and stand-offish than their affectionate male counterparts.
Unneutered Male Cats are More Aggressive
While male cats do have a reputation for being lovable and friendly, they can also be extremely aggressive. This tends to only be a real issue if you have not neutered your male cat. As they mature, their sex hormones can lead them to become aggressive towards other cats in the neighborhood that they feel are encroaching on their territory. In some cases, they can even become aggressive towards their owners!
Getting your cat neutered should remove these aggressive and overly territorial tendencies. You can also invest in a microchip cat door to ensure no other cats get into your home and truly invade your male cat's territory. However, if you aren't going to get your cat neutered, males may not be appropriate around very young children.
Unneutered Males Cats Enjoy Exploring More
All unneutered males tend to love exploring much more than females. This is all linked to their ongoing search for a mate – they will travel miles to find a female in heat. For this reason, male cats do tend to go missing from home a lot more than females do and end up in much more mischief in the outside world. For the anxious owner, this could mean a female cat is a better option.
3. Behavioral Issues
Many cats have some kind of behavioral issues, and this can also be linked back to sex. However, just with personality and temperament, whether your cat has been neutered or not plays largely into what you'll have to deal with as an owner. Let's take a closer look!
Female Cats Become Vocal in Heat
Once female cats mature, they end up going into heat every two or three weeks for around six months of the year. During heat, female cats are fertile and can become pregnant. While in heat, they also become extremely vocal and will yowl all day and night. By doing so she is announcing her availability to male cats nearby, but for her owners, it is an extremely disruptive period. This could be especially problematic if you have a baby, and if you opt for a female be prepared for sleepless nights.
Male Cats are More Likely to Spray
Thanks to unneutered male cats being highly territorial, they are unfortunately much more prone to urine marking. This is known as spraying and is where your cat will urinate over any object inside or outside your home it wishes to claim as "theirs". Unless you are going to get your male cat neutered, there isn't much you can do to limit spraying, so be prepared for lots of cleaning up after your male kitty. Self-cleaning litter boxes for multiple cats might make your job a little easier.
4. Health Conditions
Although not a cheery topic, it is worthwhile considering the possible health issues when getting a male or female cat. It is worth noting that most of the health concerns that affect females can be avoided by getting your cat spayed. However, the health issues that affect male cats cannot be 100% prevented through neutering.
Uterine Cysts, Pyometra, and Cancers in Females
Many of the health issues that affect female cats more are diseases or conditions that affect their reproductive organs. Common issues include uterine cysts or tumors, inflammation of the uterine lining known as pyometra, and ovarian and breast cancers.
These are all pretty severe conditions and could become life-threatening, requiring surgery or extensive treatments to cure. If you don't want to get your female cat spayed, bear in mind they will be at an increased risk of contracting these dangerous diseases. However, spayed cats and male cats won't be able to develop these serious issues as they lack the reproductive organs in question.
Urethral Blockages More Common in Males
Both male and female cats can contract urinary tract infections (UTIs) which leads to blood in the urine and painful urination. However, male cats have longer and thinner urethras than females. As such, they are much more likely to develop urethral blockages thanks to this narrow passage's shape and size. This is regarded as a medical emergency as your cat won't be able to pass urine at all until the obstruction is removed.
Feline Tail Gland Hyperplasia More Common in Males
Another common issue with male cats is an increased risk of feline tail gland hyperplasia. Better known as stud tail, this is a condition in which the gland at the base of the tail produces too much sebum. This leads to a skin infection at the base of the tail and greasy matted hair in this area. You may also notice a foul smell coming from your cat's tail. The regular use of shampoo can help to keep sebum levels healthy. Neutering may also resolve symptoms, but this isn't guaranteed.
5. Multiple Cats Living Together
With physical, temperamental, behavioral, and health conditions aside, there are a few other questions you might have about getting a male or female cat. More specifically, how do male and female cats get along in multicat households? The last thing you want is my cat hissing at a new kitten or vice versa! Here is a look at how two females, two males, and one of each can live together.
Two Male Cats Can Live Together
Assuming both of your male cats are neutered, there is no reason why to male cats can't live happily together. Having been neutered, their aggressive side should be diminished and their friendly and lovable sides enhanced. However, if you don't want to neuter your male cats then things could become pretty aggressive until your cats are used to each other.
Furthermore, two male cats will get on more easily if they don't see each other as rivals. In other words, if they have always lived together and don't know better or one is an adult cat and the other is a kitten. Bear this in mind when deciding which sex cat to welcome into your home.
Two Females May Struggle at First
As female cats tend to be more stand-offish, two under one roof can mean the adjustment takes a little longer. Two females together can be pretty feisty, so only get two females if they have been raised together as kittens and have already bonded. Even then your cats might not see eye to eye, but this is your best chance of them becoming friends.
Moreover, two adult females could take up to one year to fully live in harmony together. I got a second female cat and had to stop my cat from bulling my other cat. You can try to make the adjustment a little easier by implementing litter box ideas for multiple cats or using a cat feeder with collar sensor to avoid aggression over mealtimes.
Opposite Genders Get Along the Best
If you already have one cat in your home, I would highly recommend purchasing a second cat of the opposite sex. This tends to be the best pairing in all cases. This is especially true if you are introducing a new kitten into a home where your cat has lived alone for ages, or if you are adopting two adult felines at once.
However, if you do have two cats of opposite genders you should look at getting at least one of your cats neutered. As they will be living together, accidental pregnancy is likely. Of course, this is an entirely different story if you are a breeder.
MY FINAL THOUGHTS
As you can see, there is a lot to consider in the male cats vs female cats pros and cons argument. However, bear in mind that the above are all generalizations and two males can have drastically different personalities, health conditions, and appearances from each other. And the same is also true for females.
As such, more important is how you treat your cat and welcome them into your family. Regardless of which sex you choose, your cat is bound to be a wonderful addition to your home!