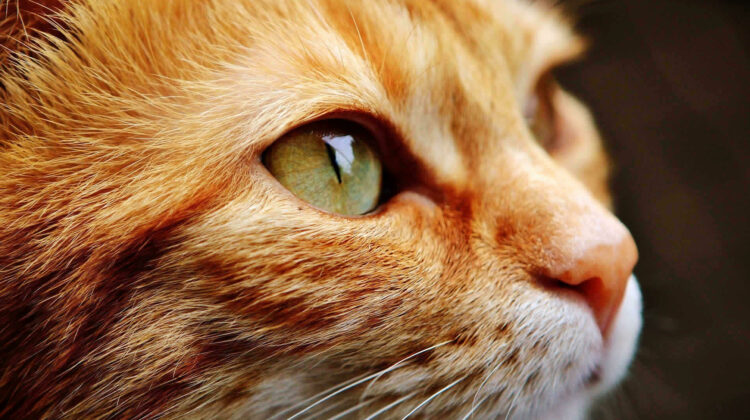 Different breeds of cats are loved for different reasons.
Whereas the Bengal is adored for its wild appearance, the Maine Coon is loved for its huge size and the Scottish Fold is popular thanks to its small folded ears. However, another trait that seems to be highly desired is orange fur.
There is no surprise that people love orange cat breeds. Their fur is striking and resembles that of a tiger. Many famous ginger cats have also sparked more love for this stunning colored coat – think Garfield, Tigger, and Puss in Boots from Shrek. Ginger coats are also seen as somewhat of a rarity, and these cats have a reputation for being the most loving and friendliest felines of all!
In this article, I have listed the top 15 orange cat breeds. These cats range from large breeds to small breeds, and from long-haired felines to short-haired kitties. So, whatever other characteristics you're looking for in combination with their stunning red coats, this is where you'll find the answer!
Top 15 Orange Cat Breeds
If you're looking for an orange cat breed, you're in luck! Orange fur can be found in nearly every breed, from the exotic Abyssinian to the luxurious Persian. However, no breed of cat is guaranteed to be ginger all the time. This is because the color of their fur depends on the precise genetics passed down from each parent.
For an orange coat to appear, cats have to inherit the red gene. For females, two copies of this gene have to be inherited, with one coming from each parent, whereas males only need one copy for the orange coat to present itself. So, if you're wondering "are orange tabby cats always male?" you'd not be far from the truth – although females do exist, males are much more common.
However, besides the sex of a cat altering the likelihood of it having an orange coat, the breed also plays a part. Orange fur is more common in some breeds than others. These breeds typically have a larger gene pool and so there is a higher chance of interesting color combinations cropping up. For anyone looking for a ginger puss, here are the 15 breeds which are most likely to have orange coats.
1. Scottish Fold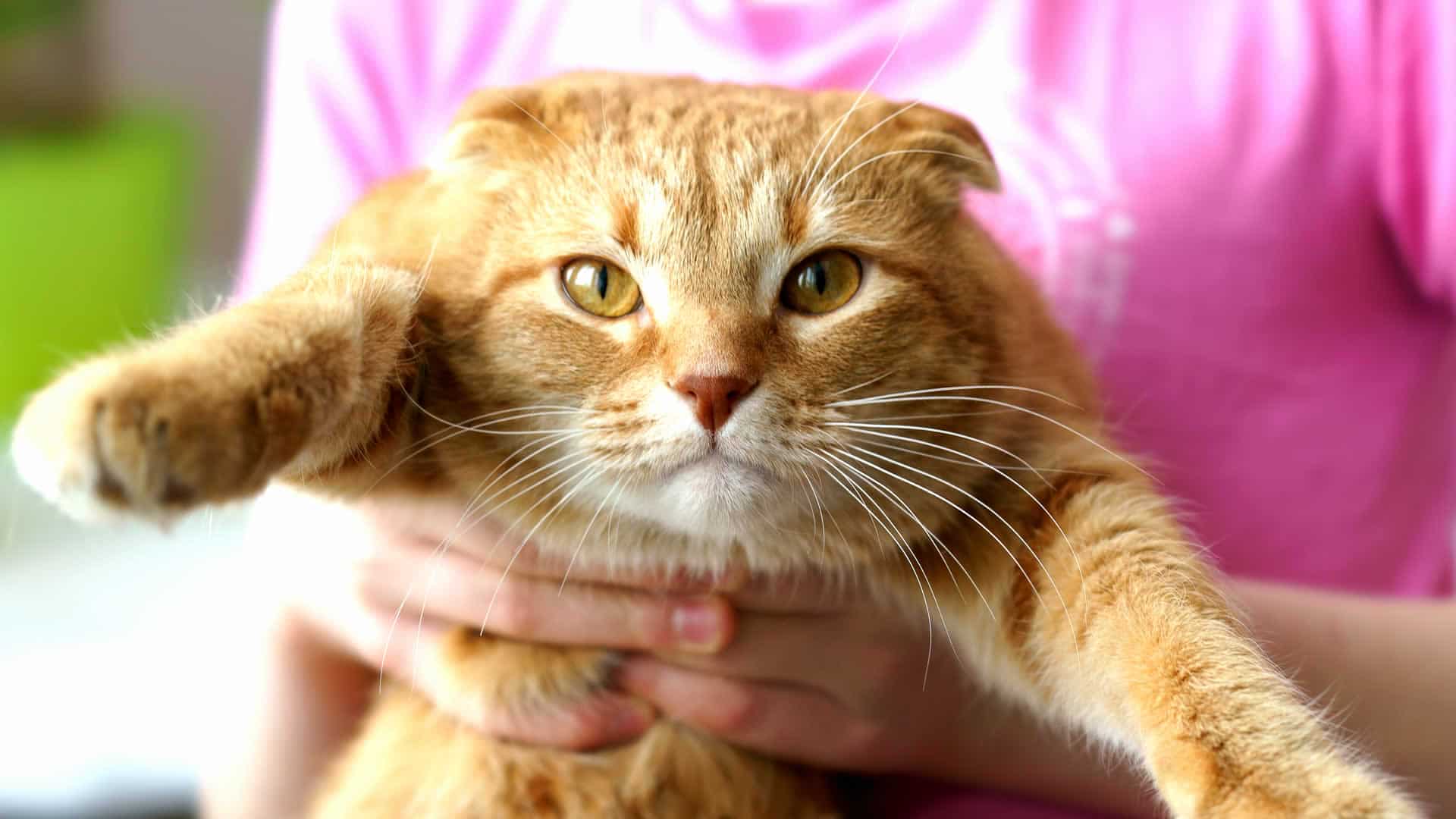 Already known as being one of the most adorable cats in existence is the Scottish Fold. This breed is most famous for being a cat with small ears. A mutation in the cat's genes means that cartilage doesn't develop properly in these felines, resulting in tiny ears that flop forward towards their skull. This gives them a distinctive owl-like expression when coupled with their rounded faces and eyes.
The first cat with this spontaneous small ear mutation was a cat named Susie who was found on a farm in Scotland, hence the name "Scottish Fold". Susie had a white fur coat, but many cats belonging to this breed now also have orange coats, known as "red".
Red Scottish Fold cats are typically a brilliant dark red with no obvious tabby markings. They also tend to be entirely orange, including their paws, underside, and even their nose and paw pads. This coat color is also always coupled with golden or copper eyes – they truly are red all over!
Aside from red Scottish Folds, there are also coats known as "red chinchilla" or "shell cameo". This is where the undercoat is white, but the hairs are tipped with orange. Generally, this results in a white stomach, chest, chin, and ears, with orange patches over the back and tail. Other coats with red include the "shaded cameo" and "cameo smoke", both of which are again a combination of orange and white fur. There are also a variety of tabby coats with flecks of red and copper.
All in all, Scottish Folds have one of the most diverse coat colors of all domestic breeds. According to the Cat Fanciers' Association (CFA), any combination of genetically possible colors and patterns is allowed. This explains why orange cats are frequently seen – with such a large and diverse gene pool, there's a higher chance to see a cat with an orange coat.
2. Turkish Angora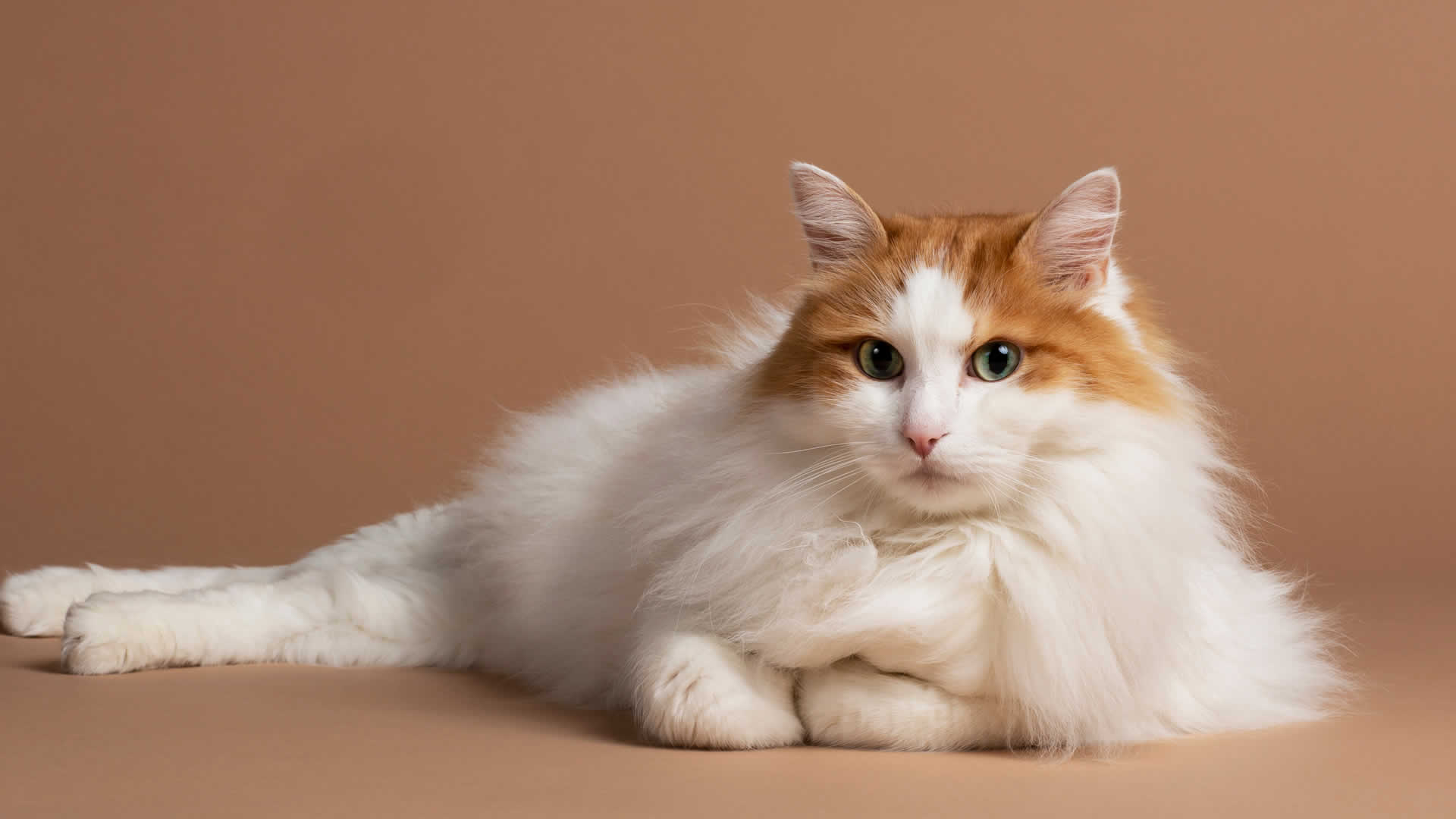 The Turkish Angora is another orange cat breed. Rather than originating from Scotland, this breed comes from Turkey. In fact, this is one of the oldest domestic cat breeds around today, having been around since the 1600s. According to some, they are thought to be the first long-haired cat breed to enter Europe!
Originally, only white coats were accepted for the breed, but not anymore. Today, their beautiful long-haired coats come in a range of different colors, including white, cream, black, silver, and red. The bright orange coat is generally seen with yellow or orange eyes. However, cream coats – a dilution of the red color – are also seen paired with blue or green eyes.
There is also a huge variation in the different coat patterns. You'll come across Turkish Angoras that have a solid coat color, as well as one with tortoiseshell patterning, calico coats, and tabby markings. However, you'll never come across a ginger cat with a solid coat. Even if they appear to look one color, closer inspection will reveal that they do have subtle markings. This is again all thanks to cat genetics – orange fur coats are always patterned in some way!
In terms of personality, Turkish Angoras are equally as desirable. They are extremely sociable and highly playful and intelligent. Owners love this breed as they can be trained and quickly form strong bonds with their owners, but you need to have time spare to keep them entertained.
3. Munchkin Cat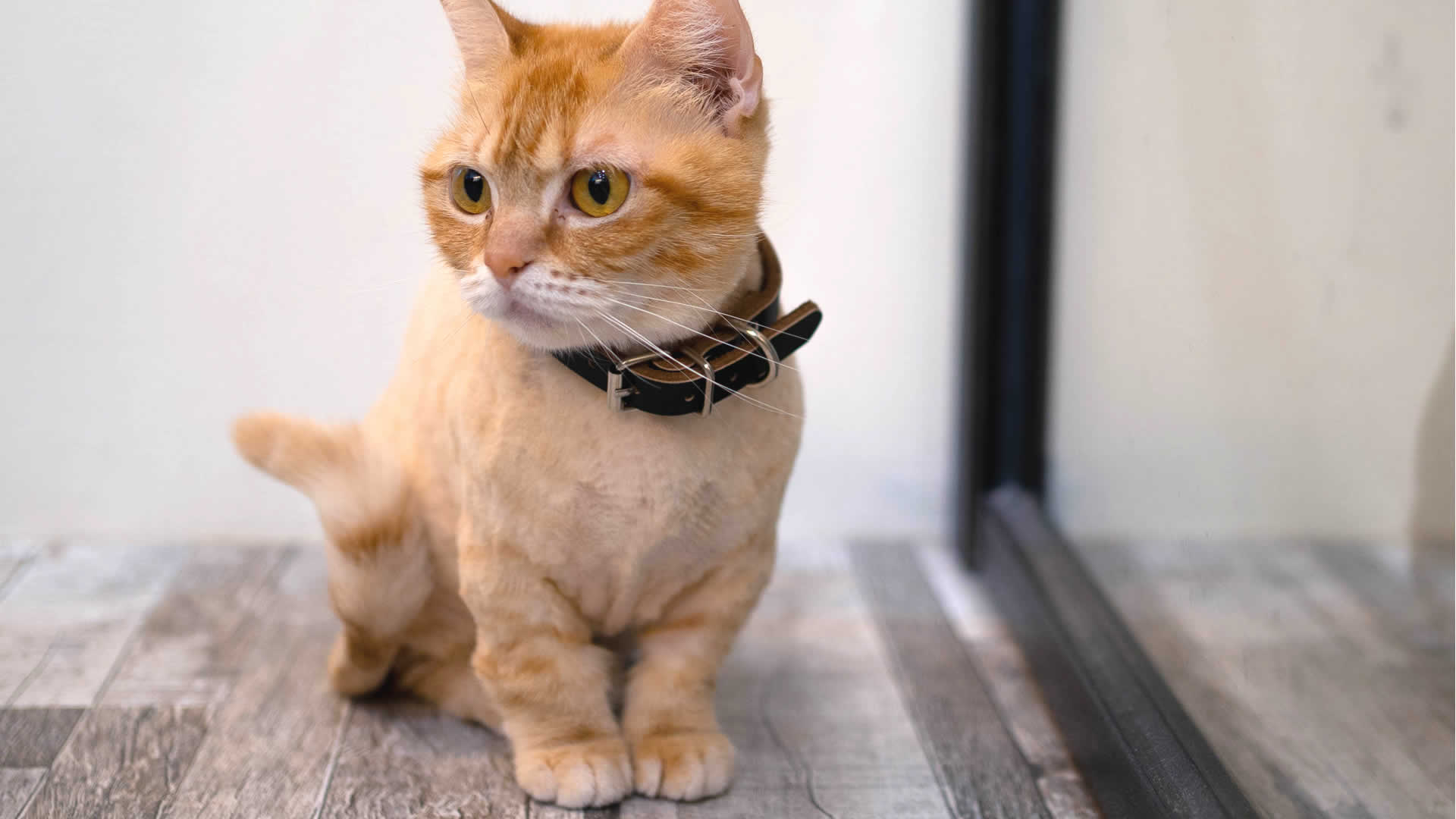 The Munchkin Cat, also known as the "Sausage Cat", is best known for being a cat with short legs. The reason for their short legs again lies in genetics. This time, it is a gene that causes dwarfism that is responsible. While the bodies of these cats grow as you would expect, their limbs have stunted growth which makes this disproportionately small.
Because these cats were bred with a physical deformity to appease humans, their breeding was very controversial. However, they were officially recognized in 1994 by The International Cat Association (TICA). Yet, at the moment, this is the only cat registry that accepts Munchkin Cats as a breed.
Aside from their controversial small limbs, another feature of this breed is the huge range of coat colors they can be seen with. You can find a Munchkin Cat in all genetically possible color combinations, patterns, and styles. Of course, orange coats make this list, often coupled with white or with beautiful tabby markings.
Just as gingers cats are known for being some of the most friendly felines, the same is true for Munchkins. Despite their small size, they are confident and playful. This breed is known for being a great family pet and extremely loving, so just imagine how friendly a ginger Munchkin cat could be!
But wait, why are Munchkins and orange tabby cats so affectionate? It all boils down to their appearance. Both sweet little Munchkins and ginger coats are seen as two of the more endearing and adorable characteristics. Therefore, these cats likely got handled more as kittens as everyone was fussing over them! As a result, they're typically the friendliest and most affectionate felines around.
4. Persian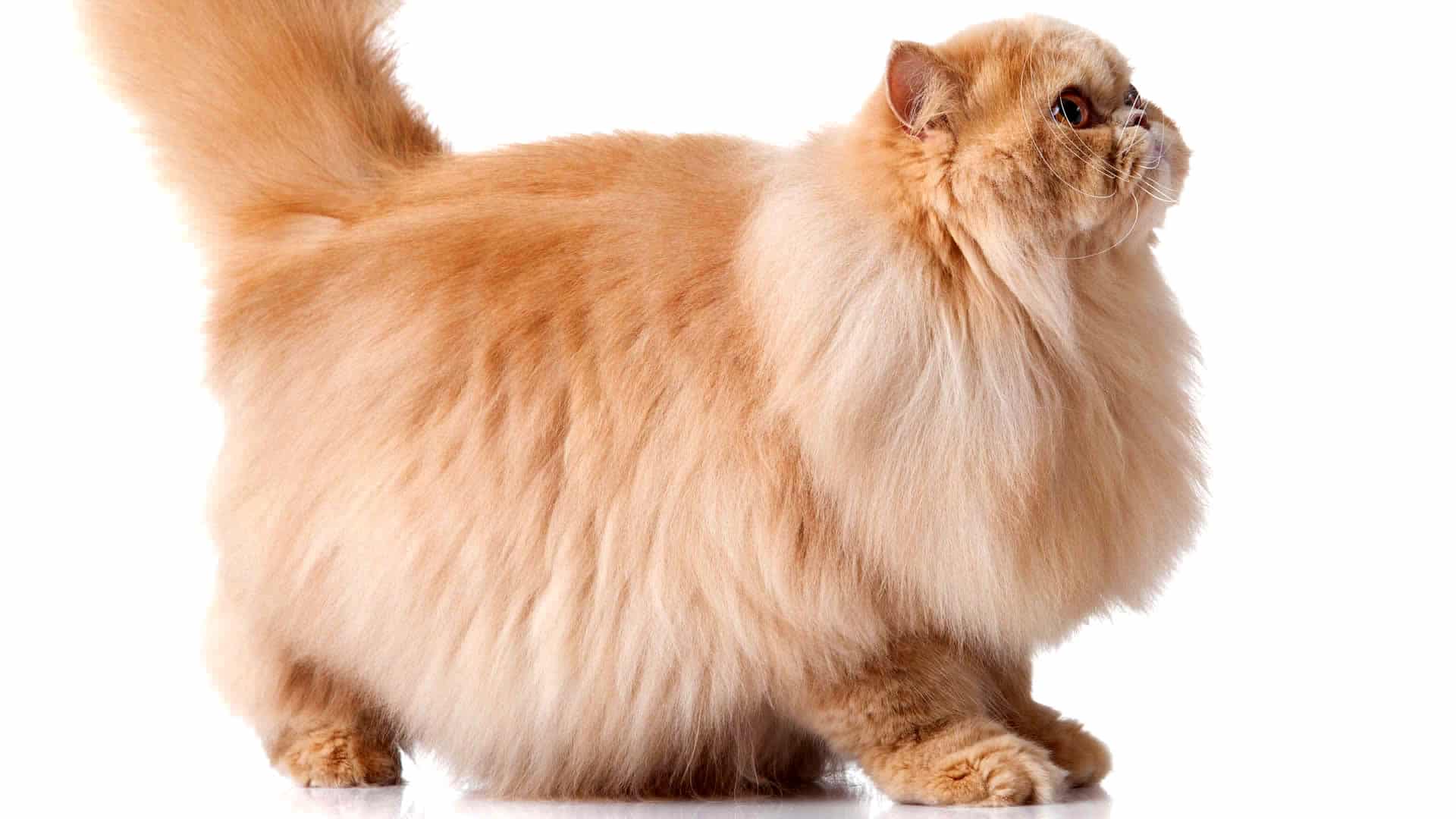 Persian cats are loved for their elegant and luxurious appearance. With thick plush fur coats and sweet doll-like faces, this breed hasn't been termed as the "glamor puss" for no reason! They are an undeniably beautiful breed and a great option for anyone looking for an affectionate and sociable feline. It is indeed their good looks and sweet temperament that make them the most popular pedigree cat in the US.
When imagining a Persian, most people will first think of a glossy white or silver cat. However, Persians come in numerous color combinations and patterns and are another example of an orange cat breed. You will also see red fur partnered with other colors to give stunning tortoiseshell and calico coats.
However, with such gorgeous coats comes a lot of hard work, so I wouldn't recommend a Persian for anyone who doesn't have much free time on their hands. Their long fur needs brushing daily to prevent mats from forming. Plus, you'll have to give your kitty a dreaded bath at least once per month to keep their ginger fur looking vibrant and silky soft.
5. Maine Coon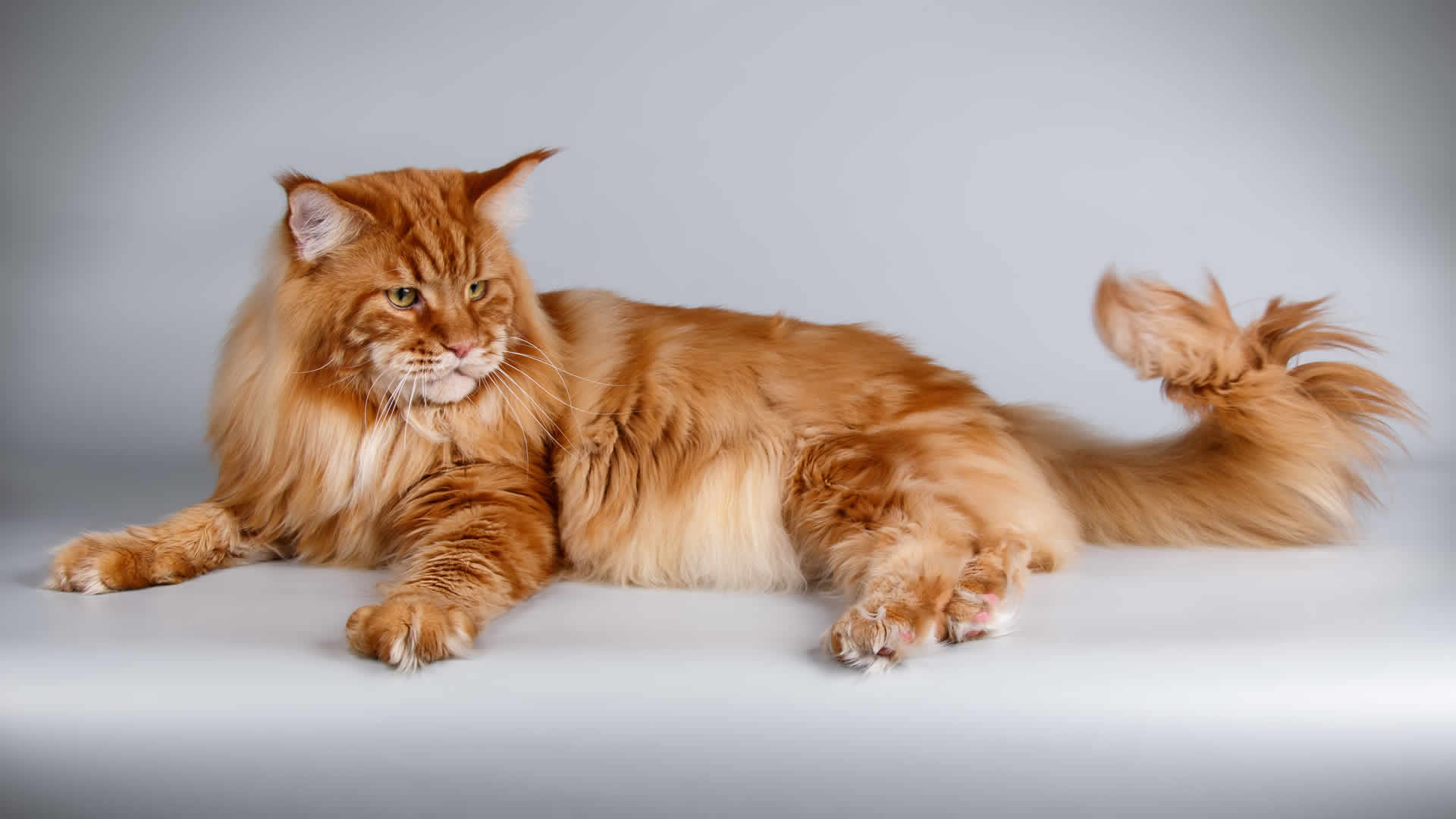 The Maine Coon, one of the largest domestic cat breeds, is another example of a long-haired orange cat. Red Maine Coons are actually pretty common and there are three different orange color combinations that you might see. These are:
Solid Red: Their coats appear to be the same orange color all over. However, look closely and you will see this isn't the case! There are actually faint tabby markings. Of all the orange Maine Coons, solid red coats are the rarest to come by.
Red Smoke: Maine Coons with red smoke coats have orange fur that is darker at the tips yet white at the base. With such long locks, this transition is truly wonderful to look at. They have a much lighter and more cream-like complexion.
Red Tabby: The most common orange coat is the red tabby. This is where there are clear tabby markings with a combination of light and darker tones. There are three different possible tabby markings too; a ticked tabby, classic tabby, or mackerel tabby.
Red coat aside, Maine Coons are predominantly known for their large size. However, don't let their size intimidate you! This breed has earned itself the nickname of "gentle giant" thanks to its sweet and affectionate disposition, and they make incredible family pets.
Before you purchase a Maine Coon though, make sure your home is large enough. Large breeds not only need more space for themselves, but they also need bigger pet supplies, such as an extra-large litter box or large cat tree. So, make sure you have space before committing to getting one of these gentle giants.
6. Cornish Rex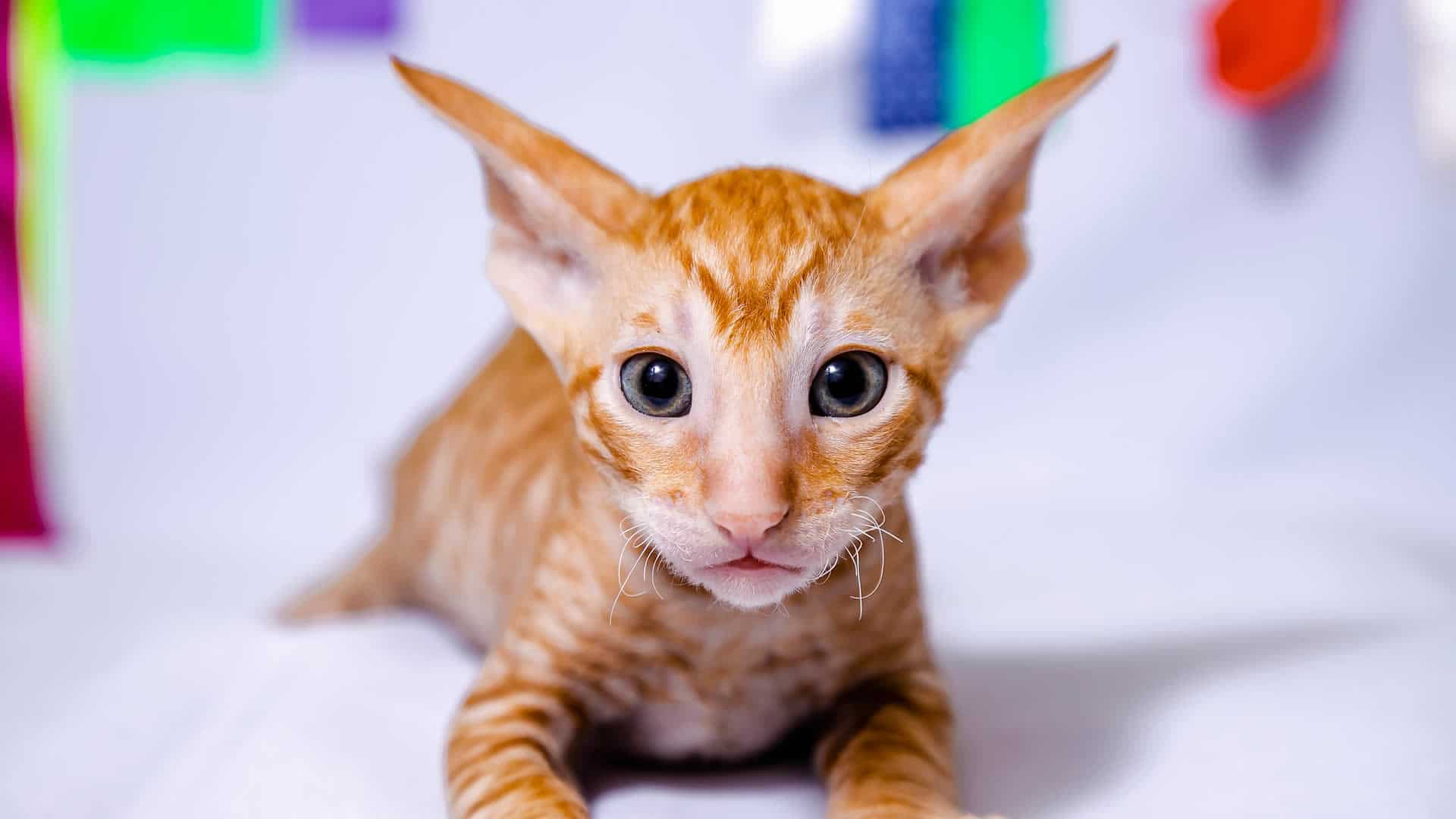 The Cornish Rex is another cat breed with orange fur. However, their coat color is not this breed's most distinctive characteristic. Instead, these felines are adored for their unique curly coats that feel like velvet to touch. This is thanks to Cornish Rex cats only having an undercoat rather than the typical three-layered coat see in most domestic breeds.
Orange isn't the only color that Cornish Rex's hallmark coats come in. According to breeding standards, everything including white, chocolate, black, blue, and cream is accepted. In terms of patterning, solids are common, but you will also see all different types of tabby, bi-color cats, and the beautiful tortoiseshell trio of orange, white, and black.
Another notable feature of a Cornish Rex is its eyes, which are always golden if their fur is orange. Being regarded as a cat with big eyes, you can easily get lost in their gaze. The short fur and triangular-shaped head further enhance their eyes and make it impossible to look away!
Their personalities are also adored, and Cornish Rex cats are said to be the clowns of the cat kingdom. They're lively and playful, always ending up in mischief, and finding never-ending ways to make their owners laugh! However, this breed is also affectionate and will form a strong bond with its owner, making them an all-round great choice for a pet.
7. Devon Rex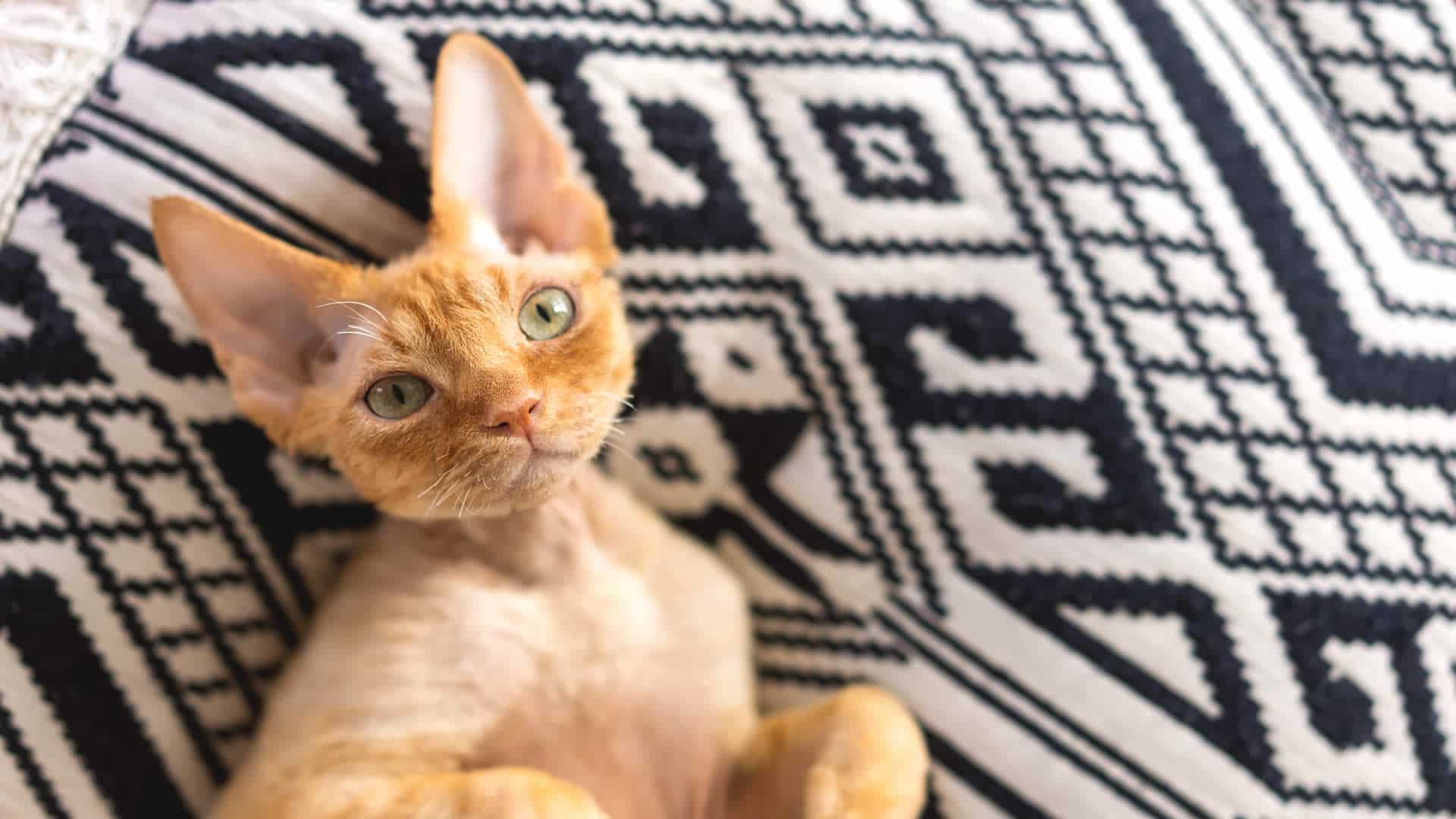 Extremely similar to the Cornish Rex is the Devon Rex. The two are alike in many ways. Both have similar curly coats, but interestingly they are caused by a different genetic mutation. They also have a similar bone structure, with slender bodies, large eyes, a pointed chin, and a top-heavy face shape. Besides, just as their Cornish relatives can have orange fur coats, as can the Devon Rex.
Almost any coat pattern imaginable is also seen on the Devon Rex. Of all the red cats, a tabby pattern is most common. However, you will also see flecks of red on a calico coat, combined with white and black. Bi-color white and orange cats also exist, with the white patches generally seen on the cat's underside and paws.
Another stand-out feature of the Devon Rex cat is its notable large and pointed ears. These ears – in combination with their short nose and wedge-shaped head – are what gives this breed its hallmark elfish or pixie-like look they're most loved for. Their ears also sit quite low down on their heads, further contributing to the alien-like appearance.
8. Bengal Cat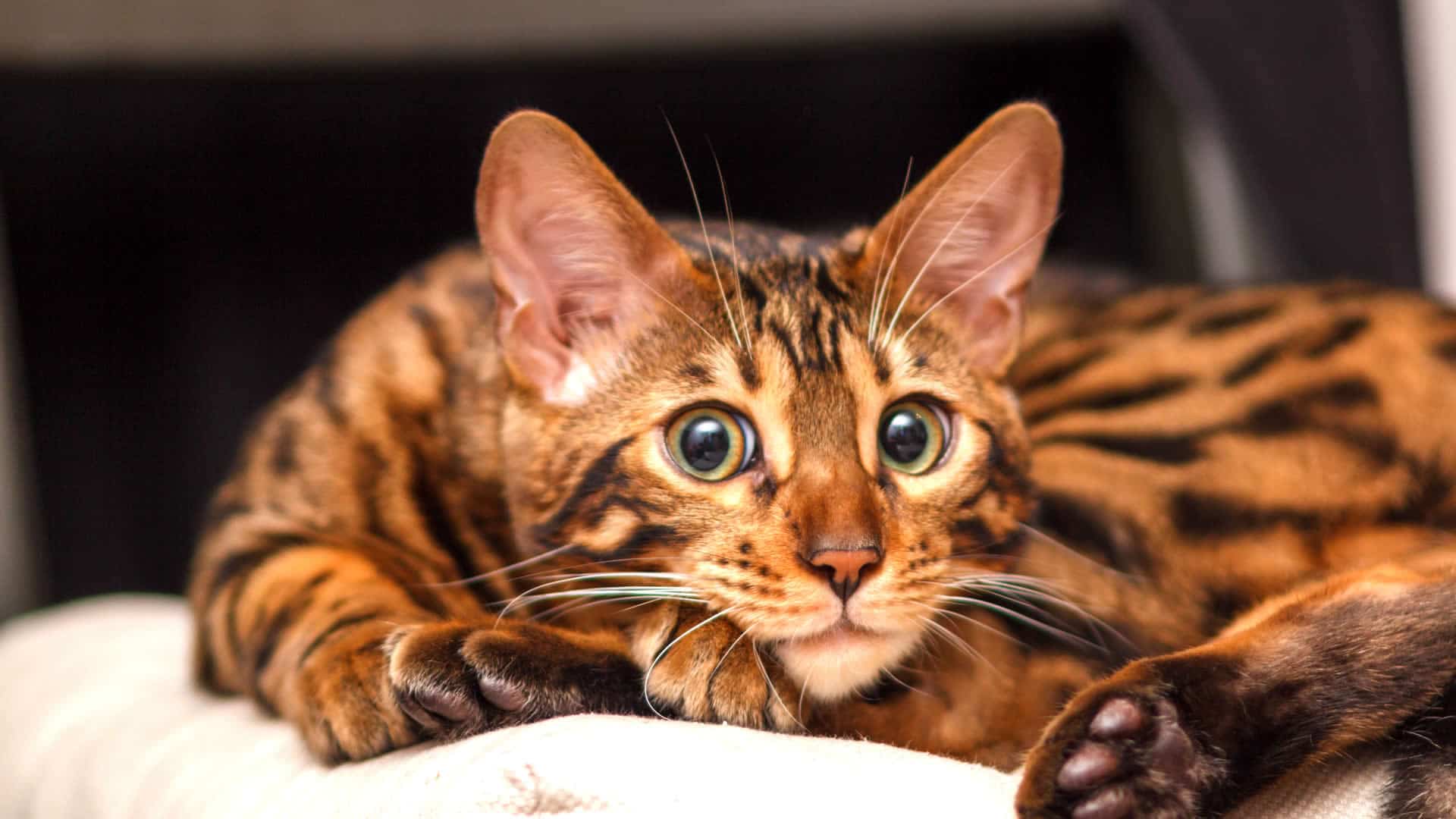 Bengal Cats are one of the most unique domestic cats around today. They have a sweet and affectionate temperament while looking distinctively wild. In fact, their spectacular spotted or marbled coat markings are their most well-known trait. While the recognized colors are brown, silver, and snow, Bengals also come in a range of "unrecognized" colors, such as black and blue.
It is the brown Bengal cats that have the most orange-colored fur. This varies from a faint orange-brown to warm caramel tones and more vibrant shades of red. However, an orange-brown "butter coat" is usual for brown Bengals. This lighter orange color will make up the bulk of the coat, becoming the base. Darker rosettes or marbling in chestnut brown and black then contrast beautifully, giving this breed a distinctive wild appearance comparable to a leopard's markings.
It is not only their outside appearance that looks "wild", but they've also kept the playful and intelligent personalities often seen in big cats. This means that Bengals will require lots of attention and exercise to keep them happy. However, put in the type and effort and you'll also have a loyal and loving new family member. Besides, Bengal cats are much friendlier and affectionate than wild cats, providing the perfect solution for anyone wishing they had a leopard or cheetah as a pet!
9. British Shorthair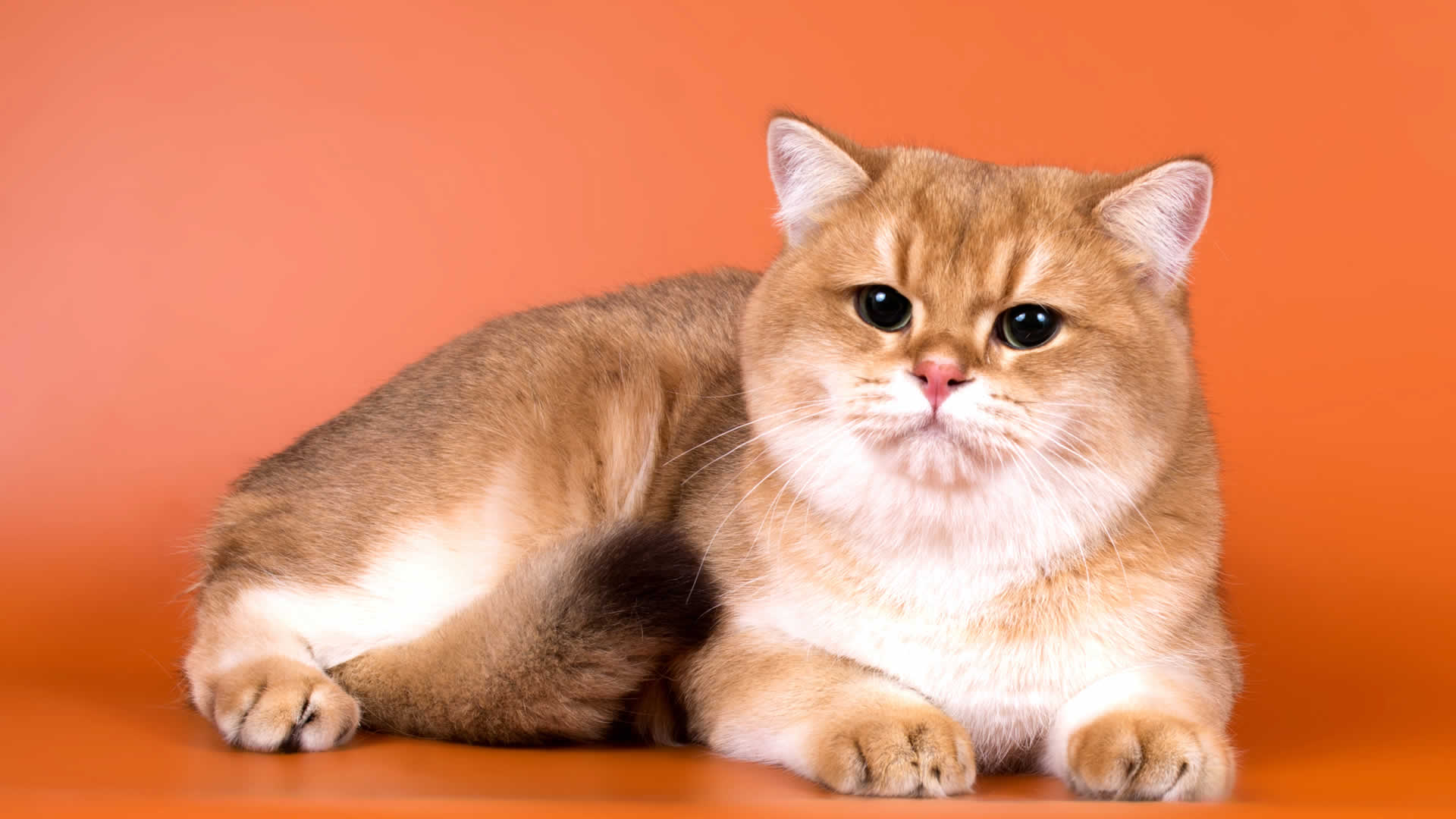 When most people imagine a British Shorthair, they picture the characteristic combination of a blue coat and golden yellow eyes. This is the most common and also the most popular combination for the breed. However, despite being much rarer, there are also British Shorthairs with orange fur.
Unlike many of the other breeds on this list, orange British Shorthairs are typically not the vibrant red you may imagine. Rather they are cream, a diluted version of the orange gene. This creates a pastel color that can range from a yellow tinge to creamy pumpkin orange. Cream can show up in a variety of different coat patterns, but these will be difficult to distinguish because of the diluted colors.
If you're looking for a more vibrant red British Shorthair, these do also exist. However, these are even more of a rarity and are one of the more recently recognized additions to the breeds. As with cream cats, they too can come in a range of patterns, which also include tortoiseshell and bi-color coats.
Aside from their coats, this large cat breed is known for its round and stocky build. They have broad chests, rounded faces, and large paws, giving this cat a powerful appearance. Yet at heart, British Shorthairs are one of the most easy-going felines there are. They've got a sickly-sweet nature, love their owners, and would rather take a catnap over exercise any day of the week!
10. American Curl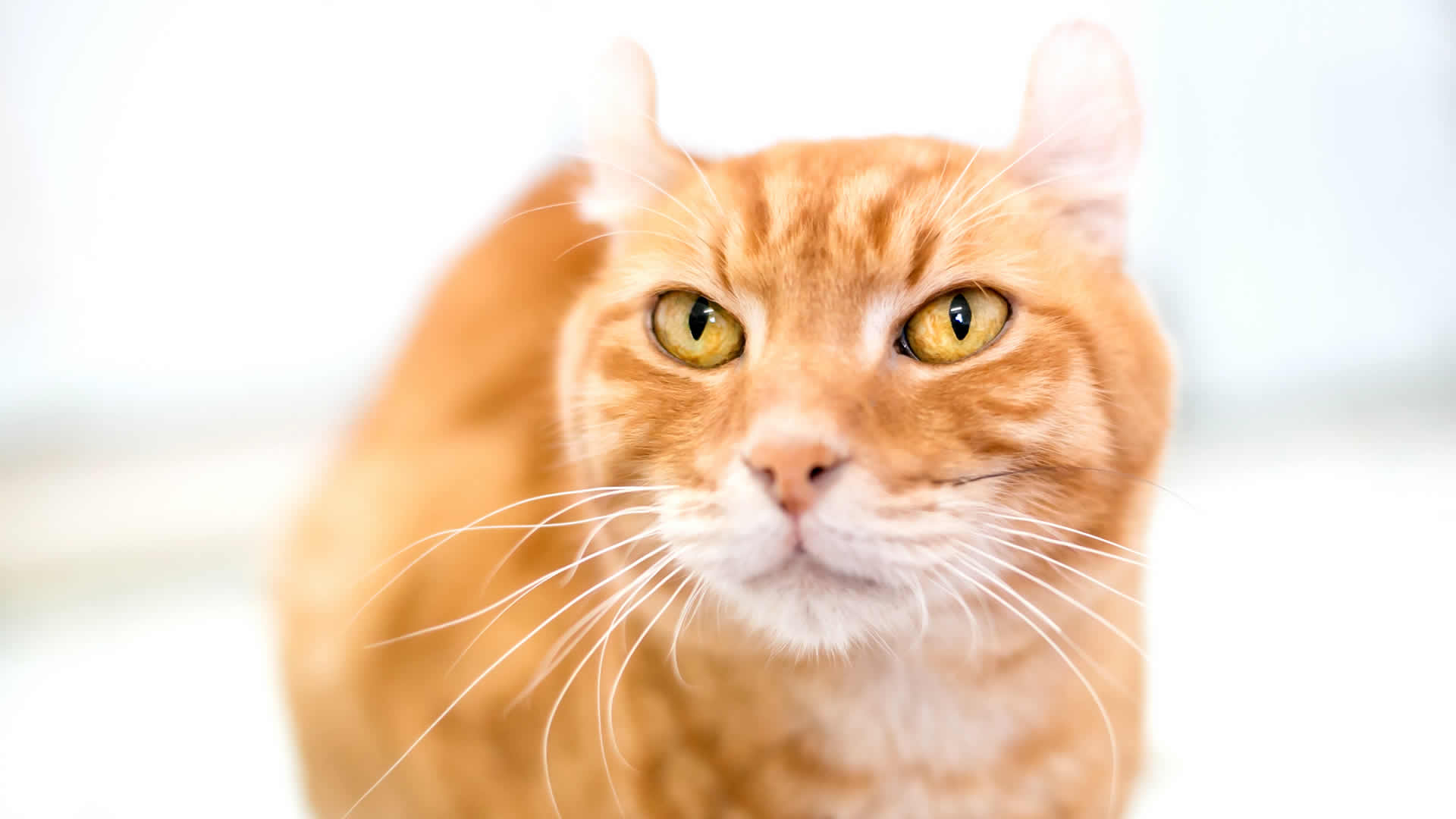 American Curls can also have orange coats which exist in almost any pattern genetically possible. This includes tortoiseshell, calico, tabby, and ticked. The hair itself can also come in varying lengths; some cats will have medium to long hair, yet short-haired cats are equally as likely. Regardless of the color, pattern, or length, one thing is for sure: their coats are one of the softest and silkiest you'll find.
What the American Curl is most famous for though is its ears. Its ears are the defining feature that is responsible for this breed's name. Unlike most cat ears which point upward, the ears of an American Curl have soft and rounded tips that fold backward towards their skull. The degree of curvature varies but typically is between 90 and 180 degrees.
It is worth bearing in mind that while these ears appear cute, they will need constant cleaning. Their unusual shape means the ear canal can become twisted and narrowed, making it more prone to blockages and infection. Besides, be ultra careful when doing so as their ears are more delicate and heavy handling can damage their cartilage.
11. American Bobtail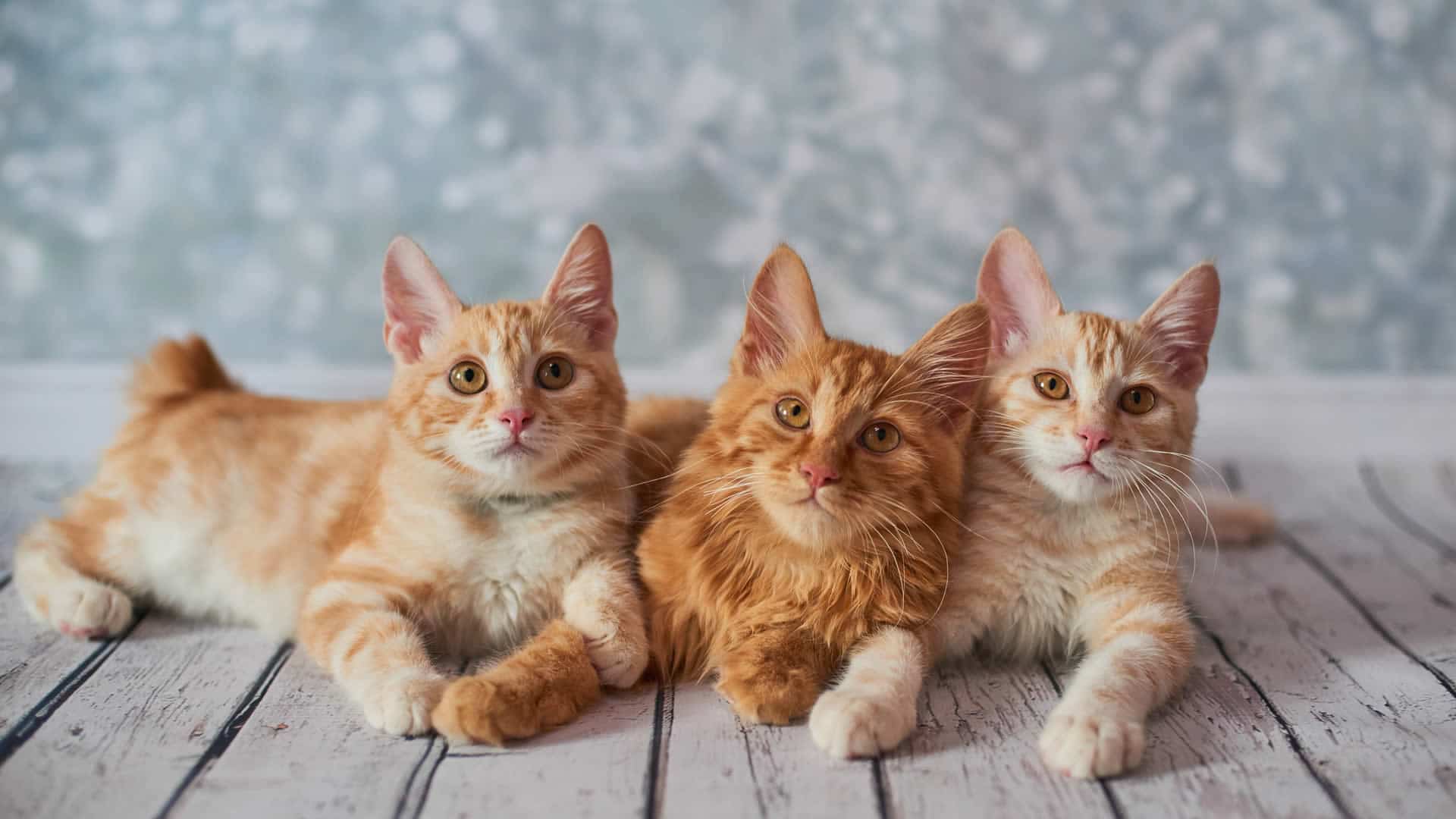 You can also find an orange American Bobtail cat. In fact, these bundles of fun are another breed that comes in a huge range of different coat colors aside from red, including lilac, blue, black, white, cinnamon, and cream. Their coat length also varies, and you can find both long-haired and short-haired orange American Bobtails.
This breed can also come in any pattern. With cats exhibiting the red coat gene, tabby patterns are most common. However, you can also find bi-color and calico American Bobtails, too. In these cases, orange patches of fur are combined with black and/or white for beautiful and unique combinations.
Arguably the most unique thing to note about this breed though is its shortened tail. American Bobtails, as the name suggests, have tails more alike to a rabbit's bobbed tail than a cat's long and slender tail. The length will vary even between kittens from the same litter, ranging from around 1-4 inches. But the most desirable length is no longer than 1 inch!
Many people also make the mistake of thinking that these stubby tails mean they are related to the Japanese Bobtail, but this isn't the case. Although both have shortened tails, the American Bobtail has a slightly longer and more flexible tail that they wag and move around to express emotion. The American Bobtail also has a much more wild-like appearance and a dog-like temperament, being nicknamed the "golden retriever of cats".
12. Abyssinian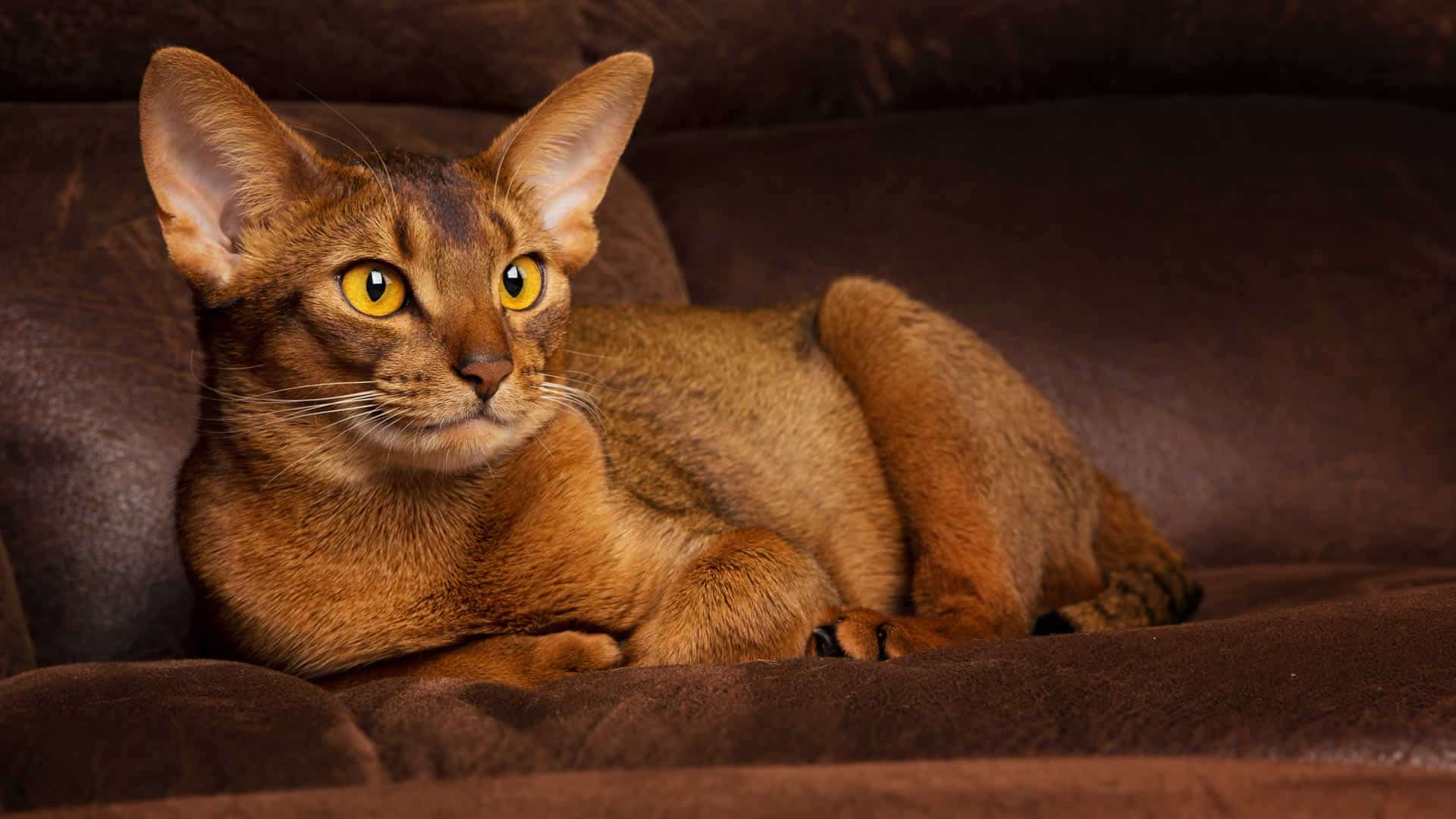 If you're looking for a short-haired orange tabby cat, then look no further than the Abyssinian. This breed, unlike many on this list, only has one coat pattern – the ticked tabby. Rather than having traditional stripes commonly associated with tabbies, ticked tabbies have agouti hairs.
What does this mean? Well, agouti hairs each display multiple bands of pigmentation. They are light at the base with several bands of darker color as you move towards the tip. This means there is a banded pattern on each individual hair rather than across the cat's body as a whole. Orange Abyssinians, also known as red or sorrel Abyssinians, have a lighter copper-colored base with brown ticking towards the ends.
Interestingly, the Abyssinian's original color was not orange, but rather a reddish-brown base with black ticking. While this cat has a reddish tinge, it is not considered orange by any means. However, a unique mutation of this original coat color is what made the red coat appear and it is now a fully recognized color.
Although this breed has a distinctive short-haired ticked coat, there is also a long-haired version. This is known as its own breed though, called the Somali. So, if you like what the Abyssinian has to offer but prefer the look and feel of a fluffy long-haired coat, the Solami could be your answer. They have the same ticked pattern and also come in sorrel, making them another beautiful orange breed.
13. Ocicat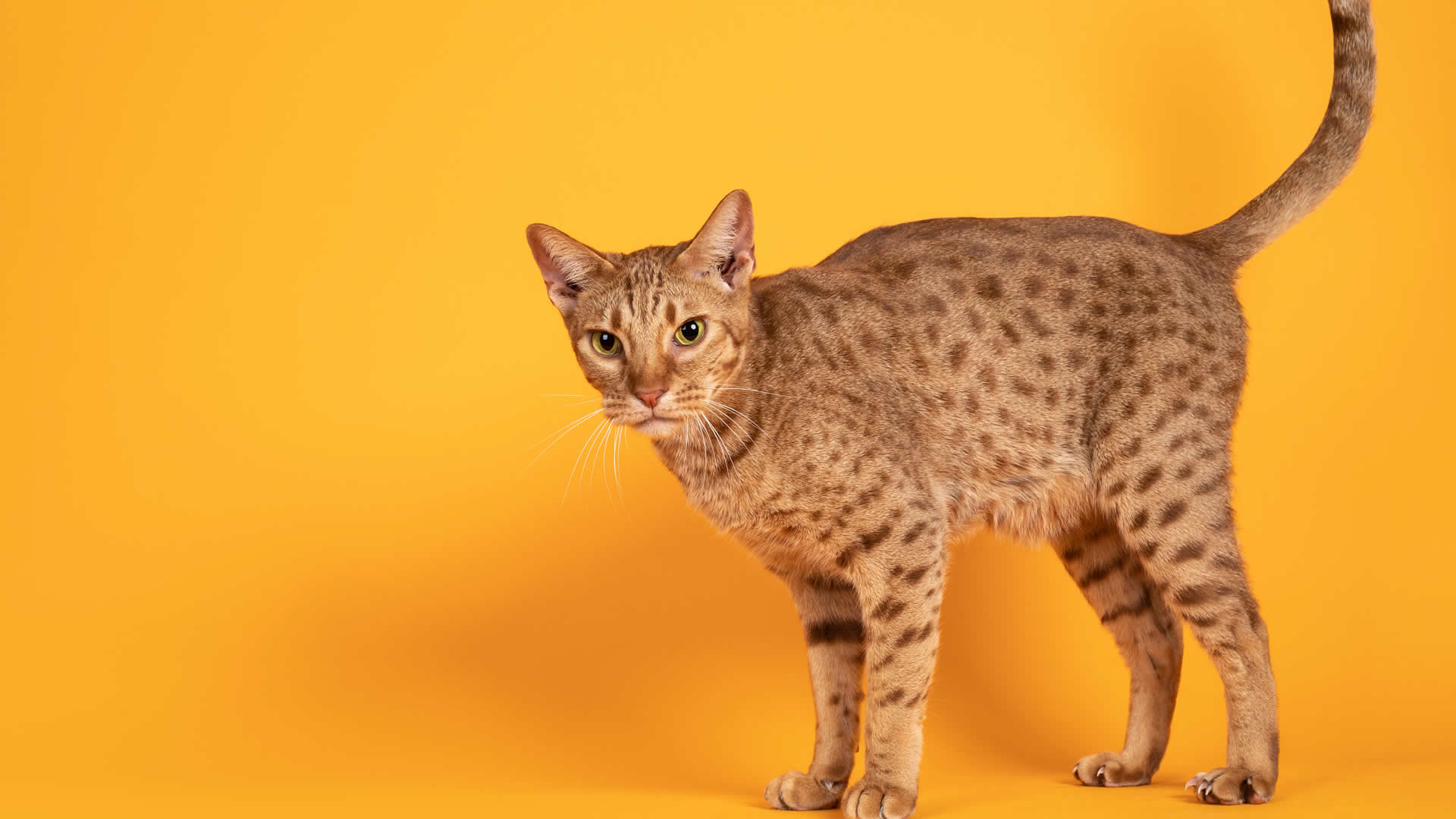 The Ocicat was bred in the hope of creating a spotted wild-looking cat with a stunning rosette coat pattern that was friendly enough to keep as a pet. This was done by crossing three breeds – the Siamese, Abyssinian, and American Shorthair – together. Their short, sleek, and spotted coat is now a hallmark of the Ocicat breed.
Like its Abyssinian relative, the Ocicat also has an agouti coat. The spots we see on their coats are formed from where the darker bands of color on the hairs meet. The markings are extremely important for this breed and should not be faint or blurred with the base. You'll also notice the darkest points at the tip of the tail and around the backs of the legs.
Orange Ocicats, known otherwise as cinnamon in color, have a light orange base with darker orange markings and a pink nose and paw pads. You will often see many variations in the color though, with the background being as light as a pale yellow or beige and the spots appearing more reddish-brown than vibrant orange. There is also a cinnamon silver variety. In these cats, the base is a lighter silver color with orange-spotted markings.
Despite looking like a wild cat, the personality of the Ocicat doesn't reflect this. They love human company and make great companions. However, they do have a lot of energy and are very intelligent creatures. They need to be constantly entertained, otherwise, they may get bored.
14. Oriental Shorthair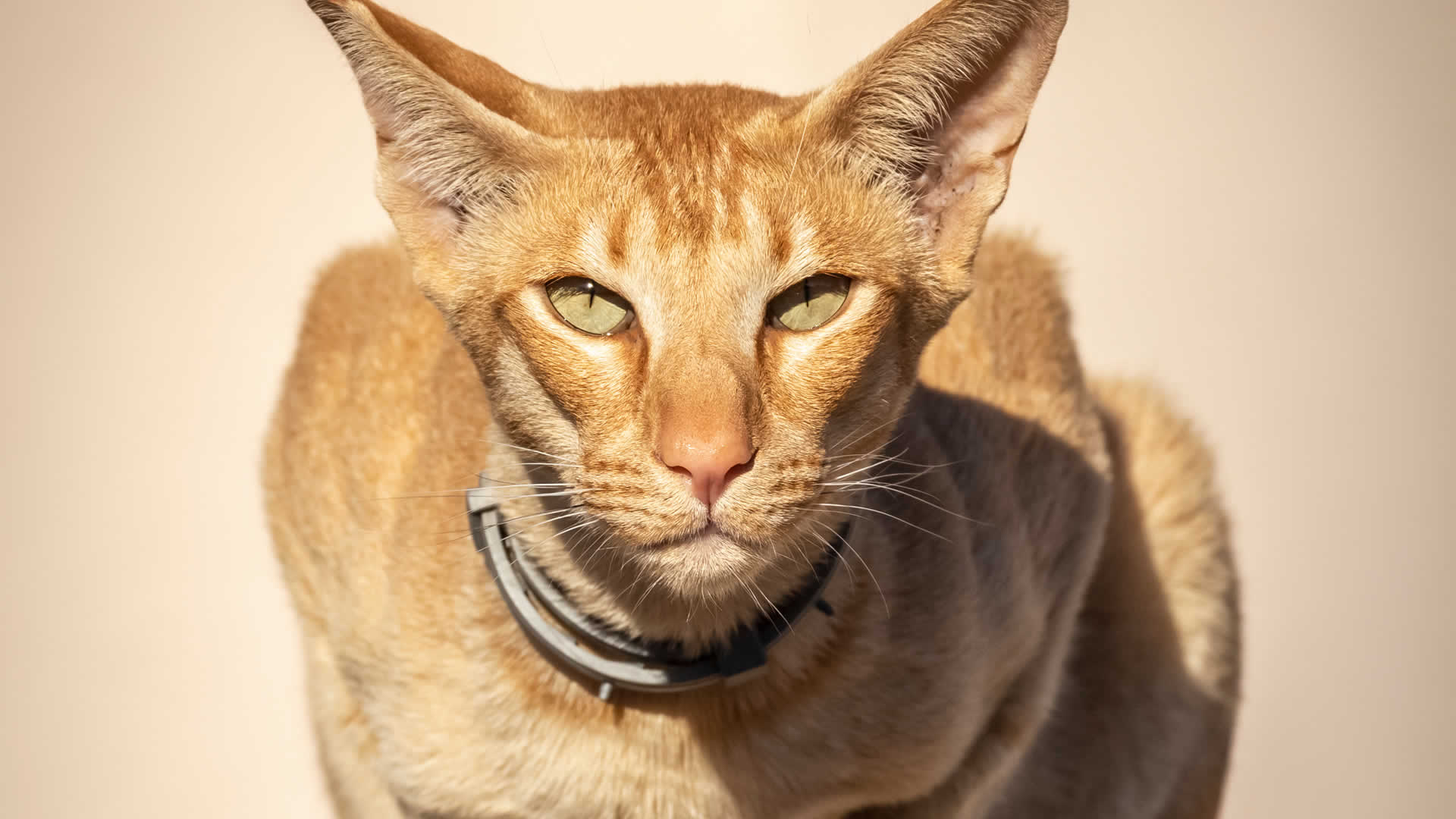 Oriental Shorthairs are another orange cat breed, with spotted tabby patterning being the most common for red cats. However, ticked, spotted, mackerel and classic orange tabbies are all recognized for the breed. Whichever the patterning, the Oriental Red should have a rich, warm, and vibrant color with no visible white hairs. Their coats are always, as their name suggests, short-haired.
These orange cats also have green eyes, whereas most red cats will have gold or yellow. This makes Orientals' eyes a stand-out feature as they contrast strikingly against their coat. When it comes to breeding standards, the more vibrant the better! Their big almond shape further helps to accentuate this wonderful feature.
However, an orange tabby coat is by far not the only possible coat color and pattern combination. You will also see red fur in tortie cats in combination with cream and either blue, black, chocolate, or cinnamon hairs. In total, there are a whopping 300+ different coat color and pattern combinations that are accepted by the Cat Fanciers' Association (CFA) for this breed.
Aside from their diverse range of possible coat combinations, Oriental Shorthairs are also known for their long and angular head, tall pointed ears, and slender limbs. In fact, they look incredibly similar in size, stature, and bone structure to their Siamese relative, simply with different and more exciting coat patterns.
15. Exotic Shorthair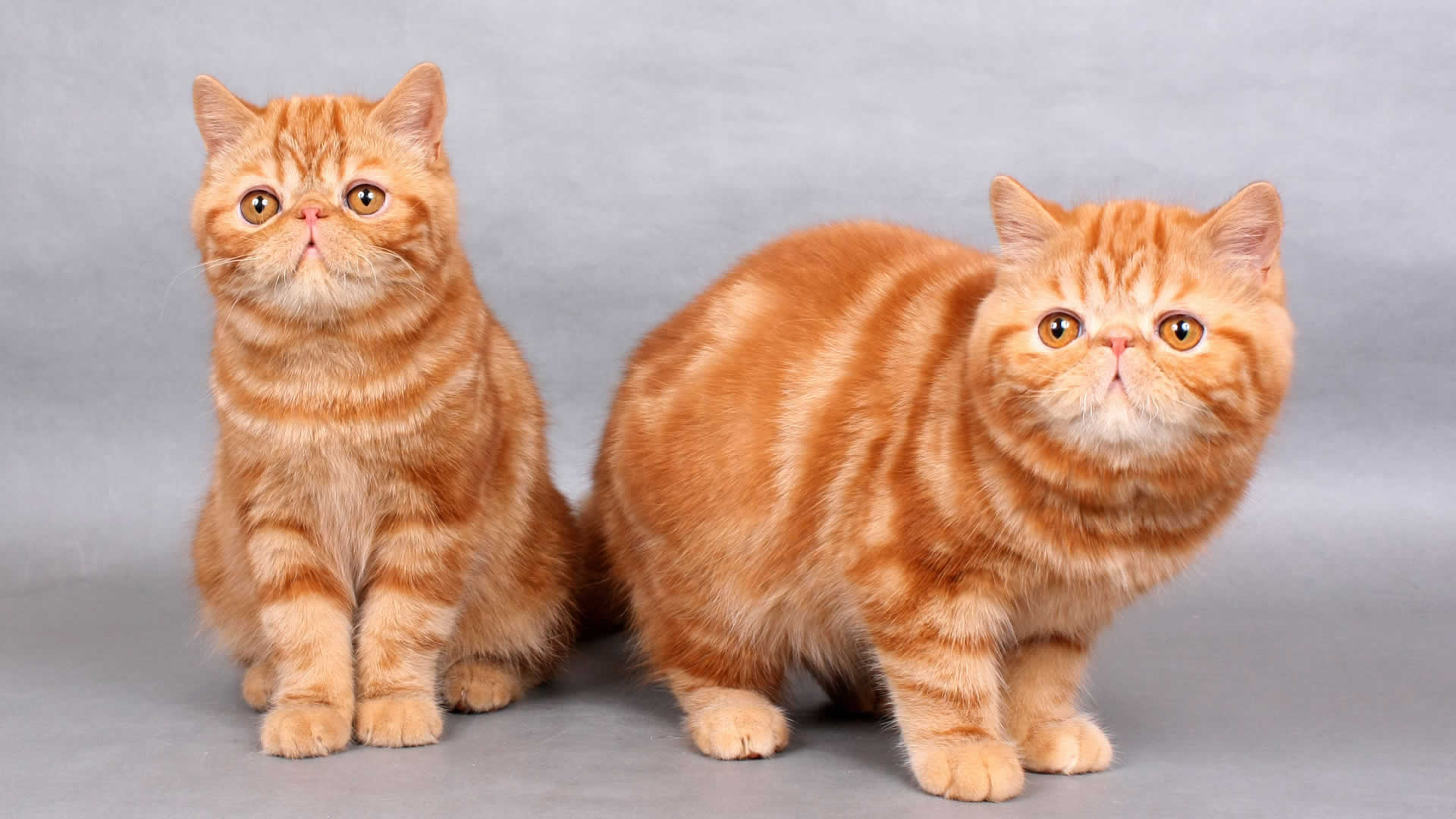 Just as the Oriental Shorthair is comparable to a Siamese, the Exotic Shorthair is comparable to a Persian. This breed is essentially a short-haired version of their glamor puss sister in almost every way – they have the same sweet and calm temperament, distinctive flat nose, large rounded eyes, and small ears. They have simply exchanged their long-haired plush coats for a denser, shorter, and more easily manageable one.
Just as their Persian ancestors can have orange coats, so can Exotic Shorthairs. These red hairs can appear in a huge variety of different patterns. These include a range of different tabby markings, as well as tortoiseshell and calico coat patterns. Exotic Shorthairs can also be cream, a diluted version of a red gene. This creates a pale and more cream-colored orange that is simply adorable!
This is by far not the end of all the different coat patterns and color combinations though. You will also come across Exotic Shorthairs in blue, black, chocolate, lilac, silver, golden, brown, and seal. In terms of markings, there is everything from smoke to shaded markings, too. With so much choice, this breed is a great option if you're looking for an orange shorthair cat.
MY FINAL THOUGHTS
As you can see, many of the most popular domestic cat breeds can appear with orange coats. This includes everything from large and fluffy Maine Coon to the wild-looking Bengal and everything in between. However, there is no singular cat breed that produces orange kittens every time.
Whether or not any of the breeds I have mentioned have orange fur depends on the genes they inherit from each parent. Still, if you are looking for an orange cat, these breeds are your best bet.
I love orange cats – I always have, and I always will! Their striking and vibrant coats partnered with their affectionate and lovable personalities make red cats arguably the best of them all!