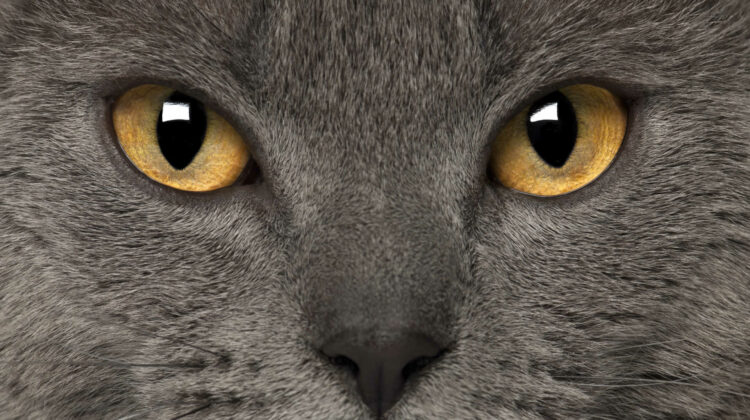 One of the most mesmerizing features of our furry friends is their eyes.
Ranging from a bright yellow to piercing blue and with their distinctive slit-like pupil, cats' eyes are beautiful. However, as with every feature, each breed of cat has slightly different characteristics. Some cats have smaller eyes, whereas others have large and more unique windows to their soul.
Just as humans with big eyes are thought to be more beautiful, the same is true for a cat with huge eyes. In fact, many animals with large eyes are seen as cuter and more adorable. For this reason, it is no surprise that many pet parents-to-be want to know which breeds have the largest eyes you just can't help but fall for!
Luckily, if you're looking for a cat with stunning eyes, then you'll need to look no further. Here, I've listed all of the cats with big eyes to help you choose the perfect breed for you! From the gorgeous and luxurious Persian to the curly-haired Cornish Rex, here are all the big eyes cat breeds you can choose from.
I've also spoken a little about why cat's eyes tend to be on the large side. It's a combination of humans selectively breeding cats to have large eyes, and that bigger eyes can help a cat to survive in the wild. If you're ready to learn all there is to know about big-eyed cats, then let's get stuck in!
Big Eyed Cat Breeds
1. Abyssinian Cats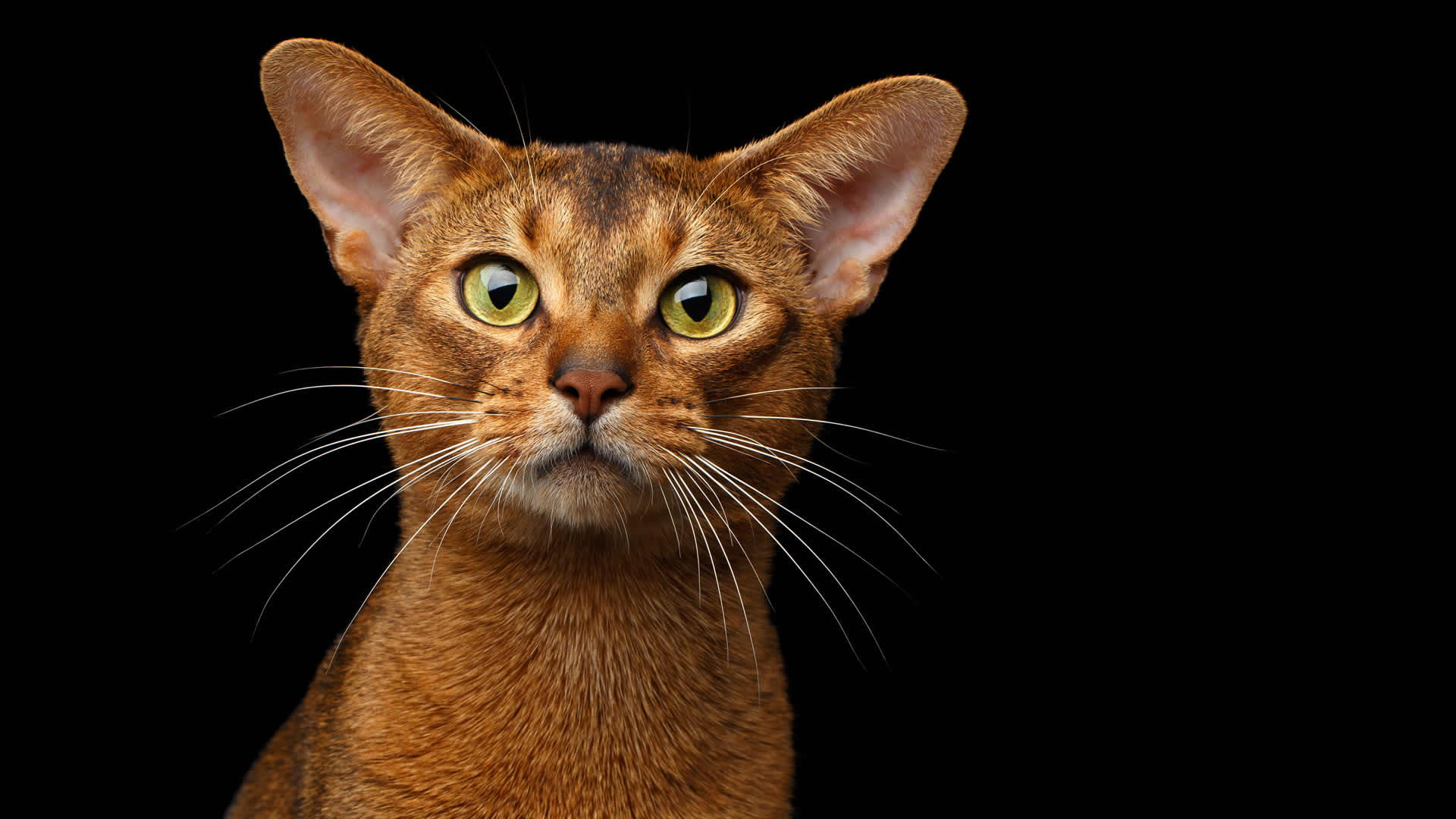 The first cat with big eyes you need to know about is the Abyssinian. This breed has an extremely exotic look, with a small face, oversized ears, and an alert expression. This distinctive appearance is all linked to its ancestry – the Abyssinian is one of the oldest domestic cats in existence, with mummified cats of this breed being discovered in the temples of ancient Egypt.
Another distinctive feature of this breed is its huge almond-shaped eyes. They are much more slanted and angular when compared to most breeds, making them a stand-out feature. Their eyes are also made to look bigger thanks to their tiny faces. Look closely and you'll also notice that there is a dark black line under the eye, further helping to accentuate them and provide definition.
Aside from their appearance, their personalities are also extremely lovable, though not for the faint-hearted! They are often regarded as the "Clowns of the Cat Kingdom" and have temperaments much more similar to dogs. They are active, playful, curious, and always end up in some kind of mischief. These kitties will find never-ending ways of surprising their owners and making them laugh!
2. British Shorthair Cats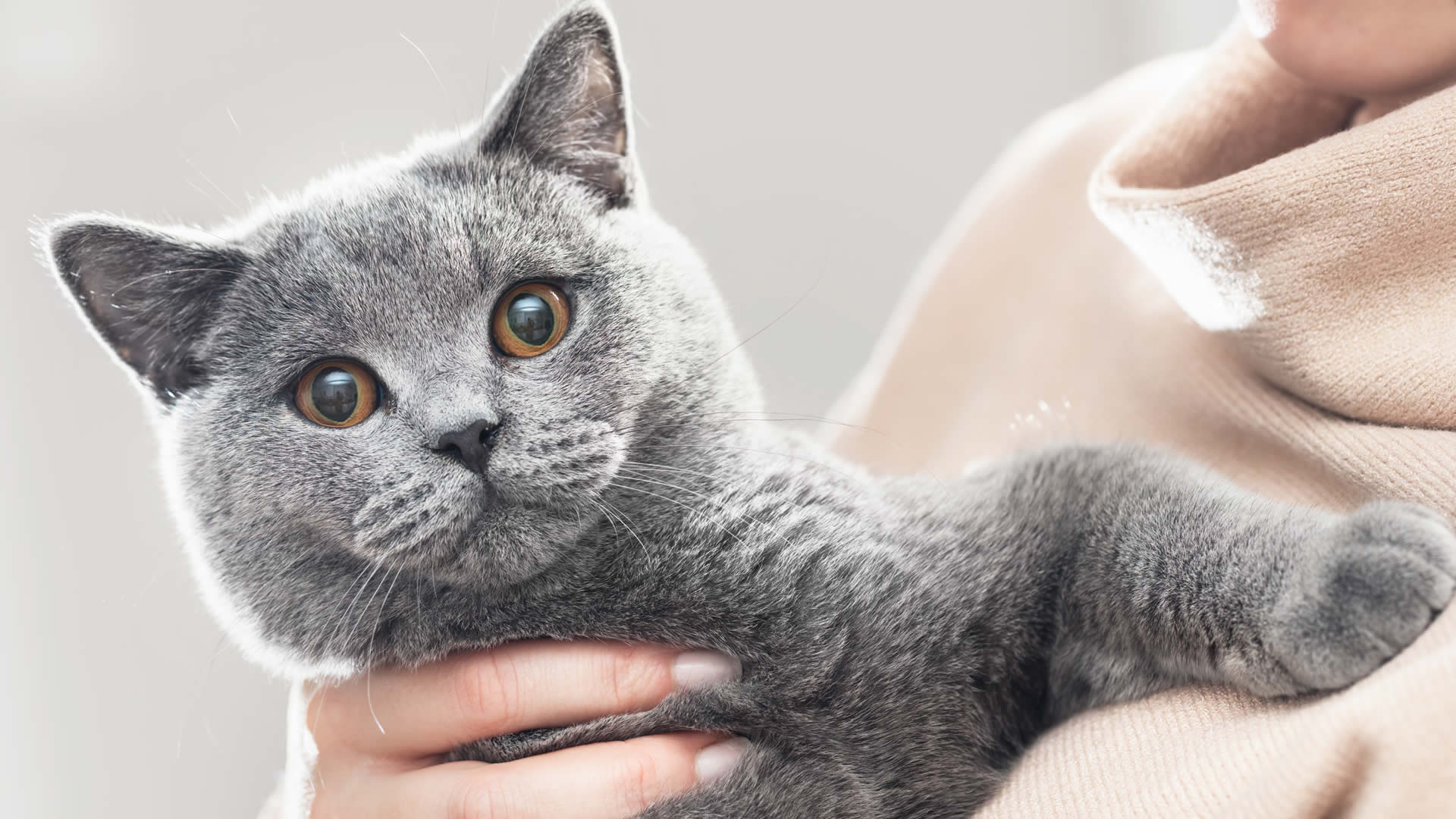 One of my favorite big-eyed cat breeds is the unmistakable British Shorthair. There tend to be distinct eye and coat color combinations that appear again and again. British Blues are the most common color variation seen, and these cats have dazzling golden-orange eyes. On the other hand, color-points always have blue eyes, and green eyes can appear occasionally.
This large cat breed also has a distinctive rounded appearance. It has a round chubby face, a chunky body, and large rounded paws. Its ears and tails also have rounded tips, so it shouldn't come as a surprise that its eyes also fit this trend. They are circular and wide-set, pairing with the other rounded features perfectly!
These rounded features of a British Shorthair make them comparable to teddy bears, and their temperament matches this stereotype exactly. They have gentle and loving personalities, ideally suited for a calm life where you can provide them with plenty of attention. With that being said, they aren't super needy but will become fiercely loyal to their owners.
3. Burmese Cats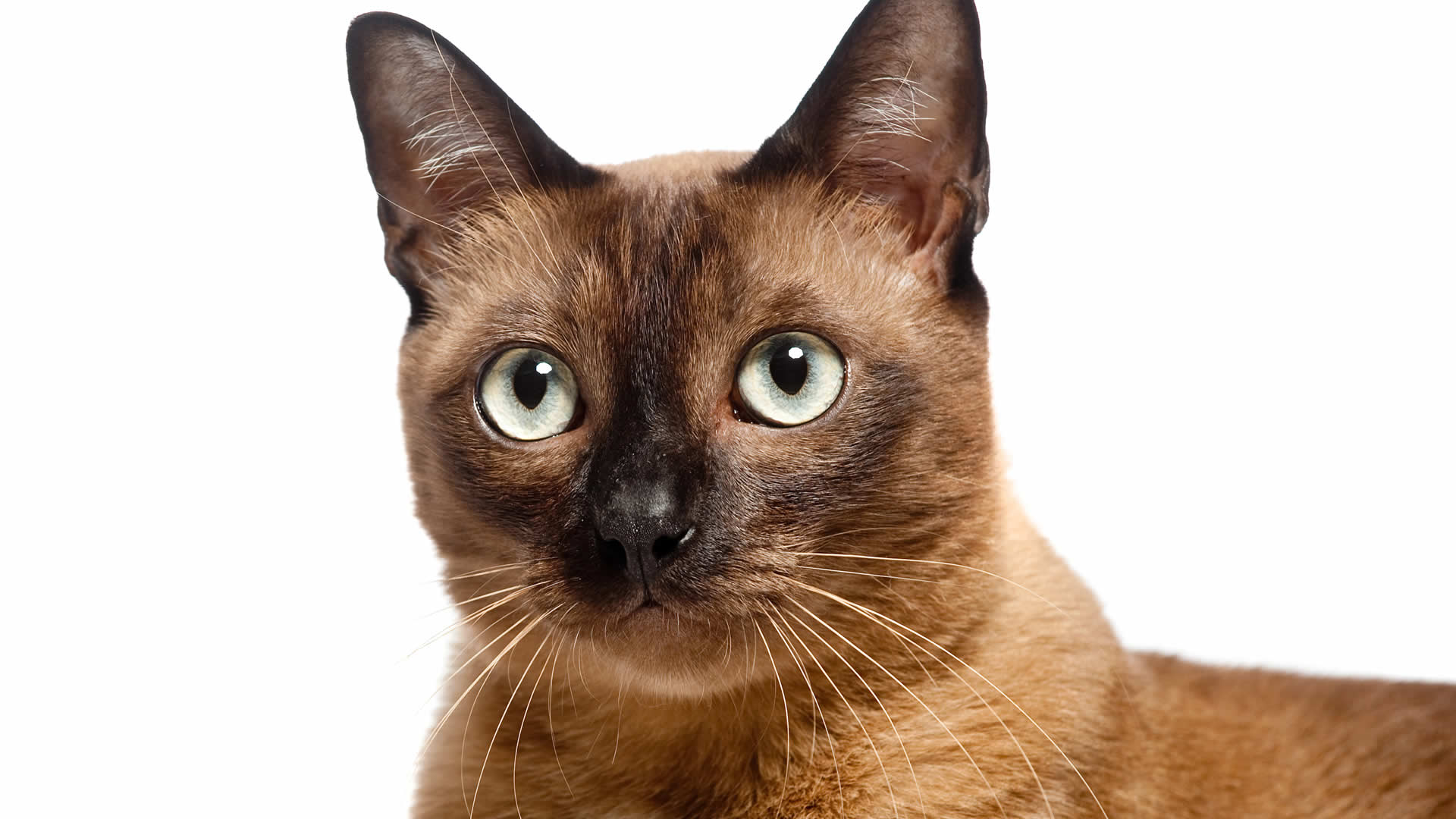 Burmese cats are one of the most beautiful breeds of cats. They have silky soft coats and big rounded eyes, oozing a luxurious feel. They're also known for being extremely stocky – picking up a Burmese cat you'll be surprised at how much they weigh! Despite not looking it, they are much heavier than you initially perceive them to be.
Most Burmese cats you come across will have brown coats paired with green eyes that are always glossy, bright, and alert. However, to the surprise of many, this isn't always the case! You will also come across felines that have large yellow and blue eyes. Their coats vary in color too and include champagne, platinum, and blue alongside their signature brown.
Also helping to make their eyes stand out is the Burmese's face structure. They have a short and flat muzzle that looks small underneath their eyes. This gives the illusion that their eyes are even larger. Their well-proportioned body also makes their eyes look bigger in comparison, giving these cats an undeniably adorable appearance!
Aside from their beautiful appearance, Burmese cats are also adored for their personalities. They are friendly and affectionate cats that love spending time with humans. They are also intelligent, happily playing fetch with their owners and learning tricks. However, this does make them one of the neediest cats there are, so they are not a great choice if you don't have a lot of spare time on your hands.
4. California Spangled Cats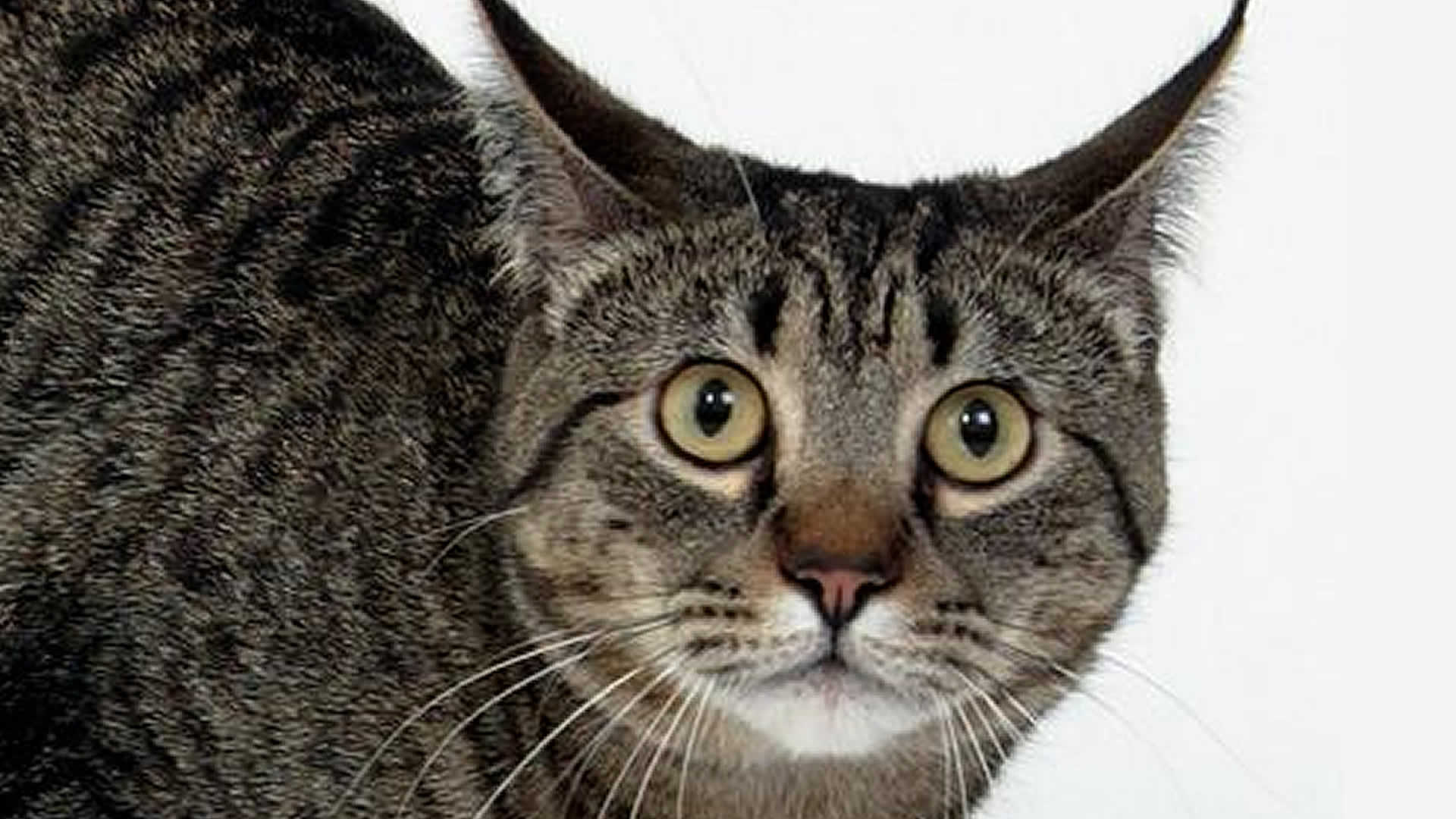 California Spangled Cats have a distinctive wild cat appearance, with beautiful spotted coats similar to Bengals. However, since the breed was established back in the 1980s, they have quickly become one of the most popular spotted cat breeds in the US, blowing Bengals out of the water! Aside from their patterned coats, they also have several other "wild" features, including their muscular legs and exotic-looking face.
They also have big eyes that are extremely mesmerizing and helps to set them apart from other cats. Typically seen in either copper, green, or amber, they perfectly complement their spotted coats. They also have a unique ovular shape, further giving them a wild appearance. California Spangled Cats are also big on eye contact, which is great news as being one of their most stunning features, you won't be able to look away!
Their personalities are equally as playful and intelligent as wild cats too. If you own a California Spangled, you'll need to set aside plenty of time to play with your furry friend. As extremely loyal felines, they'll also form a strong bond with you quickly and are completely devoted to their owners.
5. Chartreux Cats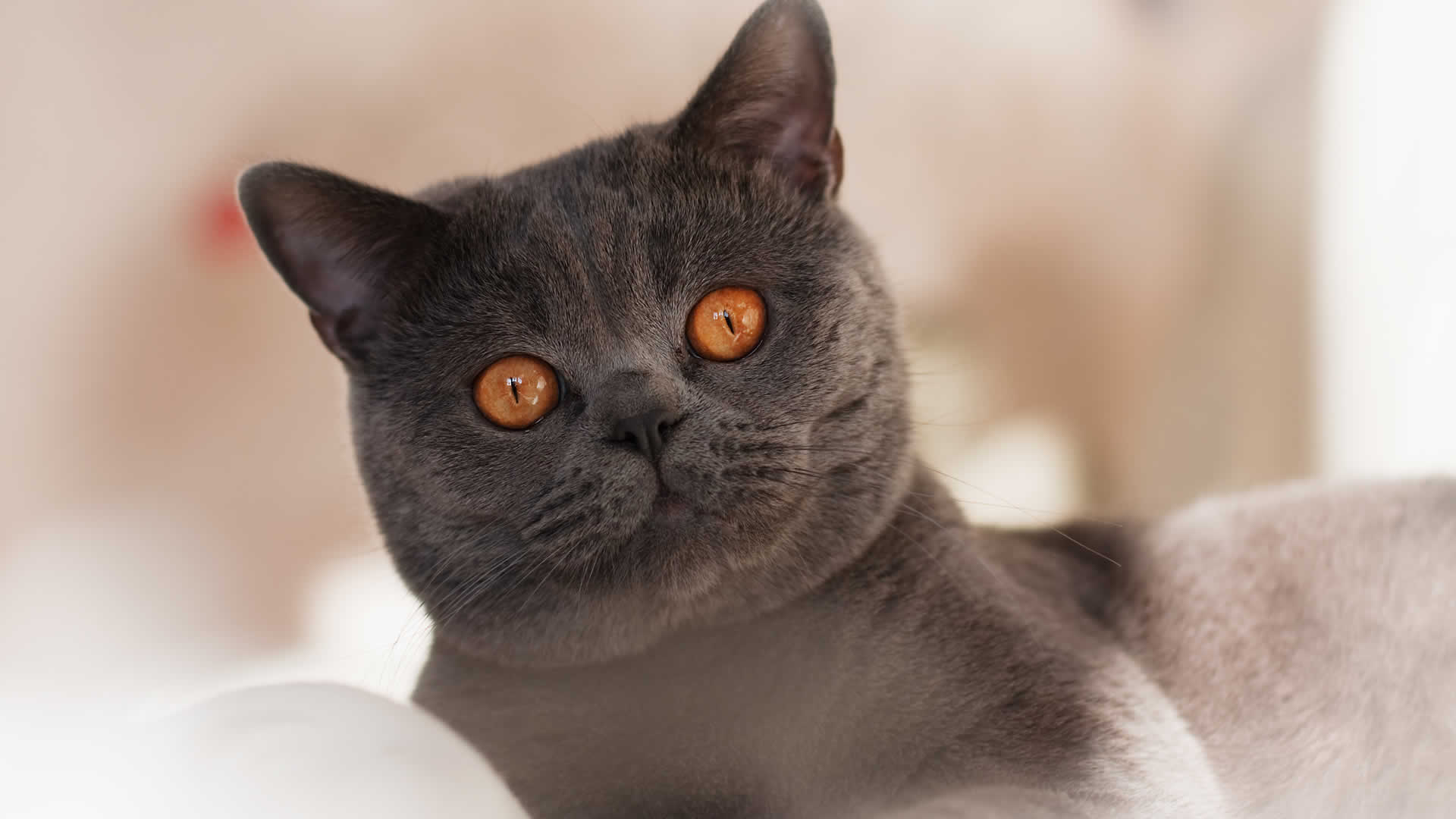 The Chartreux breed comes from France and is not particularly well-known. In fact, it is often mistaken for a British Shorthair thanks to their similar features. They both have similar stocky builds, comparable solid grey coats, and have friendly and sociable personalities. However, unlike British Shorthairs, Chartreux cats only come with a blue coat.
Another similar characteristic is their near-identical large amber eyes. Their eyes can vary slightly in color from light golden yellow to darker copper tones, but won't ever be blue or green like a British Shorthair's. Cats with pumpkin orange eyes are the most desirable color combination for this breed as they offset their beautiful blue coats most strikingly.
Chartreux cats are also regarded as one of the least vocal felines and use their wide and round eyes for communication instead. Their eyes are extremely expressive and can help you to determine how your kitty is feeling. When they do meow, it will be more of a muted noise of chirping and trilling. Legend has it, this is because Carthusian monks bred these cats specifically to be quiet so that they wouldn't interrupt their meditation.
6. Cornish Rex Cats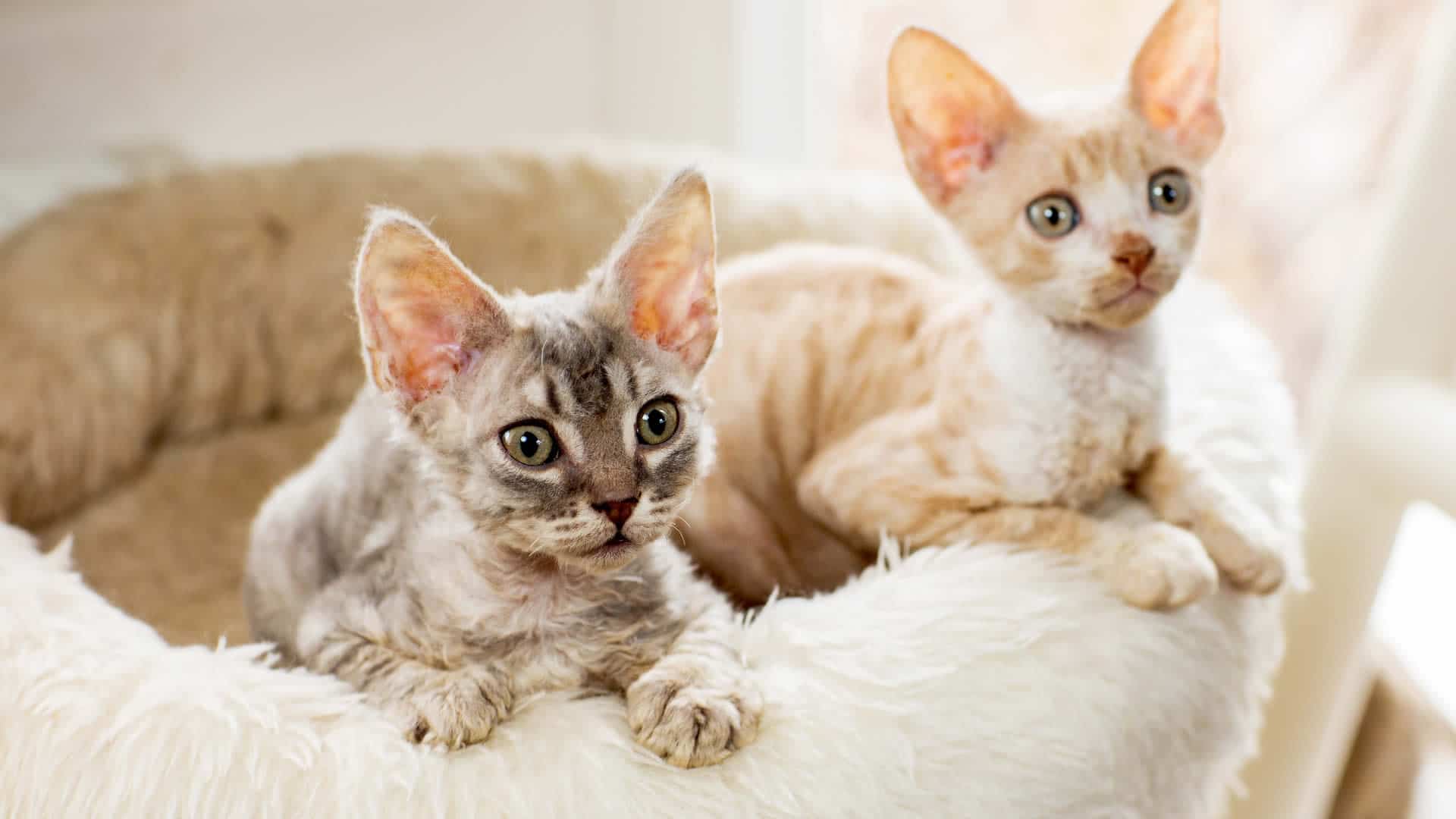 The Cornish Rex is another breed of cat that has big eyes, though this is not its most well-known feature. Rather, the Cornish Rex is famous for its unique velvety curly coat and short curly whiskers. This is thanks to this breed having only one of the three layers that typically make up a cat's fur coat – they only possess an undercoat. Their coat can come in a range of colors, including white, black, orange, lilac, and brown.
Despite their fur coats grabbing the spotlight, their huge eyes are still extremely captivating. This breed has large oval-shaped eyes, which are enhanced further thanks to their positioning on their triangle-shaped head. Their lack of long fur also makes their eyes more prominent, with their angular Roman noses and strong chin contrasting from their rounded eyes.
While typically gold in color, the irises of Cornish Rex cats can also vary from green to blue. The shade will depend on the color of their coats – black, blue, cream, and red cats will have golden eyes, whereas blue eyes are reserved for white and silver variations only.
These cats are also adored for their playful and loving personalities, sometimes being referred to as incredibly "clownish". They are agile cats that love exercise and are always on the move. However, they also equally love cuddles, making them a great choice all-round.
7. Devon Rex Cats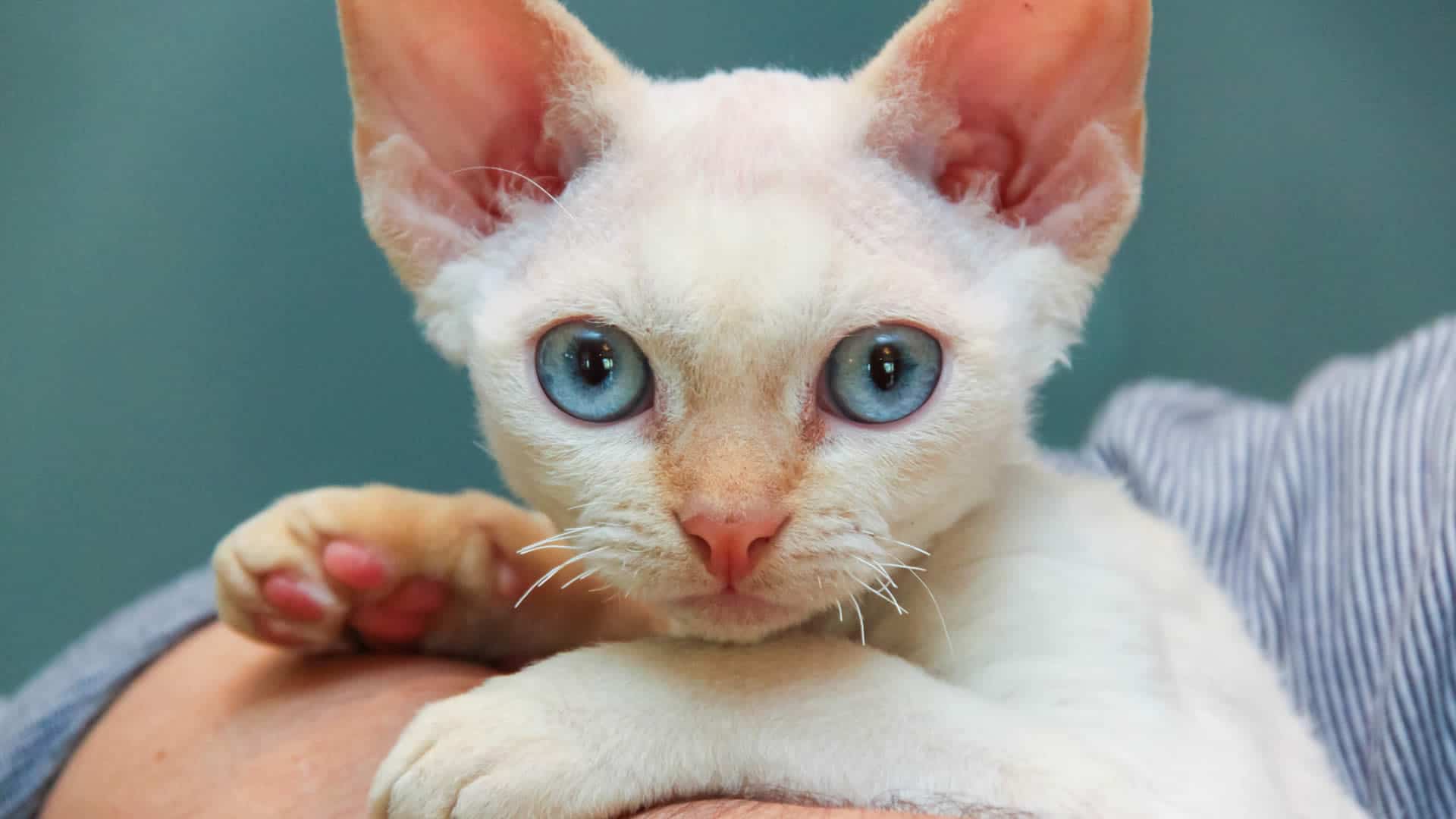 Another of the Rex cat breeds is the Devon Rex Cat. Like its Cornish sister, this breed is also characterized by its distinctive curly coat. They also have a similar bone structure with a triangular-shaped head and a recognizable pixie-like expression thanks to their oversized ears set low on their head. This is what has given this breed the nickname "Pixie Cat".
Alongside their oversized ears, they too have huge striking eyes which are further accentuated by their shape face. The eye coloration also comes in similar varieties to the Cornish Rex. Colors you may see include amber, aqua, copper, gold, hazel, blue, and green. Whichever color you choose, their big round eyes are always beautiful, especially in combination with their other unusual features.
In terms of their temperament, Devon Rex cats are quite the character! In fact, their huge personality makes up for their small size. They are high-energy and playful kitties that will never fail to keep you on your toes. They also love people and are very social – be it cuddling up on your lap, learning new tricks, or playing together, your Devon Rex will always be close by thanks to your tight bond.
8. Elf Cats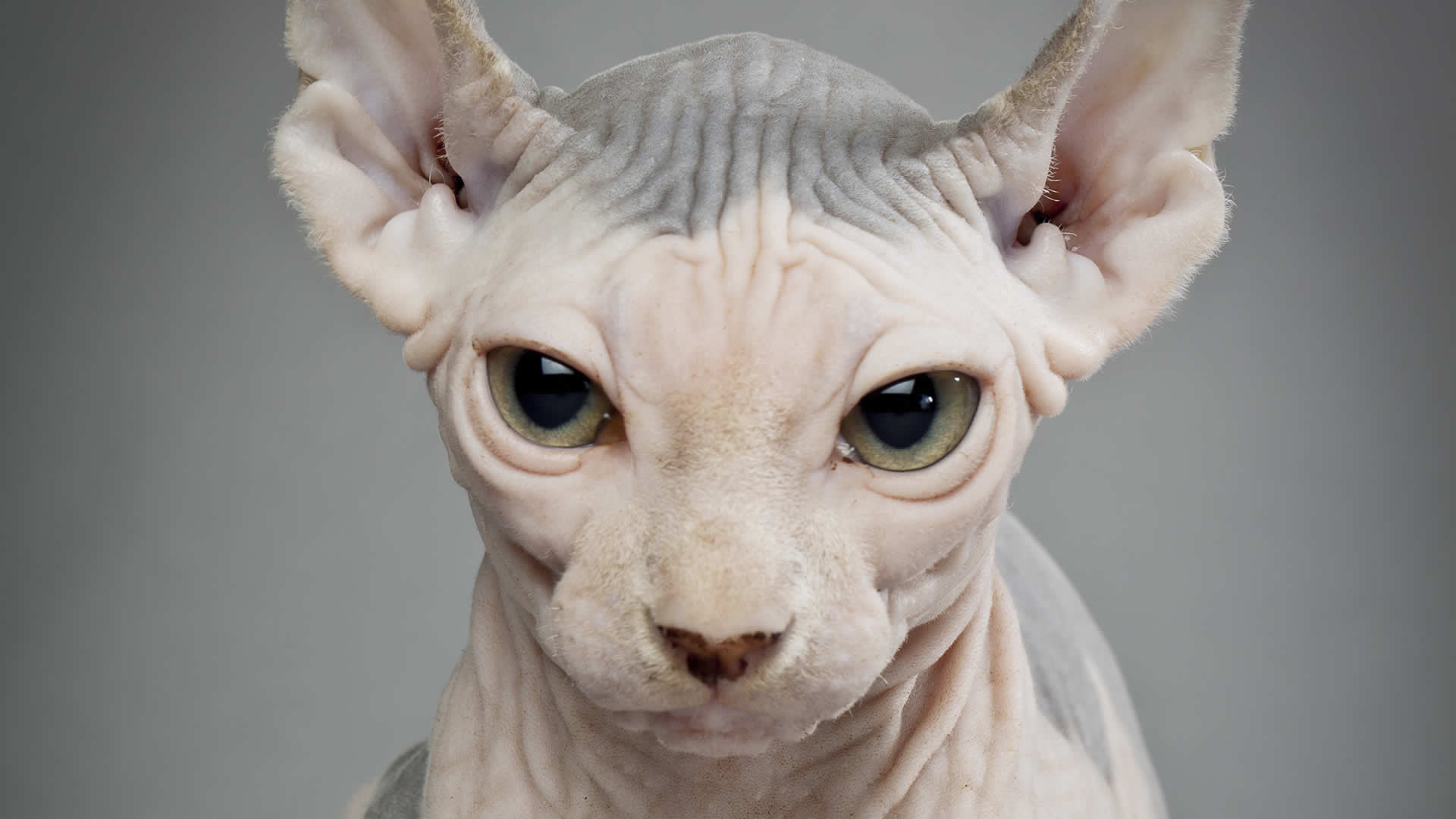 Now, you may not have heard of the Elf Cat before. It is a new experimental breed that was first thought up back in 2004 by combining a Sphynx with an American Curl. The breeders – Karen Nelson and Kristen Leedom – hoped to breed a unique Sphynx-like cat with the same hairless coat and muscular body, but with the adorable curled ears of the American Curl. And they managed it!
The Elf Cat is exactly as expected. It has a velvet soft hairless coat, adorable large curled ears, and an angled triangular face. Its personality is also fantastic. Playful and energetic yet lovable and loyal, these cats crave attention and make great family pets. Because of their hairless skin, they are not well adapted to temperature changes though and need to be kept as indoor pets.
They have also inherited large round eyes that really pop out against their hairless skin. The narrow pointed nose and wide forehead also draw attention to their eye-catching peepers, making them even more attention-grabbing.
As far as eye color goes, you will see a lot of variation. Typically, they range from deep golden yellow to a more vibrant green color. However, in cats with pointed coats, blue eyes should be seen. In fact, Elf Cats can come in nearly any color and pattern genetically possible, and have an impressive range of eye colors to match.
9. Japanese Bobtail Cats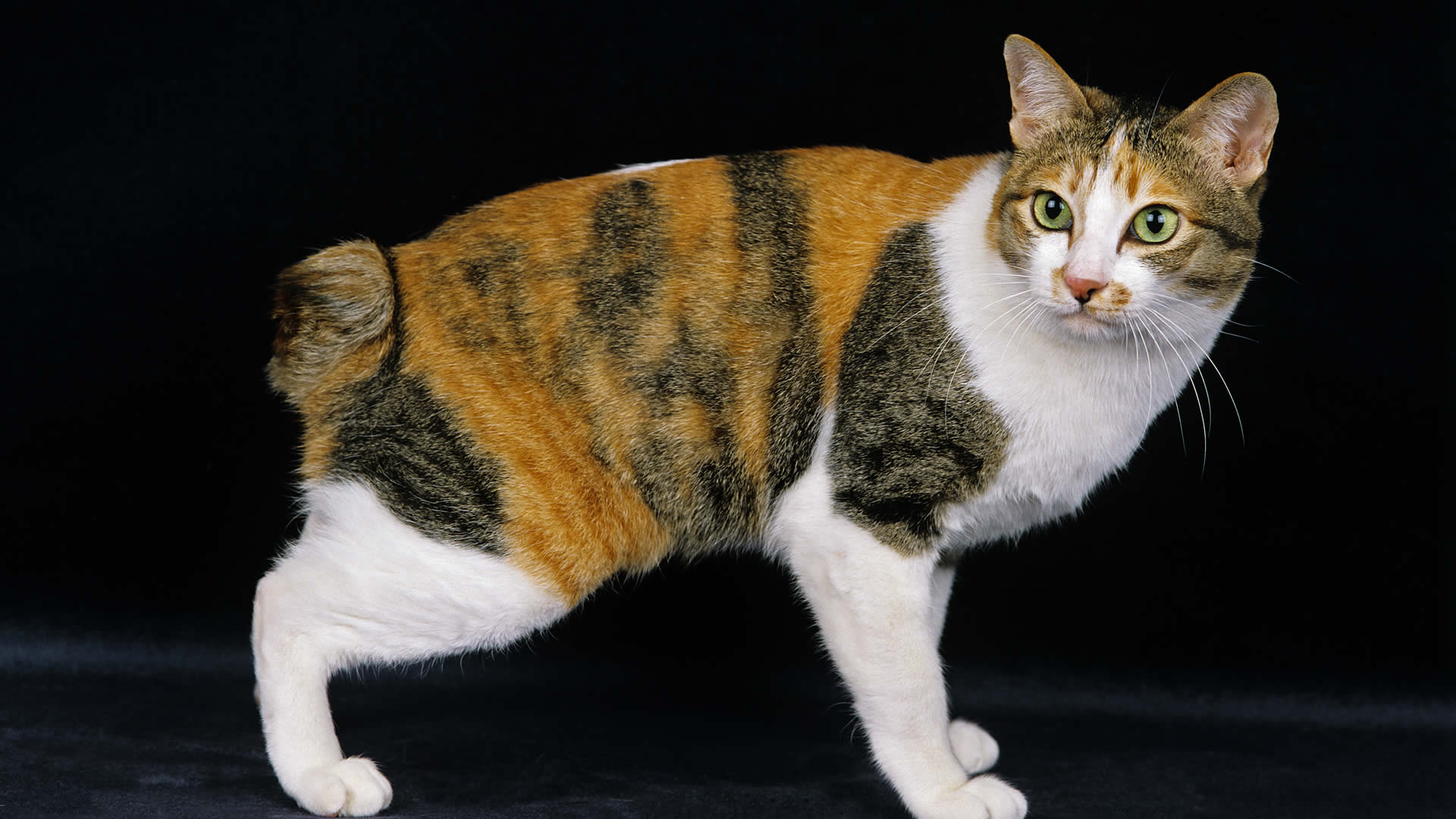 The Japanese Bobtail is best known for, you guessed it, their bobbed tails! This defining feature is more alike to the tail of a rabbit than a feline. As their name also suggests, these cats are native to Japan and are thought to date back to at least 1,000 years ago. At this time, they were street cats, but they were imported to the US in 1968 and are now a rare domestic breed.
Aside from their bobbed tails, their big eyes are another captivating feature. They are large and an attention-grabbing facial feature, but are ovular in shape rather than being round. When viewed from the side, you'll also notice they are slightly slanted. Most commonly Japanese Bobtails will be seen with either blue or yellow eyes, or occasionally with have one eye of each color, known as heterochromia.
Japanese Bobtails are also loved for their personalities. They are extremely loving and sweet, enjoy being around people constantly, and are very social both with humans and other cats. If you're after an intelligent cat, you'll be pleased to hear that Japanese Bobtails are also smart. They can learn to play fetch with their owners and have bundles of energy to expel.
10. LaPerm Cats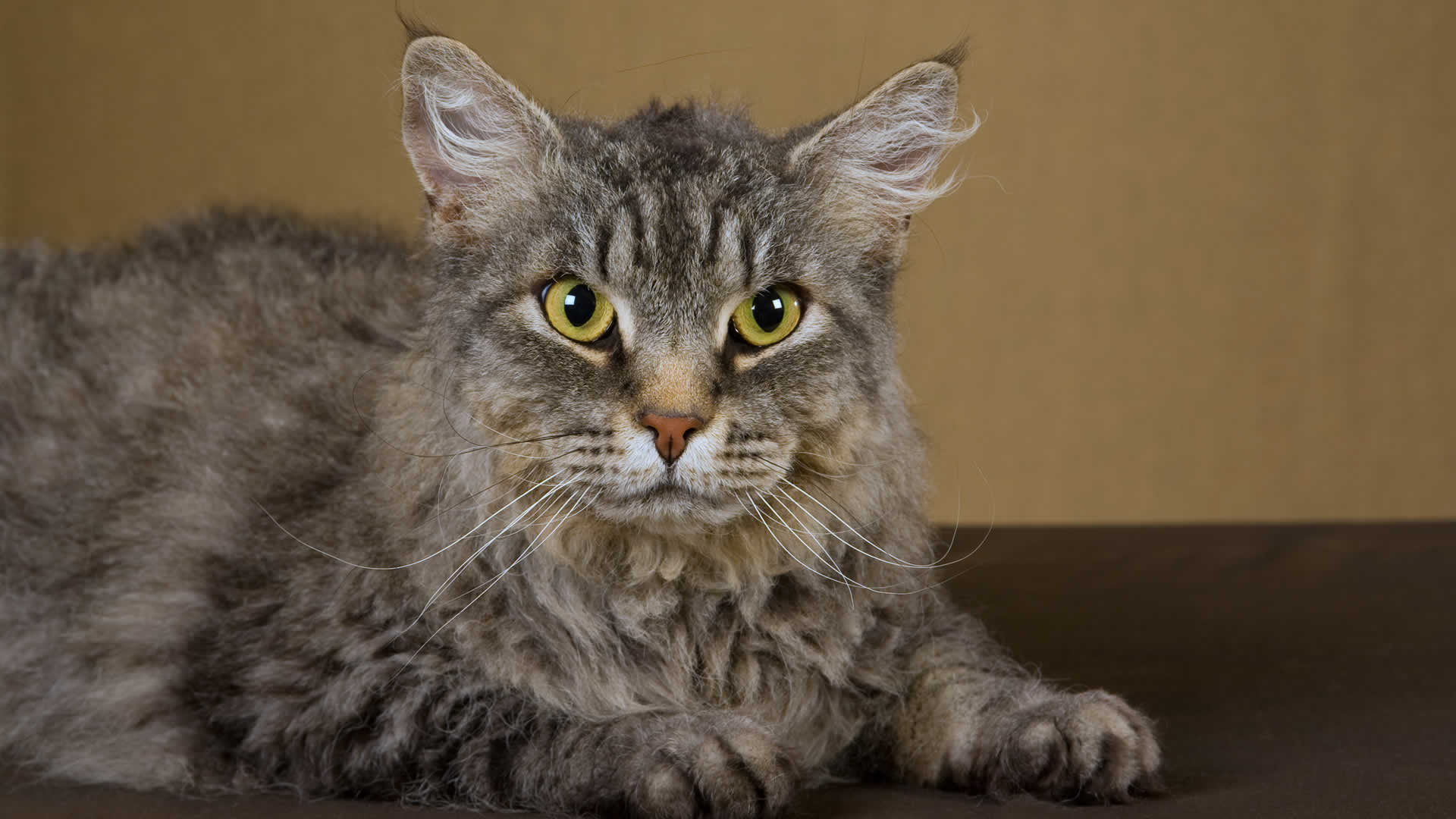 The LaPerm cat is another breed related to the Rex family of felines. However, unlike the Cornish Rex and Devon Rex, the LaPerm cat grows a distinctively longer coat of curls as the cat matures. They can come in both short-haired and long-haired varieties, but both have characteristic waves rather than tight velvet-like curls of the Cornish and Devon Rex.
Their unique coats are not their only defining feature, and they are also loved for their beautiful big eyes which are extremely expressive. There is no correlation between coat color and eye color, and so there are some incredibly striking combinations to be found. From green eyes to yellow eyes, and from ginger coats to tabby markings, there's something for everyone! The eyes are also almond-shaped and appear slightly rounder when your cat is happy resting.
These cats are also known for their love of heights and are extremely active. If you have or are looking to purchase a LaPerm Cat, then a cat tree is a must! As one of the most intelligent domestic cats, LaPerms can also learn tricks, play fetch with their owner, and are great at communicating with you. Being so active and fun, they'll always find a new way to surprise and entertain you.
11. Norwegian Forest Cats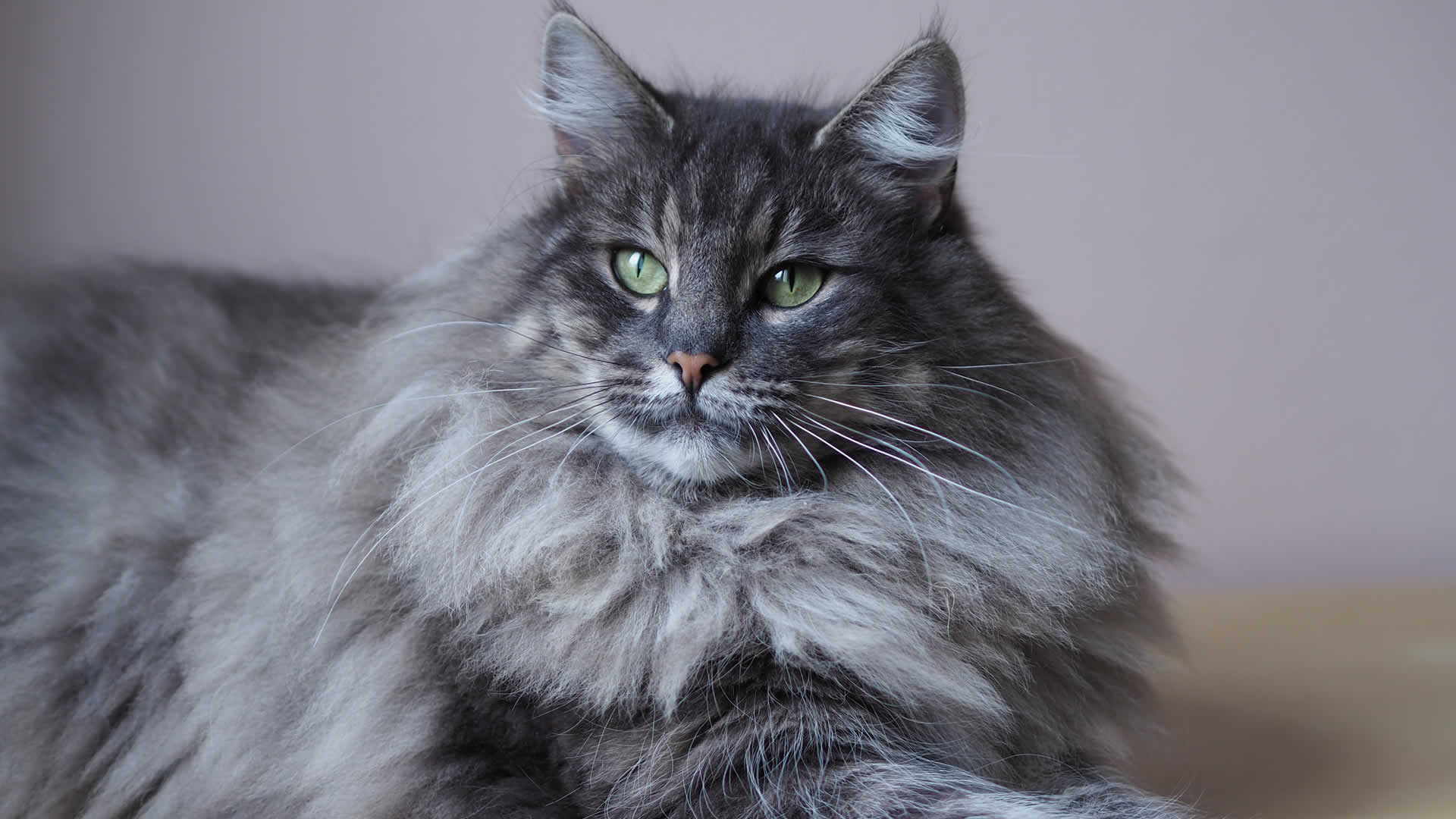 The Norwegian Forest Cat is one of the biggest domestic cat breeds. Adult males weigh up to 20lbs and their extremely long and fluffy coats give them the illusion that they are even larger than they are. This is to help them survive in the cool weather conditions of Norway, the country in which they originated. They also have bulky and muscular bodies, further enhancing their size.
To match their super-sized everything, it should come as no surprise that Norwegian Forest Cats also have large eyes. However, they don't look out of proportion and pair wonderfully with the rest of their oversized features. Seen in all colors, their eyes are a defining feature. They can also be used to distinguish between them and their close relative, the Maine Coon. Maine Coons have round eyes, whereas Norwegian Forest Cats have almond-shaped eyes which set them apart.
Despite their large size and history of being ferocious hunters, Norwegian Forest Cats are also one of the most loving pets. They form extremely strong bonds with their owners and delight in being affectionate. However, their hunting instincts haven't disappeared and they enjoy chasing toys, requiring a lot of playtime and exercise each day.
12. Ocicats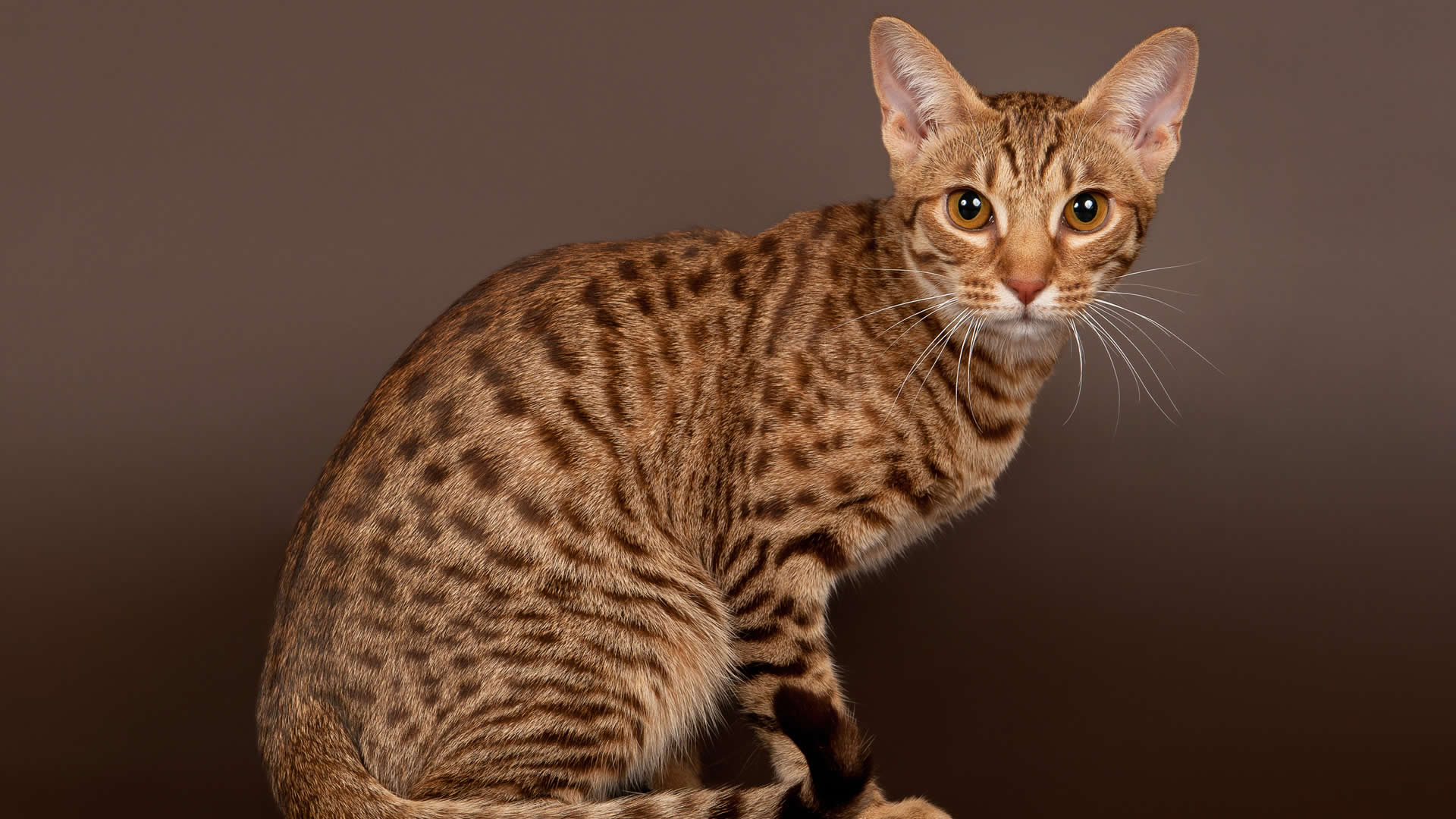 Ocicats are domestic cats bred specifically to resemble the appearance of a wild cat with a spotted coat, but with a more gentle and friendly temperament. However, there is actually no wild ancestry in this breed. These beauties are instead established by breeding the Abyssinian with the Siamese, which was then mixed with an American Shorthair.
These are also another example of cats with big eyes, likely passed on from their Abyssinian ancestors. Similar to this breed, Ocicats have large almond-shaped that are angled slightly upward, helping to contribute to their exotic wild cat look. Their eyes are also set far apart on their faces, with over the width of one eye between the two according to the breeding standards.
There is also a lot of color variation when it comes to Ocicats' eyes. The majority of this breed will have either golden, green, or copper irises, but some will also have hazel or orange eyes. The one eye color not officially recognized is blue. Interestingly, blue-eyes Ocicats do occasionally exit in cats with a pointed coat, but this coloring is not accepted for the breed.
13. Persian Cats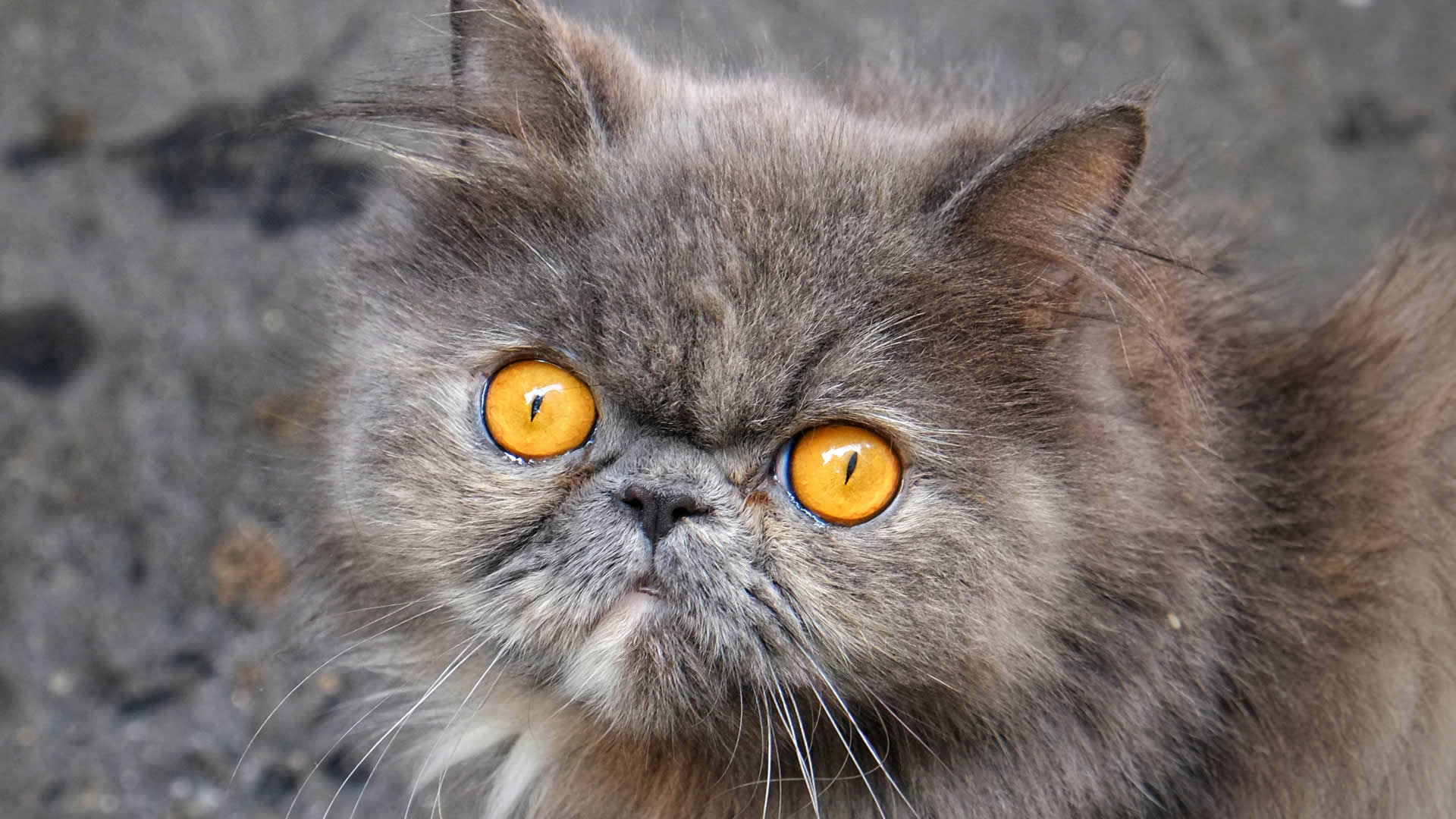 Persian cats are arguably one of the most beautiful and luxurious domestic cats around, and their large eyes are one of their most prominent features. They commonly come with piercing blue or bright green irises, making them stand out against their thick fur coats. However, you will come across some with copper eyes, and occasionally with each of their eyes different colors.
Persians are also brachycephalic cats. This is where their facial bone structure is shortened, giving them a non-pronounced muzzle that further emphasizes their beautiful eyes – as if the striking colors were not enough already! You'll also notice that their eyes are extremely round in shape and owl-like, and are wide-set on their faces.
Together, these characteristics give Persians an adorable doll-like face that matches their docile temperament. They are undeniably great lap cats, being affectionate and gentle. They love cuddles and are typically much less active, so great for keeping as an indoor pet. With that being said, keeping a Persian isn't stress-free. Their plush coats require regular grooming and their flat faces can lead to deformed tear ducts, meaning their eyes will weep and need cleaning more regularly.
14. Ragamuffin Cats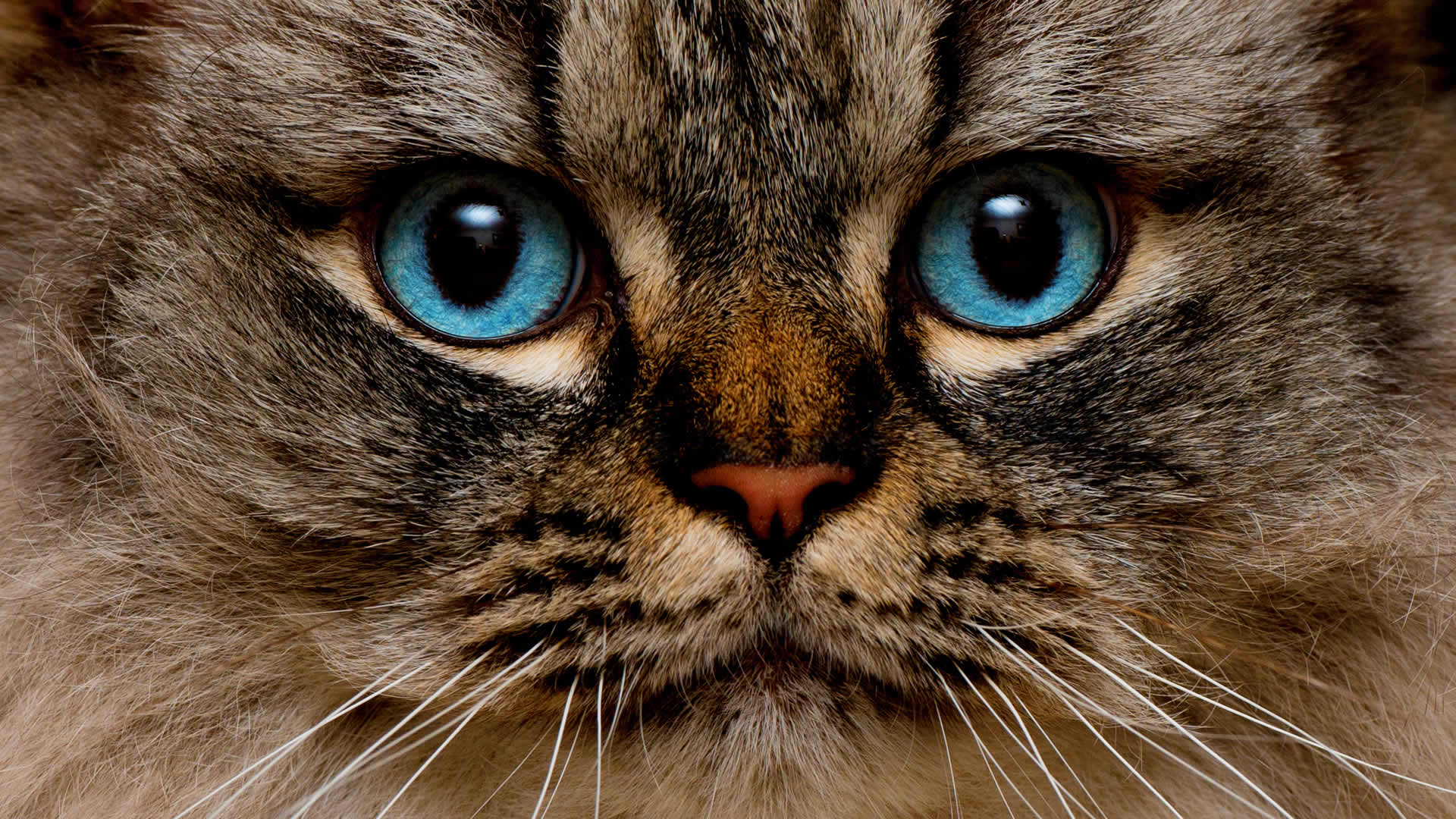 Ragamuffin Cats have huge eyes that are extremely expressive and can't help but pull on our heartstrings! There are several color variations, including amber, blue, green, golden, and hazel. This breed is one of the few that also exist as odd-eyed cats, meaning they can have two eyes that are completely different colors from one another.
The eyes of a Ragamuffin isn't the only oversized feature it has. These cats are large all over, with males weighing up to 20lbs. They also have extremely thick fur coats which have been passed down from their Ragdoll, Persian, and Himalayan heritage. Therefore, while already large, this dense fur further gives the illusion of even greater size.
In terms of their temperament, Ragamuffins are extremely friendly and affectionate. They love being near people and make fantastic lap cats. Plus, whereas Persians require regular grooming and are prone to some health conditions, Ragamuffins aren't. Their coats are dense and don't clump easily, they're happy without much exercise, and they don't have any genetic health conditions. If you want a placid cat that's low-maintenance and has big eyes, look no further!
15. Russian Blue Cats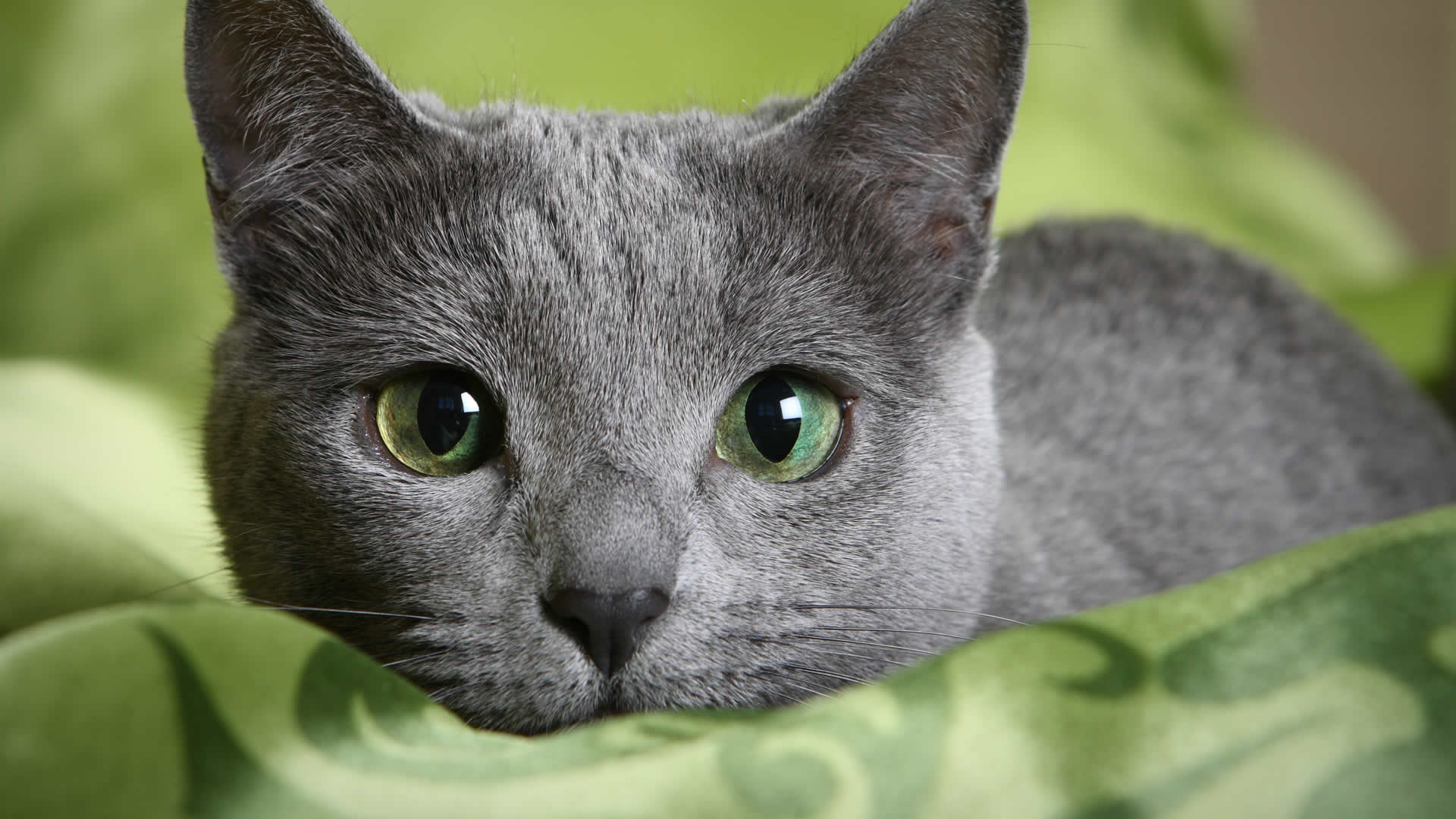 Unlike many cats on this list, Russian Blues are actually well-known for their large eyes. Being a distinctive emerald green in color, they instantly pop out against their glamorous plush silver shimmering coats. Together, these make for a startling appearance that people can't seem to get enough of!
The positioning of their vibrant green eyes also makes them look more appealing. They are wide-eyed cats and their eyes only slant upward slightly in the corners. This gives them an extremely sweet expression that corresponds perfectly with their easy-going and loving personalities. Russian Blues are just as elegant and reserved as they look, known for their curious and intelligent yet tranquil nature.
Interestingly, Russian Blues don't always have their distinctive vivid green eyes. When they are born their eyes will be yellow, and throughout kittenhood and into adult life their eyes will transition to green. This is the opposite of what happens for most other cats – usually, kittens will be born with blue eyes and they will transition to yellow ower time! This is a wonderful quirk for these stunning felines.
16. Scottish Fold Cats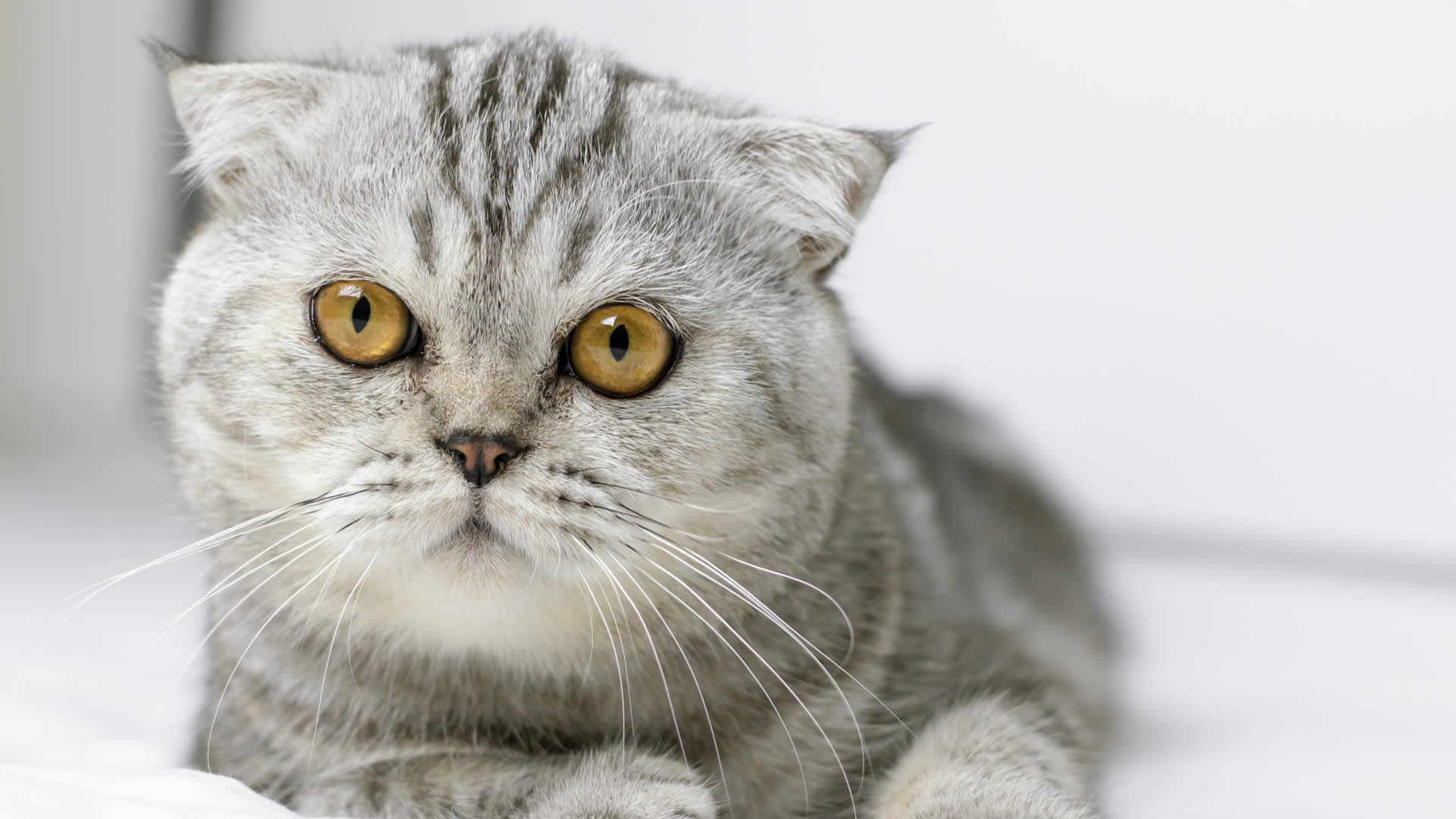 The Scottish Fold is not famous for its large eyes. Instead, its folded ears are its defining feature. This, as with all other cats with small ears, is the result of a genetic mutation. In this case, the mutation leads to a lack of cartilage from forming in their ears. Because of this, their ears flop forwards towards their head, making for an extremely unique and adorable appearance.
However, their ears are only part of what makes this breed so cute, and their large eyes also contribute to their charm. When it comes to eye colors, Scottish Folds can have any of the typical shades of either gold, blue, or green. Their wide eyes paired with their round faces and little ears give them an owl-like expression not seen in other breeds.
This unique look has made these cats gain rapid popularity, particularly among celebrities such as Taylor Swift. On top of this, Scottish Folds are also known for their calming temperament, further contributing to them being beloved by many. They're also quite talkative and affectionate, quickly becoming a huge character in your family.
17. Siberian Forest Cats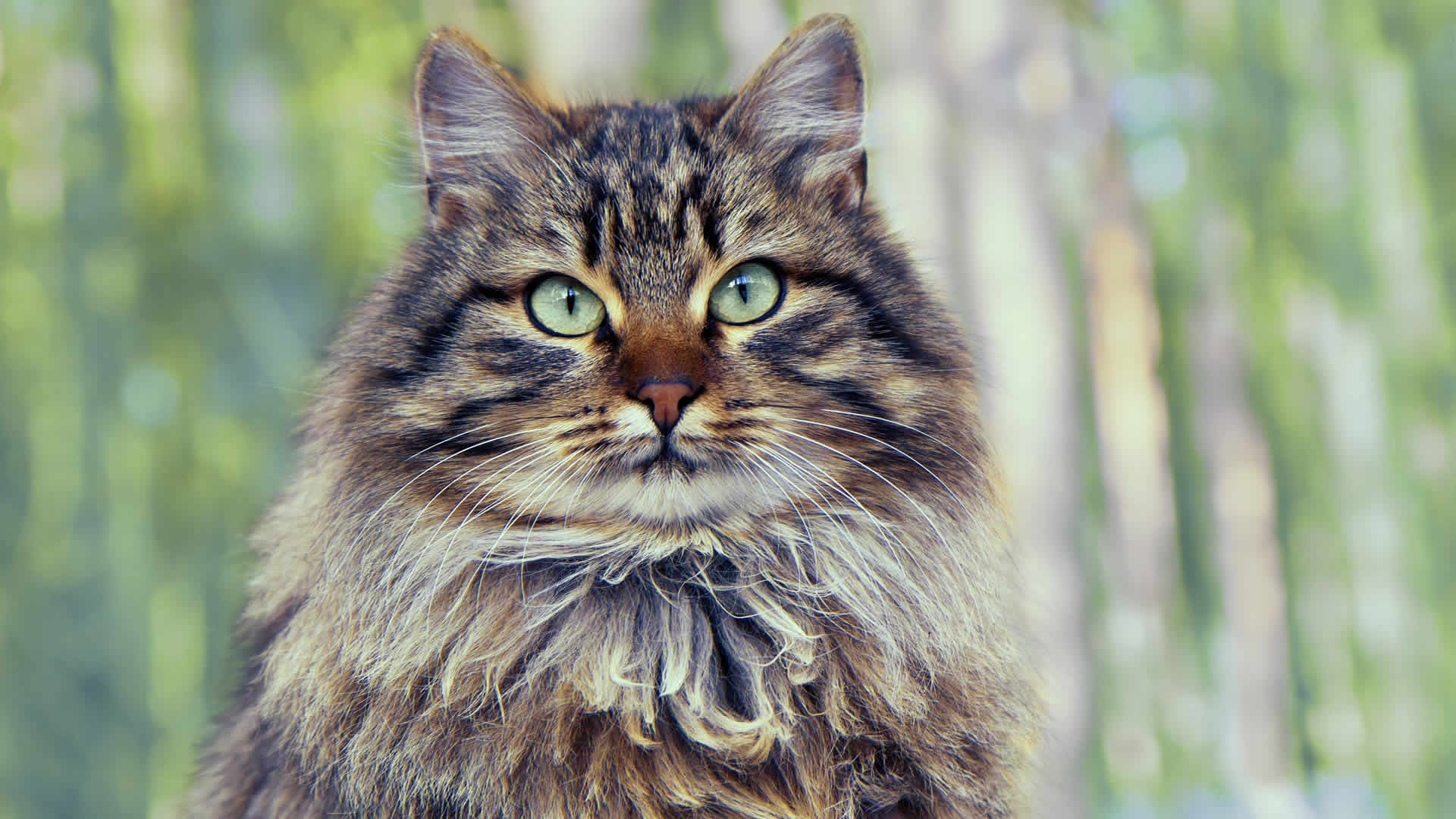 Siberian Forest Cats, also known as Moscow Longhairs or Siberians for short, are one of the oldest and most ancient cats that exist today. They have been around in Russia naturally for centuries, but have been formally bred since the 1980s to pedigree standard. In the US, however, the breed is still extremely rare, with most Siberian Cats being found in Europe.
This cat is the result of natural selection, having evolved in Russian throughout history before being specifically bred. So, it should come as no surprise that these cats have large eyes. In the wild, cats rely on their large eyes to enhance their vision, making it easier to catch prey needed for survival. These oversized peepers have been passed down to the Siberian Cats we know and love!
Their eyes are distinctively round in shape, giving them a sweet and warming expression that matches their friendly personalities. You'll often see Siberians with green or golden eyes which contrast against their long and fluffy fur. However, kittens are born with blue eyes that change color as they mature. The only variety that keeps its piercing blue eyes through adulthood is the Neva Masquerade – the pointed variation of the Siberian Forest Cat.
18. Singapura Cats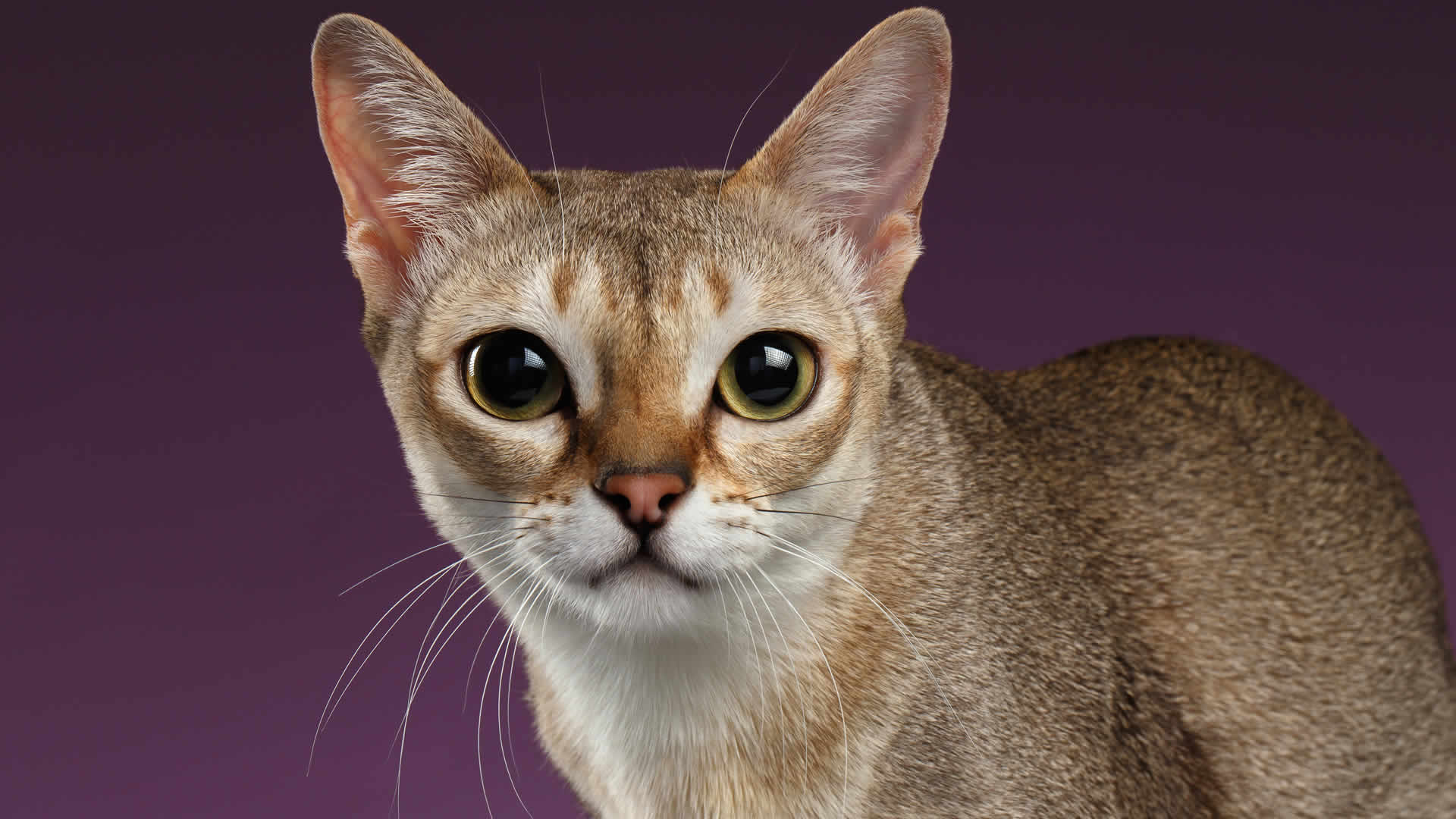 The Singapura may be one of the smallest cats weighing an average of 4-6lbs when fully grown, but it is also well-known as one of the cats with big eyes. In fact, their small stature actually enhances their eyes, giving the perception that they are larger than they are. Their eyes are glossy and rounded and are one of this breed's most loved features.
You'll also notice that Singapura cats tend to keep their eyes wide open, giving them a round appearance and an inquisitive and alert expression. This look goes hand-in-hand with their personalities. Known for being one of the most playful and curious felines, these fun-loving kitties are always up to mischief!
Aside from their large eyes and small size, another notable feature is their ticked tabby coat. Although several different coat colors exist, only one is recognized as an official coat color by cat registries – the sepia agouti. This is a base coat color of warm ivory brown with dark brown ticking bands. They also have a blunt tail and are one of the few curly tail cat breeds thanks to their Singapore roots.
19. Sphynx Cats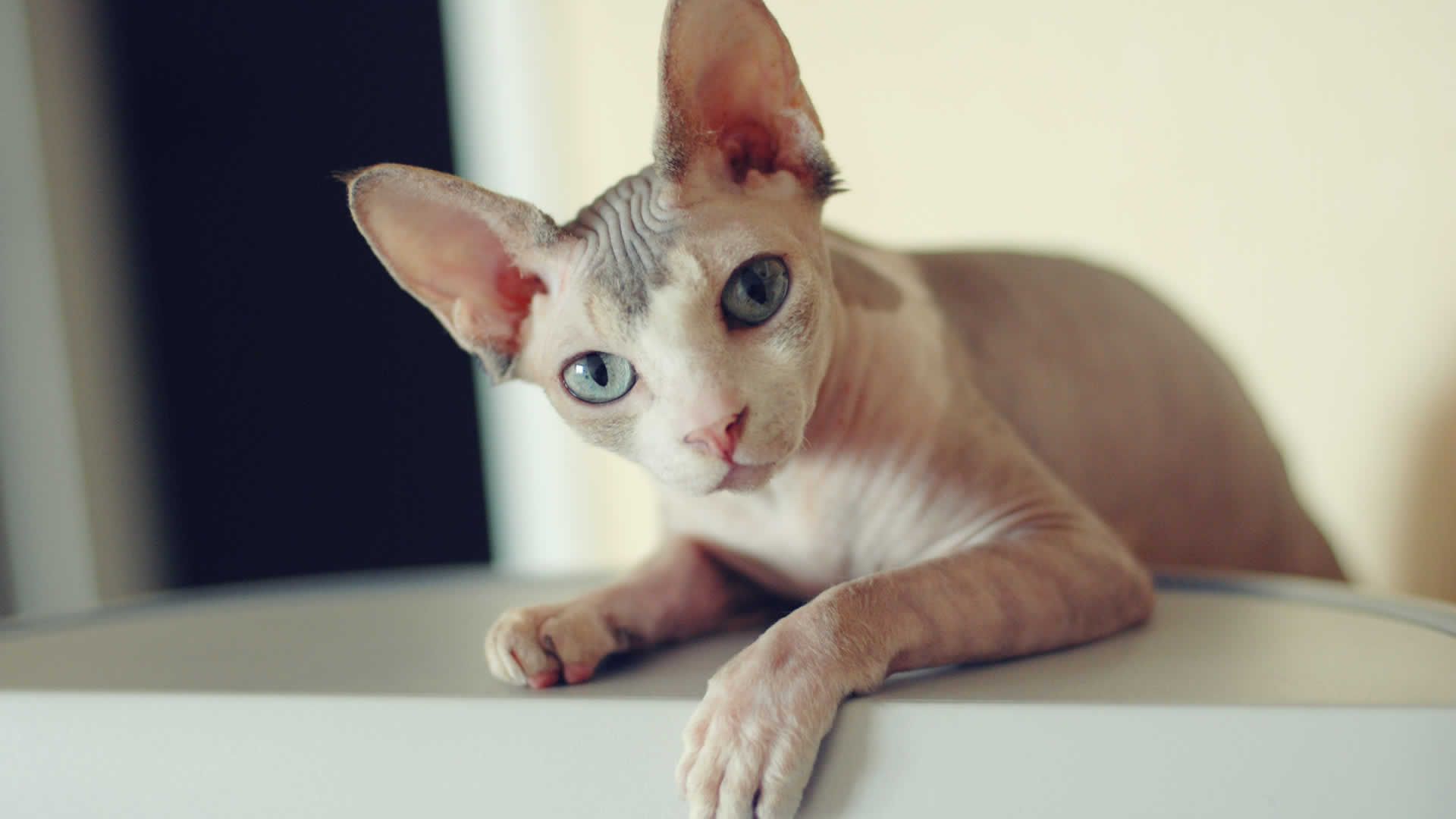 The Sphynx cat is extremely recognizable. Notable for its hairless and wrinkled skin, it's the most popular hairless breed worldwide. However, despite appearing bald, closer inspection reveals they have a fine coat of hair. This gives them a suede-like feel which many people love. Paired with their oversized ears and large eyes, it's an unbeatable combination that gives Sphynx cats an extremely elegant feel. However, despite their regal look, they are also surprisingly fun-loving and energetic.
As mentioned, this breed of cat has large eyes already, but the hairlessness of the Sphynx accentuates them further. This cat too has a triangular-shaped head with defined cheekbones, and this angular structure enhances their wide and inviting eyes even more! The wide-set positioning of their eyes also makes them a more stand-out feature.
Eye colors also range from blue and green to yellow and gold, and Sphynx cats are one of the only breeds to exhibit a rare trait known as heterochromia. This is where each of their eyes is a different color and makes for a truly unique appearance. Typically, one iris will be blue while the other is either green, brown, or yellow.
20. Tonkinese Cats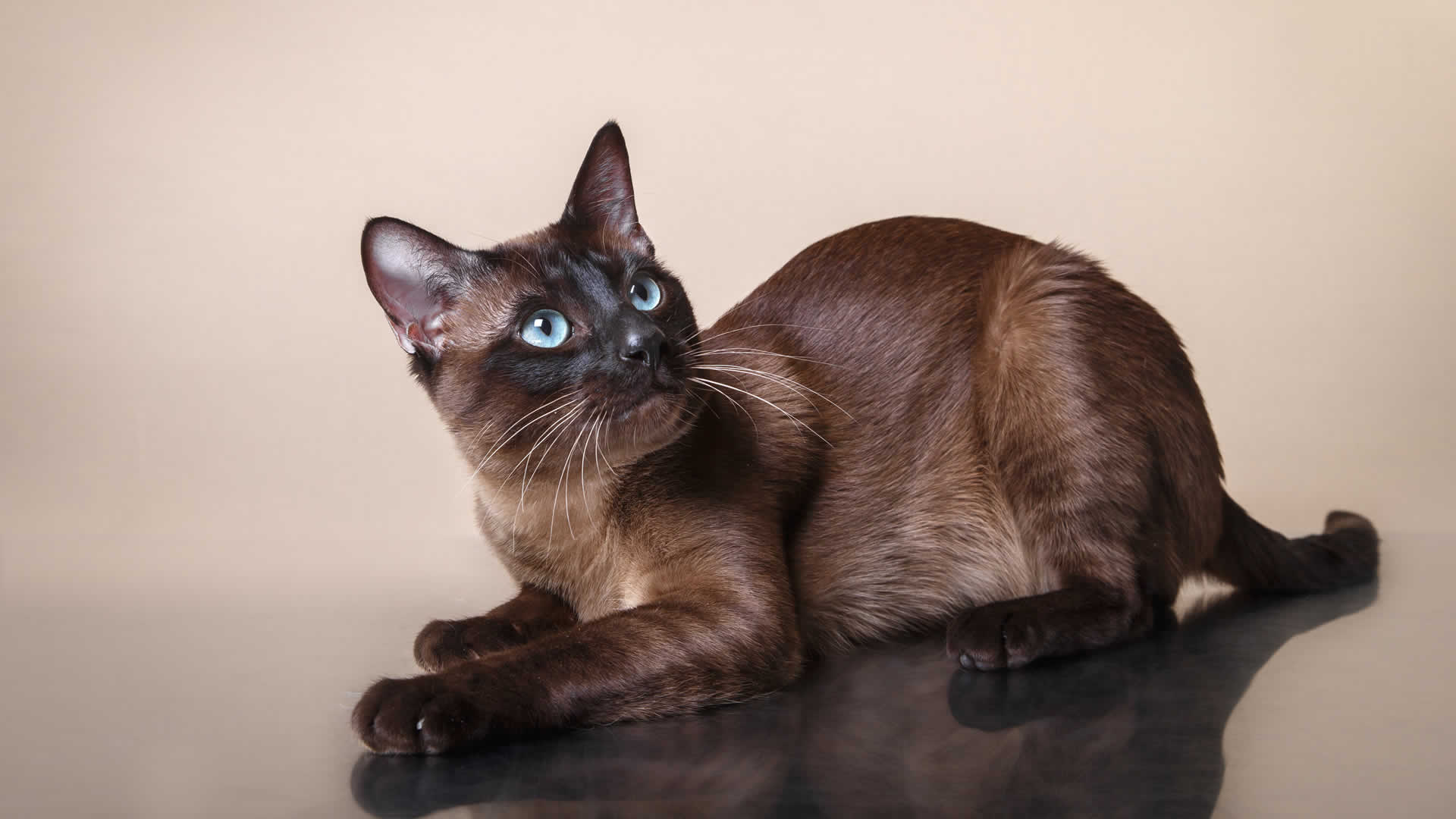 Finally, I have the Tonkinese cat. This is not a particularly well-known breed, initially made by crossing a Siamese and Burmese cat together. They have similar pointed markings as these parent breeds but are more slender than their Burmese relatives and more muscular than their Siamese counterparts. I love this breed and they are another example of cute cats with big eyes.
While their eyes are large in size, what really makes these kitties' eyes pop is their color. They have an extremely exotic and luxurious feel, with shades such as bright aquamarine, sky blue, and violet. The cats with aqua eyes are the most sought after and are not seen in any other breed. Some solid-colored Tonkinese cats with faint points may also have gold or green eyes.
I love how these cool and golden tones contrast against their pointed and mink coats. In fact, these exotic eye colors were actually the reason for the development of this breed. Breeders in the US were hoping to create a cat that had the same blue eyes like a Siamese but a more stocky stature, and they managed it!
Why Do Cats Have Big Eyes?
The twenty breeds of cats with big eyes that I've just gone through have the largest peepers of all our domestic felines. However, when looking at all cats, it is rare to find a cat with small eyes. No matter what the breed, their eyes are always a stand-out feature that are disproportionately large compared to the rest of their facial features.
So, why do cats have big eyes? This is actually down to an evolutionary adaption by a process of natural selection. The larger a cat's eyes, the easier it is for them to survive! Plus, humans have also selectively bred cats with large eyes as they are seen as a desirable feature.
Here's a closer look at all of the different reasons the domestic cats we have today exhibit large eyes.
Selective Breeding
Over the years, people have been selectively breeding cats to exhibit specific features. For example, some cats have been bred specifically for their long curly coats of fur, whereas others have been bred for their hairless skin. There are also long-tail cat breeds, curly tail cat breeds, cats with long whiskers, and, more recently, cats with short legs such as the adorable Munchkin cat.
Just as cats have been bred for these attractive and desirable traits, it is no different when it comes to large eyes. People instinctively find cats with big eyes cuter, and so breeds that have naturally oversized peepers have been continued, whereas cats with smaller and "less desirable" eye shapes and sizes have slowly been forgotten about.
This explains why most of the cats we have as pets today, specifically pedigree breeds, are beautiful wide-eyed cats. Humans like large eyes, and so that's a trait that we've chosen to be passed on through the generations.
More Successful Hunting
Not only have large eyes been bred selectively, but also naturally through evolution. Cats use their eyes to spot prey and catch their latest meal, and so the more wide and alert their eyes are, the more successful they'll be at hunting. Wild cats need to hunt to survive, and so this physical trait has been passed down to our domestic cats today over the years.
Large eyes also have another benefit. Have you noticed how a cat's eyes will reflect the light if there are low lighting conditions? It gives their eyes a strange glowing that is rarely seen in the animal kingdom. In fact, they are so well-known for this feature that the retroreflective safety markers placed down the middle of the road are also known as "cat's eyes".
The reason cats' eyes glow in the dark is that they have a reflective layer at the back of their eyeballs called the tapetum lucidum, which translated to Latin is "shining layer". It helps to increase the light in their eyes when hunting in the dark, again aiding them with finding the next meal they need for survival. As cats are crepuscular creatures, the majority of their hunting will be at night, and so this adaptation is highly beneficial.
Greater Human Attraction
As humans also view cats with large eyes as being cuter, there is also the possibility that this has helped with their survival. Cats with larger eyes may be more likely to be adopted and live comfortable lives within the home instead of on the streets or in an animal shelter. For obvious reasons, having a loving owner increases the chances of survival.
Humans may also feel more inclined to help cats they see as more adorable. For example, when seeing a kitten on the street, many people will be inclined to feed it or give it a home when compared to an older scraggly feline. The same theory can be applied to cats with large eyes – they are seen as an attractive trait and pull on our heartstrings more than smaller eyes do.
This is not a case of humans simply being vain and only wanting to help "cute" animals. It is our natural instinct and part of our evolutionary psychology. Big eyes are seen as a juvenile feature similar to babies, and it is wired in our brains to feel affection and want to help children. It is key to our survival as humans because babies wouldn't live without our nurturing, and explains why we think cats and other animals with big eyes are adorable!
Why Do Cats Have Large Round Pupils?
Cats' pupils are generally seen as narrow vertical slits, and this is typically what we think of when picturing our feline's faces. But some cats have round pupils. Interestingly, round pupils are typically reserved for our big cats – lions, tigers, and cougars all have round pupils which give them great daytime vision.
On the other hand, domestic cat breeds with round pupils don't really exist. They all have the distinctive vertical slit pupils that we first think of. A study found that this was again down to their hunting behavior. Slit-type pupils are generally found in predators that are close to the ground, like our domestic cats, whereas bigger cats all had round pupils similar to humans.
You may sometimes see your pet cat with large and round dilated pupils, giving them the illusion of even larger eyes. Whether this is something for you to worry about or not depends on if their pupils are permanently large and dilated, or if this is just an occasional thing.
Let's take a closer look!
Why Are My Cat's Eyes Sometimes Dilated?
If you notice your cat's eyes are different sizes at different times, then don't worry. This is completely normal! Just like our pupils, our felines pupils will dilate and constrict in response to certain light conditions, helping them to improve their vision.
Cats' eyes also express their emotions, and cats with dilated pupils may be stressed, scared, or extremely excited! Next time you notice your cat's pupils are dilated, try to work out how they could be feeling. As cats cannot communicate with us by talking, we need to pay close attention to their body language and other communication signals instead. Their eyes are a great starting point.
If you're playing with your cat and their eyes dilate, they're likely excited and in hunting mode. On the other hand, if you notice your cat has large pupils following a startling noise or foreign situation, they're likely scared or stressed. In both cases, it is the increased flow of the hormone adrenaline responsible for their increased pupil size.
Why Are My Cat's Eyes Always Dilated?
On the other hand, if you notice your cat's eyes are always dilated, this could be a cause for concern.
Having wide pupils permanently could be a sign of any of the following health conditions:
Hypertension, also known as high blood pressure
Blindness or loss of vision
Anxiety disorder or extreme stress
Chronic pain, such as arthritis in older cats
Feline Dysautonomia, also known as Key-Gaskell Syndrome
Anisocoria caused by glaucoma, corneal ulcers, or trauma
Feline Spastic Pupil Syndrom from the FeLV
Ocular tumors which may or may not be cancerous
Therefore, it is always best to take your cat to the vet if you notice that they have big wide pupils. The vet will diagnose the reason for their dilated eyes and find appropriate treatment. Usually, any medication administered will target the underlying condition.
Try not to panic just yet though – you may have nothing to worry about! Large pupils could also be a side effect of any other medication that they're on. Alternatively, it could be the result of iris atrophy, which is a perfectly normal deterioration of the eye as your cat ages. Still, it's better to be safe than sorry and always book a veterinary appointment if you notice any changes in your cat's eyes.
CONCLUSION
As you can see, there are many cats with big eyes! From the popular British Shorthair and Persian to the more wild-looking Ocicat and California Spangled Cat, large eyes are commonly seen in the cat world. They come in a range of different colors and shapes, and the length of a cat's coat and their facial bone structure can give the illusion that their eyes are even larger than they are!
Cats benefit from having big eyes as it gives them better vision. Although our domestic cats don't rely on needing to hunt prey for survival, their wild ancestors did. Therefore, the feature of big eyes has been passed down through generations into nearly every breed of cat we keep today. Large eyes are especially useful when hunting in low light conditions, which is when cats are most active.
However, whereas large eyes are both useful for cats and are a feature that makes them look irresistibly cute, big round pupils are not always such a good thing. From time to time, it is completely normal to see your cat with wide pupils. They can change size in different light conditions and show their emotions. On the other hand, permanently dilated pupils can be a sign of illness, so take your cat to the vet just to be on the safe side.
All in all, cute cats with big eyes are the best! They're expressive, beautiful, and a really striking feature. With so many different big-eyed cat breeds, you're spoilt for choice. So, be sure to consider their coat colors, personalities, and size when deciding which breed is right for you!