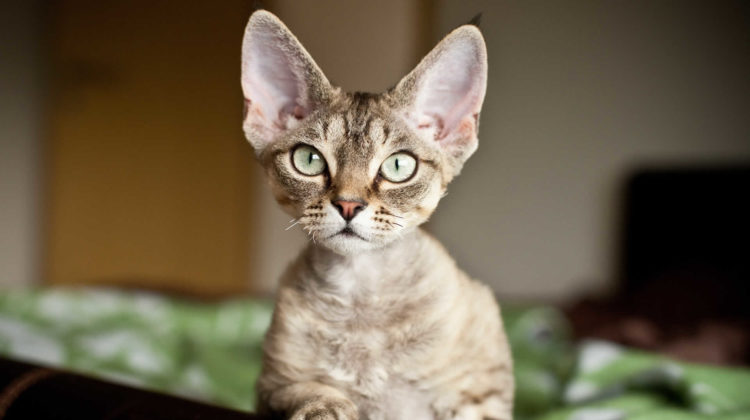 All cats can curl their tails to express emotion, such as thumping or whipping their tails when they feel on edge or unhappy. They also love curling their tails around people or other cats in the household that they feel happy and comfortable with as a sign of love.
However, there are few cats with curly tails permanently – but they do exist. Curly tailed cats are just as happy and healthy as regular straight tailed cats. The kinks in their tails are simply down to an uncommon genetic mutation, which many think stems back to Siamese ancestry.
You will find that most curly tailed cats are mixed-breeds that have a larger gene pool, and there were traditionally no breeds that have a curly tail all the time. But since these tails are undeniably adorable, humans have tried to breed cats for their curly tails, and so the American Ringtail was born. As a new breed, work still needs to be done to see if all their offspring will have curly tails.
In this article, I will run through the breeds which have had curly tails in the past, the birth of the new curly tail breed – the American Ringtail cat – and the genetic behind this unusual and adorable feature. Plus, I'll discuss why else your cat could be curling their tail.
What Breeds of Cats Have Curly Tails?
Russian Blue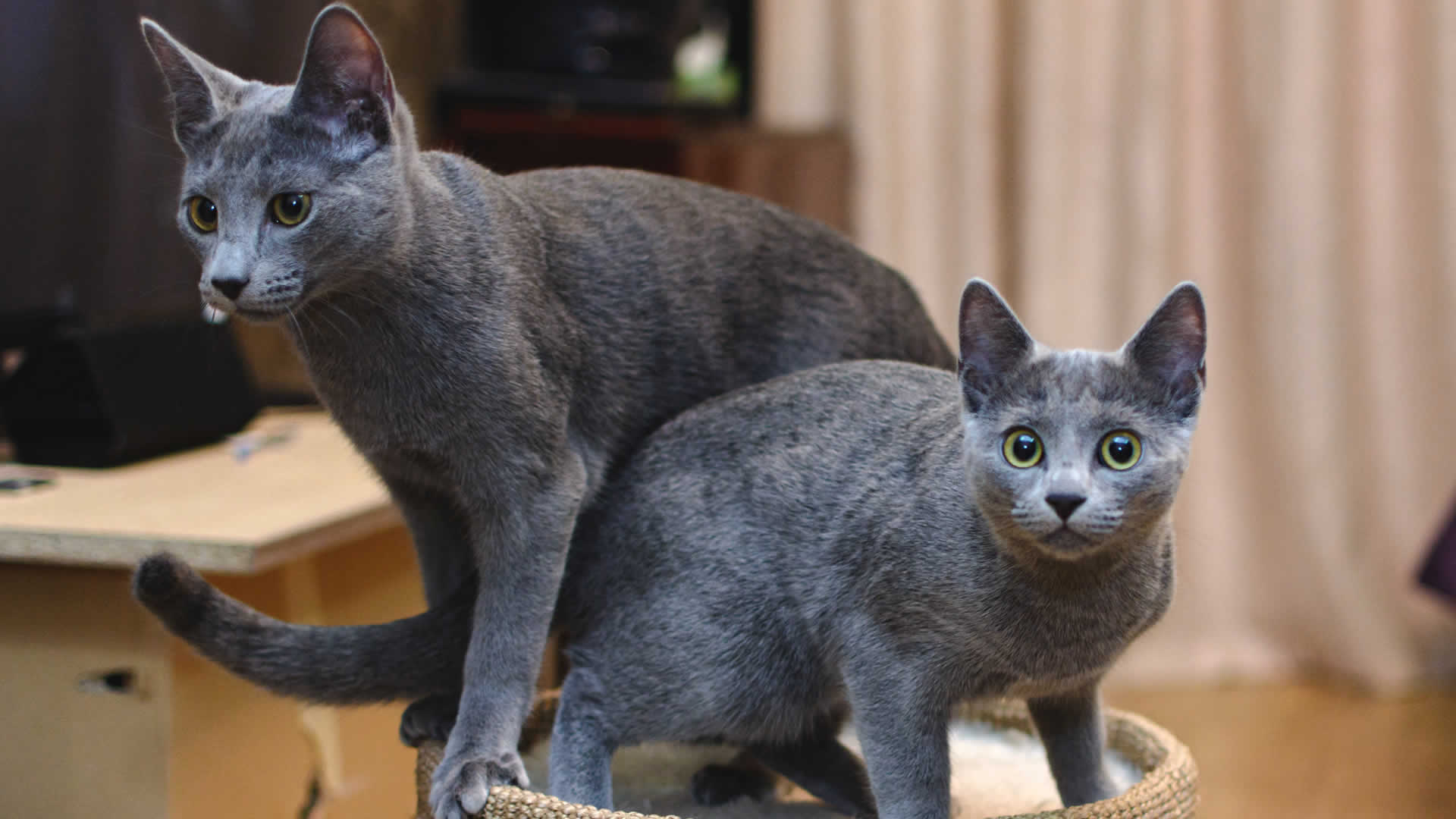 As the name suggests, these beatiful cats come from Northern Russia and have a gorgeous blue-grey coat which is thick and super soft, varying from silver to a dark and deep grey. However, white Russian cats also exists, but only few and far between. Russian Blues are also known for its natural "smile" which matches its sweet-tempered personality, characteristically becoming very loyal and attached to its owner.
They are not commonly known for their curly tails. However, some Russian Blues in the past have had tails that curl over towards their backs.
Devon Rex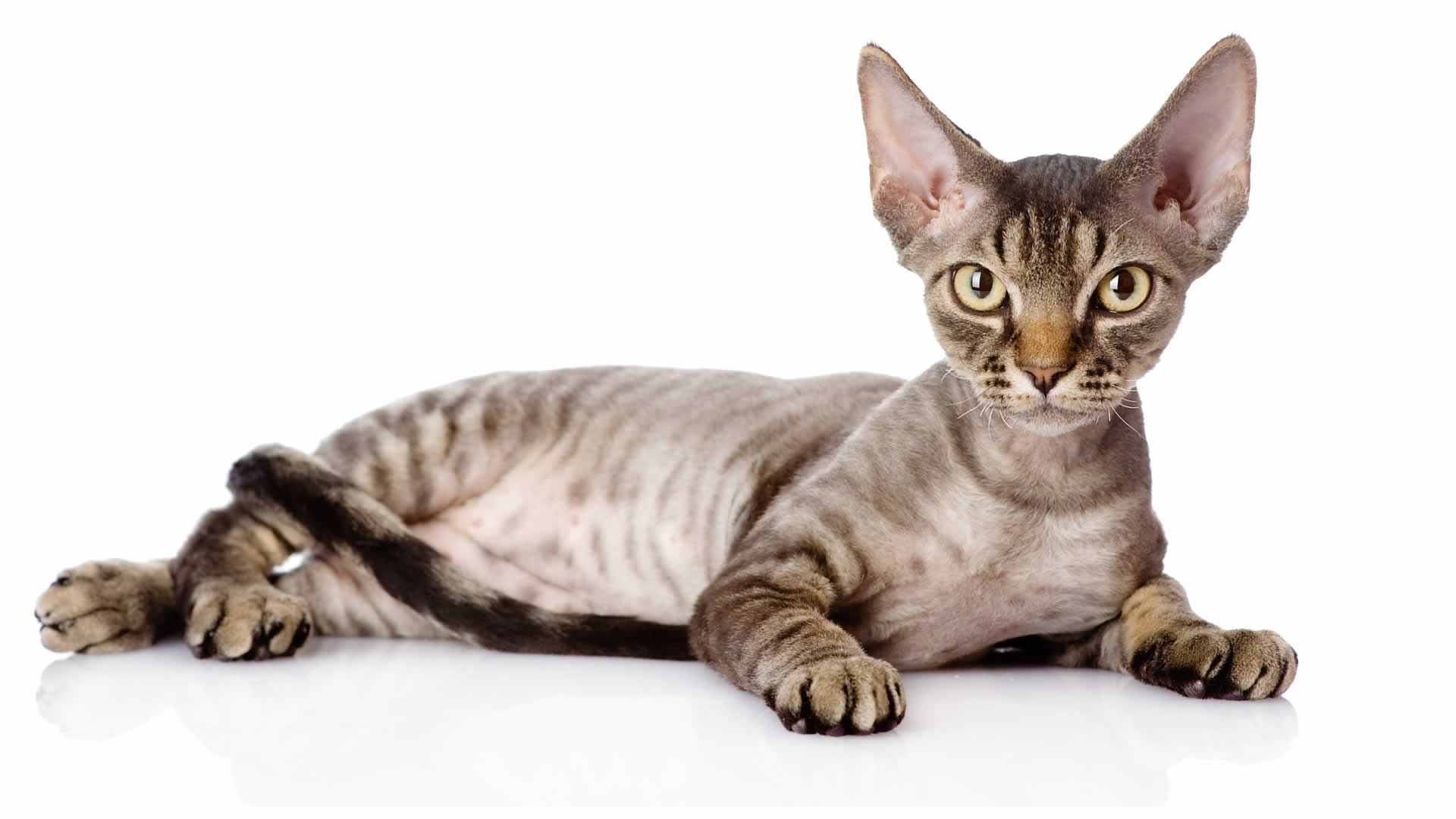 The Devon Rex is not known for its curly tail. Instead, it is loved for its oversized ears, unique wavy coat available in almost infinate color combinations, and short curly whiskers. They are among the most intelligent of cats and can even learn tricks, but are also mischivious and fun-loving.
There are Devon Rex cats that have been reported to have a curly tail in the past. It is more common that a Devon Rex-mix will have a curly tail, so breeding one of these cats with a mixed breed gives higher chances for a curly tailed kitten.
Siamese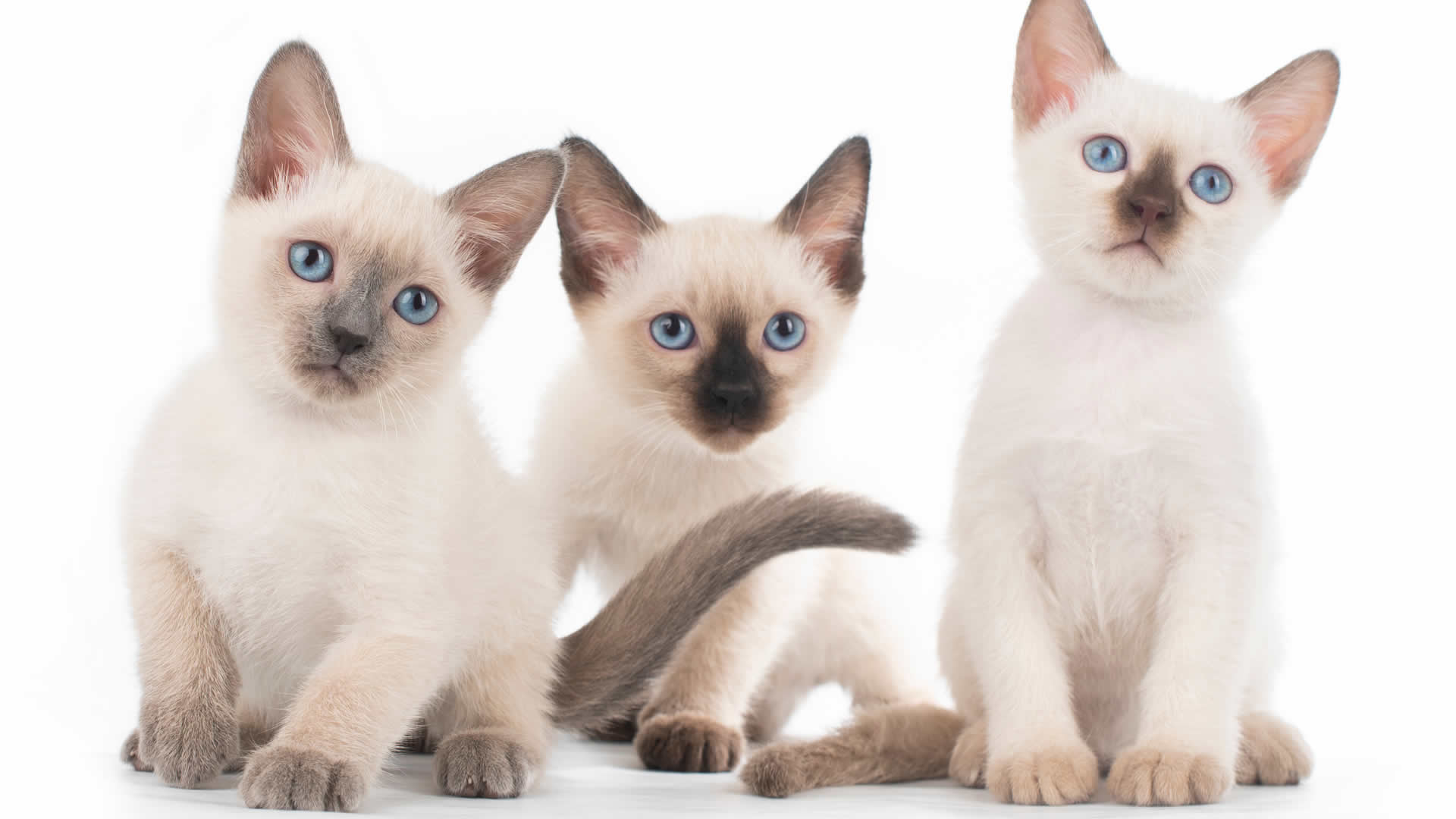 Siamese cats used to be known for their crooked eyes and curly tails, giving them a very unique appearance. Legend has it that this was because a pair of Siamese cats were given the task of watching over a golden goblet that belonged to Buddha. They stared at it so long that their eyes crossed and they wrapped their tails around it for extra protection, causing them to have permanently curly tails!
You will still see curly tailed Siamese cats today, but they are much less common than they used to be. Having a cat with a crooked tail was seen not as cute, but rather as undesirable, and so these traits were explicitly bred out of this breed. Still, a few do exist.
Bengal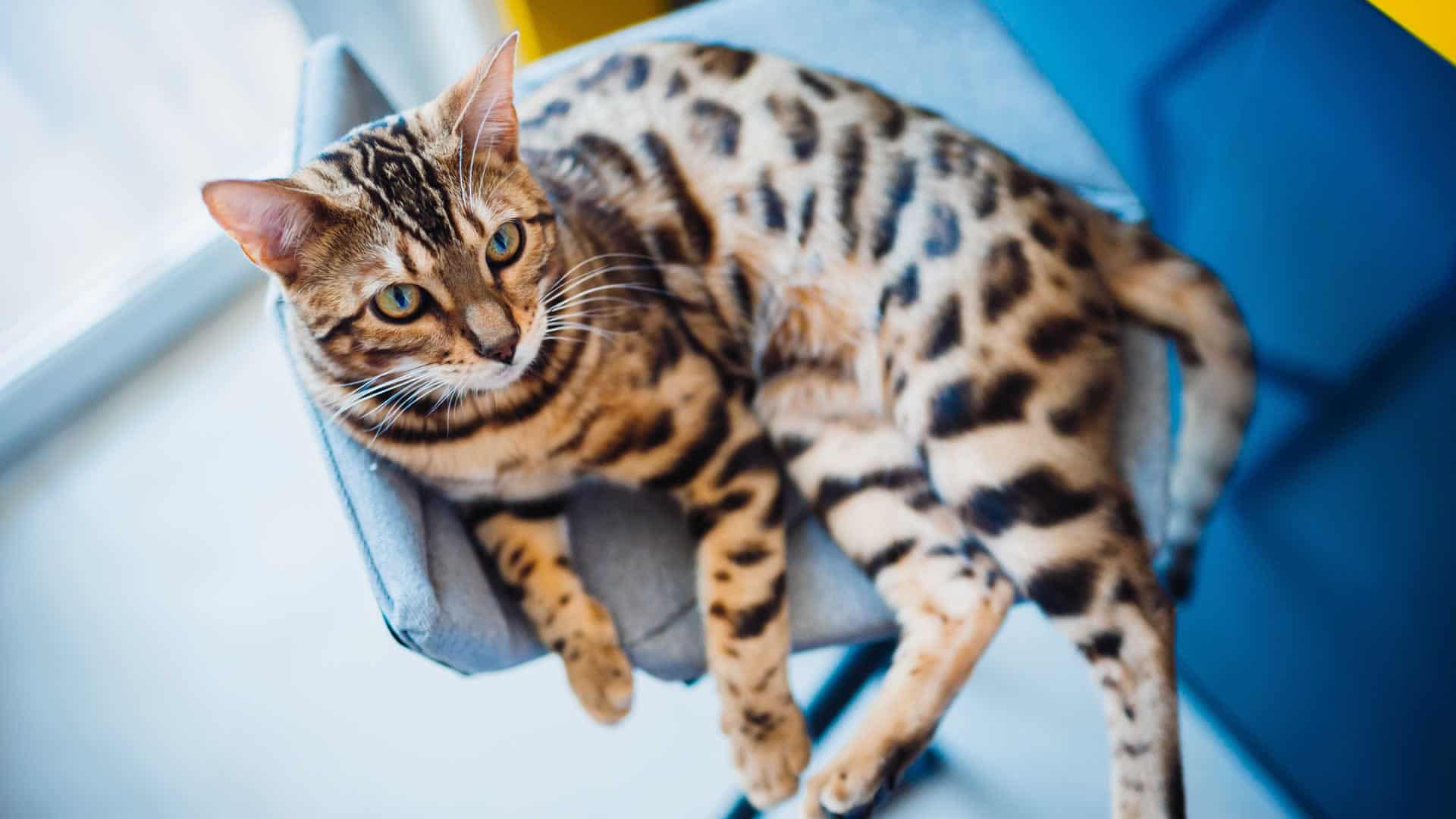 Bengals have a distinct wild appearance with beautiful rosette or marbled patterns on their fur, similar to a leopard or cheetah. This is because this breed was in fact made by breeding an Asian Leopard Cat with a domestic cat in the US. Their wildness is reflected in their personality too as they are extremely confident and energic pets.
Although traditionally Bengals are long tailed cat breeds, they don't have curly tails. But, there has been a Bengal cat in Arizona called Shinobu who was reported as having a curly tail in 2005. Shinobu has complete control over her tail and can straighten it as she wishes, usually when stressed or scared. However, predominantly her tail is in a curled position, especially when relaxed and content.
Sphynx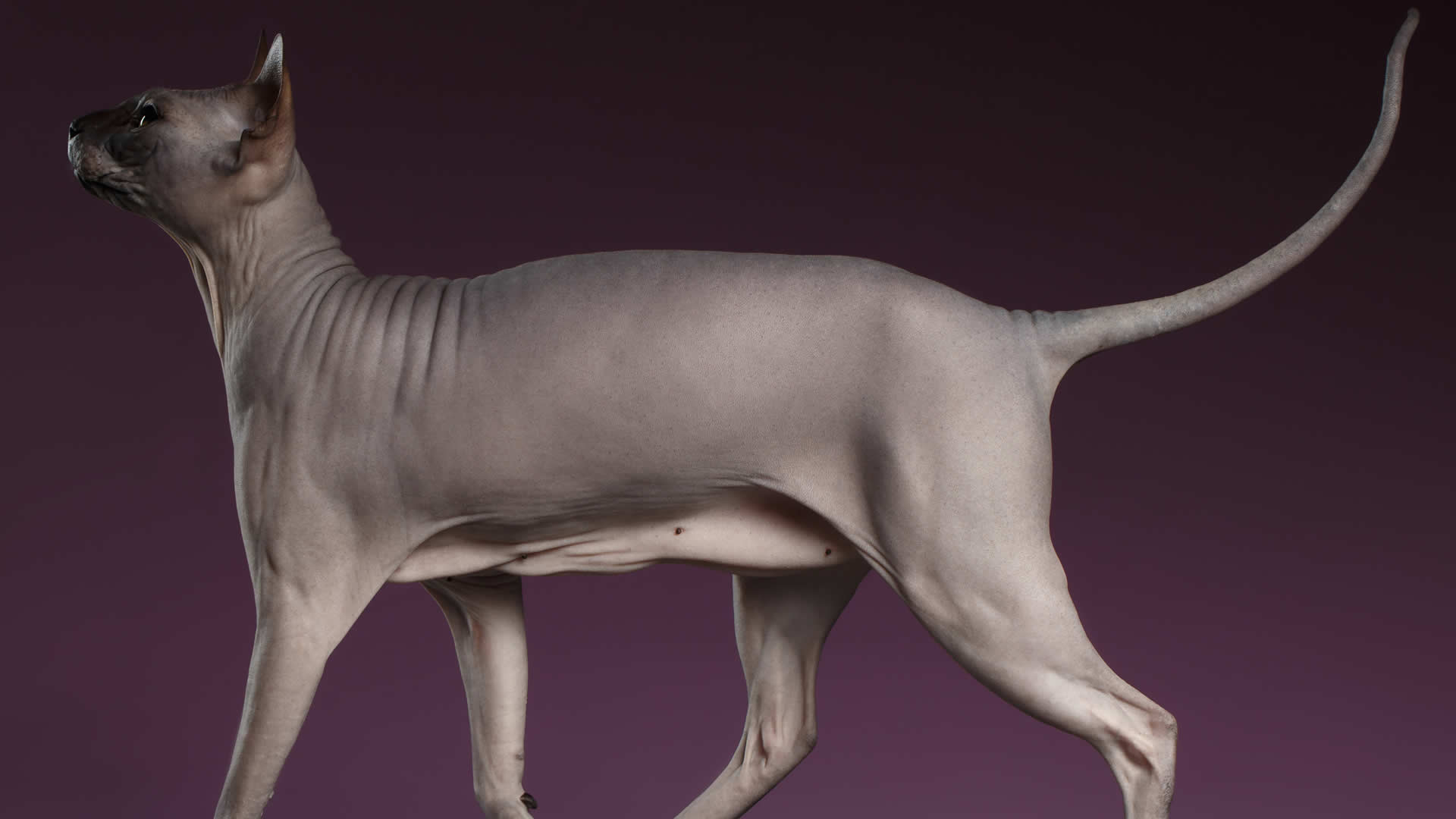 The Sphynx cat is known for its lack of fur and wrinkled hairless appearance. They don't even have any whiskers or eyelashes! Sphynx's also have long slender bodies and lemon-shaped eyes which are set deep into their pixie-like heads, comparable to the head of a Devon Rex.
Sphynx cats don't always have curly tails, but they are known for being long in length and tapering towards the end. When resting, Sphynx cats also commonly curl their tails into a spiral shape.
Singapura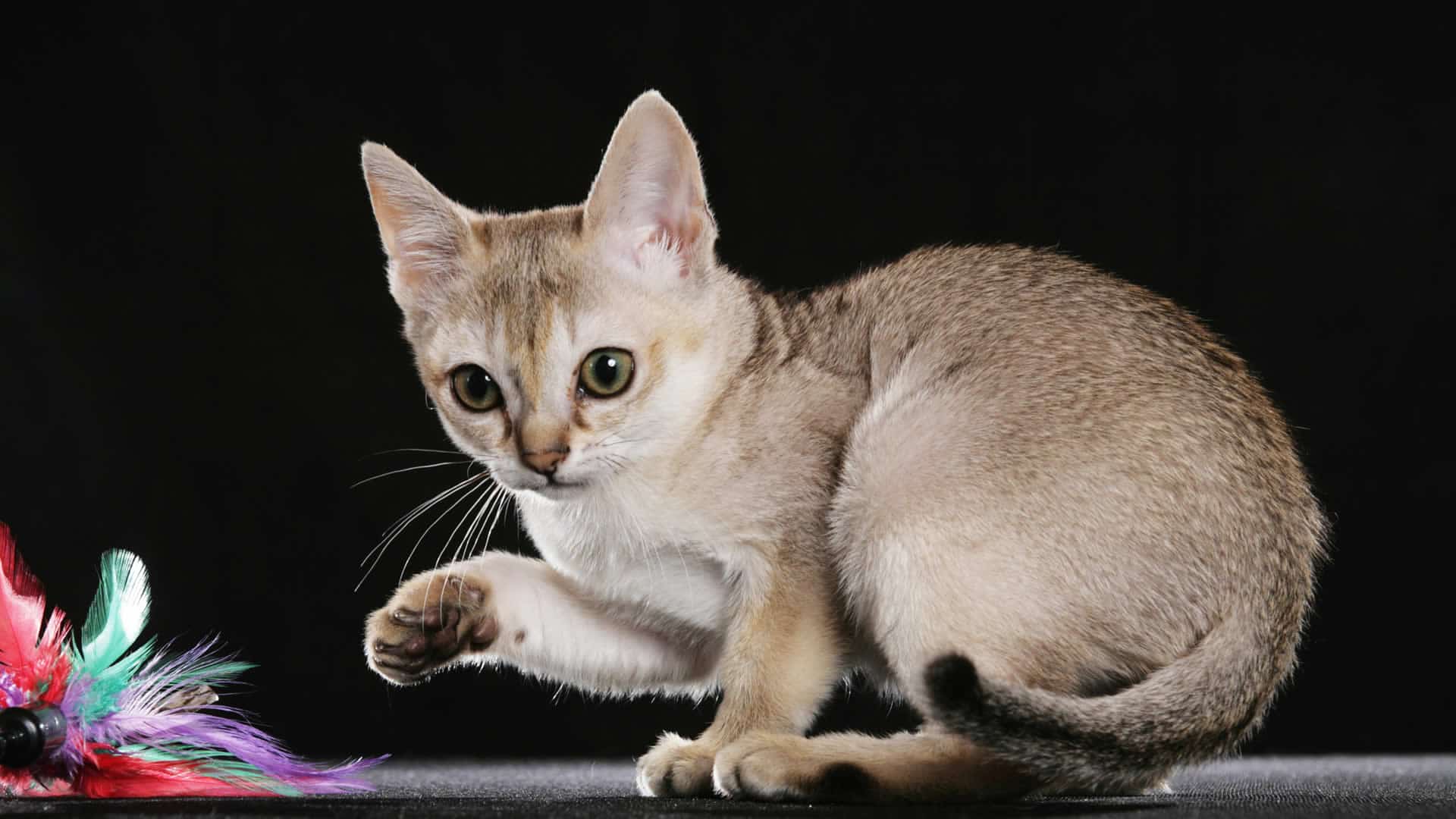 As one of the smallest domestic breeds there are – known by some as micro-sized kitties – Singapura cats are adorable. However, don't let their small size decieve you; with their small size comes big personality and they thrive being the center of attention.
These cats originate from Singapore and have a clear ancestry with another Asian cat breed: Siamese cats. This explains why some Singapura cats have curled tails; the curled tailed genes originally found in Siamese cats have been passed down to this breed and can present themselves from time to time.
Scottish Fold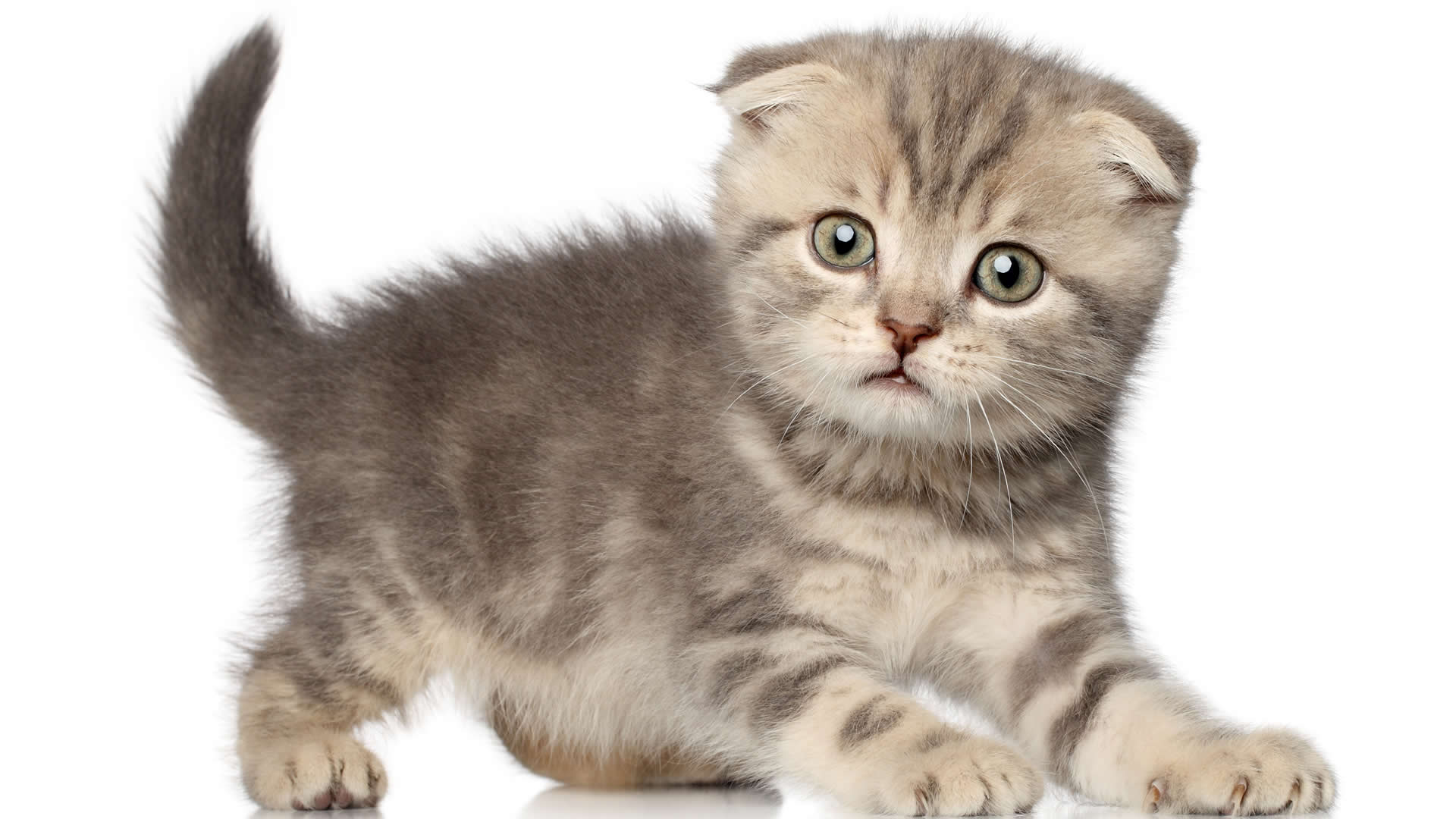 Scottish Folds are sweet and expressive cats that love to play. As the name suggests, these lovely cats originally came from Scotland after a farm cat called Susie who had distinctive folded down ears was bred by a local farmer in the 1960s. The genetic mutation behind Susie's unusual ears has been passed on and is what makes this breed famous.
This unmistakable physical feature also made this breed extremely popular among celebrities such as Taylor Swift and Ed Sheeran. Yet, interestingly, this isn't the only genetic mutation that affects this breed of cat, as they have also been seen to exhibit curly tails. Although this is rare, it is possible.
Ocicat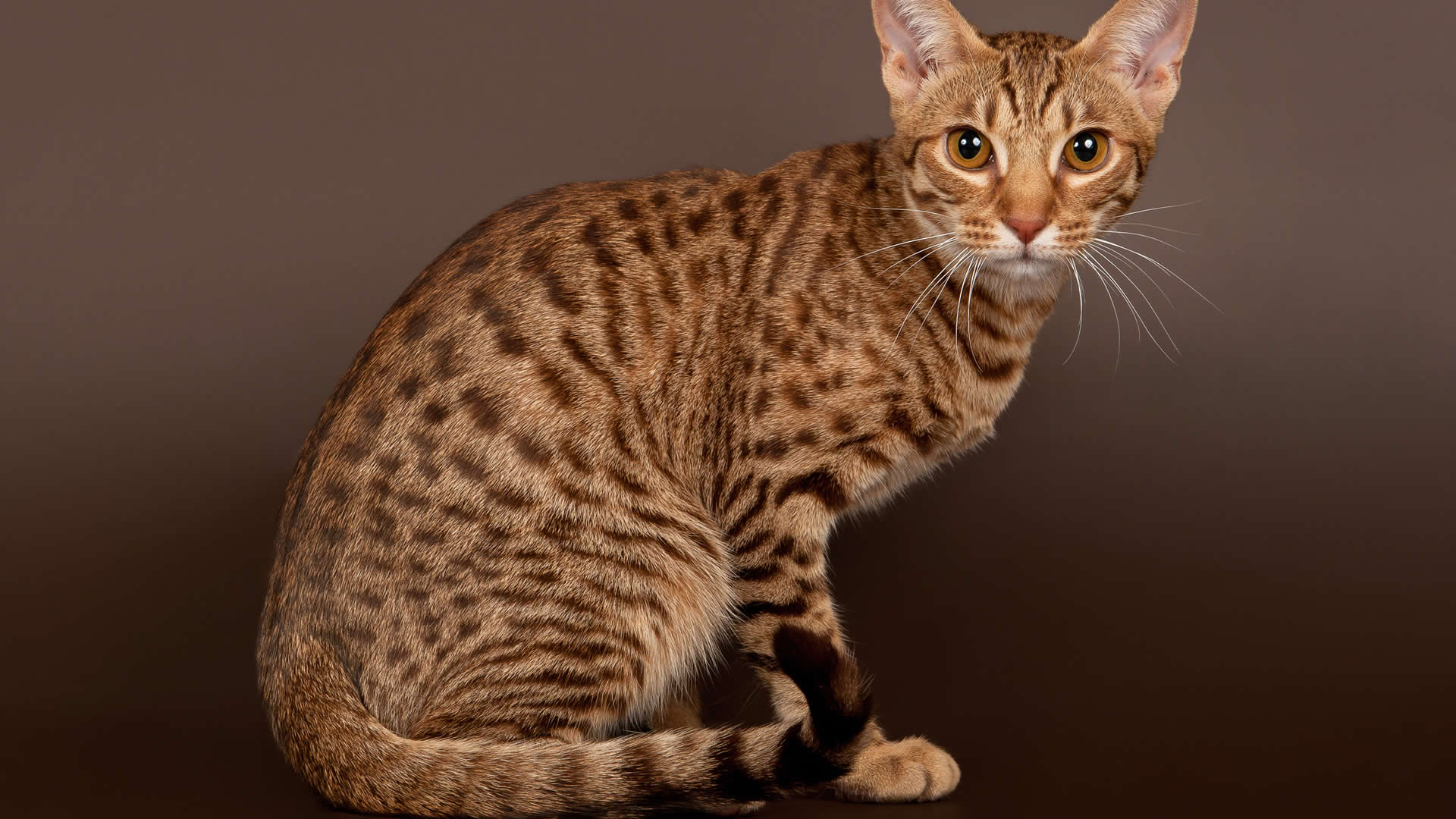 Comparable to Bengal cats, Ocicats are muscular and athletic felines with spotted coats that were bred to look similar to a large wild cat. There have been Ocicats known for having curly tails, such as pedigree Ocicat Wira. Both of Wira's parents were show cats that had straight tails, but Wira's tail has a distinctive curled position most of the time.
This breed was formed by crossing a Siamese with an Abyssinian, which was later crossed with an American Shorthair. The Siamese ancestry can help to explain how the curled tail gene has been passed down through many generations.
Ragdoll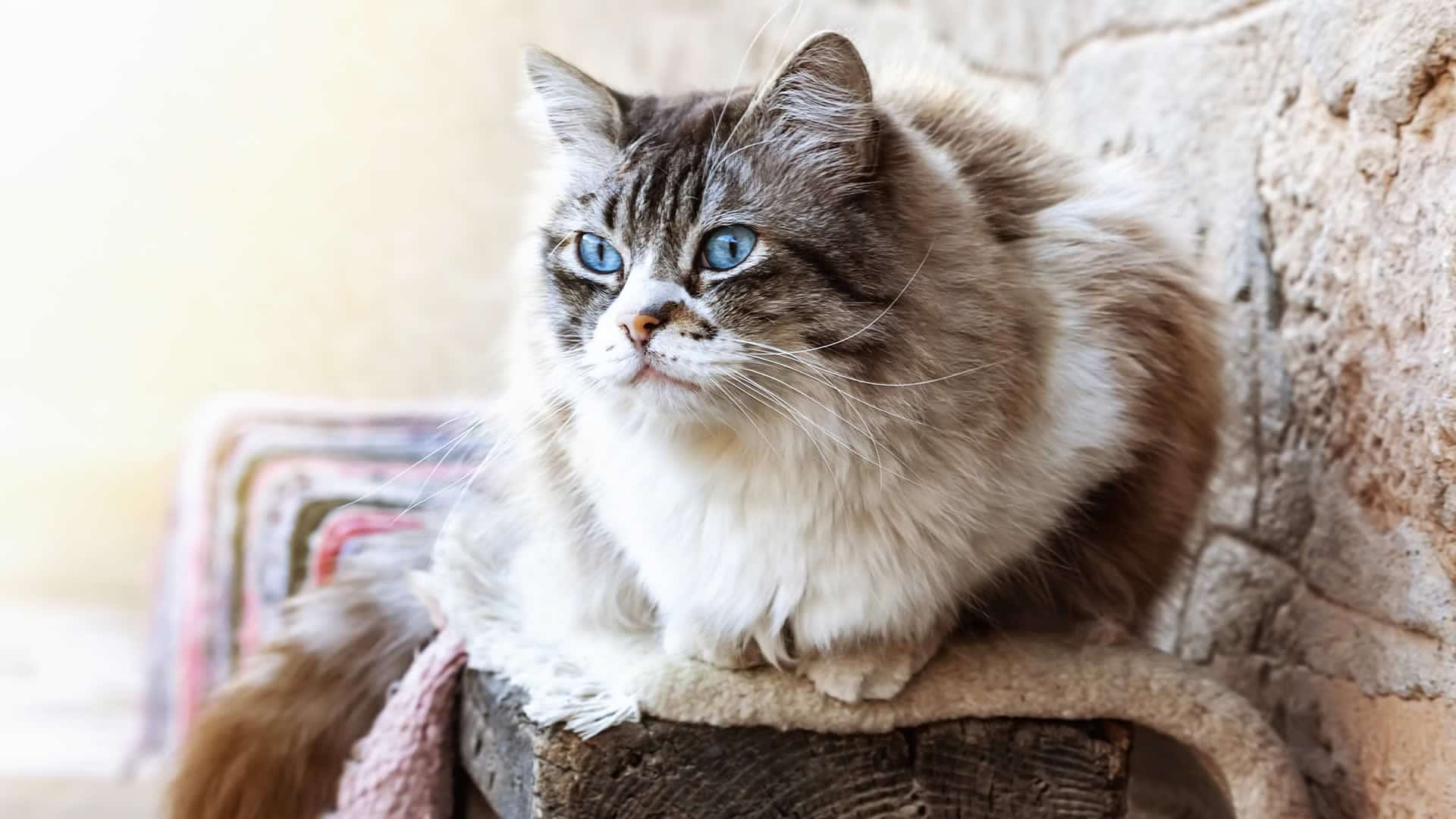 Ragdoll cats are a popular breed in the United States and the United Kingdom and are admired for their relaxed temperament, passiveness, and tendency to love being with people. They are also one of the largest domestic cats, especially the males, and are known as cats with long whiskers and thick plush coats ideal for cuddling.
As with most other purebred cats, Ragdolls are not typically seen with curled tails, but they do exist. For example, a cat named Maximus who is largely Ragdoll and 1/16th Maine Coon has a long fluffy tail that curls back towards his spine. Other Ragdolls, especially mixed-breed ones, have also been reported to have this trait.
American Ringtail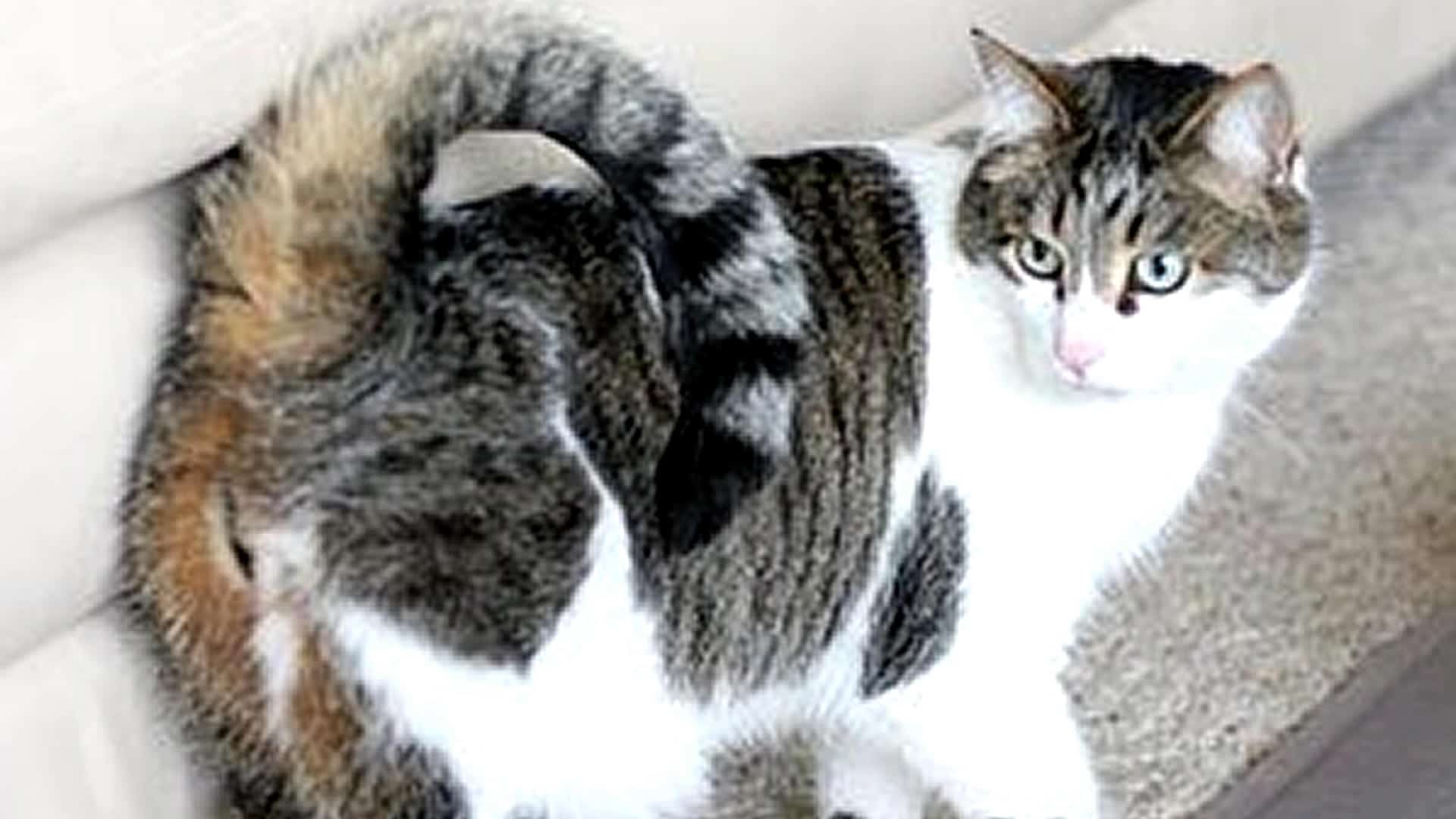 Finally, we have the only breed of cat of which having a curled tail is characteristic of their breed: the American Ringtail, otherwise known as the Ringtail Sing-a-Ling. This is a fairly new and experimental breed after a rescued kitten called Solomon was found by Susan Manley in California in 1988. By the time Soloman was 4 weeks old, his tail had started to curl over his back.
The following year in 1999, Susan started breeding Soloman, hoping to create a new breed of cat that all had this distinctive curled tail. She started working with other breeders in 2005 and has crossed the curled tail cats with purebreds, Domestic Shorthairs, and more recently Ragdolls. This same year, the breed was also given a "Registration Only" status by The International Cat Association (TICA).
These are still a rare breed but are extremely popular already because of their unique curled tails. When born, their tails are straight, but they curl naturally as they age. It has also been noted by some owners that American Ringtails rely on their tails a lot more than regular cats for balance and have extremely muscular tails, enabling them to straighten them if they wish.
Why Do Some Cats Have Curly Tails?
The curly-tailed trait found in some cats all comes down to genetics. This is what determines everything about how a cat looks – from its fur length and color to the shape of its eyes and face.
With specific cat breeds, the traits you see from one to another are often very similar, which is what causes the distinctive characteristics of each breed. For example, genetics is what makes a Bengal cat large and energetic with distinctive rosette or marbled markings and a short coat. Genetics is also what gives a Ragdoll cat its floppy impression, plush fur coat, and three specialized coat patterns.
Registered cat breeds have a much more clear ancestry, which is what makes these features and traits predictable and distinctive for each breed. However, mixed-breed cats come from a much larger gene pool and can inherit a range of different traits. This explains why mixed cats are more likely to have curled tails.
The gene for a curled tail is thought to be recessive. This means that the cat must have two copies of the curly tailed gene – one from their mother and one from their father – for their tail to be curly. If they only receive one curly gene, the straight gene is more dominant and overwrites the curly gene.
However, this also means it is possible to have a curly tailed kitten from two straight tailed cats. Both the mother and father could have been carrying one copy of the curled tail gene and one copy of the straight tailed gene. Neither of the parents will present the curly gene as they only have one copy each, but if both of them pass the curly gene to their offspring, then the kitten will have the two copies it needs, and hence a curled tail.
The specific gene responsible for curly and kinked tails has not properly been looked into before. However, the Feline Genome Project currently underway at the University of Missouri looks to lay out the entire genetic makeup of cats and will shed some more light on this unusual feature. Because of the Siamese cat's history of kinked tails, it is assumed this mutation stems from them.
Why Is My Cat's Tail Curled Sometimes?
Cats use their tails to communicate and give us the greatest insight into how our felines are feeling, along with other signs shown through their eyes, ears, and body posture. If you notice your cat's tail is straight the majority of the time, but sometimes is curled, they could be trying to communicate to you through their tail. This is different from having a tail that is genetically curled.
Here are the main tail movements to look out for and an explanation of what your cat is trying to say.
Tail Curled Around You
If you notice your cat curling their tail around you, this is a welcome and loving sign. It is comparable to a hug or a handshake between people and is a common way for cats to greet each other. Your cat is trying to interact with you and give you a friendly hello. The best way to respond is by giving your feline some attention, such as a scratch in their favorite spot.
Tail Curled in Question Mark Shape
Sometimes, cats' tails will assume a question mark shape. They will hold their tails straight up from the base but it will curl over at the end. This indicates that your cat is happy and is another welcoming sign, which can be answered with a friendly pet. They are trying to communicate that they are happy and relaxed but would love some attention.
Tail Curled Around Their Body
One thing to watch out for is if you notice your cat's tail being wrapped tightly around or underneath their own body when they crouch down. This can indicate fear and something in their environment may be frightening them. If you notice this, try to remove any stressors so help them feel calm and content again.
A curled tail could also be an indication of pain or feeling unwell. Keep an eye on their tail and if you constantly notice them curling it close to them then take your cat to the veterinarian. There may be nothing wrong, but it is best to have pain and illness ruled out.
Twitching Curled End of the Tail
You may notice the end of your cat's tail twitching, going from a flat position on the floor to a slightly curled position. This is commonly seen when cats are hunting or playing with their toys, so if you see this movement during playtime then there is little to worry about.
However, they can also twitch their tail when they are mildly irritated or annoyed. You can easily determine whether this is the reason by assessing the situation. If you're not playing together, they're likely getting annoyed! When your cat is very annoyed or angry, its tail will thump and thrash around instead, so give your cat some space if you notice this movement.
Other Tail Positions
These are the main curled tail positions your cat may exhibit, but there are a few others you should be aware of. One such position is if your cat holds their tail straight up high in the air. This shows confidence and contentment. If their tail is quivering, they are likely super excited to see you!
However, a puffed-up tail is never good and usually goes hand-in-hand with an arched back. This is your cat's way of communicating that they are feeling severely threatened and indicate that your cat wants to be left alone, so leave them to it until they realize the threat isn't real.
CONCLUSION
Although rare, cats with curly tails do exist, and this adorable feature is nothing to worry about. It causes them no harm and is just the result of a genetic mutation causing their tail to flop over and curl up. The degree of curliness can be anything from a slight kink to a corkscrew curl.
As curly haired cats are a result of genetics, mixed-breeds and street cats more commonly have this feature. However, some registered and pedigree cat breeds have been seen to have curly tails in the past, including Bengals, Ragdolls, Ocicats, and traditionally Siamese. In fact, many of the curly tailed cats we see today are thought to have come from Siamese ancestry.
In 1999, a breeding program was set up to produced curled tail cats which gave rise to the American Ringtail Cat. Though a fairly new and experimental breed, this cat is hugely popular already because of its unique tail. However, until this breed becomes more widely available, it will be hard to tell whether all their offspring will have this gene.