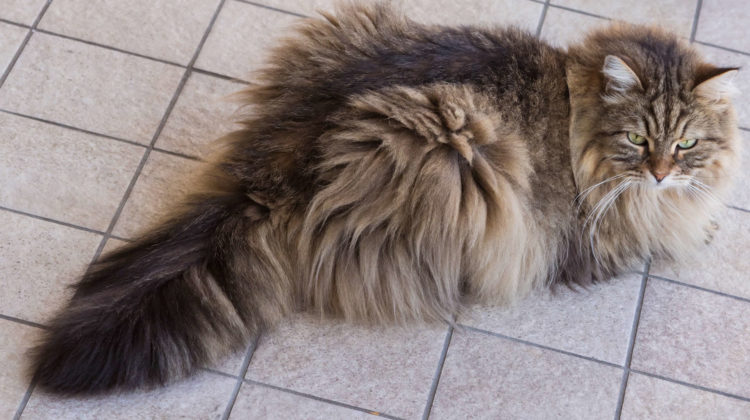 In the beautiful world of cats there are so many gorgeous felines in all shapes and sizes, colorings and temperaments.
Not to mention the interesting stories behind all the history of their breeding. Those fascinating tales will be saved for another day.
Today we are looking long tail cat breeds including the Sphynx cat which has a tail but no fur on it because it's totally hairless.
Fluffy Long Tailed Cat Breeds
American Curl
A comical looking character due to its unusual curly ears hence the name. An affectionate and lovable feline friend.
Balinese
The Balinese cat is a sophisticated feline that is strong and muscular underneath it's purrrrfect glossy coat.
Birman
A beautiful cat with long silky hair, beautiful markings and white feet. This cat loves company and is very gentle and loving.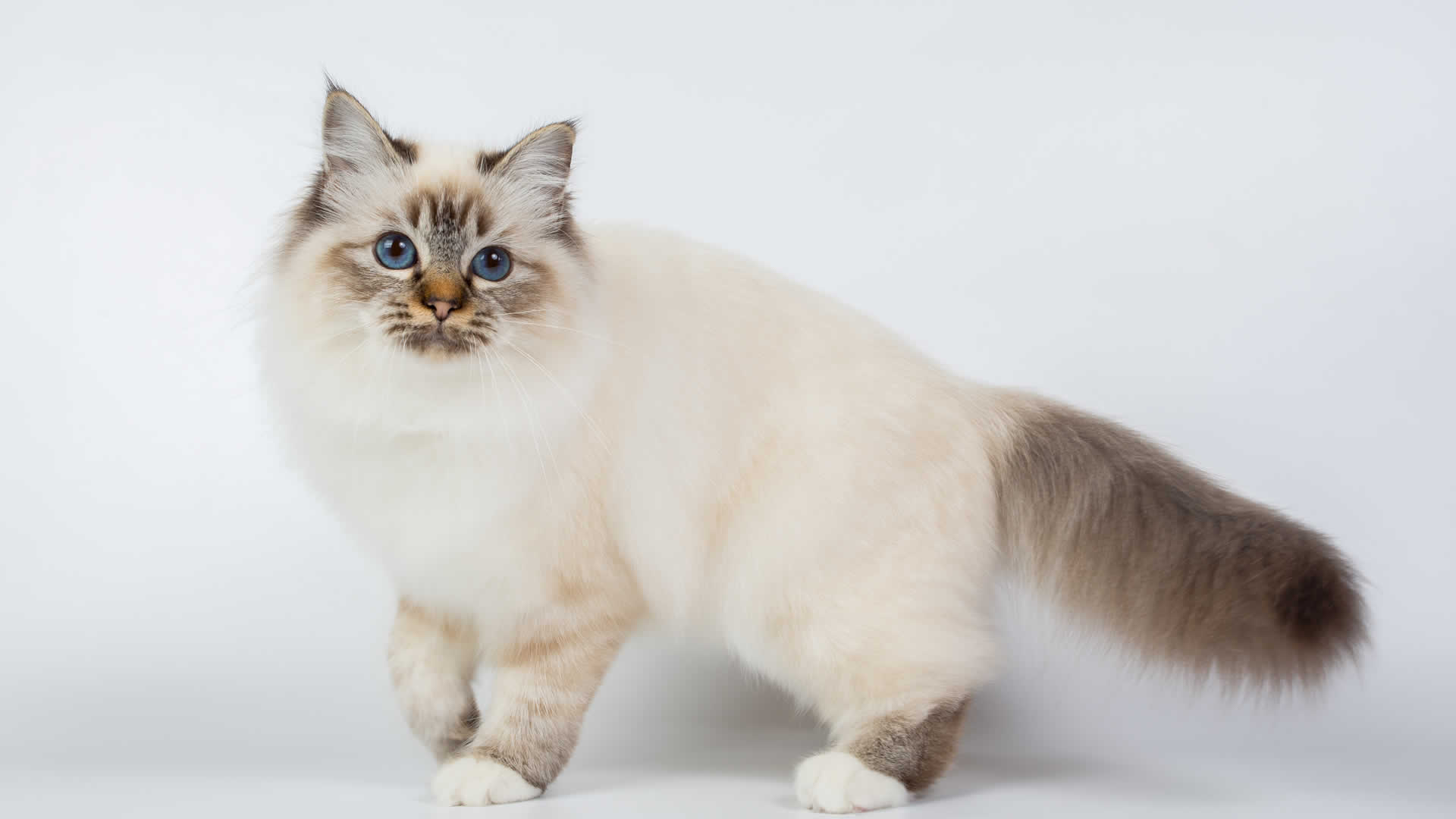 Himalayan
Very similar to the Siamese this cat is different due to the colorings on it's mask, ears, paws and tail. Who could resist those beautiful blue eyes?
Javanese
Javanese cats are faithful companions who love to be with their owners. You will have a friend for life with this beautiful cat. The Javanese shares many similarities with the Siamese breed.
LaPerm
The LaPerm breed is a naturally occurring mutation producing curly coats in long and shorthaired felines. Its appearance is handsome and its nature is gentle.
Maine Coon
The Maine Coon will be your fluffy friend if you have time for its grooming needs. It can endure cold climates and is a sturdy and strong cat.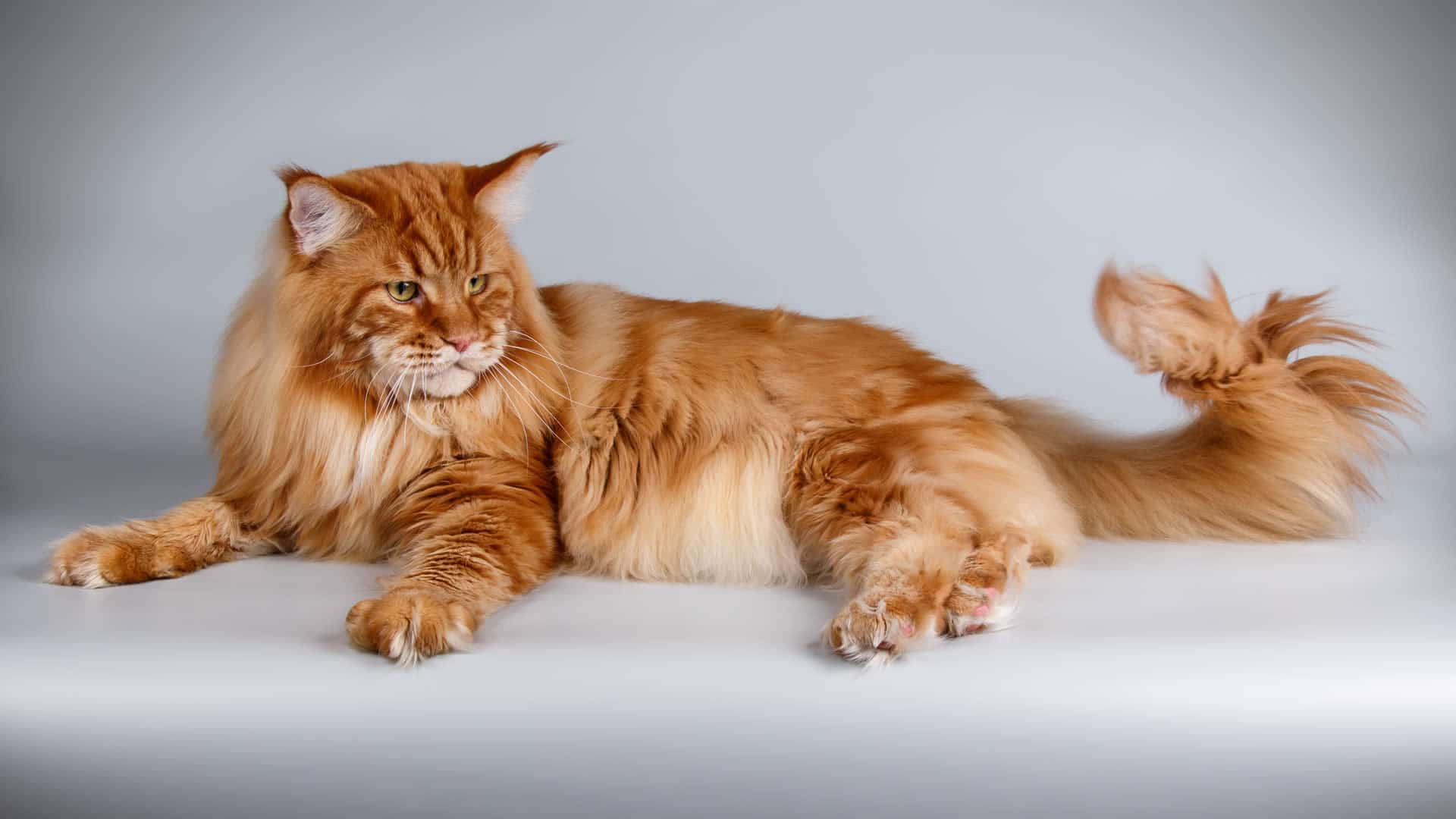 Munchkin
A joyful fur ball this one is. They are friendly cats that love collecting things so you know where to look if anything goes missing.
Nebelung
The Nebelung is a regal-looking kitty with a beautiful blue coat. It is often compared to the Russian Blue breed. It needs a lot of attention and is very loyal.
Norwegian Forest Cat
The Norwegian Forest Cat is a strong cat with a heavy double coat. It reaches adulthood around the age of 5 years. This domestic cat originated in Northern Europe and can live in cold climates.
Persian
Another well-known cat is the gorgeous longhaired Persian with it's beautiful fluffy coat and loving and affectionate nature. The first known ancestors of the Persian cat were imported into Italy after arriving from Iran around 1620.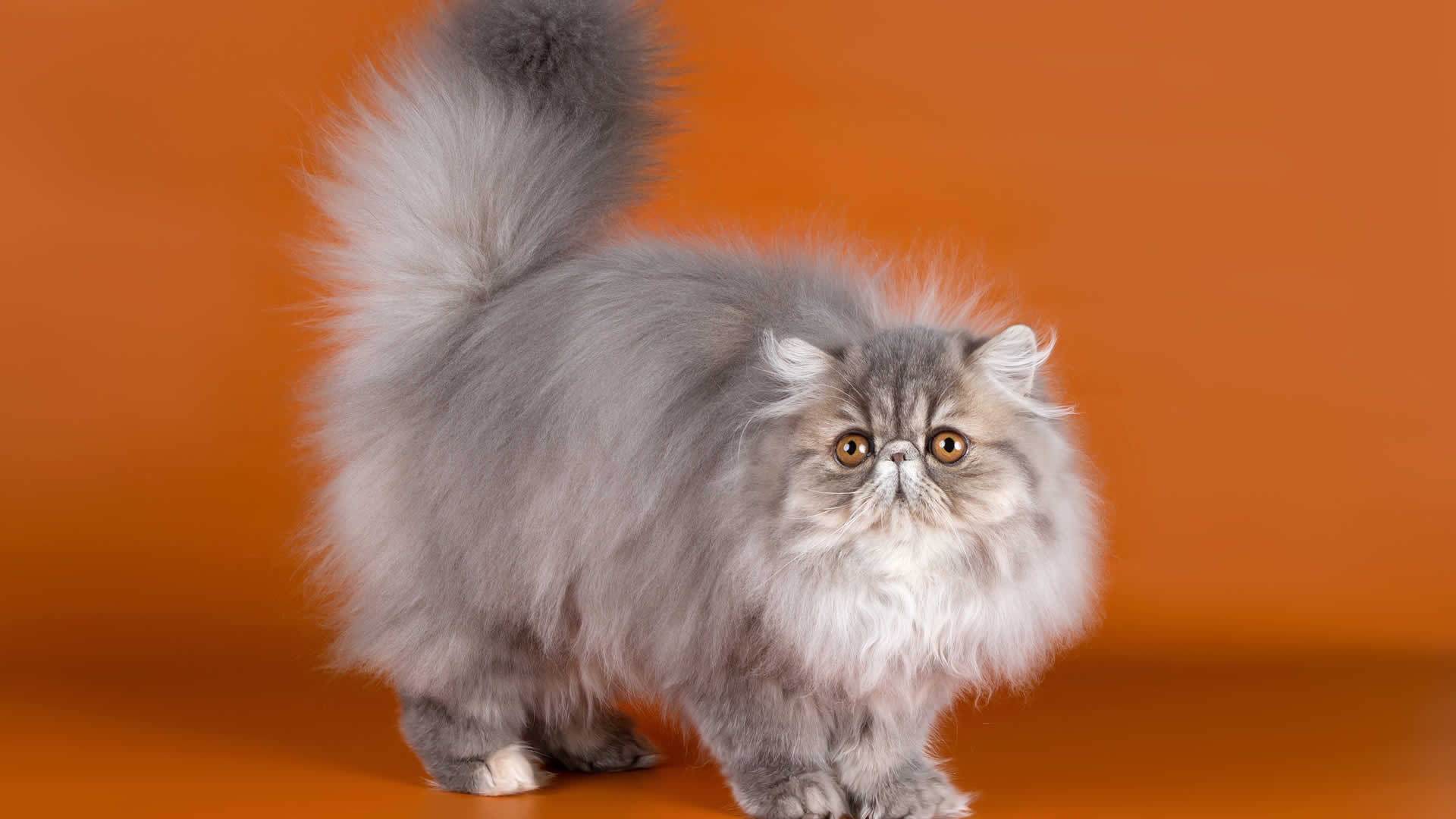 Ragamuffin
What a name this lovely, calm cat has. With big eyes and a fluffy coat this cat needs lots of grooming and love. It was once classed as a variant of the Ragdoll cat then was established as a separate breed in 1994.
Ragdoll
A simply gorgeous cat with a beautiful coat and markings. The Ragdoll is an intelligent and loyal cat with stunning blue eyes. Developed by an American breeder in the 1960s, they are well-known for having a calm and even temperament.
Selkirk Rex
This cat has a curly coat and chilled out nature. It grows into a large cat and makes an ideal pet.
Siberian
The Siberian cat originates from Siberia in Russia and records date it as far back as the year 1,000. The Siberian wears a strong triple coated which would have been needed in those chilly climates.
Somali
A handsome cat that is alert, energetic and loving. It has a full and bushy tail. A medium to large-sized cat once fully grown it is muscular and lithe. It's nature can be described as lively, curious and loving.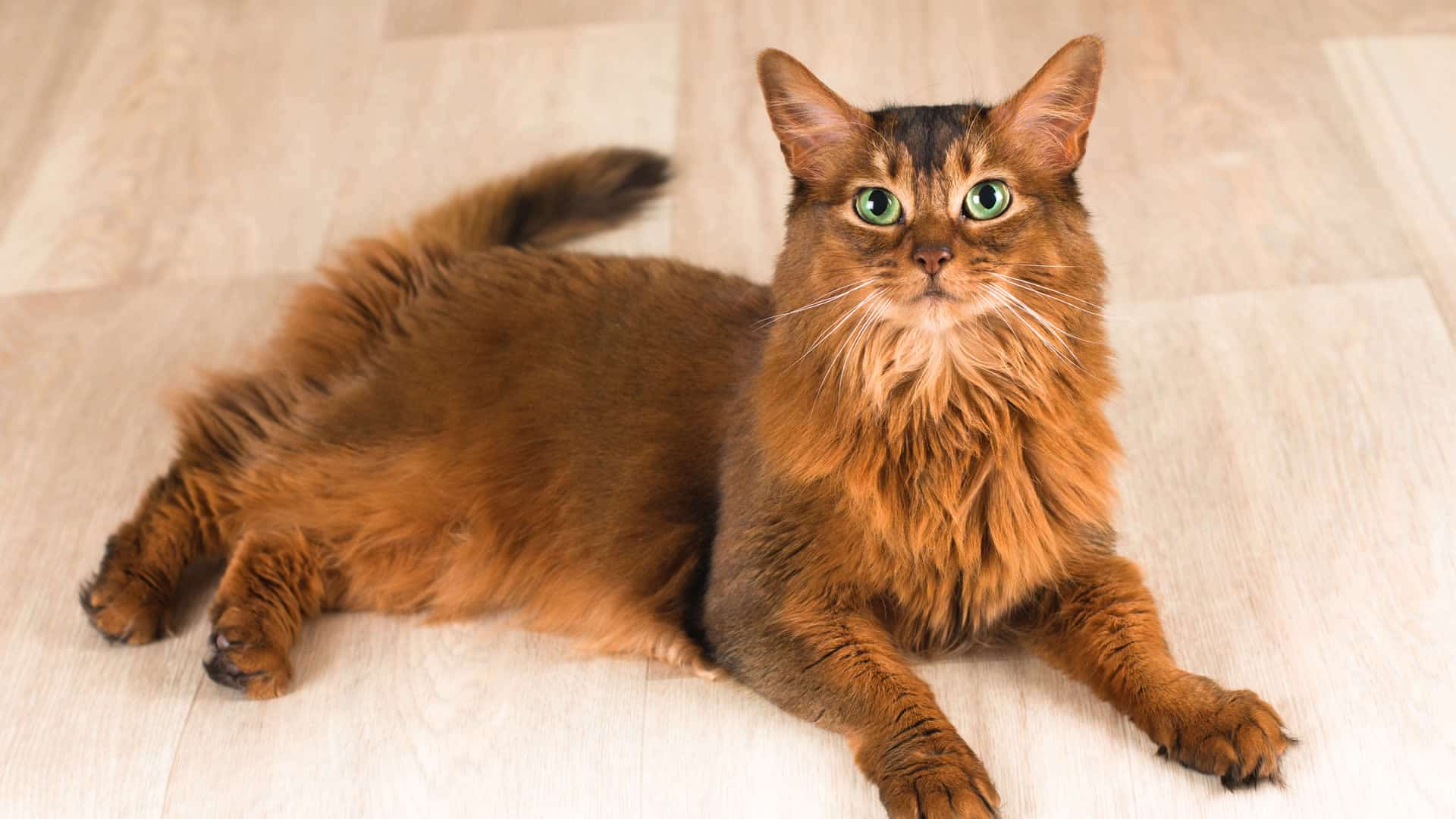 Turkish Angora
Although it's tail is fine, it's the eyes that make this cat really stand out. Often with two different colored eyes the beautiful Turkish Angora eye colors can include blue, sky blue, sapphire, green, gold and copper. What a stunner!
Turkish Van
The Turkish Van breed hails from the Middle East. Wearing a distinctive pattern the term "Van" describes white cats with colored head and tail markings. The Turkish Van is a solid, semi-longhaired cat that is strong and powerful. This breed takes 3 to 5 years to reach adulthood.
Other Long Tailed Cat Breeds
Abyssinian
This wide-eyed sleek beauty is one of the oldest known cat breeds in the world and there's no definite proof about where it originated from. They are affectionate but don't like being picked up and cuddled.
American Shorthair
A friendly, gentle and sociable cat that makes a great pet. Great for catching pesky rodents too so handy if you live on a farm or have a large property.
American Wirehair
This lovely cat's personality is similar to the American Shorthair and make great family pets.
Bengal
Looking like a wild cat this feline is very playful, loving and full of personality. Bengals love to climb and are very intelligent cats. The Bengal is a hybrid of the domestic cat and leopard cat which explains it's distinctive markings.
British Shorthair
A calm natured cat that is easy to look after and makes a great pet.
Burmese
A sweet-natured cat that is elegant in appearance and popular all around the world. Burmese are very loyal cats and love people. They make excellent pets.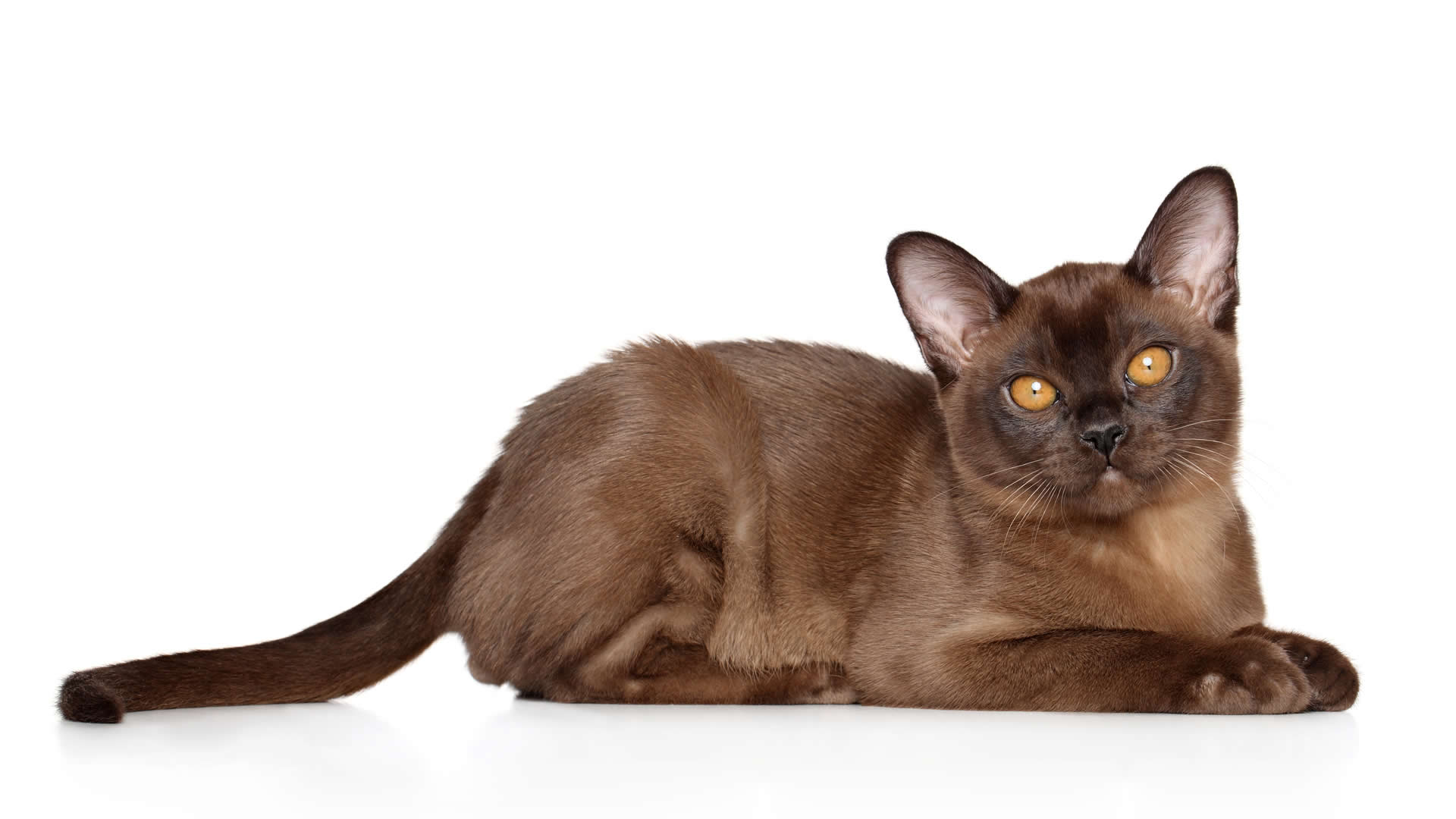 Burmilla
The Burmilla's nature combines it's parent breeds—the personality of the cheeky and attention-seeking Burmese and the peaceful, laid back, affectionate Chinchilla Persian.
Bombay
A medium-sized cat with wide-set eyes and a social nature. This cat is named after Bombay in India, land of the black leopard.
Chartreux
The Chartreux is a strong, shorthaired French breed knows for its hunting ability and water repellent fur. Chartreux are very agile cats.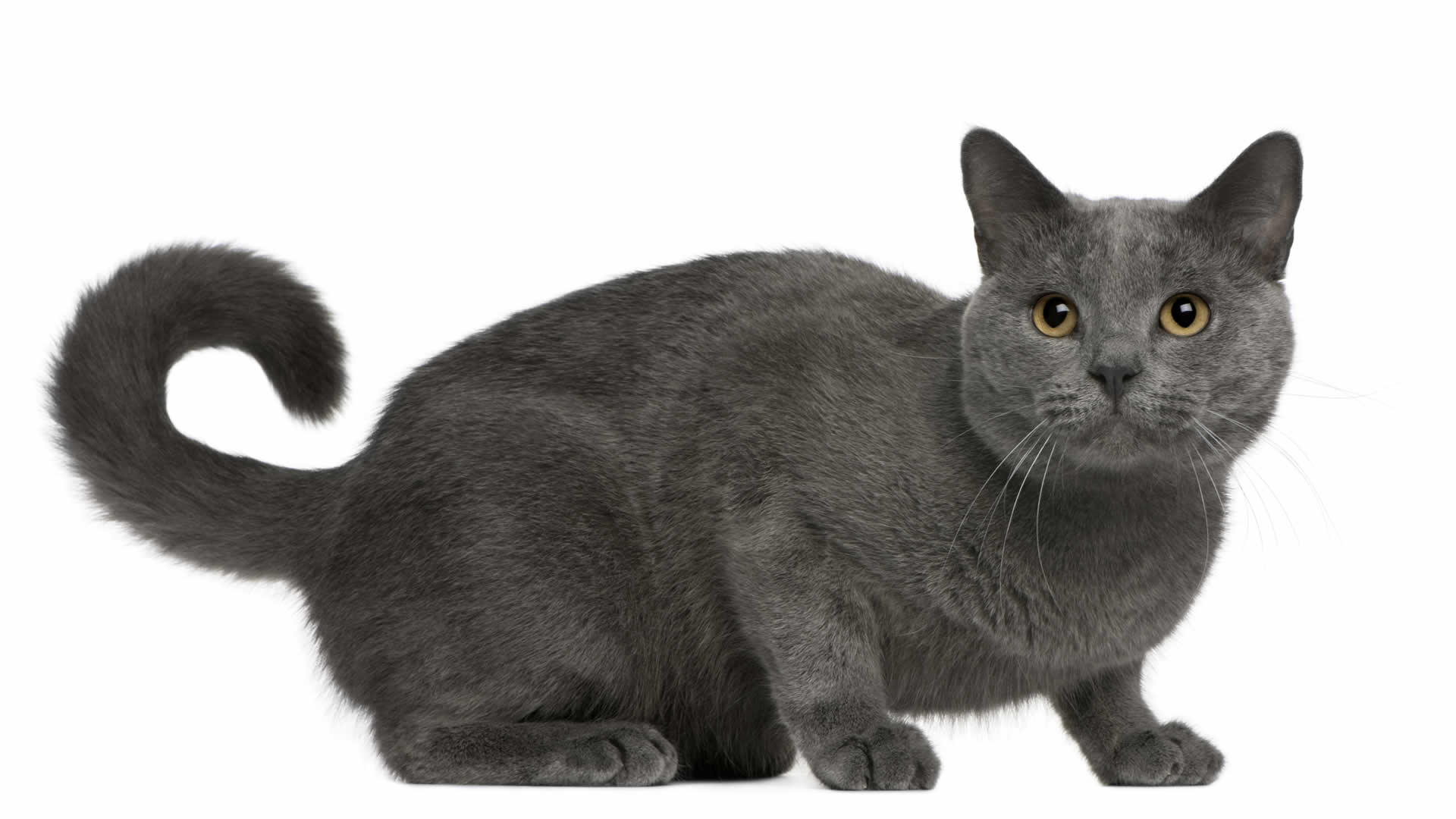 Chausie
The Chausie is an athletic feline that is graceful and exotic in appearance. The Chausie's short coat is brown-ticked tabby, solid black or grizzled tabby.
Cornish Rex
The Cornish Rex is unique with its really soft, wavy coat. This playful cat is surprisingly heavy.
Devon Rex
The Devon Rex has a distinctive appearance with large eyes, a short muzzle, prominent cheekbones and huge ears. A medium-sized cat, the Devon is well covered with soft, wavy fur.
Egyptian Mau
The Egyptian Mau is the only natural domesticated breed of spotted cat. With a breeding history that shows they were once used for duck hunting they now love to play fetch.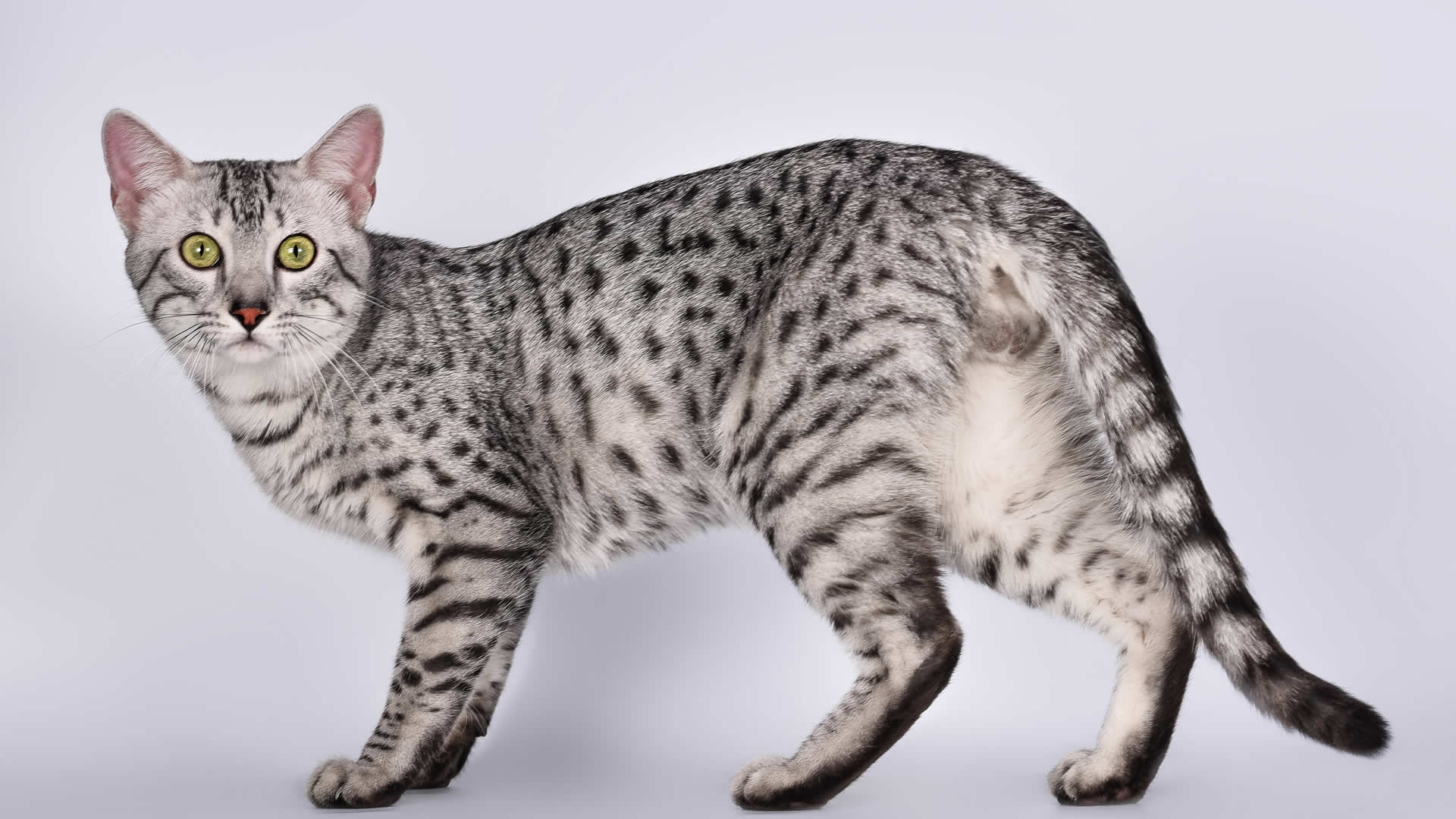 Exotic Shorthair
Large eyes and a round face give this cat a beautiful appearance that many people love. They love to play and sleep so make great pets.
Havana
You can recognize the Havana Brown by it's rich, solid color coat, good muscle tone and distinctive muzzle shape.
Korat
A silver blue cat that has an exotic appearance and a lovely nature to match. They do demand attention at times and are very energetic.
Ocicat
The Ocicat is a spotted cat which gives it a wild appearance. It is very affectionate and devoted to its owner.
Oriental Shorthair
The Oriental is a svelte cat and very muscular. Owners report back saying it's an energetic, curious and cheeky cat.  They make excellent pets.
Russian Blue
The Russian Blue cat has beautiful green eyes and a striking blue coat. It's appearance is gorgeous and as you might have guessed it originated in Russia.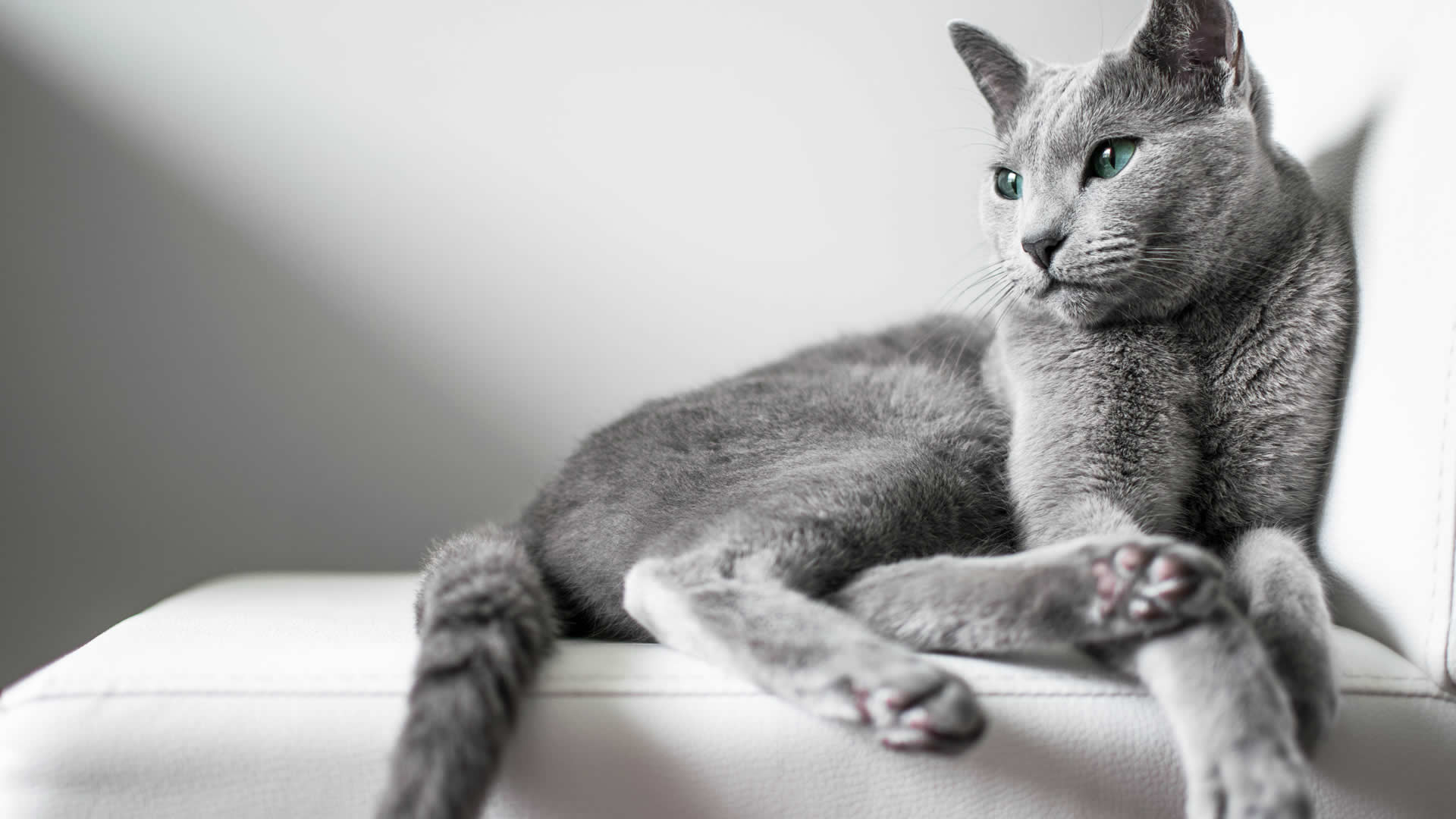 Scottish Fold
The Scottish Fold cat comes from Scotland. It's name comes from it's folded ears. All Scottish Folds can trace their pedigrees back to a cat named Susie founded in 1961.
Siamese
Everyone knows the famous Siamese cat breed. It is affectionate, curious and loving and often has striking blue eyes.
Singapura
This kitty has large eyes and ears in relation to its body. It has a striking appearance and originates from Singapore.
Snowshoe
A cat with unique markings that hails from American. With its blue eyes and lovely nature it makes a wonderful pet and companion. It can be shy around strangers but loves people once it knows them.
Sphynx
Everyone knows the Sphynx aka the hairless cat. It would be hard to miss. It's tail is thin like a whip and tapers to a fine point at the end.
Tonkinese
A very friendly and lovable cat that has many similarities to the Burmese and Siamese breeds.
Toyger
This cat has a striking appearance that will remind you of a mini tiger. It is a friendly and playful cat that loves attention.  It was breed with Tabbies and originates from America.
York Chocolate
The name comes from it's color and what a delicious name. This cat is graceful and elegant with a glossy brown coat.  They make wonderful pets and also show cats. The breed was named after the state New York where it originates from since 1983.
Why Do Some Cats Have Long Tails and Others Have Short Tails?
Actually, there are not so many short tailed cats like the Manx, Cymric and Pixiebob. Research shows they have no tail or just a very short tail due to a gene mutation of the particular breed.
The American Bobtail has a short-stubbed tail that usually is a third or half the length of a normal cat tail. Same for the Japanese Bobtail. So these cats fall into a middle category between long tailed cats and cats with no tails.
What Do Cats Use Their Tails for?
Cats use their tails to help them balance.
That is especially useful when they are walking on narrow surfaces, jumping, climbing and leaping around as cats so love to do. Every day they rely on their tails for many different activities as they explore, hunt and play.
If your cat suffers an injury to its tail, you need to seek veterinarian advice and keep a very close eye on your cat. It may not realize that it's sense of balance isn't normal so could find itself in confusing or dangerous situations.
Another purpose of a cat's tail is for expression. It is a way of communicating a huge array of emotions including but not limited to:
A tail held high means your cat is showing its territory and is confident and happy
A tail held high is also a friendly gesture
A tail held high with a curve at the top shows your furry friend is ready for play time
A tail held low indicates a feeling of anger or aggression (except from Persians who just do this for unknown reasons sometimes)
A tail tucked between its legs means your cat is scared
A tail moving fast side to side means your cat is afraid and showing aggression
A tail moving slowing side to side means your cat is concentrating on something. May it saw a mouse or is interested in chasing something
The body language of a cat is intriguing. There are so many messages you can get from watching how your cat uses its tail. Every cat is different and you may see little traits that indicate some special language that is unique to your pet.
Now you know all about long tailed cats and who knew there were so many! Probably there are some long tailed cats on the list you haven't heard of before.
If you are thinking to buy or adopt a cat you have a wide range of breeds to selection from. If you already have a cat you can watch it carefully now and recognize how it uses its tail.