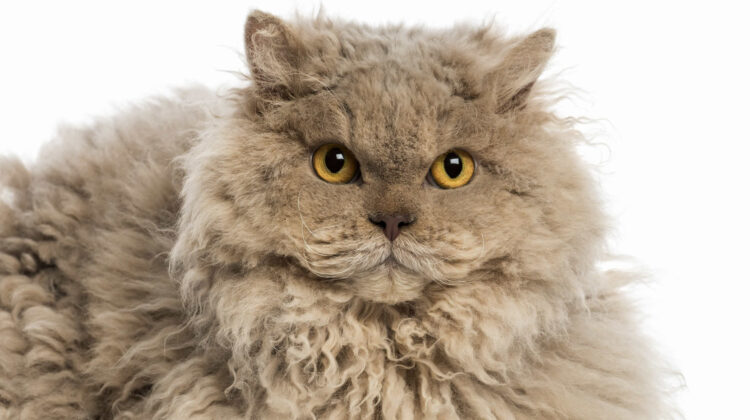 Is there anything cuter than cats with curly hair? If you thought you can only see these fun-looking felines on Instagram, that's not quite the case. Because of their unique appearance, these felines are gaining popularity as pets. Although rarer than other domesticated cat breeds, these fuzzy fluffballs could make a great addition to your family.
Before you start researching for breeders, you should get familiar with the different breeds, their personalities, and their physical features. Since they come in various sizes, shapes, colors, and curly types, it can be a bit tricky to tell one from another when you first see them.
Thankfully, below you'll find a detailed guide that will take you through all the popular and well-researched fuzzy-coated breeds. All owners looking for intelligent, unique-looking, active creatures that will make their home a happier place should scroll through this list – there's bound to be the perfect cat with curly hair for you!
10 Curly-Haired Cat Breeds
There are only four internationally accepted curly-haired cat breeds: LaPerm, Devon Rex, Selkirk Rex, and Cornish Rex. Below, you'll find out more about these unique creatures' coats, personalities, size, and history.
Aside from these four well-known breeds, we included six more that are slightly newer breeds that are still in development and aren't officially recognized: the Skookum, German Rex, Tasman Rex, Ural Rex, and Tennessee Rex. Just because these breeds aren't internationally accepted doesn't mean you shouldn't get familiar and fall in love with them!
1. LaPerm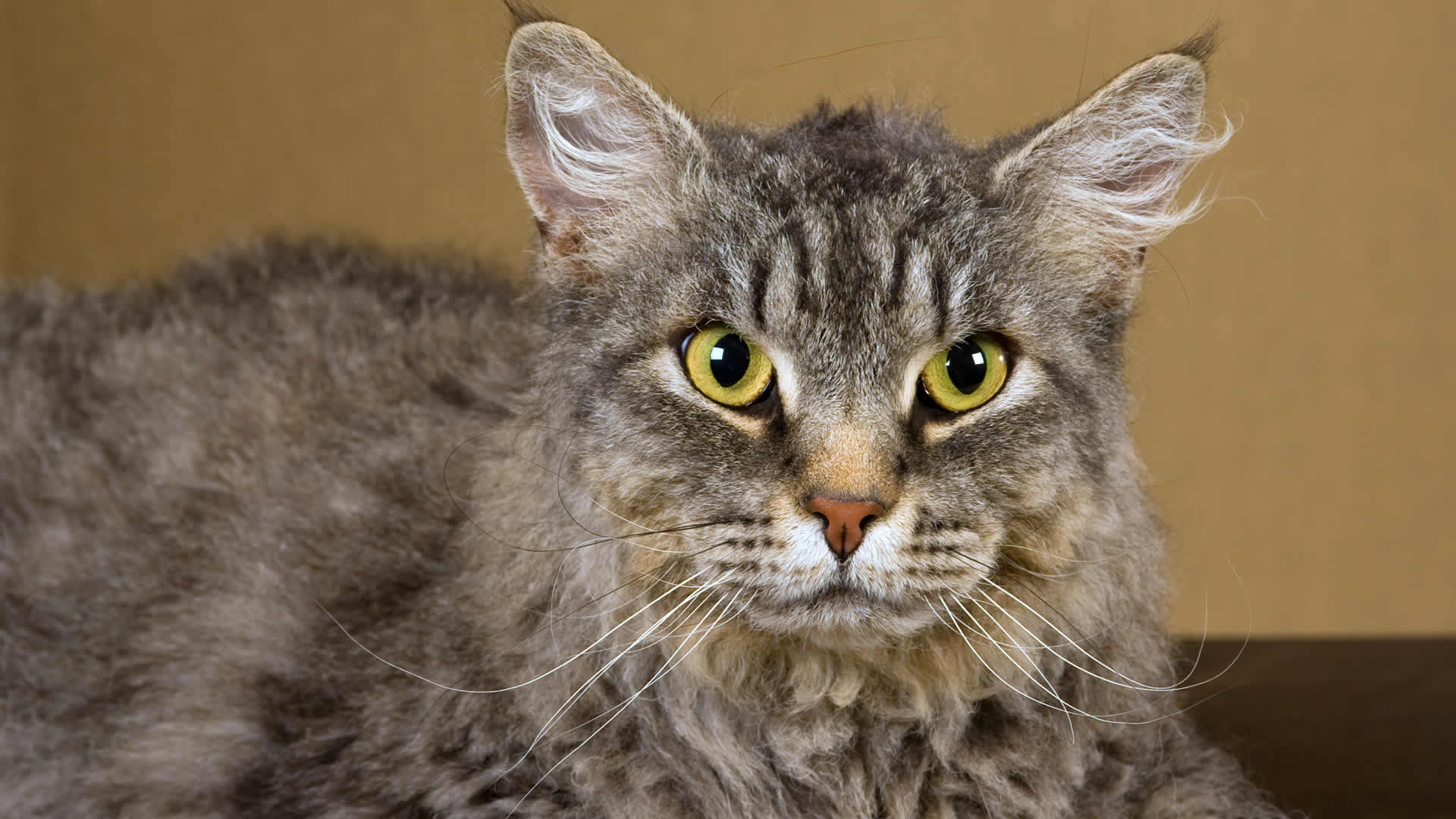 One of the biggest sensations on this list is the LaPerm breed. It all started back in 1982 on a farm in Dalles. One of the cats that lived on the farm gave birth to a gorgeous but unusual-looking bald cat. However, as the little kitten grew so did its fur, and to everyone's surprise, it was curly and soft.
This kitten later had her own litter of curly-haired kitties with the same unusual coats, known as the first La Perm kittens. Ten years later, the first breeding program for LaPerm cats was founded, and up until today, this breed is rare and expensive. These cats are easily recognized by their permed hairstyle which many owners instantly fall in love with.
Interestingly, all LaPerm cats are born either bald or with short hair that disappears shortly after birth. Their hair then grows back in the following months. LaPerm cats flaunt a perm in the real sense of the word, and they can have luscious wavy fur or looser corkscrew-like curls. When it comes to coat colors, these furry friends come in various shades and markings, with the three most common colors being tabby, tortoiseshell, and red.
However, there is no knowing for sure how a kitten's coat will grow back. Since not all LaPerm kittens grow very curly hair, your best bet is getting a mature LaPerm cat. This way, you can be sure that their gorgeous curls will persist. These creatures reach maturity somewhere between two and three years.
Cat lovers instantly fall in love with this breed because it is medium-sized, doesn't shed a lot, and loves going on adventures with its owners. In addition, LaPerm felines aren't afraid of heights and will be right next to you wherever you go. In terms of temperament, LaPerm cats are generally awarded a sweet, loving personality, so they're perfect for families who will give them plenty of love and attention.
This is a very smart breed that gets attached to its owner but also loves to be active and run around. So, if you're obsessed with this curly-coated feline, you should consider getting a kitten only if you have enough time to play around and shower it with affection. Start teaching them tricks while they're young, and you'll immediately notice how smart and funny these felines are.
2. Selkirk Rex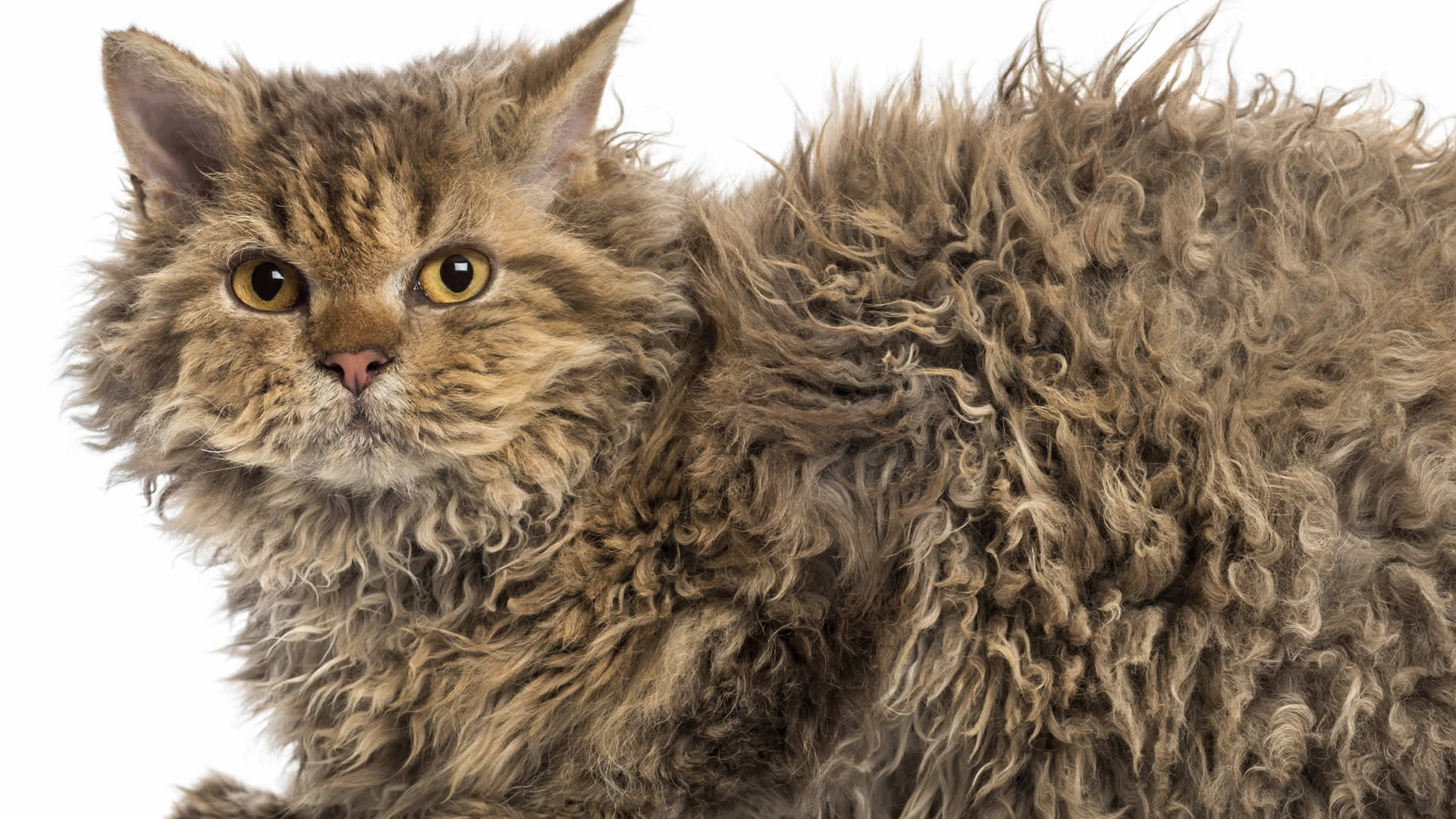 Next on the curly-haired cat breeds list is the Selkirk Rex. This is by far one of the cutest cats you'll ever see and a great example of a luscious, long, curly coat that will have you obsessed right away. This is a medium-sized breed, but a Selkirk Rex cat can appear larger due to its long, stunning curly fur which gives the illusion of size.
The history of the Selkirk Rex breed is interesting and unexpected, just like with LaPerm. The beginnings of these voluminous coats date back to 1987 with a cat named Miss DePesto. This cat is the first known Selkirk Rex kitten. The stunning and distinctive furry ball had three other brothers and sisters, none of which were blessed with jaw-dropping curly hair. When a breeder called Jeri Newman saw Miss DePesto, he decided to adopt her and started breeding more curly-haired kittens.
Interestingly, it was discovered that kittens in the same Selkirk Rex litter can have curly and straight hair. When their coat is curly, even their whiskers can be curly or wavy. It only adds to the adorable charm they have! Fur length and color are also varied. Most will have long hair, but that doesn't exclude the possibility of you seeing Selkirk Rex cats with a shorter coat.
Compared to the LaPerm breed, the coat of these felines is denser and longer. This Rex breed is also bigger and with sturdy limbs. Similarities with the LaPerm cat are also seen with the Selkirk Rex's personality – this breed is also quite sociable, loves being close to its owners, and enjoys getting attention. Therefore, Selkirk Rex felines are ideal for families with children and a lot of free time.
Another important trait of this breed is that the felines are pretty patient and love being around other people. So, if you often have guests over and you've socialized your cat from an early age, it will be the center of attention. Once you get a Selkirk Rex kitten, make sure to teach it tricks, and you'll see how easily they learn new things. These felines aren't super attached to their humans, but they still don't like being alone at home.
3. Devon Rex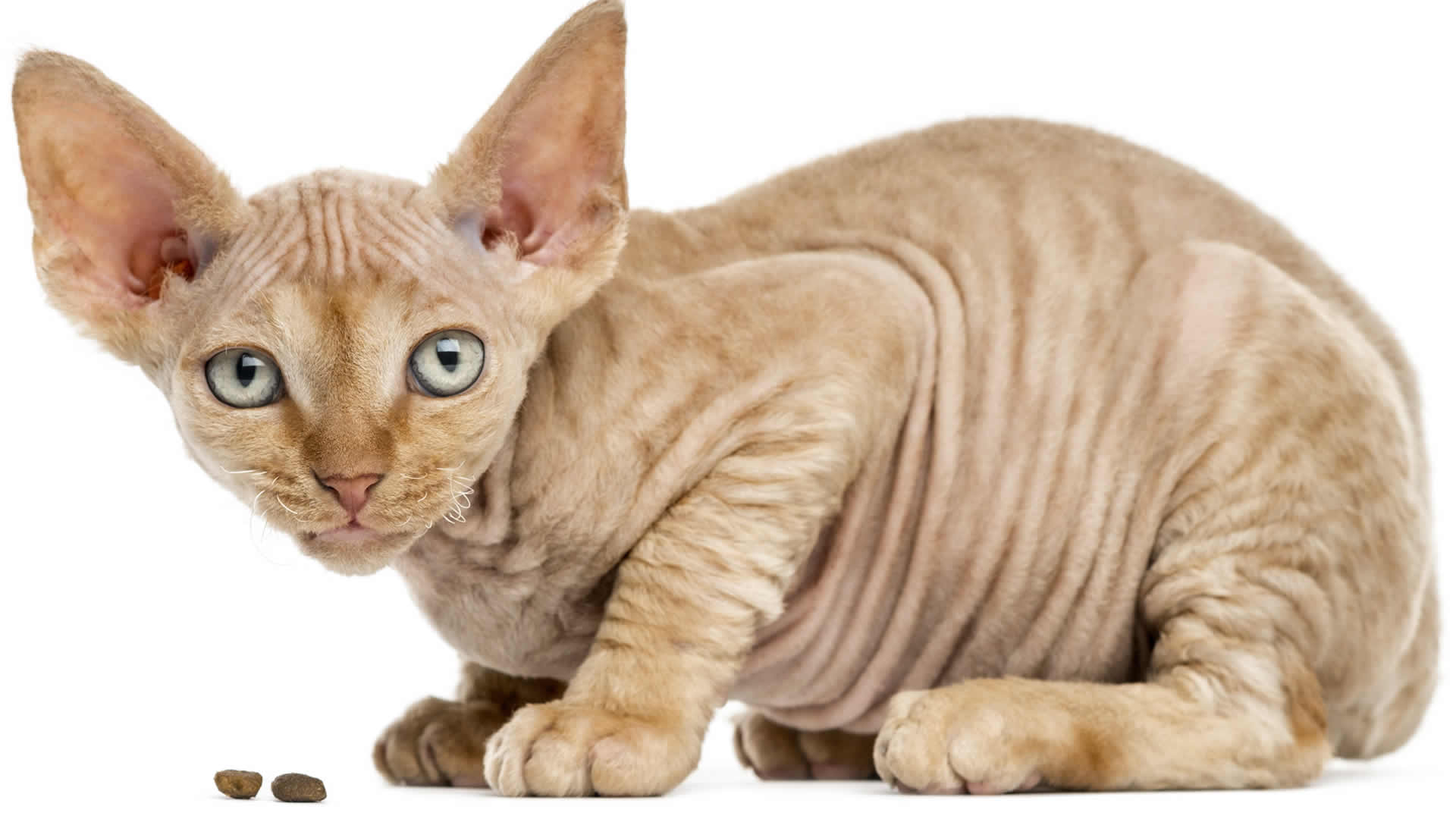 The Devon Rex cat is known for its unusual but adorable, alien-like appearance. These are slim cats with big eyes, ears, and long legs. Unlike the other breeds already covered on this list, the Devon Rex's coat is short and wavy rather than curly. Devon Rex might be cats with curly tails, but they attract much more attention with their unusual head shape and pronounced facial features.
The first Devon Rex cats date back to 1960. A curly-haired male cat made babies with a female white and tortoiseshell cat, and one of those adorable kittens named Kirlee also had curly hair. Kirlee was the first Devon Rex kitten and all felines of this breed can be traced back to her.
Initially, the owner of the female cat thought that Kirlee belonged to the Cornish Rex breed. However, it turned out that its beautiful curly coat appeared due to a different mutation. Once they discovered that this gorgeous creature had a completely different gene mutation, a breeding program was founded. All of this happened in Devon, UK, hence the breeds name "Devon Rex".
The Devon Rex is one of the most intelligent curly-haired cats. They learn extremely quickly and you can teach them many tricks, even while they're kittens. However, unlike the previous two breeds, Devon Rex's felines aren't as lovable and affectionate. Therefore, it is usually their intelligence that people fall in love with. These quirky felines will follow you around, wanting to be the center of attention and learn as much from you as possible.
Being smart, these cats are also extremely active. Their active nature makes them go fast and go all day, so you can expect them to be all over the place, jump and climb trees, and inspect every single corner of your home. If you have kids, these felines will become their best friends, and together they'll be the biggest troublemakers around! Plus, don't mind sharing their home with dogs or other animals.
4. Cornish Rex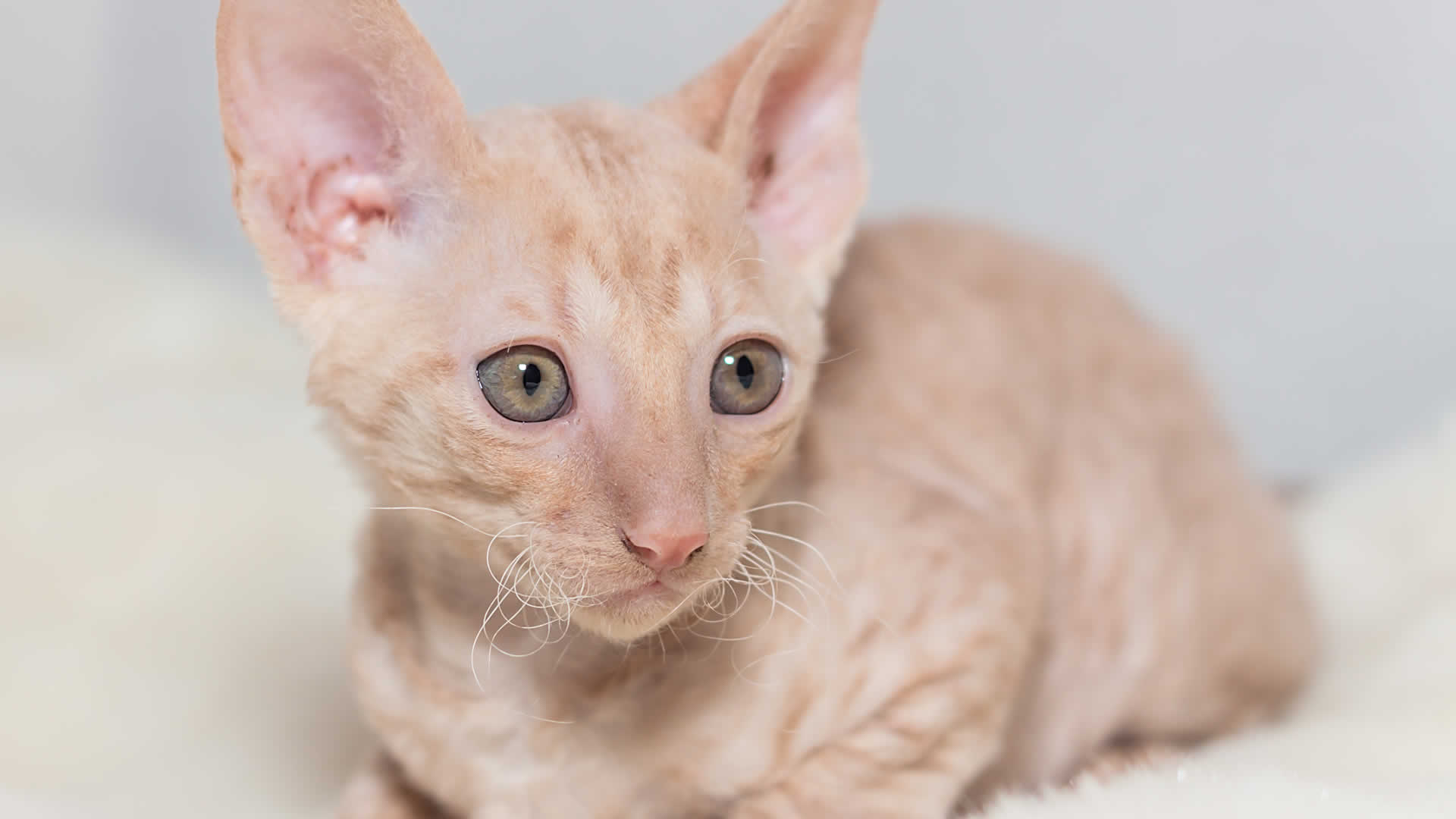 The Cornish Rex is another UK-born breed of cat with curly hair. The first Cornish Rex kitten appeared in Cornwall in 1950 in a barn. All the other kittens in the litter had straight hair, while one little fluffball was curly and as cute as it gets. This little kitten was named Kallibunker. Thanks to her arrival, today the whole world can enjoy the unique appearance of these beautiful creatures.
The Cornish Rex breed are cats with long tails, slim figures, and large ears. The egg-shaped head is unique, and its appearance is even more adorable thanks to its curly whiskers. Their coat is wavy and comes in numerous colors and patterns. It's very soft to touch, dense, and surprisingly warm. Also, this might be a small to middle-sized cat, but it's pretty heavy when you go to lift it. This is a surprising feature, especially the sensation felt together with the warmth of their coat.
When it comes to personality, owners can expect a very active cat with a muscular body. It will go everywhere and anywhere, exploring every part of the home and the yard. It enjoys performing tricks, and it will do anything to get your attention.
It is worth noting that Cornish Rex cats can be quite vocal, especially when they want something or when their owners aren't paying attention. So don't expect a fluffy fried that will curl up and want to spend time sleeping right next to you. Instead, you'll see them moving with the speed of sound. This is just one of the reasons that make them great companions for kids that are also always on the go.
5. Skookum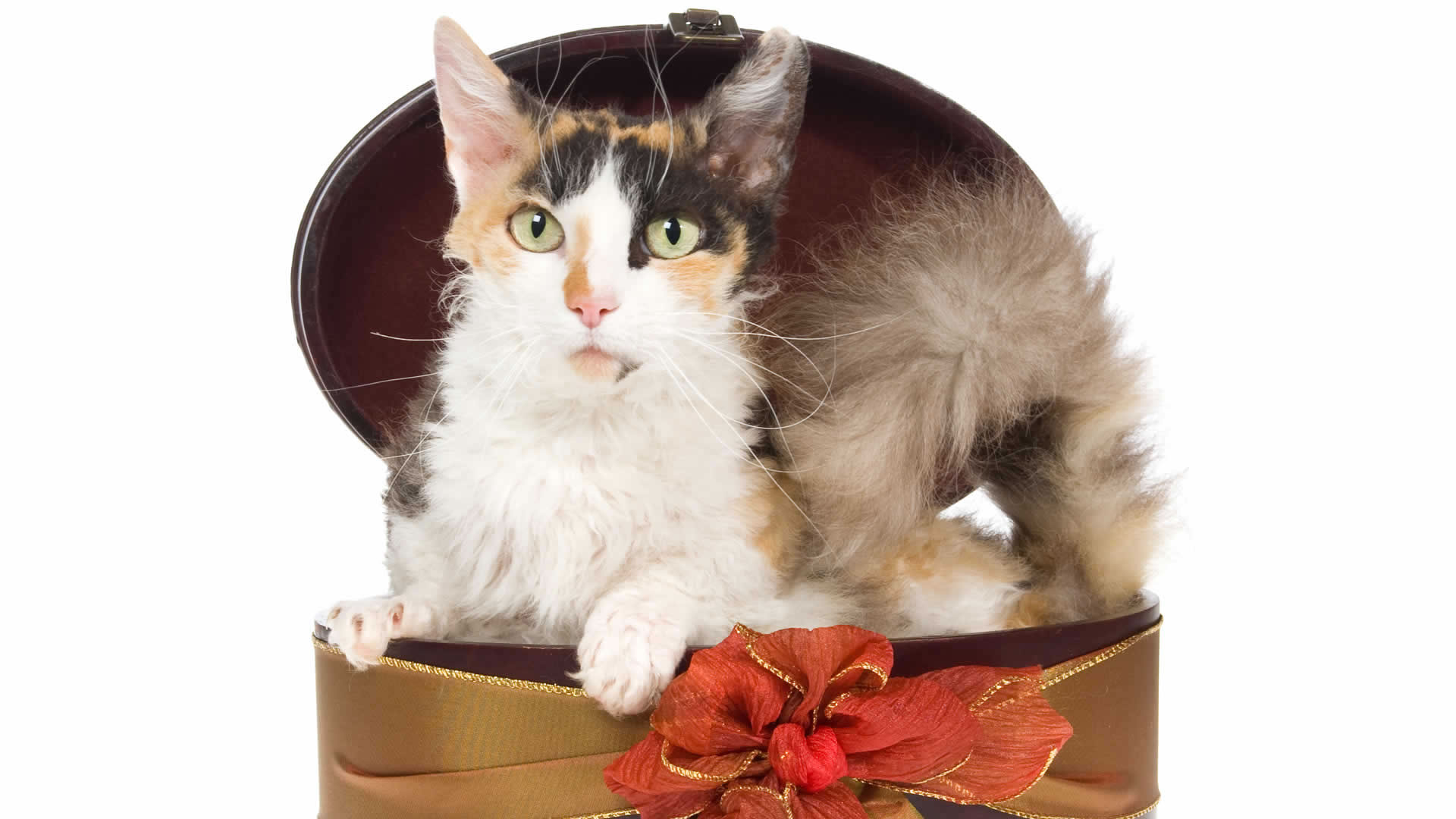 The Skookum breed of curly-haired cats appeared much later than the previous four breeds. It's an experimental breed that first emerged in the 1990s when Roy Galusha crossed a LaPerm cat and a Munchkin cat. The result was kittens that had curly hair like LaPerm and that were small in size with short legs like the Munchkin cat.
Since then, the Skookum has become one of the cutest dwarf-sized groups of cats that exist today. These adorable cats with short legs will melt your heart when you see them too! It's a dwarf feline breed that usually weighs between 3 and 5 pounds for females and 5 to 7 pounds for males. Their body is small, and close to the floor because of the short legs.
Like its LaPerm ancestry, the coat, whiskers, and eyebrows of the Skookum are all curly. However, the length can vary from short to long. Regarding the colors, there isn't a single one that's specific for this breed. Instead, there are numerous variations, and future owners can pick between single-colored or multi-colored Skookum furballs.
Because of their unique appearance, Skokum cats are easy to love and give plenty of affection to their owners. Skookum cats will want to curl up right next to you and loved to get petted. However, don't let their small size deceive you! Even though they're small and short, these felines are still fast and adventurous. In fact, these beautiful creatures are the perfect balance between active and calm.
Just like all other curly-haired cat breeds, Skookums are also very smart. They will learn so many things without you even needing to teach them. And when you want them to learn new tricks, it will be a real show. Because of the unique way these furry friends are bred, you should be very careful when picking where to buy them. Do your research, and find a great breeder that is known for having the best Skookum cats.
6. German Rex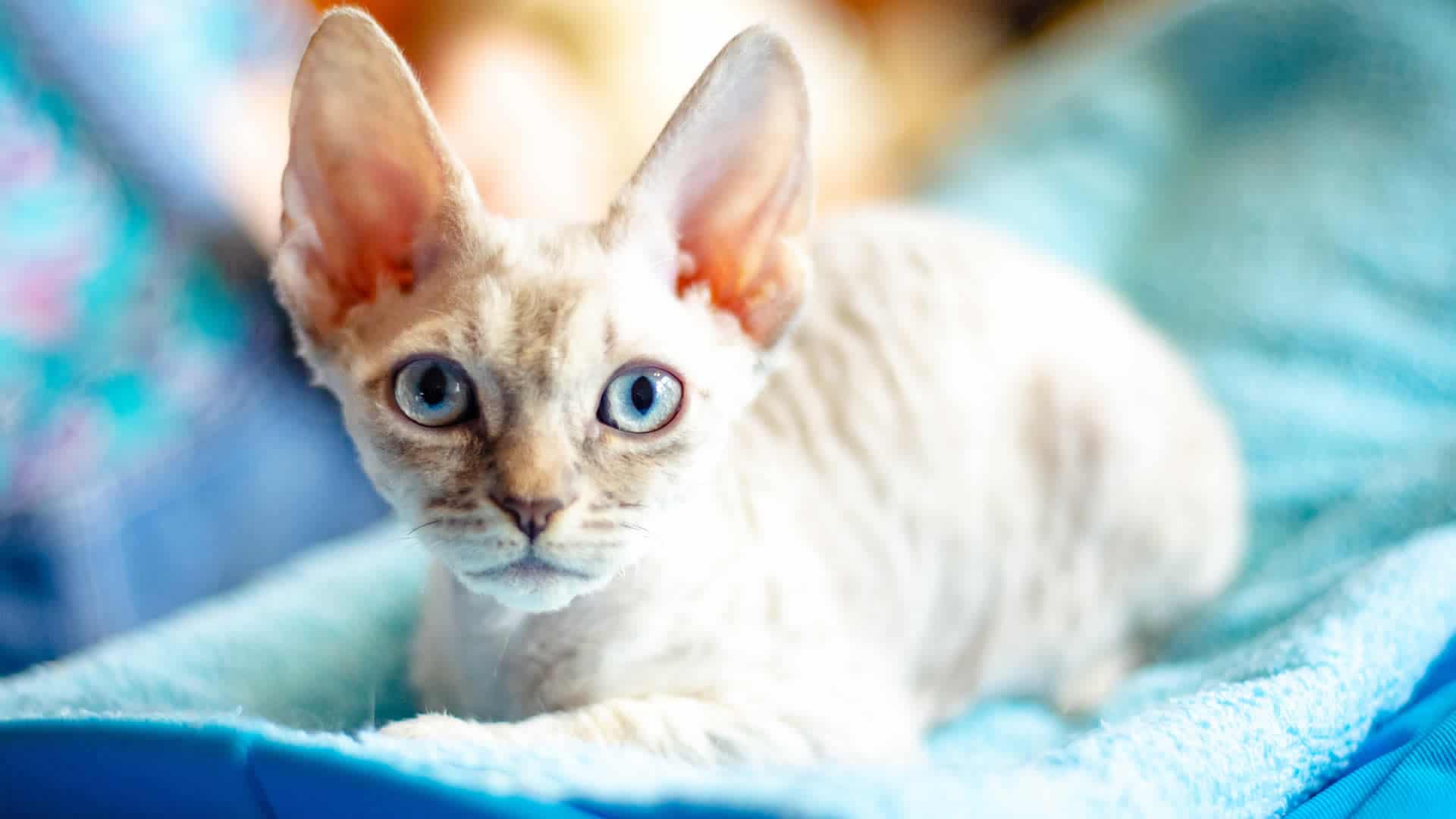 Although one of the first curly-haired breeds to appear, the German Rex is still not recognized as a separate cat breed. The first members of this breed appeared in the 1950s in Germany. A doctor named Rose Scheuer-Karpin noticed a unique black and white feline with a curly coat near her hospital. Rose took the cat and started breeding her.
Unfortunately, professional breeders didn't find a way to perfect the breeding process in the years to come, so they gave up. In 1986, another breeder decided to give it another attempt and continue the tradition, making the German Rex cats we know today. German Rex cats are hard to come by and are often listed under the same breed as Cornish Rex.
These cats with curly hair have a fuzzy coat without guard hairs. It's short, wavy, and silky soft. These felines can have various coat colors, with the exception of cinnamon, lilac, chocolate, or fawn. Their head is small, round, with large ears and eyes. In fact, the size of their eyes is normal, but they appear much larger than they are because of the small head size. In general, the eye color of German Rex cats is yellow, orange, or green.
When it comes to their personality, these fluffballs are everything a cat owner can wish for. They are athletic and active but not too energetic. They're also very loving and connected to their human, which means you can expect plenty of petting sessions and sleeping together at night. German Rex cats aren't always as curious as other breeds are, but that doesn't mean they're not smart.
7. Tasman Rex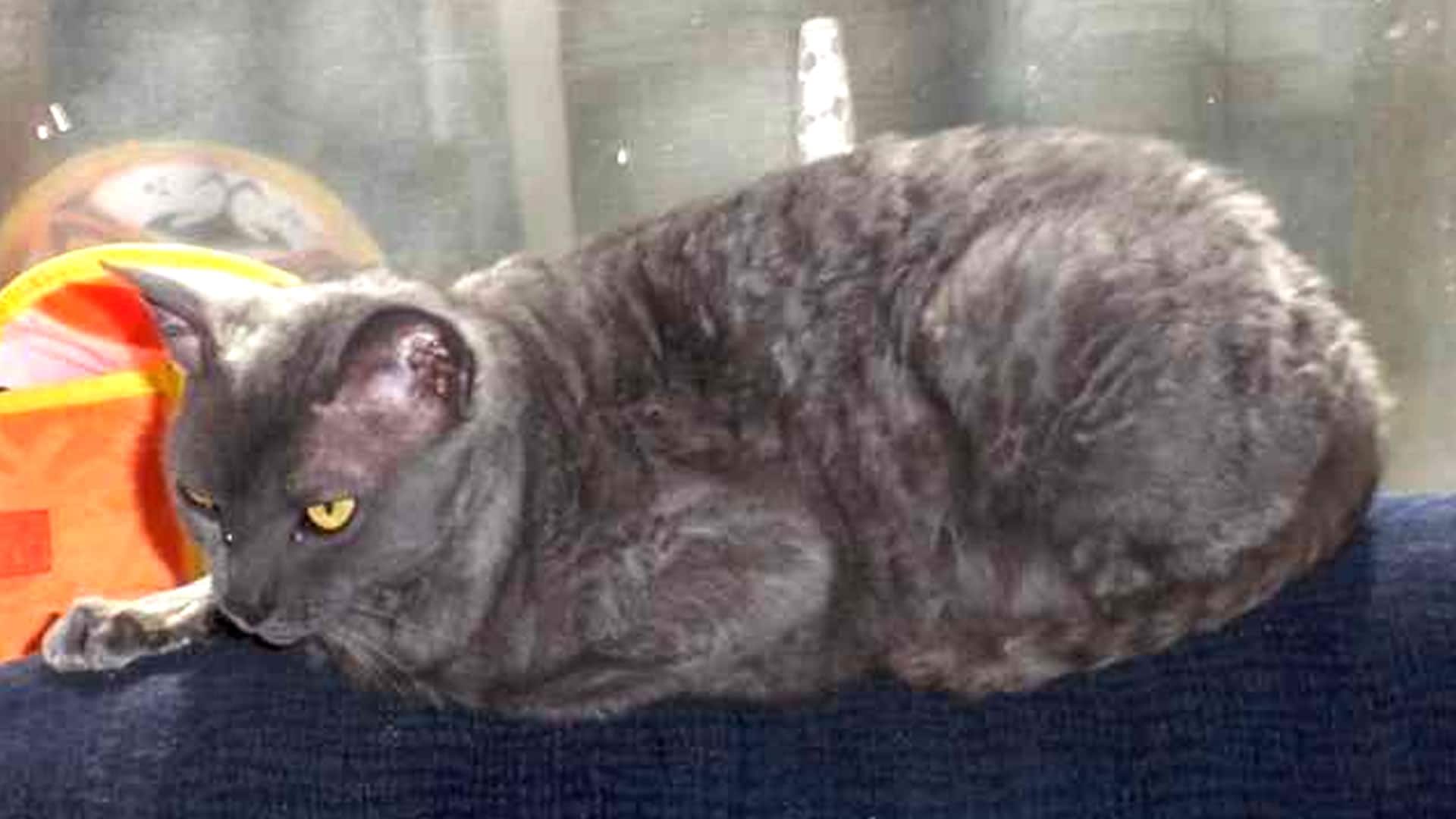 The Tasman Rex breed is one of the most unique breeds of cats. They have frizzy curly coats and are either tailless or partially tailed, making for a truly unusual and distinctive appearance. However, despite their one-of-a-kind looks, the Tasman Rex is still not officially recognized. This is due to its lack of tail causing several anatomical issues, deterring many from breeding Tasman Manx cats.
The origin of the Tasman Rex is unknown. Genetically, this breed is very close to a breed of cat called the Manx, and most people consider the Tasman Rex a variation of this breed. Frizzy-haired Manx cats first appeared in New Zealand and Australia. They are possibly a product of a Persian cat that carried the Rex gene, but it wasn't a dominant gene.
Alongside their genetic similarities with the Manx breed, Tasman Rex cats also adopt the features of Cornish Rex and Devon Rex cats. In terms of temperament, their personality is fun, but they're not loud or demanding. You can leave these cats alone, and they'll find a way to entertain themselves.
As an extremely rare breed, it can be difficult to get your hands on a Tasman Rex feline. However, if you do manage to, it's good to know that it will fit in very well with your kids and other house animals.
8. Ural Rex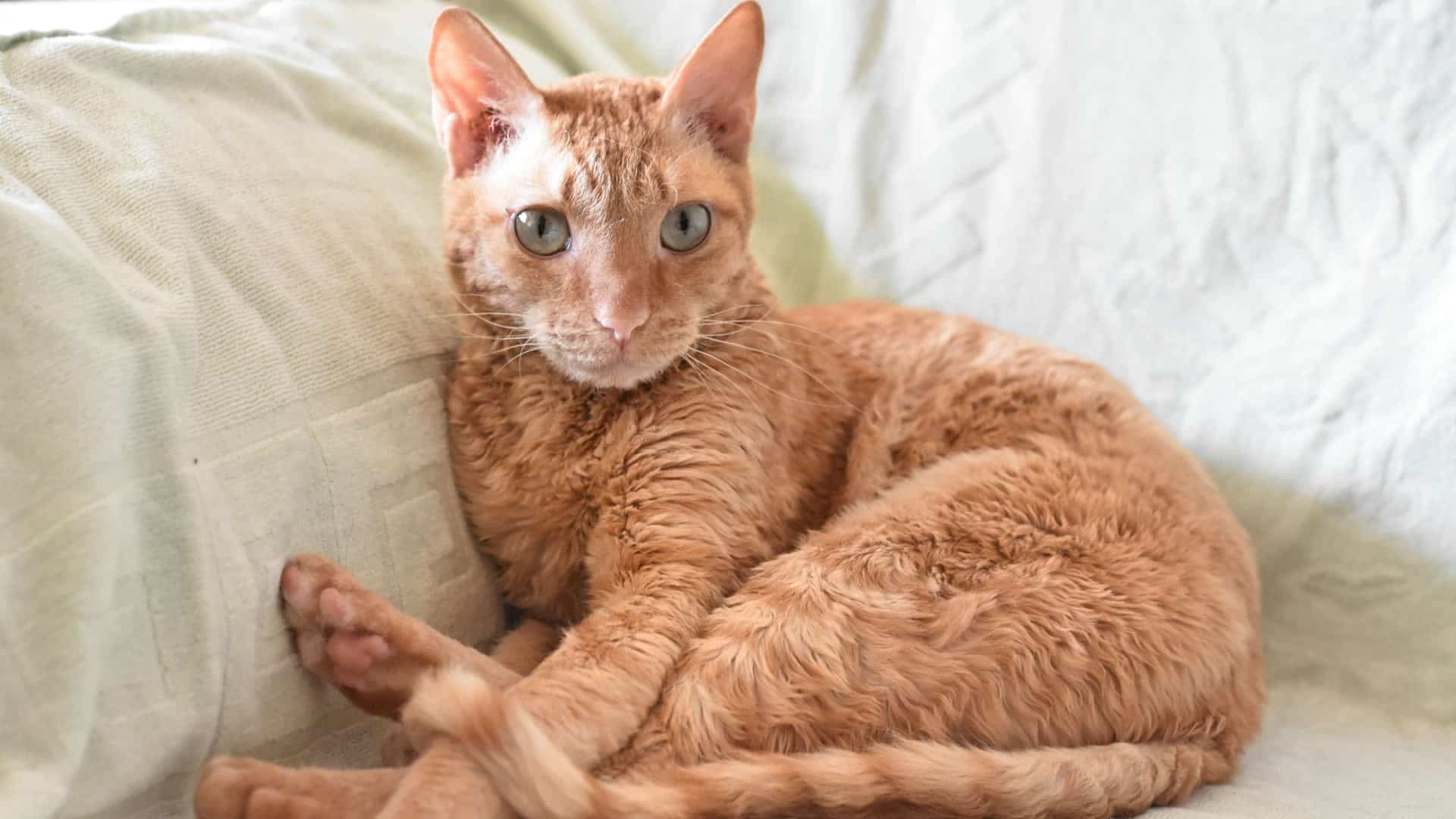 A breed even rarer than the Tasman Manx is the Ural Rex. These felines are thought to have come from the Ural Mountain range in Russia. Although still present, these felines aren't officially recognized as a breed. And, since these fuzzy-haired cats aren't easy to come by, not much is discussed and known about their features.
One thing we do know for sure though is that the Ural Rex breed has a very curly coat. These luscious locks can be either short or medium length. The curls are so tight that they create a wave-like texture on the surface of their body.
Like other breeds in this list of cats with curly hair, Ural Rex felines are active and get attached to their humans. They love playing around, learning tricks and dislike being left alone at home.
9. Tennessee Rex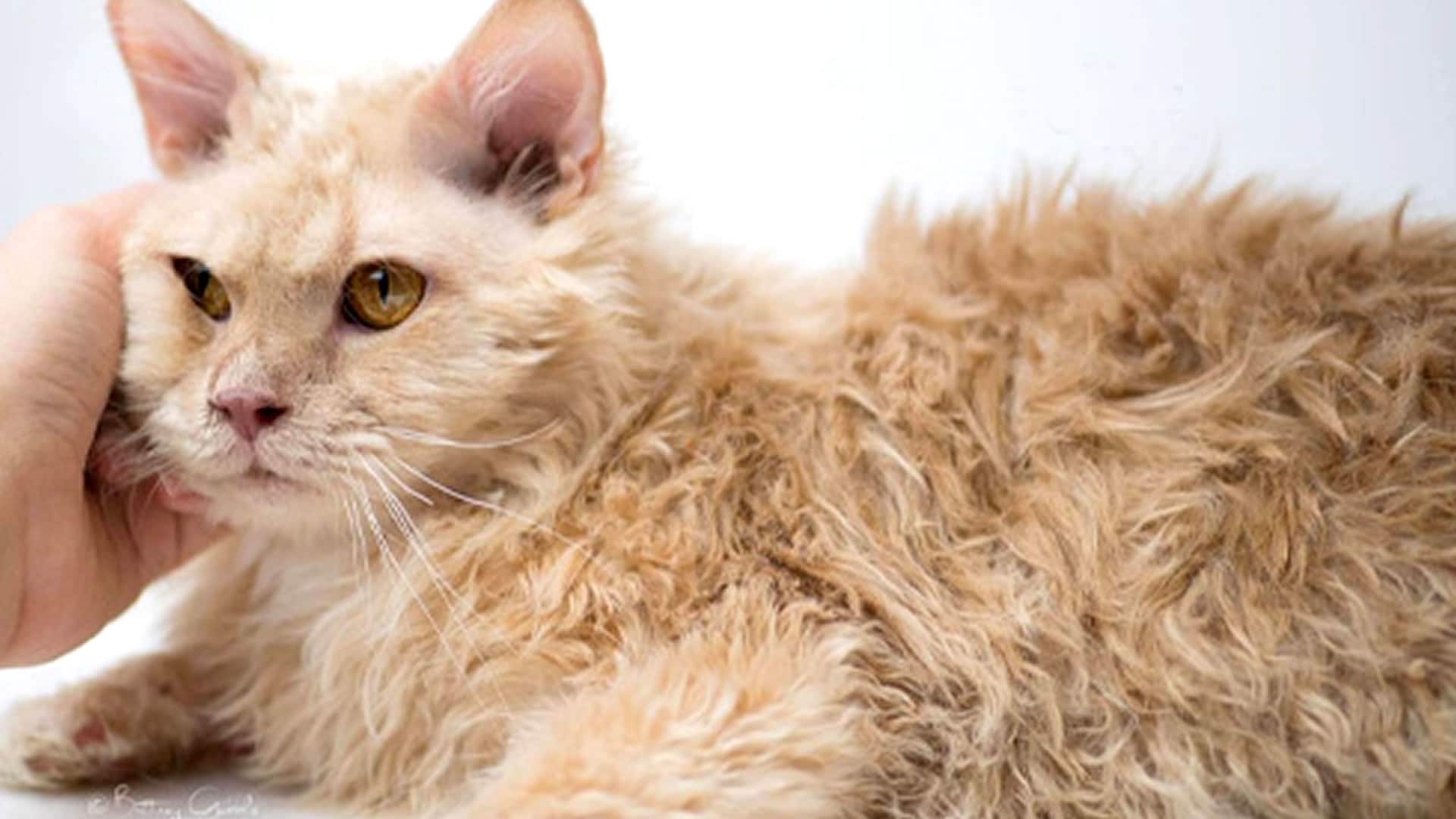 Tennessee Rex is one of the newest breeds of cats with curly hair, dating back only to 2004. When Franklin Whittenburg adopted a pregnant stray cat, he noticed that two of the kittens had a curly coat with a stunning satin finish. Next, professional breeders and researchers came to the rescue to discover that these kitties carried a new gene.
Since all this happened in Tennessee, the new breed was named Tennessee Rex. In general, Tennessee Rex felines are one of the recognized orange cat breeds, but their curly coats can also be a combination of white and orange or many other colors. These are medium-sized cats with luscious, voluminous curls that always have a stunning and unusual satin shine that can't be removed with shampoos or other products.
The personality is lovable, and this breed easily gets attached to its owners. They might end up following you around everywhere you go, but they won't be boring or too demanding.
10. Oregon Rex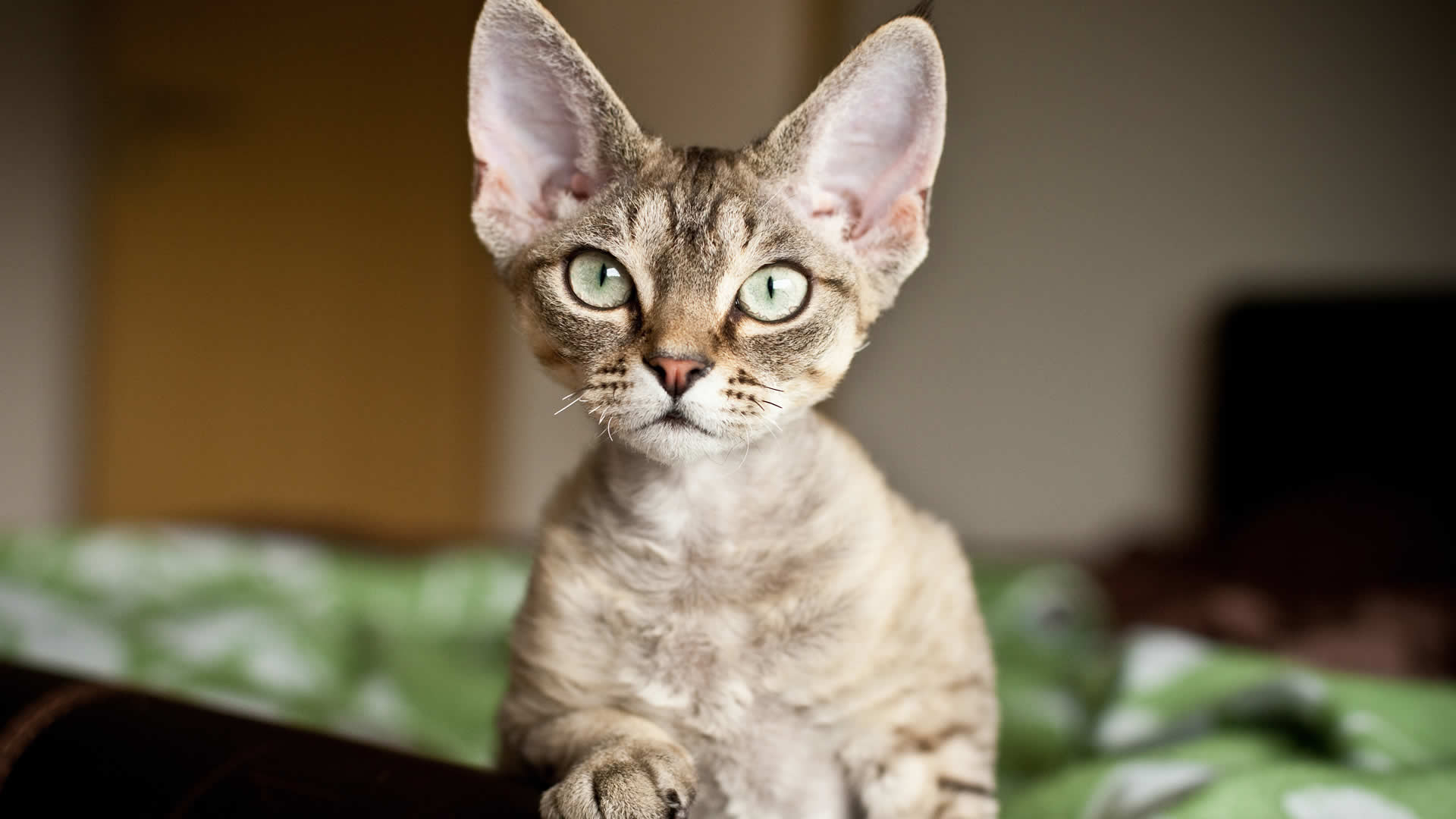 The Oregon Rex cat is the only extinct breed of domesticated felines. It might not be present anymore. However, it still deserves an honorary mention. These beautiful cats first appeared in 1955 in Oregon. According to most sources, this breed disappeared in 1972 due to breeding with Cornish Rex felines.
Oregon Rex cats were stubborn, but they loved their humans. Some people report that these furry creatures were a little tricky to have at home because of their stubborn personalities. Maybe that's another reason why the breeding process didn't continue.
The curly coat didn't have any guard hairs, was short, and featured tight curls. Some of the most common hair colors included red, blue, silver, chocolate, and black. These beautiful cats were small to medium-sized with athletically built bodies. Their head was round and small with large ears and eyes.
Why Do Some Cats Have Curly Hair?
As someone who loves cats, you may be wondering: "Why do some cats have curly hair and others straight hair?" The answer to this all lies in genetics. The rare, curly-haired phenomenon appeared due to a spontaneous genetic mutation. This mutation is wildly known as the rex mutation.
When the rex mutation is present in a cat's genetic make-up, the structure and the look of the hair change, leading to cats having a curly coat. However, there is not one single mutation responsible for curly hair. Instead, several different mutations have come about, which explains why each of the breeds on this list has subtly different curly coats. For example:
Lp Mutation: LaPerm felines suffer from an Lp dominant gene mutation and are blessed with luscious curls. Their coat can be short-haired or long-haired.
R Mutation: The Cornish Rex breed appeared as a result of a recessive R gene mutation. They only have a short undercoat and don't have an outer or middle coat layer.
Se Mutation: Selkirk Rex cats have a Se gene mutation that blessed these felines with long, curly hair. As a result, their coat is denser, fuller, and longer than most cats from the other three recognized breeds. The Se gene is dominant, which means that even if only one of the parents is Selkirk Rex, the kittens will still have a curly coat.
Re Mutation: The Devon Rex breed appeared because of the Re gene mutation. They are similar to the Cornish Rex cats, so is the care of their curly coat.
Numerous other gene mutations happen among cats, such as the Gr mutation carried by German Rex cats and the Ro mutation carried by Oregon Rex cats. Many of the mutations we are still not familiar with nor have been researched enough. Rexed mutations aren't easy to understand; therefore, many cat breeds aren't officially recognized. The breeding process is complex and can lead to the appearance of various hair lengths, colors, and curl types.
How to Care for Curly Haired Cats
Cats with curly hair do have some special care requirements since their coat is built differently. All Rex breeds are cats with undercoats, but most of their coat is made from down. This requires special brushing and bathing. However, this shouldn't sway you away from getting one of these cat breeds! In these sections, I've detailed all you need to know to keep your curly-haired kitty looking its best.
1. Brushing & Combing
Brushing and combing are two things that owners of any breed of cat with curly hair have to do regularly. But, that doesn't mean it's more challenging to own a cat with curly hair than a cat with long hair. In most cases, it's a similar job because brushing is a must for all cat owners. The only thing that changes is the number of times you'll have to do it each week.
The two breeds that are slightly trickier to comb and brush are LaPerm and Selkirk Rex. As mentioned above, the coat of these felines is pretty curly, dense, and it can easily get matted. Not brushing and combing your furry friends is one of the most common causes of matted cat fur. Therefore, you should comb your Selkrikr Rex or LaPerm furry friend at least twice a week and do it with tools specifically made for these breeds.
The parts that require the most attention are the neck, limbs, and tummy. This is where the curls are the smallest, densest, and tightest. Never leave tangles because they will only get worse in time, and it will take you more to untangle them during the next combing session. Not brushing regularly can also lead to your cat experiencing not only matting but also bald spots, allergies, and itching.
Cornish Rex and Devon Rex have looser curls, so it doesn't get matted as often and so won't need as regular brushing. The problem with these two breeds is actually the converse to matting – they tend to get bald spots, leading to a range of other symptoms. This is often due to your cat overgrooming. As the hair follicles are fragile, it's very easy for the hairs to fall off when grooming too often.
One of the solutions is to prevent overgrooming and turn your cat's attention each time you notice she's been grooming for a while. To be even safer, ask for advice from a professional. If you ever notice that your cats have bald spots, talk to a veterinarian. They'll also give you further instructions on how to take care of your cat and comb its fur.
2. Bathing
Bathing is another thing to keep in mind when getting a feline with a curly coat. Since their coat can't absorb the oil that their skin produces, the hair of these breeds can sometimes appear oily, greasy, and waxy. You will usually notice that their coat has become oily when brushing them, which is when bathing comes into action.
When bathing your curly-haired cat, opt for gentle, moisturizing products that will nourish their skin and leave the coat shiny. In addition, gentle shampoos are less likely to cause allergies and irritation. It is always best to use shampoos specifically produced for use on cats to not upset the unique pH balance of their skin.
The difficulty of the bathing process will depend on the cat, but most fuzzy-haired felines don't complain. Since these beautiful creatures get attached to their owners, they also trust them, so they won't cause a scene or a mess when they need a bath.
MY FINAL THOUGHTS
Cats are fascinating creatures, there's no doubt about that! Things become even more fascinating when you get familiar with the gene mutations that deliver brand new breeds with unusual traits and characteristics. This has seen the rise of curly-haired cats that are hugely popular among owners.
Four recognized unique curly-haired cat breeds exist: the LaPerm, Selkirk Rex, Devon Rex, and Cornish Rex. There are several other non-recognized breeds also present but that are waiting to be officially welcomed into various cat associations. Each has its unique quirks, meaning there's bound to be a cat that you love the look of on this list.
Aside from their good looks, curly-haired cats are wonderful, committed pets that will love you with all their heart. They are perfect for families with kids and families who have dogs. Most of these breeds get very attached to their owners and will require a lot of your attention. However, those with busy lives may be better off opting for a breed that requires less time and attention.