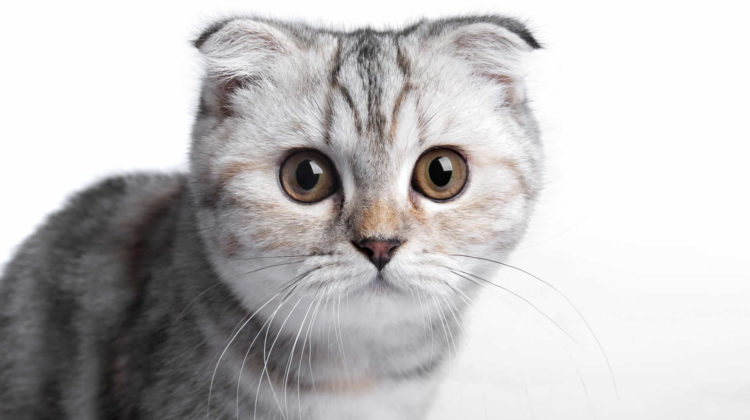 Cats come in all shapes and sizes, from large and long-haired Maine Coons and stunning rosette-marked Bengals to the hairless Sphynx.
While the size and coat colors are talked about frequently, there is another characteristic that varies greatly between different cat breeds: the size of their ears.
Large ears are more typically seen on cats – think of the Devon Rex and Siamese – which are more alike to cats' common ancestry. Yet, cats with small ears also exist thanks to genetic mutations that have been passed down through generations.
The cat breed most famous for its controversial small ears is the Scottish Fold, whose ears are by far the smallest of any domestic cat. In fact, their small and floppy ears are what's made them famous. However, there are several other cats with smaller than average ears too.
In this article, I will run through all the breeds that exhibit this quirky and adorable trait. I'll also run through the genetic characteristics of short-eared cats and why, as cute as these cats are, it's not necessarily an advantageous trait to have.
What Breeds of Cats Have Small Ears?
1. Scottish Fold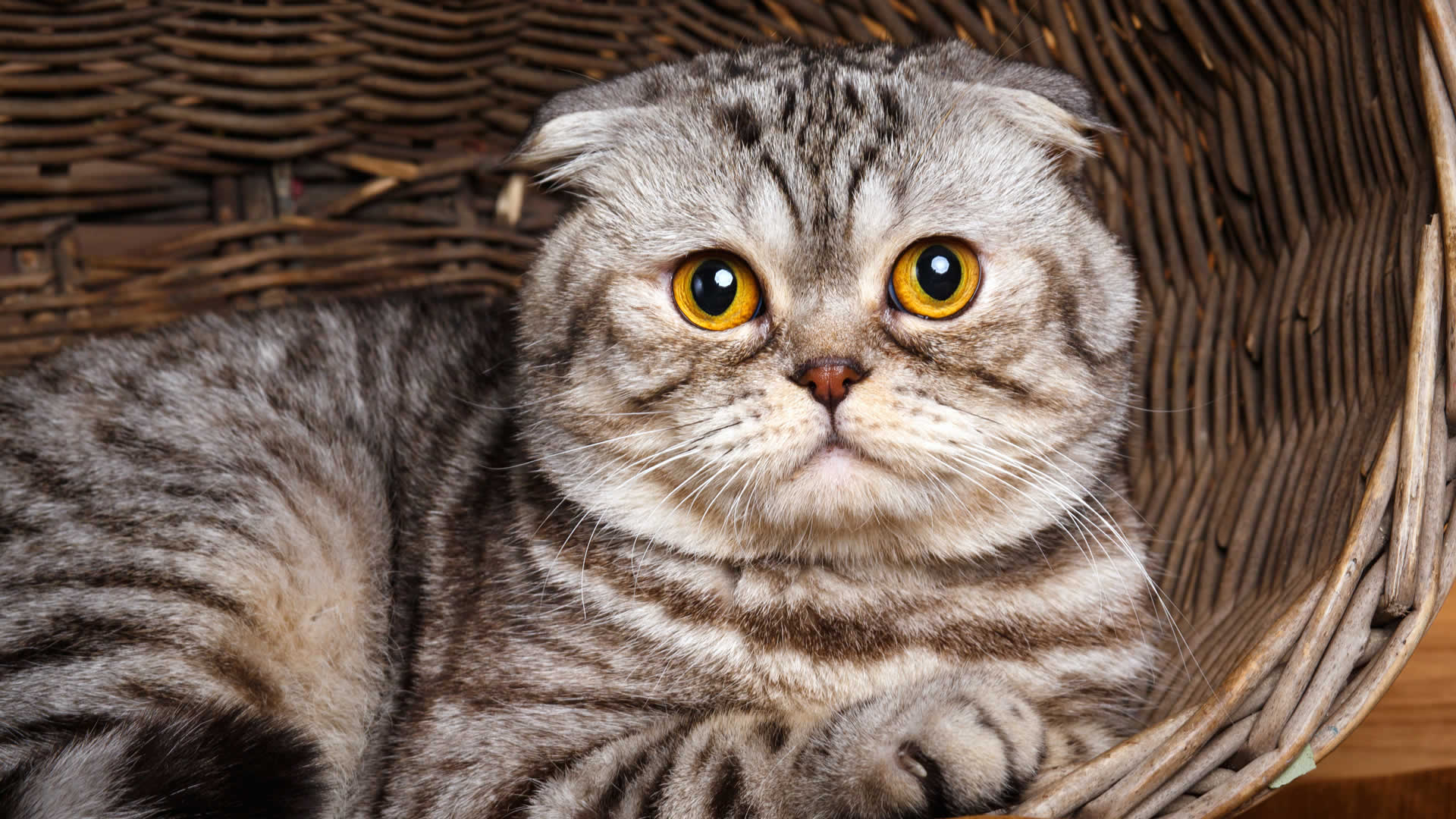 The cat most well-known for folded ears is the Scottish Fold which originated in Scotland in the 1960s. This breed has the smallest ears of any domestic cat breed that exists today! Its ears are already small in size as it is, but Scottish Folds also lack cartilage in their ears which causes them to flop and fold forward towards their head, making them look even smaller than they actually are.
These small folded ears are unique to the breed, which when paired with its rounded face gives Scottish Folds a distinctive owl-like appearance. This adorable trait meant these cats became quickly popular on social media and among celebrities such as Taylor Swift and Ed Sheeran, bolstering their popularity even further.
However, keeping these cats as pets has become a controversial topic. The mutation which leads to the lack of cartilage in their ears has made them more prone to health conditions. Generally, Scottish Folds live shorter and more painful lives. Many people argue that owners are prioritizing their cats' aesthetic over their quality of life.
2. American Curl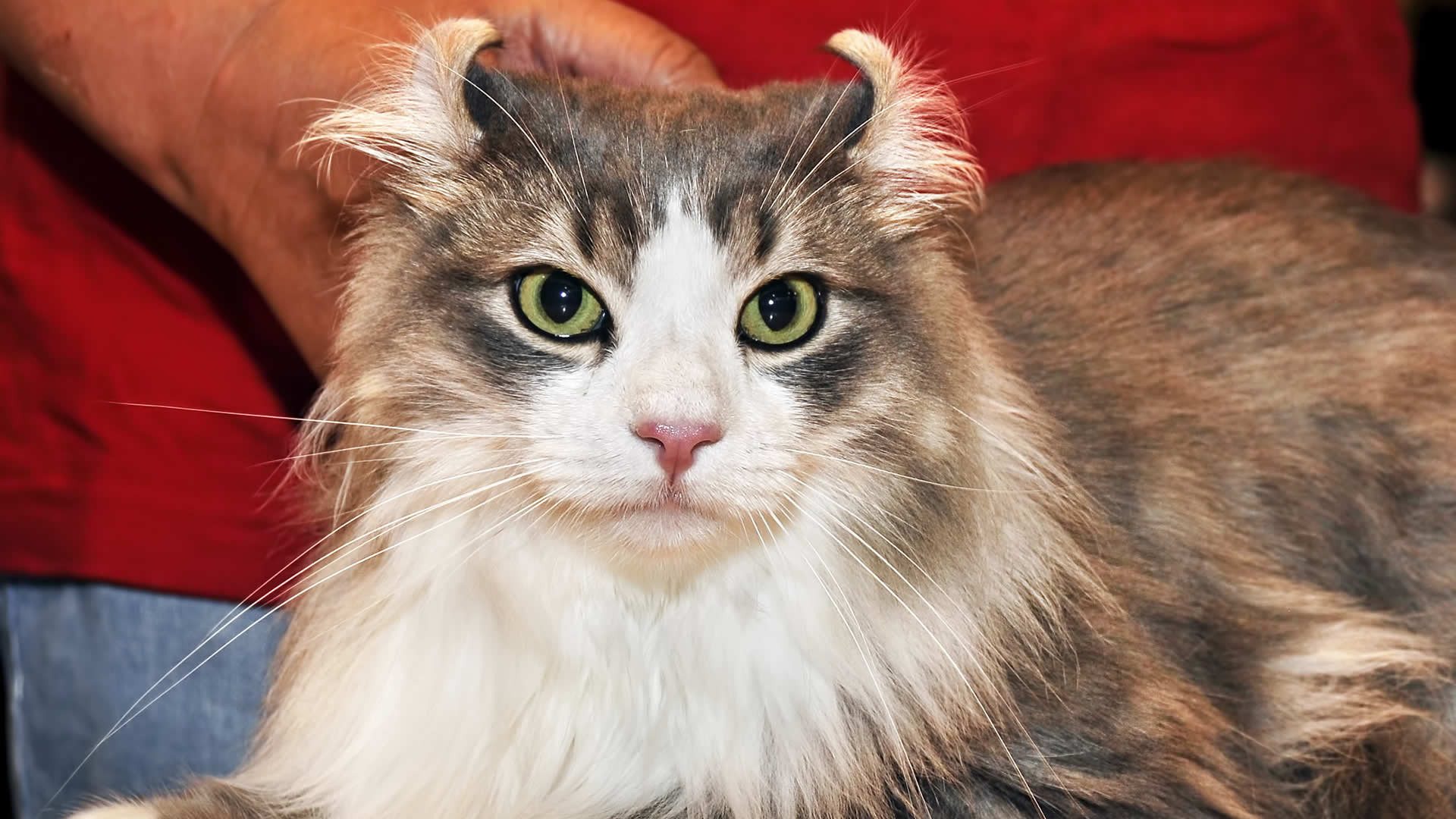 The American Curl also has smaller ears than most felines. Besides, rather than being pointed, their ears have soft, rounded tips that characteristically arch backward away from their faces. How much the ears bend over varied from cat to cat but show cats have an arc of between 90 and 180 degrees. This is where the name for the breed came from – it refers to the curled ears unlike those of almost every other cat breed.
Interestingly, American Curls don't have arched ears when they are born. Instead, the kittens are born with straight ears that gradually begin to curl over within the 48 hours following their birth. It can take up to 4 months for their ears to curl over completely, at which point they will harden at the base and not bend over anymore.
3. Persian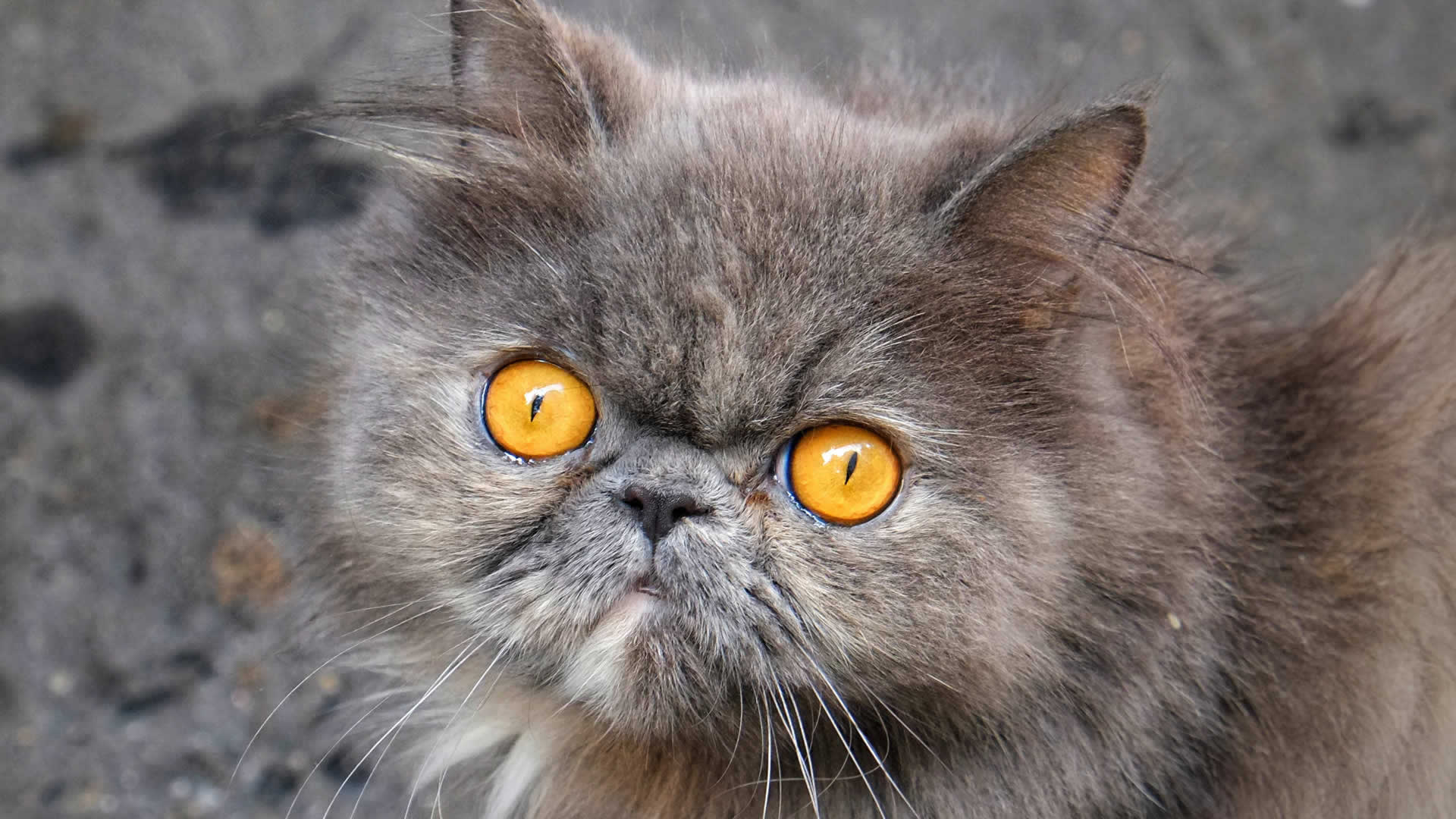 Unlike both the Scottish Fold and American Curl breeds, Persian cats are not famous for their ears. Instead, they are known for being one of the most glamorous and luxurious felines, with long-haired plush coats, friendly faces, and calming temperments. These traits have made them extremely popular – the most popular cat breed in the US!
However, are also one of the few domestic cats with little ears. Their small and less pointed ears are actually one of the characteristics that separate them from the Turkish Angora, which was decided back in 1989. Besides, their full and coarse coats make Persians' ears look even smaller than they are in reality.
4. Exotic Shorthair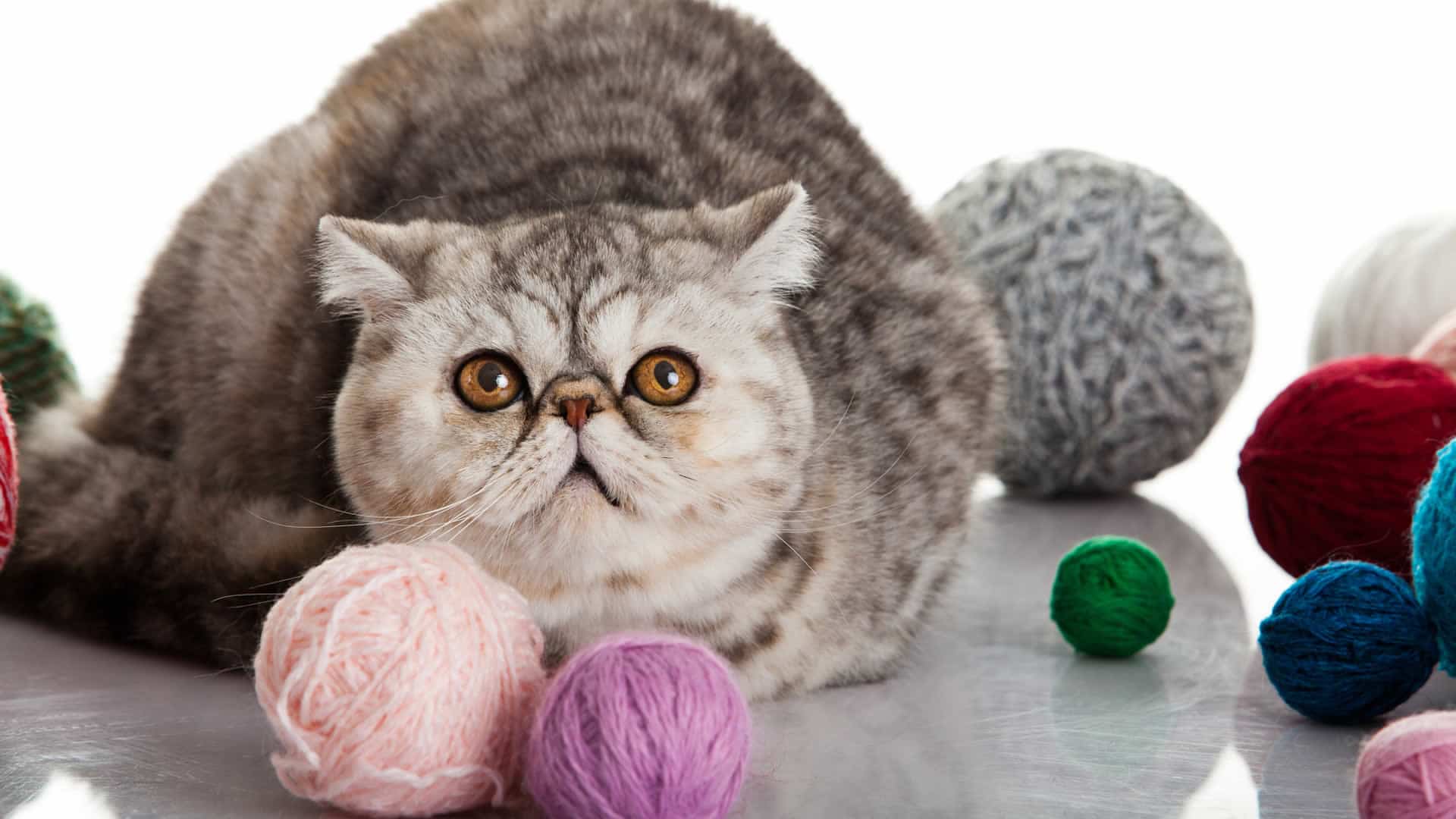 Exotic Shorthairs are very similar to Persians and have the same small ears atop of their sweet faces. As well as being little, the ears are also wide-set, slope slightly forward, and the tips are rounded. This further enhances the illusion that these cats have tiny ears – they are small as it is, but they're made to look even smaller!
Aside from their ears, Exotic Shorthairs are like Persians in many other ways too. Both breeds have the same gentle temperament, short muzzle, and rounded doll-like eyes. However, there is one thing that separates these two breeds, and the clue is in the name: Exotic Shorthairs are lacking the long, plush coat of Persian cats.
In America and Britain in the 1960s, Persians were specifically bred with American Shorthairs and British Shorthairs, respectively, to have shorter coats that are easier to manage. This lower-maintenance breed is less likely to have matted cat fur and has become another favorite among cat owners.
5. Himalayan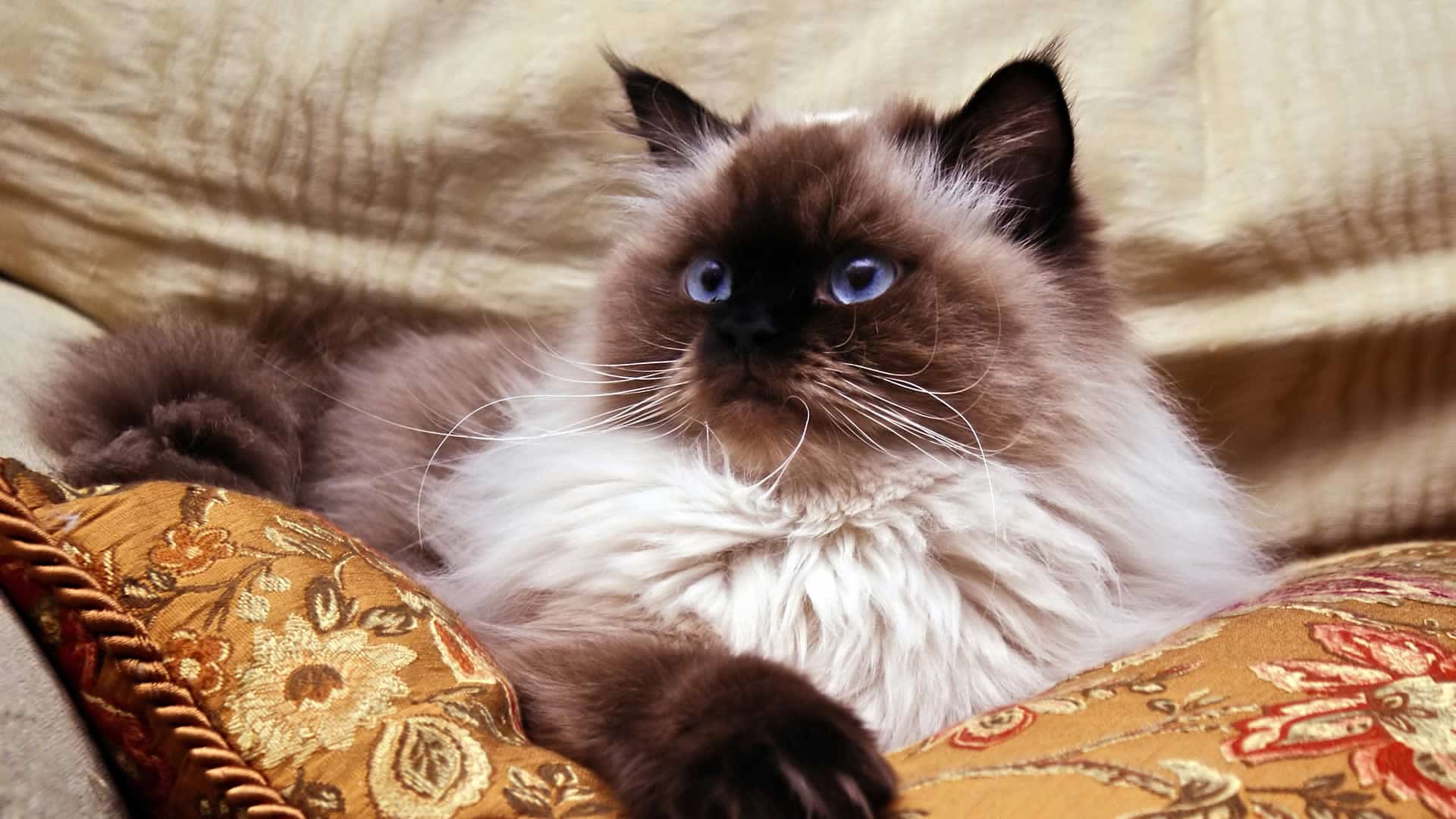 Another breed of cat that was derived by crossing a Persian, this time with a Siamese cat, are Himalayans. The combination of these two breeds makes for a stunning and elegant appearance. Himalayans have the pointed markings of Siamese cats on their faces and ears, yet the doll-like face, large eyes, and plush coats of Persians.
Himalayan cats are also big-boned felines, and their thick long-haired coats further give them the illusion that they are extremely large. However, there's one thing that remains little: their ears! With a wide-set placement and rounded tips, they're much smaller than most cats' ears. Plus, their large bodies and thick fur coats further accentuate the appearance of their already little ears.
6. Highlander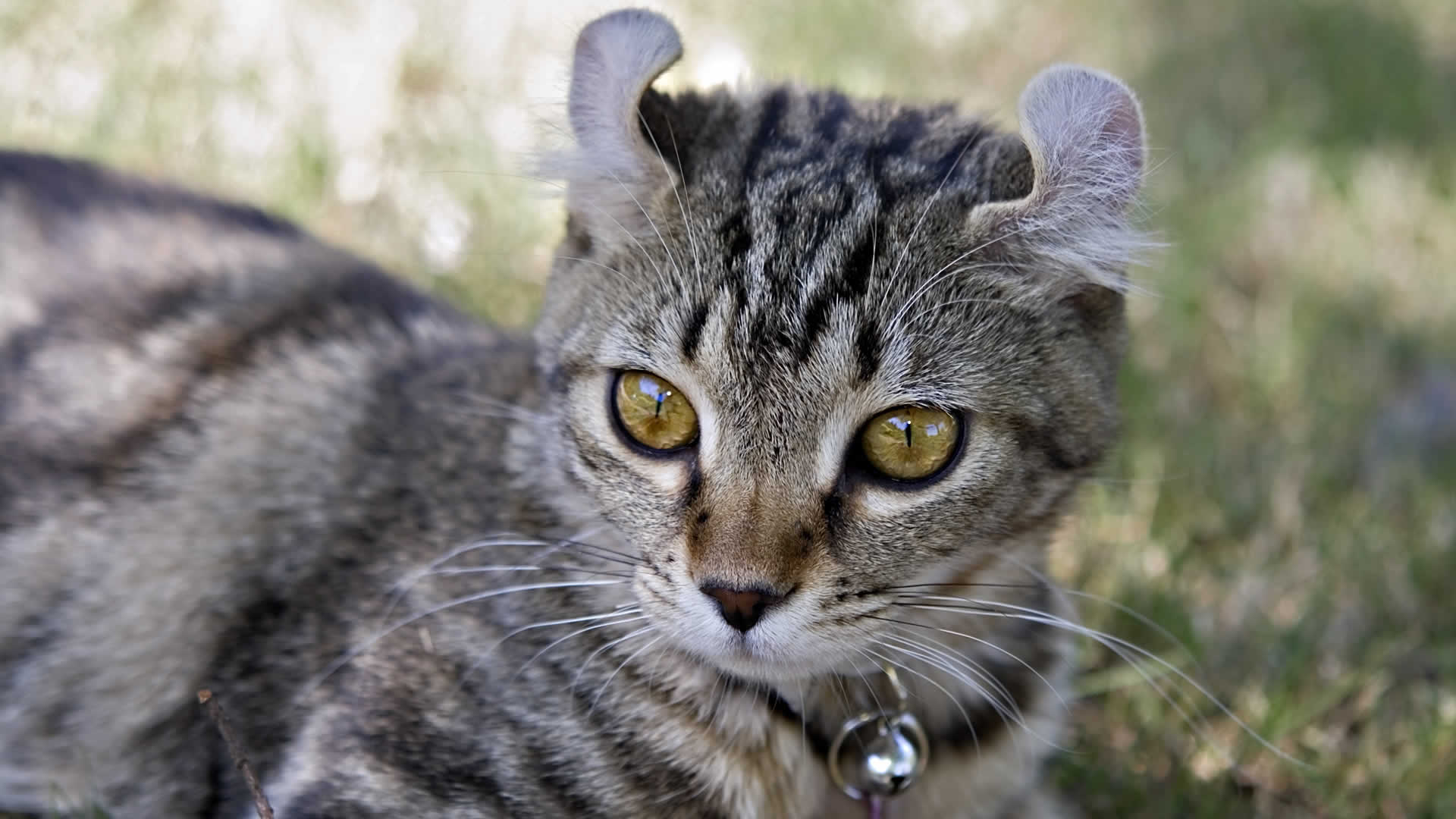 Highlanders have ears very similar to those of the American Curl; instead of being pointed and upright, their ears are completely rounded and curl backward towards their skull. As with the American Curl, kittens are born with straight ears and they gradually bend arch over time. The degree that their folded ears arch also varies from cat to cat, and some cats won't have curly ears at all.
Aside from their distinctive ears, Highlanders also have several other unique quirks. They characteristically have extremely short and stubby tails, with some kittens being born with a tail that's only 2-6 inches long. They are also one of the breeds that commonly have extra toes, known as polydactyl paws.
The Highlander cat also has a typically wild appearance. However, don't let this fool you! They're actually extremely friendly and sociable, with playful personalities and lots of love to give.
Why Do Some Cats Have Small Ears?
Everything about how a cat looks all boils down to genetics. This is why there are some cats with curly tails, some cats with long whiskers, some cats that are big, and some cats that are small. Genetics also determines a cat's coat length and color, the shape of their face, and the position and coloring of their eyes.
Yes – everything about your cat's appearance is written in their genes! And the same goes for their ears. Each of our felines has a section of their DNA that codes for the size and shape of their ears, just as they have genes that code for absolutely everything else.
When looking at the ancestry of the cats back to the first domestic cat breed, the Egyptian Maus, they had large upright ears with pointed tips. This means that small, folded, and rounded ears are the result of genetic mutations that have occurred over time. Some of these alterations will affect solely the size of the ears. On the other hand, some cats have small ears because of genes affecting the formation of their ears.
There will always be slight variations in ear size, even within the same breed as every cats' genetic profile will be unique. However, as cats are bred for specific traits, their gene pool is small and so most cats of the same breed will have similar-sized ears. This is what enables us to predict the common features of each different breed – from the luxurious, plush Persians to long-tail cats like Maine Coons.
What Ear Type Mutations Are Found in Cats?
The mutations that cause slight alterations in size and shape of the ears have not been looked into –after all, there is a subtle variation in the size of every cat's ears! However, when it comes to more distinctive ear types, there are four main mutations found in cats:
Folded ear mutations
Curled ear mutations
Rounded ear mutations
Four ear mutations
Most of these mutations are harmless, changing simply the appearance rather than impacting functionality, whereas others are harmful defects that can impact the lives of our felines. Here's a closer look at each type of mutation and any additional care you will need to provide cats that suffer from these genetic defects.
1. Folded Ear Mutations
The folded ear mutation is the most highly studied of all felines ear type mutations, first discovered back in 2016. It is also known as the Scottish Fold gene as it is this mutation that is responsible for the small and folded ears characteristic of this breed. The gene is depicted as Fd.
The Fd gene is known as a dominant gene, which means only one copy of the gene needs to be inherited for it to present. However, things get a little more confusing as this gene is thought to have incomplete dominance. This means that cats that carry two folded ear genes (FdFd) will have more folded ears, whereas those with only one copy (Fdfd) will still have folded ears, but they will be less folded than their homozygous counterparts.
Unlike simple mutations that affect the size or shape of the ears, the Scottish Fold gene affects the formation of cartilage. However, cartilage isn't only present in the ears – it is the precursor to bone during development and is also found in joints throughout the body. Therefore, the Fd gene not only affects the development of cartilage in the ears but also everywhere else.
Because of this, many Scottish Folds suffer from osteochondrodysplasia (OCD). This is where bones and cartilage doesn't develop properly. This manifests as severe arthritis and makes it extremely painful for these cats to move around, drastically reducing their quality of life.
Following these findings, there has been a controversial debate over whether or not it is ethical to breed Scottish Folds who will go through inevitable pain and suffering for our pleasure. Some European countries have banned breeding them, including Austria, Belgium, and soon Scotland, the original birthplace of the Scottish Fold.
2. Curled Ear Mutations
The American Curl cat has a curled ear mutation, also known as the Cu gene, which is responsible for its distinctive curled back ears. This gene is also dominant, which means only one copy of it needs to be inherited from either the mother or the father for the trait to show. This explains why the curled ears are seen in almost every American Curl cat.
So far, there have been no genetic defects associated with this gene. However, this mutation has not been as heavily documented as the folded ear mutation. Also, most American Curl cats studied have been heterozygous (Cucu). Whereas one homozygous cat (CuCu) has been studied and was found to have no abnormalities, more research needs to be done to know for certain whether dual carriers are more at risk of developing issues.
The Highlander cat also has small curled back ears. This time, the mutation is known as the Hemingway Curl which first appeared spontaneously in a group of polydactyl cats, given its name after the polydactyl cats that belonged to Ernest Hemingway. These cats are one of the ancestors of Highlanders, which also explains where these felines got the genes for their extra toes from.
If you own either of these small curly eared breeds, there are a couple of things you need to be aware of when caring for them:
There have been reports from owners that the ears of both American Curls and Highlanders are more fragile. So, you will need to take extra care when handling to avoid damage to their cartilage.
Depending on the severity of the arc, the ear canal can become twisted and narrow. This can lead to an accumulation of wax and frequent ear infections. So, you will need to clean their ears regularly to help keep any unwanted infections at bay.
3. Rounded Ear Mutations
As you'll notice, many of the cats with little ears on this list also have rounded ears. This is again down to a mutation that was first seen in an Oriental cat in Italy. The cat was transported to the USA for breeding as the rounded ears were seen as a desirable trait, similar to those seen on a tiger. The cat was bred with shorthairs to make the appropriately named Toyger breed.
Through breeding, it was discovered that the rounded ear mutation is autosomal recessive. This means that two copies of the gene need to be present for it to present, and it isn't sex-linked. İn other words, both males and females with two copies of the genes will have rounded ears. Although more research needs to be done, all round ear cat breeds may carry a similar mutation.
4. Four Ear Mutations
The four ear mutation is not linked to cats with little ears, but it is worth noting while on the topic of ear genetics. This is a rare mutation that causes cats to develop more than one pair of ear flaps, known as pinnae. The mutation for the duplicate outer ear is recessive, and cats need to inherit a copy of the gene from both parents for them to have four ears.
Despite the duplicated ear flaps, the mutation does not cause duplications of the ear canal or other hearing organs. This means that while cats with this genetic profile look like they have four ears, they only have one functional pair. The duplicated pinnae typically grow either inside, behind, or next to the normal ear flap. When the additional pinnae grow inside the ear, they can be either normal or inverted.
The first study of four-ear cats was back in 1957, and at the time it was thought this mutation was also linked to abnormal brain function – the cats in the study were extremely lethargic and showed low levels of activity. However, more recent research did not come to the same conclusion, and the cats were shown to be happy and healthy. Therefore, it's likely the cat's behavior in the earlier study was linked to other genetic traits.
CONCLUSION
As you can see, there are many cats with small ears! Most famous for their little folded ears are Scottish Folds, but there are also American Curls and Highlanders with small curled ears and several other breeds with small but otherwise normal ears.
These differences in ear shape and size are all down to genetics. Variation in the size of ears is expected, but registered breeds tend to all have a similar size thanks to their smaller gene pool. However, several mutations cause changes to the development and formation of the ears, such as the Scottish Fold gene.
Although most cats will small ears are happy and healthy, Scottish Folds develop OCD as their cartilage throughout their bodies is affected. Curly eared cats also need extra care, so be sure to handle them gently and clean their ears regularly to keep infections at bay!