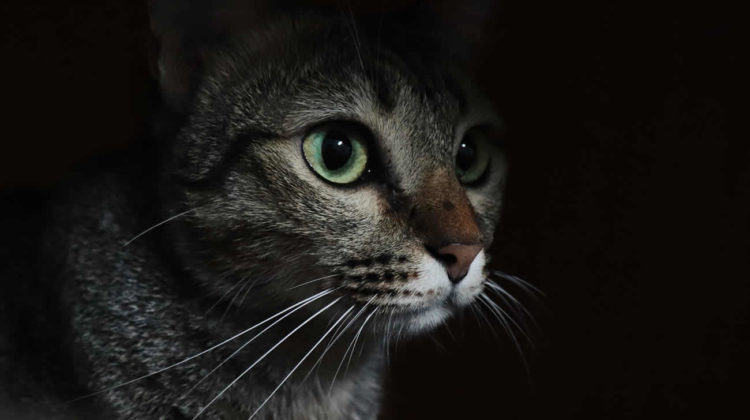 We all have some vague notion that cats can see pretty well in the dark.
However, most of us do not know just how well they can see in dark and other aspects of their vision such as their ability to recognize facial features, expressions, colors, shapes, etc.
This is actually quite a significant topic because the extent of cats' sight affects how they act and interact with the world, and it even determines how they dream!
Below I've tried to cover some basic aspects of cat sight so that you as cat lovers can have more insight about your cat's relationship with the world and also with you.
The short answer is: Cats can see very well in the dark but can't see in complete darkness.
Human Vs. Cat Sight
In order to get a better understanding of cat vision, we need to brush up on some middle school biology about human vision.
After all, the best way to grasp how cat sight works is by comparing it to our sight.
But do not worry, we'll just remember the basics and get on with the cool cat stuff.
As you may remember, our eyes have a layer at the back called the retina, which is made up of two kinds of photoreceptors called rods and cones. Sounds familiar, right?
Rods are useful for night vision and seeing our peripheries, while cones help us see during the day and observe colors.
The human eye has more cones than rods, so we see way better in the light and can observe a wide range of colors.
On the other hand, cat retinas have an inverse concentration of cones to rods, so their sight is better than ours at night, in the dark.
Unfortunately, this also means that their vision is a lot poorer than ours when it comes to seeing color and distance in the light.
How Well Do Cats See in the Dark?
We have established that cats can see very well in the dark, but this does not mean that they can see in complete darkness.
Yes, they cannot see in pitch black because the laws of physics dictate it so. If there are no photons, then no eye, however advanced, can see anything.
Photons are particles that make up what we know as light. In order to see, we need light to bounce off of surfaces.
Sure, cats can make do with a lot less light than we need, but even they cannot see anything in the absence of light – complete and utter darkness.
This being said, just how well can cats see in the dark?
Due to the high concentration of rods in their retina, cats need only about one-sixth of the light that humans need to see in dim light.
Aside from the high concentration of rods in their retina, cats' eyes have a few other qualities that make them better at seeing in semidarkness.
One of these qualities is the ability of their pupils to dilate to a full circle that can reach out to the outer diameter of their iris. This enables the maximum amount of light to enter their eyes.
Another quality that adds on to the marvelous design that is the cat eye is the presence of a layer of tissue called the tapetum. This is a tissue that reflects the available light back at the retina.
You can think of it like this: the tapetum serves similarly to the aluminum reflectors that photographers like to use in their photoshoots. They reflect the available light and maximize it for the camera. The tapetum works like this too.
Here is a pretty cool proof of the presence of the tapetum layer in a cat's eye:
You know how sometimes in odd light or angle you see a weird reflection in your cat's eyes? That is because of the tapetum layer! You can also observe this when your cat's eyes glow in photographs taken with flash or whenever a strong light shines on them.
The design of the cat eye allows it to see very well in the dark.
When you think about it, it is actually a very beneficial evolutionary trait.
Cats come from a line of wild felines and have depended on their sight for hunting.
Cats are crepuscular animals, which means that they are active during all hours of the day, both dusk and dawn. It makes perfect sense that their eyes can see much better in dim light than ours and also that they can detect subtler movements around them. What a perfect design!
Although I know all of this, I still feel better when I leave a small night light on for my cat when I leave her alone at night. Are you like me, too?
Well, there is no need to leave a light on for your cat – unless your house is pitch black. As long as a minimum amount of light gets in from your windows, your cat will be more than fine.
Can Cats See Color?
I'll give you the answer right away: yes, cats can see colors!
However, they see it quite differently from us. Here's how and why.
Just like us, cats are trichromats – which means that they can see three shades of color due to the existence of three types of cones in their retina.
The three shades of color we as humans can see are red, green and blue.
For cats, it is more like blue-violet, green-yellow, and some more green.
As you may have noticed, red is missing from the picture. Due to this, shades of red -like pink- appear to them more like green. They see reddish-purple more like a shade of blue.
Cats see colors quite similar to people who are colorblind.
So, contrary to the popular belief that cats see in black and white, they can actually see a limited range of color.
However, how they see these colors are also different from us. Since they have a low concentration of cones in their retina, they see colors less vibrant than us. This means less saturation in color and also a poorer resolution.
The saturation in colors are muted and there is less richness in hues when compared to our vision.
How Do Cats Dream?
Yes, cats dream! And how they see the world affects the way they dream.
We have all seen our cat make funny movements while being sound asleep, like twitching their whiskers or frantically moving their paws. This does indeed show that your cat is dreaming at that moment. So cute!
During sleep, our brains process information and experience that we have acquired during our day. This is the same for cats. Again, just like us, cats dream during their REM sleep.
Quick refreshment: REM (Rapid Eye Movement) sleep is when our eyes move rapidly and our brain activity is similar to when we are awake. It is during REM sleep that we dream and this is the same for cats.
When cats dream, they most likely see things from their everyday experiences, just like us. They might be playing with their toys, running around the house or cuddling you.
Not every dream has to be a mirror of their experiences though. Cats can also have nightmares or see imagined scenarios based on their experiences. However, it is very unlikely that they will have the same concerns about things that we find stressful as humans – like being naked in public or peeing our pants in a crowd.
All in all, cats dream very similarly to the way we dream. Their dreams are probably just a little less saturated and lacking in red hues!
Do Cats Recognize Human Faces?
Unfortunately, there is no proof that cats recognize human faces individually.
We are not even sure whether they can tell humans apart as a species! All evidence points to the possibility that cats think that we are just giant, weird, clumsy cats.
We do not know for sure if cats can recognize our faces and even if they could, whether they care about it so much.
However, don't feel sad by thinking that your cat has absolutely no idea who you are. Before we go into other ways that your cat can recognize you, here is how indifference in cats towards our appearance came to be so.
Centuries ago, cats became domesticated through their own choice. They decided to live with us because it was beneficial for them in finding food. For instance, they would catch rodents in agricultural sites.
Let's compare this with dogs.
Dogs were domesticated by humans because they could be helpful to us.
Through centuries, we have bred dogs in such a way that they became extremely empathic and loyal to us. Thus, they are far better at recognizing our faces and bonding with us when compared to cats.
In other words, dogs need to recognize us, but cats have never had this as a necessity, so they never became good at it. Aren't cats the coolest?
However, cats do recognize their owners. For this, they rely on other sensory information such as smell and sound. They can tell apart our scent, voice, and temperament too.
Cats are quite intuitive and sensitive to our behavior and temperament. They can recognize human emotion quite well and they will often mirror our emotional state.
When we feel happy and are in a good mood, our cat will most likely be in a good mood too. The opposite is also true: when you are feeling stressed, your cat will sense this and also become anxious.
Smell and sound are also fundamental in cats recognizing us.
Imagine this: You are on the street and you see your cat on the sidewalk.
Without changing your actions (i.e. slowing down, calling out to your cat, going towards your cat to pet it, etc.), you just walk down the street. Do you think your cat will look at you and think, "Hey, I know this person!"? Absolutely no way!
I've been in this situation countless times. I wait for my cat to recognize me as I stand there looking at her. Never happens. The moment I call out to her though, she comes running excitedly at me.
The sound of our voice and the special way we call out to them makes it possible for our cats to recognize us immediately. So they do in fact bond with us in some way!  
Here's another sign that your cat bond with you and feels positively towards you: when it kneads on your lap.
Yes, on your bare skin, it can be painful but this is one of the clearest signs that your cat is bonding with you.
Kittens knead their mother's breasts in order to get more milk out of them. This behavior continues in adult cats as an expression of pleasure, feeling peaceful, content and happy.
When they knead on your lap, know that this means they feel safe and happy with you.
A Cat's Perspective of the World
Don't you ever wonder what it would be like to experience the world from your cat's point of view?
I do, and quite often.
What would it be like to be a few inches from the ground, jumping up and down objects and sliding through holes barely as big as my own head?
I guess we'll never be able to experience the world quite as a cat does, but we can still have some idea by learning about the ability of their eyes to see compared to ours.
As I've mentioned, one of the biggest differences between human and cat sight is the quality of vision in semidarkness.
We have established that cats beat us at this game. However, in the light, our eyes are far more advanced, as we can detect color far better than cats.
One other thing that cats suffer from nearsightedness. It's true! Humans can see the same amount of detail in an object when they are about five times farther away from that object than cats.
Putting nearsightedness aside, cats have a very wide field of vision. Remember when I mentioned that cat retinas have a higher concentration of rods than human retinas which allows them to see better in low light? Well, rods also enable cats to have better peripheral vision.
Cats can see about 200 degrees around them, whereas we can see a maximum of 180 degrees. Score, cats!
Good peripheral vision is also an advantage in detecting subtle motion, which is what cats are excellent at. Again, let me remind you how evolutionary useful this is for cats – for successful hunting.
All this aside, a cat's visual acuity, meaning clearness of vision, is not particularly strong when compared to humans. This is of course in the light. Cat eyes have an acuity of around 20/100 to 20/200.
So, hopefully, you can sort of imagine now how a cat experiences the world visually.
They cannot see far but can see quite well to the sides, they cannot see saturated color but they will never bump into anything in the dark.
Cat Vs. Dog Eyesight
I've mentioned above that cats observe color kind of like a person who is colorblind.
They can see shades of blue, green and yellow, but are confused by tones of red. I had mentioned the term trichromatic, which means that there are three types of cones in the cat retina that are sensitive to color. Humans are also trichromatic.
Dogs, on the other hand, are dichromatic, meaning that they have only two types of cones in their retina. Because of this, they can only distinguish the colors blue and yellow.
Similar to cats, dogs have a higher concentration of rods to cones in their retina, so compared to us, they see colors less brightly. However, like cats, they have better vision in semidarkness.
Dogs are also nearsighted but have strong peripheral vision, just like cats do. However, their peripheral vision is much greater than cats. They can see at about 240 degrees while cats can see at 200 degrees and humans at 180 degrees.
Aside from this, dogs have poor depth perception.
This means that the overlap of each eye's field of vision is less than cats or humans. This is called the binocular vision.
Dogs have a binocular vision of about 30 to 60 degrees while cats have around 140 degrees. This poor binocular vision means that dogs have a bit more trouble seeing what's right in front of their noses, literally. But their peripheral vision is amazing and beats both humans and cats.
Aside from the distinct trichromatic-dichromatic difference between cat and dog vision, they are actually quite similar. They both have amazing peripheral vision, can see quite well in the dark, are very nearsighted, and observe a bit less color than us humans.
Why is It Necessary That We Know How Cats See?
Well, it is not necessary.
However, I think that having some kind of idea about how cats see the world is such a wonderful insight. I want to know how my cat experiences things, what we have in common, and also what things are drastically different.
After all, isn't it understandable that you would want to know how a creature that you adore so much sees, dreams, and experiences reality?