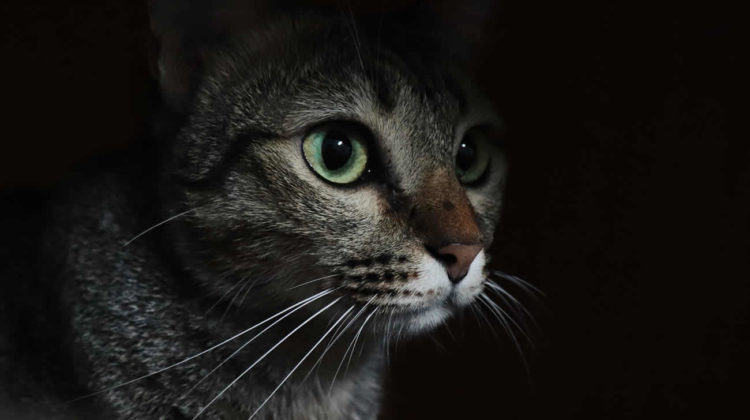 We all have some vague notion that cats can see well in the dark.
Cats are crepuscular creatures, meaning they're most active when light levels are low at dusk and dawn. As such, good low-light vision is essential. Cats wouldn't be able to navigate their nighttime world without it!
However, most of us don't realize just how excellent their night vision is. This begs several questions: Exactly how well can cats see in the dark? How does their night vision compare to ours? And what is so special about their eyes that allows them to see so much more than we do?
If asking the same questions, you're in the right place! This article covers all the fundamental aspects of cats' vision at nighttime. I also touch on other aspects of their vision, such as their ability to recognize facial features, expressions, colors, and shapes. This is a significant topic: sight affects how they act and interact with the world and even determines their dreams!
Keep reading for more insight about your cat's relationship with the world and you – all through the power of sight.
Can Cats See in the Dark?
The short answer is yes, cats can see very well in the dark! However, they can't see in complete darkness.
As I mentioned briefly, cats rely on being able to see in the dark for survival. I'm sure you're already aware that cats are often awake while their owners try to sleep. Whether they're meowing at your bedroom door, have a case of the cat zoomies, or are bringing in delightful "gifts" from the garden, cats are (somewhat frustratingly) often awake at night.
This leads many owners to believe their feline friends are nocturnal. When in fact, cats are crepuscular creatures – not nocturnal, but most active at dusk and dawn. At these times of day, cats cannot rely on light to help them see the world. But vision is vitally important! Nighttime is when cats hunt for their next meal while simultaneously avoiding predators.
Therefore, they're well-adapted to seeing in these lower light levels. However, the outside world is rarely pitch black – there is always a subtle glow from nearby streetlamps, passing cars, or houses. Even in the middle of the countryside, where there is no artificial light, moonlight casts low light across the fields and streets below.
As such, cats don't need to see in total darkness – and they can't! They don't have actual night vision, but their low-light vision is far superior to ours.
How Are Cats Eyes Adapted to See in the Dark?
We've established that cats can see in the dark – or at least at much lower light levels than we are capable of doing. But how is this possible? Well, this is all thanks to their intelligent biological design. Their eyes are adapted specifically to respond best in low light levels.
To truly understand these adaptations, we first must know how the eye works. Things do get a little science-y – to get a better understanding of cat vision, we need to brush up on some middle school biology about human vision. After all, the best way to grasp how cat sight works is by comparing it to our sight.
But do not worry if you're not a science geek – we'll just remember the basics and get on with the cool cat stuff! So, how do the eyes work? It involves all eye parts working together constantly in a step-by-step process.
Let's recap how these parts of the eye function together here so you can make sense of the unique adaptations in cats' eyes:
Light Enters the Eye: Both humans and cats need light to see. The light initially passes through the transparent front layer of the eye called the cornea. The cornea has a curved surface that directs light beams into the center of the eye.
Light Passes Through the Pupil: Once focused into a narrower beam, light passes through the pupil (the dark bit in the center of the eye). The iris (the colored part of the eye) contracts and relaxes to control pupil size. The more dilated it is, the more light it lets in.
Light Passes Through the Lens: Next, light travels through the lens of the eye. This is a clear part of the inner eye that helps focus the light and direct it onto the back part of the eye, known as the retina. The retina is covered in photoreceptors, which are activated by light.
Electrical Signals Sent to the Brain: The activation of the photoreceptor cells creates electrical impulses. These are sent along the optic nerve to the brain's vision center. The brain turns these electrical signals into the images we associate with vision.
That is a basic recap of how vision works for cats and humans. Remember, although cats can see at night, they still need some light to enter the eye. Therefore, our and our cats' eyes work remarkably similarly!
However, four significant differences make them much better at seeing things in the dark. Let's take a closer look!
1. Eye Shape & Position
Both our eyes and cats' eyes work in the same basic way. However, their eye shape is slightly different from ours. They are much rounder than human eyes and have an extremely large cornea and lens.
How does this improve vision? As we've just learned, cats need light to see. The wider and rounder the surface of the eye, the more light it can let in. This intelligent shape directs more light through the pupil and lens, ready to activate the light receptors on the retina.
The position of cats' eyes on their head varies between breeds. Yet most cats' eyes curve slightly sideways. This again improves vision as more light flows in from the periphery. When light levels are low, getting as much light into the eye is more critical than ever!
Therefore, both size and position help get light into the eye. And the more light that enters, the better your cat's vision.
2. Pupil Dilation
Pupil size is the second adaptation that makes cats' eyes well-suited to seeing in the dark. As I'm sure you've already noticed, cats have very different pupils to ours. Our pupils are consistently round, whereas cats usually have vertical slit-shaped pupils.
Cats aren't the only animals with pupils like this. Other examples include crocodiles, goats, vipers, and frogs. And these animals all have one thing in common: they are all active at night! In fact, this is the reason all these creatures have slitted pupils. It is an adaptation that makes their nighttime vision far superior to rounded-pupil species.
Vertical pupils can open extremely wide, almost to a completely rounded shape. This is a huge benefit when it's dark. They dilate as wide as possible to let as much light into the eye. The more light there is to activate the photoreceptors, the better the vision in low light.
This is not the only time your cat's pupils dilate and turn round. You've probably seen this happen when playing together. Playing simulates hunting for cats, a time when they need to be extremely alert and responsive. Therefore, their pupils dilate when their hunting instincts kick in, enabling them to see better and track their prey.
3. Light Receptor Types
As I mentioned earlier, our eyes have a layer at the back called the retina, which is covered in photoreceptors. There are two types of photoreceptors found here: rods and cones, and each serves a different purpose:
Rod Cells: Rod cells are extremely sensitive to light, so they don't require much light for activation. For this reason, rods are useful for night vision but only provide monochromatic vision (which is why we see everything in grayscale when it's dark).
Cone Cells: Conversely, cones require a more substantial light input to become activated. There are three different cones that each responds to different light wavelengths, thus helping us see during the day and observe colors.
The human eye has more rods than cones, which might make you think we see better at night. However, the placement of these receptor cells on the retina is significant. Our rod cells are located in the periphery of the retina, whereas our cones are extremely dense in the center of the eye. This means most light that enters our eyes activates the cone cells, making for exceptional daytime vision.
As you might expect, cats also have more rods than cones. However, their ratio of rods to cones is far greater than ours! Many of these are located in the center of the eye, too. This leads to significant rod-cell activation, allowing cats to see despite low light levels.
4. Tapetum
Another quality that adds to the marvelous design of the cat eye is the presence of a layer of tissue called the tapetum. This tissue is not present in human eyes as we don't need to see in low light. But how does the tapetum improve night vision?
Well, not all light entering the eye ends up making it to the photoreceptors on the retina. Some light is absorbed by the other eye tissues, and a little can escape through the pupil. However, the tapetum is a specialized tissue that reflects the available light to the retina. It helps cats utilize as much of the available light as possible. In fact, this one unique adaptation means the rods and cones receive 50% more of the available light!
You can think of it like this: the tapetum serves similarly to the aluminum reflectors that photographers like to use in their photoshoots. They reflect the available light and maximize it for the camera. The tapetum works like this too.
You've probably seen proof of the tapetum in your cat's eyes without even realizing it. You know how sometimes you see a weird reflection in your cat's eyes in odd light or angle? Perhaps when you photograph your cat using the flash of their eyes get caught in car headlights? That is because of the tapetum layer!
How Well Do Cats See in the Dark?
We have established that cats can see very well in the dark. We've also looked at the unique adaptations that make this special night vision possible. However, this does not mean that they can see in complete darkness.
No number of specialized adaptations would make this possible due to the laws of physics. Photons are particles that makeup what we know as light. We need light to bounce off surfaces and then enter our eyes to see. If there are no photons, then no eye can see anything. Without light, there is no sight!
Sure, cats can make do with a lot less light than we need, but even they cannot see anything in the absence of light – complete and utter darkness. So, just how well can cats see in the dark?
Due to the high concentration of rods in their retina, cats need only about one-sixth of the light that humans need to see in dim light. While we might struggle to walk around dimly lit streets, cats can easily navigate this darker world. However, their night vision is not rich in detail or color like our normal vision – it is a lot more based on motion and depth perception.
When you think about it, this type of night vision is actually a very beneficial evolutionary trait. Cats come from a line of wild felines and have depended on their sight for hunting. When hunting, knowing the details are irrelevant. Your cat doesn't need to know what color its prey is or see every strand of hair in high definition. The shape, size, movement, distance, and direction of prey are far more important.
Why Can Cats See in the Dark?
The ability of cats to see in low light is all down to evolution. As I mentioned, cats are most active at dusk and dawn. Therefore, they spend many waking hours trying to navigate the world with little light as guidance.
Through evolution, some cats developed the four adaptations I listed above: large corneas, slitted pupils, high rod concentration, and the tapetum. And those kitties that did develop these advantages were more likely to survive. They can more easily see their prey, increasing their chances of getting dinner that night. They also avoided predators more successfully, didn't have as many falls or accidents, and always made it home.
Domestic cats – especially pampered indoor-online princesses – don't need as advanced night vision as their wild ancestors. However, natural selection means these valuable traits have been passed down through generations. They persist in the domestic cats we keep as pets today!
Although I know all of this, I still feel better when I leave a small night light on for my cat when I leave her alone at night. Are you like me, too?
Well, there is no need to leave a light on for your cat – unless your house is pitch black. Your cat will be more than fine if a minimum amount of light gets in from your windows. You might struggle to move around the house in darkness, but your cat's advanced eyes make it look easy!
Other Interesting Facts About Cat Vision
If you're anything like me, understanding how cats see at night is extremely interesting. But it got me thinking about all other aspects of vision. Can cats see in color? Can they recognize human faces? How does their vision compare to other animals, such as dogs?
I answer these questions and more in the sections below. If you're eager to learn more than nighttime vision, you'll want to check them out.
Can Cats See Color?
I'll give you the answer right away: yes, cats can see colors! However, they see it quite differently from us. Here's how and why, and it's all to do with the rods and cone cells I mentioned earlier.
Remember that cone cells are responsible for color vision? Humans have three cone photopigments that respond to different colors of lights. These colors are blue-violet, yellow-green, and red-orange, meaning we are scientifically referred to as trichromats.
Comparatively, cats only have two color-detecting cone cells on the retina that allow them to see blue-violet and yellow-green wavelengths. As you may have noticed, red is missing from the picture. Due to this, shades of red, orange, pink, and other warm hues appear to them more like green. They see reddish-purple more like a shade of blue.
A good comparison to cats' color vision is the vision of a colorblind person. Most color blindness is red-green color blindness. These people have issues with their cone cells that make it difficult to distinguish between red and green light, much like how cats see the world every day!
However, how they see these colors are also different from us. Since cats have a low concentration of cones in their retina, they see colors less vibrant than us. This means less saturation in color and a poorer resolution. The saturation in colors is muted, and hues have less richness than our vision.
Do Cats Recognize Human Faces?
Unfortunately, there is no proof that cats recognize human faces individually. We are not even sure whether they can tell humans apart as a species! All evidence suggests that cats think we are giant, weird, clumsy cats.
However, don't feel sad thinking your cat has no idea who you are. Cats do recognize their owners – they just do this in different ways. But before we go into other ways that your cat can identify you, here is how indifference in cats towards our appearance came to be so.
Centuries ago, cats became domesticated by their own choice. They decided to live with us because it was beneficial for them in finding food. For instance, they would catch rodents in agricultural sites.
Let's compare this with dogs: Dogs were domesticated by humans because they could be helpful to us. Through centuries, we have bred dogs in such a way that they became extremely empathic and loyal to us. Thus, they are far better at recognizing our faces and bonding with us when compared to cats. In other words, dogs need to recognize us, but cats have never had this as a necessity, so they never became good at it. Aren't cats the coolest?
However, cats do recognize their owners. For this, they rely on other sensory information. This includes smell, voice, and temperament:
Temperament: Cats are intuitive and sensitive to our behavior and temperament. They can recognize human emotion quite well and often mirror our emotional state. When we feel happy and are in a good mood, our cat will most likely be in a good mood too. The opposite is also true: when you are feeling stressed, your cat will sense this and also become anxious.
Sound: Imagine you are on the street and see your cat. You continue to walk down the street without changing your actions (i.e., slowing down, calling out to your cat, or going towards your cat to pet it). Do you think your cat will look at you and think, "Hey, I know this person!"? No way!
I've been in this situation countless times. I wait for my cat to recognize me as I look at her. Never happens. The moment I call out to her though, she comes running excitedly at me. The sound of our voice and the special way we call out to them makes it possible for our cats to recognize us immediately.
Smell: Cats also have an incredible sense of smell. In fact, it's fourteen times stronger than ours! This means they're highly attuned to smells and can quickly identify people based on their scent. A cat's sense of smell is so strong that not only can they identify you – they can also figure out where you've been, people you've met, and animals you've played with. That's pretty impressive!
You'll know that your cat recognizes you through their actions. For example, your cat might follow you around or always curl up on your lap. If your cat didn't know who you are, it would be much more nervous in your presence.
Here's another sign that your cat bond with you and feels positively towards you: when it kneads on your lap. Yes, it can be painful, but this is one of the most evident signs that your cat is bonding with you.
Kittens knead their mother's breasts to get more milk out of them. This behavior continues in adult cats as an expression of pleasure, feeling peaceful, content, and happy. When they knead on your lap, know that this means they feel safe and comfortable with you.
How Do Cats Dream?
Yes, cats dream! And how they see the world affects the way they dream.
We have all seen our cats make funny movements while sound asleep, like twitching their whiskers or frantically moving their paws. This does indeed show that your cat is dreaming at that moment. So cute!
During sleep, our brains process information and experience acquired during our day. This is the same for cats. Therefore, how they see the world directly impacts the appearance of their dreams. They will dream with the same outlook on life and in the same color and resolution as their normal vision.
Just like humans, cats dream during their REM sleep. Quick refreshment: REM (Rapid Eye Movement) sleep is when our eyes move rapidly, and our brain activity is similar to when we are awake. During REM sleep, we dream; this is the same for cats.
When cats dream, they most likely see things from their everyday experiences, just like us. They might play with their toys, run around the house, or cuddle you.
Not every dream has to be a mirror of their experiences, though. Cats can also have nightmares or see imagined scenarios based on their experiences. However, it is very unlikely they will have the same concerns about things we find stressful as humans – like being naked in public or peeing our pants in a crowd. They'll more likely have nightmares about prey escaping from their grasp or being chased by predators!
All in all, cats dream very similarly to the way we dream. Their dreams are probably just a little less saturated and lacking in red hues!
A Cat's Perspective of the World: Cat vs. Human Vision
Don't you ever wonder what it would be like to experience the world from your cat's point of view? I do, and quite often. What would it be like to be a few inches from the ground, jumping up and down objects and sliding through holes barely as big as my head?
I guess we'll never be able to experience the world entirely as a cat does, but we can still have some idea by learning about the ability of their eyes to see compared to ours. Here are the take-home differences you need to understand to truly imagine the world from your cat's perspective:
Night Vision: As I've mentioned, one of the most significant differences between human and cat sight is the quality of vision in semidarkness. We have established that cats beat us at this game. This is thanks to their specialized pupils, rod cells, eye shape, and tapetum!
Color Vision: What our eyes lack in low light levels, they make up for in color. Our eyes contain more cone cells that respond better to bright light, and we can detect color far better than cats. While cats struggle to make out red tones, we never have this issue.
Nearsightedness: One other thing is that cats suffer from nearsightedness. It's true! Humans can see the same amount of detail in an object when they are about five times farther away from that object than cats.
Visual Field: Putting nearsightedness aside, cats have a vast field of vision. Remember I mentioned cat retinas have a higher concentration of rods than human retinas? Well, rods also enable cats to have better peripheral vision. Cats can see about 200 degrees around them, whereas we can see a maximum of 180 degrees.
Visual Acuity: A cat's visual acuity, meaning clearness of vision, is not particularly strong compared to humans. This is, of course, in the light. Cat eyes have an acuity of around 20/100 to 20/200 and struggle to see the detail in most objects.
Hopefully, you can begin to imagine now how a cat experiences the world visually. They cannot see far but can see quite well to the sides, they cannot see saturated color, but they will never bump into anything in the dark!
Cat vs. Dog Eyesight
Understanding how cats' eyesight compares to humans is one thing. But you might also wonder how the vision of our fabulous felines compares to that of man's best friend.
Cats' and dogs' visions are more alike each other's than ours, and here is a quick look at why:
Dichromatic: Firstly, dogs are Like cats, they have only two types of cones in their retina. Because of this, they can only distinguish the colors blue and yellow and cannot see red hues.
High Rod Concentration: Like cats, dogs also have a higher concentration of rods to cones in their retina. Compared to us, they see colors less brightly. However, like cats, they have better vision in semidarkness.
Nearsightedness: Dogs are also nearsighted but have strong peripheral vision, just like cats. This is due to the shape of their eyes and the specific placement of cones and rods on the retina.
As you can see, cats and dogs have extraordinary peripheral vision, can see quite well in the dark, are very nearsighted, and observe a bit less color than humans. Nevertheless, the vision of cats and dogs is not identical. For one, their peripheral vision is much greater than cats. They can see at about 240 degrees, cats at 200 degrees, and humans at 180 degrees.
Aside from this, dogs have poor depth perception. This means that the overlap of each eye's field of vision is less than cats or humans. This is called binocular vision.
Dogs have about 30 to 60 degrees of binocular vision, while cats have around 140 degrees. This poor binocular vision means that dogs have a bit more trouble seeing what's right in front of their noses, literally. But their peripheral vision is fantastic and beats both humans and cats.
MY FINAL THOUGHTS
It isn't necessary to know about your cat's vision. However, I think having some idea about how cats see the world is a beautiful insight. I want to know how my cat experiences things, what we have in common, and what things are drastically different.
After all, isn't it understandable that you would want to know how a creature you adore sees, dreams, and experiences reality?