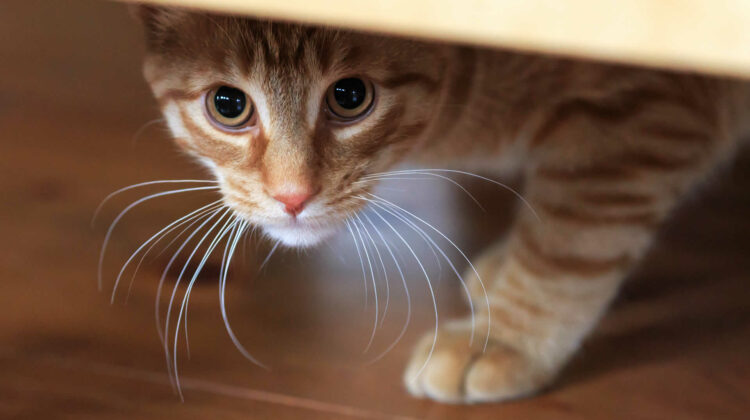 Cats are curious creatures, but there is nothing more confusing for owners than their usually peaceful kitty acting crazy. As pet parents, we've all experienced cat zoomies. Your cat suddenly acts hyper, running frantically around your house and acting a little mad! This leads many owners to ask the question: Why is my cat running around like a maniac?
Often, this behavior is nothing to worry about. It is common for cats to get hyperactive at night time due to their nocturnal and predatory instincts. If they have pent-up energy from the day, they'll have an even more active and crazy outburst! However, your cat acting crazy can also be linked to medical conditions that you need to be aware of.
In this article, I'll run through all the reasons behind cat zoomies, so next time your cat is acting weird and wacky you can work out why. If your cat is running around like crazy at night, it can also be super disruptive. So, I've also pulled together some ideas on how to help your cat settle down for the night and keep their craziness at bay.
Why Is My Cat Running Around Frantically?
Every cat will have a little mad moment from time to time. In fact, this is normal. However, if your feline has the cat zoomies regularly it could be a sign they are bored and need more exercise. Or worse – they could be suffering from fleas or another medical condition that requires treatment.
To help you work out why your cat is running around like a manic, here is a look at all the common reasons, how you can identify which applies to your cat, and what you should do next.
1. Nocturnal Instincts
One reason for your cat's crazy behavior, especially if your cat goes crazy at night, is down to its nocturnal instincts. Now, cats are not technically nocturnal creatures, they are actually crepuscular. This means that they are more awake at night, but are most active at dusk and dawn. Their crazy outbursts during this time are entirely natural.
You may be wondering why cats have this unusual sleep cycle. The truth is that it has been passed on from wild cats through generations as their prey is most active at dusk and dawn. Cats are also well-adapted to hunting in low light conditions, giving them the advantage against their prey. The more successful they can hunt, the better their chances of survival, and so this instinct persists through the process of natural selection.
Having said that, some house cats won't exhibit nocturnal or crepuscular behaviors. As people sleep in the evening, domestic cats may have become accustomed to this new sleeping routine. It is not uncommon for felines to curl up next to their owners at around 10 pm and sleep until the early hours of the morning.
2. Sensing Intruders
Your cat may also be running around frantically if they sense intruders nearby. I'm not talking about people here, but rather other animals. Cats are highly territorial creatures, and picking up another animal's scent nearby to their home can cause them to start acting crazy. This could be the smell of another cat, a dog, or any other unwanted visitor.
You'll likely know if your cat has sensed an intruder nearby as rather than running like a maniac around your entire home, they will be more confined to one area. For example, if they spot another animal through the window, they may race along the length of the window repeatedly. You may also be able to spot the intruder nearby yourself, giving you an indication that this is the cause of their momentary madness!
Cats go to all lengths to defend their territory from other animals. The presence of an intruder can make your cat so aggressive all of a sudden, despite them usually being the calmest and friendliest cat you know. Even though I'm not the cause of distress, I often find my cat hissing at me when its territory is at stake!
Therefore, it is advisable to approach your cat with caution if you think there is an intruder nearby. Territorial aggression is common in cats, and you don't want your kitty to accidentally lash out at out. Trust me, I've dealt with my cat attacking me a few times and things can turn nasty pretty quickly! Appreciate your cat is a wild animal and its instincts will overpower its normal behavior in some situations.
3. Predatory Instincts
Just as cats will respond to larger animals they feel threatened by, they will also not be able to resist chasing prey. This is another common explanation for the cat zoomies. If your cat has found a mouse lurking in your home, its predatory instincts will kick in and they will chase the mouse, bird, or other rodents until it's either caught or escapes.
Again, this hunting behavior is natural for cats, having been passed down through years of evolution. Although your kitty gets their dinner fed to them on a silver platter, it is still in their nature to stalk, chase, and hunt their prey. As already mentioned, prey often comes out at dusk and dawn, again explaining why cat zoomies are a more likely occurrence at night.
If you think your cat is chasing prey in your home, it may be time to hire pest control! Mice are a common household pest, especially in rural areas. Your cat may do a great job at catching the mice so you don't have to call a specialist, but it is often a good idea to get a professional out just in case. The last thing you want is a family of mice living in your home!
4. Pent Up Energy
Is your cat left at home all day while you're out at work? If so, your cat may have a crazy moment because of all the pent-up energy they haven't had a chance to expel in the day. Without the opportunity to play with anyone, their energy has just accumulated until they have this big crazy outburst when you're home.
Cats left by themselves all day will also likely be bored. Although often thought of as being solitary and independent creatures, cats so need love, attention, and exercise. Therefore, as soon as you're home, they may get excitable and want to play with you. They're so happy to have their playmate back that they cannot control their excitement!
Kittens in particular have a lot of energy and are especially hyperactive. If you have a kitten, playing with them every day is crucial if you want to avoid crazy outbursts. On the other hand, older felines will have less energy and will be happier with less interaction and physical exertion. With that being said, you should still encourage play to help them stay fit, healthy, and happy.
One way to do this is by investing in a load of toys for cats to chase. There are so many different types to choose from – from feather wands to laser toys. I recommend trying a few different options to discover what your cat likes playing with best. Also, if you know you don't have time to spend playing with your cat each day, automatic laser cat toys or motorized cat toys that run by themselves could be your saving grace.
5. Fleas
Fleas are the most common feline parasite that lives in your cat's fur. They bite your kitty and feed on their blood, which can cause itchiness and sensitivity. Some cats are also hypersensitive to flea bites, making them even more painful and uncomfortable.
When your cat is running around frantically in a sporadic fashion, fleas are a common culprit. With every bite that a flea takes, it can aggravate your cat and slowly send them into crazy mode. Thankfully, you should easily be able to tell if your feline is suffering from fleas by looking out for the following symptoms in combination with their crazy behavior:
Excessive scratching and itching
Bald patches on your cat's coat
Red and irritated skin
Excessive grooming
Black specks in your cat's fur or bedding
If your cat has fleas, don't panic. They are extremely common, and while more likely to infect outdoor cats even indoor cats can contract fleas. There is a range of flea treatments you can use to get rid of them, including flea powders, sprays, spot-on treatments, and internal treatments. Always speak to your vet to find the best possible course of action.
I also recommend having some form of flea prevention in place. Fleas are not nice for you or your cat to deal with, and reducing the risk of them picking up fleas in the first place is better for everyone involved. I use flea collars on my cats which help keep these pesky parasites at bay. Using a monthly flea treatment is another option, and regularly washing your cat's bedding can also go a long way in preventing fleas.
6. Hyperthyroidism
Another reason behind cat zoomies could be that your cat suffers from hyperthyroidism. This is a condition that affects the function of the thyroid gland found in your cat's neck and typically occurs in older felines. Cats with this condition will produce an excessive amount of thyroid hormones.
Thyroid hormones are responsible for regulating your cat's metabolic rate. When initially getting hyperthyroidism, this sudden increase in your cat's metabolism can cause them to feel hyperactive and energetic. This explains why your cat may run around like crazy if they have a hyperactive thyroid. However, over time their overactive thyroid may cause them to feel tired and lack energy.
Alongside these changes in energy levels, other early symptoms of hyperthyroidism in cats include:
Sudden weight loss yet an increase in appetite
Excessive vocalization, especially at night
Cranky and aggressive behavior
Increased water consumption and urination
Poor and unkempt fur coats
Increased heart rate, called tachycardia
If left untreated, hyperthyroidism can lead to several complications. Firstly, the increased heart rate changes the thickness and structure of the heart muscle wall. Over time this will lead to heart failure. High blood pressure is another common complication. This too can damage the heart, along with other organs such as the kidneys, eyes, and brain. As a result, it is essential to get prompt treatment for your feline if they have a hyperactive thyroid.
Your vet will be able to confirm the diagnosis and usually prescribe an anti-thyroid medication. In some cases, surgical removal is suggested which will offer a permanent solution. Another safe and popular treatment is radioactive iodine therapy, which cures hyperthyroidism in 95% of cats. So, if you think this is why your cat is running around, don't panic. Your vet will be able to help cure your kitty.
7. Feline Cognitive Dysfunction
Do you have an older feline that is exhibiting odd behavior problems? As well as aging physically, cats will also suffer a decline in cognitive dysfunction as they age, which is actually extremely common. In fact, 55% of cats aged 11-15 show some form of impairment, and this rises to 80% in felines older than 16 years of age.
If a cat has feline cognitive dysfunction, exhibiting restless behavior such as running around frantically is a common symptom. They will likely be hyperactive at night, whereas you'll see your cat sleeping more than usual during the day. Excessive vocalization is another common symptom, so if your cat meows at the door frequently this could be why. Again, if your cats cry like a baby at night, this is another sign that their strange behavior could be due to cognitive decline.
Aside from this, other symptoms include:
Urinating outside the litter box
Being unable to recognize familiar people and animals
Appearing to be disorientated in known locations
Reduced social interaction or your cat follows you everywhere
Wandering aimlessly around your home
Decreased appetite
Reduction or excess of self-grooming
An overall increase in irritable and agitated behavior
If your cat shows any of these signs, my best advice is to take them to your vet. They will be able to confirm that your cat's behavioral changes are due to feline cognitive dysfunction and not related to anything else. If a diagnosis is confirmed, your vet can then advise you on how to make life easier for your kitty.
Unfortunately, there is no medical treatment that can reserve the signs of aging on the brain. Instead, sticking to a consistent schedule and making changes to your cat's home environment can help them to become less confused and more at ease.
8. Urinary or Bowel Discomfort
Does your cat get the zoomies and start running around your home right after using their litter box? If so, they could be suffering from urinary or bowel discomfort caused by inflammation of any part of their urinary tract, colon, or rectum. This can make it extremely painful for your cat to urinate or defecate, depending on which part of their urinary or gastrointestinal tracts is affected.
Thankfully, it is quite easy to notice if this is what is causing their crazy behavior – simply look inside their litter box. If you notice any of the following, they likely have some kind of urinary infection going on:
Diarrhea or loose stools
Hard stools and constipation
Blood in their urine or feces
If something doesn't look quite right, take a trip to the vet. Also, be sure to keep on top of cleaning your cat's litter box regularly. Cats like their litter boxes to be clean and free from the smell of urine and feces. If their bathroom starts to smell unpleasant, they may dart in and out of their litter box like a maniac to escape the stench.
How to Stop Your Cat From Getting the Zoomies
Some owners may not be bothered by their cat running around like a manic. After all, it can be quite entertaining watching your cat go crazy every once in a while. However, if your cat has the zoomies constantly, it could be disruptive. This is especially true if your cat runs around like crazy at night. They could be keeping you and your family up, leaving you feeling tired and miserable.
What's more, a cat that acts crazy all the time isn't normal and is usually a sign something is wrong. This may not be anything major like a medical condition but could indicate your cat is bored and needs some more excitement in its life.
If you want to stop your cat from getting the zoomies, try using these top tips and see if you have any success.
1. Encourage Exercise
The first thing you can do is try to encourage your cat to exercise more during the day. This will help them burn off any extra energy and will hopefully make them too tired to have a large outburst. Ideally, you should spend at least 15 minutes per day together playing. And spreading this out into several smaller 5-minute sessions may be better for trying to tire your cat out.
To make play sessions as engaging and enriching as possible, try to use many different toys for cats to chase. These will burn off a lot more energy than toys that don't get them stalking, running, and chasing. By using multiple different toys it will also ensure that your kitty never gets bored of playtime. For any owner that spends a lot of time away from home, electric motorized toys are a great idea. These can run so that your cat can play with them by herself.
Within your play sessions, it's super important that you allow your cat to catch and "kill" the toy occasionally, rather than just teasing them with it. This channels their predatory instincts, and each catch will release happy chemicals in their brain. This will ease any frustration they are feeling and make them more likely to be well-behaved.
2. Feed Small Portions Regularly
Cats will also benefit from having several small portions of food rather than one or two larger ones each day. This may seem unrelated to their crazy behavior, but it can actually make a huge difference in helping them establish a routine. And the better their routine, the less likely they will be to wake up sporadically throughout the night.
Try to stick to the same feeding times each day so your cat learns when they should be awake and when they should be asleep. Spreading the portions out will also keep their energy levels more consistent so they will be less likely to have random outbursts throughout the day and night.
If you work full-time or are out of the house often, this is easier said than done! However, I purchased an automatic cat feeder a few months back and it's been a godsend. The one I use has five different portions than are released at five different times in 24 hours. I simply fill the feeder with food once per day and it does the rest for me.
There are several different types of automatic cat feeders. Most only take dry kibble, so make sure you check this before purchasing. Do a bit of product research though and decide what features you need and you won't regret it. It'll help with establishing a healthy feeding schedule and preventing the cat zoomies!
3. Remove Outside Stimuli
As mentioned, some cats will run around like a maniac as they have seen other cats or animals outside your home that they think are intruders. This can make your cat frustrated and run around like crazy. But remove the stimuli and your cat will be a lot calmer and relaxed.
Of course, there's no way that you can completely remove these stimuli – wild animals and your neighbors' cats will have minds of their own and wander where they wish. However, you can do your bit to keep intruders out of your garden by using cat deterrents, such as:
Having high close-boarded fences to make entry into your garden more difficult
Planting lavender, pennyroyal, or rue in your garden, which cats dislike the smell of
Installing motion activated sprinklers to startle intruders
Installing an ultrasonic device that emits a high-frequency alarm when detecting movement
Using cat deterrents like this in your garden only really works if you have an indoor cat. You don't want to cat-proof your garden too much or your own kitty might not like spending time there! So, if you have an outdoor cat you'll have to look at other options, such as blocking out the lower parts of the windows in your home. You could also limit the areas in your home that your cat has access to at night, preventing them from acting crazy while you sleep.
When intruders enter your home, your cat will act even more insane! You should also look at installing collar-activated catflaps so that no intruders can make their way into your home. Besides, cats or other animals sneaking in could result in confrontation and injury. Therefore, this is great for preventing your cat from getting the zoomies but also keeps your cat safe.
4. Create a Stress-Free Environment
Creating a stress-free home environment also helps to keep your cat happy, relaxed, and less likely to act crazy out of boredom, pent-up energy, or frustration.
To do this, the first thing you will need to provide them with is plenty of cozy places they can hide. These will allow your cat to retreat and have some personal space if they are ever feeling scared or anxious. You can purchase cat trees with enclosed condos that function well, but equally cardboard boxes are a hit with cats and double up as somewhere for them to sleep.
You should also make sure your home has plenty of high vantage points where they can sit and survey the room. This too helps them feel like they have an area that is entirely theirs where they can safely view what's going on around them. Again, a cat tree works well for this if you get a tall design. However, empty windowsills or shelves work well if not.
Moreover, cats don't respond well to change and love familiarity. Try to create a consistent routine when it comes to feeding and sleeping. If you can schedule their playtime into their daily schedule, this will too make them feel more comfortable and content. This will also help to relieve pent-up energy and provide them with the mental stimulation they need to be happy.
They'll also benefit from having a clean litter box, and be sure to have at least one litter box per cat if you have multiple felines in your home. This can ease cat-on-cat conflict and ensure all your furballs can live happily together. Besides, cleaning the litter box will mean your cat isn't darting in and out to avoid a foul-smelling tray.
5. Use Pheromone Calming Products
No matter how hard you try, it is impossible to make your cat's environment 100% calm at all times. Even with a clean litter box, several places to hide, a consistent routine, and plenty of enrichment, unplanned triggers can enter your home and stress your cat out.
Take a stray cat slinking into your yard for example. Cats hate intruders as they feel like their territory is being encroached on. Loud noises like fireworks or nearby construction are other examples. No matter how hard you try, these things are out of your control!
Thankfully, there is something else that can help: pheromone products can help. These are products that release chemicals called pheromones into the air. The pheromones are artificial replicas of pheromones released by cats, and the scent of them in the air has an instantaneous calming effect.
There are a few different pheromone products you can choose from:
Pheromone Collars: Calming collars work for cats by releasing pheromones into the air wherever your cat goes. These are the best for a constant calming effect.
Pheromone Diffusers: These plug into sockets in your home to make a particular room calmer and more relaxing. If you're trying to stop your cat from getting the zoomies at night, plugging one into the room where they sleep could work.
Pheromone Sprays: You'll also find pheromone sprays that you spritz on surfaces around your home. These products are best for preventing spraying or scratching, rather than a case of the zoomies.
6. Rule Out Medical Conditions
Cat zoomies are normal and by themselves don't indicate a medical condition. However, there are some situations in which veterinary care is required. Is your cat so hyper all of a sudden? Or are they showing other symptoms of illness? If so, you should also seek to rule out any medical conditions.
Start by seeing if your cat has any other symptoms that accompany their crazy behavior, such as those mentioned above that could indicate that your cat has fleas, cognitive dysfunction, hyperthyroidism, or urinary issues. If you notice any symptoms, take your cat to the vet immediately.
You can also take your kitty to see a professional even if them having the zoomies is the only thing you notice out of the ordinary – after all, it's better to rule any medical conditions out just to be safe. Your vet will run all necessary checks and give your cat a diagnosis. From there, they can work to find an effective treatment to ensure your cat is back to its old self in no time! With all medical conditions, the sooner they are discovered and treated, the easier full recovery will be.
MY FINAL THOUGHTS
Your cat likely has pent-up energy from having a lazy day indoors that they need to expel and do so with these crazy outbursts of energy. It is also possible that your cat has simply seen another animal that has channeled its predatory instincts.
Other times though, a cat running around frantically could be a sign of a medical condition. So, always keep an eye out for other symptoms of illness and take them to the vet if you think there could be an underlying problem. After receiving treatment, your kitty will be back to its old self in no time.
Even though a completely normal behavior, it can be extremely disruptive to have a cat go crazy at night. Try using some of the tips I have mentioned above to help create a calming environment and stop your cat from running about like crazy. Your cat will be happier, and you and your family will have a better night's sleep.