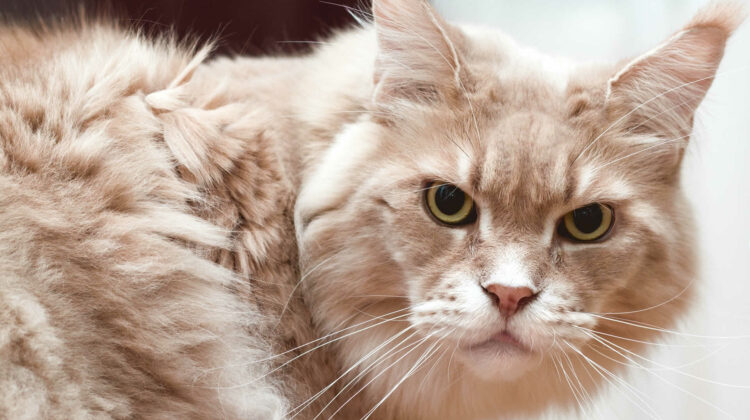 Some cats are naturally more fearful and aggressive than others.
This usually happens when they have experienced previous trauma in their lives, or have not been raised around humans. Others just like their own space and have a tendency to lash out more than some.
Yet other cats are extremely loving and friendly. They adore curling up on your lap, enjoy being picked up, and wouldn't hurt a fly. When this behavior suddenly changes and your cat starts biting or hissing, it's extremely confusing. Why is my cat so aggressive all of a sudden? What has happened to turn my loving, affectionate kitty into a biting and scratching machine?
Although this behavior might seem out of character, aggression is a common issue in cats. In fact, it is one of the main reasons owners choose to see a behavioral specialist. So, first of all, know that you're not alone. Second of all, know you're in the right place! Here I discuss 10 reasons why your cat is suddenly aggressive and my top tips for helping your cat calm down.
10 Reasons for Sudden Aggression in Cats
Below are the 10 most common causes of aggression in cats. If you're asking, "Why is my cat so aggressive all of a sudden?", you can be sure to find the answer below. Read through each section, assess your cat, your environment, and the situation, and then see which you think applies.
Knowing the cause of the aggression is the first step to stopping it!
1. Fear Aggression
Many cats that suddenly act aggressively towards their owners or other animals are scared. Some cats are naturally more fearful than others. As mentioned briefly, this usually happens if there has been little human contact during kittenhood or previous trauma.
Nevertheless, even cats that were socialized young can get scared. There might have been something obvious that has startled your cats, such as loud fireworks or nearby construction. In other instances, the source of fear might be less obvious. Say, for example, you have been with a friend and handled their cat. You now carry this other cat's scent, which can make your cat feel fearful.
Think back to when your cat suddenly acted aggressively. Was there a fear trigger that could have been responsible? If you're unsure, keep a diary of each time your cat hisses, bites, or scratches and see if you can spot a pattern.
2. Painful Medical Conditions or Injury
Pain is another common cause of aggression in cats. Your cat isn't trying to hurt you or anyone else by acting this way. Their aggression is actually an instinctive protective mechanism. When cats are sick or injured, they are in their most vulnerable state. But by acting aggressively, they can ward off any threats and improve their chances of survival.
I have dealt with this issue recently myself. I found my cat hissing at me whenever I tried to pick her up. Upon closer inspection, I discovered she had a thorn stuck in her paw that was causing her pain. Your cat might have sustained a similar injury, or perhaps broken a bone or torn a muscle.
Medical conditions can also cause intense pain in cats. The joint disease arthritis is a common example, which typically affects older cats. Whenever you pick up your cat, you will touch their swollen joints and make the pain they are feeling worse. Their natural response is to hiss, bite, scratch, and lash out to protect themselves.
There is a whole host of other medical conditions that also cause pain in cats. Examples include dental disease, infections, and internal injury. Usually, cats that are sick or injured will also exhibit other signs and symptoms. If in doubt, take your cat to the vet so its condition can be diagnosed and treated.
3. Cognitive Decline or Neurological Issues
Neurological issues and cognitive decline can cause aggression in cats. This is where your cat's neural network stops functioning as it should, and can cause feelings of confusion and disorientation. Your cat won't know where it is and might have trouble remembering who you are.
As you can imagine, this would be pretty scary for your cat. And as I have already mentioned, fear is a common cause of aggression in cats. They have no idea what is going on, so hiss and bite in an attempt to regain control and ward off any dangers.
Neurological issues generally affect older cats as the neural pathways gradually decline with age. Alongside aggression, you might notice other behavioral changes too. You will likely hear your cat cry like a baby at night as it's unsure of what is happening. A cat running around like a maniac, acting disorientated, or forgetting where its litter box is are all other common symptoms.
4. New Pets, People, or Other Animals
Cats are extremely territorial creatures. Whenever they feel like their territory is being invaded, they will fight to keep it. Cats can get territorial for all kinds of reasons, such as smelling another cat's pheromones on you. However, one of the biggest causes of territorial aggression is bringing new pets into your household.
Most owners report seeing their old cat hissing at new kittens. Your cat is used to having your home as their sanctuary, and now they have to share it with this unknown animal! Cat depression after a new kitten is also sadly common, and your cat might feel left out and unloved. You might have to deal with your cat bullying your other cat until they've learned this kitten isn't a threat.
New people moving into your home can have a similar effect. Perhaps your partner has just moved in with you, or you have just welcomed a new baby to the family. Either way, your cat feels its territory is being infringed upon and is on high alert – it will bite, hiss, and scratch to protect it if needed.
There doesn't even necessarily need to be new people or animals in your home to spark territorial aggression in cats either. Cats in the neighborhood can have a similar effect. Perhaps a new cat has moved in next door. Or maybe a stray or one of the existing cats that live nearby has discovered it can enter through your cat flap and steal your kitty's food!
5. Moving House
Moving home can also spark territorial aggression in cats. Cats mark their home environment using chemicals produced by the body called pheromones. These can be transferred from your cat to objects in your home by rubbing, scratching, and (unfortunately) spraying. They mark your home as "theirs", and the smell of their pheromones helps them to feel calm.
When you move house, they suddenly enter an environment in which none of their pheromones are present. This causes them to feel vulnerable and uneasy, which often manifests as aggression. Your cat might simply hide and be a little shy until it adjusts, but some will hiss and strike owners and people until they've calmed down.
Most people wrongly assume that moving house is only a possibility if your indoor cat is suddenly aggressive. However, outdoor cats also struggle with home moves. They are now in an entirely new neighborhood, with the scent of all the different cats nearby that they need to adjust to.
6. Status Aggression
Most cats understand their place in the home – you are in charge, and they fall beneath you. If you have more than one cat, there will also be a hierarchy among them. One cat will always be the more dominant leader, and the others follow suit. This is usually the cat that is larger, eats first, and always gets dibs on the best napping spots.
When a shift in status happens, cats can become aggressive. This might happen in a multi-cat household if the current "leader" is getting older or is sick. One of the other cats may attempt to take their place and uses aggression as a means to do so.
There is also the chance that your cat attempts to run the house ahead of you! Your cat might start hissing at you, growl when you try to move them, or block doorways as you try to pass. Who knows what has made them suddenly decide that want to take charge, but this is one of the most worrisome forms of aggression and needs to be stopped. Otherwise, your cat's outbursts could get worse.
7. Petting-Induced Aggression
Petting-induced aggression is one of the most sudden behavioral changes you will ever witness in your cat. One minute your cat will be purring and seem to love being petted by you. The next second, it's hissing and swatting your hand away. How can its mood have changed so quickly?!
Well, this is due to something known as overstimulation. The petting feels pleasurable to start with, and your cat loves this type of affection. But when you pet your cat for too long, the feeling turns from feeling pleasurable to feeling downright irritating. Sometimes, it can even feel so intense it becomes a little painful. All of a sudden, your cat wants you to stop petting right away.
Unfortunately, cats can't communicate this to us in words. They will try to tell us first using subtle body language, but unless you know what you look for, these signs can be difficult to spot. Therefore, your cat is left with no option but to hiss and push your hand away. They're not trying to hurt you, but just want you to stop the repetitive motion ASAP.
8. Redirected Aggression
Redirected aggression is one of the most confusing types of aggression in cats. Whenever I find my cat attacking me all of a sudden without an obvious cause, redirected aggression is usually why. Although it seems like the outburst is from nowhere, your cat has its reasons.
This is when your cat enters a hyperactive and aggressive state due to some external stimulus that is out of reach. The most common example is seeing a bird or mouse outside the window which your cat cannot get to. Their hunting instincts kick in, but there is nowhere for them to be released.
If you walk past while this is happening, you might be the outlet for your cat's energy and aggression. This is often only a possibility if your indoor cat is suddenly aggressive – outdoor cats usually respond by shooting outside and catching the prey. However, it is impossible to know what has triggered your cat, and some outdoor cats can still exhibit this type of aggressive behavior.
9. In Heat or Looking for a Mate
Is your unspayed female cat suddenly aggressive? This could be a sign that your cat has entered into its heat cycle. Heat triggers all kinds of behavioral changes in cats – some become protective and aggressive, whereas others become more loving. My cat is so affectionate all of a sudden when in heat, but this all depends on your kitty!
Thankfully, heat is pretty easy to identify, so you can easily tell if this is the reason for aggression. You might notice your cat meows at the door, yowls and cries constantly, and rubs up against everything in your home. She's begging to be outside, and trying to attract any males nearby using her voice and her scent. Males that sense a female in heat nearby can also become more aggressive.
Aggression is also one of the possible pre-labor signs in cats. So, if mating was successful, this aggressive behavior might continue! Your female cat knows she is carrying a litter of kittens and will become very protective. She will do anything to ensure her kittens survive, even if that means hurting her owner, other people, and other animals.
10. Predatory Aggression
Finally, your cat could be exhibiting predatory aggression due to hunting instincts. Usually, domestic cats direct these hunting impulses in a healthy way towards toys. However, when these impulses are misdirected towards you or other animals, it can result in drawn blood and a lot of upset.
If this is the cause of your cat's aggression, they'll probably pounce on you as if you were a toy. For example, they could jump onto your feet from under the couch as you walk past. Is your cat so hyper all of a sudden, too? This is another sign your kitty is playful – it isn't trying to injure or attack you, and just hasn't learned this playful behavior isn't okay.
Unfortunately, this issue is quite common. Many owners tease kittens with their fingers playfully and find it adorable when they chase after them. Yet this teaches kittens this behavior is acceptable and causes all kinds of issues with aggression when your cat is a little older.
How Can I Calm an Aggressive Cat Down?
With the above information, you should be able to figure out why your cat is aggressive all of a sudden. But what should you do when this happens? And is there a way to calm down your hissing, biting, and attacking cat?
My best advice is to pick up on the signs of aggression early and treat these as warning signs. You might notice your cat's ears are flat against its head and pupils are dilated. Cats will also puff up their coats and tails and arch their backs, before starting to hiss. These are all signs that your cat is feeling threatened and that they might start scratching and biting.
Take note of these signs closely and immediately stop whatever you're doing. Leave your cat alone to have time to cool down, and let your cat hide if they need to. This can put a stop to your cat's aggression before things get physical.
You can also reduce the number of aggressive incidents by doing all of the following things:
Providing a safe space your cat can retreat to when they feel stressed or scared
Booking an appointment with your vet to rule out any medical conditions
Never yelling at your cat as this can spark aggressive behavior or exacerbate it
Neutering your cats to help reduce territorial tendencies and aggression due to heat
Never let children interact with your cat unsupervised to avoid rough handling
Seeing a behavioral specialist if the aggression is getting uncontrollable and dangerous
MY FINAL THOUGHTS
If your cat is aggressive all of a sudden, it can be extremely confusing. However, while this behavior might seem out of the blue, know that there is always a cause. Your cat might feel threatened, feel its territory is being invaded, or just be trying to play. Use this article to work out which reason applies – knowing the cause of this behavior is the first step to stopping it.
You can then use some of the above tips to help reduce the number of aggressive outbursts. Something as simple as learning cat body language and picking up on how your cat is feeling can help dramatically. But if you are still experiencing issues, speak to your vet or a behavioral specialist. Your loving furball is still in there somewhere, it just needs coaxing back out!