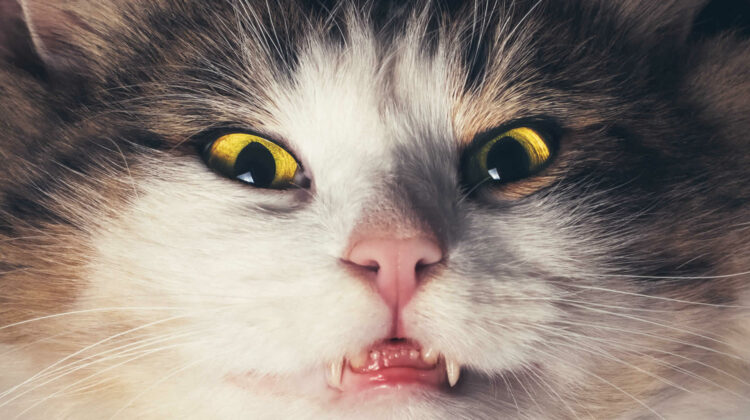 Cats have a bad reputation for being unpredictable, and when this unpredictability is linked to aggression it can become extremely dangerous. Unfortunately, aggression is a common problem in cats. In fact, it is the second most common reason for seeing a behavioral specialist.
As a cat owner myself, I have dealt with my cat biting and attacking me many times. It is always a bit of a shock. Half of the time we seem to be getting on well, then suddenly my cat randomly attacks. If your cat attacks you unprovoked, you're likely searching for answers too. Why is my cat attacking me all of a sudden? What have I done wrong?
The answer to this question is not straightforward though. Cats can act aggressively and attack their owners for all kinds of reasons! I explore all of these in this article, so see which you think applies. Discovering why your cat attacks you is the first and most important step in stopping this behavior.
Why Do Cats Randomly Attack Their Owners?
1. Misdirected Play
Cats are natural-born hunters. It is hardwired into their DNA to hunt prey, as this is a skill that wild cats rely on to survive. If they didn't hunt and secure their next meal, they'd quite literally starve to death! The better the hunter, the higher the chances of survival.
Although domestic cats don't need to hunt to survive – they have you to dish them up breakfast, lunch, and dinner every day without putting in any hard work of their own – these hunting instincts persist. And one outlet for this behavior is through play.
Look at how your cat plays with its toys. You'll notice that the motions are extremely similar to how cats hunt. They will stalk their toys, chase after them, before giving them a cat bunny kick. They'll also often get their claws out and bite their toys with their sharp teeth.
Playing with their toys in this way is completely normal. In fact, it is actually recommended! Toys are a perfect outlet for cats' innate hunting instincts and enable cats to let these wild instincts show without causing pain to anyone. But cats don't know what is considered a toy unless they are taught from a young age.
Many owners don't teach this to cats when they are kittens. They'll wiggle their fingers playfully and love watching their kittens run and pounce. But this teaches cats that you are a toy that they can pounce on, chase after, and bite. And adult cats can cause a lot more damage than kittens!
If your cat attacks your legs as you walk past or pounces out and attacks you from under the couch, they're probably just trying to play. My best advice is to make sure you have plenty of exciting toys to hand. Whenever your cat does attack you, redirect their attention to these toys instead.
2. Redirected Aggression
Not that long ago, I found my cat hissing at me all of a sudden. I tried to calm her down, and the next thing I know is my cat attacks me unprovoked! It's safe to say I was extremely confused. There is no way this is misdirected play, as cats that are playing won't be angry and hissing. So, what could it be?
This happened a few times, until one day I realized what was going on. We had a robin next in our garden and my cat had spied this little bird hopping along the windowsill. She went mental and started hissing at the window. Because I was in the room, I received the backlash and got attacked.
This is a classic case of redirected aggression, one of the most dangerous and unpredictable types of aggression in cats! It is where cats get aroused by a stimulus outside of their reach. In my case, this stimulus was the robin. But because the cat cannot reach this stimulus they take their frustrations out on another target: you!
Seeing small prey outside of a window is one of the most common triggers of redirected aggression in cats, but any external stimulus can trigger the same response. It could be a dog or other larger animal outside the window, or even a loud and frightening noise or smell.
3. Fear and Anxiety
Fear aggression is another common reason for cats to suddenly attack their owners. Cats are pretty sensitive creatures and can get startled very easily. They might get scared by an unknown animal or person in your home. Unfamiliar smells, loud noises, or changes to their routine can also evoke fear.
Now, when cats are scared they don't instinctively attack. They first try to scare off the threat and escape. For example, cats arch their backs to make them look bigger and more threatening. They'll also look for a quick escape route that they can use before things turn physical.
However, if your cat feels like they cannot escape or avoid the threat then they turn to physical violence. They don't know what else to do and are just trying to protect themselves. But this behavior can cause you, other family members, and other animals pain and injury. So, it needed to be stopped!
My cat attacks me violently when stressed and scared, so I have to make sure she never feels fear. As cats are extremely sensitive, this is easier said than done though. My best advice would be to make any changes as gradual as possible. Go through the long process of introducing new pets and people properly. Trust me, you'll thank me later!
Another good tip is to make a safe space that your cat can retreat to whenever they feel scared. This should drastically reduce the number of cat attacks you're facing. Make sure there are plenty of places to hide and several high perches. Cat flaps and other escape routes are other great ideas.
4. Previous Trauma
Cats that have gone through previous trauma in their lives are generally more sensitive. Their reactions might seem over the top, and they might act out aggressively more often than other cats. This is usually because something links back to their trauma, causing this "over the top" response.
If your cat attacked you for no reason and you've just adopted a stray, there is a high chance they've been through a bit of an ordeal earlier on in life. They're dealing with mental pain, which is causing them to act in an unpredictable and sometimes violent way. They don't know how to deal with their mental state, and sadly this is often released as anger.
Even if you have had your cat for a while, don't rule out trauma as a reason for their aggression. Cats get into all kinds of trouble while they are out exploring. For example, your cat might have had a near-miss with a road traffic accident. Now, every time they hear a car horn outside the window, they become tense and aggressive.
Of course, cats cannot talk to us about any trauma that they have gone through, so we are limited on what we can do to help them. We can't properly understand what they have gone through, so cats need to process it at their own pace.
It might take a while following the incident for your cat to return to its normal behavior. In the meantime, you'll just need to make your cat feel as safe as possible in your home and provide as much love and affection as you can. Try and work out what the triggers are too so you can limit them.
5. Medical Conditions
Whenever my cat attacks me unprovoked, I call up my veterinarian. Unusual aggressive behavior is often tied to medical conditions. These conditions can be causing your cat pain, which makes them irritable and frustrated. These feelings can manifest as aggression towards you and others.
Cats are masters at hiding pain. This again links back to survival – in the wild, cats that appear weak, sick, or injured are more of a target for predators. The better cats can mask their feelings of pain and act like everything is fine, the better their chances of survival.
However, this can make things tricky for us owners. It means cats can have medical conditions that go unchecked for months on end because they're so good at hiding their discomfort from us. So, even if you don't spot any other symptoms, don't rule out medical conditions too quickly. Subtle changes in behavior are often the first sign that something is wrong.
One of the most common diseases linked with aggression is arthritis. Arthritic cats will suffer from bad joint pain that can make them more sensitive to touch. Unbeknown to you, touching your cat can make this pain worse. They might end up lashing out and attacking you as a result.
The same situation is true for dental diseases, sprains and strains, open wounds, skin infections, and even matted fur. All of these make your cat more sensitive to touch. Cognitive decline and other neurological problems can also change your cat's behavior. Take your cat to the vet and get them checked out. Even if nothing is wrong, it is always better to be safe than sorry.
6. Petting-Induced Aggression
Occasionally, my cat bites me when I pet her. This is a particular type of aggression known as petting-induced aggression. It is caused by overstimulation. This happens when you stroke your cat for too long and the feeling of pleasure and enjoyment transitions into feelings of pain. Like most things in life, cats only find petting enjoyable in moderation.
All cats have different limits when it comes to petting. Some are pretty tolerant and will happily allow you to stroke them for 30 minutes or so. On the other hand, some cats only like being petted for as little as 30 seconds! We have to respect these limits, whatever they may be.
Thankfully, this is a form of aggression that can be completely avoided by watching out for early signs that your cat has had enough petting. When your cat starts to get agitated, they will start to thump their tails. You might also notice the skin across their back start to ripple.
Your cat will also try to push you off when it has had enough. It might try this with its paw initially, pushing your hand gently out of the way. They might also lick you before giving your a gentle nip. If this happens, stop petting your cat right away and let them jump off your lap.
It is important that you don't try and lift your cat off your lap, as this could make them attack you. İf they are sitting on the couch next to you, you can simply get up and walk away. Over time, you will learn exactly when your cat's tolerance is as well. You can then simply stop petting before this limit is reached.
7. Territorial Aggression
Cats are extremely territorial creatures and use scents to mark objects and areas as "theirs". When their space is threatened, they will do anything to defend it. As such, if your cat is attacking you all of a sudden, it could be because they feel like their territory is being encroached upon.
Territorial aggression usually happens if there is a new and unknown person or animal in your home. Adopting a new pet is a great example. Your cat doesn't know anything about this new animal and doesn't like that it has to suddenly share its space. They then become more aggressive in general while in pursuit to defend what they perceive to be "theirs".
A new person entering the home can have the same effect. Many cat owners experience territorial aggression after bringing a new baby home or having a partner move in. Even something as subtle as an unknown guest entering your home could make your cat feel territorial.
Changes outside your home can also trigger territorial aggression. If your neighbor has just adopted a cat, their presence can make your cat stressed. And while all cats are territorial, active males are more known to exhibit this form of aggression. If another active male has just moved next door, it's bound to cause a little tension.
If you're dealing with territorial issues frequently, I would consider getting your cat neutered. This has been shown to help cats relax when it comes to sharing spaces. Try to make everything else in their life as consistent as possible as well to promote overall calmness.
8. Heat & Sexual Arousal
Finally, your cat might suddenly attack you if they are in heat. When females go into heat, they'll go to no ends to find a mate. This produces all kinds of behavioral changes. Some females in heat will become more affectionate, whereas others will become aggressive and lash out at their owners.
Although males don't go into heat, they can also attack when feeling sexually aroused. When males can sense a female in heat nearby, they become fixated on finding her and mating. Male cats have an instinct to grab and bite the female during mating so she cannot escape. So, if your male can sense an active female nearby, it is common for them to bite you.
Of course, this is only a possibility if you haven't neutered your cat. Cats that have had their sexual organs removed won't have the urge to mate and so won't ever experience this kind of aggression. However, owners of any active cats might consider getting their cats neutered to put this type of aggression to bed.
Another option is to redirect sexual aggression as and when you notice it. Use toys and encourage your cat to play with them instead. This can help them get out their sexual frustrations without causing harm to you or others in your home.
MY FINAL THOUGHTS
So, why is my cat attacking me all of a sudden? As you've just learned, there is no simple answer to this question! Cats get aggressive for many different reasons, including misdirected play, overstimulation, fear and territorial invasion, or sexual frustration.
One of the most dangerous and confusing types of aggression is redirected aggression. This is one of the main reasons why cats randomly attack their owners and can be the hardest to figure out. There's also a chance your cat is suffering from an illness or injury which is causing them to lash out.
Whatever the reason, it is important to get this unwanted behavior to stop. Cats can be pretty vicious, and you don't want to end up getting hurt! After analyzing your cat, try some of the suggestions provided in this article to help calm them down.
If nothing seems to work, consider contacting a behavioral specialist. You don't need to live life fearing a cat attack, and with a little work and persistence you two can be best friends again!