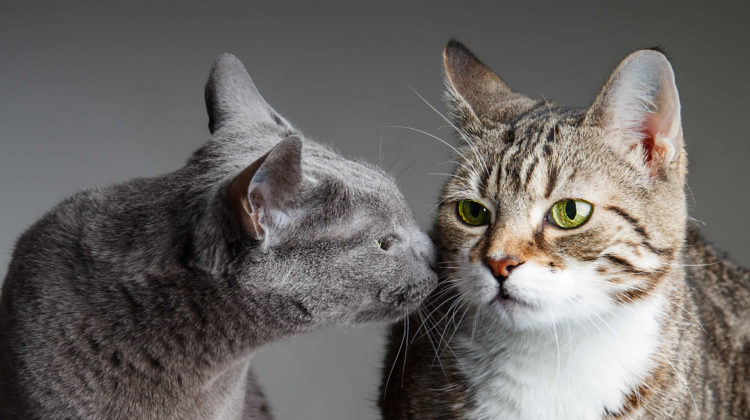 Sometimes, it may seem like your cats absolutely hate each other.
More often than not, one of them may seem to always treat the others like a generic school bully – eating the others' food, shoving the others away, or hissing at them with contempt. Well, I can definitely say that you're not alone in observing such behavior in multi-cat households.
It is pretty common to observe aggressive behavior in cats towards each other. As we all know, cats are independent and possessive animals that make up their own rules in their way of living. Unless two cats have grown up together and have gotten used to each other over a lengthy period, it may be difficult for them to get along at first and this initial hostile relationship may persist over time.
This is why introducing cats successfully is crucial for them to establish a healthy relationship with each other. However, I am aware that if you're reading this article, chances are you are well past the point of introduction. Don't worry because in that case, there are still measures you can take to establish relative future peace between your cats.
The most effective tool to deal with cat aggression is behavioral conditioning of the aggressive cat. This can be a process that takes a bit of time, but once you stick with it, you will be able to replace aggression with toleration and peaceful co-existence. Of course, each context and each cat is very different. So you may want to read below for ways to cope with aggression stemming from a variety of issues.
Causes of Aggression Between Cats
Being in Heat
Besides spraying urine, restlessness, and increased vocalization, being in heat also causes aggression in cats.
In fact, being in heat is one of the most common reasons for physical aggression between cats.
A male cat in heat will show physically aggressive behavior. During this period, the male cat will chase another cat (male or female), corner them from behind and bite their neck to be able to mate.
If the other cat is not a female cat in estrus, this will be an unpleasant thing to experience.
Female cats in heat can also display more aggressive behavior. They will hiss and growl more than usual, and may even become physically aggressive.
Environmental Changes
Environmental changes can include moving to a new house, the addition of another pet or human to the household, changes in the daily routine, rearrangement of furniture, etc. It is basically any type of change that causes confusion and calls for a reestablishment of social and territorial dynamics around the house.
Cats are very dependent on the stability of their territory and routine. Any new factor introduced to your home will challenge this stability and affect your cats. Try to keep these changes to a minimum. If the change can't be avoided, facilitate a controlled and subtle transition as much as you can.
For instance, if you're getting a new pet, arrange a proper introduction. If you're rearranging furniture, spread out the process over a couple of days. If you've moved to a new apartment, make sure your cats know where everything is (litter boxes, food dishes) and provide each of them with plenty of separate space.
Presence of an "Easy Target"
When there is a "vulnerable" cat in your household, she may become an "easy target" for your other cat(s) in their quest to establish a hierarchy.
We might assume that an older resident cat would more likely be a bully to a newcomer kitten. However, this is not always the case. A kitten may very well end up bullying an older cat, or a newcomer may terrorize the resident cat.
There is no rule that one age group, sex, or physical trait will determine becoming a target. Depending on the circumstances, the vulnerable cat can be a kitten, an older cat, an injured cat, a stray cat, a newcomer cat, or the resident cat.
Being aggressive or vulnerable is dependent on many factors including a cat's psychological state, their inherent inclination for introversion or extroversion, and the life they have experienced so far.
Territorial Disputes
Territorial disputes are common if the shared space is cramped and when most items are shared. Cats like to mark their territory and feel ownership and familiarity with spaces, objects, and humans. If several cats are living together, it is fairly common for them to experience these territorial disputes.
The best way to avoid these issues (as you'll see below in more detail) is to provide each cat with her own set of items and space. Get multiple litter boxes, food bowls, toys, perches, etc. This will diminish their chances of fighting over ownership of these items.
If you can, allocate each cat an individual safe space -you can do this with the aid of smart cat doors. Place their litter boxes and food dishes far apart or in separate rooms.
What Are the Signs of Bullying?
Sometimes it is easy to confuse harmless, fun play with bullying. It may also be difficult to suspect bullying altogether if it doesn't appear in the form of a physical fight. Here are the unmistakable signs that will help you recognize aggression between cats.
Vocal Signs
Hissing and growling are trademark signs of hostility between cats. You can hear occasional hissing during harmless play too. However, if you observe your cats facing each other and constantly hissing, that is a clear sign of hostility.
These vocal signs may not always escalate to a full-blown fight but you should still keep an eye on the situation. If one cat is constantly hissing at the other, she may be blocking her access to certain places or items.
Confrontational Gestures
The vocal signs mentioned above are usually accompanied by certain gestures. Remember, cats can show contempt without getting physical with each other. These can lead to physical confrontation.
When cats are enjoying a nice, bonding playtime, they usually have their ears upright. Their body language appears relaxed, rather than tense. The playtime is usually preluded or concluded by sessions of cuddling and/or grooming. You can be sure that a serious fight doesn't start or end with such bonding sessions.
When cats are about to fight, their ears are pulled back flat behind their heads. Their tails are puffed up, their back is arched, and they intently stare at their opponent, evaluating her slightest move. This is the perfect moment to distract them.
Blocking Access
The bully cat will often block the victim cat's access to her food, litter box, certain areas of the house, toys, and even affection from you. It may be hard to notice this type of subtle bullying, but it can be psychologically and physically very disruptive for the victim cat if this type of bullying persists. So make sure to be attentive and look for signs of this subtle bullying.
You may suspect shady business going on if you discover one of your cats is using places other than her litter box to urinate or defecate. This may be an indicator that she doesn't have easy access to her litter box.
You may also catch your bully cat hissing and growling frequently at your other cat whenever she comes close. The bully cat can be guarding certain areas and not letting your other cat near those places. Pay attention to where these hisses and growls take place: is it in front of the threatened cat's water or food bowl? Is it in front of the litter box? Is it when your bully cat is in your lap and doesn't let your other cat come close to you?
Physical Aggression
Actual physical aggression is a not-so-subtle sign of bullying. While it may be possible to overlook the abovementioned signs, this one should be pretty hard to miss. Catfights can get very intense and even result in serious injuries if not handled properly.
As I've said before, harmless playtime and fighting can be hard to distinguish sometimes. However, once you take into consideration everything that leads up to it and happens after, you can be pretty sure.
If there are grooming and cuddling involved and if the cats appear relaxed in each other's company, then it is not a fight. On the other hand, if they appear vocally and physically tense and if they rarely spend time before or after getting physical, then it is probably a fight.
How to Stop and Prevent Aggression Between Cats
Re-Introduction
We've established that a good first meeting is the most useful preventative tool for inter-cat aggression. However, if you've missed that chance, you can still re-create an introduction by facilitating certain conditions:
First of all, choose a neutral location that the bullied cat feels relatively comfortable in. Make sure that this room is spacious so that there can be a safe distance when cats need to get away from each other. Don't forget to place separate water and food bowls and litter boxes for each cat in separate corners of the room. You don't want to handle sessions where one cat needs to pee or another feels hungry. You should have everything they need in this room.
The next important issue is to have the necessary arrangements to keep the aggressive cat under control. These arrangements can include a leash, a carrier box, a wireless fence collar, as well as harmless deterrent stimuli such as sprays or noise. Use these tools to gain immediate control over the aggressive cat if she tries anything physically hostile. Limiting tools such as a leash or a carrier box will also help the threatened cat feel relatively safe in the room.
Keep your treats handy when coordinating the re-introduction sessions. Treats are your best friend when it comes to training your cat in and out of certain behavior. Offering tasty treats during the re-introduction sessions will build positive associations about the sessions. For the treats to work effectively, use ones that you know your cats love.
Keep your toys handy and try to get the cats to play together with you. Having playtime will also build positive associations with each other and be useful as a distraction in tense moments. In order to enjoy playing, your cats need to be comfortable: they shouldn't be hungry (not too full though), thirsty, or sleep-deprived. Arranging your sessions according to these will also help.
Consider using pheromones and natural calming extracts. These will provide a little extra push to facilitate a calm, stress-free meeting. As you know, cats are very sensitive to smell. They can recognize each other and places through their smell. They often rub their noses on things (spaces, other animals, humans) to mark them as familiar. Synthetic pheromones mimic this familiarity and ease anxiety by doing so. Natural calming extracts like catnip are also handy to relieve stress.
Keep in mind that a re-introduction of your cats will probably take more than one session. You may need to keep them separate for the duration of this process, arranging controlled meetings daily for a few hours at a time. Be patient and keep at it. You can increase the duration of these meetings as your cats seem to grow more and more comfortable with each other.
Spaying or Neutering
As I've mentioned above, both male and female cats can display aggressive behavior towards each other when in heat.
Spaying (for female cats) or neutering (for male cats) is the most effective method to prevent heat-related aggression. These operations should ideally be done before a cat turns one year old.
Spaying and neutering will also eliminate other heat-related behavior such as urine spraying, extreme vocal expressions, and restlessness.
Increase the Quantity of the Object that Can't Be Shared
This may be a toy, a litter box, a coveted perch, or any such thing that your cats can't seem to be sharing. Having more than one of these will decrease the chances of your aggressor cat going overboard with her territorial claims. When there is one of each thing, a more dominant cat will likely take control of that thing.
The litter box is perhaps the most important item that you should duplicate because if one cat doesn't let the other use the litter box in peace or at all then you have a serious problem in your hands. The consequences of this can range from psychological issues to urinary tract problems for the victim cat.
You know the golden rule: the ideal number of litter boxes equals the number of cats plus one. Place the litter boxes in different areas of the house, if you have space.
You should also double the number of their favorite toys, water and food dishes, and perches.
It is a smart idea to place these items in separate places and not right next to each other. For example, if one cat is blocking access to all the food bowls, having the bowls in different rooms will be helpful. This way, the threatened cat can eat in peace in one room while the bully cat is eating in another. You may close the doors of these rooms too.
Break up the Catfight as Soon as You Can
When you notice the above-mentioned pre-fight gestures, act at once to de-escalate the situation. If your cats have physically started fighting, break them up immediately. Do not wait for them to fight it out!
When breaking up a catfight, do not try to do it physically. This will likely result in you getting scratched and it will also make you a part of the fight. Your cats may lose their trust in you too.
Instead of physically stopping the fight, do it by using tools to distract your cats. Have an annoying (but harmless, of course) deterrent handy. This can be a water spray, a hissing spray, or a harmless cat deterrent spray.
If you don't have any of these items, just a loud noise can do the trick. You can clap your hands, bang two objects together, whistle loudly using your hands, or any other thing that you can think of that will make a loud, distracting sound.
In addition, use your voice as a verbal cue to express disapproval. Whenever your bully cat is being hostile, use the same disapproving tone of saying "no!" or "don't!". This will condition your cat to associate this tone with unwanted behavior.
You may also consider throwing something soft but distracting in between your cats, like a pillow or one of their soft toys. Just make sure the object doesn't have sharp edges or isn't heavy – you don't want to injure your cats. Try to aim it right next to them instead of directly on them.
In dire cases, you can try to remove one of the cats with a towel. This will disorient and distract her while sparing you the blood-drawing scratches.
Behavioral Conditioning for the Bully Cat
Breaking up the fight with a harmless but annoying stimulation is an important part of behavioral conditioning. However, you should also focus on correcting the aggressor cat's behavior that leads up to the actual fight. This includes dealing with all the "subtle" bullying I've mentioned above.
Behavioral conditioning is best facilitated through giving rewards at the appropriate time. For cats, the best reward is often a tasty treat. Treats can be accompanied by approving and praising words from you.
First of all, never dismiss or unintentionally reward aggressive behavior. Whenever you catch your aggressor cat in an act of bullying, condition her to drop the behavior by intervening with an annoying stimulus. Once she stops displaying the unwanted behavior, then offer her the reward.
Don't give the reward as a distraction during her bullying – instead, make sure that she stops it first and then offer her the reward. This will associate the reward with stopping the action rather than doing it.
When you catch your aggressor cat about to engage in physical hostility towards your other cat, try to distract her with a toy or a laser beam. This will likely redirect your cat's attention and might even transform that tense moment into a satisfying playtime for her.
If you don't feel confident in handling this process, you may also consider getting help from veterinary behavioral professionals. Consult your vet for recommendations and suggestions.
Establish a Safe Space for the Victim Cat
While you are dealing to correct your aggressor cat's bullying behavior, don't forget about your victim cat. Behavioral conditioning can be a lengthy process and it will help your bullied cat greatly if she can have a safe space while the aggressor cat learns to get her act together.
Besides getting an extra litter box, toys, or food dishes, you may also consider some arrangements in your house with the aid of indoor wireless fences and smart cat doors. The threatened cat needs a space for herself that her bully doesn't have access to. Here's how you can keep a room safe from the aggressor cat:
The first method is to use a smart cat door. The victim cat wears a collar that allows access through a cat door to the safe room. The cat door will only recognize that collar and open up for it. The aggressor cat can't go through because she isn't wearing the collar.
The second method is to set up an indoor wireless fence. This means that the aggressor cat wears a collar which triggers a harmless but annoying "correction" (like a high-pitched sound or shock) when she trespasses a certain boundary. You can set the diameter of this fence to cover the safe room of your victim cat.
CONCLUSION
As you have seen, there are many reasons for and many ways to deal with aggression between cats. In most cases, you can work towards some sort of armistice. Don't expect your cats to suddenly fall in love with each other or become best friends that snuggle together. Keep your initial expectations low and aim for basic toleration and avoidance on their part.
Who knows, they may grow not only to tolerate but maybe even enjoy each other's company in time. Just remember that this is a process that takes time and patience.
Keep in mind that if the situation between your cats doesn't get better and poses an ongoing threat to your cats' safety, you can always consider resituating one of them. I know this sounds grim, but it is better than risking your cats' safety and psychological well-being.