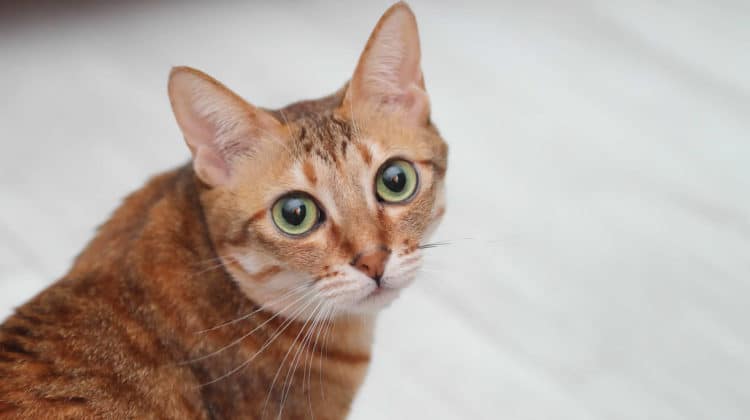 For more than 10,000 years, humans and cats have been associated with one another.
Back in ancient Egypt, cats were domesticated as much as 4,000 years ago. Because cats were highly respected and valued, it was common for ancient Egyptian pharaohs to give their cats the same burials as they had. As cats have been associated with humans for so long, it's no wonder that there are over 500 million domesticated cats in the world.
Cats are known for being incredibly intelligent creatures as well as being finicky and aloof. They tend to hide and sleep in tight areas such as dresser drawers, boxes, and behind sofas. However, they are most famous for ignoring us!
While cats have many strange characteristics, they also have the reputation for being amazing cuddlers. And the most cuddly of all the cats seems to be the orange tabby cat.
This makes us ask the question: Why are orange tabby cats so affectionate?
Our best answer for why orange tabby cats are so affectionate actually has two parts.
The first reason why they are affectionate is because they like to be social. The second reason is that people tend to gravitate to their color and show them more attention because of it, so that makes them even more social and crave our attention.
Since cat mood swings can vary by day and sometimes by the minute, it's important to understand all we can about orange tabby cats, their fellow tabbies, and even breeds and their habits and characteristics that make them affectionate or not.
Most of us know what an orange tabby is. However, for those of us who don't know, orange tabby refers to the color of the basic tabby cat. Tabby actually refers to a cat coat pattern even though many people think that tabby is a cat breed.
Most cat breeds can have tabby patterns. Tabby patterns often appear in stripes, spots, or whorls, but they can also feature other shapes. The most characteristic feature of a tabby cat is the "M" shaped pattern on their foreheads and between their eyes.
Tabby cats can be purebred, or they can be a mix of different cat breeds.
It is theorized that tabby cats get their patterns from the African wildcat, which has a mackerel pattern and the distinct "M" on its forehead. Since there are more patterns than just the mackerel of their ancestors, it's important to know their details as well.
Don't worry! We'll get back to orange tabbies in a minute!
Tabby Patterns
As mentioned before, there are quite a few different tabby patterns. And while some tabbies will have a mix of patterns, there are some that are typical and beautiful.
Keep in mind that while some of these patterns occur naturally, many of them have been honed through selective breeding.
Mackerel Tabby Cat
Let's start with the pattern that comes naturally from their ancestry.
Mackerel tabby cats are often called tiger cats because of the stripes that run down their body. These stripes are mostly vertical because, in the wild, cats typically have to blend into their surroundings.
Even though wild cats (and domesticated cats) climb trees for prey, they often need to track mice, lizards, and sometimes snakes through tall grasses. These vertical stripes act as camouflage, which makes it easier for the cats to sneak up on their potential meals.
In addition, in the wild, this striped, mackerel pattern would help protect them from predators.
This striped pattern is also thought to look like a fish skeleton, which is where it gets its name: mackerel.
Broken Mackerel Tabby Cat
Broken mackerel tabby patterns and regular mackerel patterns are the exact same, except for one difference. Like the name implies, cats with these patterns will have dashes instead of solid lines, which are somewhat similar to dotted lines.
The stripes are broken into much smaller sections, but they are placed around the body in a similar way. The fish skeleton is broken into pieces with this broken mackerel tabby pattern.
Braided Stripe Tabby Cat
The braided stripe tabby is another version of the mackerel tabby. Instead of having the long vertical stripes like the mackerel, the braided stripe tabby will often look like its stripes are crossing over one another in addition to all the similar striped markings on their tails, necks, and legs.
This type of pattern is often called the candle flame tabby because as the stripes are criss-crossed, it makes the lighter hair appear in a pointed oval shape that looks like a candle flame.
Classic Tabby Cat
This classic tabby pattern is often referred to as blotched.
Classic tabbies usually have similar markings to mackerel tabbies with some key differences. While both patterns feature stripes along the neck, legs, and tail, classic or blotched tabby cats will have darker and thicker stripes.
In addition, where mackerel cats have vertical stripes down their sides, the classic tabby will have dark swirls. Often, there is a dark, continuous strip of darker fur from between their ears to the base or sometimes the tips of their tails.
Spotted Tabby Cat
Spotted tabby cats have similar markings to big cats around the world like cheetahs and leopards. Like the mackerel tabby cats, these spotted patterns started to appear to make it easier for cats to blend into their surroundings.
Cheetahs use their spots for camouflage as their spotted coats will offset shadows in the grass in which they prowl. This makes it easier to stalk their prey because zebra or gazelle sight can't differentiate between the shadows in the grass that's around the cheetah.
This spotted variation would also protect vulnerable cubs from larger predators and other big cats.
Spotted tabbies may use their coats in similar ways if they're outdoor cats that hunt down prey in meadows or in overgrown yards. Many tabbies don't need their coats in their domesticated lives.
Ticked Tabby Cat
At first glance (to the untrained eye, that is) ticked tabbies don't even look like tabby cats. However, there is one characteristic that gives them away.
Ticked tabbies have coats that lack the typical pattern of tabby cats. Instead, they may have some markings on their legs, and some will have light stripes on their tails. The best way to identify this kind of tabby is by looking at their faces.
Ticked tabbies have the characteristic "M" on their foreheads.
In addition, some of these ticked tabby cats look more like tabbies on closer inspection. These cats will have individual hairs that feature alternating stripes of light and dark colors.
From a distance, their coat will look solid except for their lighter stripes in the characteristic areas and the "M" on their heads.
Agouti Tabby Cat
The agouti tabby is incredibly similar to the ticked tabby. In fact, just like the ticked tabby cats, these tabby cats look like they're not tabbies at all unless you get really close.
Agouti tabbies are often referred to as the non-striped tabby because, unlike the ticked tabby, they have minimal striping patterns. If their stripes are present, they are often very light and hardly noticeable.
These cats will also have the individual hair strands with light and dark striping.
Clouded or Marbled Tabby Cat
This is a version of the classic, blotched tabby pattern.
The clouded tabby features the same thicker markings along the legs, neck, and tail. However, the markings along the sides and the black are more cloudlike in shape and feature lighter colored hair in the center.
This pattern variation is typically found in wild cats, but it can also be found in wildcat and house cat hybrids.
Sokoke Tabby Cat
Yet another version of the classic tabby, the sokoke tabby is very similar to the marbled tabby as well.
Instead of light colored hair in the markings, with sokoke tabbies, they will have agouti colored hair inside. Remember, agouti refers to the individual hairs that have striped patterns, but it looks like it's a solid color from a distance.
The sokoke tabby is basically a mix between the agouti or ticked tabbies and the classic tabby cats in both shape and color variation.
Oceloid Spotted Tabby Cat
Just like the classic tabby and the mackerel tabby have pattern variations, the spotted tabby does as well. This first version, the oceloid spotted tabby, features a striped tail and legs with thin but dark bands.
The biggest differentiation is on their sides and their backs. While spotted tabby cats have spots all over, the shape of the oceloid spots are different.
While the oceloid spotted tabby does have regular spots all over their bodies, on their sides and their backs, they feature markings that are similar to backwards "C"s. These shapes typically start smaller near the head and neck, get bigger along the cat's side, and then they get smaller again at the tail.
In addition, these cats are typically found in the wild or in hybrid domestic cats.
Rosetted Tabby Cat
While the spotted tabby primarily resembles cheetahs, the rosetted tabby resembles smaller versions of leopards. This pattern is characterized by the flower-shaped spots that run along these tabbies' bodies.
The rosetted tabby does have thin, frequent stripes along their legs, and their tail is a mixture of stripes and rosette spots. Along their neck, they have small rosettes, and these rosettes get bigger along the back and the sides.
The rosettes themselves can also vary. Depending on the color of the tabby, the outer rosette shapes may be darker with a lighter center. They can also be the converse with lighter rosette shapes with darker centers.
Patched Tabby Cat
The last most common tabby is called the patched tabby. This type of tabby pattern is also called tortoiseshell (or tortie).
Patched tabbies are often confused with calico cats. Calico cats are referred to as tri-colored cats because in addition to a mix of dark brown (or black) and light brown, they also have white. Tortoiseshell tabby cats will not have white. Instead, they will only have the combination of dark brown and light brown colors.
These tabby cats can also have mixtures of black and orange colors as well. And, these patched tabbies are a perfect way to get back to the real reason we are all here!
Orange or Red Tabby Cat
While all the tabby cat patterns mentioned above can have a variety of colors, including chocolates, blacks, grays, and everything in between, one of the most popular colors are the red or orange tabbies. These tabby cats can be lumped into one color category (or two if you prefer red), but they can also have varying shades within.
For orange and red tabbies, their colors can vary about as much as their patterns. Starting at the lightest color, we have what's called the cream color. This color is a shade just more orange than white. Then we go to a slightly darker and sandy lemon color.
Then we get to the darker colors, which are called ginger and orange. Finally, there is a darker orange color that we refer to as red, but really, it's just the darkest orange a cat can be without being brown.
A final shade, which affectionately known as cinnamon, is probably a mixture of the red and brown shades you might see. In addition, you could have a combination of oranges with other colors as well, which would make some tortoiseshell tabbies.
Breeds and Characteristics
Now that we have discussed the many colors and tabby pattern variants out there, we need to talk about the different breeds orange tabbies can come from. While maybe some of us would like to assume that all orange tabbies are sweet and affectionate, it really has a lot to do with their breed.
As we've talked about, orange tabby cats might be more affectionate because they are social and because they are often shown more affection from a young age because of their colors. However, just because orange cats are known for being gentle and loving, it doesn't mean that every single orange tabby will be.
However, it does seem like orange tabby breeds usually will be the more affectionate and friendly breeds.
Abyssinian
Abyssinian cats came from the region known as Abyssinia, which is modern day Ethiopia. While they are not an original breed, as they were descendents of British shorthair and Oriental shorthair breeds, they are incredibly unique.
Otherwise known as the bunny cat, Abyssinian cats are characterized as being intelligent, curious, and quiet. Though these cats like to have their own space, Abyssinians are also said to love human company.
Since they like humans, orange Abyssinian tabby cats will be playful, but they will also be very friendly to anyone who shows them affection.
In addition to their coloring, these cats have short hair because their native region is warmer. Also, they have bright, watchful eyes and large ears, making them adept at hunting their prey or playfully sneaking up on fellow kitties or their humans.
Maine Coon
One of the most popular breeds in the world, especially in the United States, is the Maine coon cat. These cats are one of the largest breeds, and they feature long fur as they have adapted to the harsh and cold winters of the Northeast United States.
In addition to their smooth hair, they also have large paws and long legs with long, tapering tails. Lastly, they have tufted ears, which can protect them from the cold weather.
Orange tabby Maine coon cats will be playful with a moderate activity level. While they don't typically need a lot of attention, they do tend to love affection from their pet parents. They are very intelligent, and many pet owners will teach them a variety of tricks. Though they are quite docile, they tend to be very hardy and independent.
Chausie
If you have an orange tabby cat that's extremely playful, intelligent, and is very active, then it's a good chance you have a chausie orange tabby! Chausie cats are not known for being friendly to children, but they are very affectionate with their pet parents.
Additionally, they require a lot of attention as they are not very independent creatures. If the orange tabby you're around is very affectionate, then it could be a chausie.
While chausies have distinct personality characteristics, they also are known for their short hair, shorter tail, and angular cheekbones. With their long and slender bodies, they seem like they have all the energy in the world.
American Shorthair
Playful, friendly, and affectionate, the American shorthair is also one of the most popular cats in the United States behind the Maine coon. Though they are not as intelligent as some other cats on our list, they really excel at being playful and friendly with fur siblings, children, and they love their owners.
These cats are very docile, and their activity level is usually low. While they are hardy and independent, they would still prefer to get attention from their humans.
Orange tabby American shorthairs will be less vocal than some other cats, but they will let you know when they need your attention. They'll also love playing with toys and snuggling.
Domestic Shorthair
In the United States, the domestic shorthair is one of the most common breeds because they are a mix of many different breeds. They are relatives of American shorthairs, so they are usually muscular with round eyes and faces. Also, they do tend to be smaller in size.
Domestic shorthair orange tabby cats will have a lot of energy, but they also have good balance and agility. These relatively intelligent cats are also calm, good with other animals and children, and they seem to be very vocal, especially when it comes to getting treats.
Additionally, because of their temperament, they are very friendly and will follow you around. With their medium build and their short hair, they are always up for a good cuddling session as well!
Oriental Shorthair
The Oriental shorthair is one of the ancestors of the Abyssinian cat, and just like Abyssinian, the Oriental has a lengthy torso and long limbs with large eyes and ears. Their hair is short, and they tend to be slim but muscular.
As orange tabby cats, these Oriental kitties are extremely playful and are very active. While they're not big fans of children because they're not patient, these tabby cats have need for a lot of attention, and they love being around their owners.
These Oriental shorthairs are also very vocal, and they will let you know when they want your attention. While they are extremely intelligent, they are not hardy or independent. They're not very docile, but they are curious and love exploring with their humans.
Kurilian Bobtail
One of the glowing characteristics of the Kurilian bobtail is that it's exceptionally friendly. They are known for being friendly to humans, both children and adults, and they are friendly to other animals and dogs. They have a tendency to approach strangers to get some pets.
It's no wonder that orange tabby Kurilian bobtails are extremely friendly and affectionate to everyone they meet. They are most likely very social because they tend to be rather needy and rely on humans for their care.
In addition to having short hair and short tails, they are also very energetic and intelligent, so they would require a lot of entertainment and cuddling.
Ocicat
Like many of the other cats on our list, the ocicat is very energetic and playful. These cats resemble ocelots with their coloring pattern, and while they are always tabbies, they are not always orange tabbies.
However, orange tabbies who are ocicats tend to be agouti in pattern. These ocicats are very graceful and athletic with long limbs and tails for balancing and being quick to chase after prey.
In addition to being playful and rambunctious, ocicats are very vocal and intelligent. With their intelligence, they are very easy to train and are capable of performing a lot of tricks.
Orange tabby ocicats are also going to be very affectionate toward their owners and need lots of attention. They are not super independent, but they are reasonably hardy and decently friendly towards children.
Devon Rex
The Devon rex is a small cat with a lot of a lot of energy to share and love to give. These cats are very active and love to jump and climb. They are also very playful, which means they like interacting with their pet parents.
These energetic cats are also known as poodle cats because of their wavy coats. If your orange tabby cat is people-pleasing, then it might be a Devon rex. These tabbies also are characterized by their large ears and eyes.
Munchkin
The final cat on our list is perhaps one of the most adorable. The munchkin cats are most notable for their physical features as they have a thicker body and shorter legs than most cats. Their tail is usually just as long as their bodies, and their eyes are commonly spaced farther apart than other breeds.
In addition to their short stature, munchkin cats also love shiny objects, and just like raccoons, they'll snatch a silver necklace or a gold pocket watch, taking it for themselves.
While they love shiny things, they are also very intelligent, loving, and very friendly to children and other pets. They are high energy cats who love to play and learn.
Orange tabby munchkin cats will be extremely needy for attention, and they will absolutely love cuddling with their humans at any given moment of the day. Though they are not very vocal like other attention-seeking cats, they will likely let you know when they need a treat or some scratchies.
FINAL THOUGHTS
It's no secret that orange tabby cats are affectionate and love being around people as they get loads and loads of attention.
Not only are orange tabby cats more likely to be friendly, they are most likely to be males than females as well. Statistics show that there are 2 female orange tabbies for every 8 male orange tabby cats. And, interestingly enough, there will never be a solid orange cat. They will always be tabbies and will have some spots, stripes, rosettes, clouds, or patches.
You have to keep in mind that just because a cat is an orange tabby, it doesn't mean that they will always be very affectionate, cuddly, and loving. It really does depend on the tabby cat's breed and their characteristics. Maybe it is a coincidence that many of the tabby cats that are orange are usually from social and friendly breeds, but then again, maybe not.