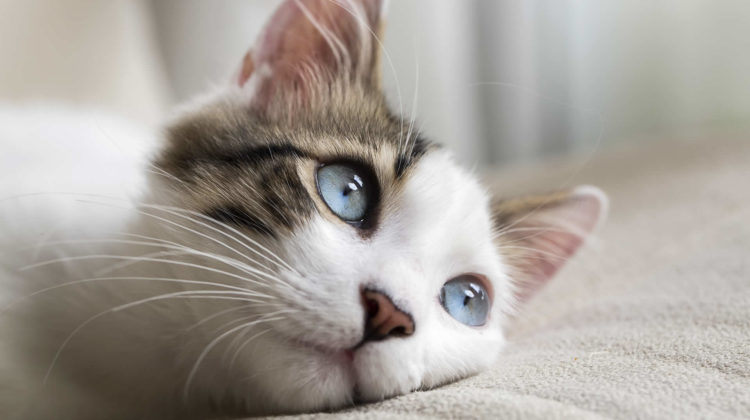 Cat diapers are among the greatest inventions in the past years.
From my own experience, cats have always been in my life and I believe cat diapers are versatile enough to use in different feline situations.
Cats with long-term medical conditions, spraying problems, and special needs as well as cats on postoperative recovery do require special diapers for cats. If you're lucky to own a cat who enjoys traveling, a few cat diapers in your bag is a must-have.
The first time I began to look for cat diapers when my 16-year-old Persian cat got sick. He had mobility issues and often had diarrhea, so diapers were absolutely needed. I did my research and tried several brands before I chose a favorite one.
My Top Picks
Read on to find out everything about cat diapers and when and how to use them. As a mom to 11 cats and one kitten, I have lots of tricks and tips to share.
Best Cat Diapers
With a variety of cat diapers available on the market these days, it's tricky to choose the best ones. What I learned when choosing a diaper is that it's critical to buy the ones that will meet your cat's needs.
Here's what I considered when searching for the best cat diapers:
Brand: Choosing reputed brands is critically important to me as I know that these manufacturers conduct research and possess expertise. They take care of their reputation and don't produce low-quality products.
Product Type: Washable and disposable diapers might seem to have little difference, but each of them is suitable for the exact situation. I paid attention to the situation where it's best to use reusable and disposable diapers.
Diaper Features: I looked for diaper features, such as good absorbency, breathability and softness, tail opening, wetness indicator, fasteners, stretchability and fit, and of course, the comfort level.
Product Materials: Both washable and disposable cat diapers must be made of safe materials. Cat diapers made of toxic materials must never be used.
Ease of Use: Some diapers create a lot of trouble and mess, so I always choose the ones that are easy to use without compromising the quality.
Size: Diaper sizes work absolutely differently for kittens and adult cat breeds. I choose diapers based on my cat's size.
When Suitable for Use: When creating a list, I wanted to include cat diapers for all feline-related events. Some diapers are excellent for travel, urine inconsistence, marking problems, and heat cycles, while others are ideal for older cats with mobility problems, diarrhea, or other health issues.
With all these factors in mind, here are 12 of the best cat diapers worth their price tags:
One of the most fashionable and reliable cat diapers, Barkerwear Cat Diapers will stop your cat from piddling on your shoes, carpets, and beds. Whether your cat is incontinent, a spaying male, or a female in heat, these diapers will save the situation. Barkerwear Cat Diapers are reliable and budget-friendly. If you're on a budget, I definitely recommend these diapers.
Barkerwear Cat Diapers are washable, so you not only save money but also save the environment. There are two versions of these diapers – with and without a tail hole. The adjustable hook-and-loop tabs make these diapers easy to put on and change.
There are also several size options to ensure your kitten will get the most comfortable diapers.  Barkerwear Cat Diapers feature triple layers of protection. Each diaper is made of extremely soft lining on the inside and top quality polycotton fabric on the outside. Moreover, it has a waterproof moisture barrier that wards off leakage.
If you worry about leakage, there's an option to purchase extra liners. It's usually enough one layer, depending on how often you change a diaper. While Barkerwear Cat Diapers are great, there's one downside I've noticed – super active cats can easily get out of the diaper.
Pros
Many size options
Washable
Waterproof center layer
Adjustable tabs
With and without tail hole diaper options
Soft inner lining for maximum comfort
Fashionable design
Suitable for incontinent cats, a female in heat, and a spaying male
Cons
Not suitable for super active cats
High price
One of the most popular pet product manufacturers, Pet Magasin offers some of the best diapers for cats and dogs alike. There are different sizes to choose from and these reusable diapers are perfect for both kittens and old cats. What I love about these diapers is that they have a highly-absorbent and extremely soft inner fabric lining, ensuring a comfortable wear.
These eco-friendly diapers are easy to clean in a washing machine and quick to dry by air. Pet Magasin Reusable Diapers feature a tail hole and hook-and-loop straps. The waterproof outer layer provides protection from leakage. The pack contains 3 reusable diapers, which will serve you and your cat for months. Therefore, they're budget-friendly and it's particularly important for owners who have sick cats.
When it comes to picking the right size, you should pay attention to your cat's breed. If you have a kitten, you can opt for an extra small size. If you're an owner of the Maine Coon or any other larger breed, buy medium size. There are three colors in the pack, such as purple, blue, and green.
Unlike Barkerwear Cat Diapers, Pet Magasin Reusable Diapers aren't that easy for your pet to get out of them. I also don't like the tail area that makes a diaper look weird on a cat.
Pros
Washable and eco-friendly
Extra strong Velcro ensures your pet wear the diaper until you decide to put it off
Three colors to choose from: purple, blue, and green
Different sizes – from very small to large
100% waterproof and extra comfortable thanks to the soft fabric
Cons
Small tail area
Slightly short Velcro straps
If your feline baby has recently had an operation and now is on postoperative recovery, Vet's Best Comfort-Fit Disposable Diapers will be a great option. These diapers are also good for pets suffering from marking issues, heat cycles, and urinary inconsistence. Unlike reusable cloth diapers, Vet's diapers are short-term and you don't need to wash and dry them. I believe it's super convenient, but not eco-friendly. This is why I opt for these diapers when any of my cats undergo postoperative recovery.
Thanks to a wetness indicator, you'll see when you need to change the diaper. The Comfort-Fit wrap features repositionable closures, fur-safe fasteners, and a leak barrier. The stretch waistband protection provides comfort and dryness. Each diaper has the super absorbent core that aids in locking in moisture within. Even super active cats can move around the house and still stay in a diaper. Also, there's a convenient tail hole for extra comfort.
The sizes range from a very small to a very large diaper. If you have a kitten, opt for very small diapers. If you have a medium-sized cat, choose a small size. The medium size is suitable for larger cat breeds. There are two varieties of Vet's disposable diapers – for males and females.
If you travel with your feline baby, you can use these disposable diapers for both long and short trips – just ensure you change the diaper regularly to avoid infectious and rug burns.
Pros
Help to manage cats in the heat
Perfect for travel and postoperative recovery
Might be a short-term option for handling urinary inconsistence and marking problems
Security against leaks
Safe fasteners
Great absorbent core
The tail hole that's practically positioned for a most comfortable fit
Cons
Non-reusable – one pack with 12 diapers
One horizontal Velcro strip
Cheap material so it's easy to tear any part of the diaper
Initially designed for dogs, Paw-Inspired Ultra-Protection Disposable Diapers are also perfect for cats. No worries about the size – you can choose between extra small to large. The sizing chart will help you to pick the right size for your feline baby. The diapers feature a super-absorbent gel pad, standard elasticated opening with fit tabs, and a tail hole. Gathered leak-proof edges and breathable bottom layers ensure a comfortable fit.
These disposable diapers are renowned for their Advanced DrySpeed Technology that converts any liquid into gel. Paw-Inspired diapers are perfect for cats dealing with urinary incontinence or any other health problems. They're also good for travel and postoperative recovery.
If your pet is going to wear a diaper for the first time, I'd recommend choosing this brand. The diapers are made of high-quality materials and have convenient repositionable fasteners that help you fit your cat more easily.
Pros
Ultra-thin diapers
Breathable bottom layer
Gathered leak proof edges
Advanced DrySpeed Technology
Secure and comfortable fit
Leak-proof
Super absorbent core
Repositionable fur resistant fasteners
Different sizes
Excellent for travel, urine incontinence, a female in heat, and a spaying male
Cons
Known for their Flashdry Technology, Hartz Disposable Diapers are among the best diapers for cats and dogs alike. The diapers are excellent for cats that weigh 7-12 pounds, though. If you have a kitten or a Siamese cat, Hartz diapers aren't the option for you. Check out the chart size before buying to ensure you pay for the right size. If you're lucky to find the SS-sized diapers, you can use them for kittens that weigh 5.5-9 pounds.
Why are Hartz Disposable Diapers worth the attention? There are several reasons. First of all, these diapers have a highly absorbent core that ensures 6 hours of leak-proof protection. This amazing protection is guaranteed by FlashDry technology. Adjustable tabs provide customize fit and they don't stick to fur. The Velcro fasteners allow you to shift them several times to secure the diaper.
The stretchable and soft gathers guarantee a breathable and comfortable fit without bunching or slipping. The tail hole is adjustable to suit almost any pet size and shape. Hartz Disposable Diapers are good for travel, urinary incontinence, a female in heat, a spaying male, and surgery recovery.
Finally, if you love stylish designs, it's a reason to buy these exact diapers for your feline baby. There are two fabulous designs to choose from.
Pros
Soft and gentle diapers for different cat's needs and situations, including diarrhea, urinary incontinence, travel, and surgery recovery
At least 6 hours of leak-proof protection
Breathable
Flash Dry Technology
Adjustable tail hole and tabs
Customizable fit
Stylish designs
Cons
Non-reusable
Not for all cat breeds
If you're looking for disposable diapers that have fur-friendly fasteners, a breathable outer layer, and leak-proof protection, I would recommend choosing Simple Solution Disposable Diapers. Not only are they comfortable for your cat to wear, but they can save you money if you purchase a big pack. There are several adjustable-fit sizes to choose from, albeit these diapers might be too big for very small kittens. Choose an extra small or small size for your cat.
Thanks to stretchable and comfortable fabric, Simple Solution Disposable Diapers guarantee a comfortable fit. Even though other disposable diapers can also be considered fur-friendly, I suggest that Simple Solution is one step ahead. Their diapers are super easy to attach, remove, and change thanks to fur-friendly fasteners. You don't have to worry about your cat's hair will stick to the folds of the wrap.
Additionally, Simple Solution guarantees leak-proof protection. The diaper's core is super absorbent and the barriers are absolutely leak-proof. A stretch waistband lets your cat move around the house without feeling discomfort or losing its diaper. Simple Solution Disposable Diapers are excellent for traveling, heat cycles, incontinence, and postoperative recovery. The diapers feature a tail hole.
Pros
Highly absorbent core and barriers lock in all moisture, providing leak-proof protection
Fur-friendly fasteners
Comfortable and stretchable fabric
A tail hole
Versatile: perfect for traveling, heat cycles, incontinence, diarrhea, and postoperative recovery
Cons
Washable diapers are ideal for long-term use as they ensure comfort and protection at the same time. Plus, they're budget-friendly. Since you get 3 reusable diapers in the pack, you can use and wash them for months. Vecomfy Washable Diapers come in three vibrant patterns and are good for older cats and cats with heat cycles, marking issues, and urinary incontinence. They can also be used for postoperative recovery but must be changed frequently so I recommend buying a couple of packs in this situation.
The diapers are made of two layers microfiber pad so urine is absorbed super fast. The outer layer is med from 100% leak-proof and waterproof material. The adjustable waist ensures a comfortable fit and the fasteners are fur-friendly. Although the diapers are easy for you to take off, your cat won't be able to take it off that easily. You can be sure that your home is safe when your feline baby is walking around it.
When choosing the size, opt for the small and extra small diapers. Vecomfy Washable Diapers are both hand and machine washable. There's a tail hole for your cat's extra comfort.
Pros
Breathable and soft
Leak-proof and waterproof
3 comfort elastics
Soft mesh-lined fabric
Eco-friendly
Durable adjustable waist
Super easy absorb urine pad
Fur-friendly fasteners
Good for long-term use for different purposes
Fashionable patterns
Cons
Initially designed for female dogs, extra small and small sizes of BINGPET diapers are perfect for many cat breeds. Just like other washable diapers, BINGPET diapers can be used long-term and they're versatile enough to use in different situations, including traveling, surgery, urine incontinence, and heat cycles. These diapers are also ideal for older cats that have mobility problems. They're not the best option for cats suffering from diarrhea, though.
The outer layer of each diaper is waterproof and super absorbent. Velcro across the back provides a more comfortable fit. Once your cat is in a diaper, you might not worry about leaks. Highly active cats can easily take it off when running around the house. These reusable diapers are machine washable and machine dry, and thus they're eco-friendly. There are three wraps in one package. Bright colors and patterns make these diapers fun and effective, at the same time.
Pros
Reusable;
Waterproof and leak-proof
Versatile: ideal for traveling, heat cycles, incontinence, postoperative recovery, and older cats with mobility problems
Fur-friendly
Machine washable and machine dry
3 wraps in a pack in blue, green, and pink colors
Cons
Not the best options for kittens, highly active cats, and cats suffering from diarrhea
Pet Soft Female Diapers are among the best disposable diapers on the market. These diapers are excellent for all cats with different health or mobility problems, including elder pee problems and diarrhea. They're also good for travel, heat cycles, and incontinence. The soft pink color of diapers will make your female cat look fashionable and girly. Made of stretchable fabric, Pet Soft Female Diapers are breathable and comfortable.
The adjustable tail hole guarantees that your cat's tail will be happy. Thanks to a tearable foam hole, you can make a hole suitable for your pet. That's actually what makes these diapers special. Oftentimes, disposable diapers have tail holes which are extremely tight and thus uncomfortable for a cat. With Pet Soft diapers, I simply tear the foam to make a tail hole bigger for my older cats with wide tails.
The leg part and elastic waist make it easier for you to put a diaper on your pet. The diapers are highly absorbent, keeping your cat dry and comfortable. The inner layer is soft non-woven and that's what helps the urine get into the second layer so quickly. The outer layer is breathable.
Pros
Breathable non-woven diapers
Moisture lock material SAP
Adjustable tail hole
Super absorbent and comfortable
Excellent for diarrhea, heat cycles, incontinence, postoperative recovery, and traveling
Cons
When it comes to cat diapers, I tend to choose the ones that have the wetness indicator. It's convenient and lets me know when I need to change the diaper – especially if several cats wear them and each one has a different changing time. Extra Small Martha Stewart Disposable Diapers feature the wetness indicator, as well as the adjustable and stretchy waistband, leak-proof protection, and fun pattern. These are perfect cat diapers for spraying, diarrhea, cats in heat, incontinence, and travel.
Martha Stewart diapers are made of premium material, providing maximum comfort for your cat to wear it on a daily basis. They're ultra-absorbent and keep your pet dry and happy for hours. When wet, a diaper changes color to indicate that it's time to change a diaper. Fun pattern might not seem like a huge advantage, yet it makes your feline baby look stylish and beautiful despite the problems.
The price for these disposable diapers is relatively low, but they're not eco-friendly. The adjustable waist size measures between 12 to 15 inches. Make sure the diapers fit your pet before buying.
Pros
Ultra absorbent
Leak-proof protection
A high tech wetness indicator
Adjustable waistband
Versatile
Fun pattern
Cons
One size option
Not good for kittens
If your female cat has just been spayed, OUT! Disposable Male Wraps are a great alternative to a diaper. Unlike diapers, these wraps are easier to put on and change. Plus, your cat feels more comfortable when moving or running around the house. The wraps are ultra-absorbent and fur-friendly. They guarantee leak protection thanks to the Edge Guard moisture-wicking system. Spaying doesn't always require full-sized diapers and vets often recommend wraps.
Pros
A channeled core design for more comfortable movement and fast absorbency
The Edge Guard moisture-wicking system for more protection at the edges
Sure Seal Technology for more comfort, 360-degree leak protection, and a greater moisture barrier around the waist and legs
Fur-friendly
Cons
Only for spayed female cats
Protect your furniture and floor with Cos2be Washable Diapers. These reusable diapers are budget-friendly, eco-friendly, and yet reliable. Designed for female dogs, these washable diapers are perfect for many cat breeds, except kittens. Look for extra small sizes. Cos2be Washable Diapers are helpful for cats with heat cycles, mobility problems, postoperative recovery, marking issues, and urinary inconsistence. You can also use them for cats suffering from diarrhea or for traveling.
What makes these washable diapers special is that there's a 100% money back guarantee within 90 days. Cos2be diapers are waterproof and safe to use as they're PVC free, BPA free, lead-free, phthalate-free, and non-toxic. The inner layer is made of soft fabric and there are a tail hole and elastic bands on the waist.
Pros
Non-toxic, reusable diapers
Super absorbent
Waterproof
Elastic bands on the waist
Comfy tail opening
Helpful in different situations, postoperative recovery, including mobility problems, diarrhea, inconsistence, marking issues, heat cycles, and travel
Eco-friendly
Fun patterns
100% money back guarantee
Cons
Cat Diaper Buying Guide
Rather than lock your cat suffering from diarrhea, incontinence, and heat cycles, in one room, invest in a diaper that will provide your feline baby with the freedom to wander around the house. Diapers are good for old and blind cats that have trouble seeing the litter box.
Apart from health problems, there are many other reasons to buy cat diapers.
If you travel a lot – especially by a car – you can buy diapers for travel and keep your car and cat dry.
If you're on the lookout for cat diapers, check out this short yet helpful buying guide:
Comfort is Priority
Most pets hate diapers and many take them off because of discomfort. If you see that your cat doesn't walk around the house because it focuses on the process of removing a diaper, it's a sign that the diaper isn't comfortable. Check out the diaper's leg. There should be enough space around the hind legs for a pet to walk freely and comfortably. The waistband should be slightly tight, but it shouldn't rub with your cat's legs.
Find Out the Right Size
Each kitten or cat is different, so it's important to measure your pet's size to know which diapers to buy. Measure your cat at the narrowest point around the waist. Most cat diapers packs contain the size chart where you could choose diapers that will provide the ideal fit for your pet.
Pay Attention to the Material
Lightweight and durable diapers are often made of high-quality materials, including polypropylene. The inner layer of the diapers should be soft and reliable. Whether you choose disposable or reusable cat diapers, make sure they're leak-proof and waterproof. Diapers that feature the Moisture Lock Technology are usually 360° leak-proof and they're worth their price tags.
Learn About the Types of Cat Diapers
Depending on the reason you want your cat to wear diapers, you can opt for disposable or washable/reusable diapers. Disposable diapers are perfect for cats with diarrhea, heat cycles, postoperative recovery, urine incontinence, and traveling.
It's best to use disposable diapers for a short period of time. Not only are they too expensive for long-term use, but they're also not eco-friendly.
Washable diapers, on the other hand, are cost- and eco-friendly. You can purchase a few and just wash them and reuse them over and over again. Washable diapers are excellent for long term-use, albeit you can also use them for travel or postoperative recovery, too.
Other types of diapers are cat pants and belly wrap band.
Cat pants were initially designed for male cats to protect the house from spraying. Today, cat pants are also used for female cats in heat.
The belly wrap band is a bit similar to a reusable diaper. However, the band doesn't cover the butt, so it's only for cats with urine inconsistency, spraying, or other bladder issues.
If you're on a budget and you don't want to buy reusable diapers, you can try using baby diapers. Many people successfully use the newborn size. But before choosing this type of diapers for your cat, keep in mind that there's no tail hole. You'll need to cut it, without spoiling the diaper. Moreover, baby diapers are created to suit the baby's needs, not the cat's needs. So, I keep recommending buying the diapers specifically designed for cat's needs.
Choose the Right Tail Opening
A tail hole seems to be a tiny detail in any type of diapers.  However, it can mean a lot for your feline baby. If your cat doesn't like a tail opening, it will do anything possible to take the diaper off. A too small tail hole can curb the tail while a too big opening can result in leakage. The tail opening should be made of soft fabric to ward off irritation and discomfort. Be sure your opening doesn't prevent your pet from pooping.
Disposable vs. Washable Diapers for Cats
Both types of diapers are useful and helpful in many situations.
Disposable diapers, for instance, are great for a spaying male, travel, urine incontinence, a female in heat, and cats with short-term mobility problems.
If you have an older cat with mobility problems, I'd recommend using washable diapers. They're budget-friendly and can serve you for months – if not years.
Although I do like and sometimes use disposable diapers, I prefer washable diapers as they're eco-friendly. Top quality reusable diapers are waterproof and the inner layer is super soft and comfortable for your cat to wear around the house. If you have a young and super active cat, reusable diapers aren't a good idea. Maybe your younger cats will love them, mine take such diapers off in a few minutes after wearing it.
Disposable diapers are good for travel, as packing a few washable diapers is the last thing you want to do. Another perk of disposable diapers is that you don't need to deal with a mess and wash and dry them. If you have a busy schedule, opt for disposable diapers.
Before I get the perfect fit for my cats, it took some trial and error and I bought the packs that I couldn't use. Washable diapers are more versatile and you can fix the size with a needle and thread.
While disposable diapers tend to be more absorbent, washable diapers are more breathable. However, I've noticed that one cat feels calm and comfortable in a washable diaper while another one enjoys wearing a disposal one.
Do Cat Diapers Work?
Many people think that diapers for cats are kind of harmful and those who make their feline friends wear diapers are heartless. That's what I often hear from my friends and coworkers. I've taken care of different cats for almost 20 years.
I remember the time when my mom and I cared for our sick 16-year cat that refused to use a litter box and went to the toilet around the house. When he became paralyzed, we changed and washed tons of nappies and had to wash his overall body. He lived this way 2 years before passing away.
Since then, we had other sick and older stray cats to care for – people often throw out such cats from their lives. The first time I learned about cat diapers when I went to a veterinary drug store and saw washable diapers for cats. I bought a few and loved the reactions of my old cats to them. I've already tried multiple brands and will share some of my favorites above.
But now, I'd like to share my own yeas and nays when it comes to cat diapers.
Good for:
Preventing mess and saving time
Preventing infections by allowing a cat to urinate more comfortably and frequently, without you yelling at him for urinating on your sofa
Protecting from rug burns – for cats with mobility issues
Reducing the risk of urinary tract infection (UTI)
Breaking the habit of "marking" a cat's territory
Easy traveling with a pet
Not for:
Making healthy and active cats wear diapers 24/7
Some cats could react to diapers aggressively, making it harder for owners to put the diaper on and replace it
When Should You Use Cat Diapers?
There are short-term and long-term reasons to introduce your feline friend to a cat diaper. Here's a list of the cats that should wear diapers:
Neutered cats experiencing leaks
Cats suffering from health problems, including diarrhea, incontinence, blindness, kidney disease, arthritis, cancer, diabetes, or dementia
Elderly cats
Cats with urinary and bowel problems, especially during the postoperative period
Cats that have blood leakage
Cats and kittens with mobility issues and special needs
Elderly cats with mobility problems
How to Change the Cat's Diaper
Changing your cat's diaper may be a problem if your cat wears it for the first time.
Stay calm and talk to your feline baby, petting and cradling. Then, slide the tail through the diaper's tail opening and get the diaper's bigger side between the cat's hind legs and under the belly.
Get the shorter side of the diaper over your cat's back and secure both sides with the tabs, clips, or hooks, depending on the type of the diaper you use.
If your cat tries to escape, don't use too much force to hold it. Consider calming your cat and petting it.
5 Important Tips for Cat Diaper Hygiene
Be it a baby or a feline baby, diaper hygiene is critically important – especially if your cat is on postoperative recovery. Irritation and infections are common, but you can ward them off if you follow these tips:
1. Change Diapers at Least Every 2 Hours
Some brands claim their diapers can last for up to 6 hours, but it's better to change diapers more often.
Many vets recommend changing cat diapers every 2 hours or when the diaper is wet. If your cat poops in the diaper, change it as soon as you smell it – best if you do it immediately. The wet diaper pressed against the hair and body can trigger irritation and the poop can burn the skin.
If you use reusable diapers, make sure it's properly washed and ironed. Use unscented laundry detergent to avoid an allergic reaction. Remove all the stains and dry the diapers properly to prevent mold. Taking these steps is a surefire way to protect a cat with a weak immune system from bacteria.
2. Store Washable Diapers Properly
Store washable diapers in a breathable container or dry pail storage. You can also store them in a clean reusable waterproof bag. Not only will washable diapers last longer, but they will also stay cleaner. Clean canvas bags and pillow cases are also good storage ideas. Place your washable diapers in a dry location like a closet. Avoid storing them in wet (bathroom and basements) and extra hot (attics) spaces.
When it comes to disposable diapers, you can leave them in a pack or place them in a closet. Don't open a diaper unless you're going to put it on your cat.
3. Clean Your Cat's Skin Carefully
When changing a diaper, it's vital to clean the cat's skin – even if your cat doesn't poop in it. You can use a piece of clean and wet cloth or baby wipes.
If your cat pooped, it's best to bathe your cat and let it dry before putting on the diaper. If you use baby wipes, opt for alcohol and odor free wipes. Cats tend to hate new scents. If your feline baby smells something unpleasant, it can refuse to wear the diaper at all.
4. Trim the Area the Diaper Covers
This option is good for older sick cats and cats with mobility issues. In other cases, there's no need in trimming the area the diaper covers. You can trim that area or take your pet to a groomer. This way, it will be easier for you to change the diapers when your cat poops.
5. Don't Treat Any Type of Rash Alone
If you see any type of rash in the area that the diaper covers, don't bathe your cat with soap or shampoo. Consult a vet and buy a specific ointment. If you use disposable diapers, switch to washable diapers until a rash vanishes. If possible, don't use any diapers at all. There are many disposable cat pads, which you can use if your cat is too old or sick to walk or has mobility problems.
THE FINAL WORD
Diapering your feline baby and caring for adult cats with different health problems properly isn't easy. Lots of compassion and patience are required. With a range of cat diapers though, the caring process might be much easier.
Each time you put on a diaper, watch how your cat behaves. Comfort and safety are critical. Remember, it might take some time for your cat to get used to wearing diapers.
If you use washable diapers, you'll need time for washing, drying, and maybe ironing them. Not all types of reusable diapers can be ironed, though. Read the label and take care of reusable diapers properly. Disposable diapers are easier to use but they often cause a rash, so ensure you follow all the hygiene tips.