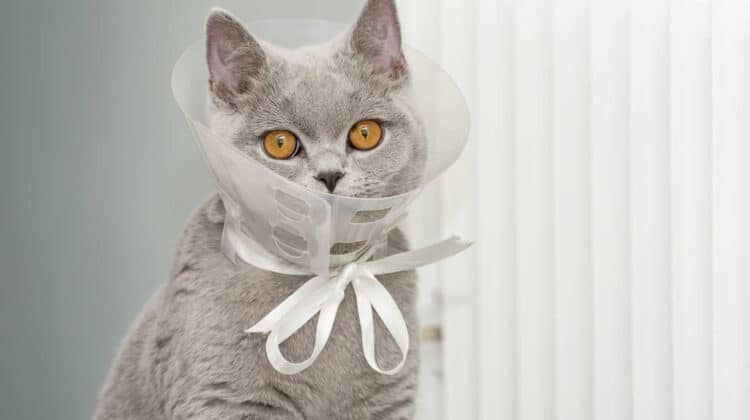 Are you tired of telling people, "My cat attacks me unprovoked," to explain the ridiculous number of scratches on your arms? Do you want to stop a cat from spraying indoors and get rid of that urine smell? Or maybe you've had to see your cat through numerous litters already, and you can't face one more. Well, getting your cat neutered is the answer to all your problems.
People often wonder what happens if you neuter a cat too early, but for some owners, the more pressing question is when is it too late to neuter a cat. Plenty of cat moms, myself included, end up putting off getting our furry friend neutered until it seems they must be too old.
This procedure's effects are often not discussed in relation to older cats, so it can be hard to know if it is still an option for your kitty. Fortunately, older cats can still reap the benefits of the operation! I'll take you through everything you need to know right here so you can make the best decision for your furry friend.
What is Neutering in Cats?
First, let's cover the basics. Neutering is a surgical procedure that can be done to sterilize your kitty so you can avoid unwanted pregnancies and other unwelcome behaviors. It is an extremely common operation among cats and is usually performed when they first reach sexual maturity.
The procedure differs slightly in male cats vs. female cats, but in both cases, the reproductive organs are removed through a small incision. For females, this means the removal of the ovaries and/or uterus (spaying), while for males, it means the removal of the testicles (castration).
When undergoing this surgical procedure, your kitty will be put under a general anesthetic and will require at least a week at home to recover. You may also notice your cat is hiding and acting weird upon their return or that your cat kept meowing and rubbing against everything when they never used to before they were neutered.
These behaviors are likely due to some distress caused by the surgery but don't worry; this distress is usually short-lived and should reduce as your feline recovers. Calming collars work for cats when overly stressed, so it may be worth investing in one before you take your kitty to be neutered.
What Age Should Cats be Neutered?
For many years now, it has been recommended that cats should be neutered when they reach 22 weeks of age, and there are some arguments that this age should be reduced to just six weeks! This is because a cat can get pregnant at the age of 4 months old, so early neutering has a better chance of stopping unexpected pregnancies. The problem is, this isn't always an option.
Perhaps you breed your feline friend and don't want to prevent them from getting pregnant. Or maybe you adopted your kitty when they were already way past their kitten years. Whatever the reason, don't let the age of your kitty discourage you; the window of opportunity in which you can get your cat neutered hasn't passed yet!
Although it is ideal to neuter cats while they are still kittens, your furry friend can undergo the procedure at any age as long as your cat is in good health. They will still benefit from an improved quality of life, and some of their less desirable behaviors are also likely to decrease. It's a win-win for both you and your cat!
What are the Risks of Neutering Later in Life?
Whether you've only just adopted your cat, you didn't agree with the thought of neutering in the past, or you simply forgot to have the procedure done, it is never too late to take your feline to be neutered. You and your pet will both reap the benefits no matter at what age the operation is performed (more on these benefits are coming later!).
The problem is that the older your cat is, the more potential health risks they face when being neutered. This isn't as much of a problem for felines just a few years old, but those classed as senior citizens (7+ years) may need a lot more care following the procedure.
Below I've outlined some of the most common health risks to watch out for and how these risks increase based on your cat's age. Read on for all you need to know.
Health Risks of Late Neutering
Although neutering is a relatively minor surgery, it is still invasive. Therefore, there are various health risks you should be aware of before booking your cat for the procedure. These health risks will increase with your kitty's age, with senior cats being the most at risk.
Firstly, your cat's immune system will weaken as they age, meaning there is a greater chance of the incision becoming infected. A dirty litter box is one of the most common culprits, so make sure to clean yours regularly. I'd also recommend looking into larger litter boxes, so your kitty has plenty of space to move around.
The risk of infection is higher in females due to the location of the incision used in spaying, so take extreme care if you have a female cat at home. Regularly check for swelling or signs of pain around the wound while it is healing, and contact your vet if you have any concerns.
Compared to kittens, older cats will also appear weaker and require a longer recovery. So don't worry if you notice your cat sleeping more than usual or think, "Why is my cat so affectionate all of a sudden?" This is entirely normal, and your kitty should be up and running again in no time.
Risk Level by Age Group
Several studies specifically look at the level of risk associated with neutering cats in different age groups. One of the most extensive studies looked at over 200,000 pets (cats and dogs) under the care of different vets after their neutering procedures and gave us some great insight into how risks change with age.
The pets were split into three different age groups (12 weeks and younger, 12-23 weeks, and 24 weeks or older) and were compared on the number of minor and major complications they faced post-surgery. In this case, major complications were classed as those requiring professional treatment, whereas minor complications were those which would resolve on their own given time.
Results showed that, when it came to major complications, there were no differences between the groups. However, the older group did have a slightly higher chance of suffering from minor complications.
Altogether, this shows that your cat won't be seriously at risk from later neutering but that they may need more time to get back to their old selves. In any case, the sooner you can get them neutered, the better!
What are the Benefits of Neutering an Adult Cat?
There are many benefits, no matter at what age you get your cat neutered. I know I was certainly glad when I got my cat neutered. Before the procedure, I found my cat so aggressive all of a sudden and phantom spraying all over the house, but now she's so affectionate I can tell people, "My cat follows me everywhere and sleeps with me." It was quite the behavior change!
Behavioral benefits such as these are just the tip of the iceberg when it comes to neutering. There are also various environmental and health benefits to look forward to once the surgery is complete. These can both improve your kitty's quality of life and increase their lifespan.
These changes are often caused by the reduction in sex hormones, such as testosterone, and it can take your cat a few months to get used to these reduced levels. But once the hormones have adjusted post-op, these are some benefits you can expect.
Behavioral Benefits
First, we'll cover the behavioral benefits of neutering. If you're one of the unlucky owners who randomly find their cat peeing everywhere all of a sudden, this section will definitely be of interest to you! Male and female cat behavior after spaying or castrating improves significantly as there aren't as many hormones circulating around their body.
To begin with, your kitty is less likely to roam in search of a mate, meaning they are less likely to go missing or become seriously injured on a busy road. They will also become less territorial, meaning you're much less likely to witness your feline spraying around the house.
Your feline will also become more affectionate and relaxed towards you. Keep in mind that cats rub their faces on things when they want your attention, so make sure to give your kitty some well-deserved loving if you see this behavior.
Environmental Benefits
Not only will your kitty's behavioral changes benefit you, but they will also positively affect your neighborhood as a whole! Of course, these benefits will change slightly depending on whether your kitty is male or female, but neutering can improve your local area either way.
Unneutered male cats tend to be much more aggressive due to their high testosterone levels and are more likely to get into territorial fights with other cats in your area. The appearance of other toms in your neighborhood due to a female cat's vocalizations during heat can also be very annoying and stressful to your neighbors, human and feline alike.
The local wildlife is also more likely to thrive if you get your female cat neutered; your kitty is more likely to hunt when they have kittens to feed. This is bad news for nearby birds, mice, and other easy-to-catch prey, especially if your feline regularly gets pregnant. Did you know cats can get pregnant while nursing? This means some of our furry friends never give the local wildlife a break!
Health Benefits
And finally, we have the health benefits. In general, unneutered cats experience much more strain on their bodies due to increased activity. This can be caused both by the urge to search for a mate and by pregnancy and the subsequent litter of kittens that need looking after. I'm sure many of you have experienced first-hand how tiring this can be!
On top of this, neutering reduces the chances of female cats being diagnosed with various forms of cancer (such as ovarian cancer due to removal of the ovaries) and life-threatening illnesses passed on during mating (such as feline immunodeficiency virus). They are also less likely to develop an infection in the womb.
This isn't to say there are no more benefits for your male cat as well. As mentioned, unneutered males are more aggressive and tend to fight more with other cats. Reducing this behavior will also reduce the risk of your kitty becoming seriously injured or of contracting a life-threatening disease from their opponent. Altogether, this can significantly increase your kitty's lifespan!
Should I Neuter My Adult Cat?
Now that we've covered all the benefits and risks of neutering an adult cat, you're probably wondering whether or not to go through with the procedure. Unfortunately, this can be a tricky decision, so make sure you don't rush into anything while you're still unsure.
That said, as long as your kitty is in good health, I would recommend getting them neutered. To me, it's a no-brainer! The surgery carries so many benefits that will improve the quality of life for you and your feline friend without incurring any added risks by having it done at an older age.
As someone who has had neutered and unneutered cats, I think it's a brilliant choice. I've found that those I did have neutered seem happier in themselves, cause much less trouble, and live longer, healthier lives. You can't really ask for more than that! Ultimately though, the choice is up to you and the professional opinion of your vet.
If you decide to go ahead, ensure your cat is not pregnant before booking the neutering appointment. Cats don't go through menopause like we do, so your kitty can become pregnant at any point, even when they seem way too old. Some pre-labor signs in cats to look out for include a bloated stomach, nesting behaviors, and a reduced appetite.
MY FINAL THOUGHTS
So, when is it too late to neuter a cat? The simple answer to this question is never! Although it is recommended to have your cat neutered at the youngest age possible, the surgery is still viable for older cats in good health.
The main reason for neutering kittens so young is that the length of the surgery and recovery period is reduced. However, as long as you're aware the process will be longer for an older cat, there is no reason not to go ahead. All the usual benefits of having your kitty neutered still apply to adult cats, and the risks of the operation only minimally increase.
Just make sure you're prepared for a slightly longer recovery period and talk to your vet if you have any lingering concerns. At the end of the day, your vet will only recommend the procedure if it is safe. Speak to your vet about late neutering and ask for their professional opinion, so you make the right decision for your kitty.