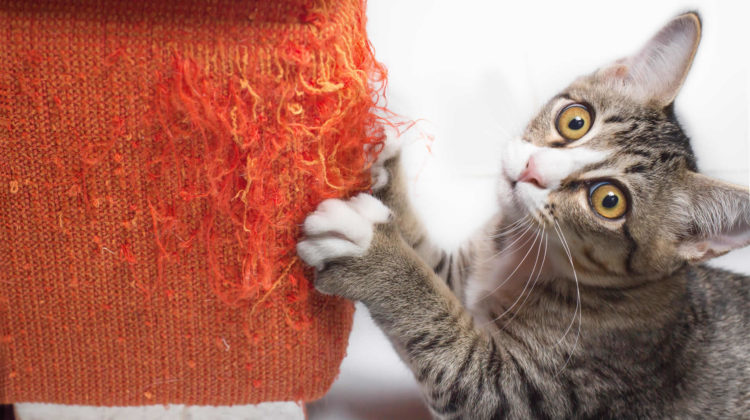 Cats are made to scratch. It is one of their most natural instincts, but despite it being great for your kitty, it is not so good for your home.
Having pulls right the way up my brand new curtains, scratches up the side of my bookcases, and claw marks in my couch puts me in a bad mood. I've not spent all this time and effort in making a lovely home for my cat to mess it up.
I have a multi-cat household, and so the scratching can get pretty severe.
I've tried entertaining my cats in different ways. I've got them extravagant scratching posts, a multitude of exciting toys, and even tried feeding them extra-nice food to get them on my sweet side. Unfortunately, there is something about my furniture that they love more than anything else to claw at.
The only solution I have found that works time and time again is anti scratch spray for cats. This stuff works miracles! Here, I'll walk you through the best brands of non-scratch spray available on the market today so that you too can have a scratch-free home.
My Top Pick
Over the years I have tried and tested many anti scratch cat sprays, but my favorite deterrent spray of all time has to be the Claw Withdrawal Scratch Deterrent Cat Spray.
It is a 100% natural formula, so I know it's safe for my cats and it comes with a scent of rosemary and astralagus. My cats might hate the smell, but I love it!
In case you don't get along with this spray, I've listed my other top brands that are great alternatives. Purchase one today and stop your cats from ruining your home.
Best Anti Scratch Spray for Cats
Finding an anti-scratch spray is not as simple as picking up the first bottle from the shelf and hoping for the best. In fact, if this is what you have done before and haven't had successful results, it's probably why. Some sprays are fantastic and really do the job they are supposed to, but others, not so much.
When forming this list for the best sprays out there, there are a few factors that I needed to compare.
Prevents My Cat From Scratching: If the product doesn't do what it says on the tin, then it's a waste of money. The most important consideration to take into account is how successful the spray is at deterring my cats from scratching where they aren't supposed to.
Smell: While the spray is supposed to put my cats off scratching, I don't want to live in a home that smells nasty. On my search for the perfect cat spray, it was important to me that I liked the smell of the spray.
Safe for Humans: If I am spraying a product around my home, I want to how it has safe ingredients that are not going to cause any irritation to me, my family, or my cat.
Won't Damage my Furniture: I also need to know that the ingredients are not doing to further damage my walls, curtains, and furniture or this totally defeats the point of me buying a spray in the first place.
Having taken all of this into consideration, here are the best sprays available on the market today.
I absolutely love the Claw Withdraw Scratch Deterrent Cat Spray. Not only is it effective in keeping my cats' claws out of the furniture and away from the walls, but it is also made from completely natural ingredients. For me, this is a huge plus. I could spray the product anywhere in my home knowing that it is completely safe for me and my cats and would not cause any irritation.
The plant-based formula also smells divine, giving off an odor of rosemary and astralagus. So many products I have tried before have a chemical smell that is not nice. Conversely, this aroma oozes fresh herbs and smells delicious.
Because of the natural formula, this product is also safe to be sprayed on all materials. This means I only need to buy the one spray, instead of investing in multiple products for multiple surfaces. It is safe to use on fabric, carpet, leather, and wood without leaving any stickiness or stains.
Pros
Successfully keeps my cats from scratching the furniture
Smells of rosemary
100% natural ingredients so safe to use
Can be sprayed on multiple surfaces without damage
Affordable
Suitable for cats and kittens
Cons
Only available in 4-oz bottles
This is more expensive than other brands but it uses pheromone technology to reduce your cat from scratching instead of a deterrent smell. This means it is completely fragrance-free and so there are no nasty or chemical scents. As the spray acts like a cat's pheromones, it also won't affect other pets.
I love this pheromone technology as it works at reducing scratching by calming your cat's behavior. This means it also tackles other kitty issues such as urine spraying so is create for if your cat is always getting up to mischief! What's more, it mimics felines' natural hormones and so is totally safe for both you and your cat while making a calming environment.
This spray is also safe to use on fabrics, wood, and leather so you can spray as much as you like knowing that you'll not be causing additional damage to the furniture you're trying hard to protect. This anti scratch spray also comes in full size and travel size bottles, great for on the go.
Oh, and it's also recommended by vets!
Pros
Uses natural pheromone technology to calm your cat
Fragrance-free
Safe for your cats and your family
Comes in two different size bottles
Recommended by vets
Only works on cats and won't affect other pets
Cons
More expensive than scented sprays
The Petlinks Scratch Stop Spray also makes the list as the smell is divine. Its scent is a blend of essential oils such as eucalyptus and lemongrass which cats avoid, but I love. It creates a really calming scent in my home.
Like the other products I've already talked about, this no scratch spray for cats is made from 100% natural ingredients and contains no harsh chemicals. This means is safe for people and cats alike. Unfortunately, this formula is not suitable for dogs or other pets though, so if you have a multi-pet household then give this spray a miss.
While this product does a relatively good job of not staining, it is advisable to test it on the surface first if you are spraying on leather, painted surfaces, or wood. I think this is the product's biggest downfall as it can get tedious testing multiple surfaces before spraying. However, it does do a good job of deterring my cats from scratching, so it is still a worthwhile buy.
Pros
Smells beautiful
No harsh chemicals and made from only natural ingredients
Comes in a large bottle so lasts for a long time
Reduces scratching
Cons
May stain surfaces and have to patch-test each time
Not suitable for other animals
Although more on the expensive side, the PetSafe SSSCAT Motion-Activated Dog & Cat Spray is one of the best anti scratch cat sprays on the market because of its convenience. You no longer need to take time spraying products after your cat and on surfaces. This spray uses motion sensors to figure out when your furry friend has gone where they aren't supposed to!
The only downside of the automatic spraying is that the spray will only cover a three-feet area. If you have one favorite spot that your kitty likes to claw then this is no problem – simply set up the can near that piece of furniture. However, if you've got mischievous felines who decide to claw every piece of furniture, you'll need to buy several bottles to have all areas covered.
The spray it produces is odorless and stainless on all different fabrics and surfaces. It also does a great job of keeping cats away from the area. I like using this spray to keep my cats out of my bedroom as I hate finding fur all over my sheets. If you want to cordon off a whole area of the house at once, this is a simple way to do it.
Pros
Sprays automatically so you don't need to remember to
Odorless and stainless
Can cordon off whole areas if you want pet-free rooms
Strong effects from the first spray
Cons
Requires batteries which aren't included
Expensive and you need to buy refill cans after the initial purchase
Not good for cats that claw all over the house
Automatic trigger can be set off by humans and other animals
This circus-smelling spray smells disgusting to your cat but smells lovely to humans. It is also an amazing product for multi-pet households. I used trialed this spray on both my cats and dogs – my cats stopped clawing the carpet and my dogs stopped chewing my shoes! You really can hit two birds with one stone when using this spray.
The one downfall of this product is how frequently you need to spray it. For effective results, you need to spray the product four times each day, seven days per week. While the results are great, it is a lot of effort to walk around the house multiple times each day, plus it's difficult to get into the habit of it.
Another thing I love about this spray though is it is again safe and natural. I know it is not going to cause my pets, family, or furniture any harm!
Pros
Smells like citrus
Works at training both cats and dogs effectively
Natural ingredients
Safe for humans and all animals
Cons
Must be sprayed four times each day to be effective
Finally, we have the FELIWAY Spray which is the most effective spray I have used and has clinically proven results. In fact, one study found it was effective in 90% of cats.
The spray works using pheromone technology and helps reduce scratching behavior by calming and relaxing your cat. If your cat seems stressed, this spray can work a treat. By calming your furry friend down the deterrent can also help to prevent spraying or other bad behaviors.
The 100% natural solution also lets me rest assured knowing I am not spraying out anything that can harm my cat or my kids. Also, whereas this produces a calming smell for cats, to humans it is undetectable, both visibly and aromatically.
The reason this product is not higher up on this list is due to the price. I think it is overpriced as you can buy other pheromone sprays for cheaper. The bottle is also only 60mL which does around 50 applications, and so runs out quickly, especially if you have a multi-cat household.
Pros
Pheromone technology
Effective on 90% of cats tested
Fragrance-free and colorless
Helps other stress-related behaviors such as spraying and hissing
Cons
Expensive
Bottle is small and only holds 50 applications
Things to Consider When Buying an Anti-scratch Spray for Cats
Although these "no scratch cat sprays" are my personal favorites, you might decide to shop around yourself. If so, make sure you consider all these factors before making a purchase.
Smell of the Spray
One of the most important considerations when buying an anti scratch spray for your cat is what the spray smells like. The reason you are looking to purchase a deterrent in the first place is to keep the appearance of your home nice to make it an enjoyable place to live in. Therefore, the last thing you want is to introduce a nasty or chemical smell.
What type of smell you like is largely down to personal preference. Whereas I love the smells of citrus and essential oils, you might hate these smells, or they could give you a headache. If so, opt for an odorless spray.
Whether the Spray Stains
Using a spray that stains your furniture is entirely useless. Yes, you may have stopped your cat from scratching your possessions, but if everything is now covered in nasty stains instead is there any real improvement?
The spray does not need to be suitable for all surfaces. As long as it can be sprayed onto the surface your cat claws without leaving a mark then it doesn't matter too much. However, if your kitty scratches your bookcase, your walls, your carpet, and your couch, you are going to want a versatile spray that can be used on a multitude of surfaces without leaving any lasting damage.
Ability to Deter Your Cats from Scratching
If the spray makes no difference to your cat's scratching behaviors, then you might as well not waste your money. Every cat is different, and while these sprays might be effective in stopping my felines from clawing the furniture, they may have an entirely different effect on yours.
If you don't have any luck with the first spray you purchase, try another one that has different ingredients and a different scent. You need to find a spray that is right for you!
Safety
In my opinion, an important consideration is how safe the spray is. There are harsh chemical sprays on the market, and if you want to purchase these you can. However, always think of the health effects these sprays could have on your pets and your family, especially if you have young children.
If you have a multi-pet household, it is also essential you check that the cat spray is safe for other animals too. It doesn't necessarily need to be effective in deterring them, but it needs to contain no ingredients that can harm them.
Why Cats Scratch?
You might be wondering why it is that cats even want to scratch everything they can get their paws on in the first place. This instinct comes naturally even to domesticated cats because of cats' behavior in the wild.
Firstly, wild cats need to scratch to keep their claws sharp. Although our cats are fed each day, wild cats rely on their sharp claws to help them catch their prey and eat that next meal. Without sharp claws, cats may find themselves without food. Cats also have claws for the opposite reason – to protect themselves from animals further up the food chain. These claws are a cat's main protection when facing dangerous predators. Therefore, they are essential to a cat's survival.
Another purpose of a cat's claws is to mark their territory. When scratching surfaces, sweat from the paws then travels onto the surface which other cats can smell. This signals to other cats to stay out of their zone and find their own space.
With this knowledge, it is easy to understand why our little fluff balls have this scratching ingrained in their DNA. Although domesticated cats are not going to have the trouble of missed meals, being targeted by predators, or risk being kicked out of their homes by another cat, the scratching behaviors still persist.
Why Cats Scratch the Furniture?
Okay, we get it – cats love to scratch.
But why do they seem to want to only scratch our furniture? What about all the trees outside? What about that expensive scratch post you bought last week?
Curiosity
The first reason is curiosity. Ever heard of the saying curiosity killed the cat? Well, this metaphor came from cats' naturally inquisitive behavior. They love to explore the world around them, and this means scratching as many items as possible. Your cat may have scratched 100 trees before, but your brand new couch? Now that's exciting.
Vulnerability
Other than curiosity, cats often scratch inside the home when they are feeling vulnerable. If this is the reason your cat is clawing, you'll probably find the most claw marks next to doorways and open spaces where it feels it is most at risk. Anything from moving house to there being unfamiliar people or a new pet in your home can trigger this response in your cat.
To help your cat destress, you can make sure that it has plenty of places to curl up and hide in the house. This helps your cat feel more secure and safe. You don't need to go and buy new pet supplies – an old cardboard box works perfectly well.
How to Stop Your Cat Scratching the Furniture?
Using no scratch cat sprays are not the only way to stop your kitty cats from destroying your furniture.
Here are some other methods you can use, either alongside or in place of deterrent sprays. I found that combining all of these methods is most effective in keeping your cat happy and protecting the furniture.
Buy a Scratching Post
If your cat is scratching because of stress, vulnerability, or curiosity, then a scratching post might not be a successful solution to deter your cat from scratching. However, if your cat is scratching in line with their natural instincts to sharpen their claws, a scratching post can work wonders.
Cat scratching posts are designed to sharpen their talons so is made from certain materials that will do the job better than your couch or carpet. To try to help your cat understand that this is something that they are allowed to claw, put the scratch post in front of the area that your cat has made the most damage. Try to get your cat's scent on the post too.
The post works best when used with no scratch spray for cats. Whenever you see your kitty scratching the furniture, take your cat to the scratching post and spray the furniture it was just clawing with the scratching spray.
Install a Catflap
Just like children, cats that are unhappy act up. If your cat is acting as if it feels stressed or vulnerable, try to find the reason why. This may be because of a new pet or stranger in the house, but it may also be nothing to do with life inside the home. In fact, busy traffic, a scary dog on the street, or even other cats can make your kitty feel unsafe.
You can help combat this by installing a catflap. This gives your cat complete control over when they enter and leave the house which helps them feel secure. This is also great for boredom – if they are getting restless then can let themselves outside and have a run-around, instead of scratching your furniture to pieces.
Give Your Cat a Safe Space
Your cat may also be feeling vulnerable and lashing out as they do not have a safe space to relax. Make sure your cat has somewhere high up such as a cat shelf or a few enclosed spaces that they feel safe in.
You could also try closing off rooms of your house to the cat as then they will feel more dominant and secure in the rooms they do have access to. If you don't want to keep doors closed, using an anti scratch spray works wonders at training which rooms your feline is welcome in and which ones are off-limits.
Play With Your Cat
If your cat is scratching because of boredom, try buying some toys for your cat and/or a scratch post. Make sure you play with your cat as much as possible and provide the attention that they need. Doing this can drastically improve your cat's behavior.
DIY Anti Scratch Spray for Cats
If you don't want to purchase an anti scratch spray, you can always try to make one at home using common household ingredients. Here are some different DIY cat repellent recipes that you can try – simply mix the ingredients and pour them into a spray bottle that you can spritz around your home.
Recipe 1 – Essential Oils: Pour mostly water into your spray bottle and then add a few drops of essential oils. Specific scents which deter cats are citronella, eucalyptus, and lavender.
Recipe 2 – Vinegar: Not as pleasant smelling, vinegar is an effective cat deterrent. Mix one part vinegar with one part handsoap and spray over your furniture.
Recipe 3 – Rosemary: Cats hate the smell of rosemary, so try mixing rosemary extract with lemon juice, orange juice, cranberry juice, and water.
Anti Scratch Spray for Cats FAQs
Q: What can I spray to stop my cat from scratching?
A: You can buy specialized anti scratch spray for cats that produce a smell that is nasty to cats, but usually odorless or nice-smelling to humans. Always opt for natural ingredients so you know the spray is safe for animals and humans and won't damage your furniture further.
Q: Do cat anti scratch sprays work?
A: Whether you find an anti scratch spray to be effective depends on your cat. Some are more deterred by particular scents than others. If one spray does not seem to be working, try another that has different ingredients. Also, make sure you are remembering to spray the product often enough or the smell will not be strong enough to deter your cat.
Q: What scents do cats not like?
A: Cats do not like citrus smells such as lemon and orange, herbs such as rosemary and thyme, and essential oils such as lavender and eucalyptus. They also find pepper, cinnamon, and mint to be unpleasant.
Q: How can I train my cat to stop scratching the furniture?
A: To stop your cat from scratching the furniture, use cat deterrent sprays and regularly spray on furniture, walls, and carpets that your pet is prone to scratch. You can also buy a scratching post, install a cat flap, and buy lots of toys to stimulate your cat which can help break bad scratching habits.
Q: What is the best spray to keep cats from scratching the furniture?
A: In my opinion, the best spray to stop cats from scratching is the Claw Withdraw Cat Deterrent Spray. From personal experience, this is the most effective in stopping my cats from scratching. It also smells nice, is made from 100% natural ingredients, and is middle of the range price-wise.
Q: Why is my cat scratching at everything in my home?
A: Scratching is natural for cats as in the wild they rely on their claws for hunting, protection, and climbing. Domesticated cats still have these wild instincts. Cats are also naturally curious creatures so like digging their claws into everything, but they will claw more when they are feeling bored, stressed, or vulnerable.
Q: What can I put on a leather couch to stop my cat scratching it?
A: Be careful when using a spray for your couch and ensure that it is a no scratch spray for leather or that it can be used on multiple surfaces. This will make sure the spray doesn't further damage your couch or leave any nasty stains.
Q: Will anti scratch cat sprays stain my furniture?
A: Most anti scratch cat sprays will not stain your furniture. They have been designed for use around the home so generally do not cause damage. However, always patch test before spraying over the whole area to make sure no marks are left behind.
Q: Should I buy a non-scratch spray for my cat?
A: If you are having issues with your cat clawing your furniture, I would definitely recommend purchasing a non-scratch spray for cats. I think they are effective when used regularly and in conjunction with other methods.
MY FINAL THOUGHTS
If you have a cat that has a clawing problem, buying cat anti scratch spray can be an excellent solution. It is important that you choose the right one so that it is safe for your pets and family, doesn't damage your furniture or smell bad, and most importantly works at preventing your cat from scratching.
These six are my top sprays, but there are plenty more out there for you to try. When shopping around just make sure the spray ticks all the boxes.
I personally love anti scratch spray for cats and think it is the stuff of miracles. I now have a scratch-free home, happy cats, and a house that smells delicious. Win-win!