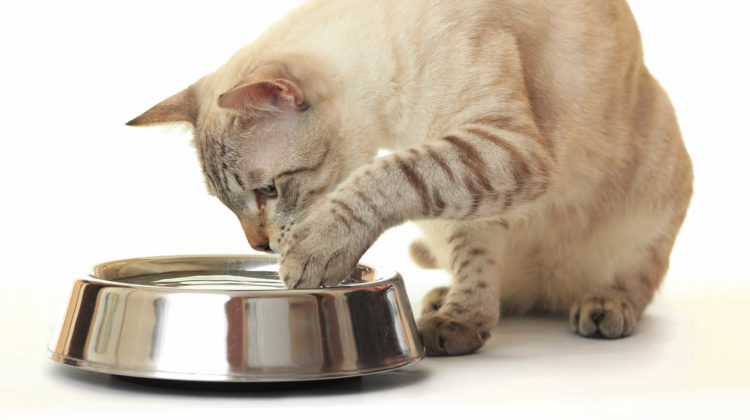 Cats are so notoriously afraid of water that it's a real surprise when they start tapping on their water bowl and getting water all over the floor. It seems these beauties want to keep things interesting for their owners and always find ways to surprise you!
Tapping on water and spilling it on the floors can appear due to several reasons. Some of those are psychological, but they can sometimes point out certain health issues. The best way to be sure that nothing is bothering your cat and she's just playful is to visit your vet.
In this article, I will run through all the possible reasons behind this strange behavior. I also understand how annoying it is to constantly be cleaning up spilled water from the floor, so I've also got some solutions you can try to prevent them pawing at their bowls. So, let's get stuck in!
Reasons Why Cats Paw at Their Water Bowls
1. Whisker Fatigue
Whiskers receive sensory stimuli from the environment and help your feline navigate through the space around her. However, some cats can have overly sensitive whiskers and suffer from whisker fatigue.
Whisker fatigue is a condition when the cat receives an array of signals through the whiskers because the hairs constantly touch the surface of the water bowl. Whisker fatigue, in most cases, is not painful for your furry friend, but it causes discomfort. So each time they have to drink from a deep bowl that irritates their whiskers and sends too many signals to their brain, they'll try to find another solution.
This is when you'll see the cat touching and tapping on the water surface. There is no reason to be worried – it's just trying to avoid discomfort by using its paws to help with drinking. They'll dip the paw then lick it instead.
2. Cats Prefer Moving Water
So many cats like running water, which is an instinctive trait. Back in the day, when cats weren't domesticated, they always drank from moving sources. Running water is perceived as fresh and is less likely to be contaminated, whereas still and stagnant water is a breeding ground for bad bacteria and disease.
Wild cats still do this as they know it's a more secure source, and this behavior has been passed down to the domestic cats we keep as pets today. So, instead of licking the water from the bowl, they try to imitate a running source by tapping with their paws in the bowl and making the water move.
3. They Struggle to See the Water Level
If you see your cat dipping its paws into the liquid right before drinking any water, a good guess is that your cat is trying to figure out what the water level is. Felines have great vision, but they find it hard to see still water. So, to make it easier to see, they start tapping on it with the paw, and it turns into moving water. To make things easier for your cat, you should try always to fill the bowl to the same level.
4. Health Issues
If a cat splashes water out of the bowl, it might mean that she's struggling and isn't feeling well. Certain illnesses such as diabetes and thyroid conditions can stimulate the cat to touch the water with its paws. These conditions make the cat thirsty, so you'll also see your feline drinking more often than ever.
Aside from splashing the water, if a cat is thirsty because of unsolved health issues, the chances are she'll try to find other sources of water in the house. The feline might run to the faucet each time it hears running water, go to the toilet often to try and drink water, and to the kitchen. If you notice that your furry friend wants to drink a lot of water, you should get in touch with your vet.
5. Anxiety And Stress
Anxious and stressed-out cats can show their feelings by splashing water. Many felines suffer from separation issues and manifest it with strange behavior such as splashing the water. If she misses you or wants your attention, the feline can start tapping the water and making a mess. Just try to be more loving, patient and spend more time with your furry friends to see if this is the reason that's causing all the water spilling.
6. To Be More Secure
If you have more than one cat, you know how competitive they get. It only takes seconds for felines to attack, so in some cases, the cats don't want to relax and waste time drinking water while unprotected. Instead, they decide to keep their heads up and eyes on the situation while drinking water from their paws. To prevent this, you can add more water bowls in your home and place them in less crowded spots where the feline can have some peace and quiet.
7. They're Having Fun
Some cats love water and enjoy playing with it, especially fun-loving kittens who are still figuring out the world around them. If you have a kitten at home who is not afraid of water, the chances are she's just playing and having fun. Kittens are pretty energetic, and sometimes they'll get creative and start splashing the water in their water bowl just because it's interesting.
Although kittens are the ones who usually play with the water bowl, an adult cat can play with a water bowl too. You can try getting more enticing toys for them to play with to distract them from splashing water as their source of fun.
Solutions
Having a cat that constantly paws at its water bowl can be frustrating for owners.
You don't want to keep having to mop up the mess they've made! Besides, your goal is to eliminate the trigger and make your cat happy again. Thankfully, today there are so many specialized bowls and fountains that will help your feline deal with whatever they're going through.
1. Visit the Vet
In most cases, it is completely normal when a cat splashes water out of the bowl. But, if there are also other symptoms – such as drinking water excessively or anxiety – you should talk to a professional. They can perform all the necessary exams to make sure your kitty is healthy. Even if it's just a psychological reason, it is best to visit a vet for peace of mind.
2. Water Fountain
Cats love drinking from fountains because they are a source of moving water. The water is always fresh, clean, doesn't smell, and it's fun. Battery-operated cat water fountains are great because they're cordless, aesthetically pleasing, and they're so easy to use. You can also go for a stainless steel cat water fountain because it's unbreakable, extremely easy to wash, and most cats love it.
3. Elevated Cat Bowl
Buying an elevated water bowl for cats is another great idea. By raising the height of the bowl, it is harder for your cat to get their paws inside and play with the water. You'll also make it easier for the cat to see the water level as it is closer to their face.
4. Whisker Fatigue Bowl
Most people opt for deep bowls because they can fit more water, so they don't have to do refills all the time. However, if you know your cat is not drinking water because of whisker fatigue, you should invest in a whisker fatigue bowl. These bowls are designed to be wider and with lower sides so that the feline can drink without touching the whiskers on the edges.
5. Spill-Proof Bowl
If your cat plays with the water bowl or moves it around the floor and makes a mess, you should think about getting spill-proof cat water bowls. They are weighted, untippable, non-slip, and come in many different designs. When using one of these bowls, even if your cat tries to dip their paws inside they'll have no luck tipping the entire contents over the floor.
MY FINAL THOUGHTS
So, why does my cat paw at her water bowl? Often, it's because cats can't see the water levels, and making the water ripple makes it easier to see. They may also suffer from whisker fatigue, are suffering from health issues or anxiety, or simply have a preference for running water. Perhaps they simply think their water bowl is fun to play with.
Luckily, each one of these problems has a solution. For example, there are special bowls that you can get if your cat is experiencing whisker fatigue. Many other types of bowls or fountains can also help prevent the feline from tipping it and splashing water. If in doubt, take a trip to see your vet for them to rule out any health issues.