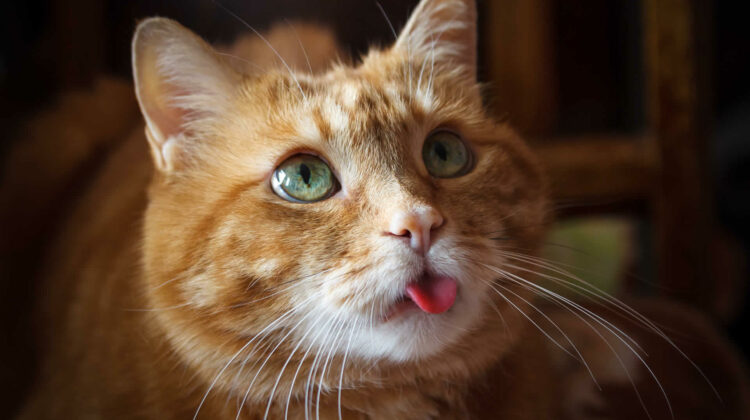 It is normal to see cats cough occasionally. For example, cats might cough to help clear their throat or to cough up a hairball. However, if you see your cat coughing with its tongue out frequently, it can be worrisome and disturbing. What is causing our cats to cough in this way?
The most likely explanation for a persistent cough is asthma. As the airways constrict, it makes cats cough and wheeze as they struggle to breathe. Other possibilities include upper and lower respiratory issues, parasitic worms, allergies, or some kind of throat obstruction.
In most instances, all of these issues will require veterinary attention. But before you whisk your cat to the vet's office, have a read through this article and see what you think could be wrong with your furry friend. Their cough could be harmless or life-threatening, so let's find out which it is!
Why Is My Cat Coughing With Its Tongue Out?
1. Feline Asthma
Asthma is one of the most common causes of a cat coughing with its tongue out. This condition causes your cat's airways to become chronically constricted, so the air has to squeeze through them in and out of the lungs.
The passage of air through these tight airways is what causes the classic wheezing sound associated with this condition. Coughing is another common symptom though. The body doesn't know why it is struggling to get enough oxygen to the lungs and assumes something must be obstructing the airways. A cough is the body's way of trying to dislodge this obstruction.
But, of course, there is nothing to be removed! Therefore, asthmatic cats have a long-lasting and non-productive cough that never brings up phlegm, debris, or any other matter. It is very similar to when cats throw up hairballs. So, if you notice your cat coughing but no hairball, asthma is very likely.
2. Lower Respiratory Problem
If you spot your cat coughing with its tongue out, it could be a sign of inflammation in the lower respiratory tract. This includes the lungs, trachea, and bronchi, with the most common example in cats being bronchitis. In this disease, the trachea and bronchioles are inflamed and narrow.
Like asthma, this impedes the ability to bring oxygen into the body. Unlike asthma though – which is caused by constriction of the muscles within the bronchi walls – bronchitis is typically caused by an infection. This can be a bacterial, viral, or fungal infection.
The cough is deep and is often accompanied by gagging and retching sounds. Other signs of lower respiratory problems in cats include the following:
Rapid breathing which shouldn't exceed 35 breaths per minute
Lethargy and weakness due to reduced oxygen supply
Reduction in appetite and anorexia
3. Upper Respiratory Infection
Infections can also arise in the upper airways and cause inflammation. This includes the nasal passages, sinuses, oral cavity, larynx, and pharynx. Coughing is one of the main symptoms – your cat is trying to clear their airways by coughing.
However, the clinical signs of upper respiratory infections (URIs) are more comparable to the symptoms of a human cold. You might notice a discharge from the eyes and/or nose, sneezing, and ulcers in the mouth. My cat sounds congested when breathing with a URI, but breathing difficulties are less common.
Due to the congestion, you might notice changes to your cat's vocalizations and they can lose their voice. My cat can't meow and just squeaks when she's really bunged up. Cats open their mouth when they smell as well, so you might notice this happening more than usual as your cat struggles to breathe and smell through its blocked nose.
4. Parasitic Worms
Many types of parasitic worms live inside the intestines. However, heartworms live, as the name suggests, inside the hearts of cats. Specifically, they reside inside the right-hand chambers of the heart and the artery that supplies blood to the lungs.
Their location in the body means these parasites cause coughing, wheezing, and labored breathing. An abnormal heartbeat is also characteristic of the disease, along with vomiting and diarrhea. Its symptoms mean it is often initially misdiagnosed with asthma or bronchitis.
But heartworm is a life-threatening condition and can make your cat suddenly lethargic and weak. The onset of symptoms is typically slow though and gradually worsens as the parasitic infection becomes more severe. There is no treatment for cats with heartworm, so prevention is key.
5. Presence of Foreign Material
The presence of a foreign material blocking the airways can also cause coughing. The obstruction can result in your cat making a choking coughing sound, rather than a dry cough. It will often sound similar to your cat coughing up a hairball and is accompanied by gagging and retching.
You might think the chances of your cat inhaling a foreign object are pretty slim. Yet it happens more than you would expect! This is especially true for outdoor cats that can easily inhale pieces of grass or small bugs while out on their adventures. Pieces of string from toys are also easily ingested accidentally.
Their presence irritates the airways, causing coughing and the following other symptoms:
Wheezing and shortness of breath
Loud, labored breathing
Choking and gagging
Panicked behavior
If you spot your cat drooling but acting normal, I suggest taking a look inside its mouth. You might be able to see a foreign material stuck in the mouth or visible at the back of the throat. Likewise, if your cat is making weird mouth movements, it could have something trapped inside.
You might be able to help your cat by removing the blockage yourself. However, depending on the size and location of the foreign material, it can become life-threatening. The object must be removed by a vet to remove the obstruction and ease symptoms.
6. Hairballs
A cat coughing with its tongue out could be trying to cough up a hairball. Hairballs are expected in cats and do occur from time to time. They're incredible self-groomers and ingest a lot of hair in the process of keeping themselves clean. Most of this is passed through the GI tract, but some does accumulate and must be coughed up.
Each time your cat coughs up a hairball, they're vomiting. Being sick is an active process and requires work from the stomach muscles, which explains why there's so much coughing and spluttering. This is one of the main differences between cat regurgitation vs vomit; while regurgitation is passive and relatively noiseless, vomiting is often loud.
Hairballs can be large or small. The smaller hairballs are easy to pass, whereas coughing up bigger hairballs can be pretty noisy. Sometimes, my cat keeps gagging but nothing comes out, only for a huge hairball to appear after a lot of retching, coughing, and gagging!
Nevertheless, your cat shouldn't be throwing up hairballs more than a few times each month. If the occurrence is more than this, your cat might have underlying digestive issues. Grooming your cat regularly and changing your cat's diet can also help to reduce hairballs in cats.
7. Feline Allergies
Finally, your cat could be coughing due to allergies. When coughing is a symptom, the allergy is usually due to an airborne molecule. Common examples include pollen, dust mites, mold, smoke, and high-dust cat litter.
Inhalation of these allergens causes the airways to become inflamed, leading to coughing. The coughing can occur at any time – you might notice that your cat coughs after drinking water, after playing with its toys, or when resting. But coughing will typically worsen when higher amounts of the responsible allergen are present.
Other symptoms in addition to coughing include:
There is discharge from the nose and mouth
You notice your cat wheezing
Your cat has itchy and inflamed skin
Your best bet is to work out the cause of the allergy. This way, you can reduce or eliminate its presence in your home to ease your cat's symptoms. Antihistamines, allergy shots, and steroids are the three main medical treatments available if you'd rather go down this route.
When Does Coughing Need Veterinary Attention?
As you can see, there are many causes of coughing in cats. Occasional coughing is normal and your cat's way of clearing their airways. A cat coughing with its tongue out is also characteristic of a kitty that's about to throw up a hairball. So, when should you be concerned?
I always suggest taking your cat to the vet if you have any concerns over their health. In my mind, it's always better to be safe than sorry! However, if any of the following apply then a trip to the veterinary office is a must. These all indicate an abnormal cough that is likely linked with an underlying medical condition:
Persistent Cough: The odd cough now and again is nothing to be concerned over, but a cough that won't go away usually indicates asthma or respiratory infections. Any cough that your cat has for longer than three days should receive veterinary attention.
Productive Cough: A productive cough – also known as a wet cough – is where phlegm and saliva are brought up. This usually only happens in cats with lower respiratory problems, such as infection of the lungs, trachea, and bronchi.
Coughing & Wheezing: Wheezing is a sign that oxygen is struggling to pass through the airways and enter the lungs. This is not a good sign and usually means your cat either has asthma or an upper respiratory infection.
Recurrent Cough: Coughs that keep coming and going can be confusing. They're often caused by allergies, as allergy symptoms vary in severity depending on the concentration of the allergen in the air. Asthma is another likely explanation.
Blue Tongue & Gums: A healthy cat should have a pink tongue and gums. When they turn blue, this shows that the tissue is not receiving enough oxygen. And neither is the rest of their body! This needs an urgent trip to the vet before their condition worsens.
Weight Loss & Lethargy: Unexplained weight loss and lethargy are two common signs of illness. When accompanied by a cough, it often indicates the presence of parasites or an infection of the upper respiratory tract.
Treatment for a Cat Coughing With Tongue Out
How coughs are treated depends on the underlying cause. Your vet will be able to talk through the different treatment options with you at your appointment. Here are just some of the options that might be recommended to you:
Antibiotics for coughs caused by bacterial infections
Antiparasitic drugs for coughs caused by parasites
Surgery to remove a foreign body that is obstructing the airways
Antihistamines, allergy shots, or steroids for cats with allergies
Cough suppressants to treat coughing as a symptom
With coughing, changes to your home environment can also dramatically help. Removing triggers from your cat's environment in the case of allergies and asthma is a must. Only smoke outside, switch to a hypoallergenic low-dust litter, and avoid using harsh chemicals and cleaning sprays. Purchasing an air purifier and humidifier further helps to remove airborne allergens from the air.
MY FINAL THOUGHTS
If you notice your cat coughing with its tongue out, try not to panic! Your cat might have a hairball or something else it's trying to remove to clear its throat. However, if the cough is persistent, productive, or recurrent, book an appointment with your vet.
Before you go to your appointment, make sure you've made a note of your cat's symptoms. Have they lost weight? Do they appear more lethargic? How long has your cat been coughing? Is the cough wet or dry? Are there any other symptoms present? This can help your vet accurately diagnose your cat the first time around and get them on the mend.