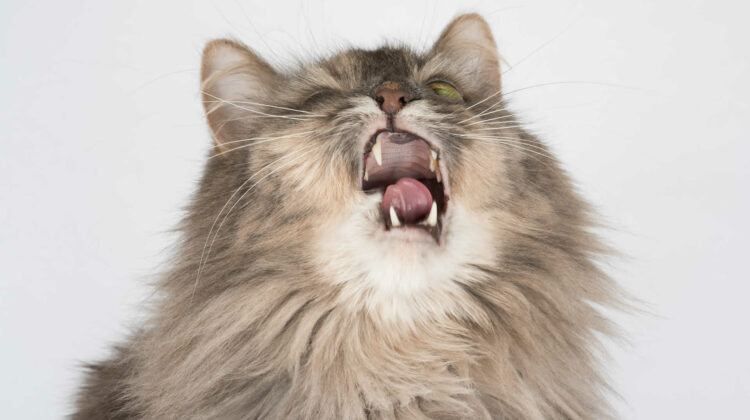 When you hear your cat making a choking coughing sound, it can be pretty alarming. Cats are curious creatures and can ingest foreign objects which make them choke. Similarly, a large hairball that is struggling to make its way out of your cat's digestive tract can make your cat cough and gag.
No matter what is causing the blockage, choking can be pretty serious! In many cases, you'll need to get the blockage removed by your vet. Or, in the case of an emergency, you might have to do this yourself. Keep reading for my step-by-step guide on how to help your choking kitty.
On the other hand, some cats keep making choking noises even though nothing is blocking their throat. This is less alarming and doesn't need immediate medical attention. However, it still indicates something is wrong that needs fixing. If left unattended, the problem will only worsen!
In this article, I look at all the reasons why your cat is making a coughing choking sound. Is she just coughing up a hairball? If she choking on a foreign object? Is there another underlying condition that's causing a gurgling sound in your cat's throat? Let's find out!
Why Is My Cat Making a Coughing Choking Sound?
If your cat keeps making choking noises – be that hacking, gagging, retching, or coughing – it usually means one of two things. Either your cat has a hairball that it is about to throw up, or your cat has ingested a foreign object that is now obstructing its windpipe.
1. Your Cat is Coughing Up a Hairball
All cats get hairballs occasionally. This is because cats love self-grooming and lick themselves all over with their sandpaper-like tongues. These specialized tongues are great at picking up dirt, but they also collect loose hair from your cat's coat. This hair is ingested and will form small clumps inside your cat's digestive system that need to be eliminated.
Most hair that your cat ingests will be passed through their stools. However, some hairballs will get large and the only way out is back through the mouth. This usually happens more during hotter periods of the year when cats shed more fur. They're also more common in long-haired cat breeds as they have more fur than short-haired cats.
When cats throw up hairballs, they often make a coughing choking sound. This is because hairballs are a type of vomiting, which is an active process. In fact, this is one of the main differences between cat regurgitation vs vomiting – it will often be loud and your cat uses its stomach muscles to push the hairball up and out its mouth.
You'll know if this is why your cat is choking because a hairball will appear shortly afterward. These choking noises will also stop immediately after your cat has coughed up its hairball. However, don't be alarmed if it takes a little while for the hairball to appear. Some are larger than others and will take longer to cough up.
While the odd hairball is normal, a cat throwing up hairballs daily is not! Healthy cats should only cough up hairballs once or twice each month. If you're dealing with more hairballs than this, you might want to try and prevent them.
One or more of the following tips should help:
Brush your cat regularly to remove loose fur from their coats
Use hypoallergenic wipes after brushing to remove fur you missed
Add fiber to your cat's diet with pumpkin or other supplements to aid the digestion of hair
Switch to a special "hairball formula" cat food to aid digestion
Create a stress-free home environment so your cat doesn't groom excessively
2. There's a Foreign Object Stuck in Their Throat
Cats might be making coughing choking sounds as they've ingested a foreign object. Now, this isn't always the case. Some foreign objects are tiny and will easily pass down your cat's throat and through their digestive system. This won't cause any coughing and might happen without you or your cat even realizing it.
However, larger foreign materials can get stuck in the throat or mouth. When this happens your cat will start to cough and choke. This is their bodies' way of trying to dislodge the foreign material. It's a pretty smart physiological response – if the object did make its way into your cat's intestines it could cause a blockage here. These blockages are harder to remove.
If your cat has a foreign object stuck in its mouth or top of the throat, you'll usually notice your cat drooling all of a sudden. You might also spot your cat making weird mouth movements as it grinds its teeth in an attempt to dislodge the material. Your cat will usually be able to cough up the object itself, but you might need to help them if they're having difficulties.
The further down the throat the object is, however, the more problematic it becomes. This is because air can usually travel past objects stuck at the top of the throat or the mouth. However, objects trapped further down the esophagus can block the airways and cause choking.
Partial blocks are not a medical emergency but do need to be removed. Common culprits include pieces of string from toys – they're big enough to block the normal passage of air but not large enough to completely obstruct the airways. You might notice that your cat coughs after drinking water if they have a partial blockage and choke but never cough anything up.
On the other hand, a complete blockage of the airways is a medical emergency. The object needs to be dislodged immediately so that your cat can breathe. Without oxygen, their entire body could shut down and they could pass away. Call your vet immediately if you think your cat is choking.
What Should I Do if My Cat is Choking?
If you find your cat coughing like something's stuck in its throat, you need to get it removed. This can turn into a medical emergency if this object ends up blocking its airways. The object can stop them from breathing, and it can become a life-threatening situation. Therefore, you have to act quickly! Follow these steps in this order and your cat should be fine.
1. Call the Vet Urgently
Your first step should always be to call your vet. Do this as quickly as possible if you think your cat is choking. If your vet agrees that your cat does have an obstruction, they'll likely call them in for an emergency visit. At the appointment, they'll open your cat's mouth and search for the cause of the blockage before removing it.
2. Remove the Blockage Yourself
Choking can sometimes come on suddenly and quickly, meaning you might have to take matters into your own hands. Gently open your cat's mouth and see if you can see an object in their throat causing the blockage. If so, try reaching inside with your fingers and gently try to remove it by pulling it out through the mouth. You might need to use tweezers if you cannot grab the object using your fingers.
Remember, this is only ever to be used in the case of an emergency. Removing obstructions from the throat can be difficult and is definitely best left to a professional. However, if you can't get to the vet and leaving your cat as they are is a death sentence, give it a go.
3. Perform the Heimlich Manoevre
Sometimes, the obstruction will be too far down the throat and not visible at the back of the mouth. If your cat is choking, your best bet is to perform the Heimluck Maneuver on your cat.
You can do this by following these steps:
Pick up your cat and hold them into your chest with their back facing you.
Make a fist with your dominant hand and hold it at the base of your cat's rib cage.
Pull your fist in inwards and upwards motion to replicate strong abdominal contractions.
Continue with these thrusts until you can hear the object coming up.
Look into your cat's mouth and see if the object is now visible. If it is, remove it.
If you still can't see the object, perform 2-3 more thrusts and check again.
Keep repeating step 6 until the obstruction is removed from your cat's throat.
Even if successfully performing the Heimlich Maneuver, you will need to take your cat to the vet afterward. You may have just saved their life, but you might've caused a little damage in the meantime which your vet needs to check. They'll also look to confirm whether the entire obstruction has been removed.
Why is My Cat Coughing But Nothing Comes Up?
If your cat keeps gagging but nothing comes out, there is probably no hairball or foreign object blocking their airways. So, why is your cat coughing if there's no obstruction?
Unfortunately, this usually indicates an underlying medical condition. Cats make weird noises when sick, coughing and choking being just one of them. These sounds indicate that the medical condition is irritating the airways. This irritation is what is causing your cat to make a coughing choking sound. Below are some examples of what could be wrong:
Feline Asthma: After hairballs and obstructions, asthma is the most common reason for a cat coughing with its tongue out. In fact, it affects up to 5% of all cats. This is where the airways are chronically inflamed and constricted, making breathing difficult. For this reason, choking sounds are common, along with wheezing, open-mouth breathing, and blue gums.
Allergies: Cats can suffer from a range of allergies just like humans – they might be allergic to pollen, smoke, dust mites, cat litter, or some types of cat food. The symptoms of allergies in cats are also alike to the symptoms in humans. This includes coughing, sneezing, inflamed skin, wheezing, and breathing difficulties. You'll need to limit the number of allergens if your home to alleviate your cat's symptoms.
Heartworm: This is a life-threatening parasitic infection caused by worms that live in your cat's heart. They're found on the right side and in the artery connecting to the lung, thus causing respiratory symptoms. This includes choking and coughing noises. Other clinical signs are labored breathing, abnormal heartbeats, and vomiting. There is no treatment, so heartworm prevention medication is essential.
Respiratory Infections: Bacterial and viral infections are common in cats and infect the upper airways. Common examples are FHV-1, FCV, and Bordetella bronchiseptica. If your cat sounds congested when breathing and is making choking noises, it might have a respiratory infection. Other symptoms include discharge from the eyes, a runny nose, and sneezing. Cats can breathe through their mouths in some cases, too.
If you think your cat has any of these conditions, speak to your vet as soon as possible. They'll be able to run tests and provide treatment where needed. You can help your cat at home by ensuring they're up-to-date with their vaccines and heartworm-prevention medication.
MY FINAL THOUGHTS
Your cat making choking coughing sounds can be worrisome. But more often than not, they're just throwing up a hairball. Hairballs are nothing to worry about, assuming your cat doesn't have them every day. And even if they do, this is nothing that regular grooming and diet modification can't solve.
Unfortunately, your cat might be choking as they have ingested a foreign object that's causing an obstruction. You'll see your cat coughing with its tongue out as it tries to dislodge the object. Objects stuck further down the esophagus can stop your cat from breathing. If this happens, call your vet. It's a medical emergency and needs to be removed ASAP!
If your cat keeps gagging and there's no obstruction, your cat might be coughing instead. Coughing in cats is often confused with coughing up hairballs. However, it's usually due to some kind of respiratory issue. Speak to your vet if in doubt so your kitty can get the treatment she needs.