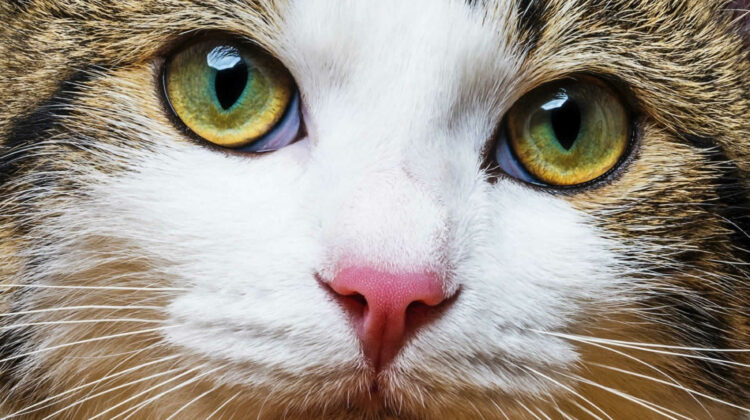 Now and again it is normal for cats to get hairballs. As they lick their fur coats, some of the loose fur gets accidentally ingested and has to be removed from the body somehow. This is accompanied by coughing, gagging, and retching as your cat throws up the ball of fur that's developed.
But what if you hear your cat coughing but no hairball comes up? In some cases, this is nothing to worry about. It could be that your cat is still working its hairball backward through the digestive tract. Or maybe they chomped down their food too quickly and are coughing it straight back out!
However, coughing up hairballs is often confused with respiratory coughs which need to receive prompt medical attention. To help you figure out the difference, I look at the difference between a cat cough and a hairball in this article. You'll also find six common causes of coughs in cats and what you can do to help ease your cat's coughing.
What's The Difference Between Cat Cough and Hairball?
It is important to distinguish between coughing up hairballs and regular coughing in cats. The two are often confused by cat owners, but finding a distinction is important. While hairballs are natural and generally nothing to worry about, coughing is usually a sign of illness. So, what's the difference?
Let's start by defining both coughing and hairballs:
Coughing: Coughing is a sudden and loud expulsion of air from the lungs. This is the body's natural response to something being in the lungs that shouldn't be there. Examples could include lodged foreign bodies or mucus that's accumulated due to inflammation.
Hairballs: On the other hand, hairballs are clumps of undigested hair found in the digestive tract and the process of bringing them up is a form of vomiting. The main difference between cat regurgitation vs vomit is that vomiting is an active process. As such, throwing up hairballs is often loud and a lot of effort for cats.
However, when your cat is trying to bring up a hairball, it might start coughing, spluttering, and dry heaving. This can sound a little alarming but is actually completely natural (unless your cat is throwing up hairballs daily which could indicate another underlying issue). For this reason, many people assume that a coughing cat is simply trying to cough up a hairball.
However, there is a common misconception that cat hairballs are common. In reality, cats should only be bringing up hairballs a couple of times each month! If your cat is coughing more than this and no hairball comes up, there's probably something else bothering their respiratory system.
Why Is My Cat Coughing But No Hairball?
Is your cat making choking coughing sounds but no hairball has come up? Unfortunately, there is probably something wrong with your kitty. Regular and persistent coughs can indicate all kinds of illnesses and conditions.
Below are six likely causes your cat might be diagnosed with:
1. Feline Asthma
Frequent coughing but not hairballs could be a sign of feline asthma. This is a relatively common medical condition, affecting up to 5% of all cats. Cats with asthma have chronically inflamed airways that become constricted. This makes the passage of air through the airways more difficult and can make it hard for oxygen to reach the lungs.
Because of their shortage of air, asthmatic cats may develop a chronic cough, and you'll usually see the cat coughing with its tongue out. This is because the body is trying to dislodge the blockage by coughing. Of course, this is impossible as the constriction is due to swelling and inflammation, so the cough is long-lasting and non-productive.
If your cat is suffering from asthma, you should be able to spot several other clinical signs, including:
Your cat breathing heavily while resting to get more oxygen to the lungs
Your cat having blue gums and lips due to oxygen shortages
Your cat breathing through the mouth to facilitate breathing
Your cat wheezing as air tries to squeeze through the constricted airways
Your cat not throwing up a hairball despite coughing repeatedly
2. Respiratory Infections
Coughing is a common symptom of most respiratory infections, meaning they can initially look similar to your cat passing a hairball. There are several different types of respiratory infections, most of which affect the upper airways. They are caused by either viruses or bacteria, the most common in cats being feline herpesvirus (FHV-1), feline calicivirus (FCV), and Bordetella bronchiseptica.
Pay close attention to your cat and you will notice several other signs of respiratory infections. For example, if your cat can't meow and just squeaks, it could be very congested due to infection. A sneezing cat drooling when purring could be another sign.
Other symptoms include:
Your cat has discharge from the eyes and nose
Your cat is sneezing and has a runny nose
Your cat has a reduction in appetite and loses weight
The list goes on, and most symptoms are comparable to those of a human cold. These won't be present if your cat is trying to cough up a hairball, so should help you differentiate between the two.
3. Allergies
Allergies can be another reason for your cat coughing but no hairball. Like people, cats can be allergic to all kinds of things! Examples include pollen, dust mites, cigarette smoke, and some cleaning products. Even high-dust cat litter can trigger allergies, as can protein sources found in cat foods.
All allergies are caused by the immune system wrongly thinking that the allergy-causing substance is a danger to the body. The immune response is the body's way of trying to eliminate this "dangerous" substance, and coughing is one way to do this. Other signs of allergies in cats are:
Your cat has bouts of vomiting or diarrhea
Your cat has itchy and inflamed skin
Your cat's paws are swollen
Your cat might wheeze and have difficulties breathing
4. Parasitic Infections
If you think your cat is trying to cough up a hairball but can't, they may have contracted a parasitic infection. These types of infections are common in cats and include fleas, mites, and worms. The parasite that is usually responsible for coughing though is heartworm.
Heartworm is an incredibly serious and life-threatening disease caused by worm-like parasites that live inside the heart. Specifically, they live on the right side and the main artery which leads directly from the heart to the lungs. As such, their presence causes several respiratory symptoms, including coughing, wheezing, and other asthma-like symptoms.
Other signs include:
Your cat has an abnormal heartbeat
Your cat experiencing labored breathing
Heartworm is a progressive disease and so these symptoms might be very subtle at first. However, as the parasites grow and multiply they become more severe.
5. Foreign Bodies
If your cat is trying to cough up a hairball but can't, it could be possible that it's trying to cough up something else instead. Cats are curious creatures, and it is not all that uncommon for our furry friends to put something in their mouths that they shouldn't. These foreign objects can be either ingested or inhaled, both of which can cause coughing:
Ingesting Foreign Bodies: When foreign material is accidentally ingested, it needs to be regurgitated like hairballs. If this is the case, you will see your cat dry heaving but no hairball comes out. This is a digestive response and more alike to gagging and retching than true coughing from the lungs. Common examples include pieces of string or small parts of toys.
Inhaling Foreign Bodies: When foreign bodies are inhaled they enter the airways and cause true coughing. This is your cat's way of trying to remove this foreign material from the lungs before it causes an inflammatory response or affects breathing. In this case, the foreign material is more likely to be a blade of grass or a small bug.
While coughing is a great way to remove any foreign material from the airways and digestive system, they can occasionally get trapped. If your cat coughs after drinking water, this could be a sign of obstruction. Likewise, if your cat keeps gagging but nothing comes out the material they are trying to shift might be stuck.
6. Hairballs
Of course, there is a chance that your cat is trying to cough up a hairball but can't get it out. This usually happens when the hairball gets too large for your cat to budge. However, this won't ever be an issue for healthy cats. In fact, it is usually a sign that your cat has some type of digestive problem.
Therefore, if you spot your cat trying to cough up a hairball but can't, you need to get their gut health checked by a vet. It is a good idea to look for the other symptoms of digestive issues as well to inform your vet of them at the appointment. Examples of symptoms include the following:
Your cat has diarrhea or is constipated
Your cat has stopped using its litter tray
Your cat is lethargic and weak
Your cat is throwing up regularly
What Should I Do if My Cat is Coughing But No Hairball?
A cat coughing but no hairball can be alarming. If your cat is truly coughing, they're likely dealing with some kind of respiratory issue. On the other hand, cats that cannot throw up hairballs or have them frequently are more likely dealing with digestive upset.
So, what should you do?
1. Book a Veterinary Appointment
Your first point of action should always be to book an appointment with your vet. Many medical conditions cause coughing or hairballs and your vet needs to test for each of these. The sooner these are diagnosed and treated, the better for your furry friend.
The exact treatment your vet prescribes will vary dramatically depending on the condition your cat is diagnosed with. Antibiotics might be offered for respiratory infections, while bronchodilators can help to widen the airways for cats with asthma. Where allergies are present, your vet may recommend food elimination diets or changes to your home environment.
If you're worried about bothering your vet about nothing, use the following checklist to determine how essential it is you book an appointment.
Where any of the following apply, don't hesitate to reach out:
Your cat is coughing and sneezing
Your cat is wheezing or struggling to breathe
Your cat is losing weight unexpectedly
Your cat's cough is persistent or keeps coming back
Your cat's cough sounds wet
Your cat's tongue and gums are turning blue
2. Remove Airbourne Pollutants
If your cat is diagnosed with allergies, your vet will be able to advise you on changes you can make in your home to relieve symptoms. In most cases, this involves reducing or eliminating the number of pollutants and allergens in your home. The fewer present, the smaller the immune response.
One great way to remove all airborne pollutants is by investing in an air purifier. Get one with a True HEPA filter as they effectively trap and remove all airborne allergens from the air. This is great for your cat's allergy symptoms and can help treat any allergies you have as well.
Other ways you can help alleviate the symptoms of a cat with allergies include:
Switch to a hypoallergenic cat litter that is dust-free
Keep on top of cleaning to eliminate dust mites
Wash your cat's bedding regularly to remove all allergens
Avoid smoking in your home or around your pet
3. Preventative Treatments & Vaccines
There are preventative treatments available for most parasitic infections, including heartworm. Like flea prevention medications, these treatments are typically administered once per month either orally or topically. There is also the option of a biannual injection administered by your vet.
As life-threatening heartworm has no treatment, it is advisable to use the available preventative methods. This is true regardless of whether your cat is an indoor or an outdoor cat as both can contract the infection. Use of the treatment will prevent your cat from contracting the infection so your cat won't be coughing in the future.
There are also vaccinations that protect against some respiratory infections that can cause coughing. Most cats will receive vaccines against FCV and FHV-1 when they are kittens, so make sure you get these. No vaccines last forever though, and you will need to keep on top of your cat's vaccination in adult life to maintain full protection.
4. Help Hairball Digestion
If respiratory problems have been ruled out and you're sure your cat is trying to cough up hairballs, you can try to help with hairball digestion. When your cat's digestive health is at its best, it can digest the hair and pass it out in the stools, rather than throwing up these balls of fur. This removes the need to regurgitate hairballs entirely.
Below are just some of the home remedies for hairballs in cats:
Add more fiber to your cat's diet by switching to high fiber cat food
Add pumpkin or another high-fiber veg to your cat's food
Switch to wet cat food to help soften formed hairballs
Encourage your cat to drink with a cat water fountain
Add oil to your cat's diet to help lubricate the digestive tract
5. Regular Brushing
Another way you can help with hairballs is with regular brushing. Each brush stroke removes loose hair, meaning there is less for your cat to swallow accidentally when grooming. This means fewer hairballs will form, so your cat will be coughing far less than usual.
Most cats need to be brushed 1-2 times per week, but a long-haired breed might benefit from more regular brushing. Make sure you select a brush that is appropriate for their fur type. Also, while some cats love brushing, others hate it! If your cat isn't a fan, look at cat-friendly grooming gloves and soft bristle options that are gentler on the skin.
I also suggest running a hypoallergenic wipe or damp towel over your cat's fur after brushing. This will help grab the last few pieces of hair that the brush didn't pick up.
MY FINAL THOUGHTS
A cat coughing but no hairball coming up can be worrying. Is the hairball stuck? Or is something else going on? As we've learned, coughing and coughing up hairballs are different.
Cats with constant coughs are usually suffering from some kind of respiratory issue, such as asthma, allergies, or infections. On the other hand, a cat dry heaving but no hairball is more likely to be a digestive issue as hairballs are forming too readily and too large.
Of course, the occasional hairball now and again is nothing to worry about. But cats with persistent hairballs or coughing need to be seen by a vet. There is likely something wrong with your cat, and this might be minor or serious. The sooner your cat gets treatment, the better!