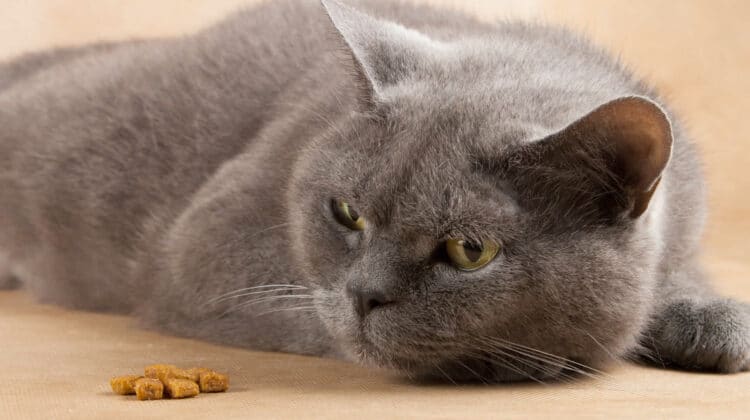 Do you often find that your feline leaves a lot of food in their bowl after eating? Do they only graze at their food and never eat a proper portion? Like many cat owners, my cat only eats a little at a time. Sometimes she barely even has one mouthful before walking away from her bowl!
This behavior can seem very concerning, especially if you're worried your furry friend isn't eating as much as they should be. So why isn't your cat eating properly? Is it a sign that something is wrong? Or is this a typical behavior amongst felines? Thankfully, I know the answers to your questions, and I will take you through everything you need to know in this article!
There are various reasons your kitty may not be eating a lot at mealtimes, and you'll soon find out that many are nothing to worry about. Less often, a medical issue could be behind your feline's behavior but don't worry; I'll go over all the signs you need to watch out for so that you can ensure your kitty is fit and healthy.
Why Do Cats Only Eat a Little at a Time?
Do you often think, "My cat is not eating much but acting normal; should I be concerned?" This is a common problem among felines, but thankfully, it usually isn't one that needs to be worried about. Many cats don't like eating a whole bowl of food in one sitting. Instead, they would much rather graze on their food throughout the day.
Four main things could be behind this behavior: (1) your cat is full, (2) it is an ancestral instinct, (3) they don't like the food you are giving them, or (4) your cat feels safe in your home. All these causes are explained in greater detail below, so read on to find out more!
1. Your Cat's Stomach is Full
First up is one of the most obvious reasons behind eating small amounts of food: your cat's stomach is full. On average, a feline's stomach is the size of a ping-pong ball. This is very small, so it makes sense that your kitty may need to take several breaks during a big meal in which their food can digest.
If this is a common issue, you may feed your feline friend too much, so check the recommended amount of food your cat requires. This will vary depending on your kitty's age and lifestyle. Cats scratch around their food when given too much, so this is another indicator to cut down your kitty's portion sizes.
Make sure also to consider the number of treats you're giving your kitty when looking into their diet. My cat stopped eating dry food but eats treats, and I soon realized this was because I was filling her belly up with treats rather than meals. This can be very unhealthy, so make sure to cut the number of treats your feline gets if they regularly skip meals.
Sometimes, you may find your cat throwing up food but acting normal right after. I sometimes had this problem with my cat, and it was only after a trip to the vet that I finally found out the truth: If your cat throws up after eating, they have likely overindulged themselves. This can be another sign that your feline's stomach is much too full.
2. Ancestral Eating Habits
Cats are natural predators. Over the generations, the natural instinct to hunt for prey has been passed down, so you're likely to see hunting behaviors in your kitty, even if they are an indoor cat. These behaviors influence the way your furry friend will play and their eating habits.
Cats have to rely on their hunting abilities for their next meal when living in the wild. Because of this, cats instinctually save food for later and prefer to have frequent, small meals instead. Sometimes these smaller portions are necessary as a feline may only catch a small bird or rodent at a time and therefore not be able to gorge on a larger meal.
These smaller meals also mean that a cat isn't endangered at any point by being over-full. After a big meal, a feline's ability to escape danger will be hindered, which could mean the difference between life and death out in the wild.
Your feline friend will have these same instincts, so it's best for them if you leave food down all day that they can nibble on when they feel like it. Dry food is best for this, as wet cat food will start to spoil after a few hours. However, wet food can be ideal if you are trying to up your kitty's water intake. A mixed diet with wet and dry food is recommended in most cases.
3. They Don't Like Their Food
We've all met a picky eater at some point in our lives. Maybe you yourself are even a picky eater! Unfortunately, the exact same thing can be said for cats. Although uncommon, your feline's problem could merely be that they are fussy about the food they will eat.
This is likely the culprit if you constantly have to deal with a cat asking for food but not eating. Refusing to eat the food you provide is your feline friend's way of expressing their dislike. Funnily enough, it is believed that too much variety in a cat's diet is what turns felines into picky eaters, so sticking to one brand may stop this from happening.
When your cat refuses to eat, you shouldn't always give in and try a new type of food. If you hold out, your kitty's survival instincts should kick in, and they will start eating whatever you give them. However, it must be said that forcing your cat to eat food they dislike could lead to health and behavior issues in the future.
You can try encouraging your cat to eat by trying a new flavor or texture of food. Some cats will show a preference for either wet or dry food and might be against particular flavors, so perhaps try a few of each to see which one your kitty enjoys more. If using wet food, also ensure you don't leave it out too long. If the food spoils, your furry friend definitely won't want to eat it!
4. Your Cat Feels Safe
When eating, your feline is in a very vulnerable position. If they are focused on their eating, your kitty is much less aware of their environment and potential dangers. In the wild, an unexpected attack while a cat is eating is likely to be lethal, so many cats have adapted to eating quickly so they can be on high alert once again.
While this instinct isn't necessary for domesticated cats, it is still a common habit. This is especially true if you own more than one feline, as they may feel they are competing against one another for food. Many cats like it if their owners watch them eat, as this gives them an added sense of security.
If your furry friend often grazes at their food and leaves it out in the open between meals, it suggests that they feel safe and secure in your home! Your feline knows they will always have access to the food they need and that they aren't going to be ambushed by a predator when in your care.
Other signs that your kitty feels safe in your home include regularly displaying their belly and sitting in the loaf position (paws tucked under their body with their tail wrapped around them). Both positions make your cat more vulnerable, and their willingness to be exposed around you shows they feel comfortable in your home. There's nothing better than knowing that your cat feels happy and loved!
Why is My Cat Suddenly Eating Less Than Usual?
All cats have different eating habits, so what is classed as a regular-sized meal for one feline may be seen as undereating for another. In most cases, these differences are nothing to worry about! The most important thing is that your kitty is eating enough food throughout the day, and you're not leaving out spoiled wet food for them as this can make your cat sick.
However, a cat suddenly eating less than usual can indicate an undiagnosed medical issue. When we feel ill, we commonly eat small amounts of simple foods like buttered toast or chicken soup. Unfortunately, cats don't have access to these plain foods! When they feel ill and may not have an appetite, they will make sure merely to eat enough to survive.
Below are five different diseases that may have caused your kitty's sudden lack of appetite. If you think your feline friend is suffering from a medical condition, they need to be taken to the vet for examination and treatment.
Dental Diseases
Dental diseases are some of the most common medical issues seen in cats. Between 50% and 90% of felines aged four years or older suffer from teeth or gum problems at some point in their lives. Thankfully, most dental diseases are treatable, and proper dental care can prevent any further issues from occurring.
The primary dental diseases you should know about are gingivitis, tooth resorption, and periodontitis. All these diseases can cause your kitten severe pain and discomfort, significantly reducing their food intake. Some other signs that suggest a dental disease are:
Inflammation of the gums
Drooling
Increased irritation
Turning head to the side while eating
Exposure of the tooth root
Loss of teeth
If you want to prevent dental diseases in your kitty, consider brushing your cat's teeth. It can take a while for your feline to become comfortable with this, but it is the best way of preventing any damage caused by the buildup of plaque and tartar.
Kidney Disease
The kidneys are a vital organ in all animals. They have several functions, such as conserving water, producing urine, and removing waste products from the blood. Kidney disease is when the kidneys stop performing these essential functions efficiently. The condition is mainly found in older cats and develops when the kidneys are significantly damaged.
If your feline friend suffers from kidney disease, they will probably urinate more often than normal and may form mouth ulcers that stop them from eating. Because of this, you may see your cat not eating but drinking. Other common signs of kidney disease you can look out for include:
Weight loss
Bad breath
Fatigue
Depression
Poor coat quality
Varied appetite
Unfortunately, there is only so much damage that your cat's kidneys can recover from. However, some treatments can lengthen your kitty's life span by several years. Dietary changes can also help slow down the damage and help extend your cat's life.
Digestive Obstruction
Although it is much more common in dogs, cats try to eat things they shouldn't more often than you'd think. Examples of such items include rubber bands, small toys, and string. These foreign objects can then get stuck somewhere in your kitty's digestive system, causing an obstruction. This leads to feelings of nausea and a loss of interest in food and drink. Other symptoms include:
Fatigue
Weight loss
Vomiting
Drooling
Pain
Reduced bowel movements
In long-haired cats, hairballs can also cause the same problem. Your feline friend won't be able to digest the large quantities of fur that can be swallowed during grooming. Fortunately, the blockages caused by hairballs can usually be treated without surgery. If you brush your kitty regularly, the chance of a hairball obstruction will become much lower.
If you notice your cat not eating or drinking for 3 days, this is serious, and you should take them to see your vet straight away, even if you can't tell there's a blockage. They may need an emergency operation, and delaying the procedure could be fatal.
Parasitic Infections
There are various parasitic infections that your cat could be suffering from. To have a parasitic infection, your kitty needs to be hosting at least one parasite. Some of these parasites will infect the skin and fur of your feline (external parasites), while others will enter the body and infect an organ instead (internal parasites).
Internal parasites are most likely if your cat loses its appetite. When it comes to internal parasites, you're usually dealing with worms (e.g., roundworms, hookworms, or tapeworms). The presence of these pesky parasites in the GI tract makes your cat feel sick, and so they lose their appetite.
Some parasites will be big enough that you'll be able to see them in your feline's fecal matter, but this isn't always the case. Instead, you may have to watch out for these other signs of parasitic infection:
Poor coat quality
Weight loss
Coughing
Itchy, irritated skin
Vomiting and/or diarrhea
Skin lesions
Weakness and/or fatigue
Slow heartbeat
Because of the extra fatigue and their lack of appetite, you might notice your cat sleeping all day and not eating. However, it is worth noting that some cats eat more to compensate for the nutrients the parasites consume. Other cats won't display any signs of an infection, so it is always best to have your furry friend examined by your vet if you think they are hosting a parasite.
Pancreatitis
The job of the pancreas is to produce enzymes and hormones that help with the digestion of food. When this organ becomes inflamed, it is known as pancreatitis. It can occur at any age, and some cats that recover from the illness have recurrent episodes. This is known as chronic pancreatitis.
The inflammation is caused when the digestive enzymes produced by the pancreas are prematurely activated, thereby digesting the pancreas itself. This is also often accompanied by inflammation of the liver and intestines because the enzymes can spill into the abdomen.
Pancreatitis can lead to:
Fatigue
Nausea
Vomiting
Diarrhea
Fever
Abdominal pain
Lack of appetite
Most felines with mild cases of pancreatitis make a full recovery if caught at an early stage. However, more severe cases can lead to other long-term problems, such as diabetes mellitus and exocrine pancreatic insufficiency.
MY FINAL THOUGHTS
To summarize, there is nothing to worry about if your feline tends to graze at their food all day rather than eating two or three big meals. My cat only eats a little at a time, but I know this is just her eating habit, and there is nothing more dangerous at play.
In most cases, your furry friend probably stops eating because their stomach is full, and they feel safe enough to leave their meal unattended for later in the day. Eating several small meals throughout the day is a natural instinct for cats, which is also a contributing factor. In rare cases, it may just be that your kitty is fussy. Try changing up the food you serve them, and you may see an improvement.
If your cat usually eats large portions but has suddenly lost its appetite, then there may be cause to worry. It could be that they have an undiagnosed medical issue stopping them from eating. If this is the case, your vet should be able to help.