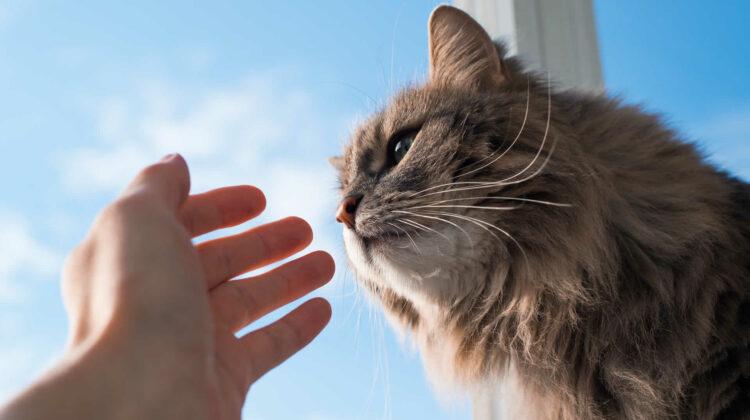 Cats are notoriously clean, non-smelly pets. They have immaculate hygiene and spend hours of the day keeping themselves clean. It's therefore extremely noticeable when cats start smelling, especially when you're dealing with fishy cat breath.
My cat has bad breath that smells like fish, and it's disgusting! If your cat has fish breath, you might be concerned. And rightfully so – bad breath usually indicates dental disease. The build-up of bacteria in the mouth causes the breath to smell. Other health issues such as diabetes, metabolic disease, or neurological disease also list fishy cat breath as a symptom.
The list doesn't stop there! Poor diet, lodged foreign bodies, or even oral cancer cause bad breath in cats. In this article, I discuss all these possible causes in depth. By the end, you'll be one step closer to discovering the cause of their smelly breath and getting the help they need.
Is Fishy Cat Breath Normal?
As obligate carnivores, fish is part of a cat's natural diet. Depending on what cat food you feed your furry friend, they might consume a lot of fish each day. Many commercial cat foods contain tuna, salmon, or white fish. Fish is a healthy source of proteins, amino acids, and Omega fatty acids. These all contribute to good health and a shiny fur coat.
If your cat is on a fish-based diet, it is normal for cat breath to smell like fish after eating. Fish has a strong and distinct smell that does stick around for a while. However, this smell will quickly dissipate and won't linger for long. It is just the remnants of their food causing this smelly breath.
Fishy cat breath that never goes away is less ordinary and more likely a cause for concern. This is known as chronic bad breath or halitosis and usually results from a build-up of bacteria in the mouth. Other oral illnesses and general medical conditions also cause smelly breath and require treatment from a veterinarian.
Why Does My Cat's Breath Smell Like Fish?
If your cat hasn't just eaten a feast of fish, their bad breath indicates something is wrong. Below are eight common medical causes of fishy breath in cats. Read through and see which you think applies, so you can get your cat the help it needs.
1. Periodontal Disease
Periodontal disease (also known as gum disease) is an oral condition caused by an accumulation of bacteria in the mouth. These bacteria form a slime that covers the teeth known as plaque, which gradually weakens the gums and supporting structures of the teeth.
This condition is progressive; plaque gradually accumulates over time. The more plaque on the teeth, the more damage occurs to the surrounding structures. Gingivitis is the first stage during which the gums are swollen and sore. If not treated, this progresses to periodontitis, characterized by weakening of the underlying gums and tooth loss.
You might notice some of the following symptoms if your cat has a periodontal disease:
Red, inflamed, and bleeding gums
Loss of appetite or a reluctance to eat
Showing a preference for soft food only
Wobbly or missing teeth
2. Poor Quality Diet
I've already discussed how a fish-based diet makes cats' breath smell like fish after eating. However, chronic bad breath can also be linked to diet. Foods with poor-quality protein sources or lots of grains are often difficult to digest. This indigestibility can lead to bad-smelling breath, as can a diet high in liver or other offal.
Food allergies and intolerances also contribute to fish cat breath. The body cannot break down foods they're sensitive to, so bacteria feed on the undigested food instead. In the process, they release a pungent-smelling odor which causes bad breath.
Bad breath that smells like fish is not the only symptom of food allergies. Other signs your cat could be suffering from food sensitivities are as follows:
Vomiting, diarrhea, and flatulence
Excessive scratching or hair loss
Red, inflamed, and flaky skin
Loss of appetite or a reluctance to eat
3. Tooth Resorption
Previously known as resorptive lesions, tooth resorption is another dental condition. The surface of the tooth starts to rot and decay from the root. This decay worsens, eventually damaging the tooth's crown and resulting in pain and possible infection. The tooth may subsequently fracture and fall out.
This is the second most common dental disease in cats and affects a third of adult felines. A vet must remove the affected tooth to remove the infection risk and prevent complications. Regular dental checks are also essential to spot the issue early and avoid pain and discomfort.
If your cat is suffering from tooth resorption, you'll notice some of the below symptoms:
Pawing at the face and mouth
Swelling around the jaw
Weight loss due to loss of appetite
Dribbling and excessive salivation
Tooth fractures or loss
4. Chronic Kidney Disease
Although less likely, metabolic diseases can cause your cat to develop bad breath that smells like fish. One example is kidney disease. When the kidneys fail, they cannot remove waste and toxins from the body. This water and toxins then accumulate in the bloodstream.
Your cat's breath starts to smell progressively worse as the toxins accumulate. It nearly always causes a fishy, ammonia-like odor. You should immediately take your cat to the vet; kidney disease can be fatal. There is no cure for kidney disease, so catching the disease early helps to slow down the progression and can add years to your cat's life.
Below are other symptoms of kidney disease to be aware of:
Gradual and unexplained weight loss
Dull, poor-quality fur coat
Variable appetite that goes up and down
Symptoms of depression in cats
5. Diabetes Mellitus
Diabetes is another metabolic disease known to cause halitosis. This condition is caused by a lack of insulin, a hormone critical in controlling blood glucose levels. Diabetic cats have high blood sugar, and the cells in the body don't receive the glucose they need for energy.
When this happens, the body burns fat to compensate for the lack of glucose. However, burning fats releases compounds called ketones which can accumulate in the body, known as diabetic ketoacidosis (DKA). This is one of the main complications of diabetes, and these high ketone levels are responsible for bad breath in cats.
DKA is a medical emergency and requires veterinary care. Along with the classic symptoms of diabetes, signs of DKA to be aware of include the following:
Lethargy, weakness, and depression
Vomiting and diarrhea
Loss of appetite
Difficulty breathing or shortness of breath
Collapse of coma
6. Lodged Foreign Body
Foreign objects can get stuck in the mouth, airways, or digestive tracts. The lodged objects become coated with calcified material and may cause minor infections. This can cause cats to have bad breath that smells like fish due to the harmful bacteria and toxins released.
The symptoms of a lodged foreign object depend on where in the body it is stuck. I often see my cat stick his tongue out if there is something stuck in the oral cavity. On the other hand, foreign bodies in the digestive tract can cause loss of appetite or vomiting. Objects lodged in the airways may cause breathing difficulties, and cats can breathe through their mouth instead to compensate.
Depending on the size of the foreign body, obstruction is possible. The object needs to be urgently removed by a vet. Below are signs you're dealing with an obstruction:
Straining to defecate
Only producing small amounts of poop
Vomiting, retching, and gagging
Loss of energy and appetite
Chronic cough and breathing difficulties
Gasping for air
7. Oral Cancers and Tumors
Oral cancers and tumors are rare but can cause fishy cat breath. Therefore, they are worth covering in this article. It is not entirely clear what about these cancers cause bad breath; however, experts believe it's caused by a high concentration of polyamines in these cells that release a nasty odor.
Tumors can grow on any of the soft tissue structures in your cat's mouth. This includes the tongue, gums, soft palate, and tonsils. Cancers and tumors can also develop in the throat cavity and produce the same foul breath that smells like fish. The most common of all is an oral squamous cell carcinoma that forms in the lining of the mouth and throat.
Cats with oral cancers or tumors will exhibit some of the following symptoms:
Panting, drooling, and open-mouth breathing
Loss of appetite or difficulty eating
Visible swelling in the mouth or throat
Bloody discharge from the mouth
Loose or missing teeth
8. Neurological Disorders
Disorder of the nervous system can make your cat's breath smell like fish. The nervous system controls all of the muscles in your cat's mouth. Cats can breathe through their mouth, move their tongue, and swallow food thanks to the nerves connecting these muscles to specific brain regions.
Therefore, cats with certain neurological diseases may lose the ability to control these muscles. This can result in hypersalivation. Additionally, food or other debris is more likely to accumulate inside the mouth as your cat cannot move its tongue or swallow like normal. This can leads to bad breath that smells like fish.
Neurological disorders are unlikely to affect the nerves controlling the mouth muscles solely, so symptoms are often diverse. Here are a few common signs that could indicate a neurological issue:
Difficulty walking or coordinating movement
Muscle twitching and/or tremors
Rapidly moving the eyes back and forth
Paralysis of specific muscles
Changes in how your cat interacts with others
How to Stop Cat Breath Smelling Like Fish
My cat has bad breath that smells like fish, and it's disgusting! If your cat has fish breath, you're probably in the same boat as me; you want to make it stop. But how can you prevent fishy cat breath? Here are five top tips you can use to do precisely that:
Veterinary Appointment: Your first point of call should be the vet. As you've learned, many medical conditions cause halitosis. Your vet will test to determine what is wrong with your cat and provide treatment. Your cat's breath will stop smelling like fish once the prescribed treatment starts working.
Regular Brushing: Tooth brushing is essential for good oral hygiene. Purchase a toothbrush and toothpaste for cats and integrate brushing into your daily routine. Brushing removes bacteria and plaque to prevent dental diseases from arising. Regular oral care also means other issues are quickly identified and treated immediately.
Diet Changes: Changing to a high-quality diet can improve the smell of your cat's breath. You can speak to your vet about prescription diets if you think your cat has a food sensitivity. Otherwise, look for proteins that contain low grains and high-quality protein. You also want to avoid very fishy food or those containing offal.
Dental Treats: Some cat treats claim to clean the teeth and promote good dental hygiene. They tend to be hard biscuits that rub against the teeth to remove plaque and bacteria. They additionally contain ingredients known to promote oral health. Use these as part of a balanced diet to clean your cat's teeth between brushes.
MY FINAL THOUGHTS
Next time you think, "My cat has bad breath that smells like fish," you know what to do. Take your cat to the vet and get their dental hygiene looked at. Your vet will also assess for metabolic disorders or other conditions that cause fishy cat breath.
It would be best if you also practiced good dental hygiene at home. Make tooth brushing a part of your daily routine, invest in dental treats, and consider changing your cat's diet. Keeping up all these oral health practices is worthwhile even when your cat's bad breath subsides. They help reduce the risk of dental diseases arising in the future, giving your cat its pearly whites and healthy gums for longer.